The Traditional Dress of Rajasthan for Weddings & So Much More
The colours, traditions & even accessories worn by the Rajasthani men & women at weddings are wow. Here are all the details you need to know about the traditional dress of Rajasthan.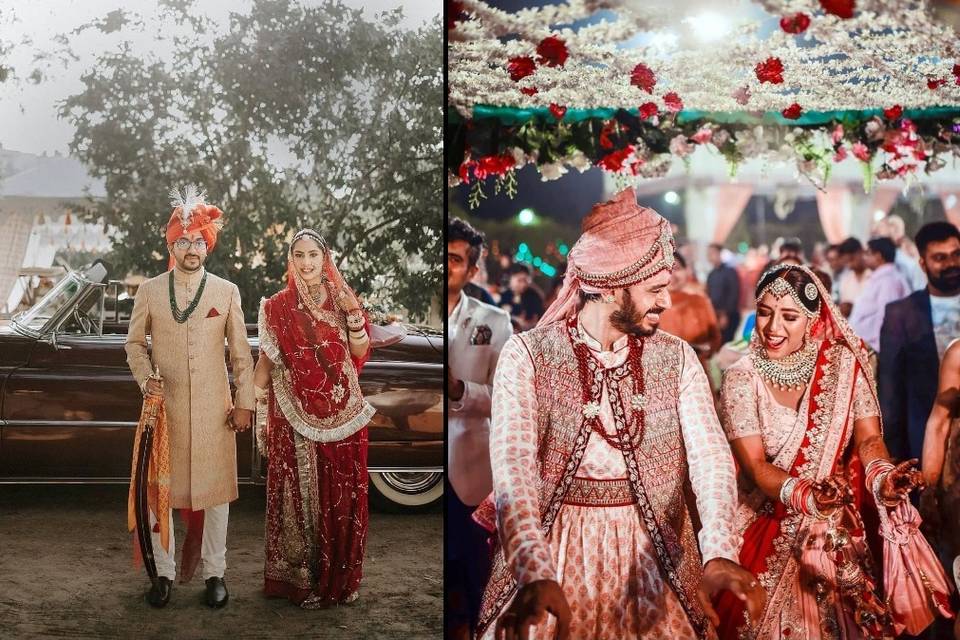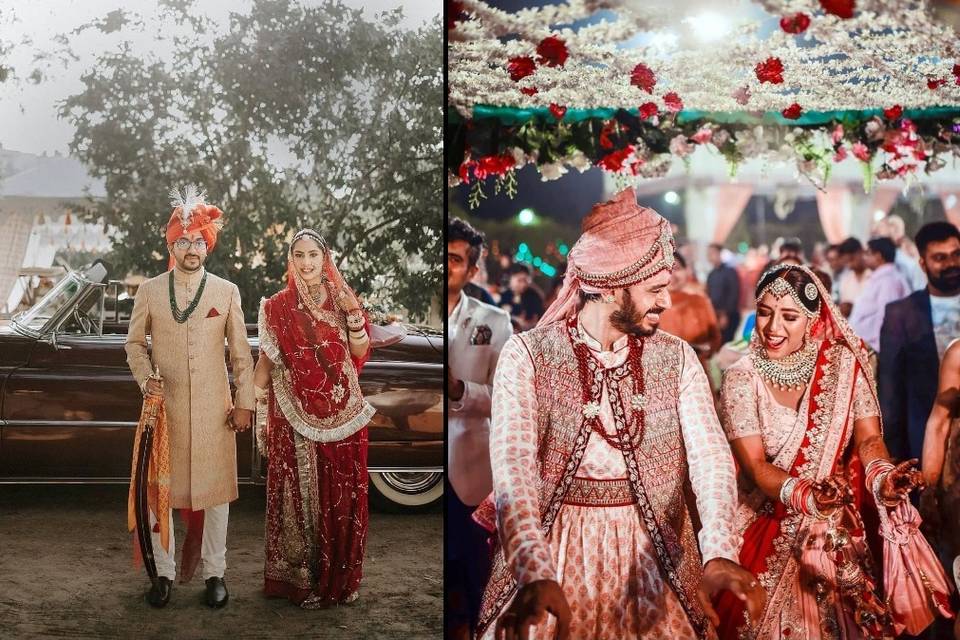 Image Courtesy: Divya Shekhawat (L), Pratik Mondal Photography (R)
The myriad of cultures that you get to witness in India is truly magnificent. While every culture has its own beauty to flaunt and boast of, there is something very strikingly alluring about the Rajasthani dresses and accessories that are worn by men and women alike, don't you think? The outfits worn by the Rajasthani men and women at weddings or in general too seem to be drenched in a bouquet of bright and happy colours that lend them a unique attractiveness. Rajasthani dresses are well known for their vibrancy and so are their accessories and jewellery.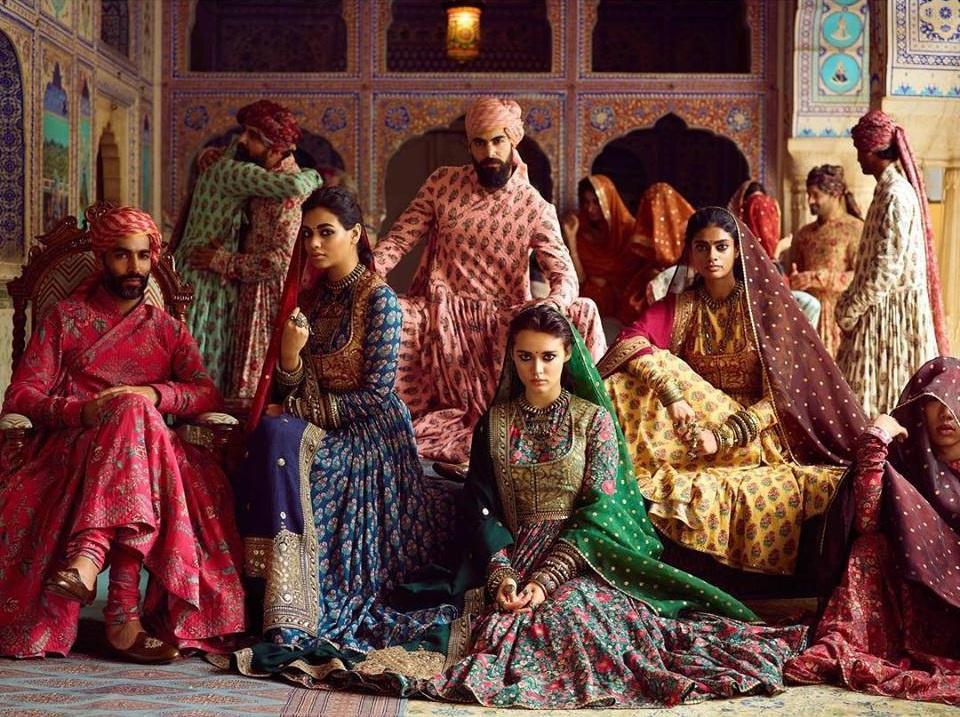 Image Courtesy: Sabyasachi
To understand the beauty of Rajasthani culture and to soak in the gorgeous, let's take a close look at the traditional dress of Rajasthan for both men and women that one wears or can wear for the wedding and pre-wedding festivities. Scroll on for a beautiful and inspirational ride!
Traditional Dress of Rajasthan for women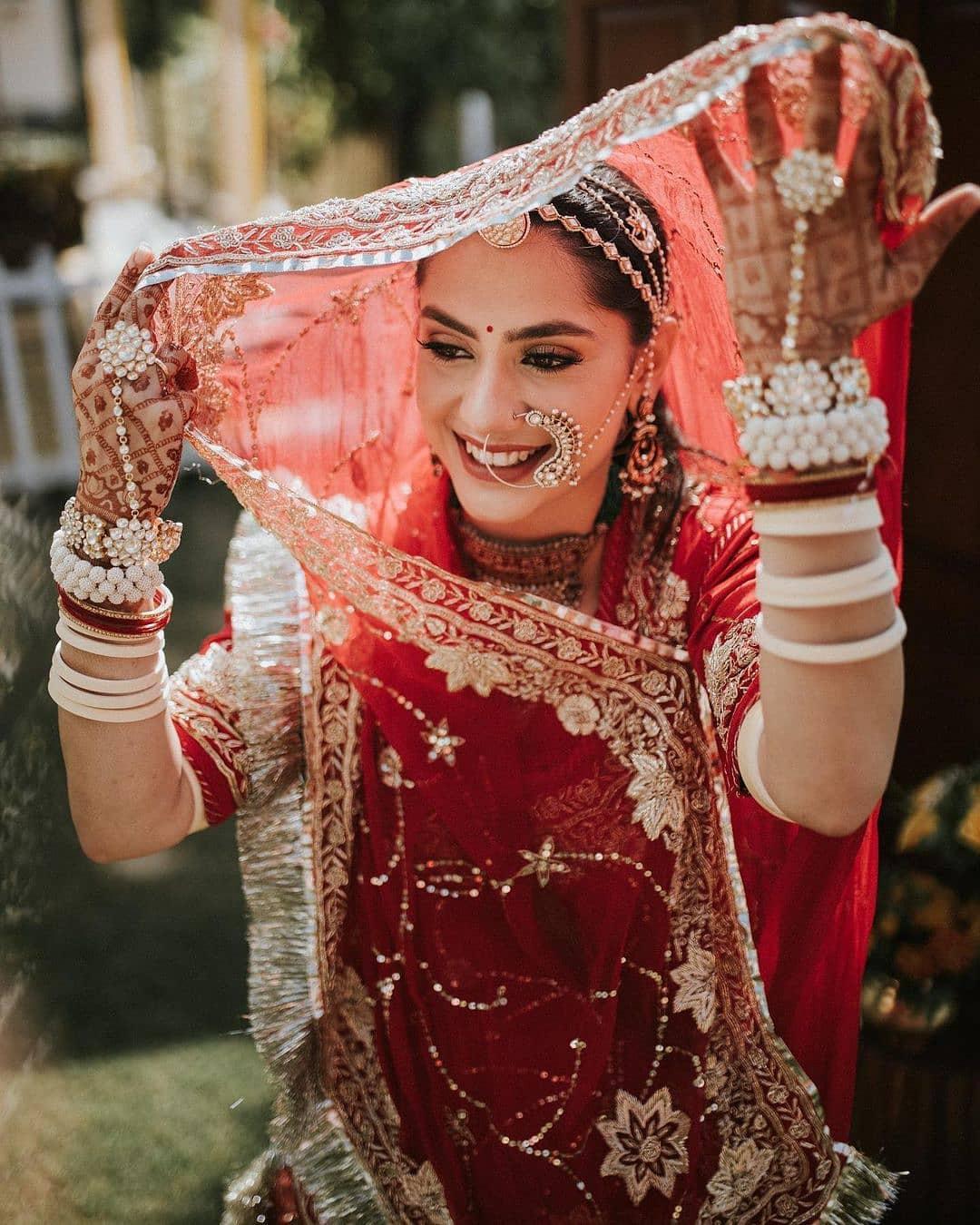 Image Courtesy: Divya Shekhawat
You must have noticed that the women of Rajasthan love to dress in the most colourful attires. The aggressive inclusion of colours in these attires owes its existence to the history of textiles where dyeing clothes was an integral part of the process. Each colour included in these dresses symbolises various significant as well as complex implications in a specific region, space and time. They convey customs, moods, ceremonial occasions, religious values and seasons. Ceremonies and rituals are known for different hues, all symbols of specific traditions. Even in today's time, colours are used to categorize different communities and individuals' social status. Colours in attires also denote biological, psychological and aesthetic connotations.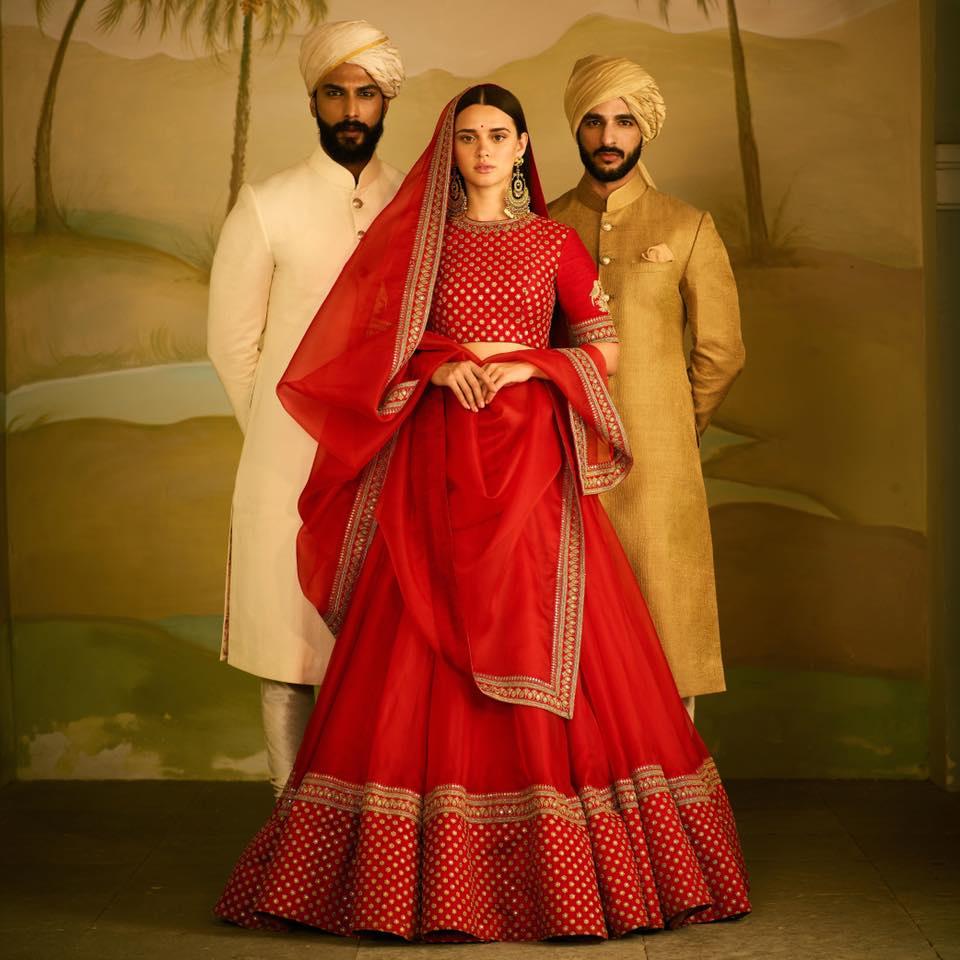 Image Courtesy: Sabyasachi
That being explained, the women of Rajasthan generally wear Ghagra and a Choli - also known as Kanchli, which is also the name of Rajasthani dress Choli or blouse. Ghagra is a name of Rajasthani dress that is a type of long skirt worn by women folks. The Ghagra is usually worn along with a Choli or a long or short blouse. Some women also wear prefer to wear Kurti over their skirts. The whole dress is then complemented by a colourful Odhni or a Dupatta that covers the bride's entire face during the wedding ceremonies. Wedding Ghagras worn by the womenfolk of Rajasthan comes in various vibrant colours and prints like Leheriya and Mothra. These are usually made of cotton.
How to Wear it for Weddings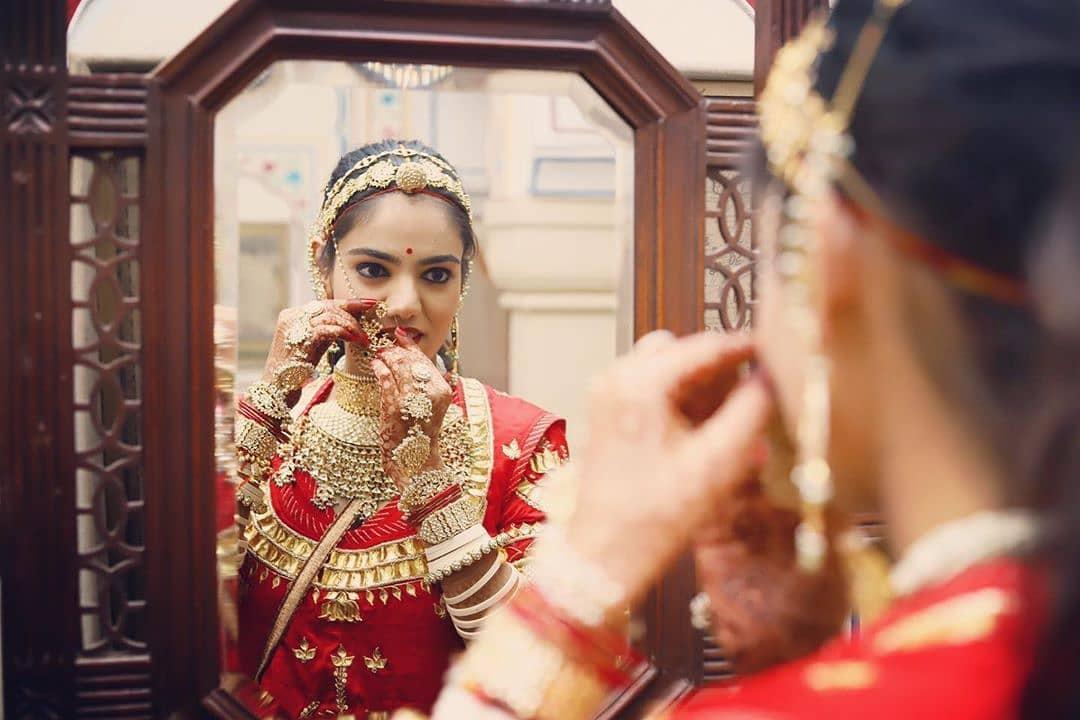 Image Courtesy: Rajasthani Bride
If you are planning to wear the traditional dress of Rajasthan - ghagra for weddings consider picking one in red tones. You can get Ghagras designed with embroidered patterns all over. If opulence is on your mind, pick a lehenga or a ghagra with beads or with gold Zari work. You may also wear one that has work done with stones.
Odhni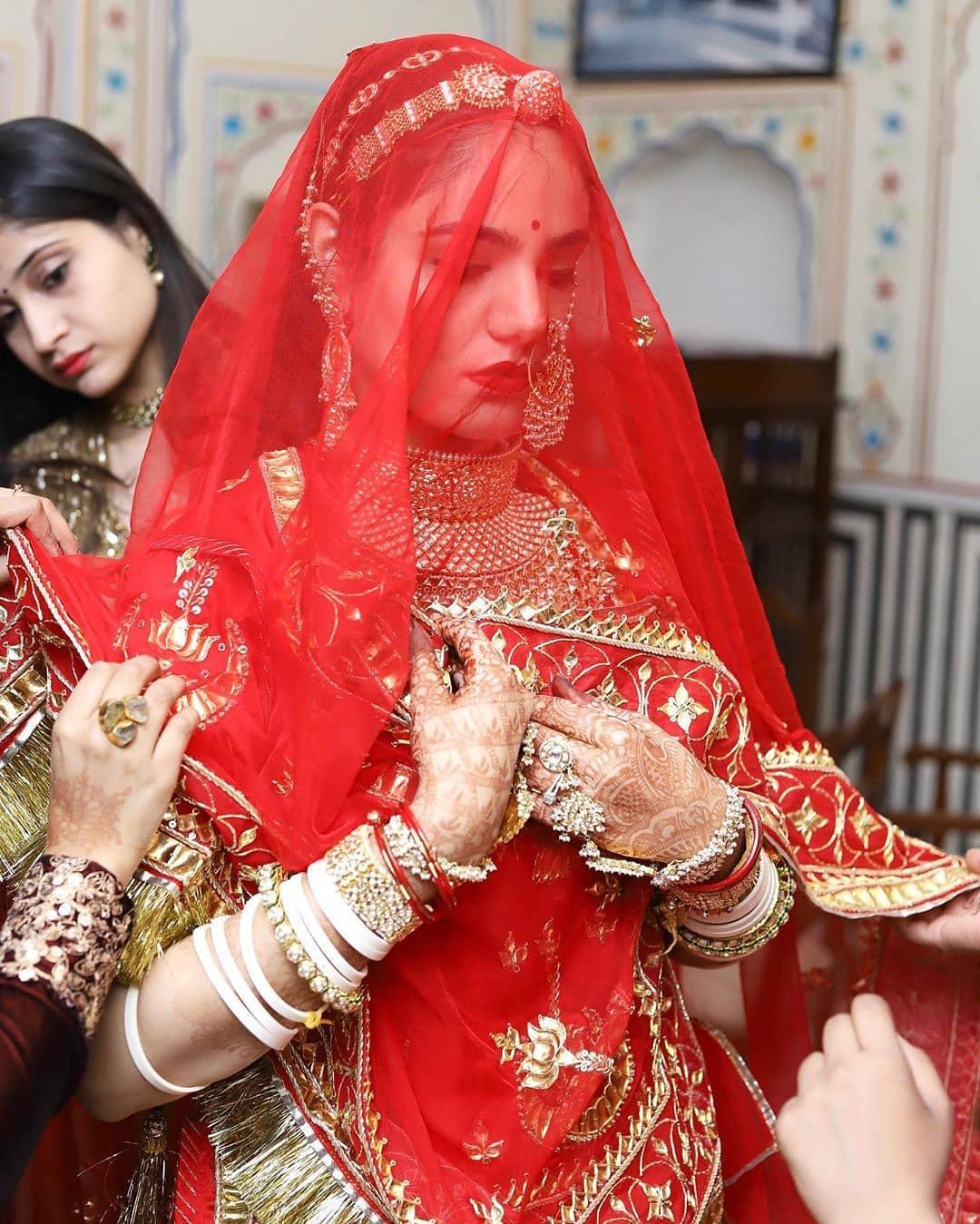 Image Courtesy: Rajasthani Bride
The traditional dress of Rajasthan, Odhni is basically a dupatta whose one end of the corner is usually tucked inside the Ghagra, while the other end is draped over the head. The Odhni's are worn according to class and occasion. Typically, it is opaque and is quite heavy. As per custom, every Rajasthani bride has to wear it along with her Ghagra. Embellished with stones and embroidery, and Odhni can take a bride's look several notches higher.
Traditional accessories for women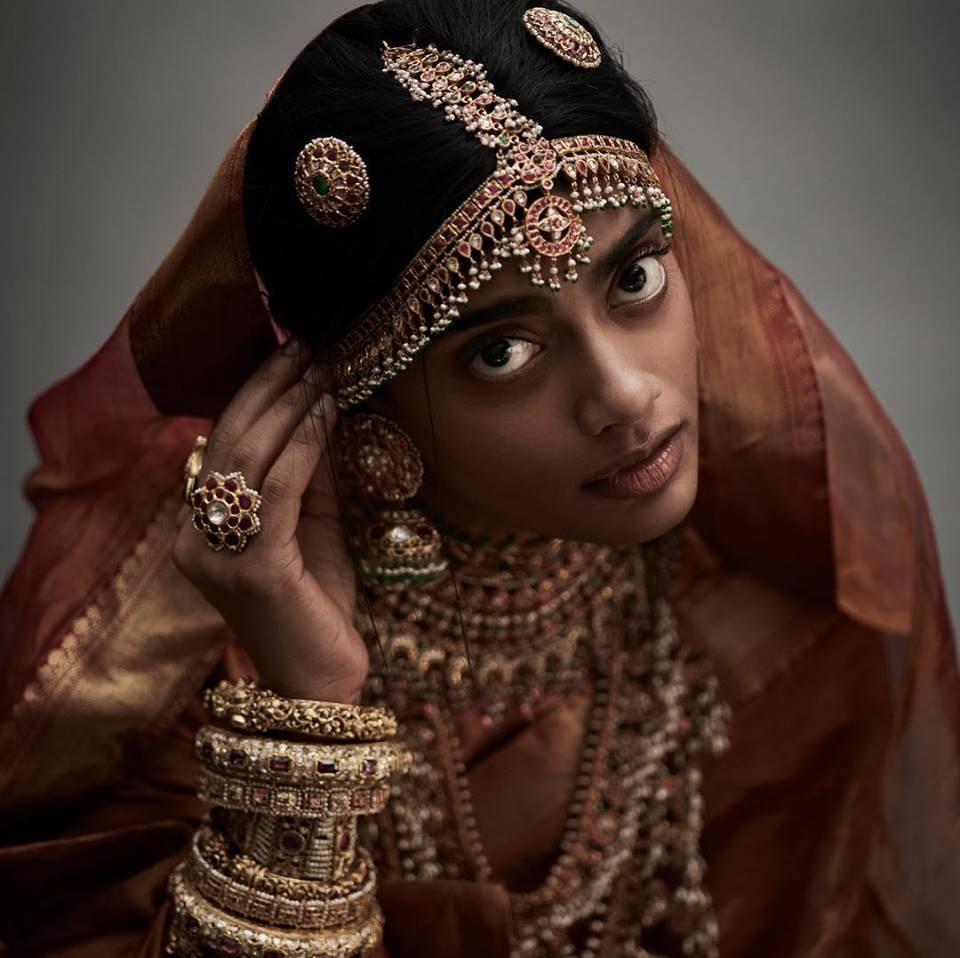 Image Courtesy: Sabyasachi
Rajasthani women look grand in their attire which is complemented uniquely by traditional accessories such as jholas, Jutis, and jewellery crafted with stones like emeralds and diamonds.
Jholas:
Essentially bags made out of cloth, the jholas are colourful and lend a unique look to a woman. Being a bride, you will need to carry yourself with a certain style, and these jholas are the perfect way to add dazzles to your look. You can carry a jhola embellished with mirrors or stones for your sangeet or reception party. These jholas suit every kind of wedding attire and come in plenty of colours.
Jutis or Mojaris:
Jutis are traditional Chappals worn by both men and women of Rajasthan as well as Punjab. These are handcrafted and embellished with embroidered designs. These flat chappals have become so popular that you can spot brides wearing them during their wedding functions like sangeet and haldi.
Jewellery: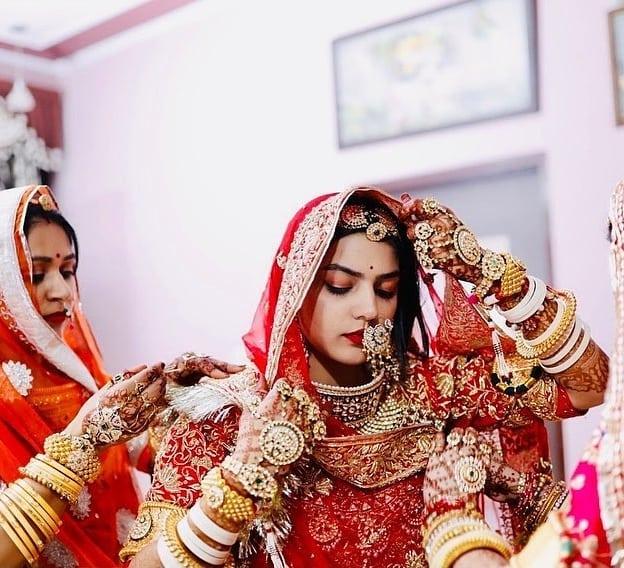 Nothing can compare with the traditional jewellery worn by a Rajasthani woman. She wears different kinds of jewellery for different parts of her body, like Chura for her wrists, Rakhri with a Borla tika for her forehead and Timaniyaan (choker necklace) for her neck. These pieces are usually studded with diamonds. A woman in Rajasthan is also fond of wearing toe rings called Bichhiyas and Nath, a nose ring. Silver is also popular with the women of Rajasthan. If you are planning on getting a royal look, go fora diamond-embellished choker, diamond or Rajashtani Nath, Chura in ivory and gold tones and heavy Rakhri. Match these up with the wedding ghagra that you have selected.
Traditional dress of Rajasthan for men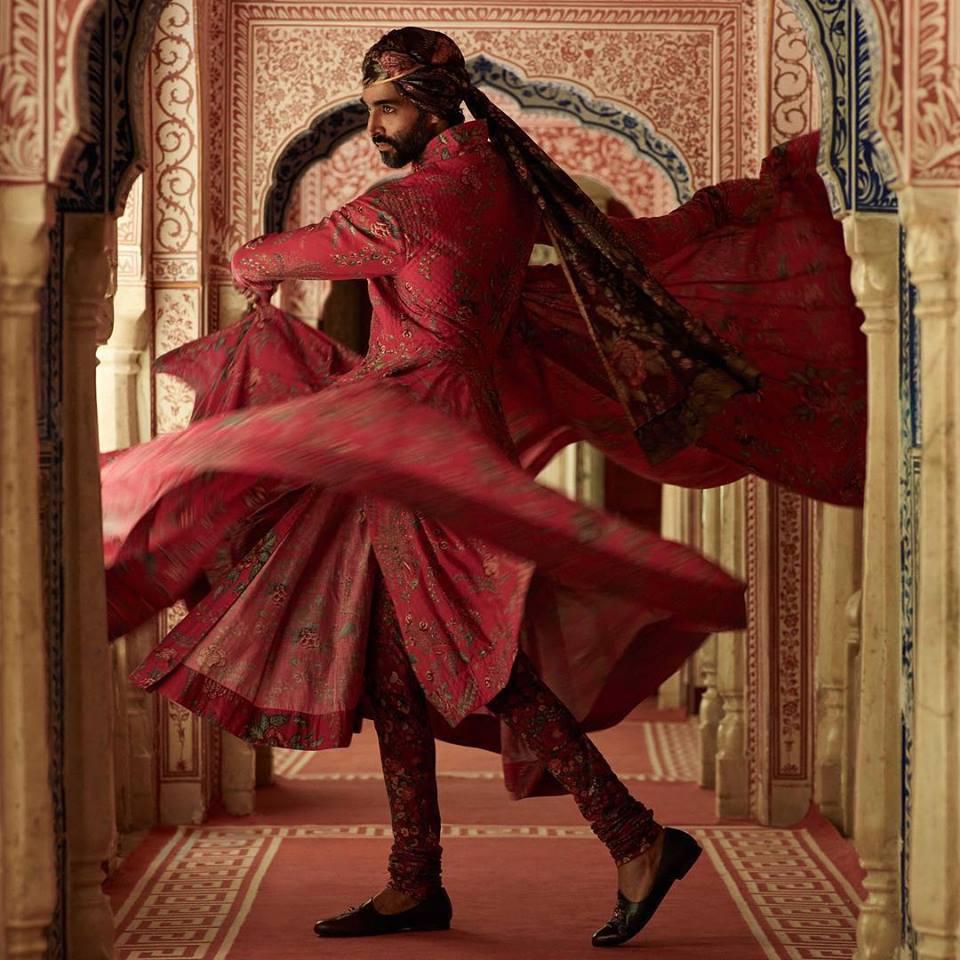 Image Courtesy: Sabyasachi
Menfolk of Rajasthan are not far behind women in dressing up. They look as colourful and gorgeous as women. Their costumes include a Pagri (turban), Dhoti or Pyjama, Angarkha, Patka (waistband) and Kamarbandh.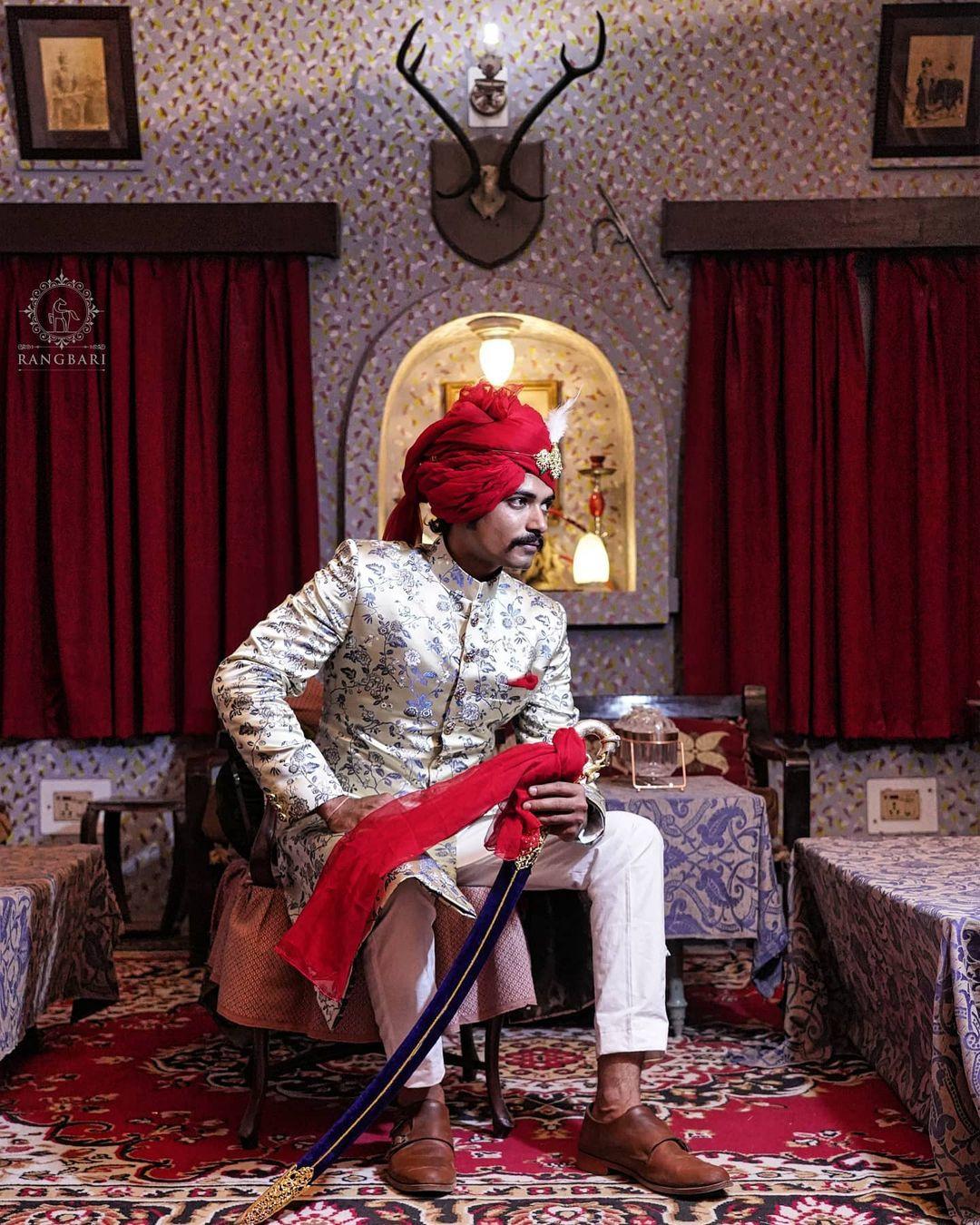 Image Courtesy: Rangbari
How to wear it for weddings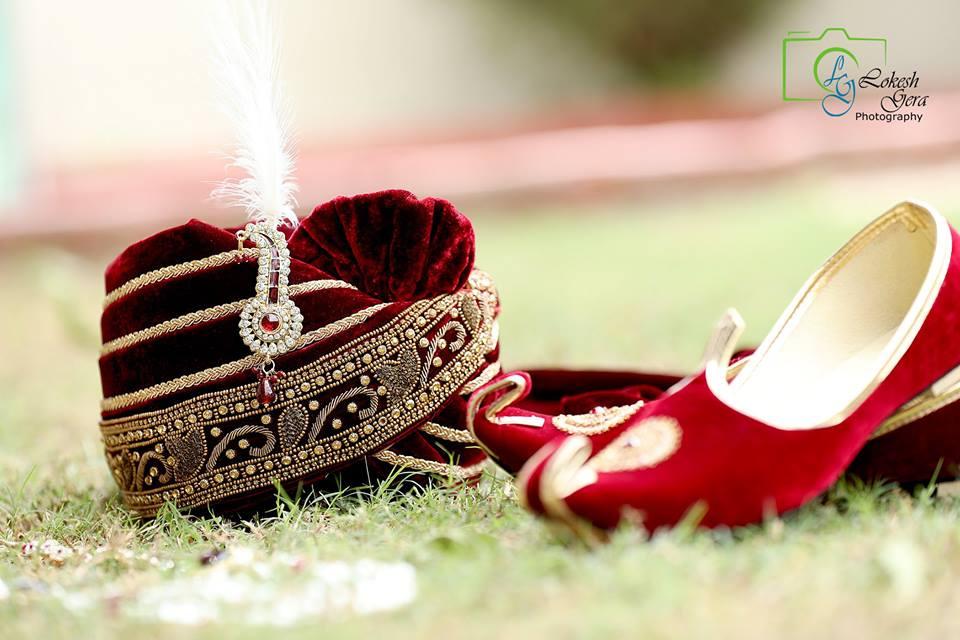 Pagri: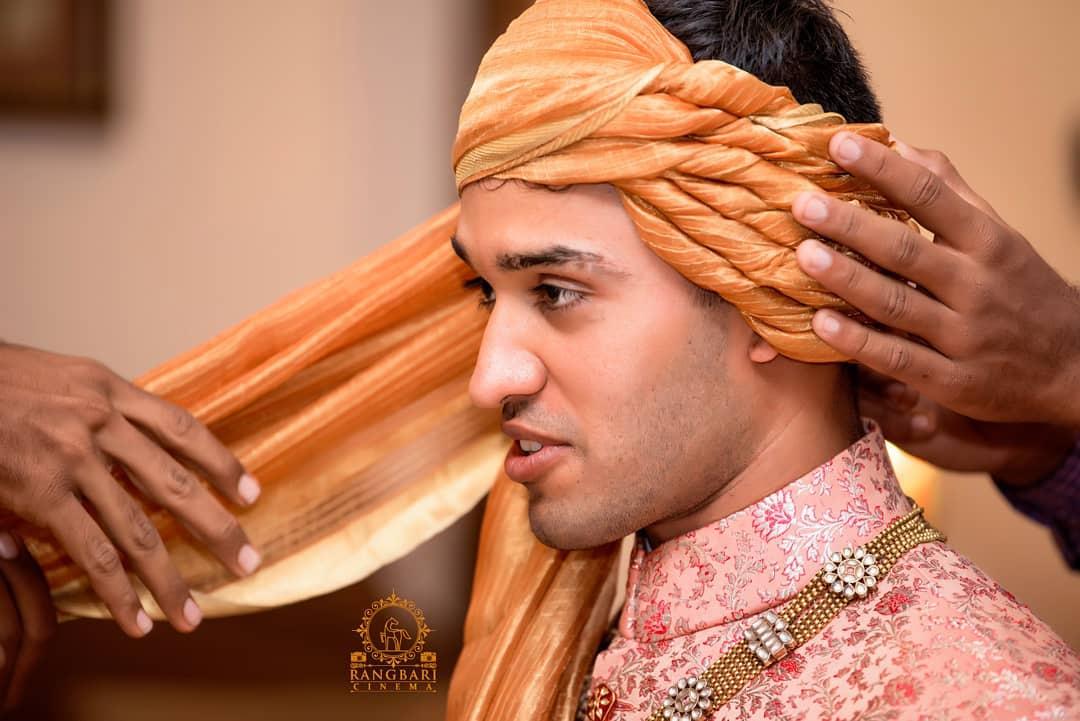 Image Courtesy: Rangbari Cinema
It's one of the most important traditional dress of Rajasthan that all men wear. It's a turban worn in different styles and colours. It is usually elaborately designed during weddings. Wear a Pagri that complements your wedding costume. Make it as colourful as possible. Choose your Pagri with embellishments in stone and other motifs.
Dhoti and Pyjama:
Usually, men wear Dhotis or Pyjamas in white colour. It's an essential piece of lower body garment. For a big event like a wedding, pick a Dhoti that is made out of silk, and has rich borders created out of Zari to lend it a royal look.
Angrakha:
This piece is also an integral part of the traditional dress of Rajasthan, and is typically worn to protect the body. Wear an angarkha that is designer. Such types come with Bandhani and mirror work. Go for geometric circular patterns on your Angarkha as well as those that have Gota Patti work in golden tones.
If you want to wear a traditional dress of Rajasthan at your wedding, go ahead and stun everyone. You are bound to make heads turn!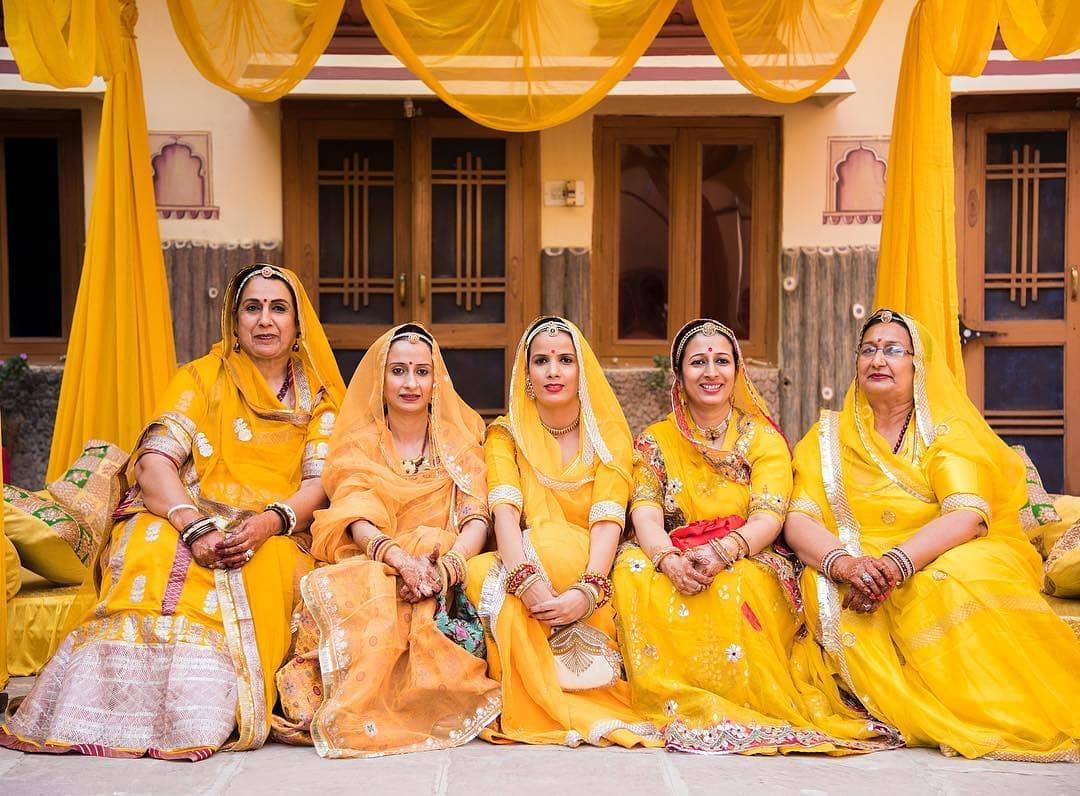 Image Courtesy: Sunitha Shetty
Would you like to wear a traditional dress of Rajasthan for your big day? Let us know through comments.