The Intercultural Wedding of a Beautiful Punjabi Bride With Her Mr Perfect
The story of this intercultural wedding of Meha & Ravish is heartmelting & inspiring at the same time. Read on to know more about how they planned their D-day.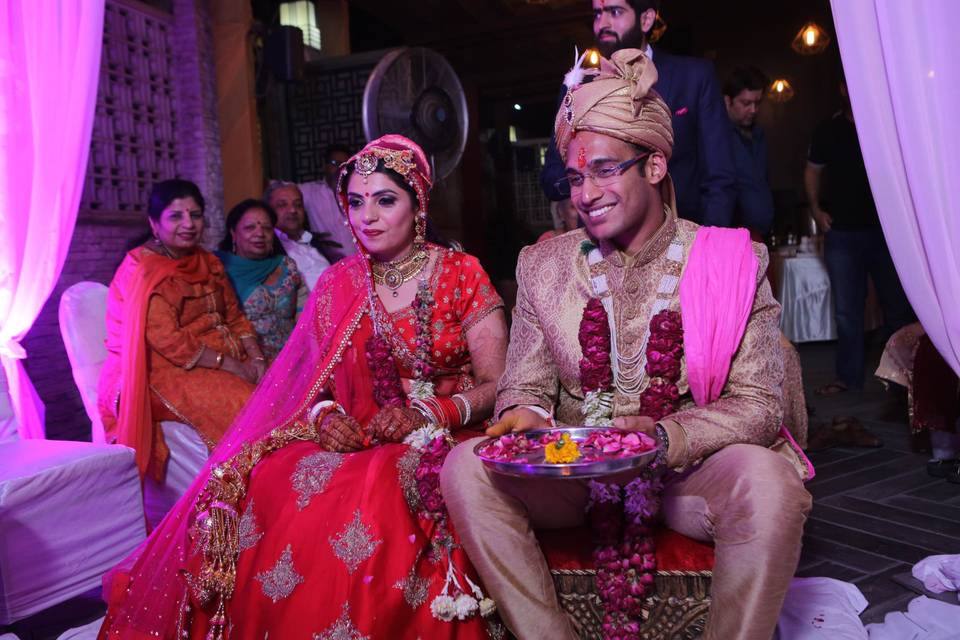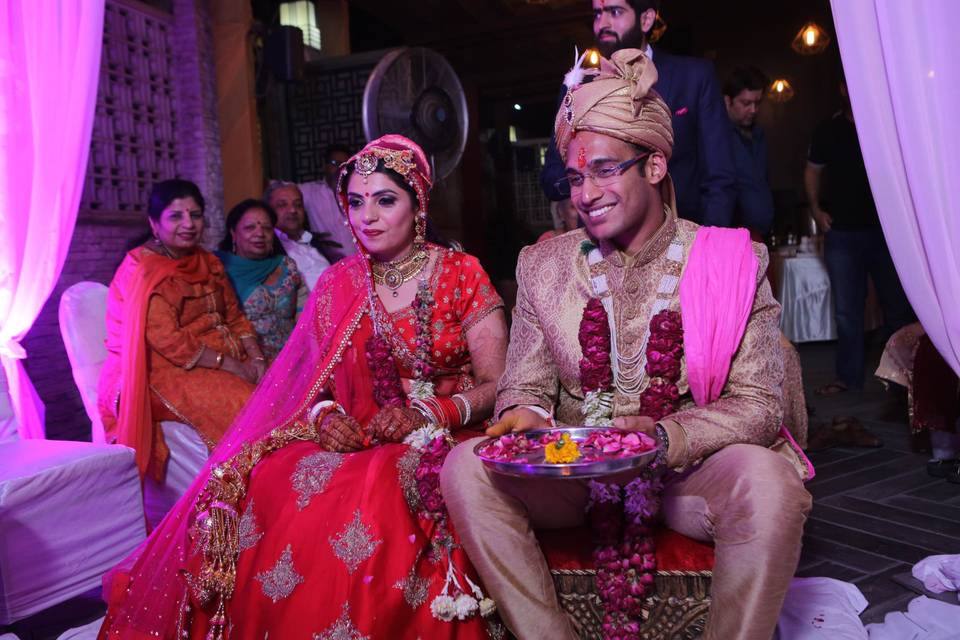 India's cultures and traditions add to the majestic diversity that India flaunts so proudly. While one part of the country paints the states in Kasavu sarees and dhotis during Onam, the other half prepares for Ganpati Visarjan. At the same time, Durga Puja preps are in full swing and Diwali is not far away followed by Christmas of course! With numerous indigenous cultures inhabiting the land of India, weddings are nothing short of a carnival to witness and be a part of.
While Rajput weddings, Anand Karaj, Bengali biye, Nikah ceremony and other such Indian weddings are magical in their own unique way - the charm of these traditions and celebrations are amplified when two cultures come together. We bring to you the beautiful story of Meha Khera Gupta and Ravish Gupta's wedding, a perfect amalgamation of a Punjabi wedding and Baniya traditions.
Here are the details of their intercultural wedding story that is sure to inspire you.
Love @ First Chat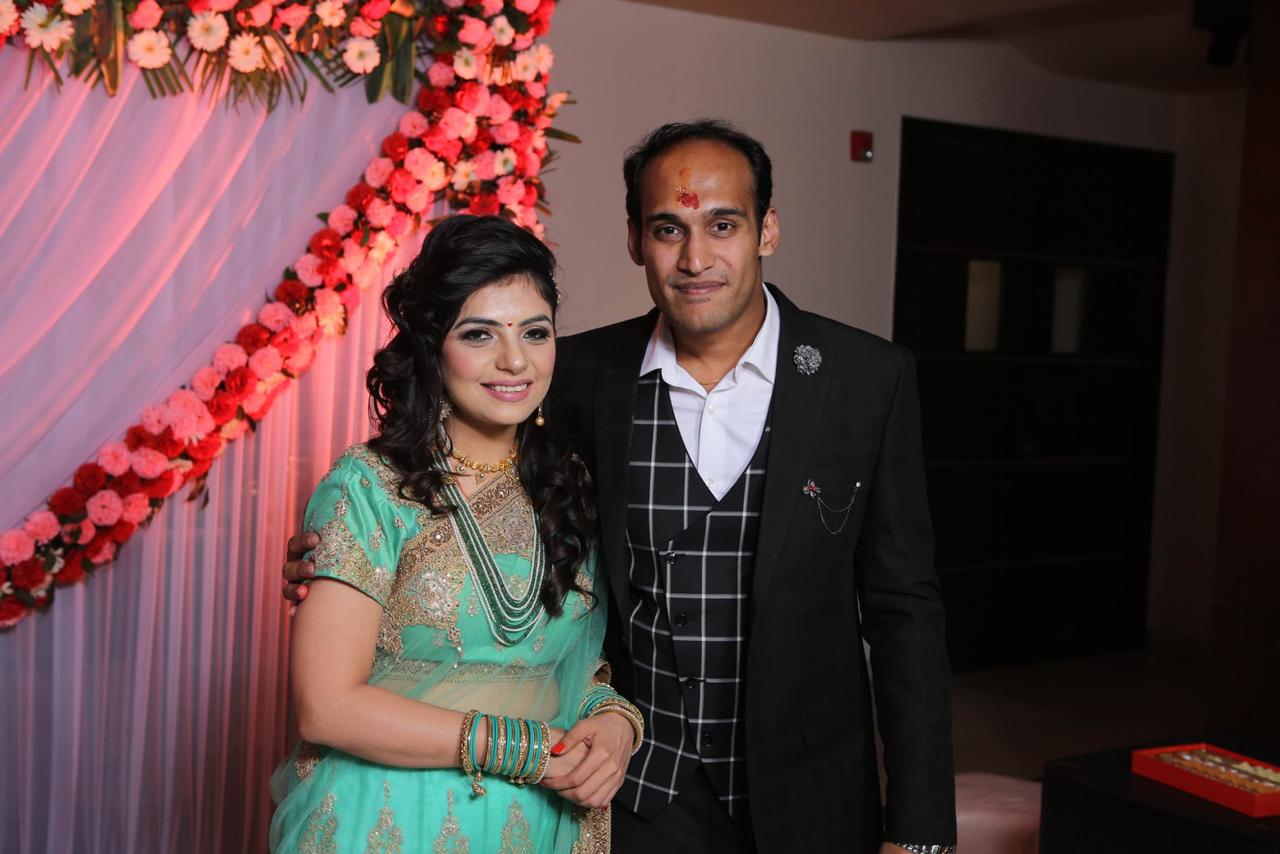 We've all heard about "Love at first sight." However breaking the mainstream idea of it always being at first sight, Meha and Ravish fell in love at first chat! Wondering how? This is what Meha had to say in an interview with WeddingWire India, "We were in the same school but we never actually conversed during our entire school life. However, 14 years after school life – I got my (now)husband's Facebook request and our journey began. We chatted for long hours and felt an instant connection and then finally met each other after a month of texting and chatting. This led to the path of our forever. You see, I would not really call it as 'love at first sight', in fact, I would call it love at first chat!"
Throwing light on their journey together, Meha further shares, "In spite of being from different castes, our parents readily agreed. We tied the knot on 18 April 2018, at Hotel Inde in Chattarpur, New Delhi."
Bollywood movies and hypothetical situations represented on screen have taught us that planning an intercultural wedding is definitely not a breeze. In fact, couples and their families can face a long list of challenges in the process. It is not always a moonwalk to agree on the same arrangements even when it is a wedding of the same culture. Frictions are meant to be, but despite that this in-love couple helped us focus on the silver linings of love and celebration with their intercultural love story.
The Differences in Traditions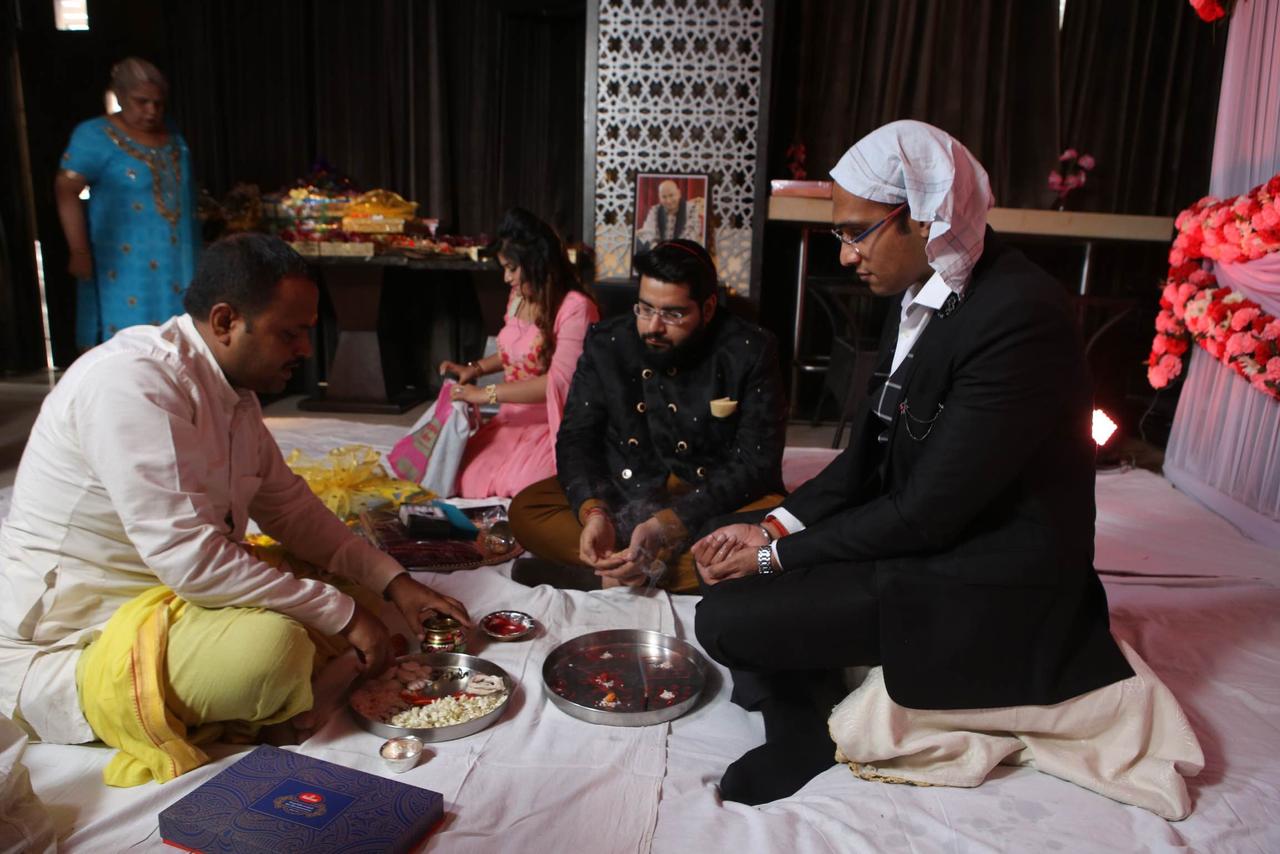 Speaking on similar lines Meha says, "Even though our parent agreed immediately, we did face certain challenges during the ceremonies/practices. In Baniyas, the tradition is to pay respect to the elders and welcome elders by giving them silver coins. They are very particular about the quality of silver coins they bestow to their family and they are not very flexible to give anything else apart from the trademarked silver coins. But in Punjabis, they welcome guests with sweets, blankets, fruit basket, jewellery or some other bespoke hamper handpicked and put together for the occasion. We, being Punjabis were unaware about this and we were planning to welcome the guests with our bespoke baskets encompassing of goodies, fabric for dresses and so on. This created some stress at the beginning of the planning but later everything was sorted."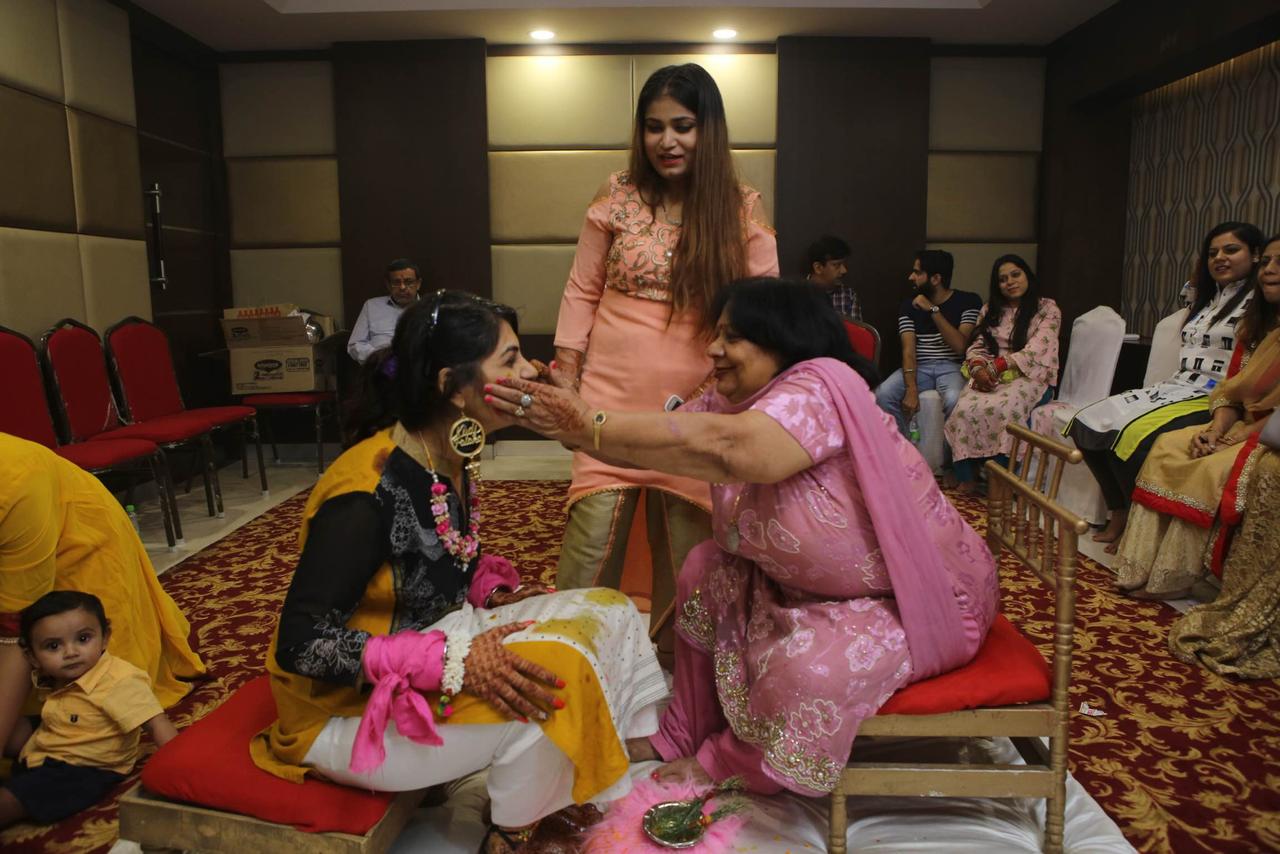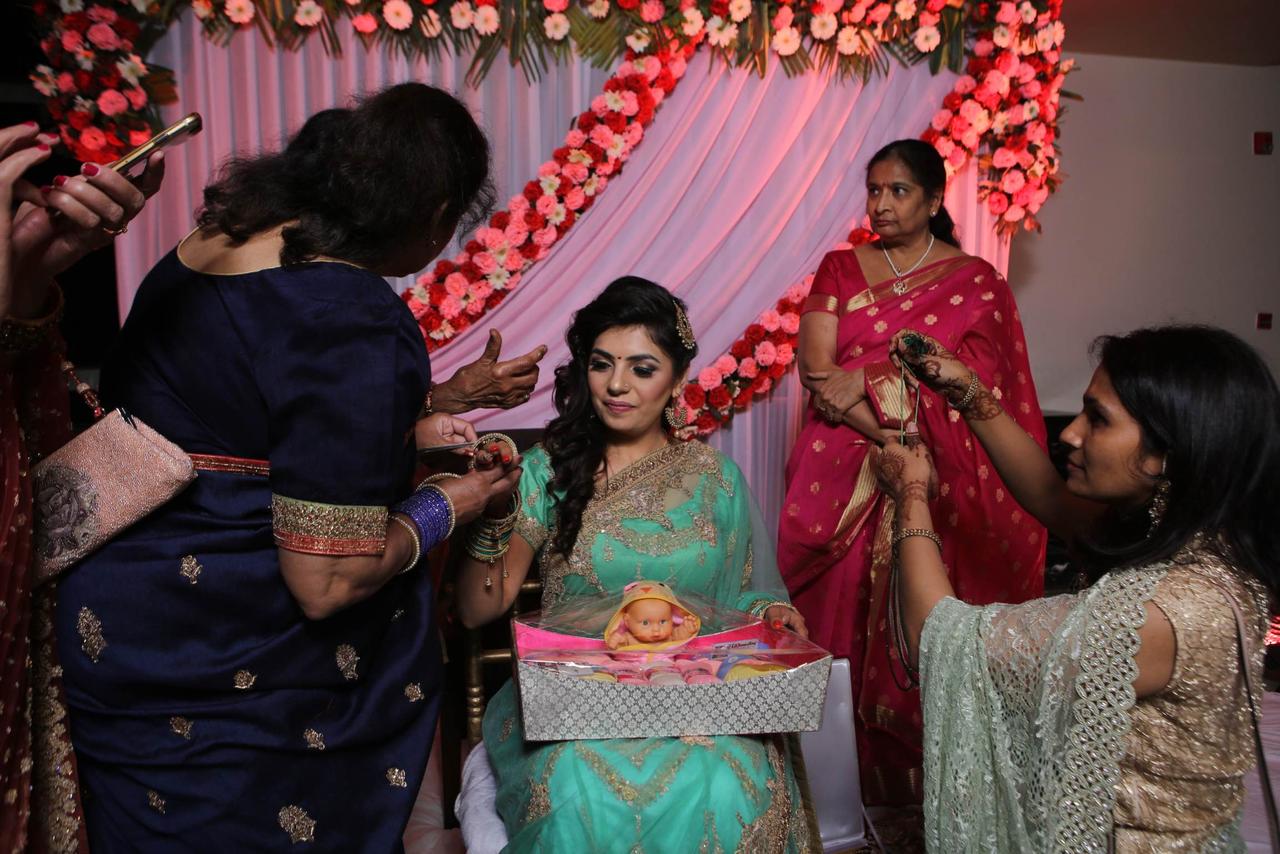 She also adds, "Apart from the silver coin bestowing ritual – we discussed our customs and planned to carry out the pre-wedding ritual as per Baniya tradition. However, the wedding was a blend of both traditions. As per the Baniya tradition – we did the Godh Bharai Ceremony before the wedding. This ceremony is celebrated a day before the wedding day. In the Godh Bharai Ceremony, I was escorted by my entourage consisting of siblings, cousins, and friends to the venue where the godh bharai ceremony was planned. The groom's family – accompanied by the other guests brought some gifts, jewellery, a doll, makeup, clothes and mithai in beautifully decorated trays and baskets. These trousseaus were placed in my jholi/lap. The doll holds a special significance as it signifies that all the elders are blessing the bride to bear many children in the future. All of the gifts denote a sign of marital bliss and are called shubh(lucky). The groom's parents also brought small coconuts along with these gifts as Baniyas consider gifting coconut as a sign of good luck."
Meeting Halfway for the Wedding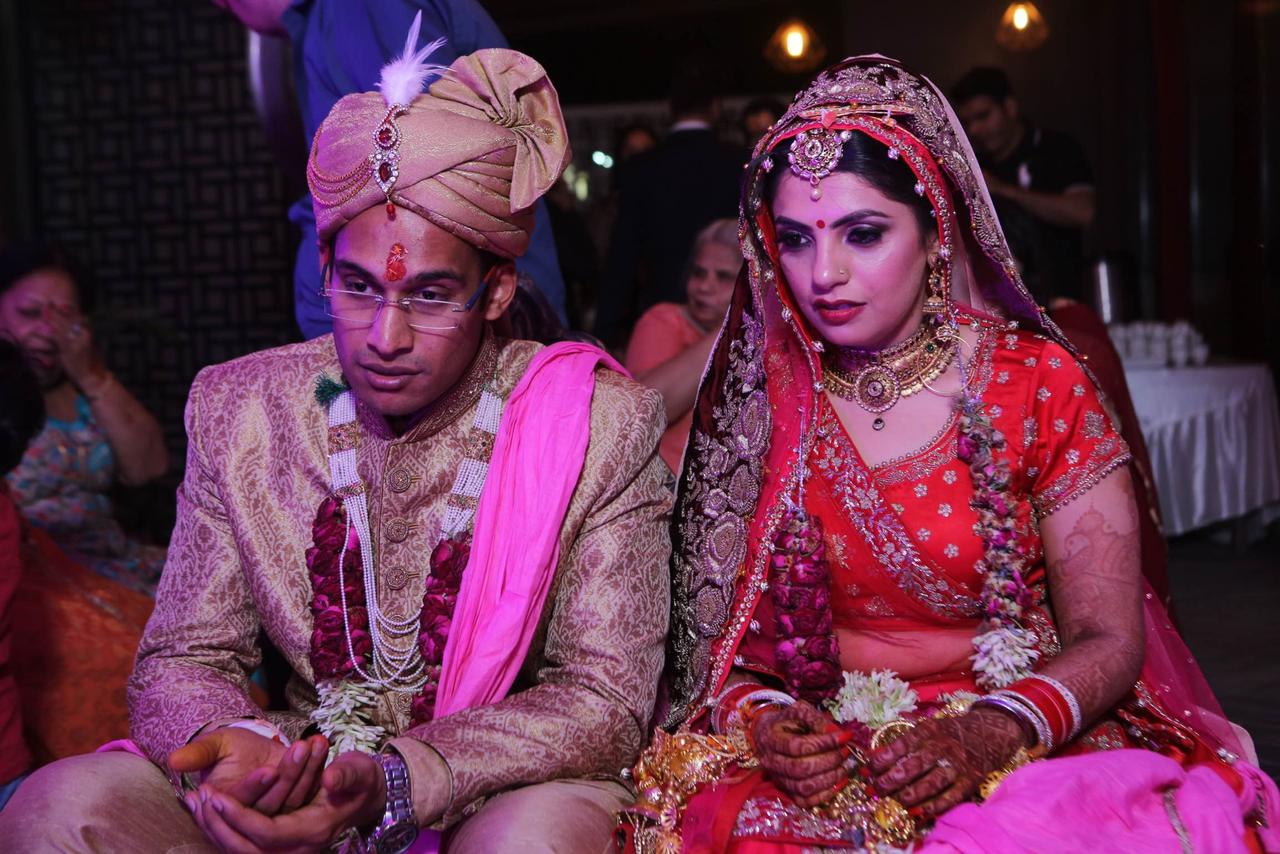 Indian weddings are not only about the bride and groom, but it is also about their families. In order for the families to be on the same page, the one and only magic word is "communication." A talk that includes everyone who is significant for the wedding ceremony is a must and you must arrange for it well before the wedding planning starts. This allows the family members of the bride and the groom to get comfortable and learn to accept the cultural or religious or even minor traditional differences very gracefully.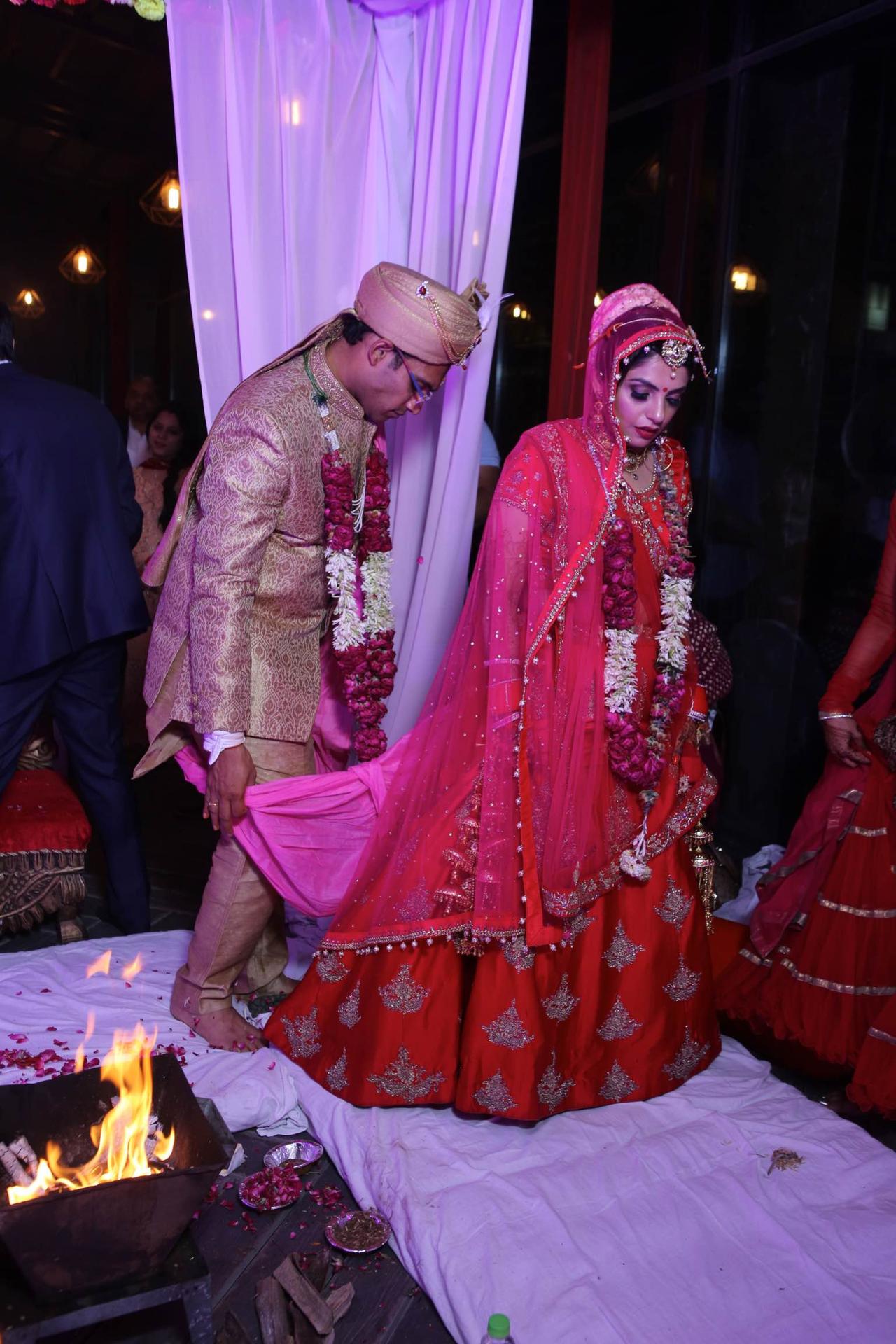 Keeping in mind that Indian weddings are inclusive of an array of mesmerising pre-wedding ceremonies, couples planning an intercultural wedding are often wondering how to pick the traditions and balance it well. On similar lines, Meha has to say, "We understood that we are from diverse backgrounds and holding different cultures may create an obstacle in the future. This is why just before Roka, we decided to have a get-together of sorts where both the families deliberately planned a discussion pertaining to the rituals. The meeting went quite well and we resolved the situation too. We settled for celebrating the pre-wedding rituals according to the Baniya tradition and that our wedding would be a blend of both the cultures."
The Bond Between Families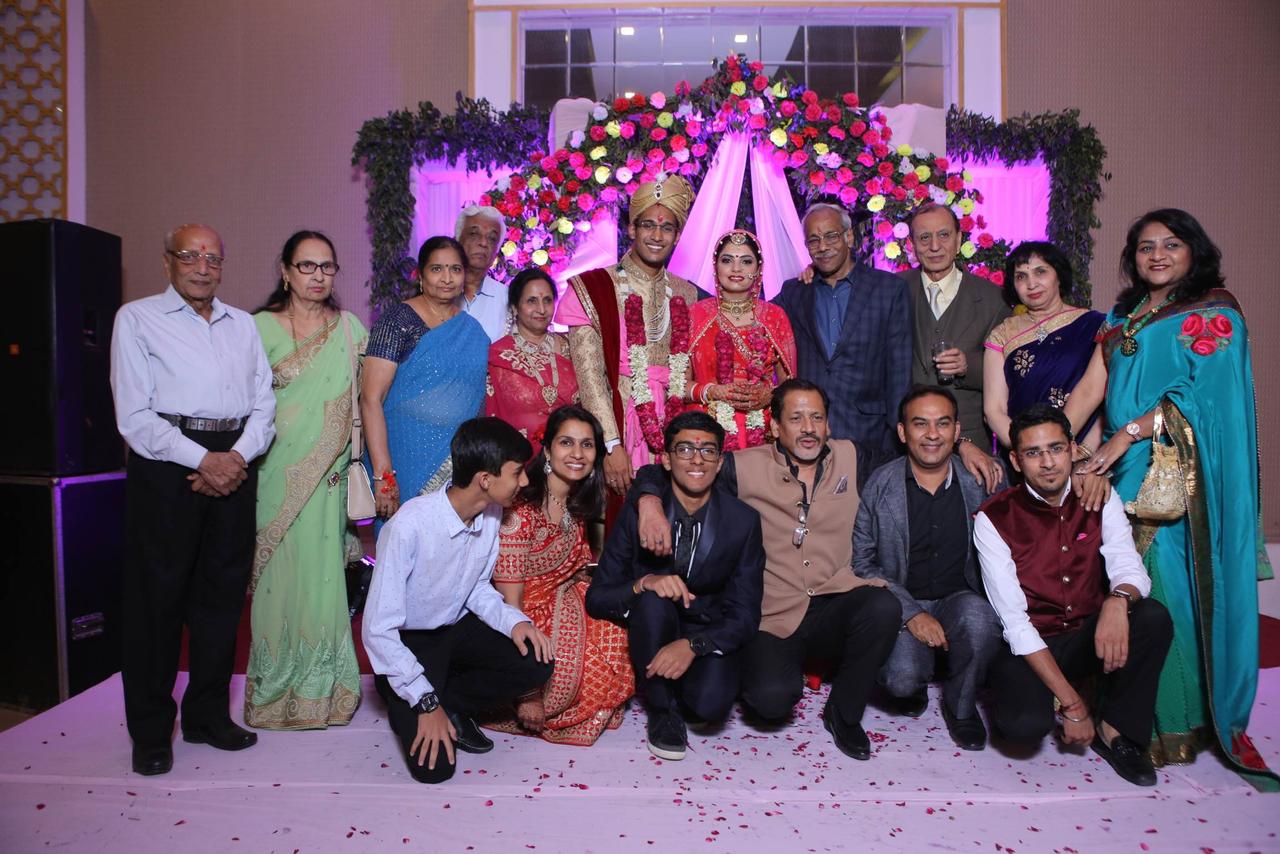 While the western ways of planning a wedding are different and only the bride and the groom can plan it independently without any interference of the families of either side, in India it is very much the opposite. A wedding in the family also means a wedding between two families. The bride and groom often just have to be there for their wedding as everything else is in place already and planned by the super fam. This only shows the impeccable involvement of the families in wedding planning and celebrations too.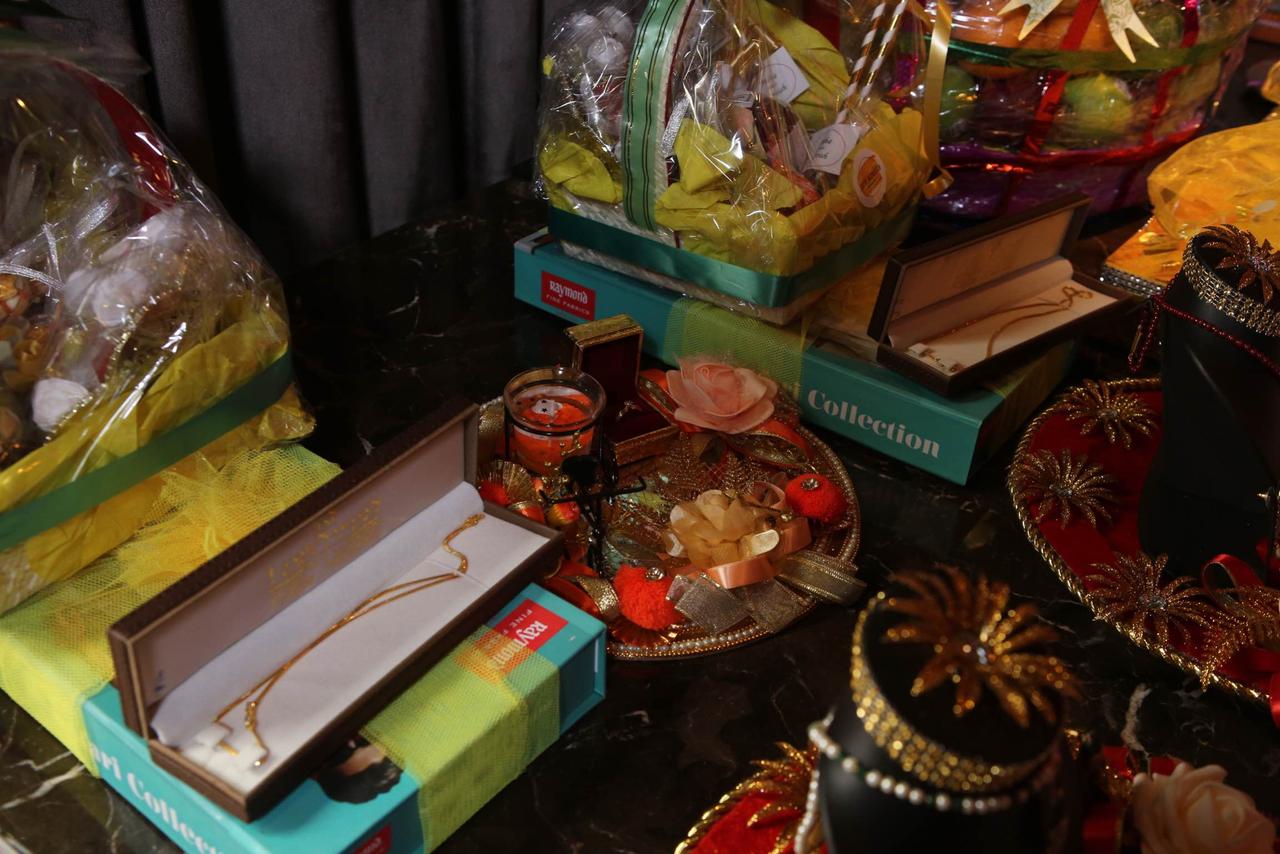 Intercultural weddings are often the reason for raised brows among the families as the institution is still evolving in our country. On being asked how did their families react to the news of them being from different cultural backgrounds and how did they participate in the wedding planning without frictions, Meha says, "Everything was affable from the day 1. Both our families mutually agreed to the entire setup and sat together to decide on the itinerary. However, there was some misunderstanding whilst planning for gifts for different ceremonies. Every tradition has its way of offering gratitude, respect and love in the form of a gift. Punjabi's pour their love in the form of sagans, goodies, diamond jewellery while Baniyas prefer gifting coins - gold and silver. To come to one agreement without disheartening either family was a little daunting."
The Merged Food Menu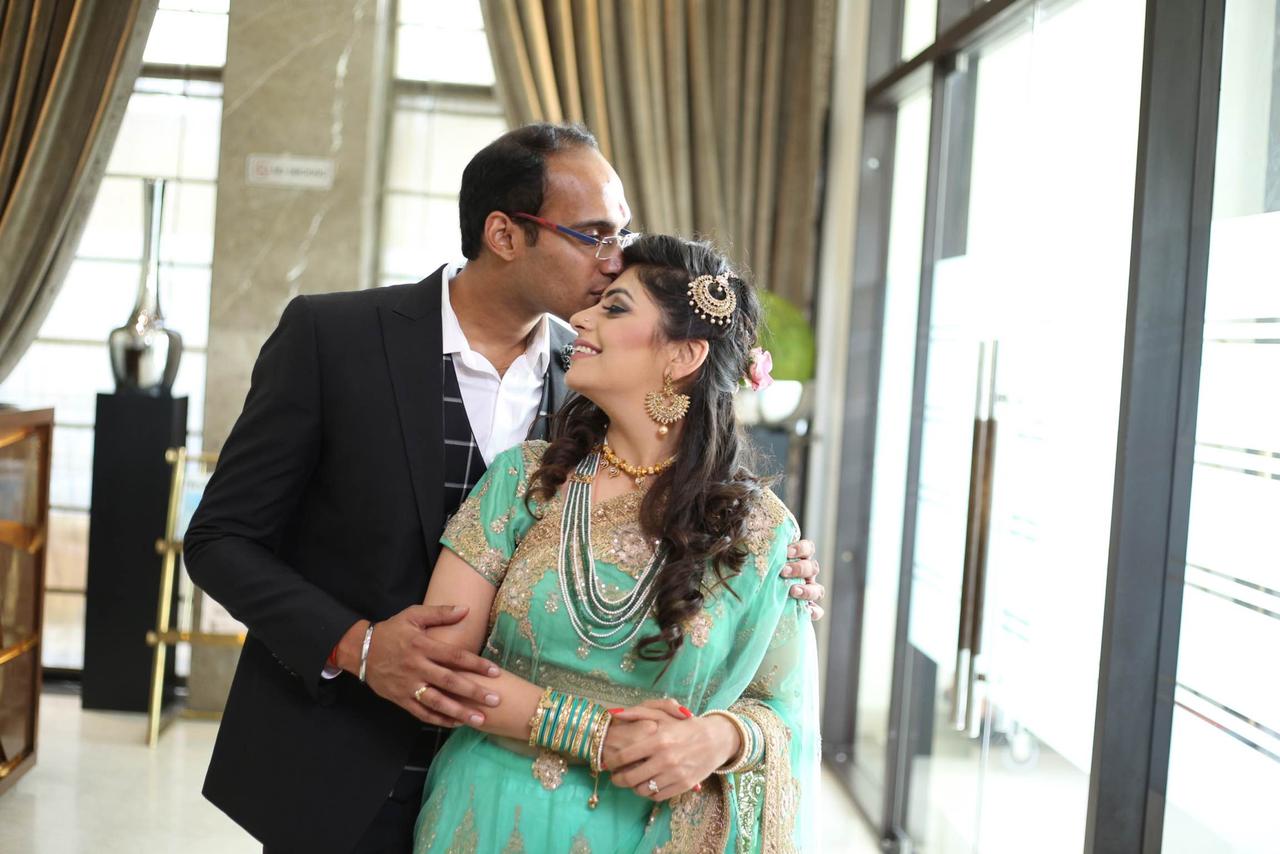 You must remember that concluding scene from the movie Vicky Donor where the Punjabi side of the groom's family got in loads of alcohol and loud music along and the bride's family kept complaining but ultimately got drunk? Well, preparing a food menu that suits both parties is also a task in an intercultural wedding. Especially in cases where many cultures prefer vegetarian meals during weddings as they consider it an auspicious day and many others have a 21-course non-veg platter ready to be savoured.
Meha comes from a Punjabi family and Ravish has his roots in the Baniya culture. It was a plain match of a hardcore non-vegetarian and vegetarian duo. However, the food menu was kept vegetarian-only as a sign of respect for the groom's cultural roots. Meha says, "To give our share of respect to the groom's family, we kept the food without onion and garlic. We respected their tradition and didn't keep non-veg and alcohol too in our menu."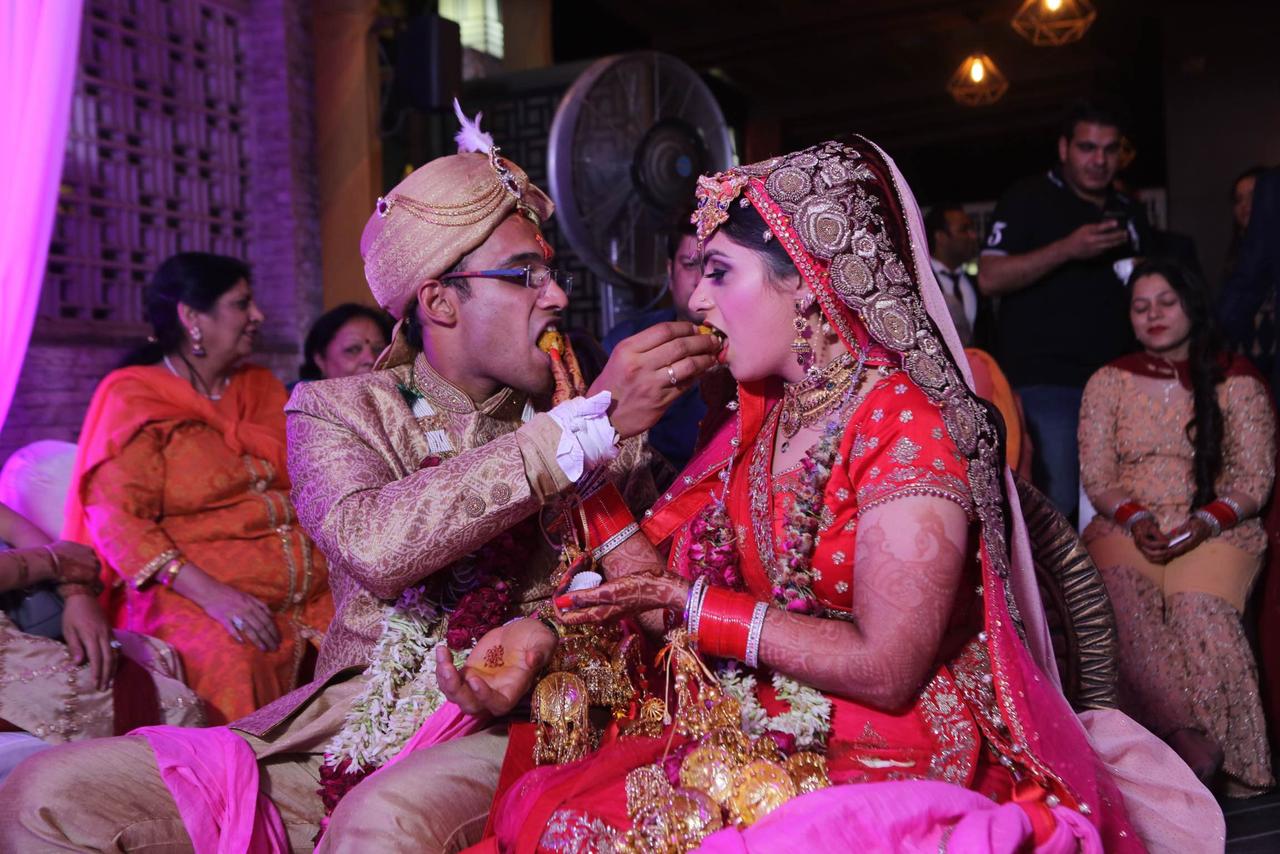 Their wedding was definitely a story to remember. Bringing love from the two states, Meha concludes the interview recalling some happy fun memories. She says, "I thoroughly enjoyed the shoots that happened in the midst of the ceremonies. Through these shoots - we got a chance to stare at each other and then express love through our eyes. Also, when I was heading to the aisle, Ravish bowed down and took me pleasingly towards the stage. Before the ring ceremony too – he bowed down to express his love in a profound way. Apart from this, I had a gala time with his family whilst performing post-wedding rituals. In a find-the-ring ceremony at his house post the wedding, we were asked to take off our rings and keep it in a bowl filled with milk, rose petals, and a few other ingredients that were mixed well. It happened in 3 rounds and as we searched for the ring with full enthusiasm amidst his extended family, they were all jumping with joy, cracking jokes and the giggles filled the room. This actually helped me to gel with his extended family and get comfortable."
Note: All images were captured by White Frog Productions and have been provided to us by the bride, Meha Khera Gupta.
No wonder these post-wedding games were created - the ultimate ice-breakers for the newlyweds!