Our Simple Telugu Bride Lookbook to Inspire You on Your D-day
Look at a Telugu bride and you know right from the start that she takes her tradition and culture very seriously. The whole bridal getup is traditional in every way!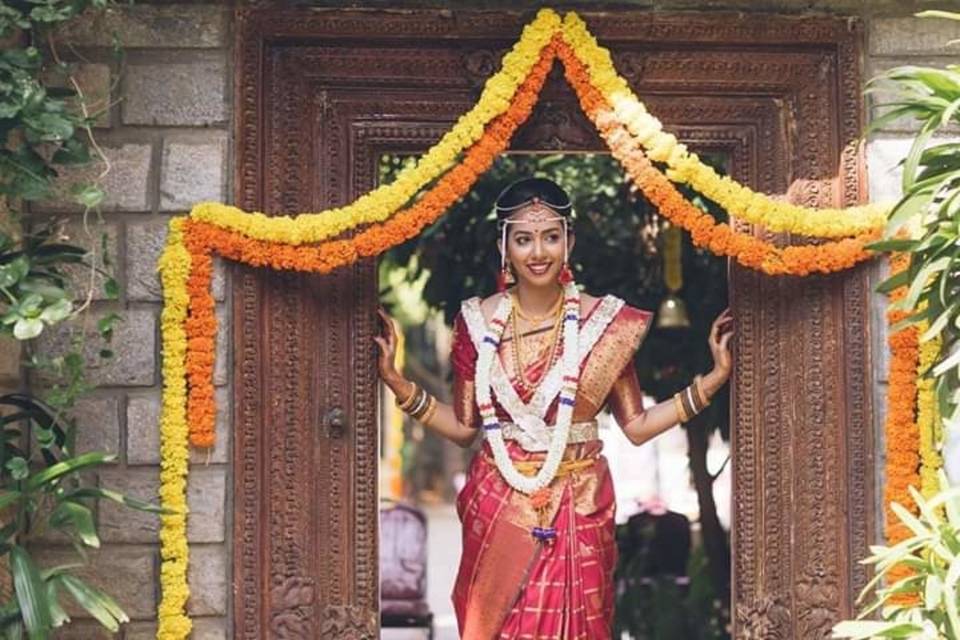 A Telugu bride is a vision in exquisite jewellery and gorgeous sarees. For a Telugu bride, her complete look is given a lot of importance. The final bridal attire is put together after many months of planning and searching for the best pieces and sarees. A Telugu wedding consists of different ceremonies like the Mangala Snaanam, Nischitartham, Pellikuthuru, Kashi Yatra, Gaur and Ganesh Pooja, reception etcetera.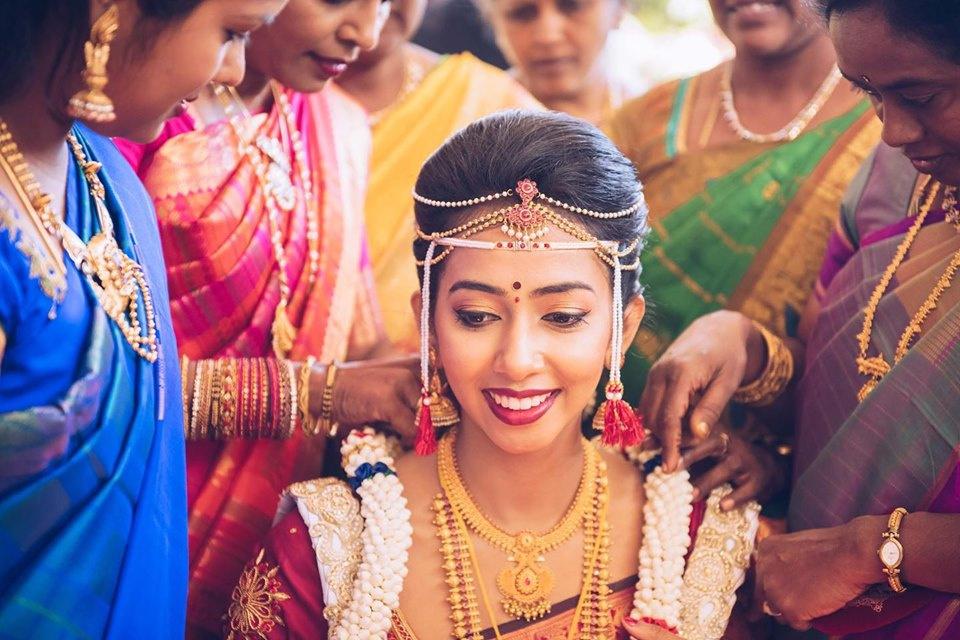 For these various ceremonies, the bride is required to wear different types of outfits. For a Telugu bride, the saree is the most popular choice when it comes to these functions. Here's a lookbook into the different types of jewellery and sarees worn by a Telugu bride for all her functions. Enjoy!
1. The Rich Traditional Bridal Sarees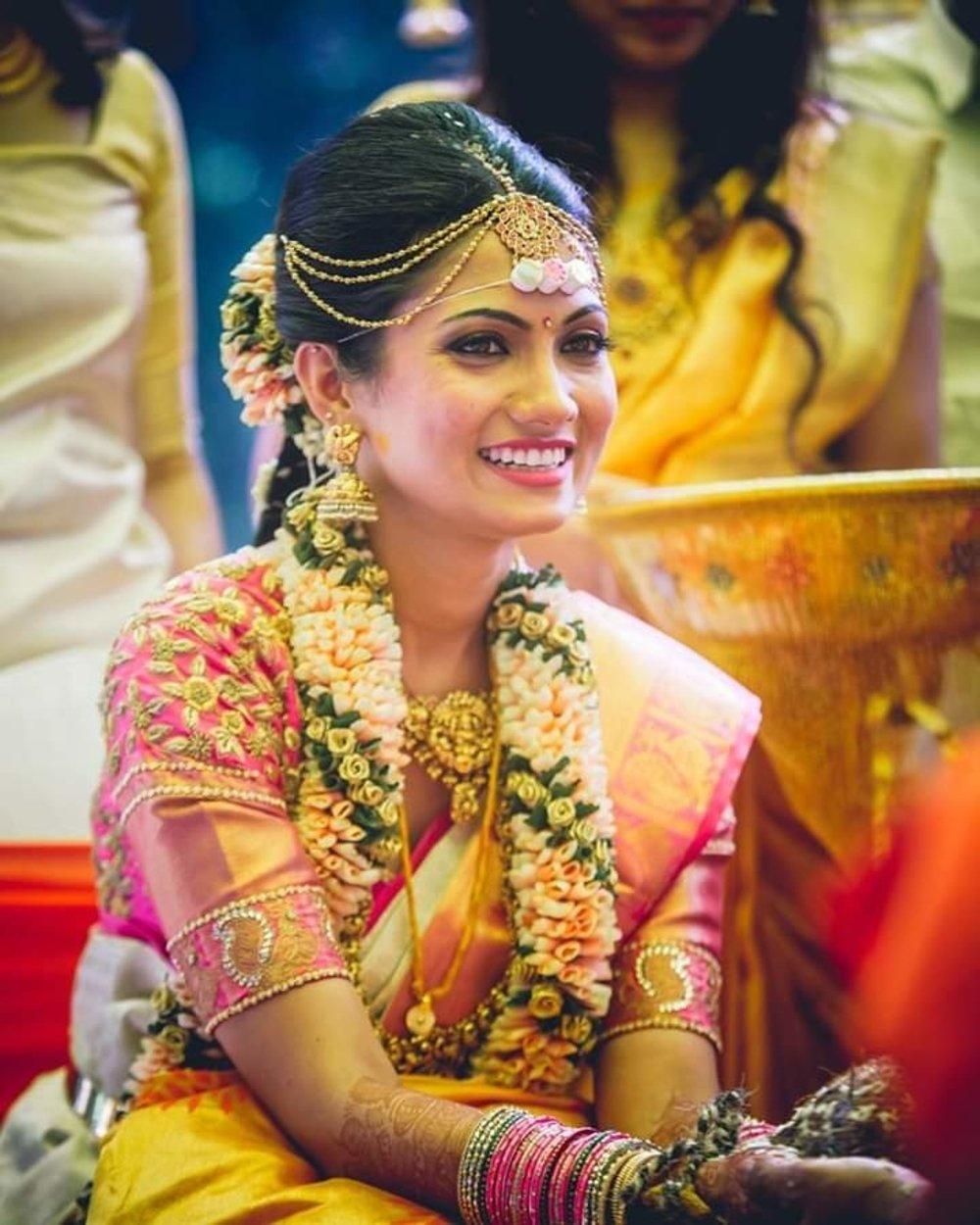 When it comes to the Telugu bride outfits, sarees are a staple. The brides have to wear different types of sarees for each function. A traditional Telugu bride would usually go for an off-white saree with red zari borders. However, today, brides prefer to wear sarees that come in bright, vibrant colours such as fuchsia pink, orange, blue and a combination of shades like maroon and green etcetera. The Dharmavaram handwoven silk sarees are famous among Telugu brides as they come in rich textures and colours.
These sarees are beautifully designed golden brocade sarees with heavy embroidery all over. You will also see a Telugu bride wearing Gadwal, Venkatagiri and Ponchampally sarees too. In some regions, Telugu brides also choose to go with bright coloured veils worn over their heads. The saree, blouse and veil are usually designed with sequins, embroidery, stones and other types of rich detailing to make the attire standout. So, right from the Mangala Snaanam to the grand reception, a Telugu bride would change from her vibrant Dharmavaram sarees to her traditional white and red saree for all her ceremonies.
2. The Opulent Jewellery of a Telugu Bride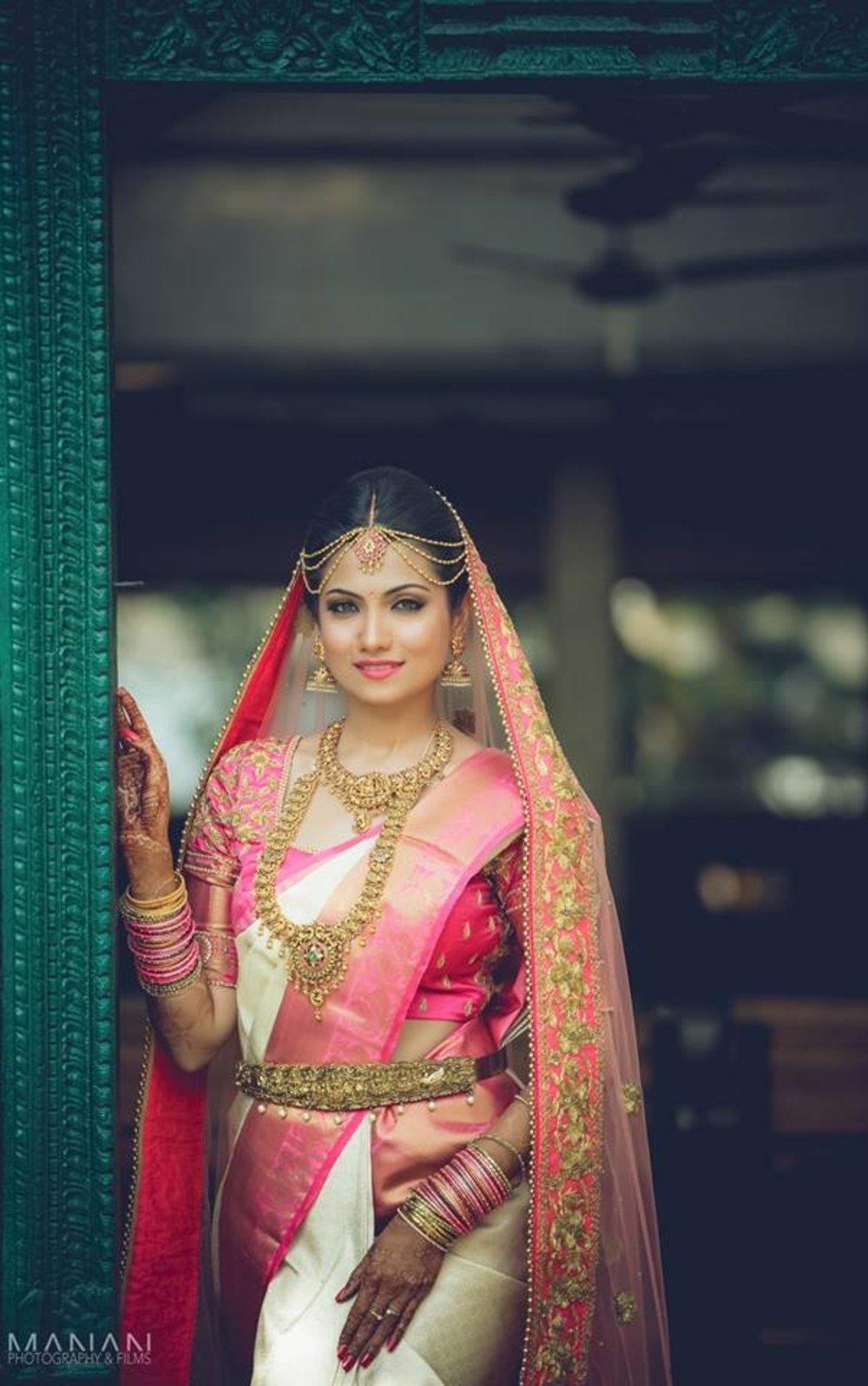 Simple designs and the want for beautiful uncut diamond jewellery are the two most noticeable things when it comes to a Telugu bride's jewellery. As a popular tradition in India, the bride would be typically adorned in some of the most expensive jewellery and elegant garments. On an occasion like a wedding, heavy jewellery in pure gold that's designed with different types of gemstones and uncut diamonds are popular among Telugu brides. Here's the list of what a Telugu bride would wear as part of her jewellery.
3. Papidi Billa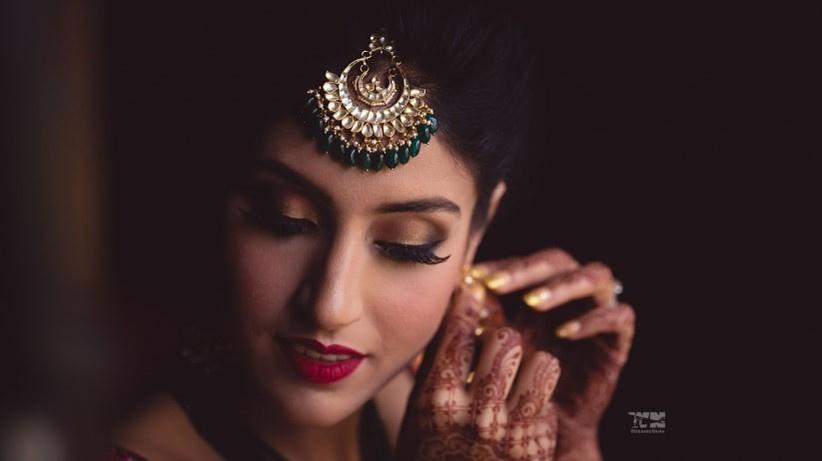 Starting from the head, the hair would be parted in the centre and a pretty Papidi Billa would be placed in a way that the circular part would rest on the forehead. This is a very important part of jewellery when it comes to a Telugu bride.
4. Mukku Podoka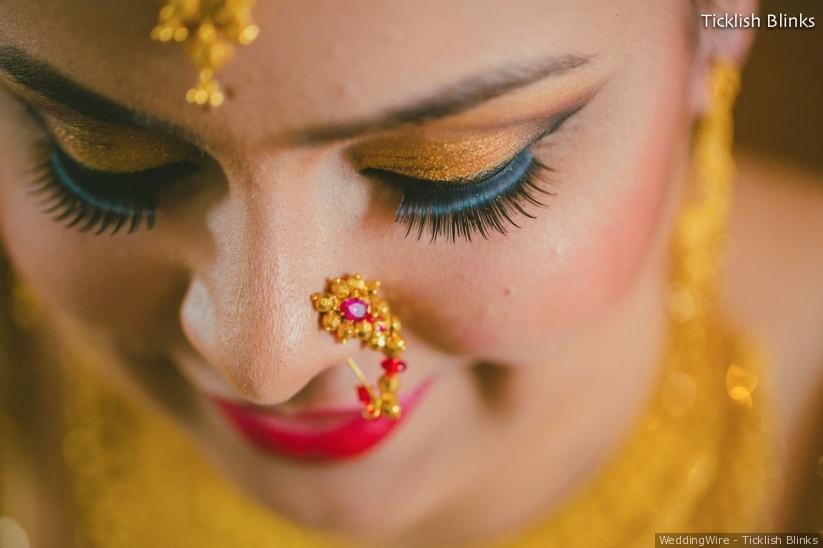 Unlike the north Indian brides who prefer their nose rings big, the Telugu bride would usually go for a simple nose ring that's called the Mukku Podoka.
5. Buttalu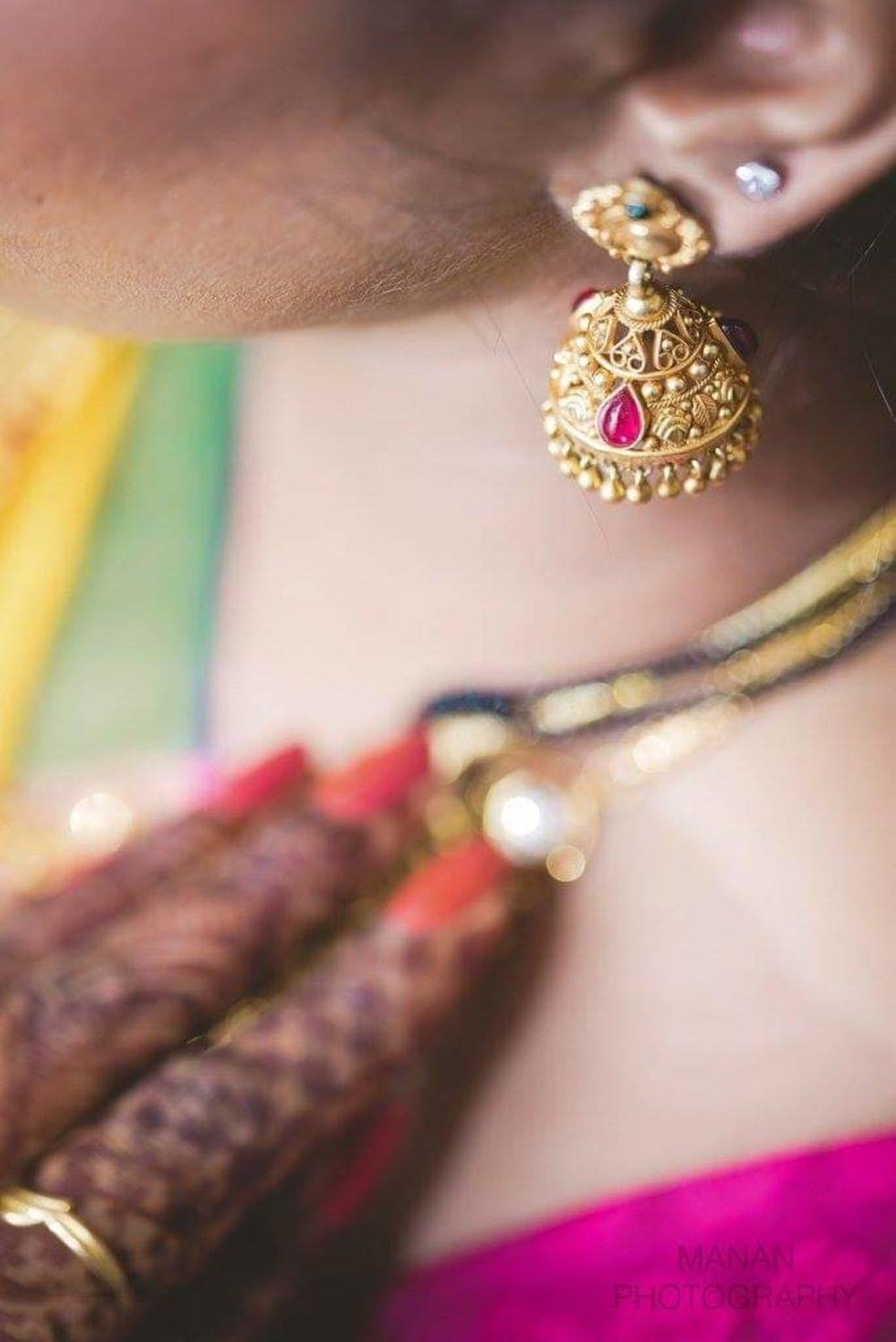 For earrings, the Telugu bride would go for beautiful traditional gold Buttalu or Jhumkas. This would complete her facial appearance, making her look simple, yet elegant.
6. Necklaces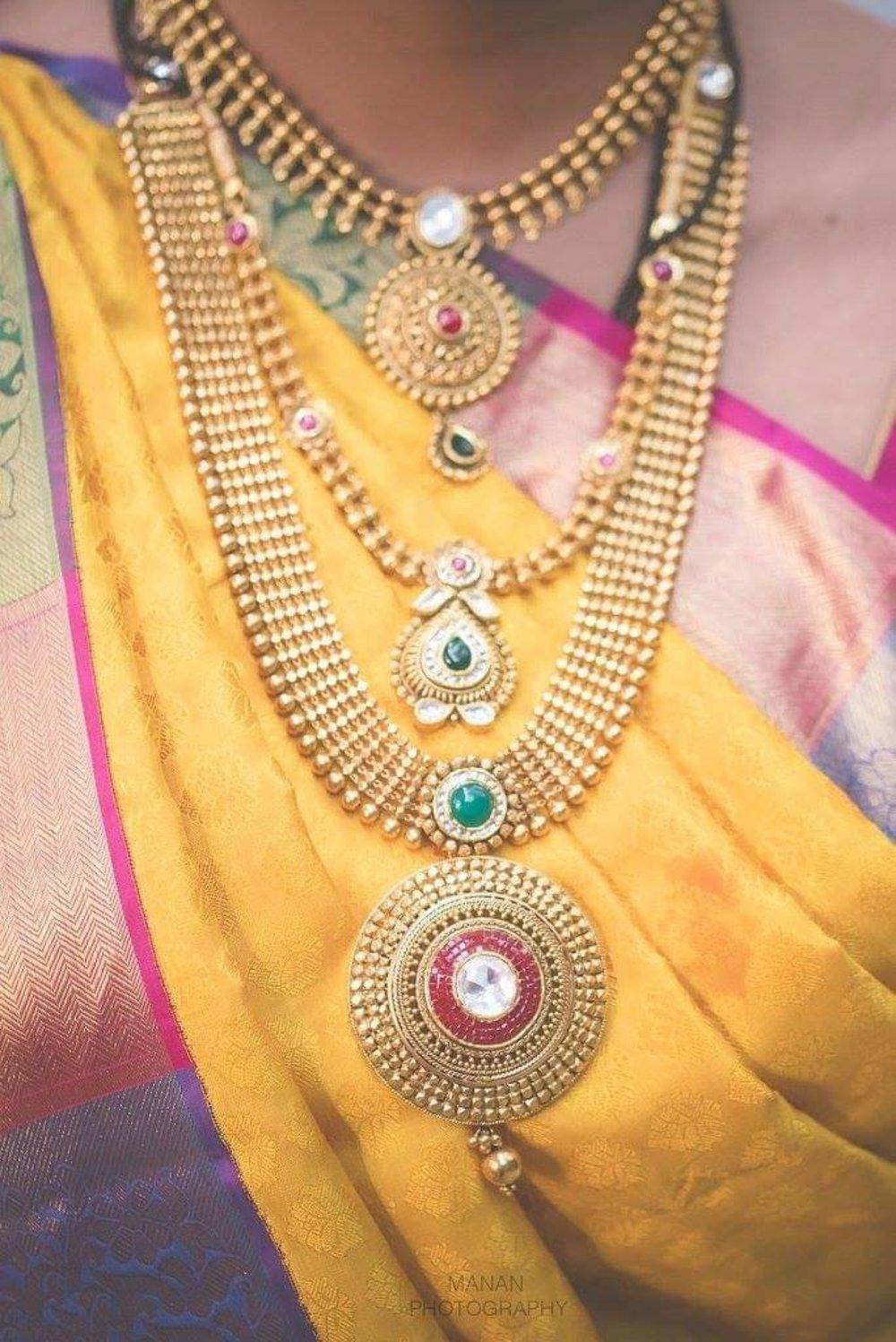 Layering neckpieces are the way to go for a Telugu bride. From elaborate chokers to exquisite long necklaces, the bride shows off her jewellery in style. The Telugu bride wears three types of different necklaces – the Kandabaranam, Sutralu Golusu and Nakshi Haram. The Kandabaranam is a type of choker that's made from gold and beautiful gemstones like, ruby. This choker elegantly wraps around the neck of the bride.
The second necklace is a Sutralu Golusu that's a simple necklace that would hang in the middle. The last piece of necklace is the Nakshi Haram, the most elaborate and prominent type of jewellery that a Telugu bride would wear. This necklace is a real masterpiece that is very heavy and is made from different types of gemstones and gold. Often the necklace is also studded with huge diamonds as well.
7. Aravanki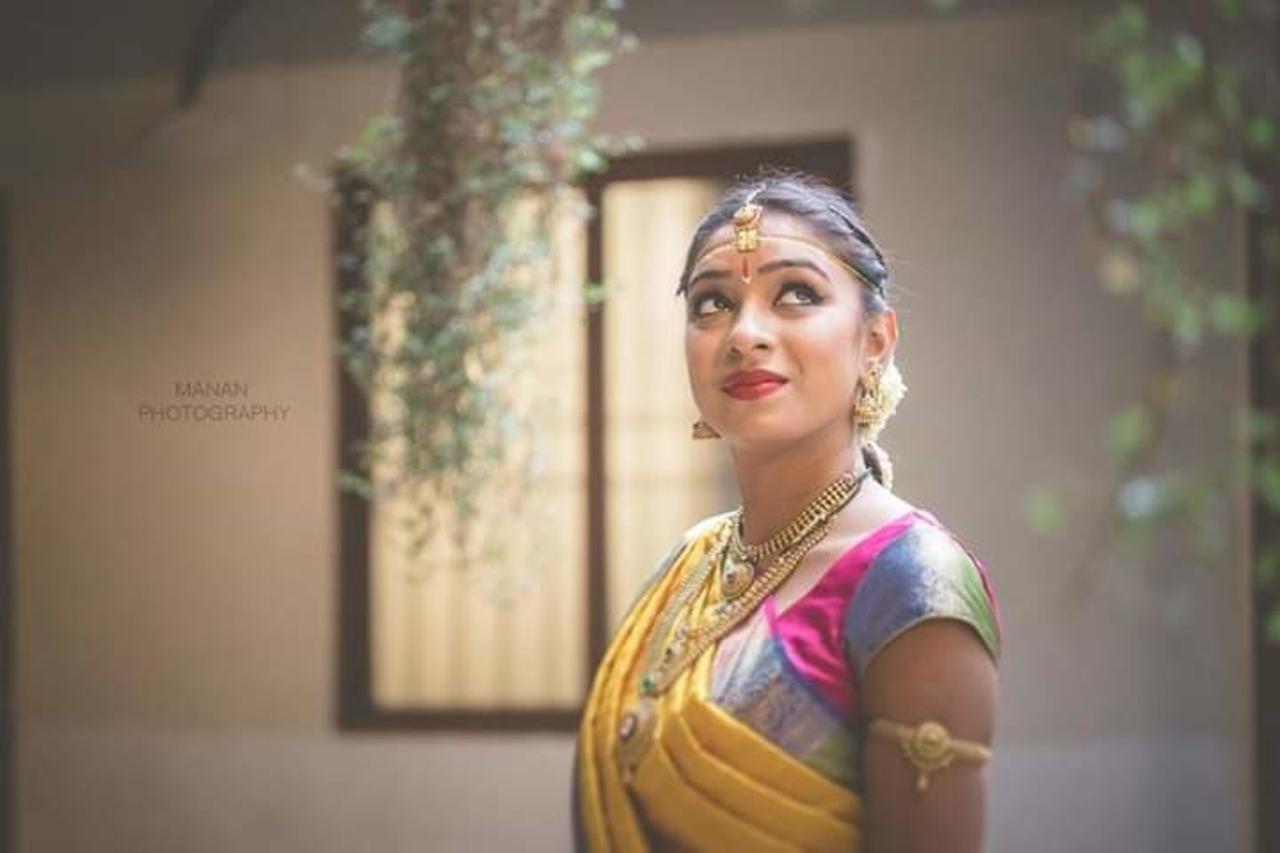 A Telugu bride also wears another piece of unique jewellery called the Aravanki. This is an armband that's delicately crafted in gold. This band is worn loosely on the upper part of the arm.
8. Nakshi Vaddanam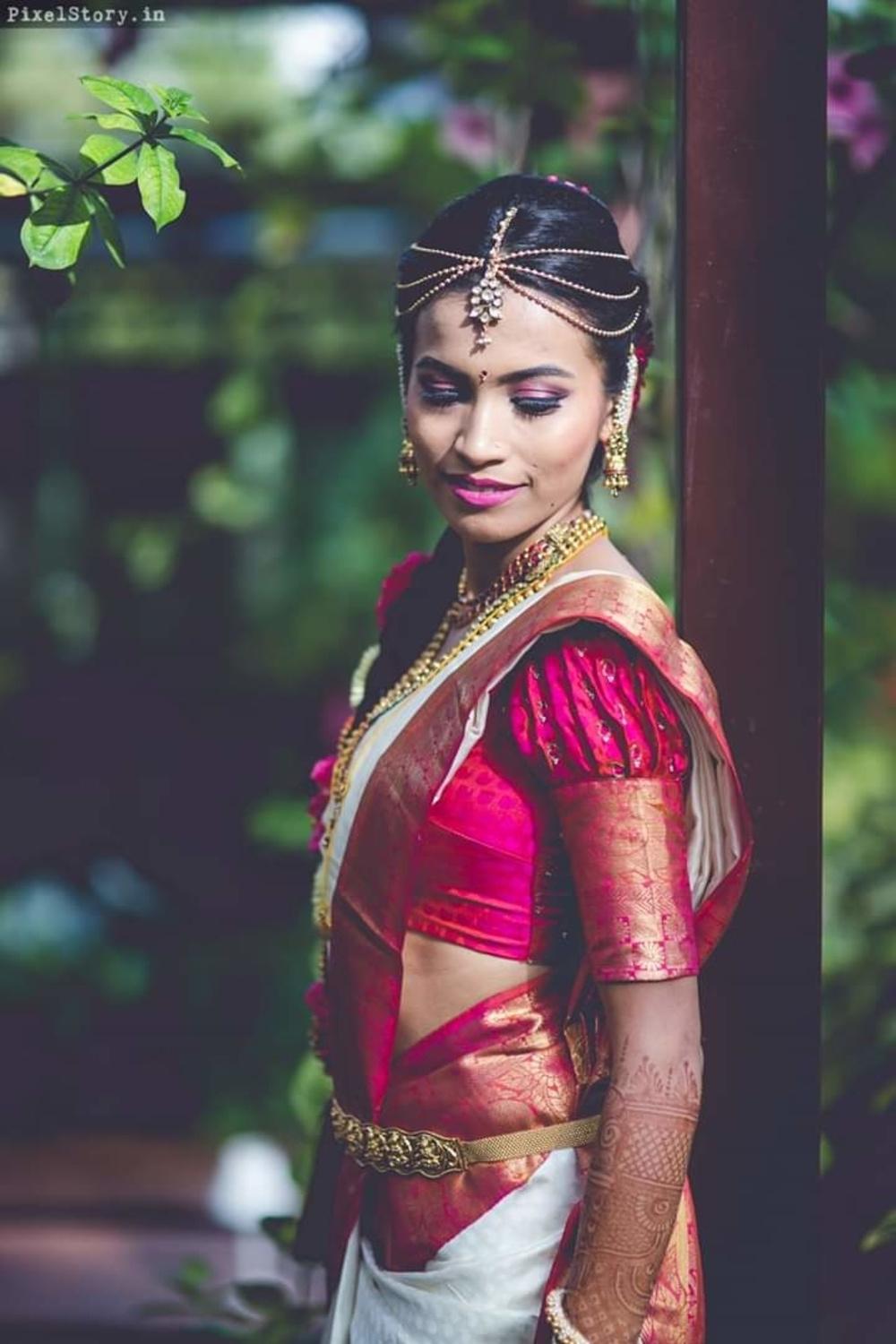 This is a beautiful belly belt that's made in gold. This ornament is worn on the belly of the bride. In earlier days, this belt had a lot of significance as it was a symbol showing the woman's child-bearing abilities. The Vaddanam would often be designed with precious and semi-precious beautiful stones. Most often, this belt would be carved with different images of Lord Vishnu, Goddess Lakshmi and her consort.
These images symbolise protection and prosperity for the newlyweds. The Vaddanam would be gifted to the bride and it would be compulsory for her to wear it. The Vaddanam is also worn for festivals and certain occasions as well.
9. Gajulu/Kangan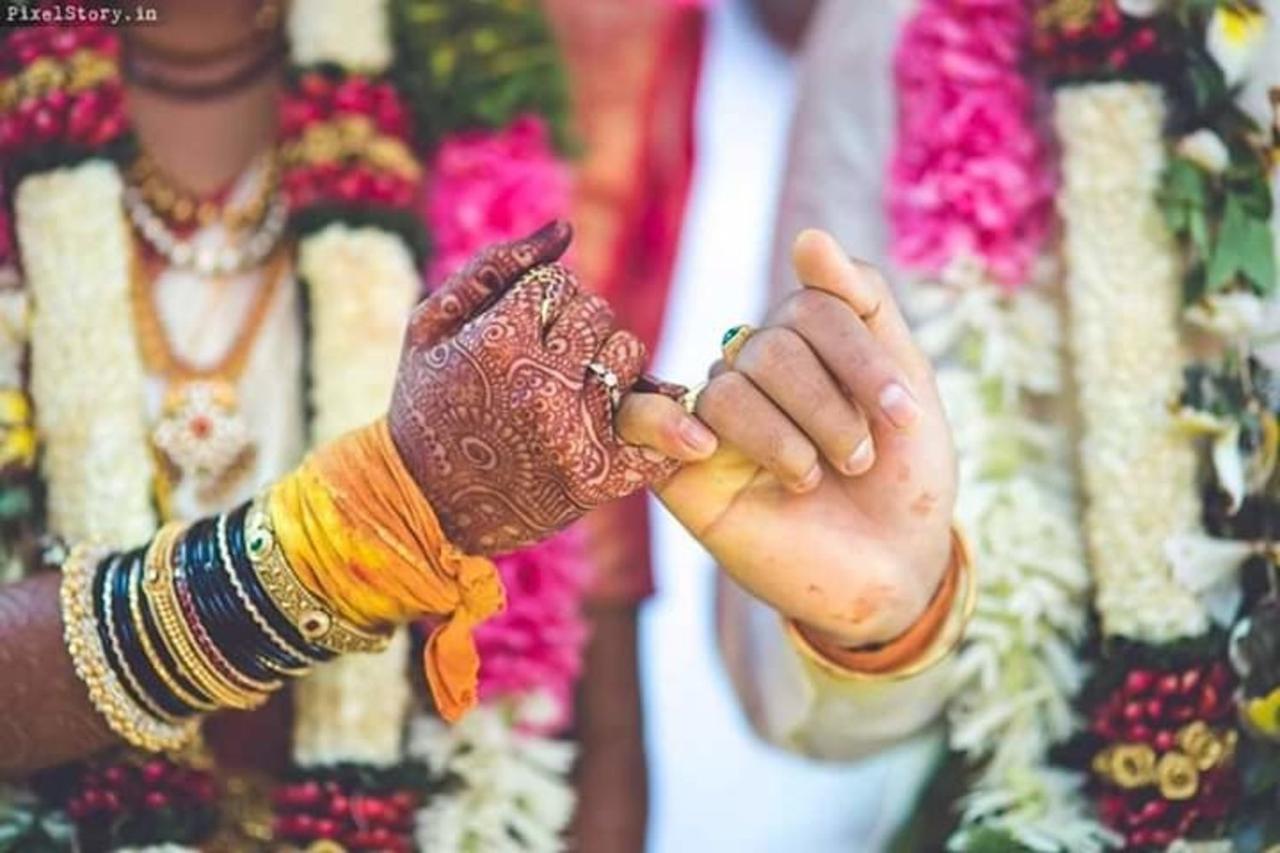 Last, but not least is the Gajulu or Kangan. A Telugu bride would often wear three different types of Kangans or Gajulu. These would differ depending on the different styles and choice of the bride.
10. Makeup and Hair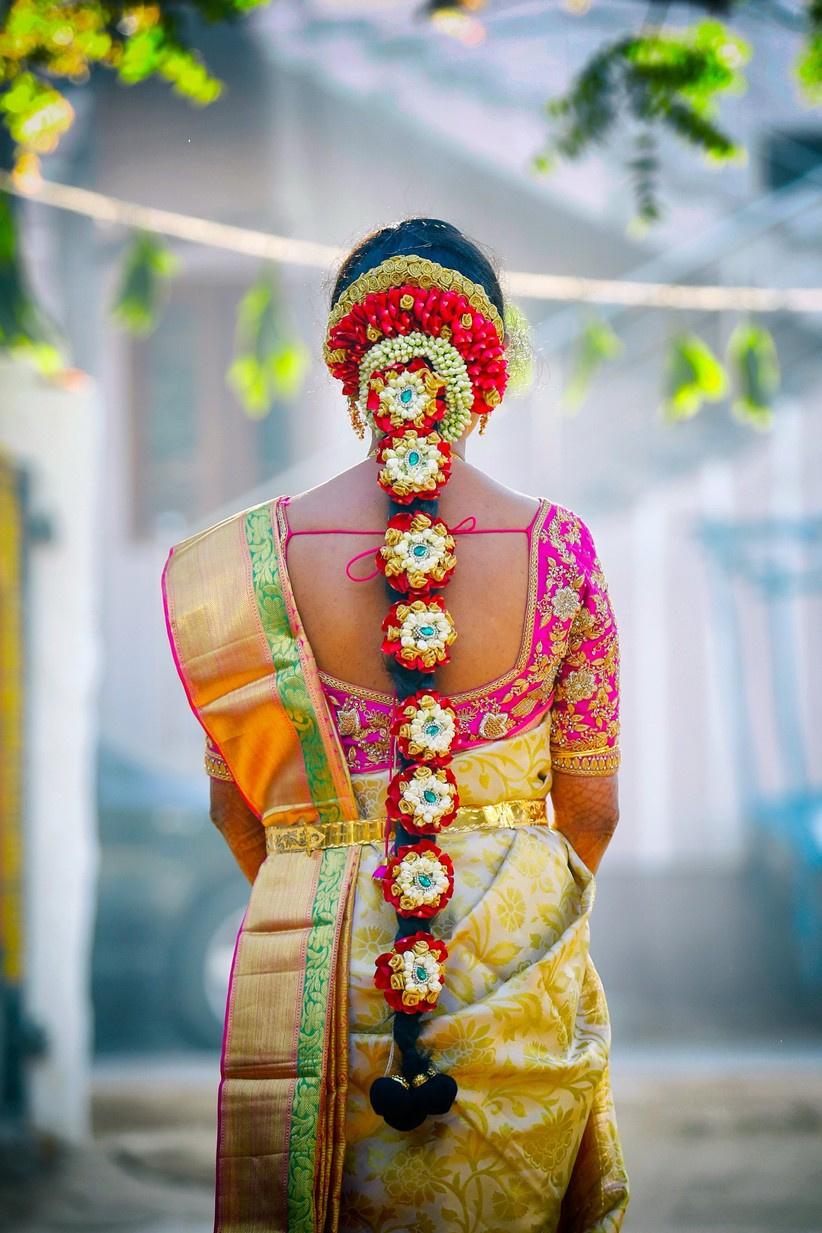 Makeup is very essential for every bride and it's no different for a Telugu bride. Telugu brides usually prefer the simple, natural look. With regards to the hair, the bride usually would go in for a braided hairstyle with flowers, embellishments, hair ornaments and billas. The fresh flowers used are roses, jasmine and lilies in the Poola Jada. These flowers are sometimes added in strings and then wrapped around the braid.
Brides who do not prefer the braid would go in for an updo, that's again done with flowers and other stylish hair ornaments and embellishments. This was everything you needed to know about the Telugu bride look. Bridal styles keep changing with time, but these were some of the most common styles that a traditional Telugu bride would go in for.
If you would like to get a look just like this for your big day, get in touch with our bridal vendors to help you look your best!