Here's the Secret to Looking Your Best: The Perfect Sleeves Design Ideas!
When picking out wedding attire, we often ignore a crucial part of the ensemble – the sleeves design! Pick the right one this wedding season and create a gorgeous look!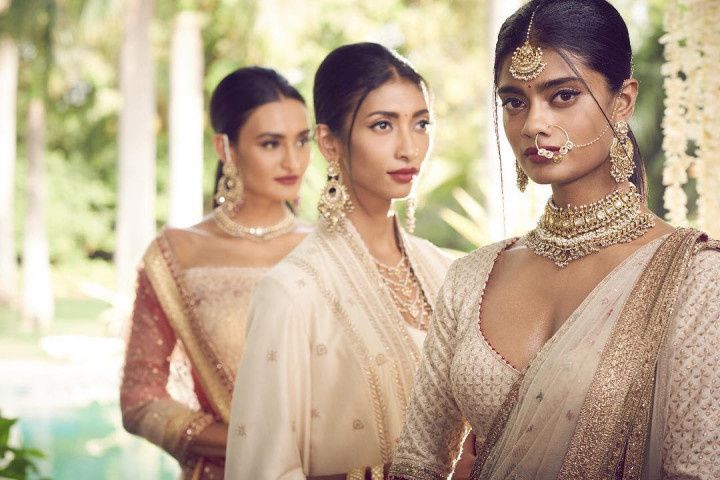 When you're trying to create a perfect silhouette, you must pay attention to the sleeves design too. Sleeves are often the most ignored elements of Indian wedding attire, with most women choosing the sleeveless look. However, the right type of fabric and cut can do wonders for the way your outfit looks. This wedding season, do not forget about your sleeves design!
These sleeves design ideas are completely epic! Check out the following tips to know what you can do to make your outfit truly suit your body type: Browse and wow your eyes with these sleeves design ideas!
Structured shoulders can make you look svelte!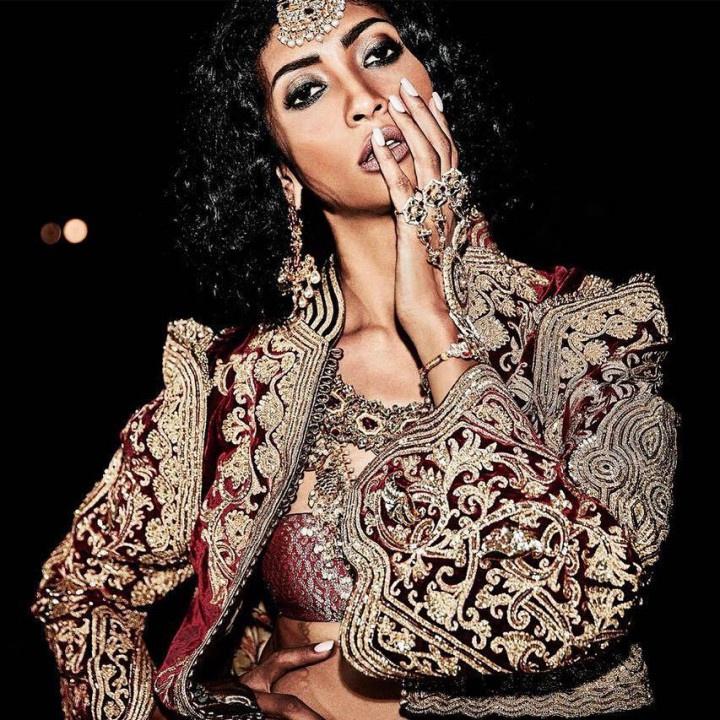 Honestly, there's nothing as chic as a blouse with well-structured shoulders. When you wear a top that has shoulder padding or stiff column-like structures along the shoulder and upper arm, you ensure that you look taller and thinner. Leverage the following tips to make the most of this style:
If you want to draw attention away from the hips, add a short jacket with structured sleeves to your outfit. This will make your frame look more balanced. You can even get away with wearing flowing designs and still accentuate your figure by letting the jacket create the illusion of a higher, narrower waistline.
If you want to create a contemporary take on the Sari, wear sleeves that have padded shoulders along with a little ruching. You can pair this with a light, chiffon Sari to create a juxtaposition in the aesthetic.
Wearing a Kanjeevaram silk with three-quarter sleeves is a great way to rock an outfit with structured shoulders, without having to add padding or other design elements.
If you want to highlight your shoulders in this way, then you must keep your hair up!
Off - Shoulder sleeves are ideal for a girl-next-door vibe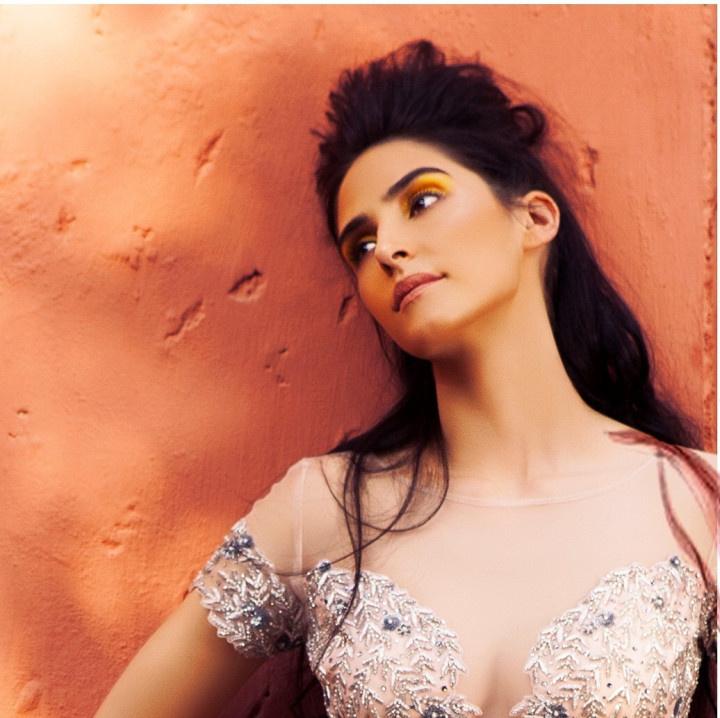 Off-shoulder sleeves and cold shoulders have been the talk of the town for over two years now. This style is ideal for brides who want to radiate youthfulness and femininity. With this type of style, you must choose a sturdy fabric that can stand up without the support of your shoulders. Velvet and stiff silks can look great, along with Chanderi. Keep in mind the following tips if this is the style you want to wear:
A corset top that's tied in the back is ideal for a very enhanced silhouette. Depending on your frame, you can pair with either with a mermaid cut skirt, or a fuller skirt for a princess vibe.
If you are not sure about wearing this with Indian attire, pick a gorgeous gown and wear it to your Sangeet. This can help you exude a glamorous vibe without fretting over the way it looks paired with a traditional Lehenga. If you're wondering about that – it can look great!
Do not clutter up your clavicle and neck with heavy, dangling necklaces. Pick a choker to accentuate the cut of your outfit.
If you want that glowy, bridal look, be sure to use ample highlighter on your shoulders and clavicle.
Since the highlight of this outfit are the off-shoulder sleeves, make sure that your hair does not get in the way. A fishtail braid can look great when paired with such sleeves!
Strappy sleeves for that sexy look!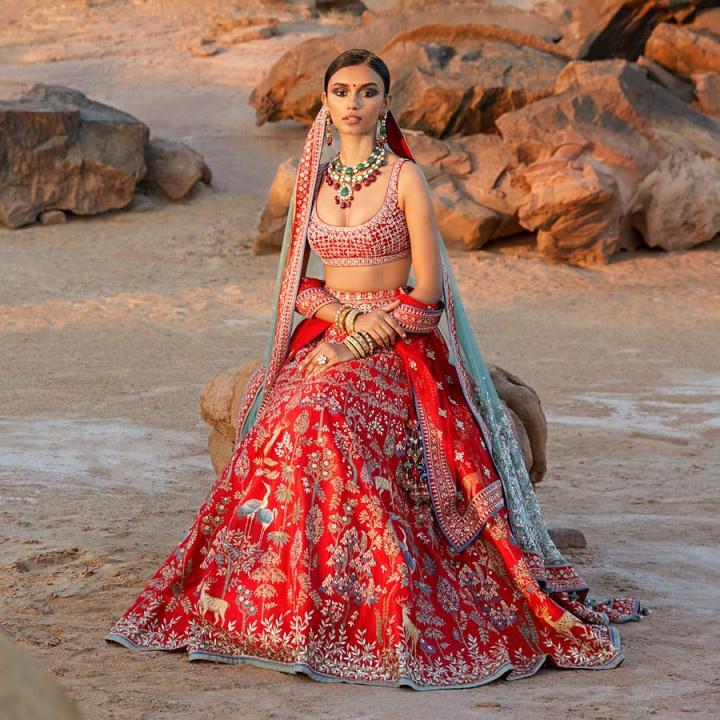 There's a reason why practically everyone wears strappy sleeves during the wedding season – they look stunning! Whether you're looking at a barely-there stringy sleeve or a slightly thick one that covers the shoulders, strappy sleeves are definitely a safe option for almost all wedding attire. Many women today, while striving to create a contemporary look, pair halter tops with Saris. This fusion look is extremely popular, and is a great way to switch up your aesthetic now and then! Check out these tips for wearing strappy sleeves while attending weddings:
Who says your straps need to be made of fabric? Think outside the box with beady, embellished straps that will look great while also adding some bling to your look.
If your outfit has a Dupatta, make sure you drape it over one shoulder, so that you can show off the look that you've chosen.
Long wavy hair can look great with strappy sleeves as they offer a juxtaposition between volumes of locks and scant fabric. However, if you want to look like a glamazon, sleek straight hair is the right way to go!
Go big with the jewellery to really make an unforgettable statement!
The sleeves design you pick has a huge impact on the way your outfit looks. So, don't ignore this crucial factor while picking out the right outfit to attend weddings in! Not sure if you want to spend and design an outfit you'll scarcely wear?
Rent traditional Indian and Indo-western attire from any of these fab vendors! Also, which one of these sleeves design ideas would you pick?