The Sister Wedding Invitation: A Complete How-To Guide for All Kinds of Invites for the Big Day
If your sister is getting married soon and you are in-charge of the wedding invitations, you've found just the right place. We are here to tell you about the different ways you can get creative with your sister's wedding invitation.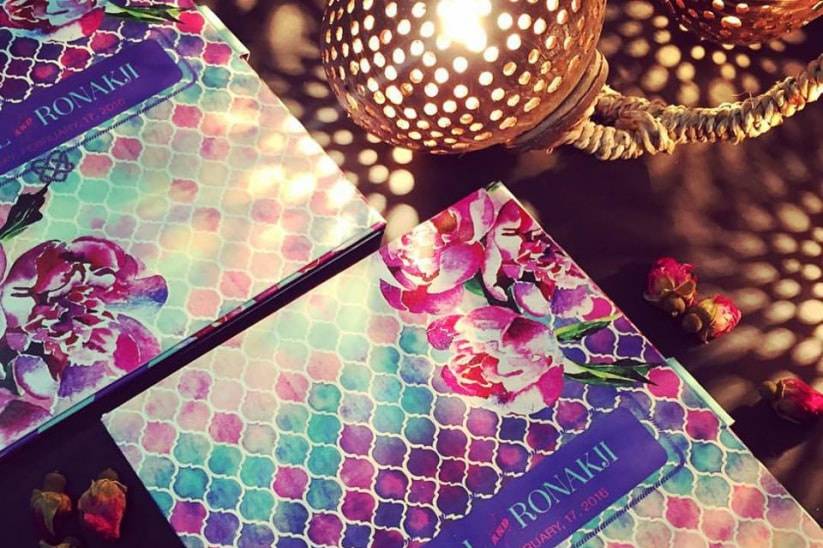 Making an impressive official announcement of the wedding becomes even more important when it's your sister's and the sister wedding invitation is a huge responsibility that you have to fulfil impeccably. As one of the most important parts of wedding planning, you will need help with the wedding invitation duty. Wedding invitations are one of the tasks that you prioritise over others and the fact that it involves a lot of other people who will probably come over from various parts of the world and all of it depends on the wedding invitation, makes you feel even more responsible.
Your sister is getting married and it is probably one of the biggest and most emotional days of your life to look back at someday when it has passed. You do everything in your capacity to make it absolutely perfect and the sister wedding invitation is no exception to the list of things that need to be perfect. We bring you some creative ways to work for and get the perfect sister wedding invitation card ready.
The most important thing to keep in mind before creating a wedding invitation is to make sure it represents the couple's love for each other and their big day to come. Of course, don't forget the necessary details that are vital to the invitation. Decide whether the tone of the wedding invite will be classic, casual, formal or traditional. A perfectly crafted invitation sets the mood of the wedding and so it's extremely crucial how you play around with it. Read on to know more about all the aspects.
Sister Wedding Invitation: Content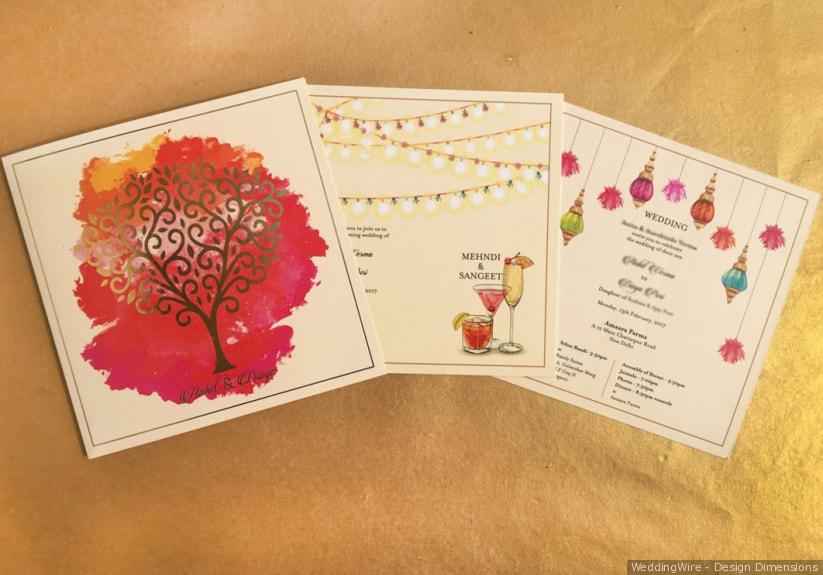 The first and foremost attention should be given to the textual body of the email. All wedding invitations should include - who is hosting the wedding, names of the bride and the groom, date and time of the wedding functions, location information, dress code and a request note for the guests to attend the wedding. Make sure you check each and every fact, proofread the content and check the grammar carefully. Once the text is in place, come up with an interesting hashtag for your sister's wedding and do add it to the content of your e-invite.
Example:
Reema Vats, daughter of Mr Raj Vats and Ms Ramya Vats,
and
Akshay Sharma, son of Mr Pankaj Sharma and Vandana Sharma,
request the honour of your presence at their wedding on
5th July 2018
At 20:00 hours, The Crowne Plaza, Rohini
Dinner to be followed by the wedding.
Dress code - All things blue.
#ReemakshayKiShaadi
We spoke to Aisha from Design Dimensions and according to her, "Script fonts are always a favourite for wedding invitations and with the rise in brush lettering – brush fonts have gained popularity with a lot of people requesting them for their invites." Make sure you include this latest trend in your ideal sister wedding invitation.
Sister Wedding Invitation: Types
1. Emails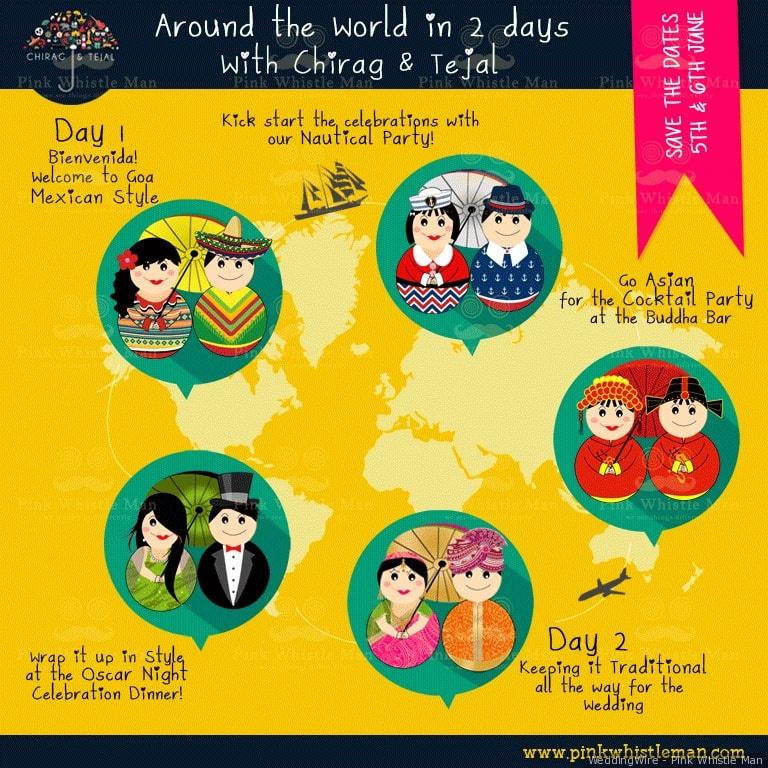 Emails are a great way of sending out invitations for two major reasons. One, they are cost-friendly and two, they are paperless.
Making: Decide a theme that you will follow throughout the wedding - It could be a colour based theme, a location-based theme or even characters based theme. "E-invites are different in terms of style and design because the unboxing/opening of the invite is no longer a tactile experience. The value addition is in terms of music, animations, photographs etc," said Aisha. So try to incorporate that theme into your wedding invites by using these elements and align them with the theme of your sister wedding invitation ideas.
Sending: It's always a good idea to make a separate email address with the wedding hashtag before you send out any emails. Make sure all the e-invites are sent out from that particular email address. You can write a short message at the beginning of the email to the receiver to add a personal touch to your invite. Or you can ask the receiver to reply to the email with a sweet message for the couple. Later, you combine all those messages along with bride and groom's pictures and gift it to your sister on the wedding. You can send out these e-invites to your friends or relatives who are outside India.
2. Printed Cards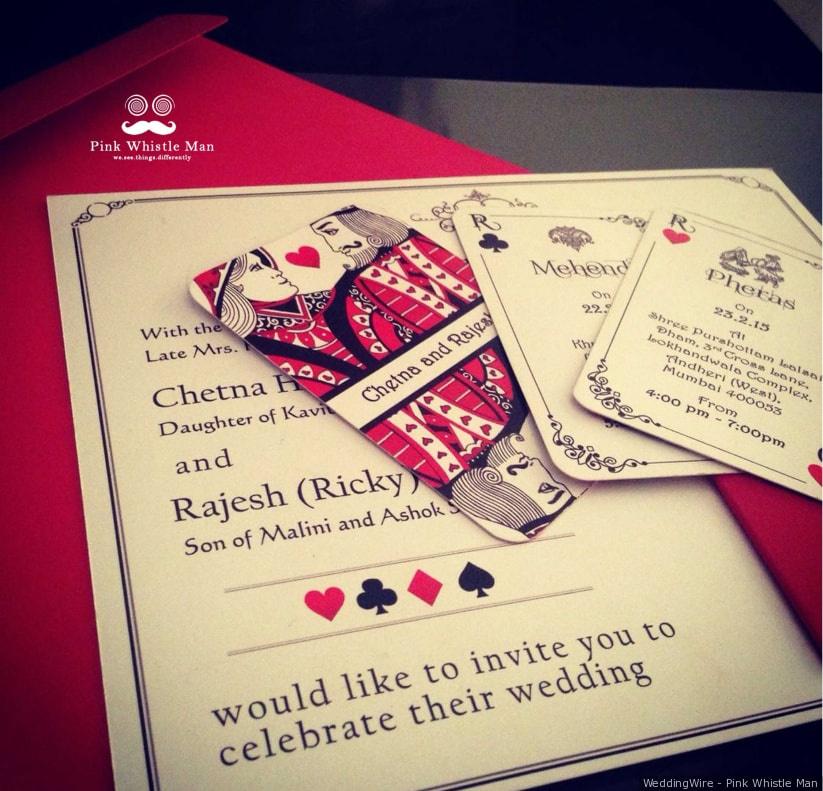 Printed card invites have been here since time immemorial and there's a reason people say old is gold. Almost everyone gets wedding invites printed in the form of cards and here's how you can too.
Making: WeddingWire has a list of vendors you can refer to get a sister wedding invitation made gorgeously. From traditional to modern styles, these vendors have a wide range of variety to offer and choose from. If you want to personalise your wedding invites and do something 'Hatke' with it, you can get your design made from a Graphic Designer and get it printed. According to Aisha, "Elegant designs with minimal fuss are always popular. Quirky designs are in high demand these days. It is hard to say that a specific type of print is being used because each requirement is unique. Some people like floral designs, while others may opt for geometric patterns."
Sending: You are the bride's sister and so when you are sending out invites, it has to be done right and in style. Along with the wedding card, you can send handmade wedding favours to your friends and your sister's friends. Aisha told us, "Most couples these days create wedding hashtags and we try to incorporate them into the wedding stationery, collateral and giveaways like Hangover Kits, Caps, T-shirts, Wedding programme/ Itinerary, Welcome note, Selfie booth, Save the date etc." You too can include these elements along with the wedding invites.
3. WhatsApp or Facebook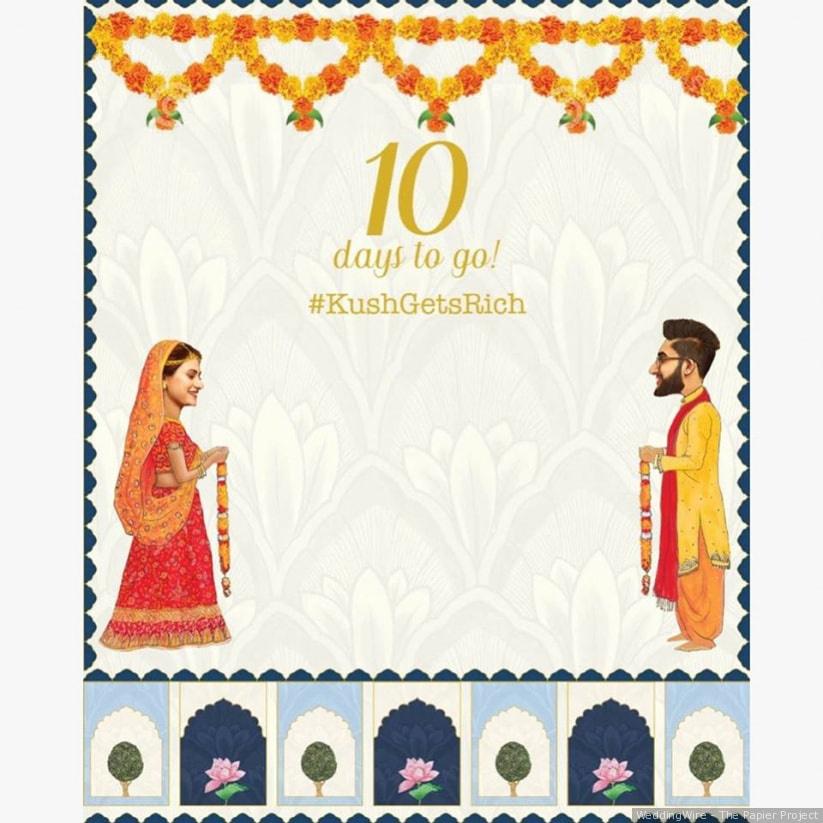 Sending out a digital card using WhatsApp or Facebook is the new it thing and believe it or not, it's much more convenient than emails and printed cards. Everyone is going digital these days and well, so can you for your sister wedding invitation duties.
Making: There are tons of vendors who specialise in making e-invites and that will make for a perfect sister wedding invitation. According to Aisha from Design Dimensions, "E-invites are being seen as a way to go green. There are GIFs, animations, videos and static e-invites doing the rounds. People send them via WhatsApp messages and also create facebook events where the details are accessible by all the invitees. Today there is the added option of creating a wedding website and linking it to your wedding gift registry."
Sending: The added benefit of digital invites is the cost saved in physically mailing these invites. You can easily send them through your WhatsApp or Facebook by either creating groups or personally sending each invite.
Aisha told us, "The personal touch to any invitation is added by understanding the personalities of the couple and adding elements accordingly. In some cases, this translates into a monogram with their initials, in others it could be subtle references to their favourite colours, flowers, animals or even music. It is up to the invitation designer's creativity and how they incorporate the elements into the design."
4. Wedding Invitation Box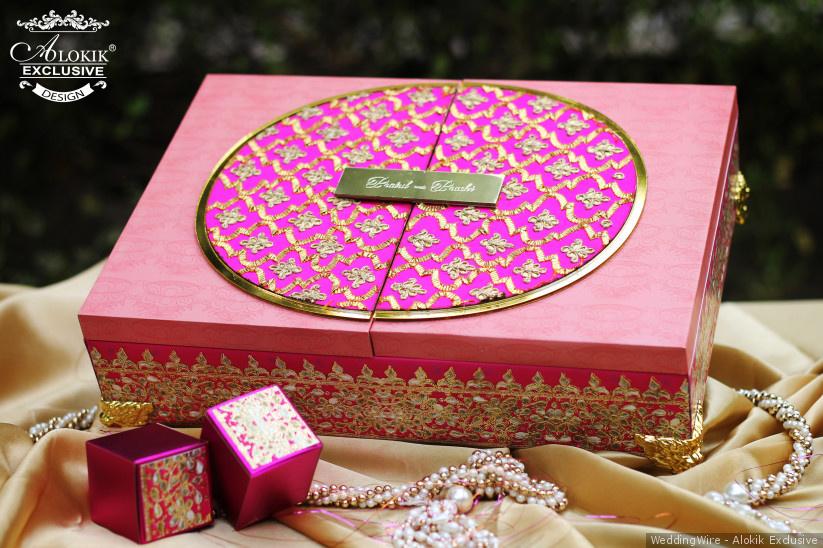 Sending out a wedding card and a gift hamper along with it is the new it thing and believe it or not, it's much more personalised than emails and printed cards. One benefit of opting for a wedding invitation box is that you can customise them however you please. A chocolate based wedding invite box for your friends who love all things sweet or perhaps one with a miniature of alcohol and a crystal glass if they like to drink the bond style. The options are endless and you can pick which that resonates with you the most.
Making: There are tons of vendors who specialise in making a wedding card and a gift hamper and placing them in a box. According to Aisha from Design Dimensions, "Boxed invitations are picking up the pace as more and more people want to add that extra something with their wedding invitation. You can add sweets, dessert jars, miniatures, cigars, some personalised decoration article whatever that you want to add to the box is totally up to you and your preferences." Make sure to add the right amount of emotional investment and add the personal touch that will tell your story on behalf of you and your sister quite well. Personalised gifts with your sister and her groom's pictures is also another exciting sister wedding invitation package.
Sending: The added benefit of sending an invitation wedding card box is that you can make your wedding guests feel special and more like a part of your wedding celebrations with this kind gesture. They won't be able to keep themselves from feeling delighted at your thoughtfulness of not just inviting them with a scroll of paper.
So are you all set to send your friends your sister wedding invitation in the coolest way possible?