9 Hilariously Naughty Pranks to Try out This Wedding Season
What's a celebration without a few naughty pranks! Read, enjoy and get inspired by these real-life wedding pranks that stole the thunder and created some unforgettable side-splitting memories!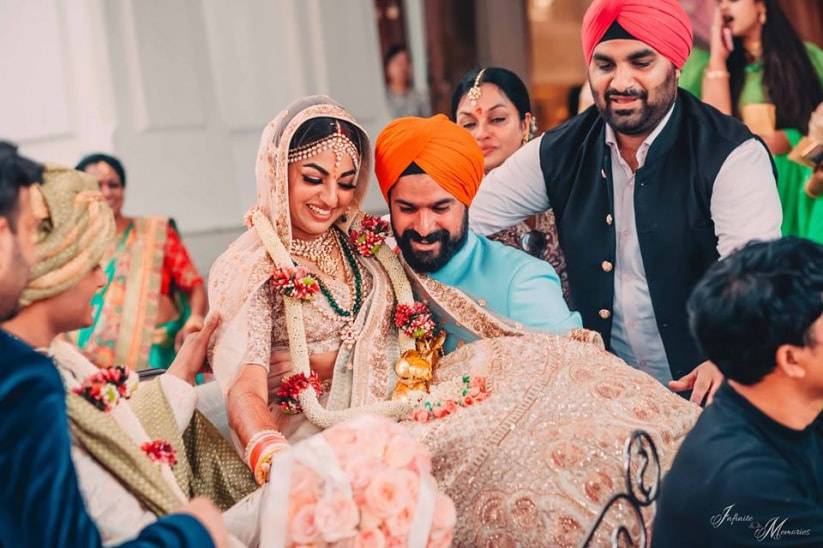 Remember the times you sat beside your parents or elders listening to the funny, fascinating tales of their wedding? There would always be incidents they couldn't keep from laughing at even years later…Naughty pranks that worked, and then those that went all wrong, but still succeeded at creating eternal happy memories!
We've all heard of the age-old 'hide the shoes' prank—still works like a charm! But that has grown into a wedding custom that everybody expects and prepares for. We spoke to several married couples, trying to find out some innovative, unusual pranks they might have been a part or targets of. These 8 take the cake when it comes to originality and entertainment value
1. The Drunken Bride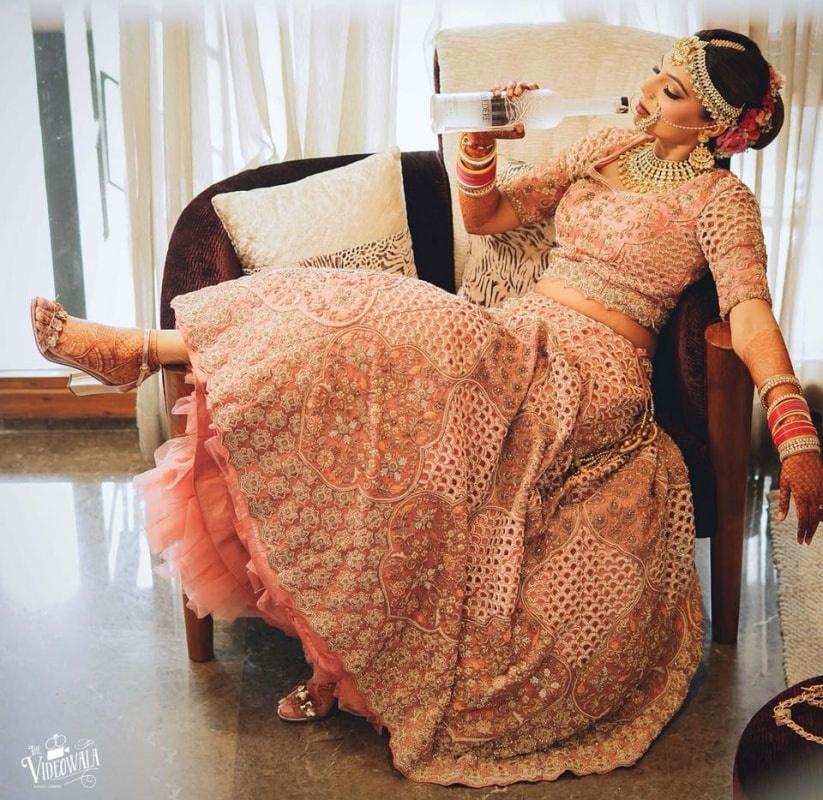 We were really surprised at the number of brides who've tried this particularly naughty prank or a variation because we'd actually never heard of it before! The best story — the bride-to-be decided to have some fun at her would-be's expense when she walked onto the wedding stage. Just as the groom initiated a chit-chat, the bride started her Nakhras, quickly letting the groom know she's had one drink too many!
A sly 'don't speak to me' quickly transitioned into non-stop complaining, bringing up every slip-up that the poor groom had made during their yearlong courtship. The final blow came with an 'I don't want to marry you'! The bride started to get up from her seat, causing the nervous, confused groom to start pleading. That's when the forgiving bride burst into laughter to reveal that it had been an act.
If yours is a love marriage or you've known the groom well for a decent stretch, then doing this number amid naughty pranks is right up your alley! Tips for crushing it — wear a Ghoonghat to hide your expressions from the wedding guests and your uncontrollable giggles from the helpless groom. Also, remember to keep the volume dialled down so your complaining doesn't give the guests a chance for gossip.
2. The Drunken Guests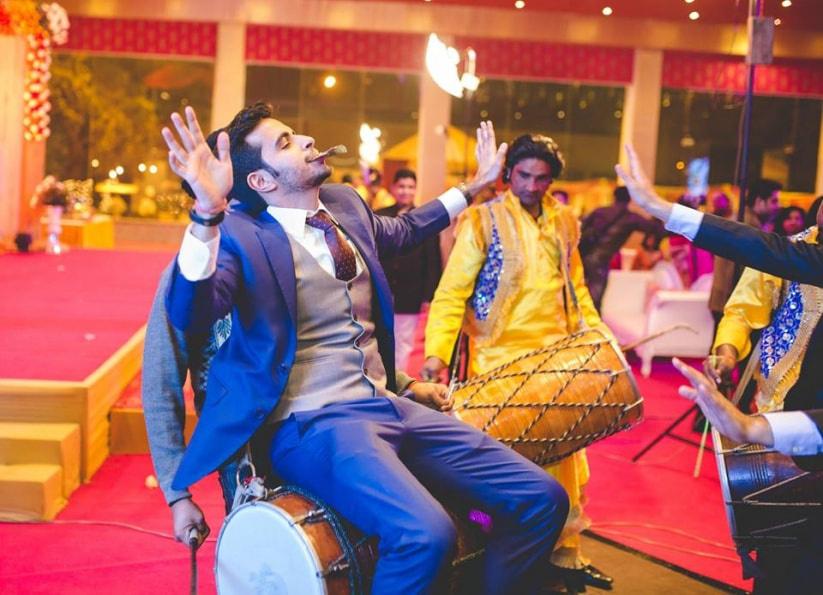 Another alcohol inspired prank, this one involves close friends or relatives from either side. If you're looking to pull a leg and add more fun to your friend or relative's special day, find a couple of like-minded souls and have a go at it! The most hilarious incident we heard of involved a bunch of close relatives walking and acting funny, blessing the couple a dozen times too many.
You can add your own touch to these naughty pranks, recite some lame wedding and romantic poetry, breaking into funny dance steps and then getting the bride and the groom to join you. You wouldn't believe how nervous and embarrassed they would get when they find their favoured guests acting this way!
Important tip — make sure you keep it just enough loud that the victims get awkward, but not overly concerned.
3. The Unpleasant Presents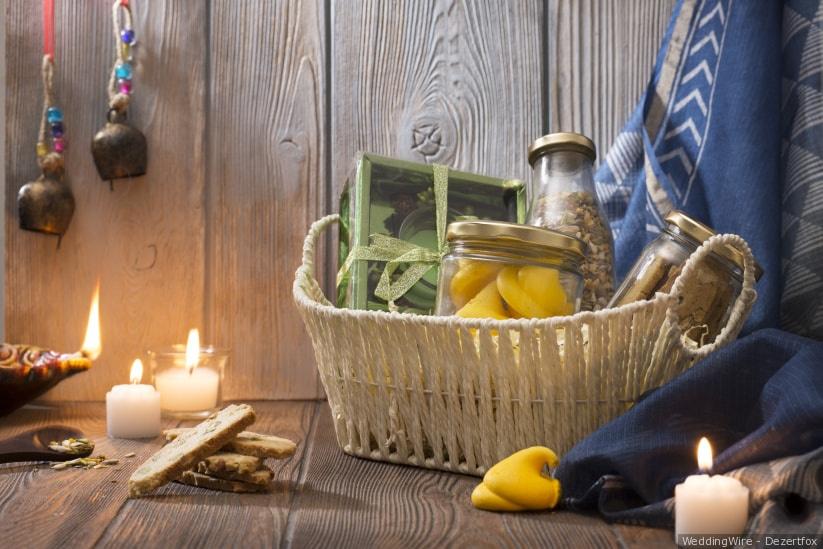 Here are some more naughty pranks that we never knew to be popular until we spoke to some couples from Himachal Pradesh. Turns out it's quite the rage amongst the bridesmaids in parts of the hill state. Here's how you prank your girl pal's Mr Right…get your gang together, find some big boxes (the bigger the better) and a lot of decorative wrapping paper and ribbons. Next step, find some really unpleasant presents to fill in the gift boxes.
Squashed tomatoes, tattered clothes, banana peels, worn-out slippers…let your imagination run wild! Now all you girls need to do is wrap the presents up real pretty and grab a hold of the groom as soon as he arrives for the engagement or wedding ceremony. The groom is bound to enjoy all the attention and will be elated at all the beautifully wrapped gifts he receives. Until you ask him to see his presence, that is!
A tip to make this prank memorable — tag the photographer along to film all the fun! And, if your choice of gifts has too strong a smell, make sure you douse it with enough perfume to mask the odour!
4. Impromptu Performances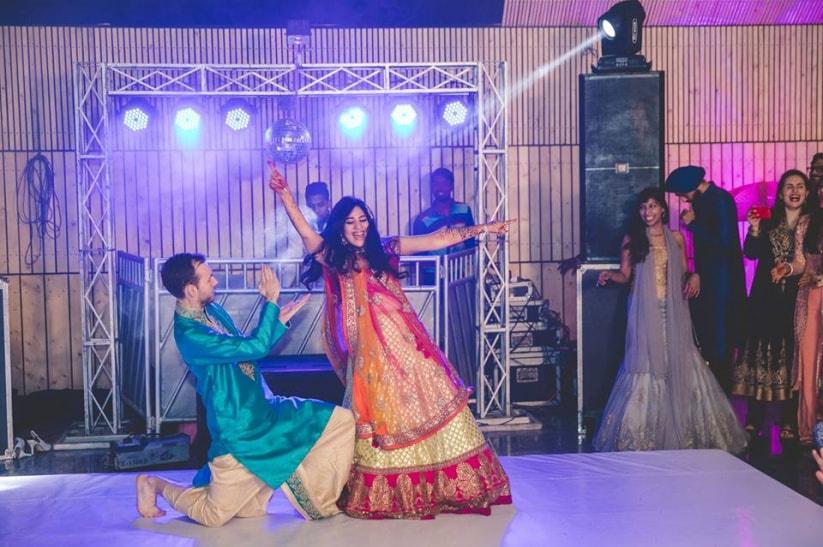 The bride and the groom are often just spectators at wedding functions like engagement, even at the reception. Publicly calling them out for an impromptu dancing or singing performance is a clever way to get them more involved. Also, it almost always guarantees some fun, funny moments.
You can pull such naughty pranks on your significant half and on both the bride and groom if you're a friend or a relation attending a function. Be sure to include a bunch of guests, the wedding DJ and the photographer in your plans, grab a microphone and call out your target for performance. Remember your goal—catching your target by surprise and pulling him/her (or them) out of the comfort zone. You can loudly demand some unusual, mushy and funny songs or ask for some particular dance moves (hip-hop, Kuchipudi, even Bharatnatyam!)
Here's a tip — go crazy with the music! Something like the DJ playing classical music while your target attempts break dance would be unforgettable.
5. Storytelling Sessions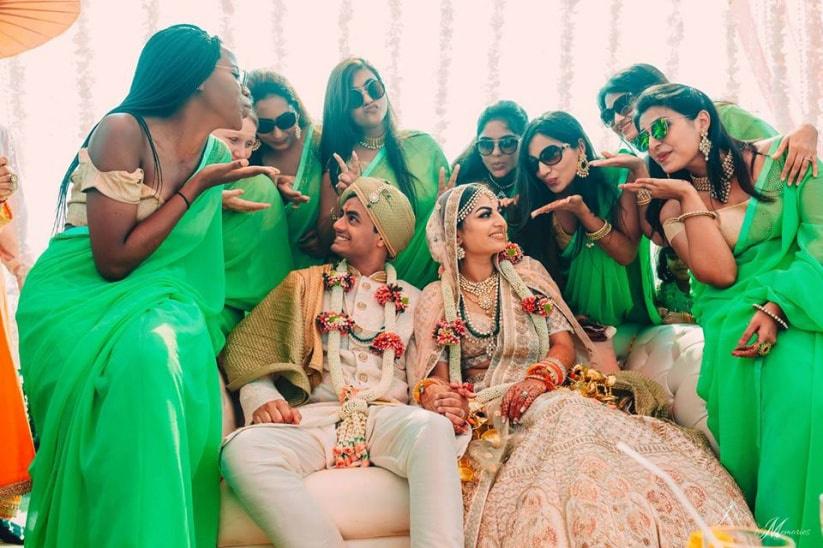 A gathering of your closest, most loved people is the perfect occasion for retelling the special couple's story. Doesn't seem worthy of being on a list of naughty pranks? It will, once you've twisted the narrative a bit and included some of the funny, embarrassing things everybody in love, and all that is about to get married do. You can come up with your versions of reality here, tell all how your friend reacted after the first meeting with his/her partner, speak of the butterflies and bugs that did a gig in his/her stomach and so on
Our advice — a few funny lines are a must! Also, don't ruin these naughty pranks by admitting you've been lying, let everyone attending decide upon the version of the story they want to believe in!
6. Sabotaged Entry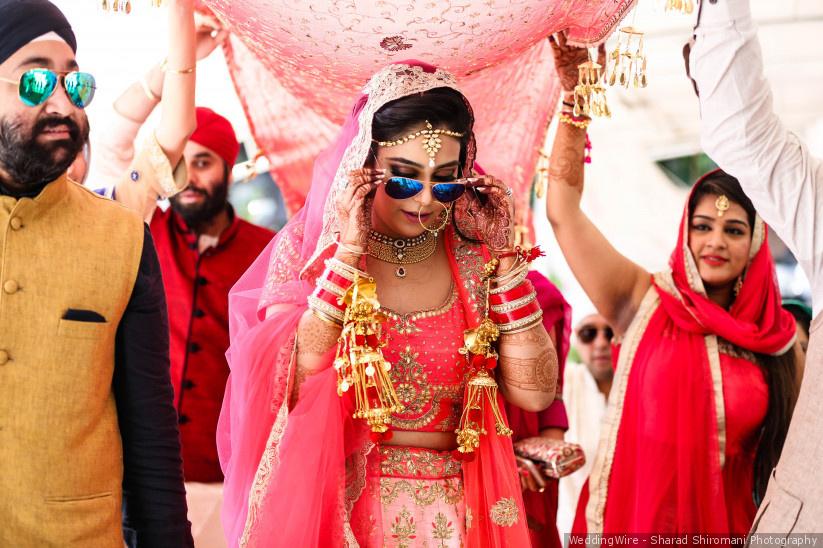 We heard of a few instances where the groom's friends pulled such naughty pranks on their pal and a few where the bride convinced common friends to play traitors. The results were hilarious in both instances! The plan is to make the groom's entrance memorable and comical. All you need to do is to take the band or the DJ (whoever's in charge of the music) into confidence.
Now just as the groom makes his grand entrance, have them play some funny, unusual music instead of what the groom had planned for. Imagine smoke bombs going off, the groom entering the venue to the tune of 'rishton ke bhi roop badalte hain' and everybody dancing on as if nothing's wrong while the groom stands surprised!
Important tip—do another take after you've had your fun, letting the groom re-enter, this time, to his planned music. Also, never pull this one on the bride for she might really get really mad at you if you do.
7. A Surprise Quiz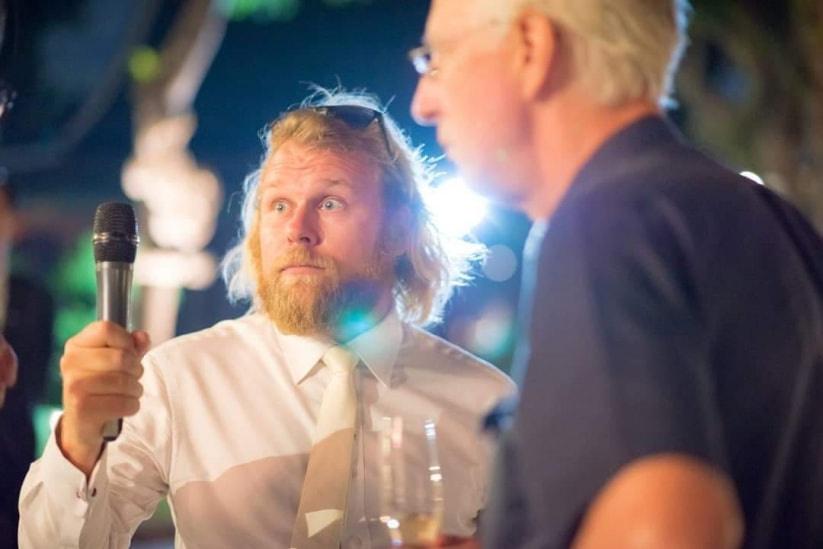 One among many wonderfully naughty pranks for the wedding function, this one is quite simple but highly entertaining. Have one or more common friends host a quiz contest to find out how well the married couple knows each other. You've obviously decided the questions beforehand, and can claim your partner got it wrong even when he/she answers correctly, and then feign anger or disappointment!
Common friends of the couple can also host an unbiased surprise quiz. Just make sure the questions are quirky and always decent.
8. An Uncomfortable Seat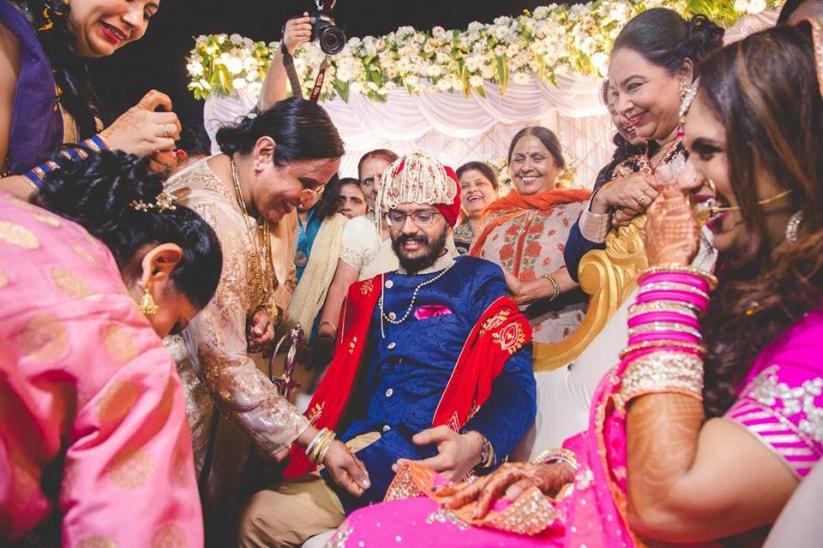 One of the funniest stories we heard of was a small engagement ceremony where the bride and the groom were given mechanical chairs dressed up in beautiful seat covers. The groom's chair had been rigged to slowly sink in, so by the time it was time to exchange the rings, the groom was sitting uncomfortably close to the floor, looking up at the bride by his side!
For large scale ceremonies where mechanical chairs won't do, you can place some squeaky toys under the chair cushion. These will make just enough noise to trouble the groom or the bride as he/she shifted in the chair. If you're looking to make this loud, you can get a mechanic to install an air horn that goes off when the chair is sat upon. A screaming chicken sound when the groom takes his seat will be a precious moment!
Our advice, make proper arrangements to make up for such naughty pranks — the squeaky toys or air horn should be easily removable. Have a replacement chair on standby is possible.
9. The 'Ye Shaadi Nahin Ho Sakti' approach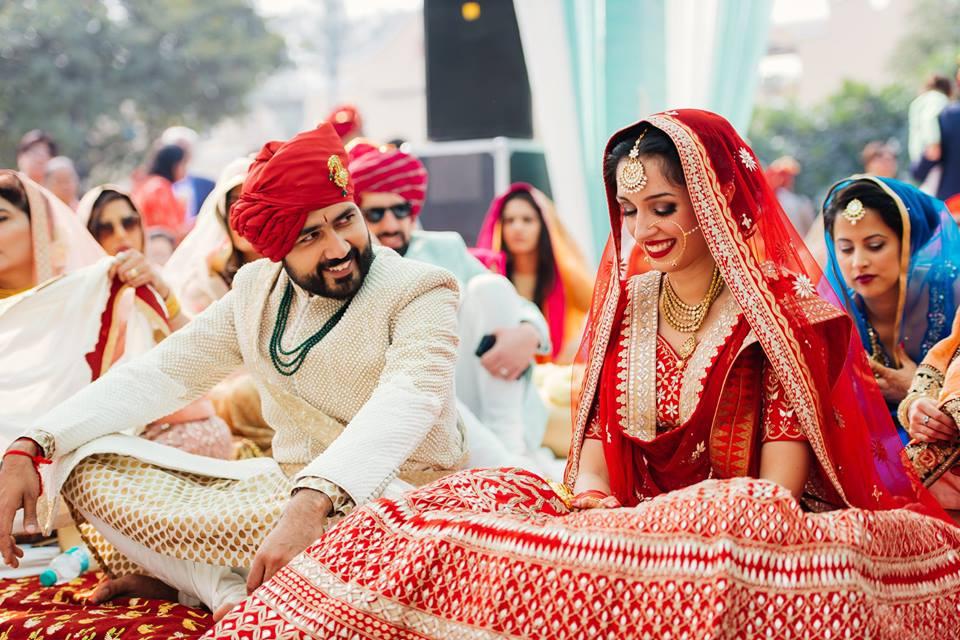 Now, here's a set of naughty pranks that would seriously make anyone sweat their pants (or lehengas) through. Imagine as the bride and groom sit down in their grand mandap for the Saat Phere and someone loudly says these words right before the ceremony begins. We've heard how the parents secretly fear such a moment, but it turns out that bride and groom are not very immune to it either.
Here are multiple ways in which this can be done and done right. But, we won't take a guarantee about what would happen with you in case you end up doing it:
A. Stranger Danger -
Get someone to stride up to the Mandap and say the dreaded 5 words. Believe us, an unknown element (especially a man dressed as a police officer or a woman with a baby bump) will certainly cause a stir.
B. Dear old Uncleji -
Ask a sporting (and well-respected) uncle to join in on the fun by announcing the 'Ye Shaadi Nahin Ho Sakti' line instead. Then, follow up with either a funny second line or a special set of wedding vows you would the bride and groom to affirm to.
C. Bhai / Behen affair -
Stand up as the bro of the bride or the sister of the groom to say the line and then follow up with a heartfelt message for your dear sibling. That's shock and awe for you.
These naughty pranks all have a successful track record and are perfect to adapt for your own, or your loved ones' wedding functions.
Tell us which of these pranks you liked the most and of other uncommon naughty pranks you might have seen or heard of in our comments section.