Nainika & Sid's Wedding Included a Phoolon Ki Holi & Lots of Rain in January
Their grand wedding was blessed by God with rain in January? Read on to know more about Nainika & Sid's wedding story.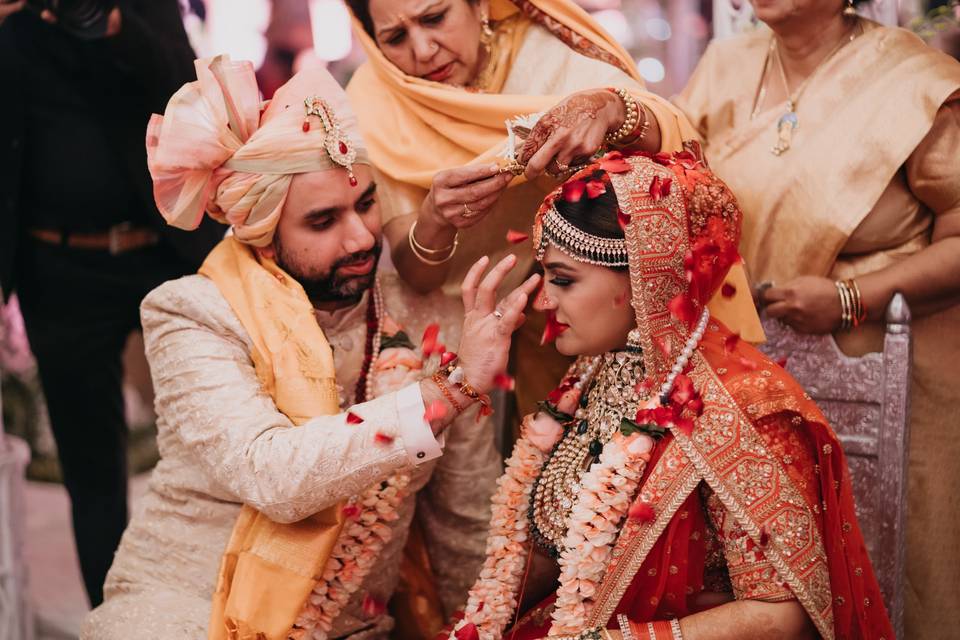 The wedding is without a doubt an experience of a lifetime - good and bad combined. The last-minute rush when the appetisers are not on time, the annoyance of the left music system not working, the warmth of the family and friends, the undeniable love for jalebis and that only time when cocktails in the afternoon - the emotions that are entwined with all things weddings are inimitable.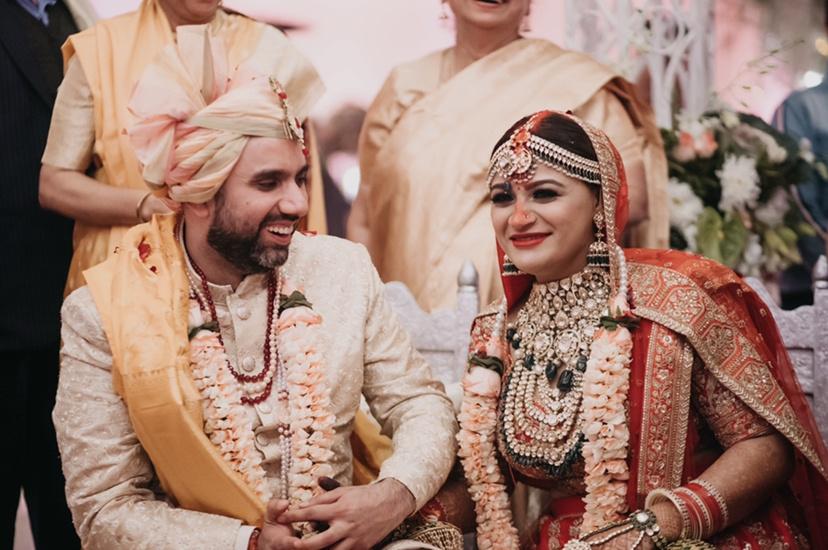 This is why every wedding story is a special one. One such heart-melting story is of the stunning couple Nainika and Sid. This beautiful January wedding is sure to inspire you to plan your D-day and how! Read on to know more about Nainika and Sid's wedding story.
How They Met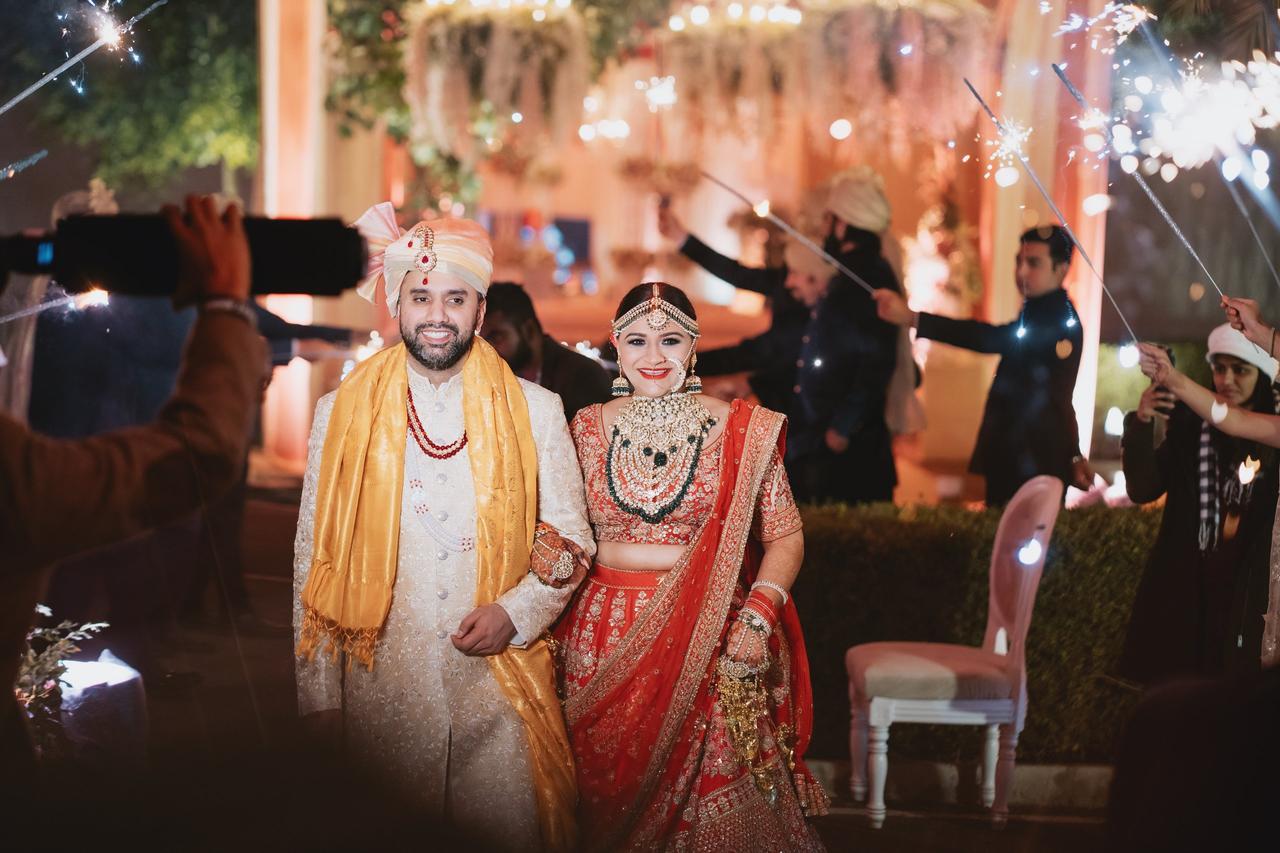 On asking the bride, Nainika, about the story of how they met, she shares, "I am from Jalandhar, Punjab and Sid is from Canada but he's been putting up in Delhi taking care of his business for the last 4 years. Our courtship lasted for about 5 months but we've been dating for about 6 months."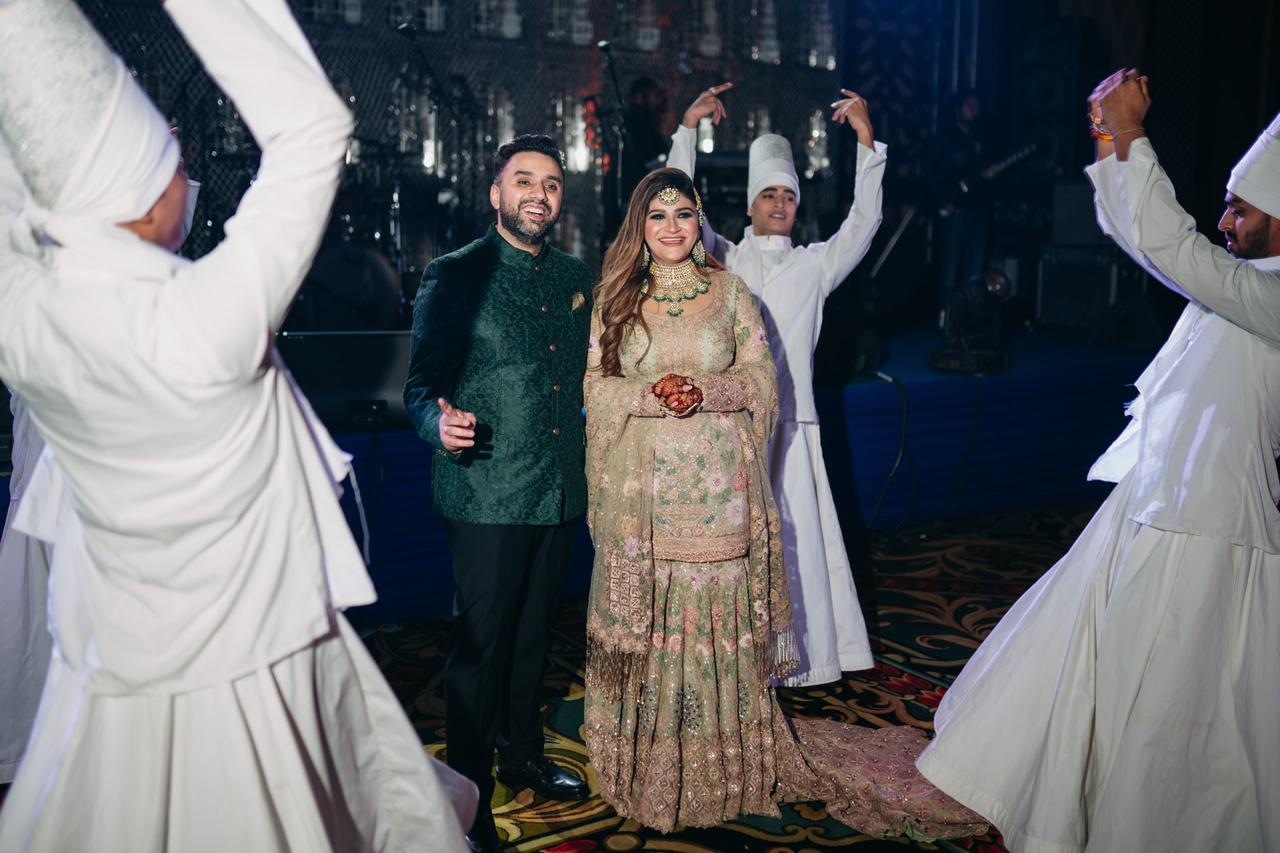 She continues to tell us more. Nainika says, "Sid and I met through a common family friend. My parents and I were in the city (New Delhi) and they told me to go to Sid's place and meet him and his family. We were close by so we dropped in and met him and his dad. After a brief conversation, we had to leave. Funnily, he asked me for my number and I shrugged (not wanting to give) but on the way out his dad made us exchange numbers. And since then we didn't stop talking. I am so glad his dad made us exchange numbers otherwise we wouldn't be married today."
She Knew He's The One When...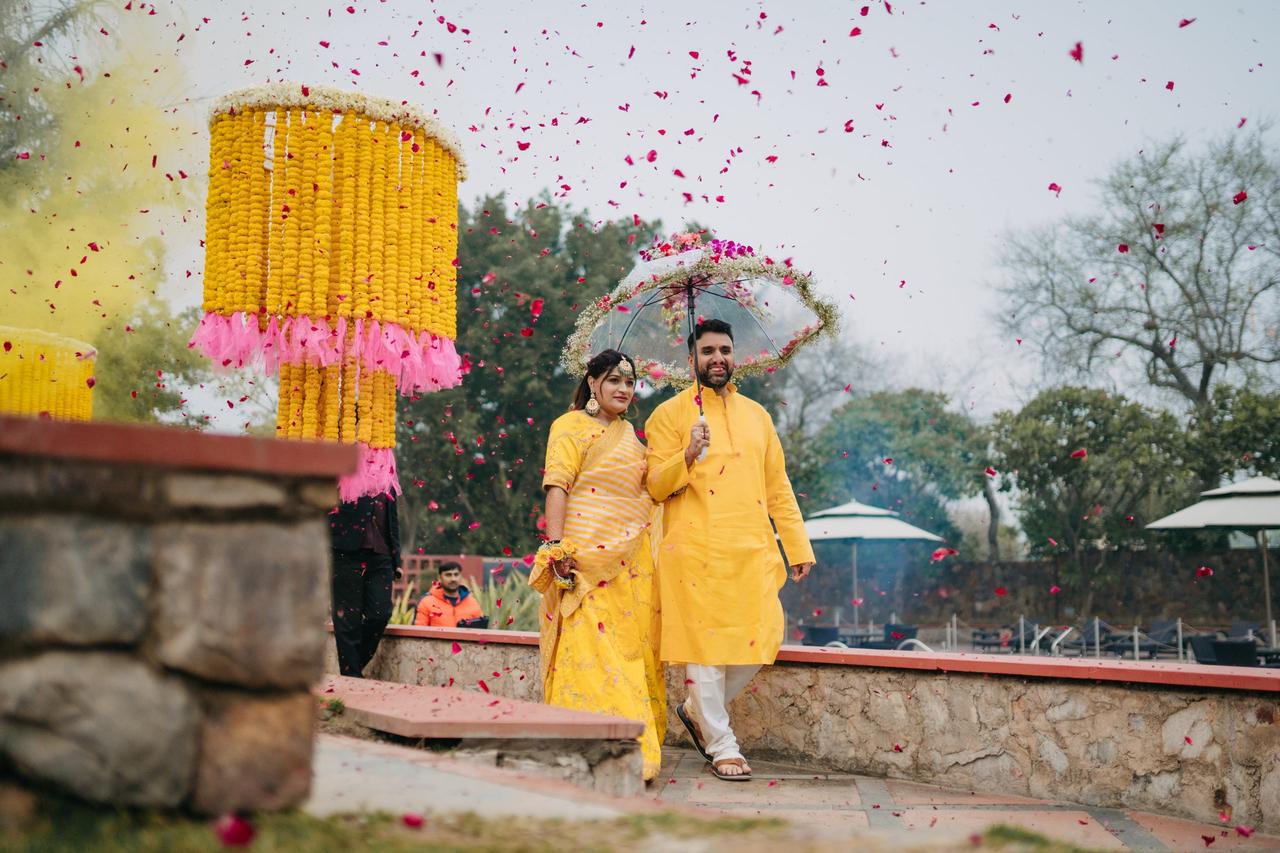 You know that part when you are figuring out if he is the one for you? That is always fun to recall. It could be the moment he ordered tea instead of coffee or vice versa, it could be the way he/she addressed a certain matter. The moment it clicks, it's all flowers and violin tunes in the air. Nainika says, "We had been dating for a while and he came down to Jalandhar to meet me. He met my family for the first time. At night my brothers, Sid and I went out partying. The way he was around my family, my friends even my dogs, I knew it then, he's a keeper. I've never met a guy who's sooo humble, and outgoing at the same time. He's loving, caring and such a beautiful human being. I am so glad I ended up marrying him."
Their Wedding Celebrations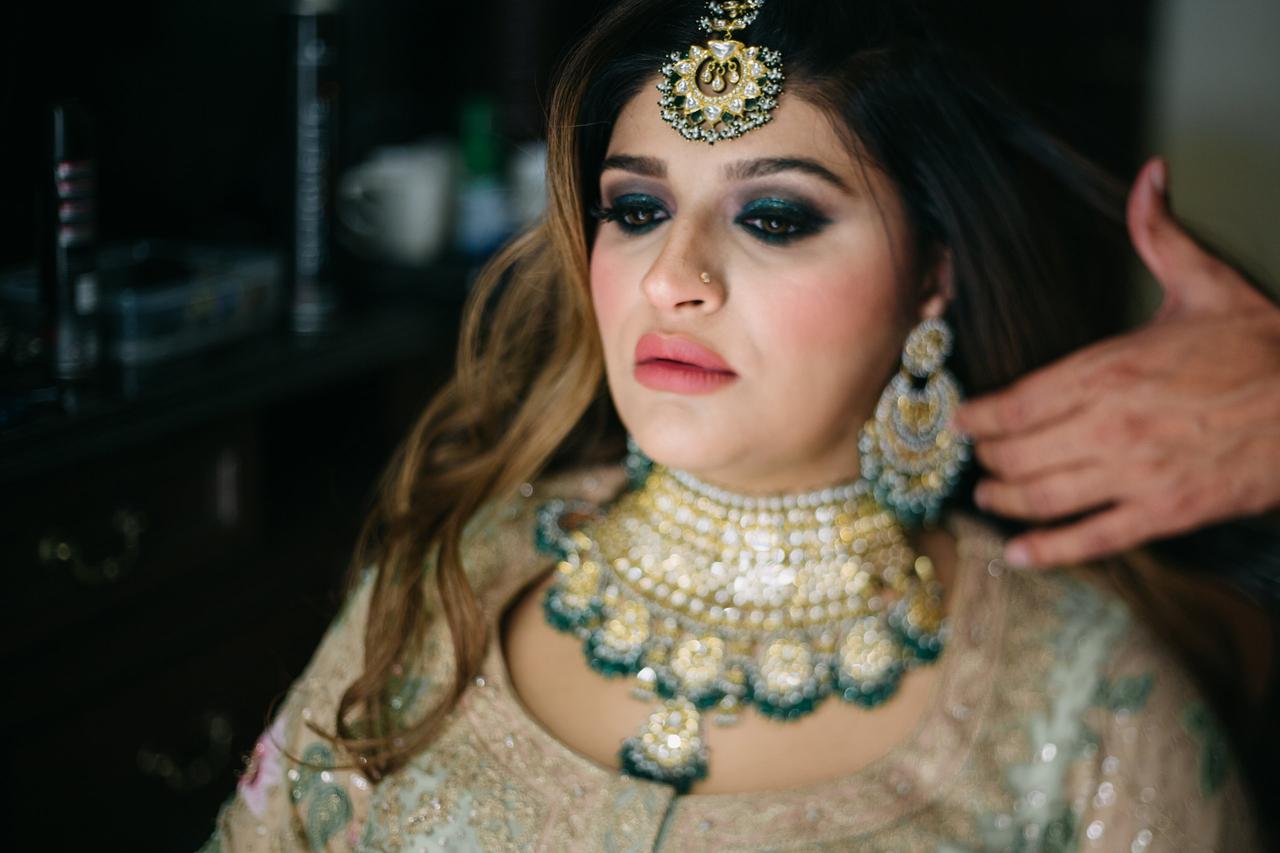 Meeting halfway when it comes to planning a wedding, especially an Indian wedding, can be a task - a frustrating one. With too many different demands, the options start becoming all the more confusing. On a similar note, Nainika shares her experience saying, "Finding the perfect wedding venue was such a struggle. I wanted something else and my dad wanted something else. You know how it is. We were so torn between a beach wedding or a royal palace wedding."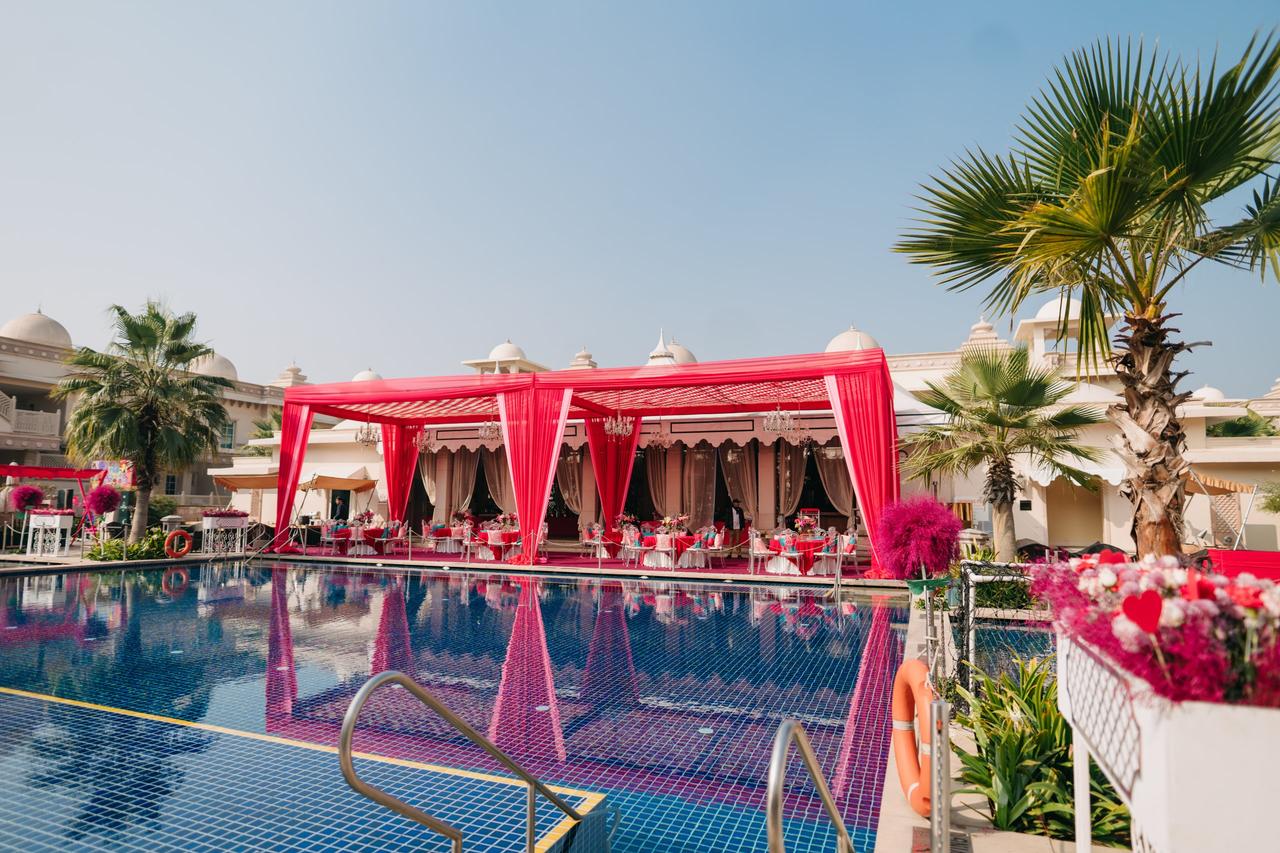 She continues to say, "So the hunt started from Phuket, but that wasn't for us. Then we went to Jaipur and Udaipur. That didn't work either. Then we flew to Dubai. We were almost about to finalise when we got to know that my Nani is unwell and can't travel, and I cannot think of getting married without her blessings. So we came back to India and went to Goa. There was something that wasn't just quite right. In the end, we all went to ITC Grand Bharat. We all fell in love with the property. The grandness, the beauty, openness of the property was just divine. And most importantly the food - us being Punjabis and vegetarian, we're very picky when it comes to food and ITC Grand Bharat ticked all the boxes for us. So we locked it then and there."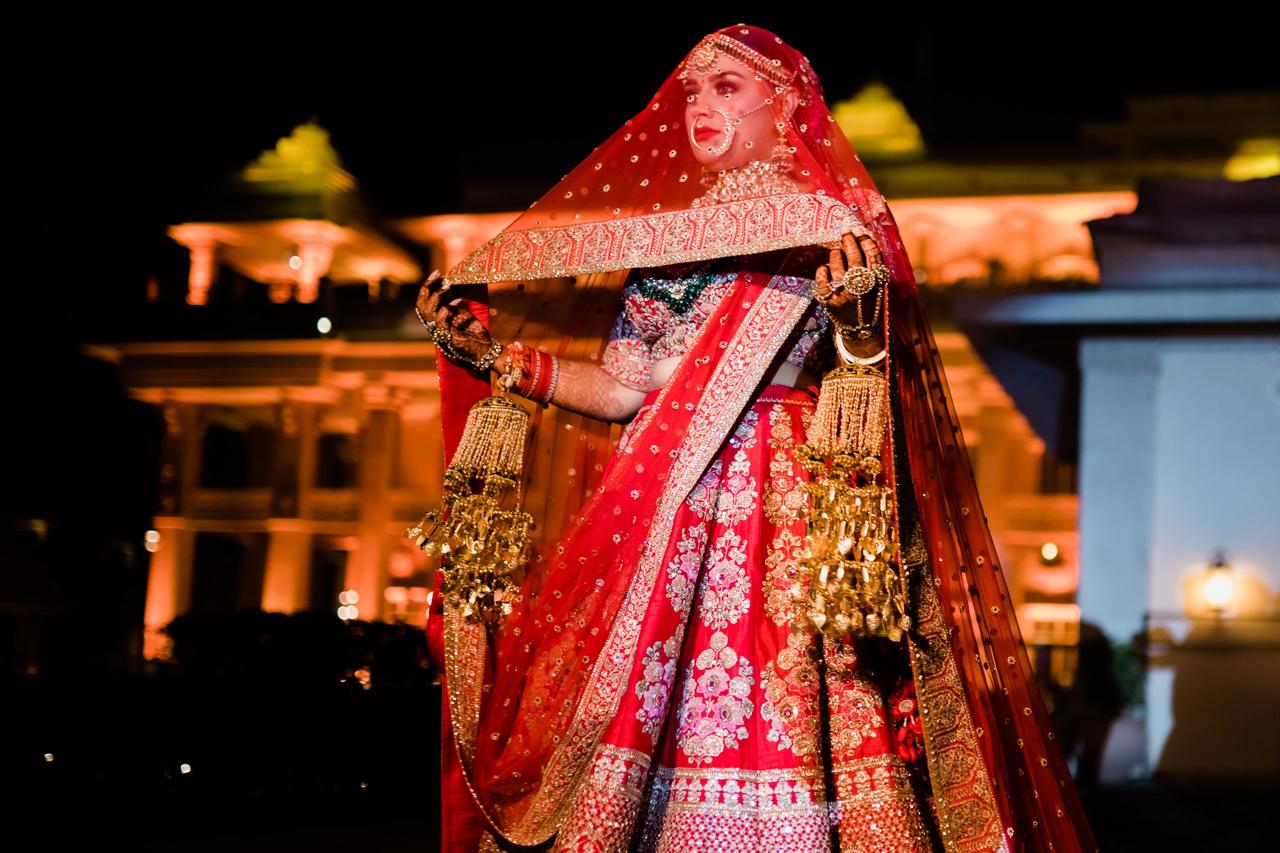 Speaking about inspiration and ideas for the wedding Nainika says, "I've always had a thing for peacocks. And ITC Grand Bharat had these beautiful birds on the property. And most importantly they were pet friendly! So we got our fur babies at our wedding."
The Itinerary & More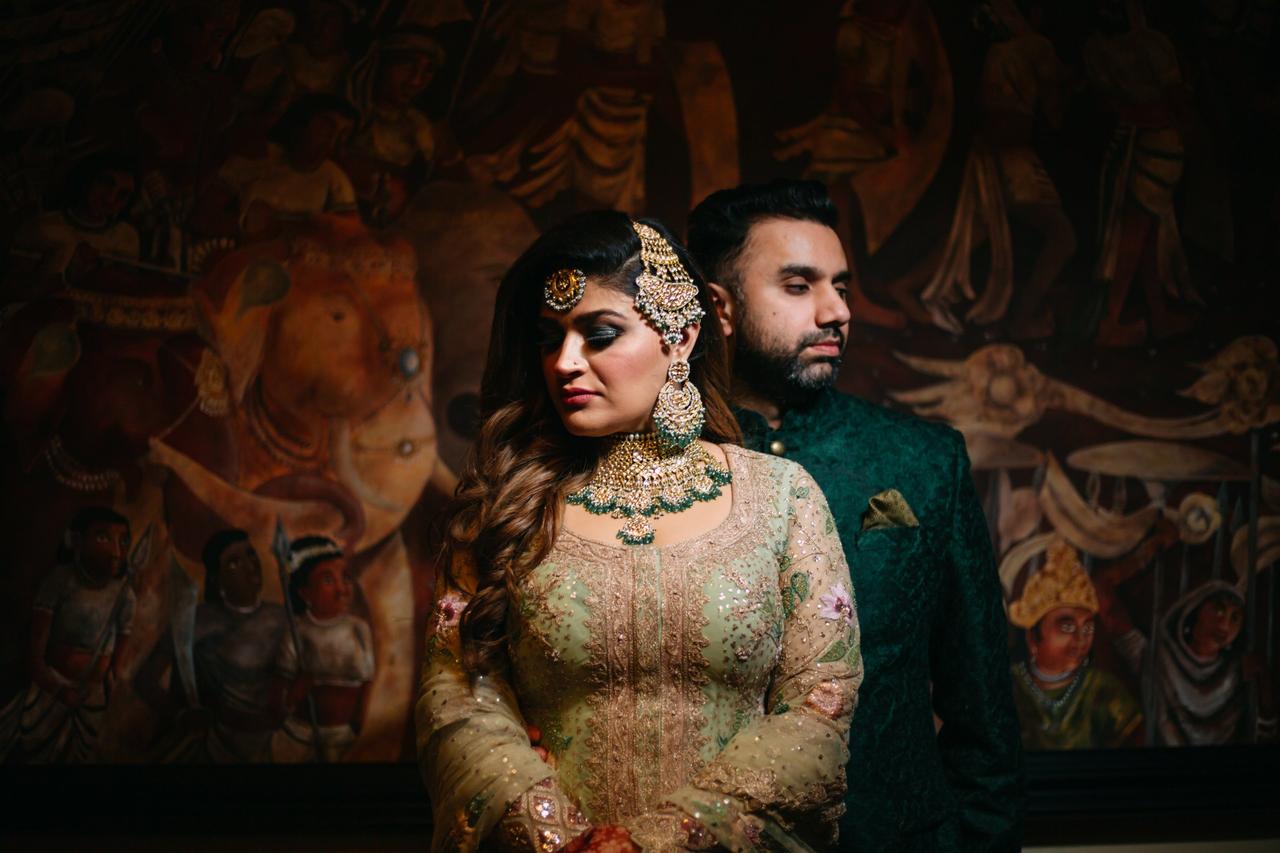 Speaking of the grand celebrations of their wedding, Nainika says, "So we had 3 days of wedding events. Starting with Sentimental Sunset which was our welcome dinner. It was a light-hearted dinner and get together where both (extended) families got to know each other a little better and get comfortable with each other. Next day morning we had Shades Of Sunshine which was Mehndi. It was a light fun event. It was more of a Mela theme with bright pink colours and traditional Mela food. It was a completely fun poolside event. Thank God, Grand Bharat had heated pool as most of us end up in that."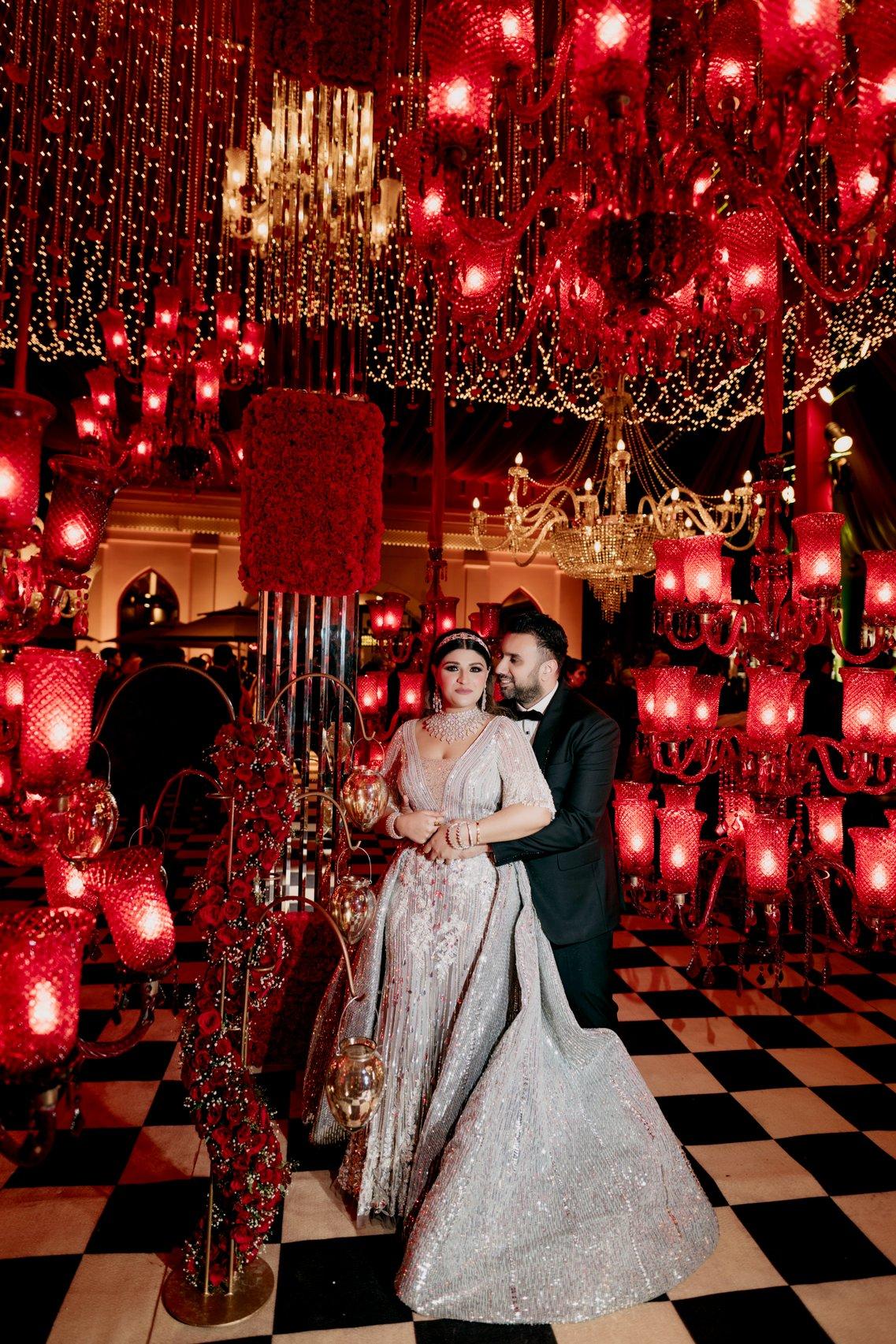 She continues to say, "Few hours after that, we had Ghaat Aarti. So Grand Bharat has this ghaat inside the property, where they do an aarti every day. So we wanted to do the same thing, to do the pooja and start our life with the blessings of everyone. Ghaat Aarti was followed with Sham-e-Nazrana which was Sufi Night. To be honest, this was by far Sid's and my favourite night. The decor was exactly to go with Sufi night theme, with Tanoura and Dervish dancers. Our entry with the Dervish dancer was our favourite part. Next day morning, we had Braj-Raas which was Haldi. We wanted to play Holi but we also didn't want to ruin the beautiful property. So we did Phoolon Ki Holi instead. It was so beautiful playing Holi with flower rain. At night it was The Garden Of Divine Love which was pheras. For the wedding ceremonies we had, we had floral peacocks at the stage. As the name of the event, it did look like Garden Of Divine Love".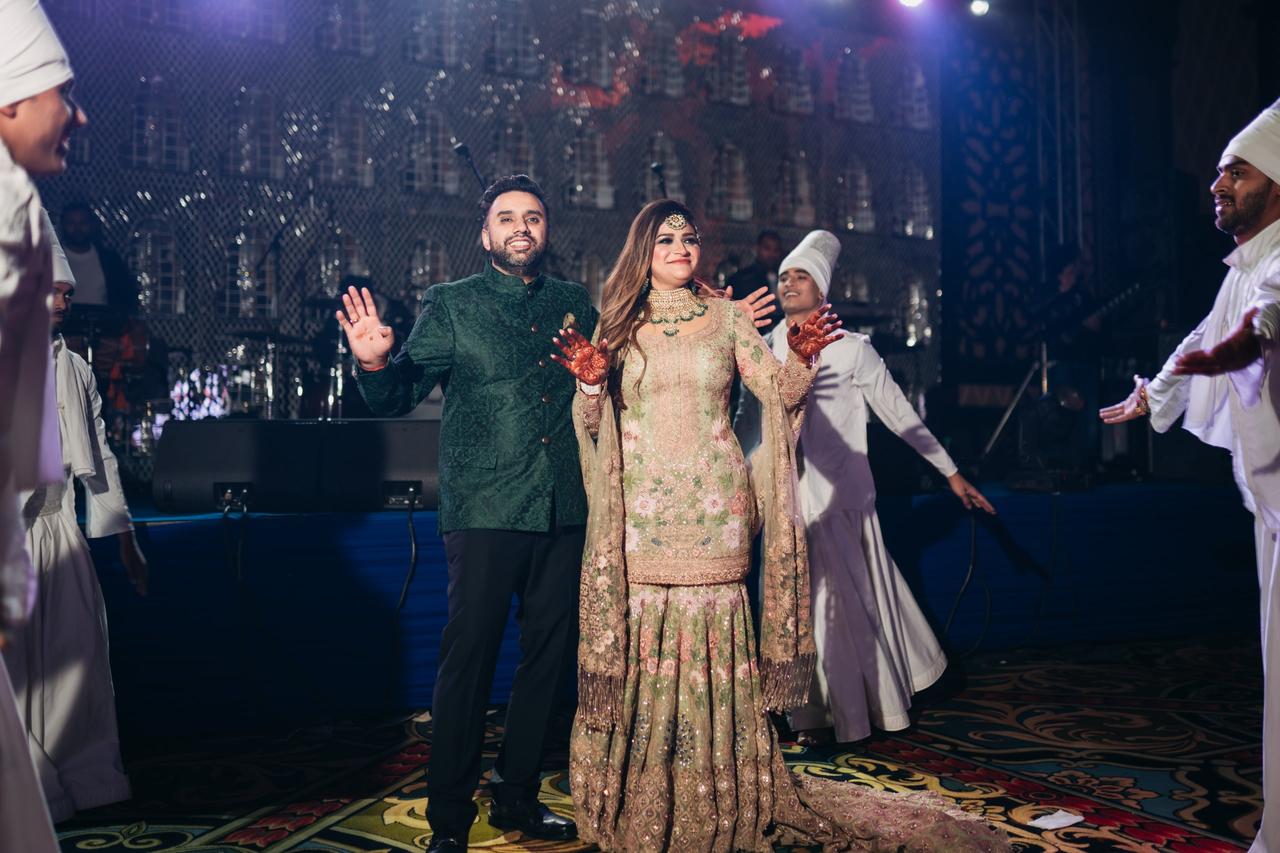 Nainika says, "A little something personal, I lost my elder sister 10 years back and she is one of the biggest parts of my life. Her favourite flower was rose, so I had that incorporated in all our events. We had rose perfumes and soaps in all the rooms and the rooms were sprayed with rose scents. Every event had rose essence oil burners. It was my way to feel her presence around us."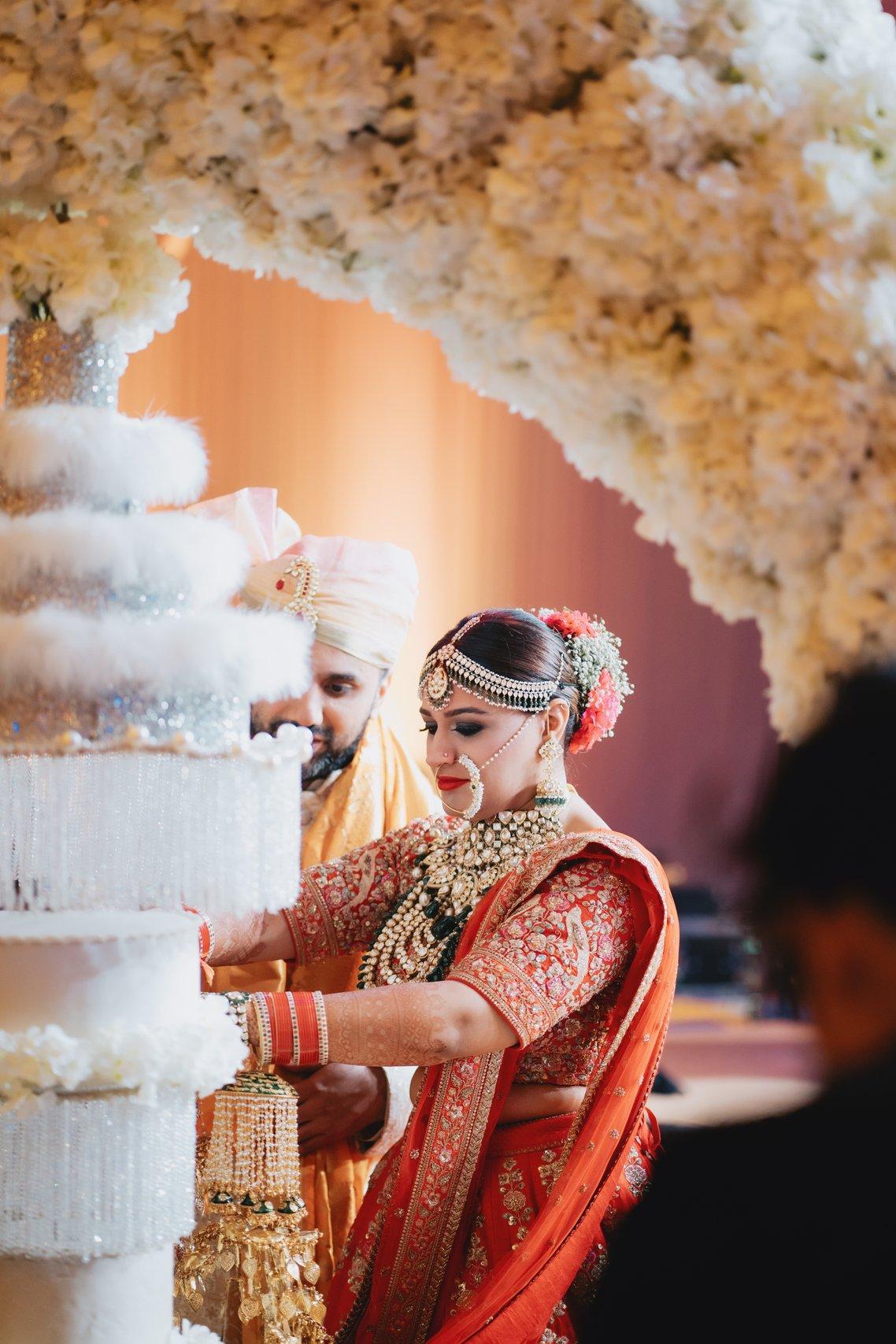 Speaking about her dearest memory of the wedding, Nainika says, "Something funny and scary happened during the sindoor putting ceremony, that I think every bride dreads. Apparently from his side, they put the ring in a leaf. So Sid picked up a lot of sindoor and put it all on my head. I didn't realise it. His mom gave us her blessings and put our heads together and the pile of sindoor on my head dropped on my face, my eyelashes. My nose. It literally looked like someone played Holi with me. Thank god my friend who was also my makeup artist came right to my rescue. I nearly had a meltdown. After we got back home, I asked him why did he put so much sindoor, he said that his mom told him that back in their days there was a saying that the more sindoor you put the longer the marriage lasts. So he literally dumped the whole thing on my head. He said that he put enough for forever."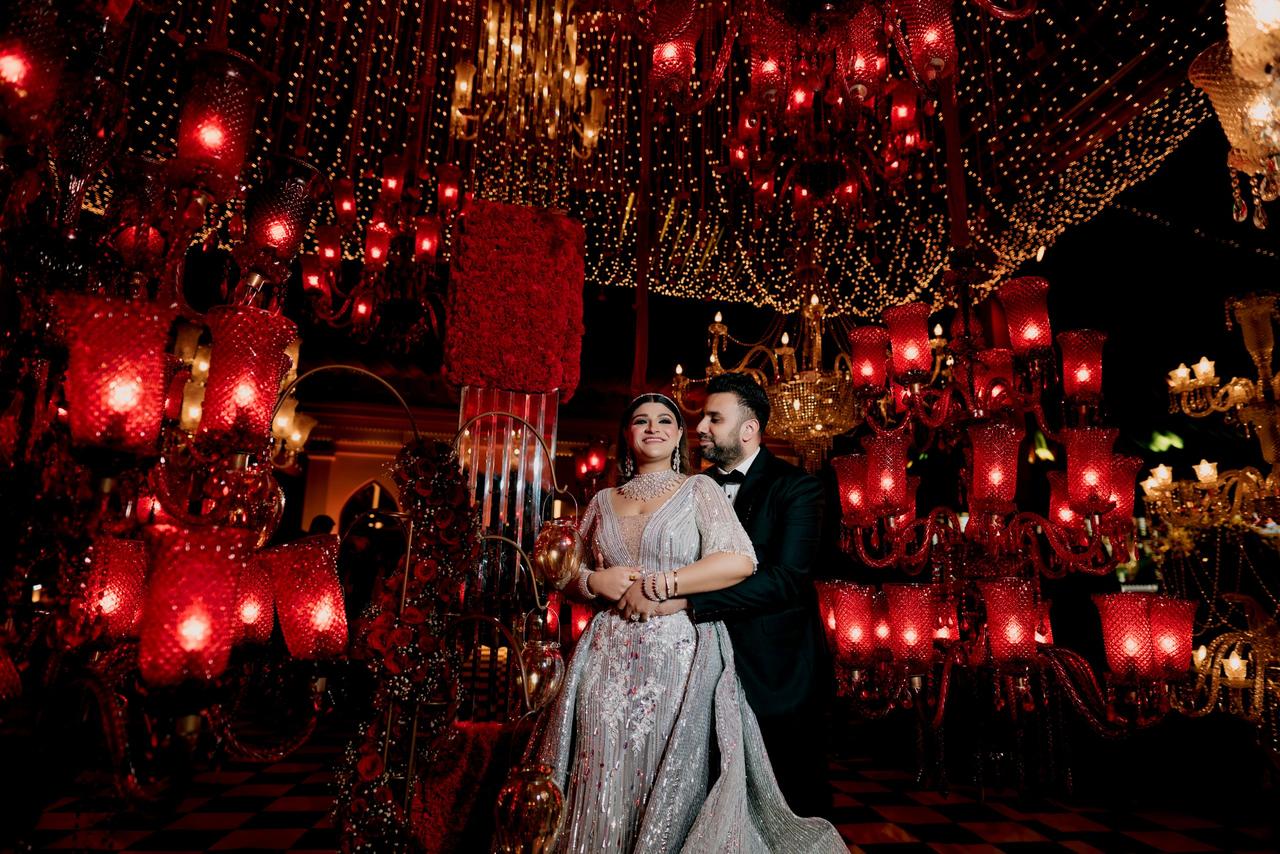 Another fun part of their wedding story is always gonna be the rain. Yes, it rained in January but did not rain on their parade. Nainika says, "Let me tell you there was a lot of blessings from God on each and every event in the form of HEAVY RAIN. So we had rain at every event of ours. How crazy is that huh, rains in the middle of January? But I guess it was a way of God showering us with his blessings."
We have to take a look at their fantastic hashtag #SidKeNain! You must create your own wedding hashtag if you are planning to add a unique and personalised twist to your wedding.
Every story is an absolute inspiration and to make it even better, the photographs of the wedding need to be clicked with precision. To make your memories last forever in your photographs, hire the best photography vendors on our platform now!
The Dream Team
Makeup Artist: Makeup by Prerna Khullar
Venue: ITC Grand Bharat
Wedding Planner: Balajee Events
Photographer: Jodi Clickers
Bride's Outfit: Sabyasachi (Wedding Lehenga)