A Guide on Bridal Makeup Tutorials for the Perfect Inspiration
Unsure about your makeup looks at your wedding? Prepare yourself with some first-hand knowledge by watching a makeup tutorial that teaches you the basics.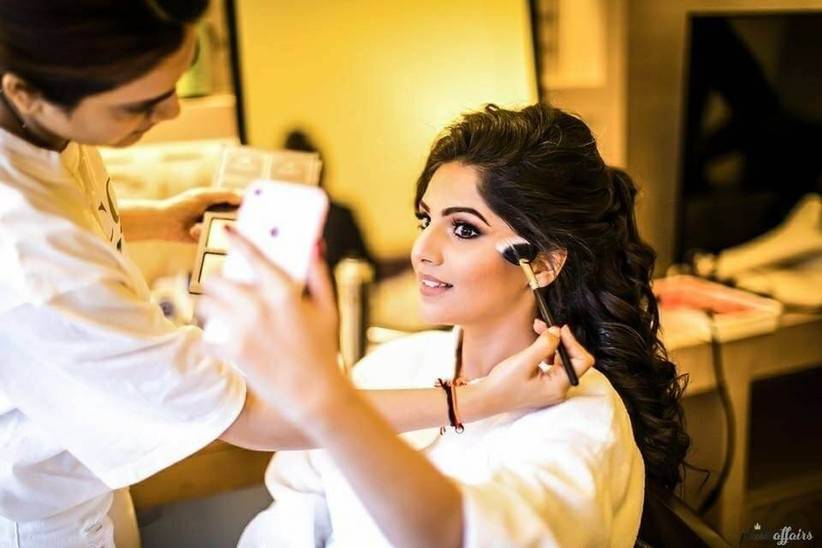 Every bride wants her bridal makeup looks to be spot-on perfect. From her skin looking flawless to the makeup not becoming cakey, there are a thousand pre-requisites of brides approving makeup artists. While some even go in for trials, others send most of their wondering and worrying if it will all work out well.
While trying to figure out why makeup is such big stress for brides, we realised that it's because they feel they are not well informed to make sure things go right on their big day. Therefore, they want to be super sure of who they are hiring as their professional makeup artist and whether or not they can depend on them completely.
Although it is absolutely okay to trust the professionals and hope for it to work out well on your wedding day, there is no harm in doing prep on your own to make sure you can guide your makeup artist with what is it that you are expecting from her.
If this sounds like a great idea to you, then we have a list of makeup tutorials that you would love to watch and learn some basics of professional makeup from. After all, your wedding day is all about the camera and pictures, and the biggest accomplishment apart from marrying the one you love on that day would be to look just how you imagined yourself to.
So scroll down to see some of the best makeup tutorials of all times and learn the basics that'll help you on your wedding.
How to Perfect Your Base
While it is very easy to say that a perfect base is everything for a good makeup look on your wedding day, do you really know what it takes to get that perfect base? For all those of you that can list down the moisturizer, primer, foundation, concealer, and setting powder as the required products in the order of its use, we still think it's not enough preparation for your big day. Look at this makeup tutorial to understand what it really takes to perfect the base and what are the dos and don'ts attached to it. From applying the correct amount of product, to blending it in the right direction there is lots that you need to know. So don't waste any time and start watching this makeup tutorial now.
How to Contour and Highlight
Just after you're done perfecting your base, you must learn a little about the biggest responsibility that your makeup artist has. It is the responsibility to contour and highlight your face in a manner that it makes it look slimmer and more chiselled for the camera by focussing on highlighting your best features.
A professional makeup artist might say that contouring and highlighting depends on the face cut and shape, however, it is enough for you to get a basic understanding of doing it in case you had too in an emergency situation at your wedding.
All you have to do is watch this makeup tutorial to understand the importance of contouring, how to use blush and what a highlighter adds to your makeup look and we are sure you'll be able to crack the easy way of doing it right.
How to Do Your Eyebrows
While in our day-to-day life we do not pay enough attention to doing our brows, your wedding day makeup does require you to perfect it for a flawless face. This makeup tutorial is all about making your brows look well-shaped and thick enough to add glow to your beautiful face.
For millennial brides that do their brows often, we'd suggest you to still go through this makeup tutorial and learn a few tricks of doing it well and yet making sure that it looks natural and not made up.
For those of you that are blessed with thicker brows, understand how to use the strokes to shape them up properly and also be able to guide your makeup artist through the process if need be.
How to Blend Your Eyeshadow
After the base, the contouring and the brows the most important part is your eye makeup. While your choice of eye shadow palette and the combination of blending in the shades may differ according to your outfit and functions, but the basics of getting your eye shadow right will remain the same.
This makeup tutorial with the dos and don'ts of doing your eye shadow correctly is going to be of a lot of help for your smaller functions when you have to put together your own look without professional help.
Although, this makeup tutorial is just a basic understanding of which products to use, how to blend them, and which brushes to use while blending them, it is still enough to make you confident about doing it right.
How to Get The Perfect Lips
While most millennials would argue that lipsticks are the easiest part of bridal makeup and also one that requires absolutely no makeup tutorial, we'd disagree. Unlike your parties and get-togethers, at your wedding, the camera will be focussed on you all the time.
So just like you wouldn't want your makeup to wash off, you can't take chances with your lipstick fading away, looking dull, or simply not being lined properly to make your lips look perfect on your big day. To sort all these small and big problems out, this makeup tutorial has all the hacks that every bride must know before her wedding day.
So think no further and watch it to make sure there isn't any excess lipstick on your teeth making you look like Dracula on your most important day.
How to Let your Makeup Stay Longer
Last but not the least, once you've learned all that you need to for good bridal makeup, it is important to make sure that your face stays as it is for as long as you want it to. While setting the makeup might not be a big deal for the millennial brides, there are some tips and tricks that can just make the entire process full-proof every step of the way.
This makeup tutorial has all that it needs to make sure that everything from your base, to eye shadow and liner, to even your lipstick stays put for long hours and under uncertain conditions. While you know how much of a difference this can make, we are also sure that your makeup artist will know it all. However, if we know the millennial brides any better we are sure that they will keep themselves updated and not take a chance to spoil their bridal makeup on their wedding day.
What do you think of the listed options of makeup tutorial put together for you? While some of you may want the professionals to do their job, the others might think of it as important pieces of information right before your wedding day.
Regardless of how much makeup you apply, or how comfortable you are with doing your own makeup, we'd suggest you watch all these makeup tutorials just to get a hint of what all should be happening with your makeup on your big day. All these tips might not come handy, but we promise you that some will and that is when you'd be thankful to have done your research well in advance.
In the end, all we'd want to say is that it's always better to be careful than be sorry later.
Would you watch a makeup tutorial to prep for your big day? Which of the above tutorials do you think is relevant for every millennial bride to watch and learn from?