Check Out These Love Story Image Ideas for Your Photoshoot
A love story image galore to get inspired from for your pre-wedding photoshoot. Concepts that will help you decide and plan your own love story, visually.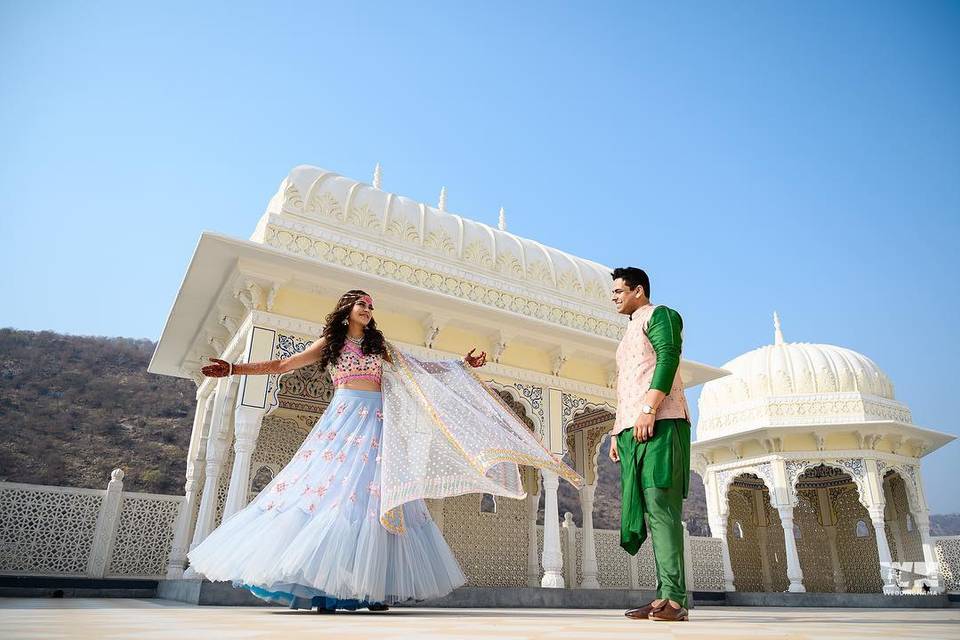 10 years back, if someone would have mentioned the term 'Pre-wedding Photoshoot', no one would have batted an eye. But now, pre-wedding photoshoots have become as important in a wedding as getting engaged or taking Saat Pheras have always been.
Call it a blooming business for photographers to show their creative skills and an opportunity for the couples to get clicked romantically (without attracting any PDA police), pre-wedding photoshoots have become an essential ritual when two people decide to get married. The internet is filled with pre-wedding photoshoots, but there are a few unique conceptualised photoshoots that are dreamy and above the rest. Those are exactly the kind of love story image styles that we have listed down for you to get inspired from.
Every love story image featured here tells a story. A story about the couple as individuals, a story of something they both share or even a story or depiction of an incident that is close to their heart. Let us allow the images to do the talking from here, so scroll down and explore yourself!
1. Making History Together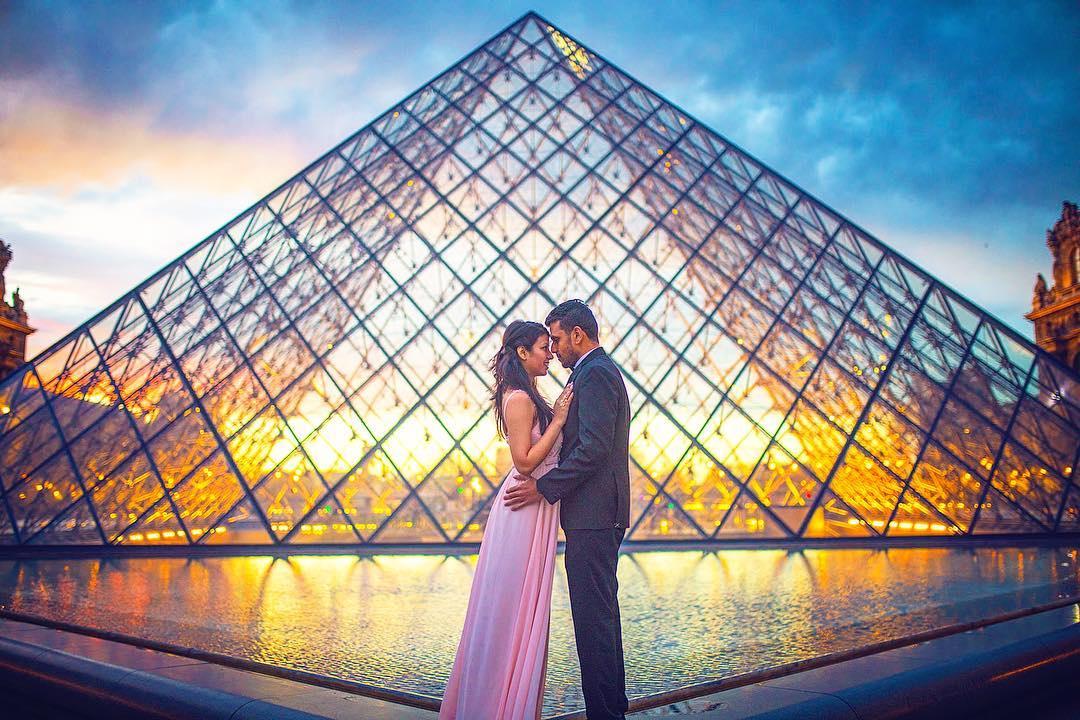 If you and your partner love exploring historical monuments and have a list of a few that you are in love with the most, this can be a great opportunity to visit some of them. Be it the Pyramids of Ghiza, the Colosseum of Rome, our very own Taj Mahal of Agra or the Louvre Pyramid of Paris; book your tickets and a trip together with your photographer by your side.
Such love story image concepts result in beautiful images that can very well be passed on an HD wallpaper for all your electronics or even a life-size photo frame for the bedroom.
2. Somewhere We Belong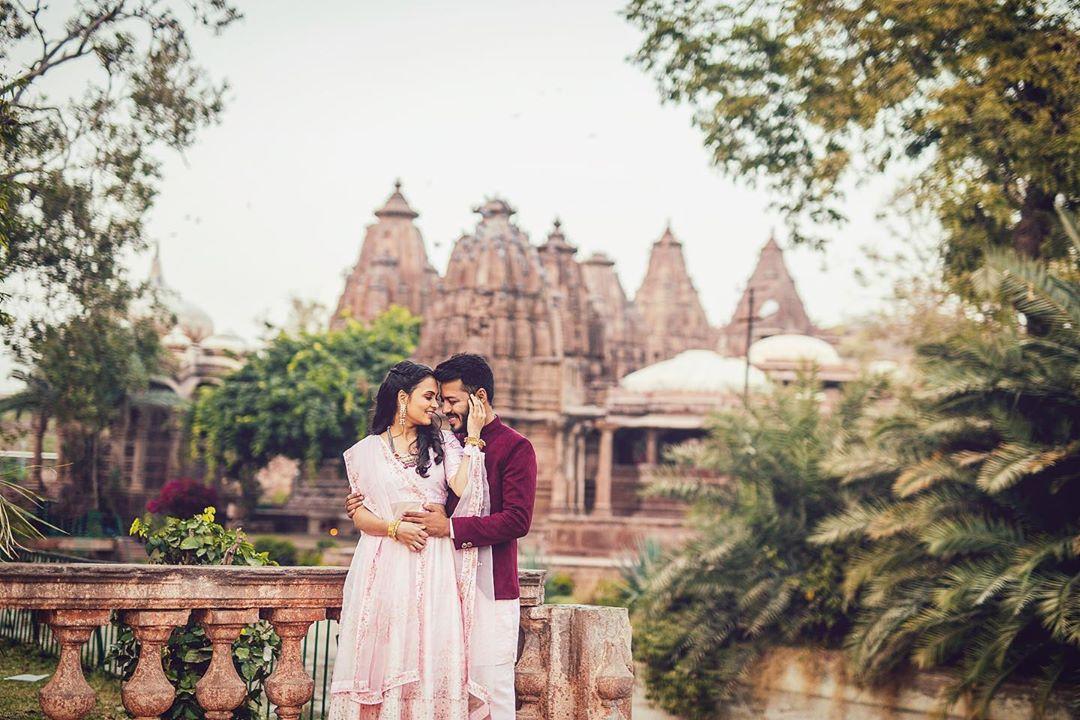 In case you are not much in the mood of getting your passports stamped, you can plan on catching up a domestic flight to your hometown. Every city and town of India consists of famous historical spots and monuments. Find out the historical marvels of your hometown and plan a day out with your photographer to get clicked in front of these hotspots. Given the weather conditions of India being seasonal, make sure that you check the weather report before stepping out.
3. The Garden Of Love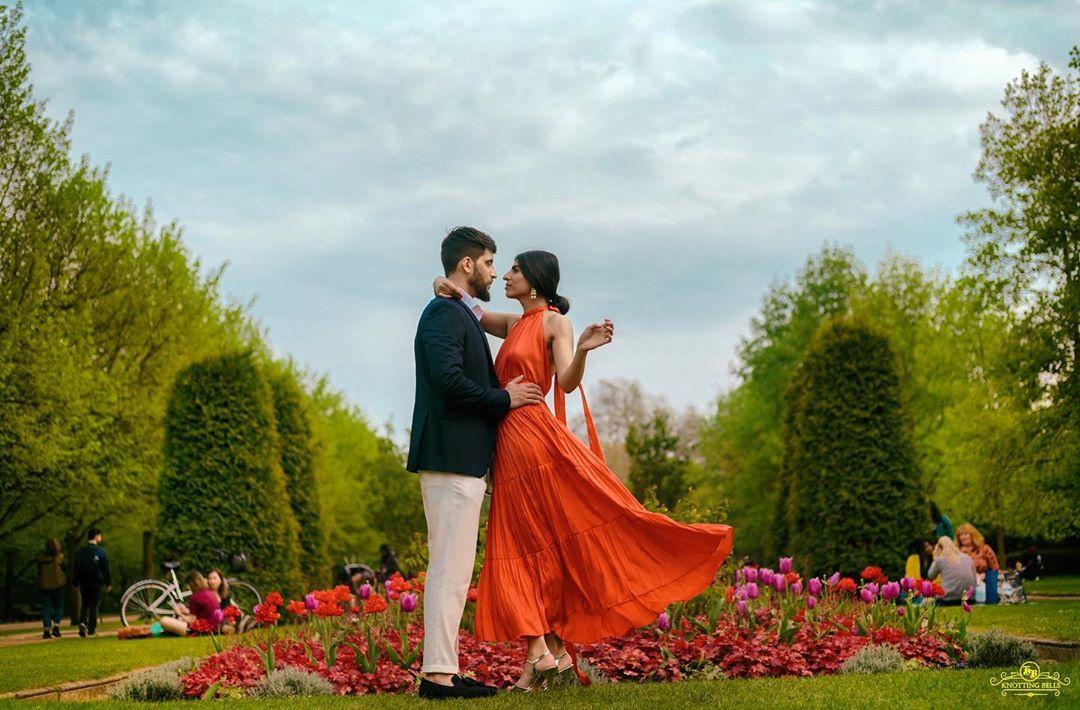 From Amsterdam to our very own Kashmir, blooming gardens look romantic always. So if you two wish to be near mother nature, or you simply admire the works of Monet to Gustav Klimt, capturing a gallery of love story image in the gardens can be a great option.
Be dedicated to creating your looks for such photoshoots with much insights and research. After all, you would want to justify the beauty of the floral gardens by wearing something pleasing at least.
4. Professional Romance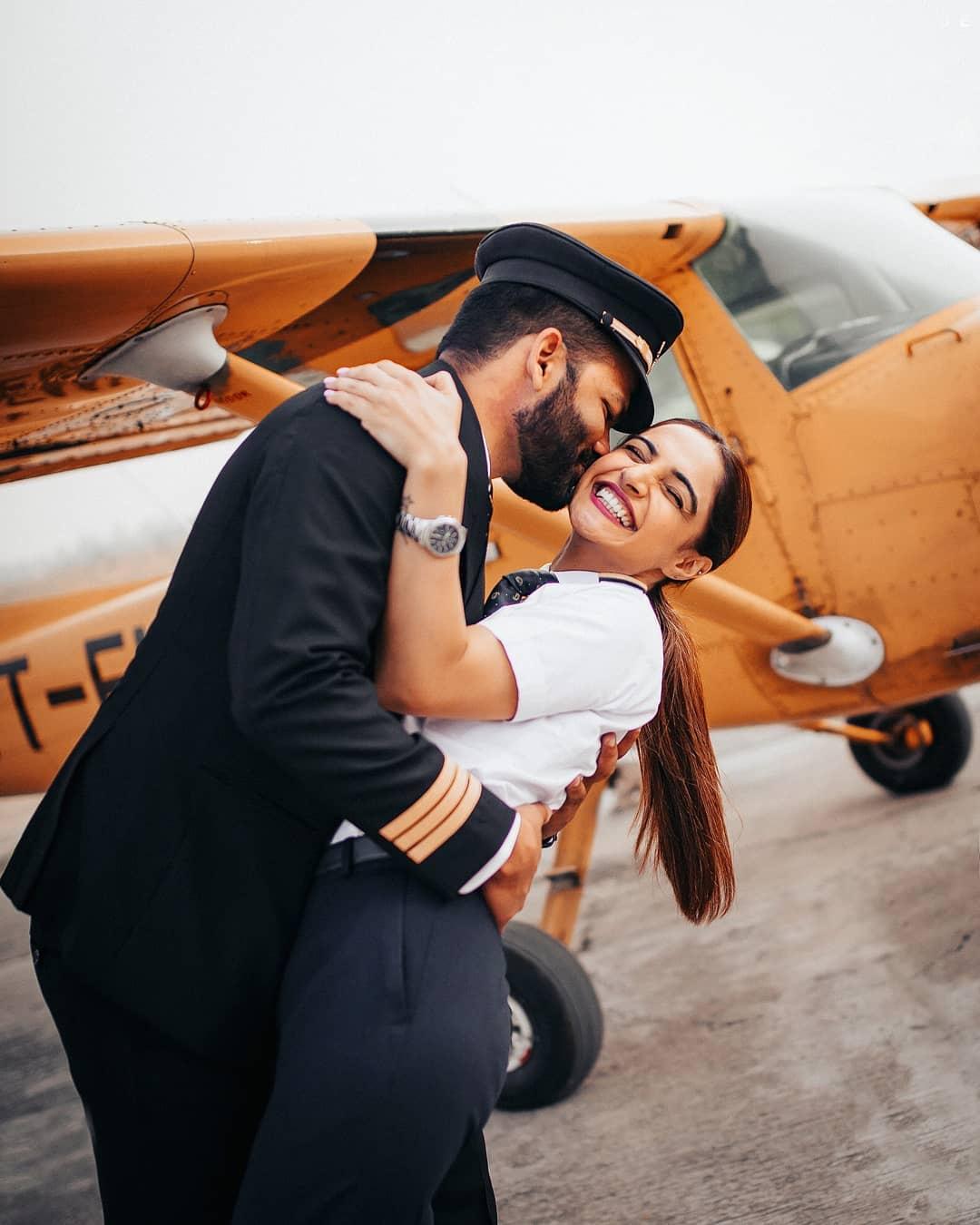 Image Courtesy: Shades Photography India
This concept doesn't require fancy backgrounds to capture love story image that speaks for both of you romantically. If you two happen to have interesting job profiles, then it will be a great idea to get clicked in your office surroundings rather than a blooming garden instead. For example, if you two met thousands of feet above sea levels, just like this couple surely did, then your pre-wedding photoshoot should express how it all began. Your professional romance!
5. Romancing The World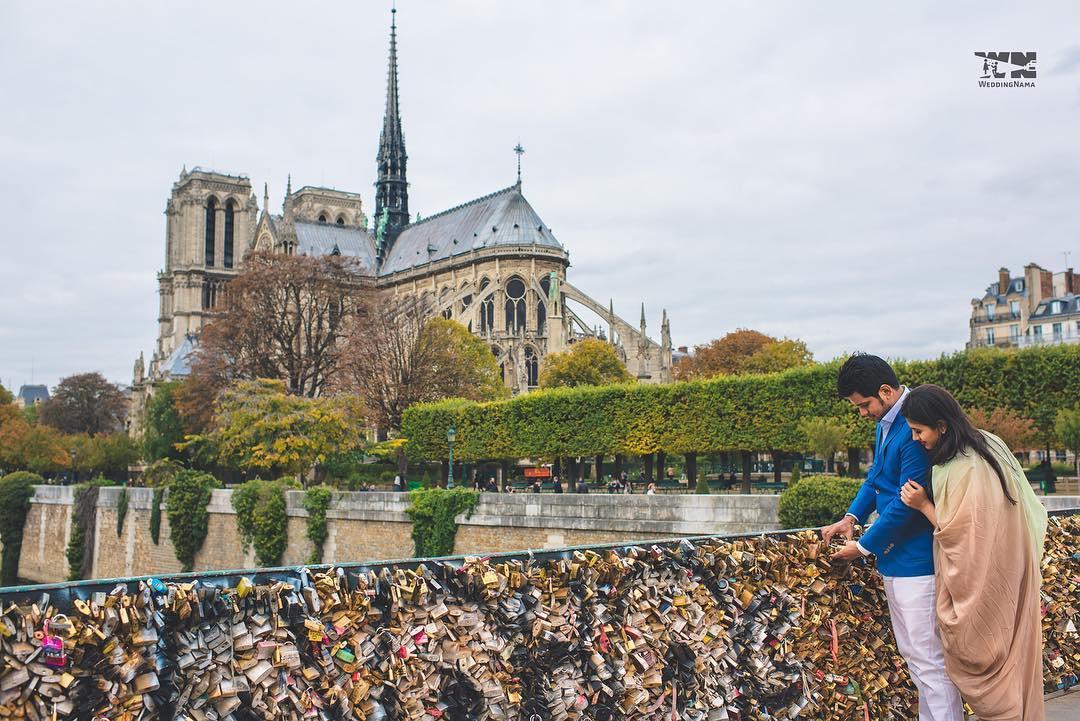 A couple can fall in love with certain places as much as they can with historical monuments. If this is your story and you two admire a list of places the most, then save up to go get candidly clicked in your dream world. Romancing the world can be a great way to create a love story image gallery that's global and exotic, to say the least. You don't have to go and pose at touristy spots of these cities. Live a day at your favourite city like a local and let the photographer capture these moments as intimately as possible.
6. The King And The Queen

You might not be royalties by birth, but you can surely feel like the prince and the princess of a fairytale for your pre-wedding photoshoot. Book a castle, if you must, to create love story image memories with the love of your life. Many royal historic places offer special arrangements for photoshoots and romantic dates. So pick a palace that offers such services to bring your royal affair to life visually. A love story image consisting of you and your royal partner walking down the palace stairs, followed by flag-bearers and firecrackers will look like a scene straight out of a Disney's stories.
Pro Tip: It is always advised that you plan such pre-wedding shoots either early in the mornings or during the lazy afternoons when the golden hour hits the clock. These two timelines will give you least of the crowds, helping the photographer capture you two without any disturbances.
All these images are just an example of the kind of love story image styles that you can adapt for your pre-wedding photoshoot. The possibilities of concepts are endless. It is you, as a couple, who need to find out some common threads that bind you together and then understand how you can incorporate those things via photographs to the world.
These pre-wedding photoshoots are a glimpse of what love and romance mean to each individual couple. So make sure that you discuss this among yourselves and then have detailed interactions with your wedding photographer as well. The photographer being a better visualiser will be able to grasp your visual dream better, suggesting photoshoot options closest to what you wish to have. Remember, a love story image is about you and your partner. Unless you totally feel the vibes of the concept, you need to explore ideation further, till you reach a concept of your dreams (as a couple).
All these talented photographers are listed on our vendor's panel. If you wish to connect with any one of them, call them up and book an appointment today!