Trending Lehenga Choli Designs & Their Prices to Help You Choose
Looking for lovely lehenga choli with price that comes in a budget? Here are some of the most dreamy sets to make the entire Ladkiwala fam swoon!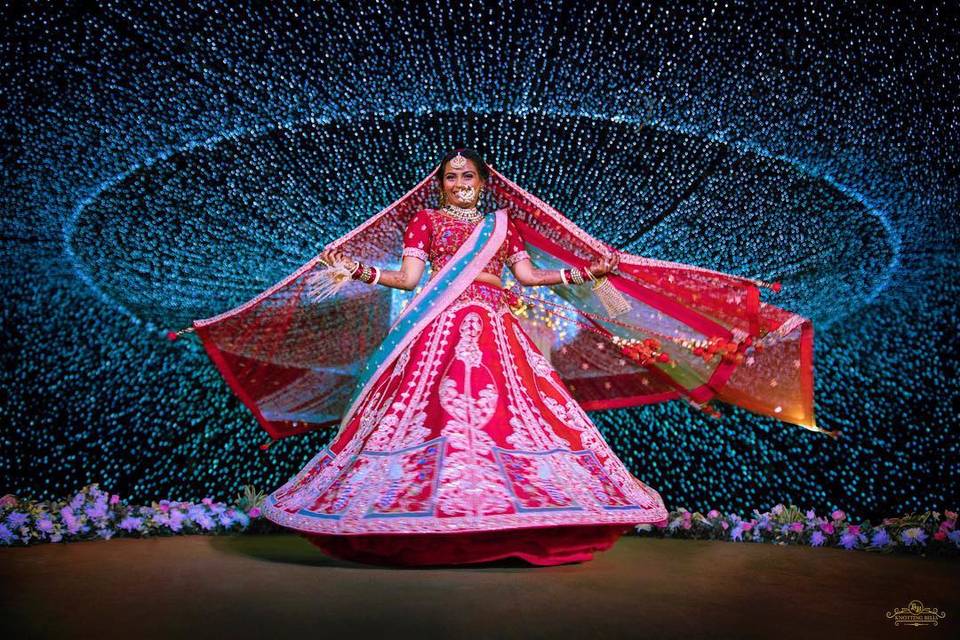 Struggling with a wedding budget for clothes? Here are some of the most fab pieces of lehenga choli with price that ranges below ₹50,000! Unbelievable right? Whether you are the bride or the bridesmaid, Dulhe ki Saali or Dulhan ki bestie looking for absolutely classy and at the same time comfortable lehenga choli, you have officially been rescued!
Are you ready to go through all the variety of pieces that I have in store for you?
What all to keep in mind before making the final purchase?
While going through the list of lehenga choli with price, make sure what exact budget are you looking for. Once you have clearly established a rough range, get clarity on the kinds of colours you are looking forward to wearing. Now, there is a pastel collection and a poppy collection.
Based on it you can further narrow your research down to heaviness of the lehenga, would you like it straight or you want to feel like a twirling princess? On the basis of all the answers of the above questions in your head, move ahead to the final hunt! All set for the mission?
For the Sake of Pastel Love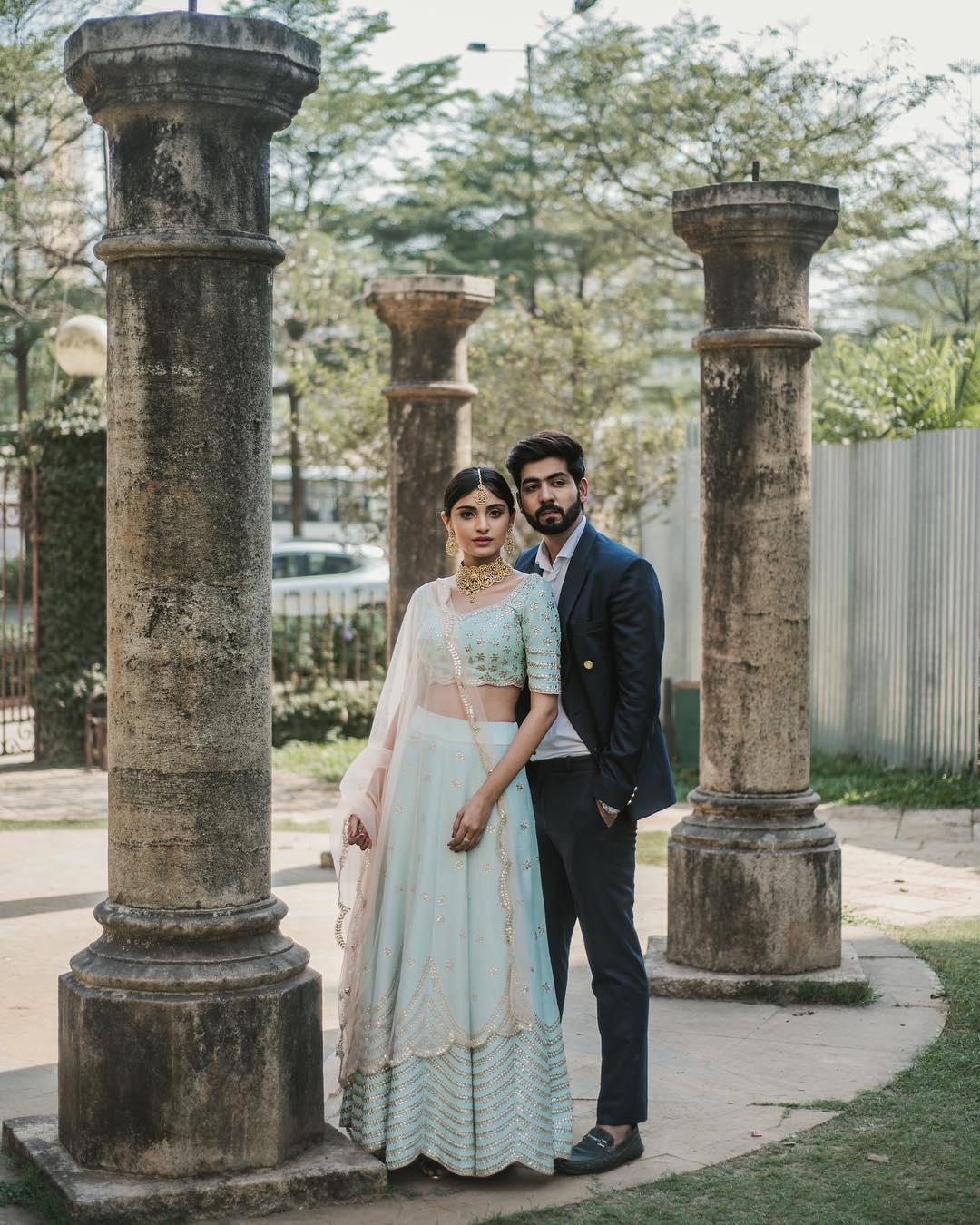 Price range - Starting from ₹40,000+
This magnificent piece listed as a debut under lehenga choli with prices is one of the most affordable and classiest outfits. What makes is so special is its sophistication that comes with the subtle blue pastel and delicate Kundan work on the blouse.
Another graceful element is the sequin pattern in the lower half of the straight lehenga which looks effortless. Topping it with a net dupatta just completed the entire look.
This outfit is ideal for which looks?
Whether you are the bride looking for something classy for her Mehndi ceremony or you want to look graceful in a subtle lehenga choli with a price that is affordable, here is the right choice for you. It is much more appreciated in private family gatherings or ceremonies as against the big-fat showdown. No matter what you choose, just rock it, womaniya!
Some Classic Embroidery for the Wedding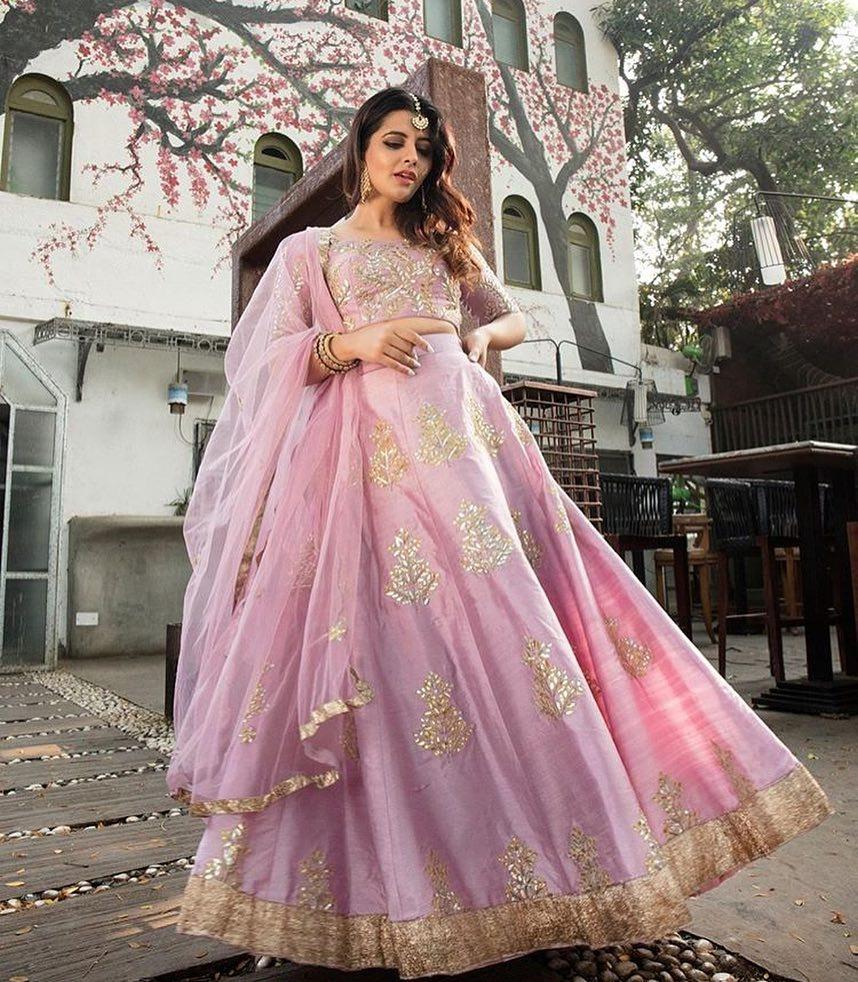 Price range- Starting from ₹42,800+
Isn't this a lovely piece of lehenga choli with a price which is as pretty as it is versatile? It often happens that while shopping for Behen ki Shadi or for your own wedding, a lot of dresses (which are not very expensive) seem to be made for you while you look for the ultimate dress.
These dresses are somehow on the middle ground, basically, neither are they heavy enough for the Shaadi day, nor are they suitable for any regular occasion. This classic lehenga choli with price mentioned right here is one such dress.
How to make these dresses worth the purchase?
When we are talking about Shaadi shopping, such subtle beauties can always be worn on one occasion or the other. There are innumerable looks to be decided for pre-wedding functions, the 3-day grand wedding affair and not to forget the post-wedding list of functions which are neverending.
Honestly, the entire coming year post-marriage is the festive season, totally cool for flaunting such outfits, ranging from pehli Diwali to pehla Karvachauth to pehli Lohri.
For the Fashionista Bride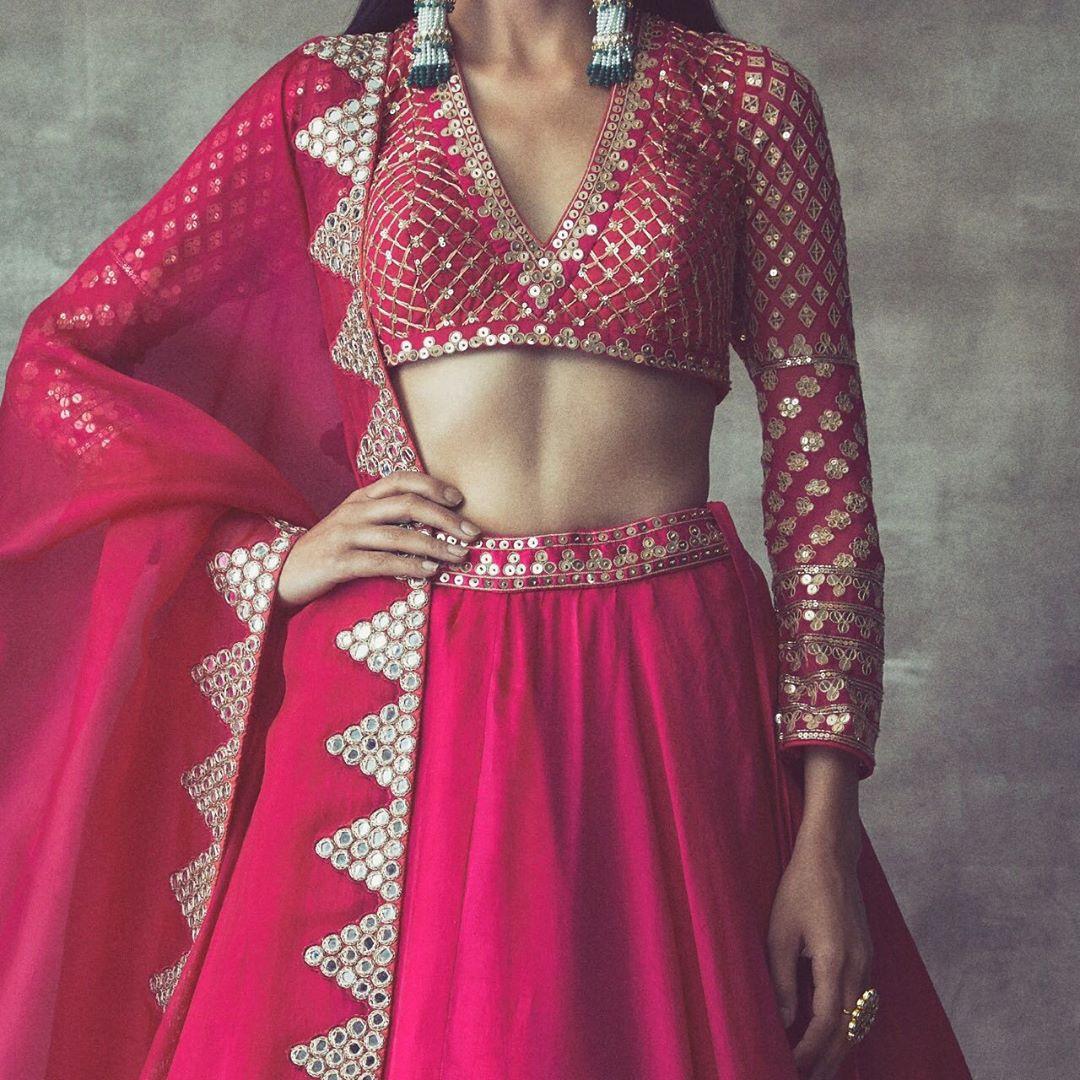 Price range - Starting from ₹49,500
One of the best tricks of balancing any set of lehenga choli with this price is getting the choli embroidered (as heavily as you wish to) and keeping the lehenga plain and flowy. Exactly the same trick has been applied right here in this marvellous piece of the outfit.
It looks vibrant because of the lovely colour choice as you have some really fantastic choice with this brand when it comes to colours, it looks effortless with the lovely flow of the plain lehenga embroidered with the sequins just as required and absolutely amazing.
What makes this lehenga choli with price different?
Coming with an in-budget price, this outfit is going to be the show-stealer with that oomph factor which comes handy with the sexy neck design. The poppy colour is definitely to die for.
Whether it is your Mehndi or your Haldi, your engagement or your reception, this breathtaking piece of the outfit is something you should immediately get your hands on!
Something for the Bridesmaids as well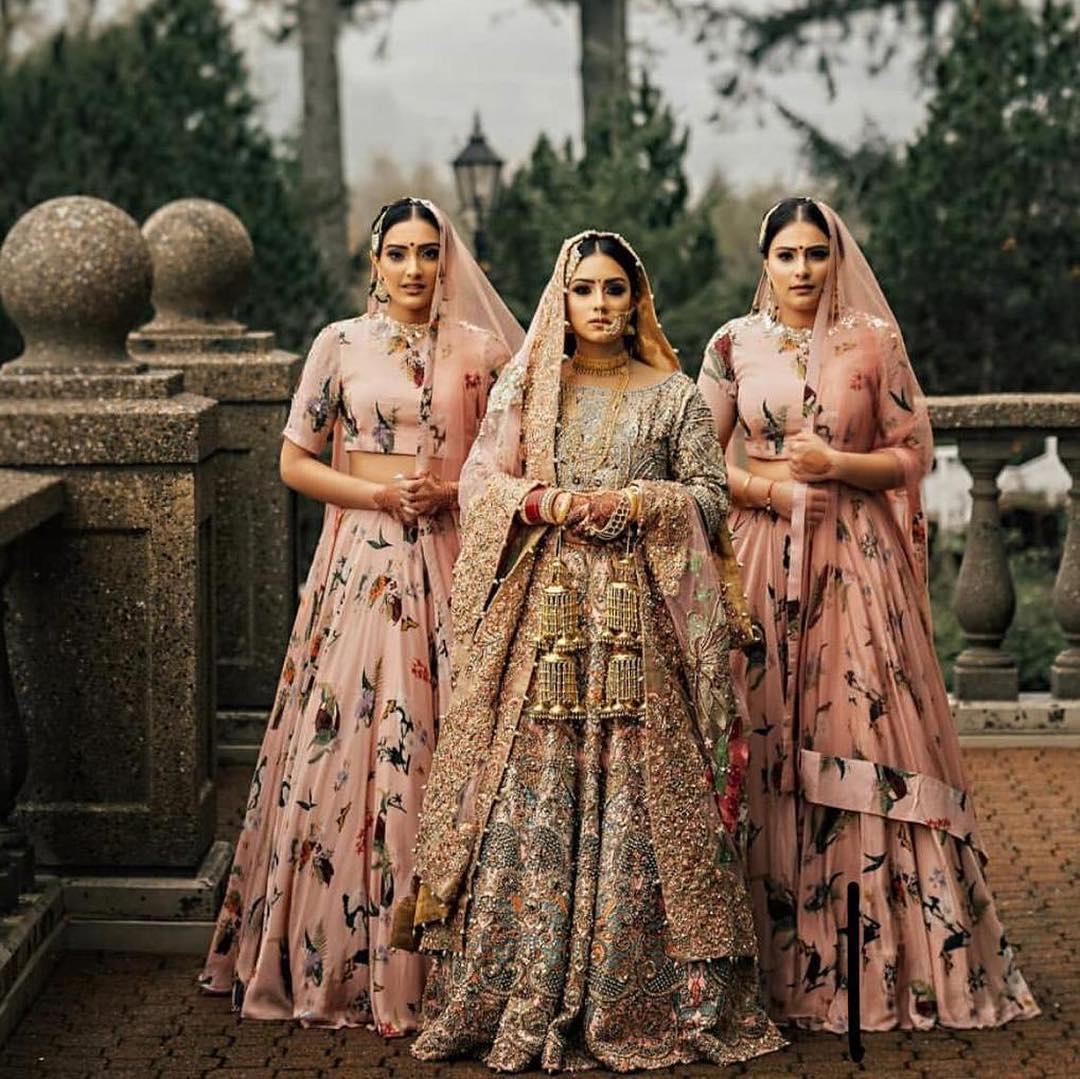 Price range - Starting from ₹45,000
Another one under the wonderful list of lehenga choli with price based ideas is this gorgeous piece for the bridesmaids. After all, how all do you think they will continue wearing those boring solid coloured gowns? It is high time you get over it and switch to such breezy classy styles.
After all, why should brides have all the fun? We just can't get my eyes off the pastel pink beauty with the classic floral and botanical print. Just imagine, how wonderful are all your Sakhi Sahelis are going to look wearing the same pastel beauty on the big wedding day!
How can you make the most of this beauty?
This classy beauty must be teamed with nude makeup, fully defined eyes and a clean bun tied a little low. This is a good option if you want to veil the dupatta like this. If not, you can always go for a pony with dupatta gracefully adorned on the shoulder. Try wearing plain tan Juttis or plain strapped black heels, based on what all the bridesmaids like better.
For the Love of Ombre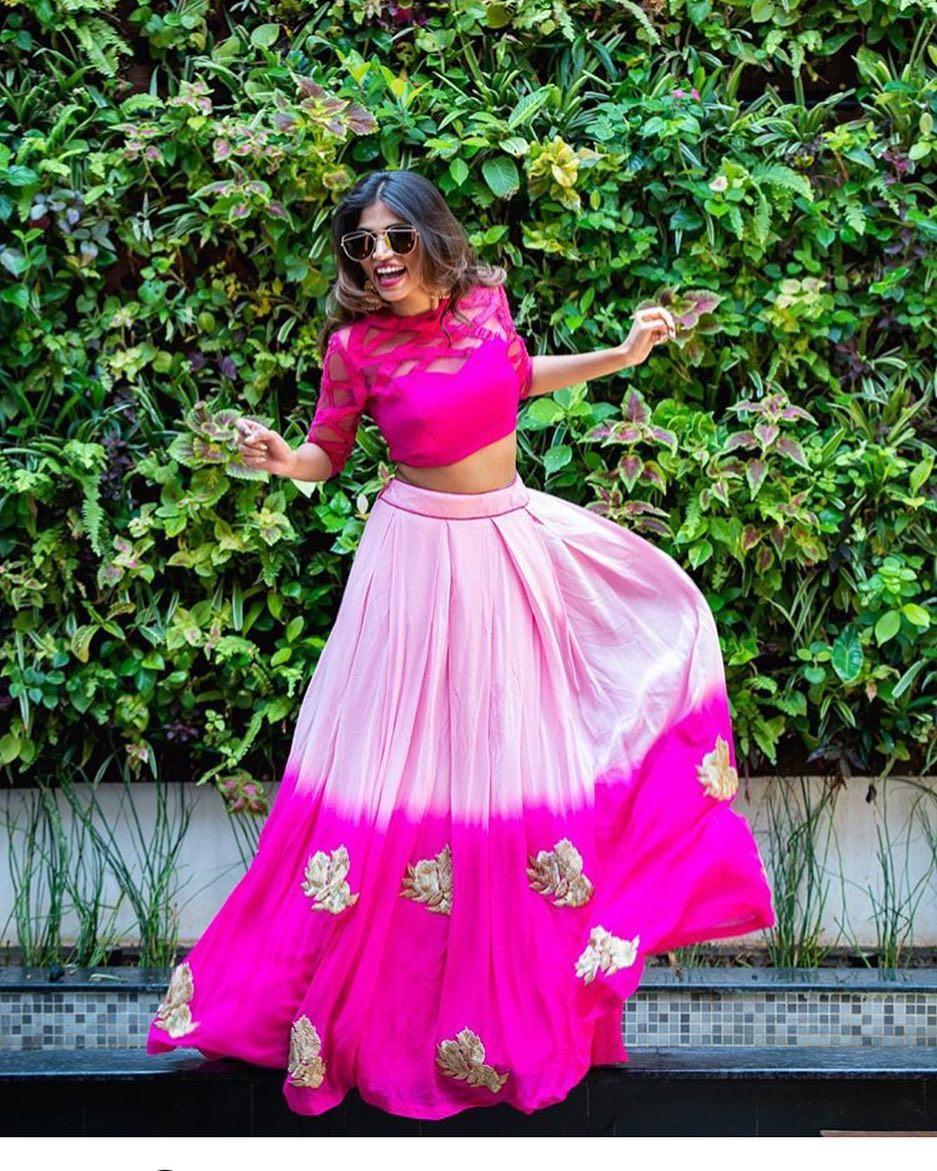 Price range - Below ₹30,000
Ombre is the latest love of the masses whether it is the bedsheets, curtains, sarees or even lehenga skirts. This lovely set of lehenga choli with prices is a very beautiful piece for the ladies who are willing to look their best for the wedding functions.
The bright pink and its smudgy ombre transition towards a lighter pink looks effortless and the little patches of embroidery complete the entire poppy look. We can totally imagine Dulhe ki Saali twirling in this ombre lehenga while she dances during the Mehndi, can you?
How can you play with this ombre beauty?
If you have longer hair, go for a straight hair high pony with matte gold danglers. Get peach cheeks and matte makeup to do wonders for your outlook. This marvellous outfit is great for summer weddings, however, if it is during November or so you can always pair the beauty with black or tan boots to give it a funky look.
All these designs are exclusively chosen to keep in mind the majority of trends, your rich taste and the budget. Some of these dresses go even below ₹20,000. Isn't that absolutely lovely? Why spend a bomb if you can look like one in this price?
It is a great choice for outdoor functions. With this fantastic range of lehenga choli with price listed right above, we really hope you could find something that matches your class and taste.
Pro-Tip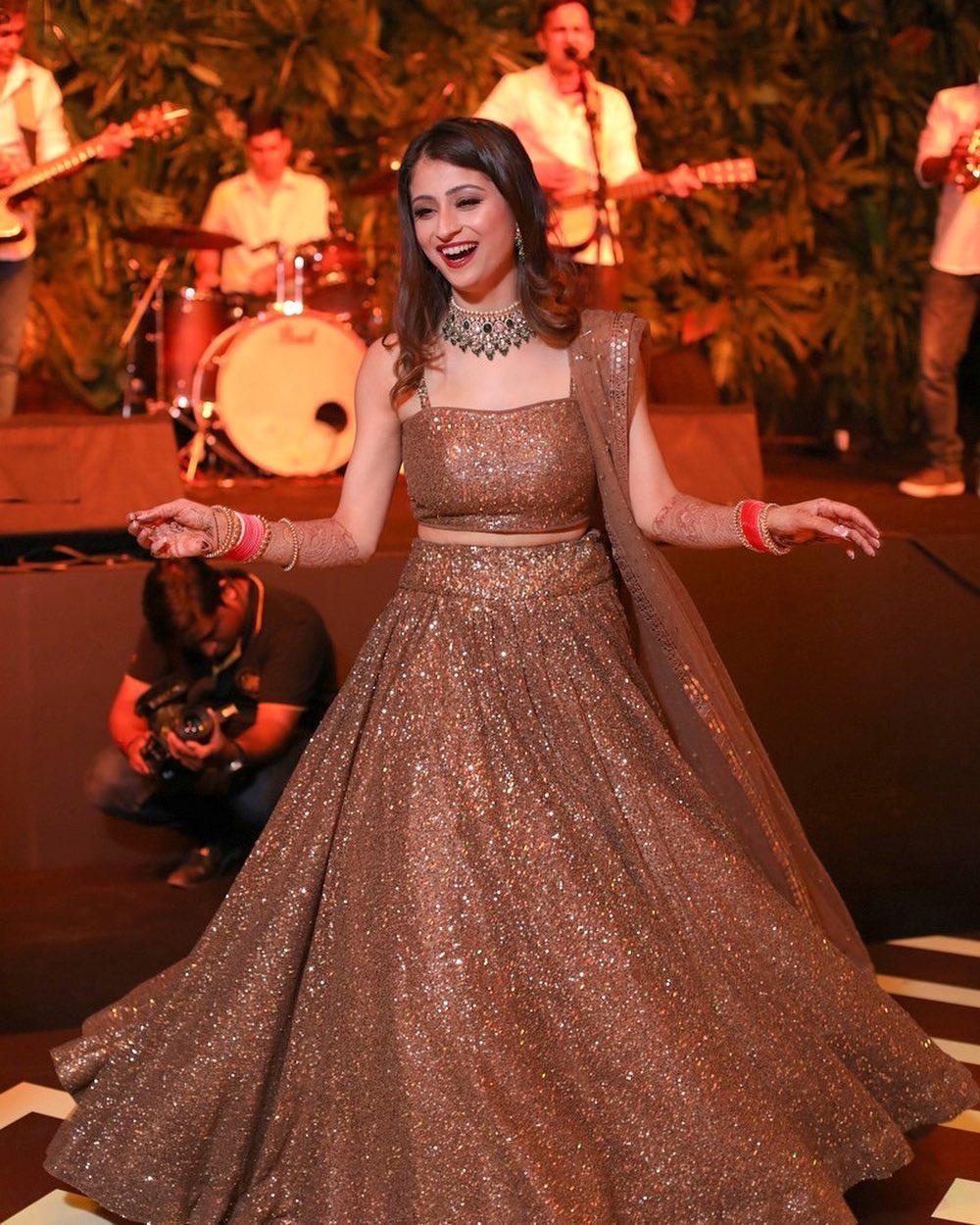 No matter which lehenga choli with price you choose, do consider its pros and cons before investing in it. The kind of material, colour, the style must be taken into account before making the investment. Don't go for a lot of shimmer or colours like neons which are purely based on the on-going trend. You might look stupid if you think of wearing it again even 2 years from now.
You must buy something which you think you can wear again. After all, spending so much for wearing just a single time would definitely make you less Indian, don't you think? You don't have the right to break Indian mothers' age-old tradition, do you?
We would love to know about the most bizarre outfit which you regretted buying in the past, in the comments below.