Kerala Saree Price List to Help You Pick the Right Saree
Looking out for a beautiful Kerala saree for an upcoming occasion? Well, don't worry, this Kerala saree price list will help you decide on the best one right away!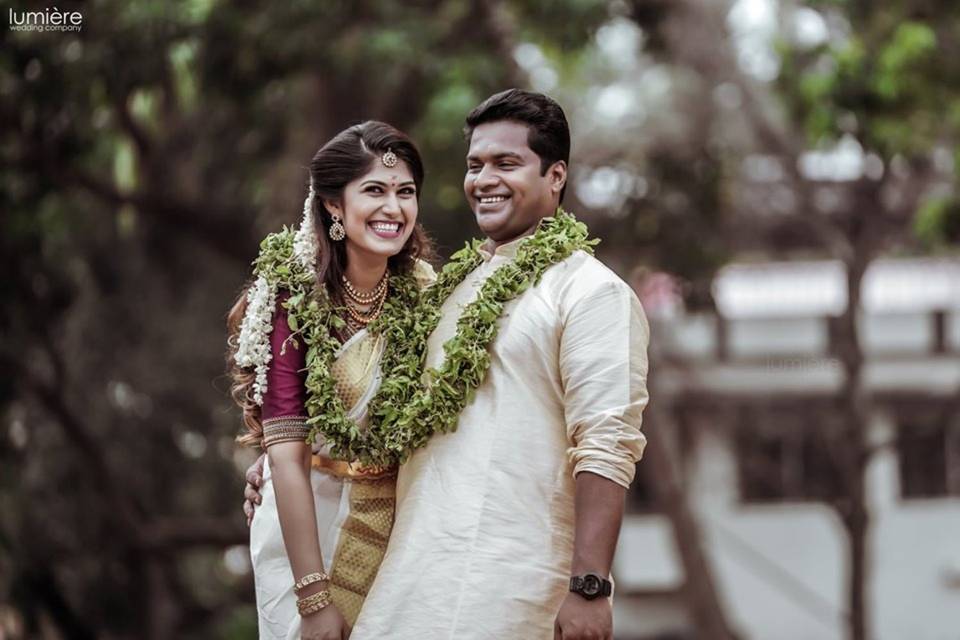 Are you thinking of going in for a Kerala saree this wedding season or you are simply a Malayali bride on the lookout for some great Kerala sarees? No matter the occasion, with the number of options available when it comes to a Kerala saree & Kerala saree price list, one would be left feeling confused and overwhelmed. When you talk of a Kerala saree, the first thing that comes to mind are those gorgeous silk sarees that are available in different colours or those traditional Kasavu sarees that you could never stop thinking about. No matter whatever you go in for, a Kerala saree will make you look stunning and gorgeous for sure.
Talking about Kerala sarees and Kerala saree price list, these amazing pieces are available in cotton, silk or even a mix of both these elements. The beautiful handloom work, including the prints and styles of these sarees with stunning borders, are the best things about Kerala sarees. One of the most popular bridal sarees for Kerala brides come in golden prints.
Types of Saree
Today, modern brides go for a different shade rather than the traditional white and gold sarees. So, if you seem overwhelmed with all the options available and cannot make up your mind on the perfect saree, this Kerala saree price list will help you get a better understanding of the different types of Kerala sarees available in the market.
The Traditional Kasavu Saree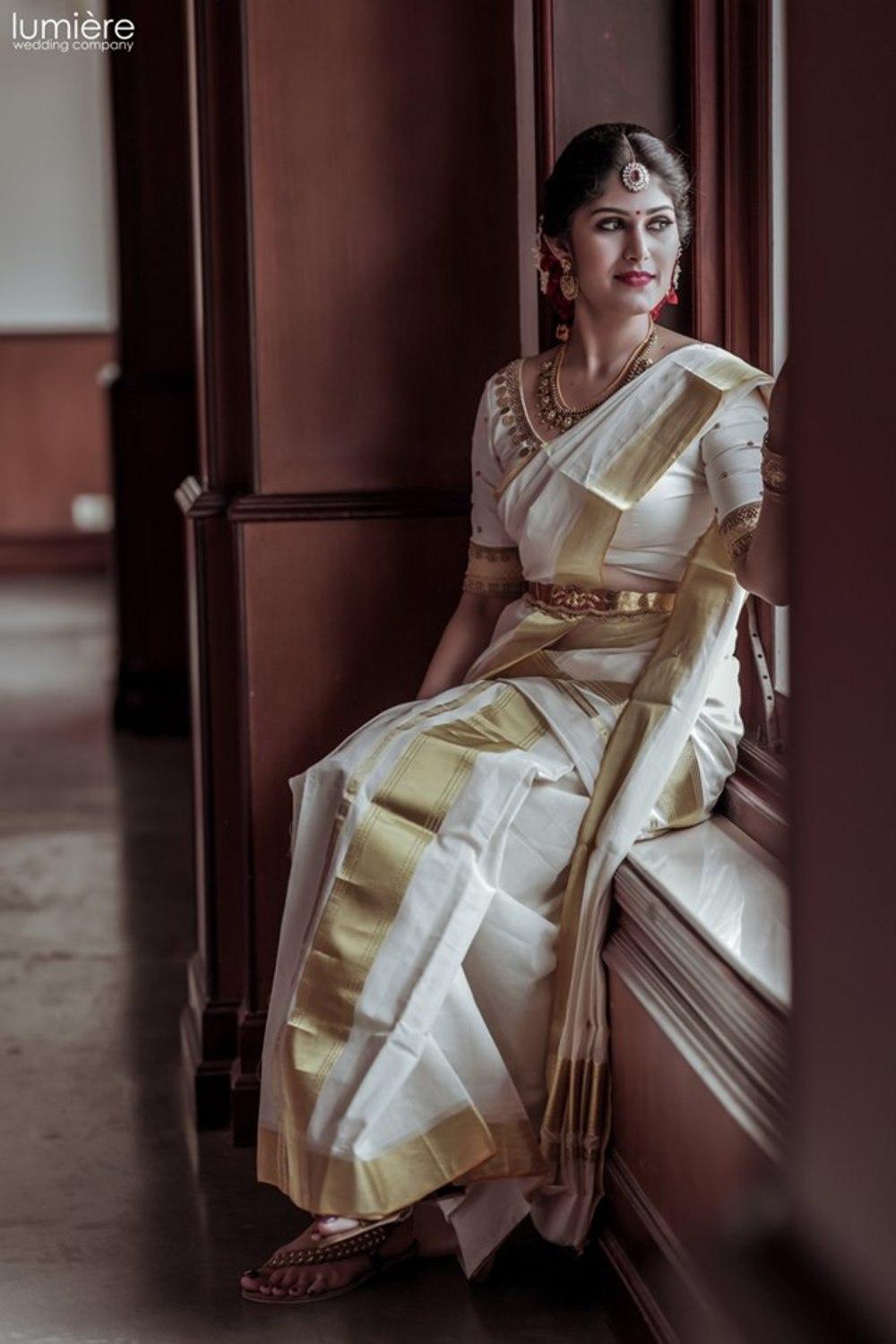 The first one on the Kerala saree price list is the white and gold Kasavu saree that's popular when it comes to Malayali brides. The beautiful gold zari work along with the simple white piece of cloth is enough to make this elegant saree a masterpiece. For most Malayali brides this saree is very important to them because it speaks simplicity and tradition in every way.
Suitable for all Malayali brides, you just cannot skip this one if you're looking out for some gorgeous Kerala sarees for sure. The price range for this saree is from ₹6,000 all the way to ₹25,000.
Pure Kanchipuram Silk Saree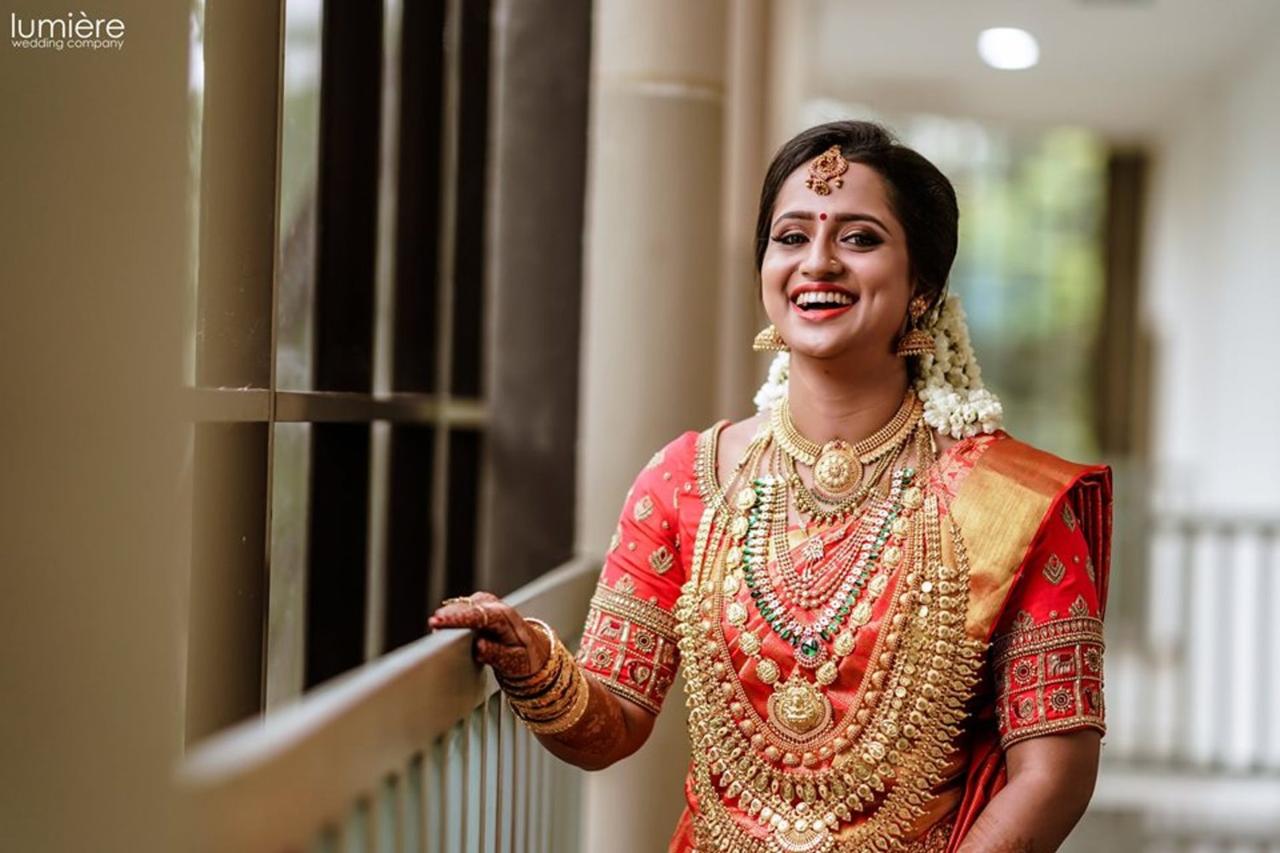 Who doesn't love those stunning silk Kanchipuram sarees? Popular for their rich quality, the Kanchipuram saree is one of the best sarees when it comes to Kerala brides. Available in different colours, there's no better saree to go in for if you're looking out for quality and elegance. The pure Kanchipuram silk saree is also worn by many Malayali brides for their pre-wedding occasions as well.
These gorgeous Kerala sarees are priced from ₹6,000 for a simple bordered Kanchipuram saree and goes up to ₹40,000 and even reaches ₹1,00,000 for the more elaborated designs.
Kanjeevaram silk Sari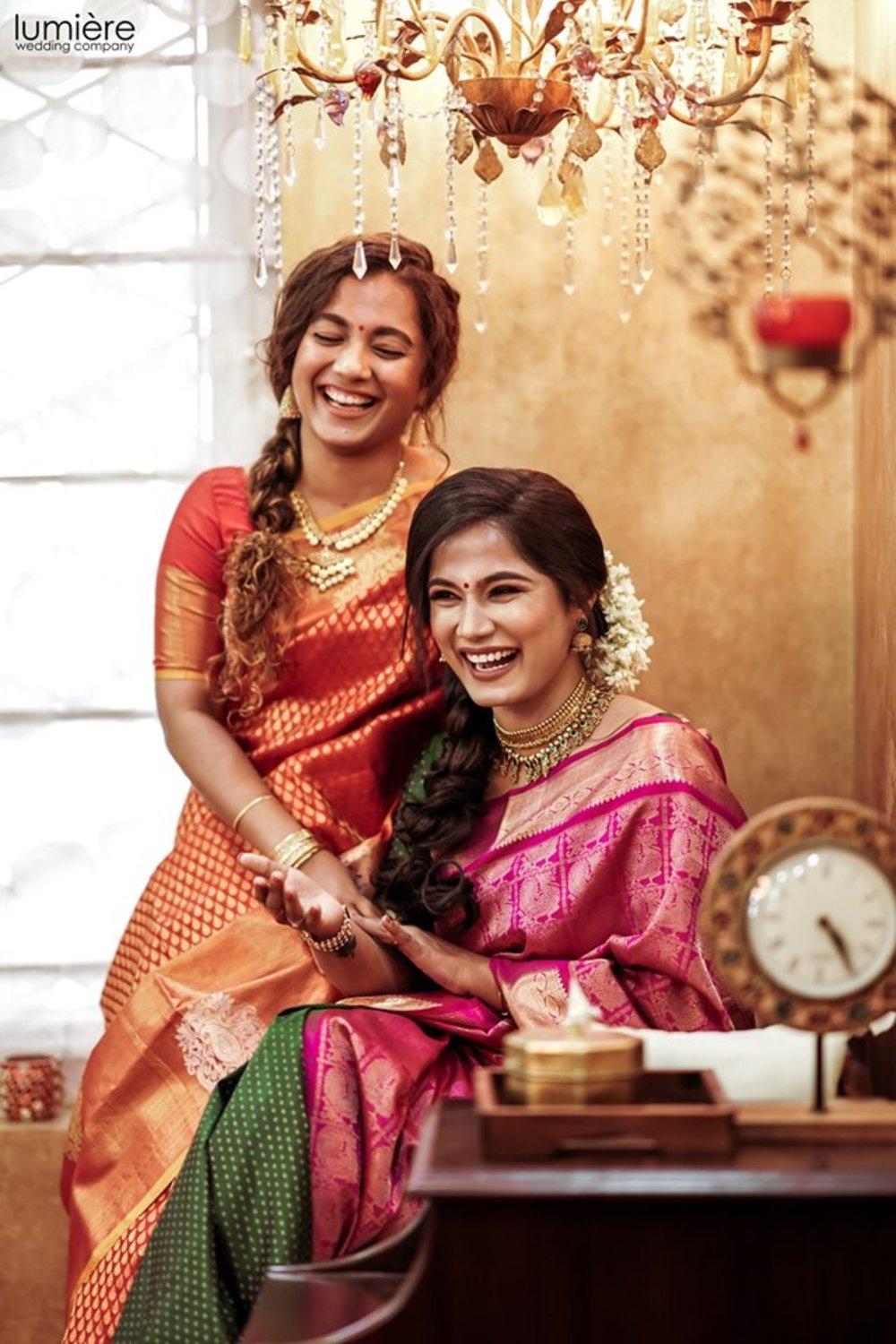 Another popular one on the Kerala saree price list is the ever stylish silk sarees that most women from the south just cannot miss. These sarees are easily available and can be worn for any occasion. Right from their gorgeous designs and different colours, these stylish silk sarees are perfect for any occasion that calls for heavy traditional wear.
The beauty of a good quality silk saree can be enhanced when you team it up with the perfect traditional jewellery. A very good quality silk saree can range from ₹15,000 and above, depending on the quality and style of the silk saree. A silk saree will suit women of all body types and skin tone, so don't shy away from wearing those silk sarees at all.
Images of Kerala Sarees You Might Want to Scan Through
Here are some great images on this Kerala saree price list that you might want to have a look at to see the different types of amazing designs and styles available.
Mustard and Pink Saree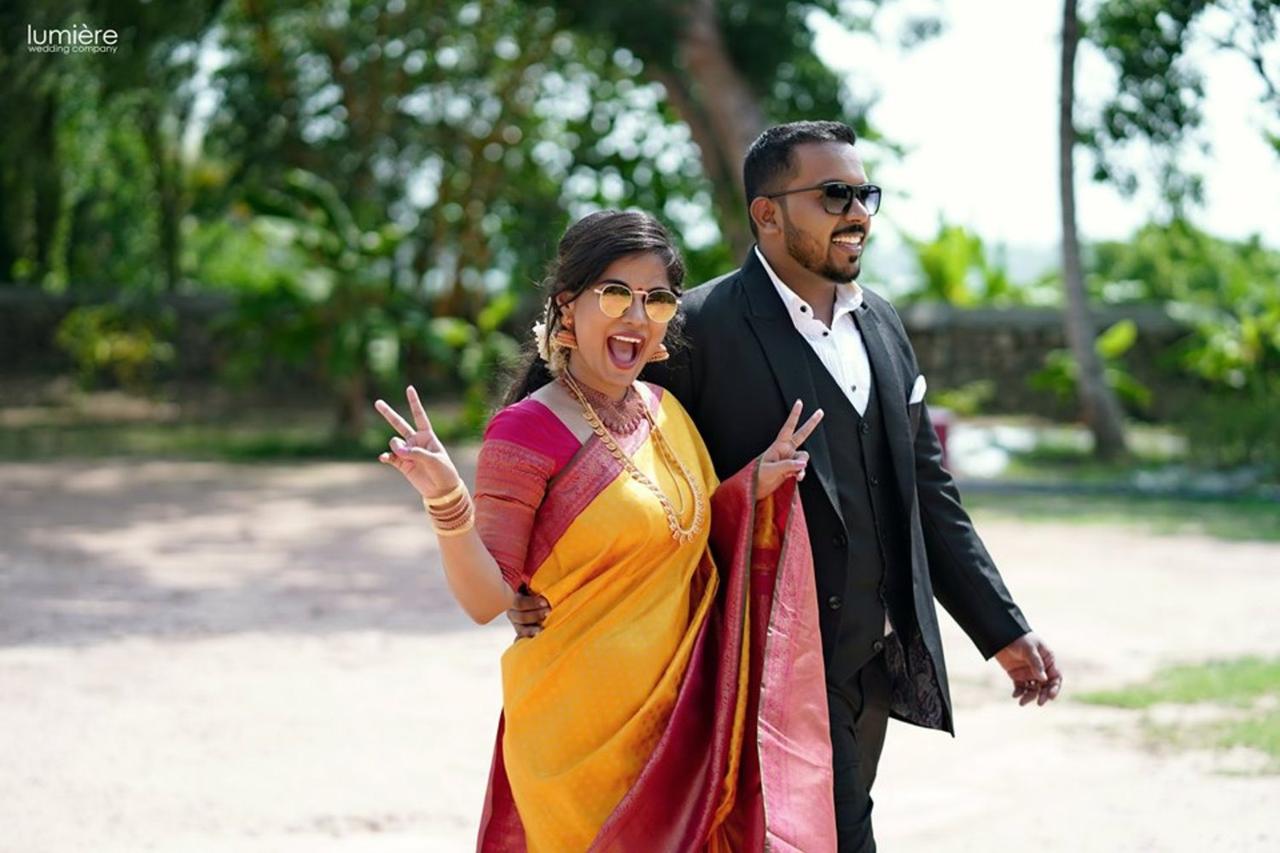 If you love a bright mix of colours when it comes to your sarees, then go in for a saree like this. The mustard yellow shade along with the gorgeous pink border and blouse is enough to make this saree standout.
This perfect silk saree is extremely stunning and when teamed with all the right accessories you just cannot go wrong at all with a saree like this. This would be priced anywhere between 15,000 and above.
The Peach and Gold Display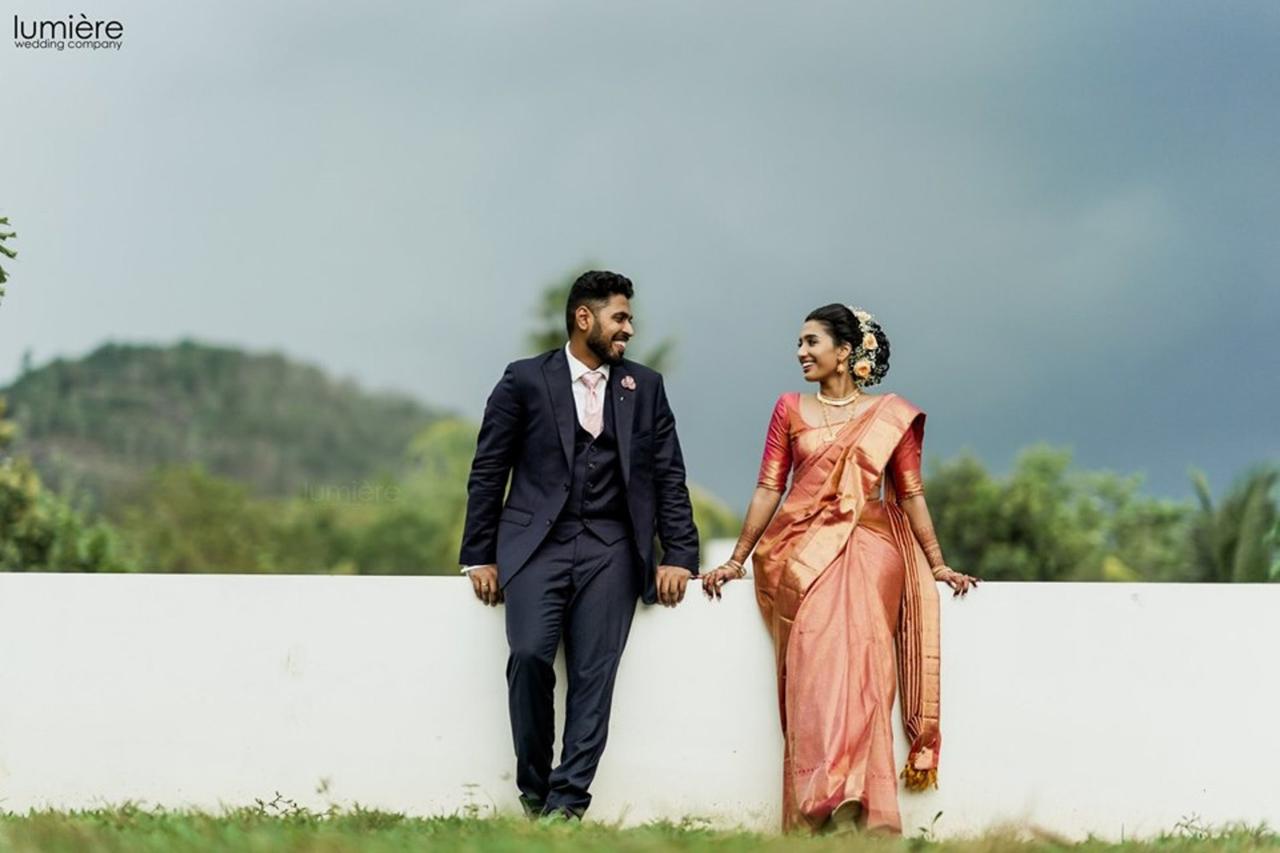 Another gorgeous colour combination to go in for is the peach and gold saree. This one definitely makes it to the Kerala saree price list for sure. A mild colour combination, you could wear this one for a pre-wedding occasion as well.
The darker tone on the saree blouse just brings out the best in the whole saree. The perfect traditional jewellery and a hairdo with flowers work wonders for a saree like this. Depending on if it's a Kanchipuram saree or a pure silk saree, the price would differ accordingly.
The All Gold Look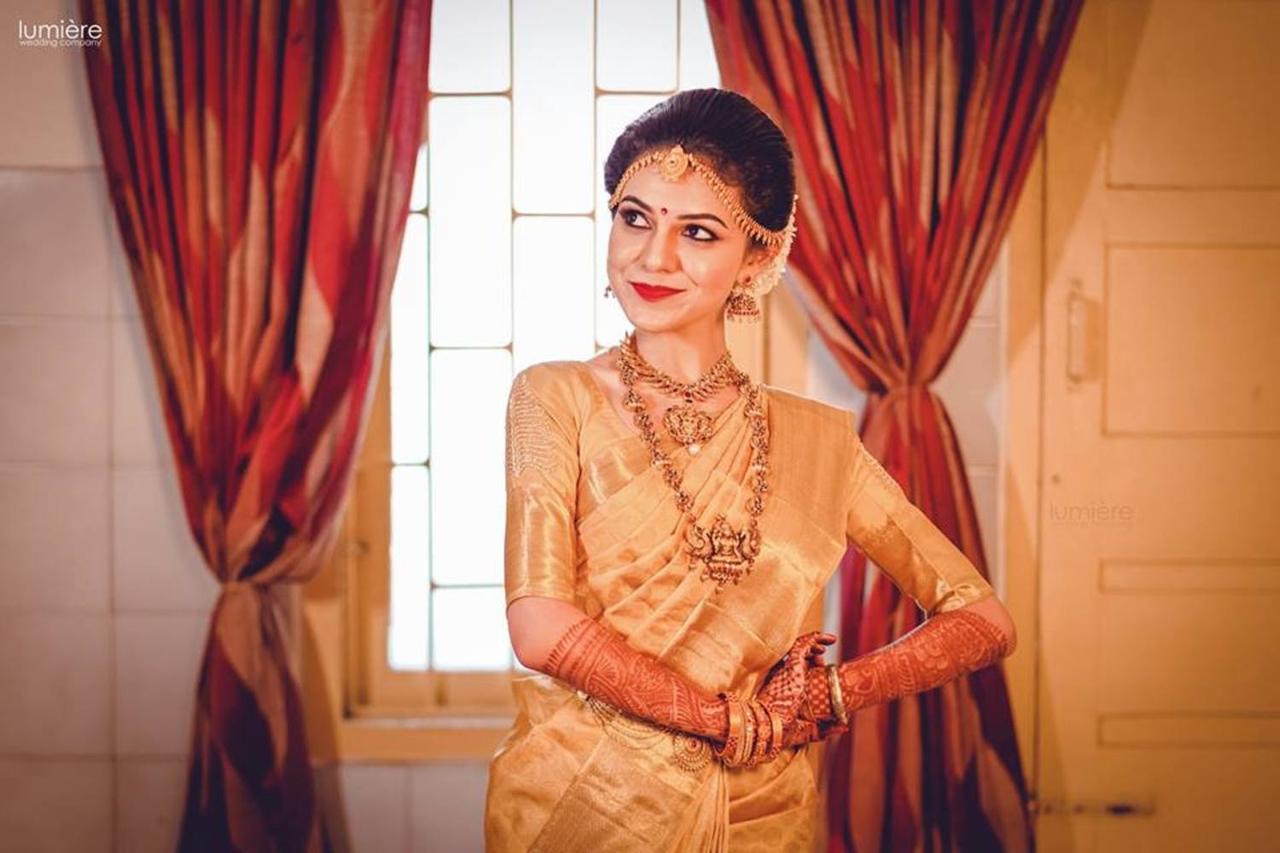 If you're ready for the shimmer and shine look, then a perfect gold Kanchipuram saree would be great for your wedding day. Going for the all gold look when it comes to your Kerala saree is another fantastic way to look stunning and gorgeous. This saree is perfect if you're not a big fan of the white and gold Kasavu sarees.
The gold shimmery effect can definitely up your style quotient, making you shine like a star. Choosing the right traditional gold jewellery can also take this look to the next level. Go for a chain Maang Tikka, earrings and heavy neckpieces to help you stand out with a saree like this.
Perfect in Green and Beige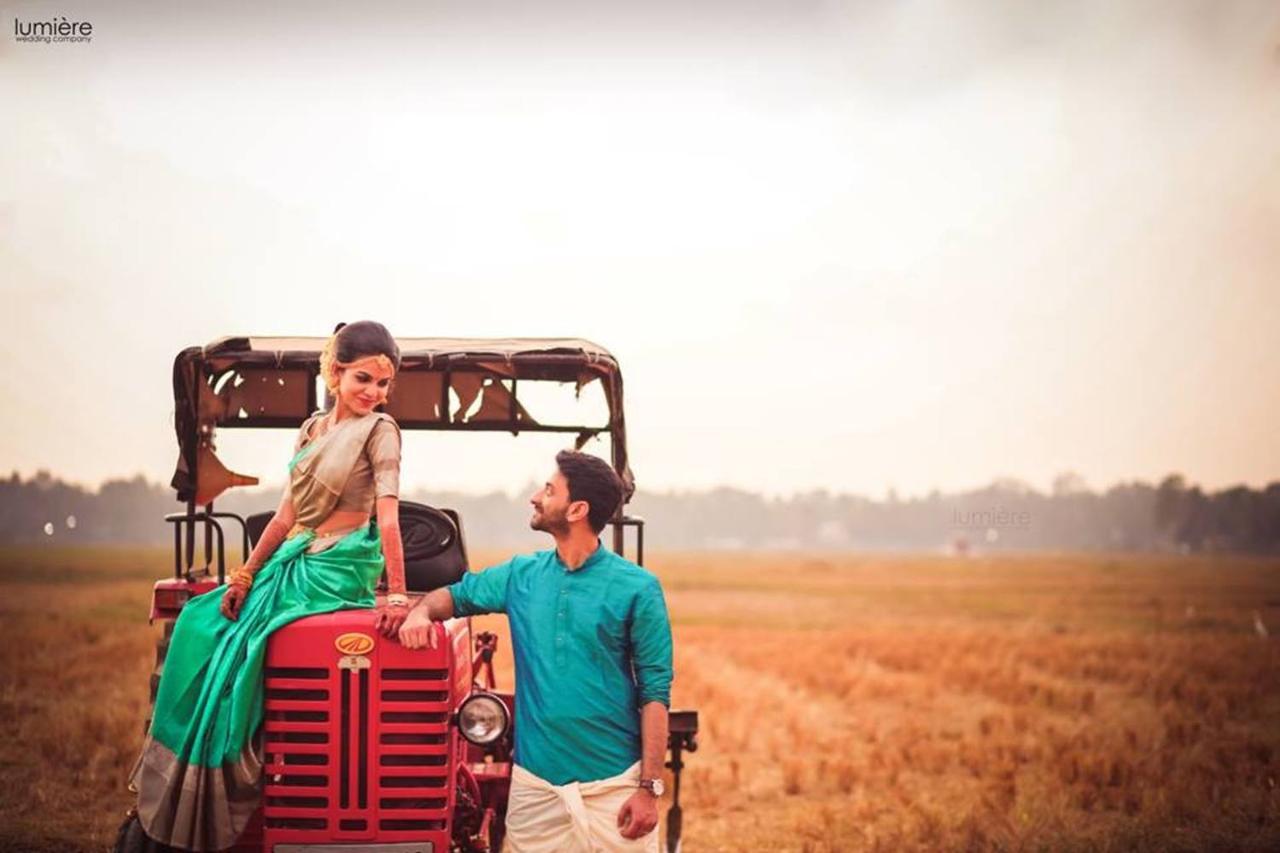 Choose a green and beige silk saree for a pre-wedding shoot to get some of the best clicks ever. This pre-wedding shoot is done so beautifully with the bride and groom going in for the perfect colour combination to bring out the best in their pictures. You could always go for a colour theme and match up with the groom to get the best out of your pre-wedding shoot.
No matter whether you choose a Kasavu, a Kanchipuram or even a silk saree, choosing one that goes with your colour theme and taste is very important. It's important to start planning your bridal attire well in advance, so take the time to go through different Kerala saree images and prices before you make the final decision. Decide if you would love to go for the old traditional white and gold look or the colourful modern look.
Did this Kerala saree price list help you out in anyway? If it did and you're looking to get a stunning Kerala saree just like these, check out our bridal vendors for some of the best saree designs and styles.