10 Kerala Saree Images That Prove This Outfit is the Ideal One
If you are looking for a Kerala style saree for your wedding, then these Kerala saree images will surely give you some major bridal wear goals.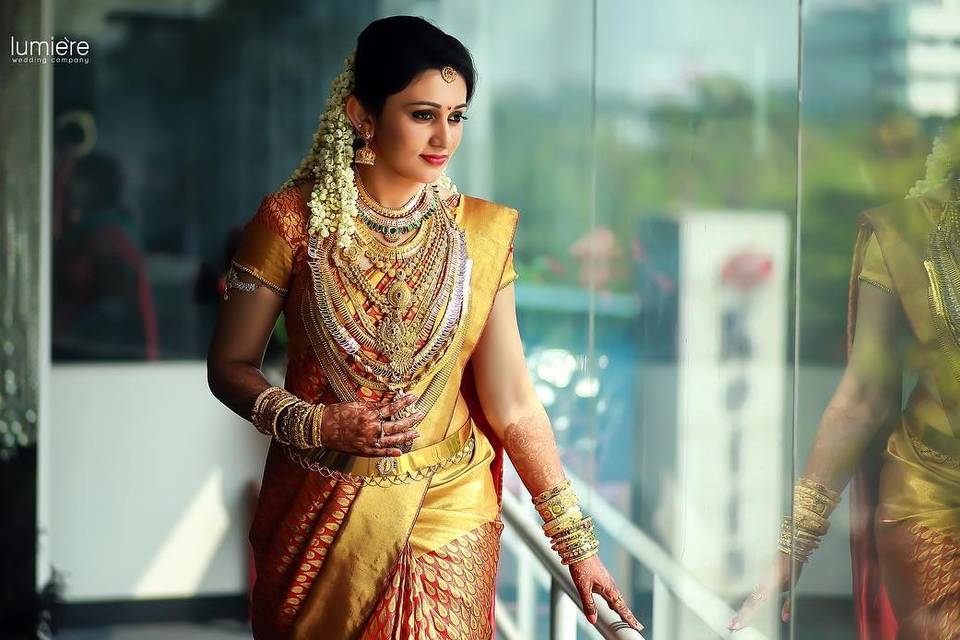 When we think of a Kerala style saree, the first thing that comes to our mind is the beautiful silk sarees of different colours and the traditional white Kasavu sarees. Even when you search for Kerala saree images online, images of such sarees pop up consistently. Now you may be having some trouble in finalising a saree you want to wear at your wedding because of the incredible amount of options. To help you out in this regard, we have come up with a list of Kerala saree images that are unique in their own way and will tell you the reason why you should opt for such a saree.
A Kerala style saree is mainly about silk and cotton fabrics or a mix of both with incredible handloom work and prints on it. The popular colour for the prints on the bridal sarees is golden, as is the case with most bridal wears in different parts of India. Now have a look at some of the most stunning Kerala saree images to identify the right choice for you.
1. A red saree with golden patterns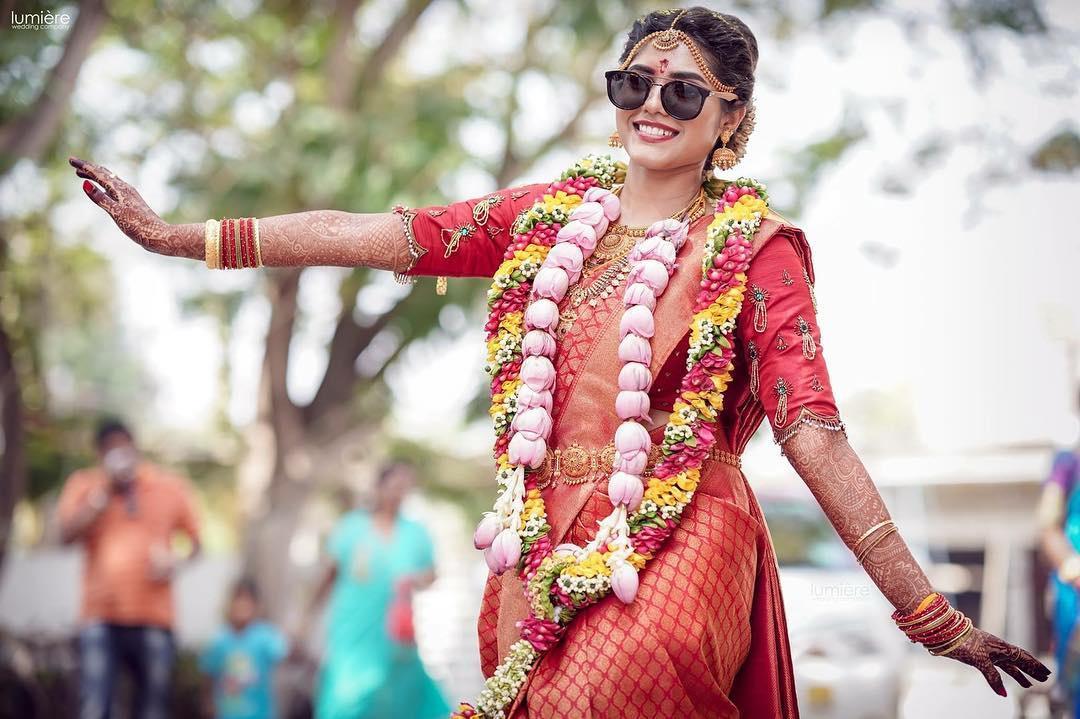 The red saree with such closely packed gold prints all over it makes it more like a golden saree with lines on it. The patterns you see are quite common in South Indian saree designs. The broad golden embroideries make it a classic Kerala bridal saree.
2. A bright red saree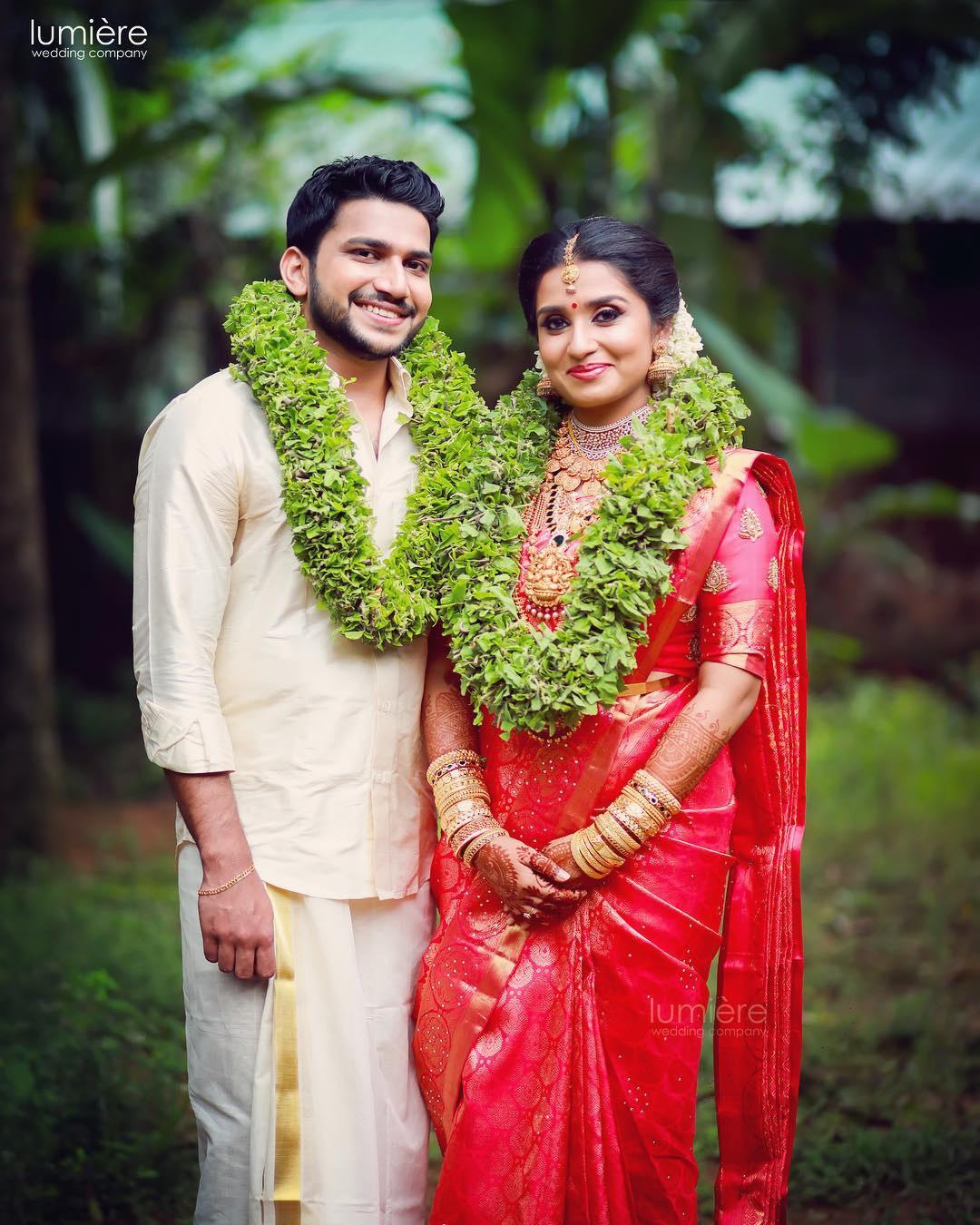 Since we all know the importance of the colour red in our traditions and cultures, this red bridal saree is perfect for you. The red in this saree is so bright that one can hardly see the continuous golden prints on it. However, it is these golden prints that make this saree even more attractive. If you want a bright saree as your bridal outfit then this fits the bill perfectly.
3. An elegant golden saree with a green blouse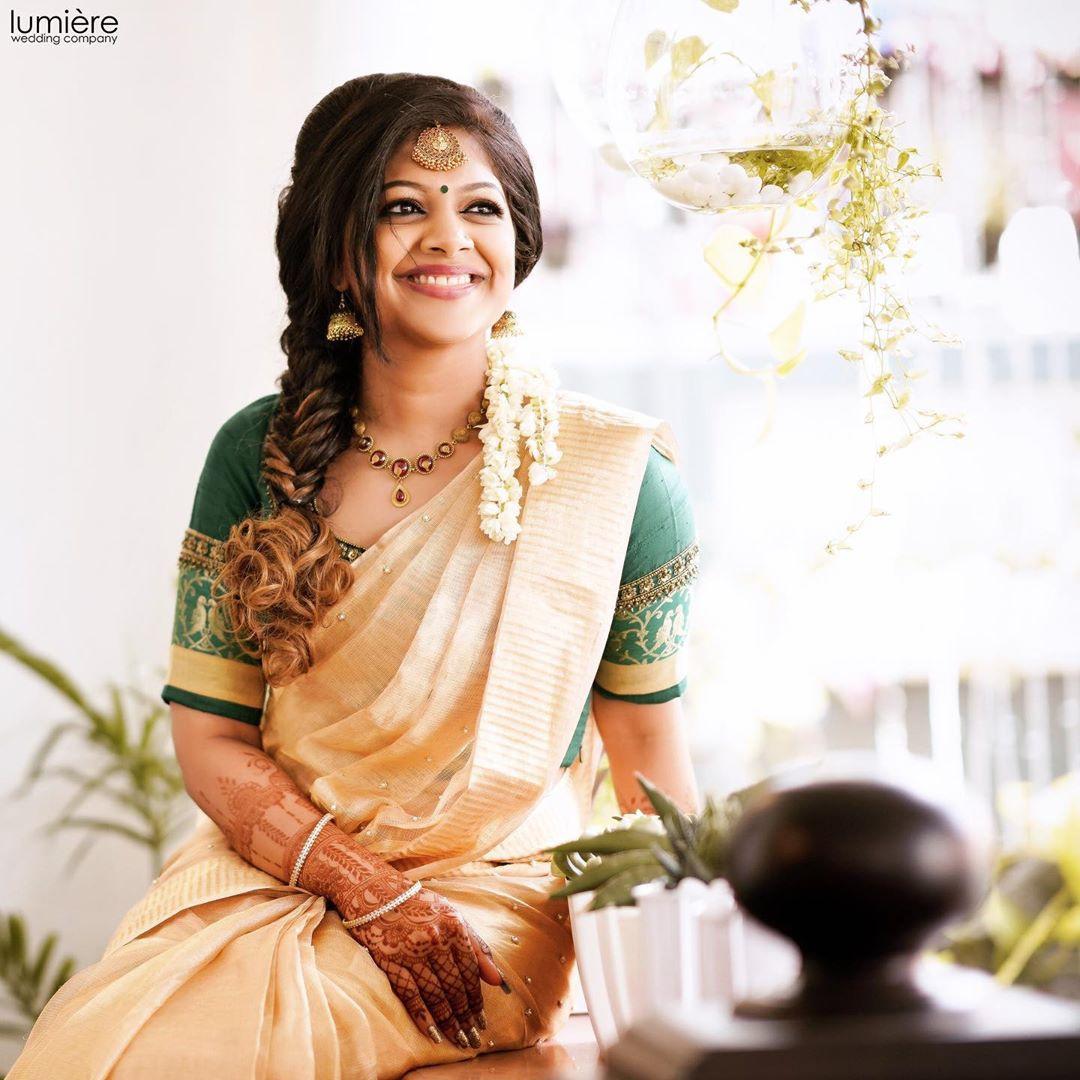 A golden saree always looks great, any day of the week. The simple golden saree seen in this example of Kerala saree images just goes to show how elegant a golden saree can look. The best part about such a saree is that you can pair it with a blouse of any colour. Just make sure that the blouse has some golden embroidery on it.
4. An orange bridal silk saree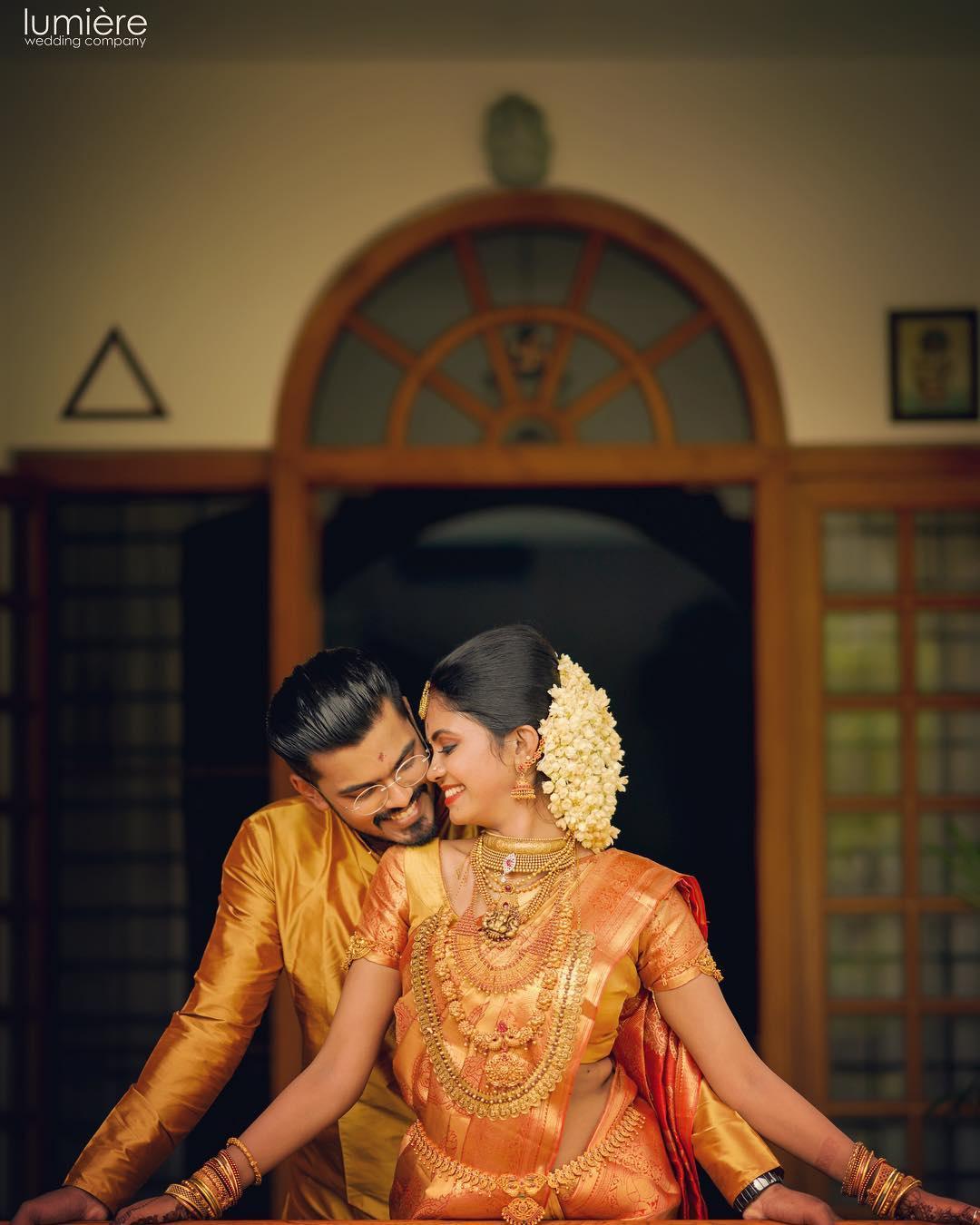 One of the most beautiful examples of Kerala saree images in this list, this picture shows the bride and groom in a lovely pose. The beautiful orange saree has continuous golden prints on it, giving the bride a plush look. The golden-yellow blouse complements the saree perfectly. Moreover, the bridal gold jewellery looks absolutely great with such sarees.
5. The evergreen combination of red and golden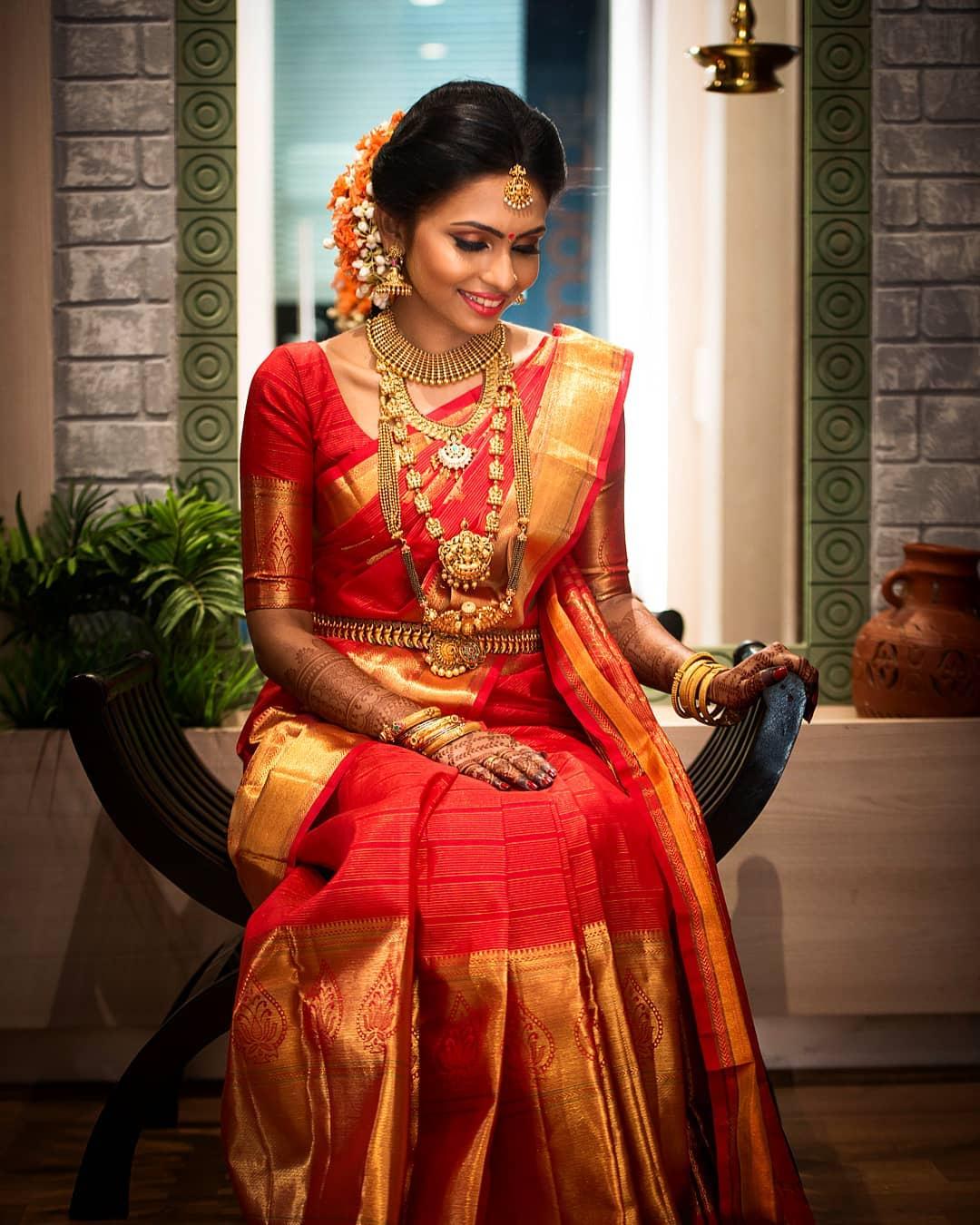 Golden and red are two colours that are synonymous with bridal outfits in India and this picture from our list of Kerala saree images shows us a stunning silk saree. The huge borders at the flares of the saree make it quite a unique garment. The golden bands on the pallu help in making this saree such an attractive one too.
6. A green saree with pink and golden borders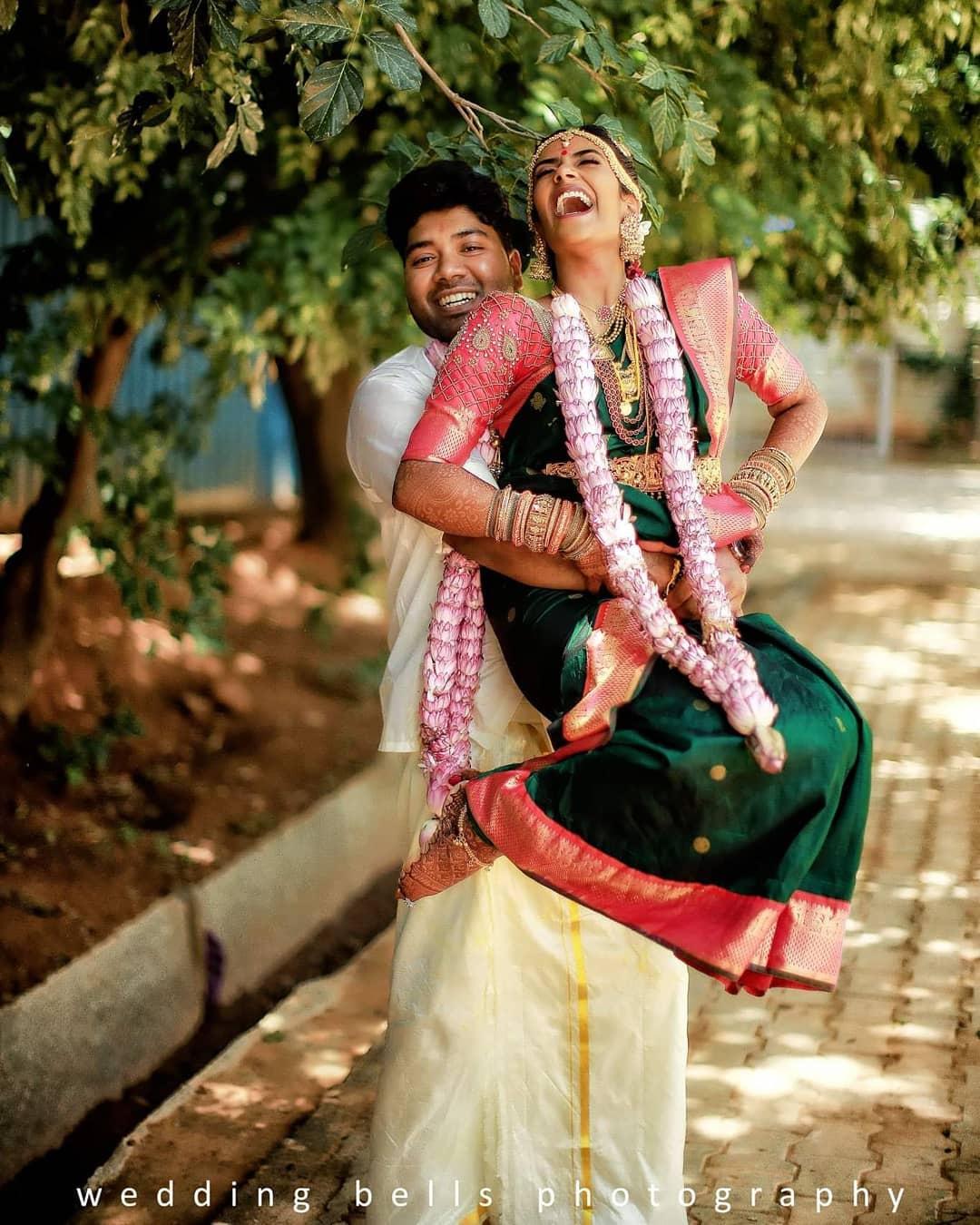 Image Courtesy: Wedding Bells Photography
A green bridal saree is something you see when it comes to a Brahmin bride in Kerala. This simple saree has a minimalistic look to it with pink and golden borders. The highlight of this attire is the blouse design which has some really intricate embroideries and patchworks.
7. A yellow saree for the unique look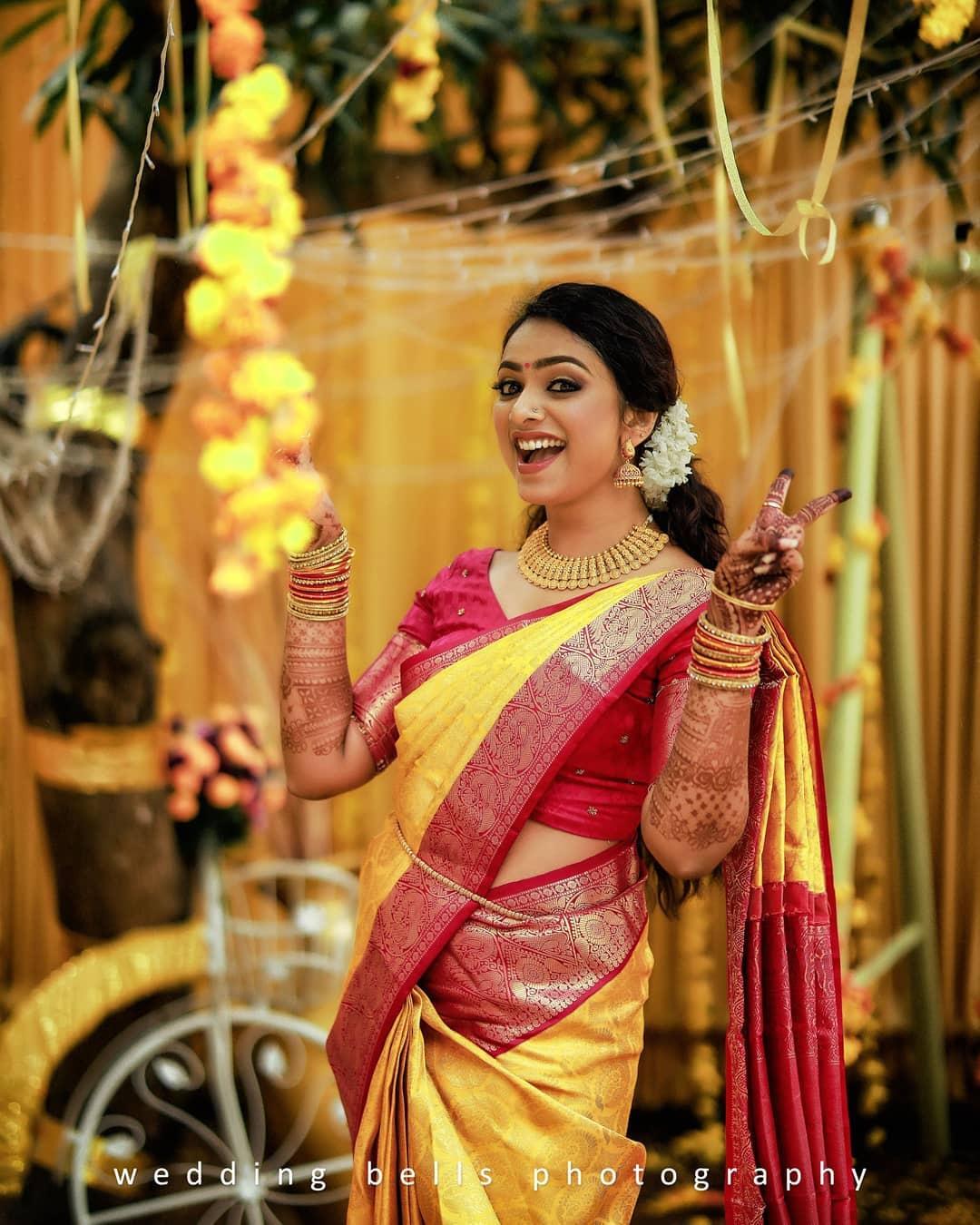 Image Courtesy: Wedding Bells Photography
Yellow may not be a colour that the brides usually wear as their main attire for the wedding. However, if you are open to experimenting than this should be an ideal option for you. Otherwise, you may wear it at some other ceremony related to the wedding, like a Haldi or a Mehndi ceremony.
The popular 'Kasavu' sarees
1. An ivory gold saree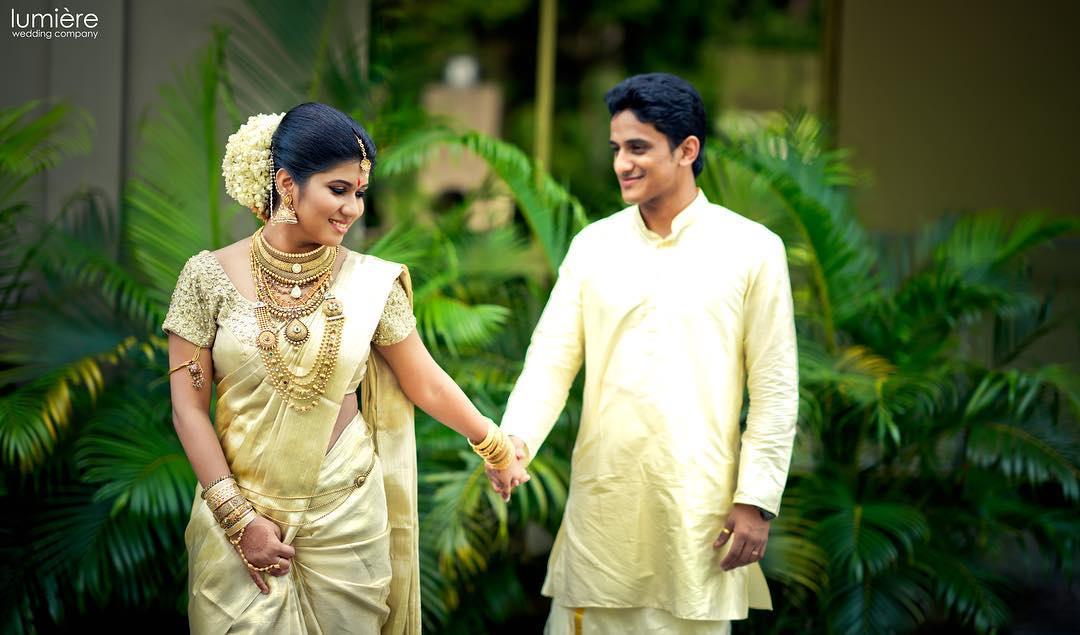 Ivory and gold are two colours that stand for elegance. Now think about a saree that includes both these colours. This ivory gold Kasavu saree makes the bride look absolutely stunning in this example of Kerala saree images. The blouse for this saree has continuous stones studded on it, completing its luxurious look.
2. The classic Kasavu saree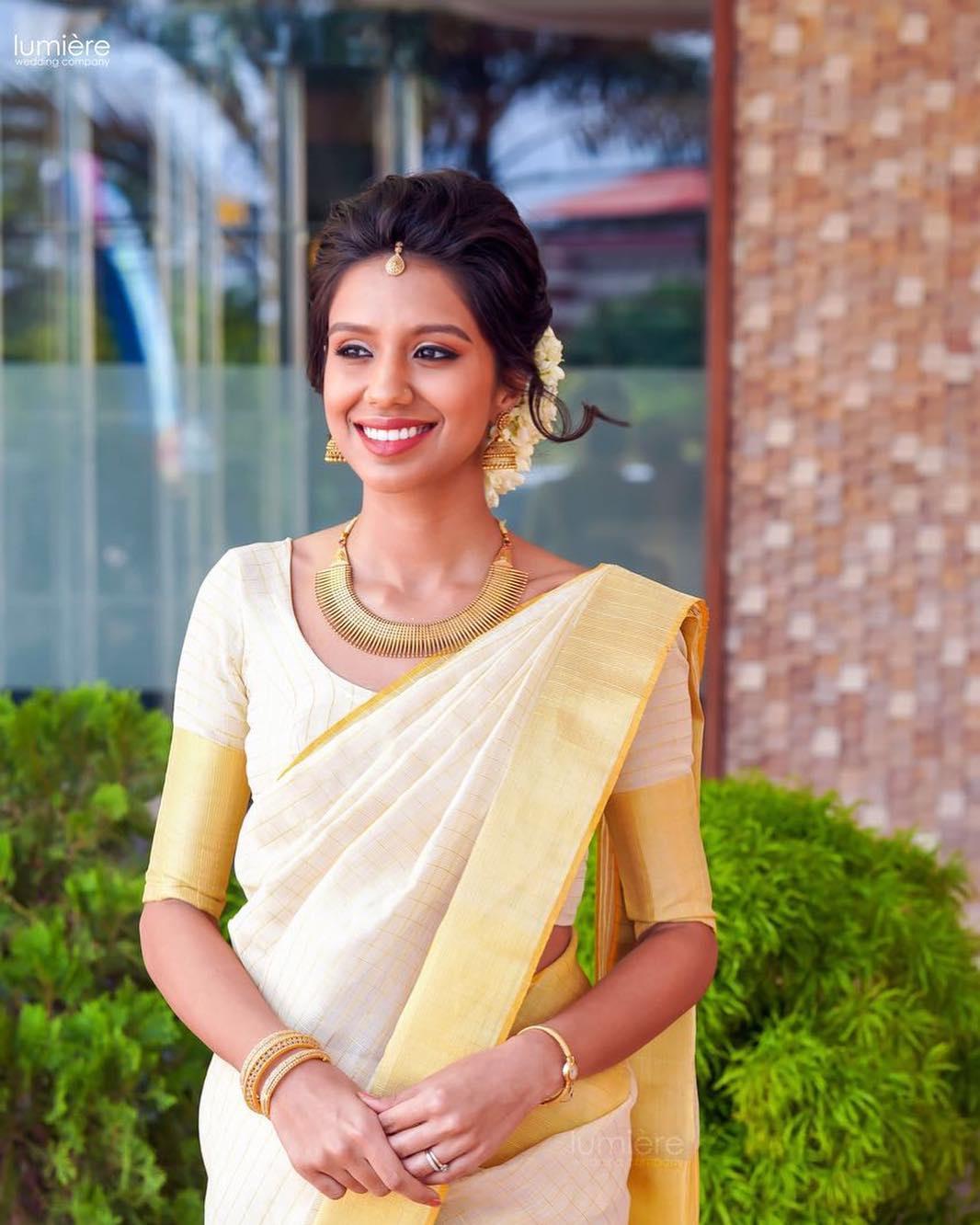 If you are looking for a saree for some basic function or ceremony, go for the classic Kerala look. This simple Kasavu saree with the classic colours of white with golden borders should be perfect for you. Pair it with a simple necklace and you are good to go. Kerala set sarees are truly versatile and you can easily wear it for high end and intimate functions alike!
3. A simple white saree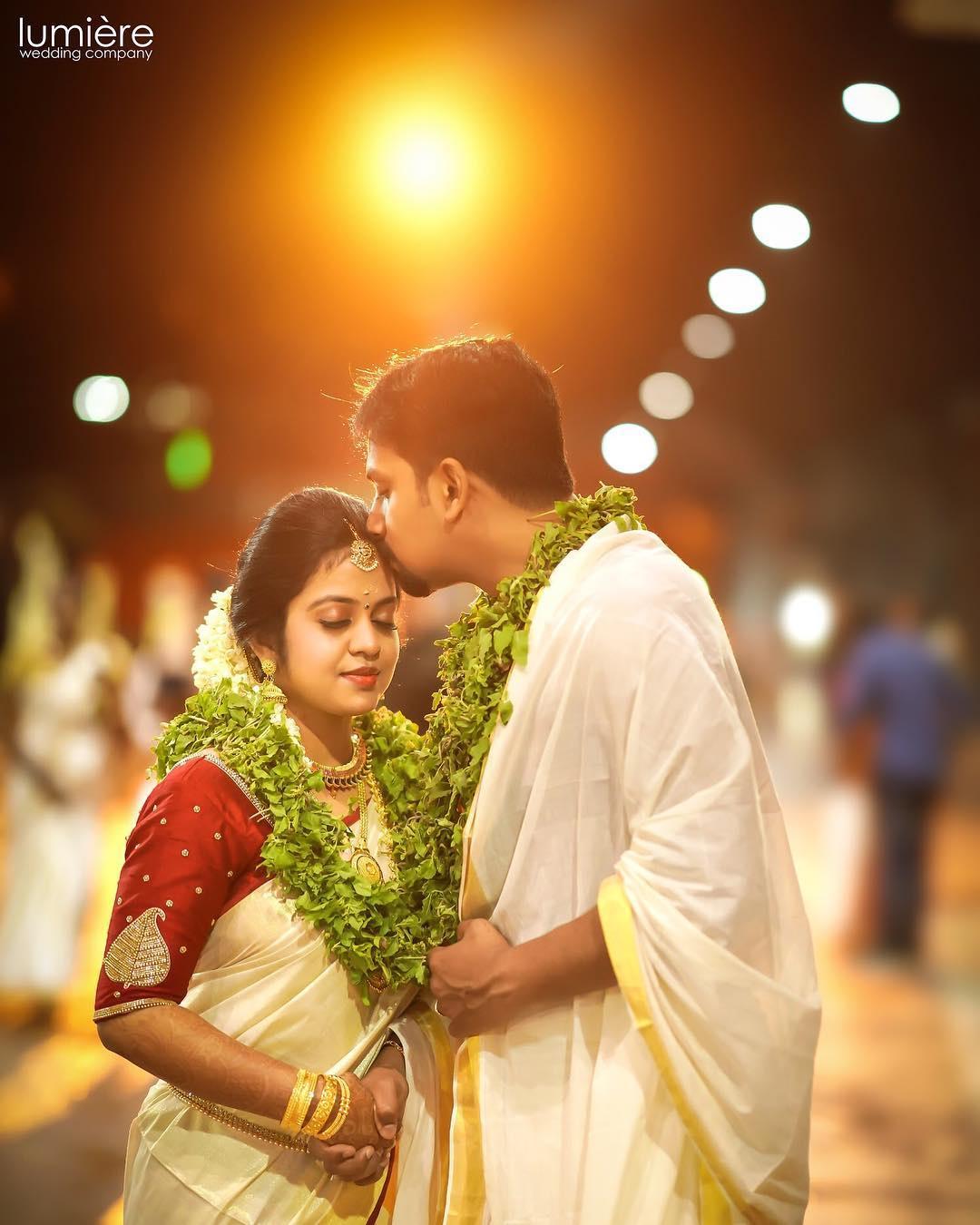 One of the simplest examples of Kerala saree images, this white saree is perfect to wear as the saree you wear after the wedding is over. You can pair it with a blouse of any colour, be it red, green or even gold.
Now that you have gone through this stunning range of Kerala sarees, you must have gotten an idea about what colour suits you and the kind of patterns and embroideries you want on your saree.
To know more, you may go through the list of vendors on our website to find the best boutiques near your town to get these stunning sarees.