Gold Colour Saree for Wedding That Are Shortlisted as Favourites for the Real Golden Brides
Each bride should shine in her own right at her wedding, and what shines better than gold? Here are some gold colour saree for wedding functions that will make brides take the spotlight right away.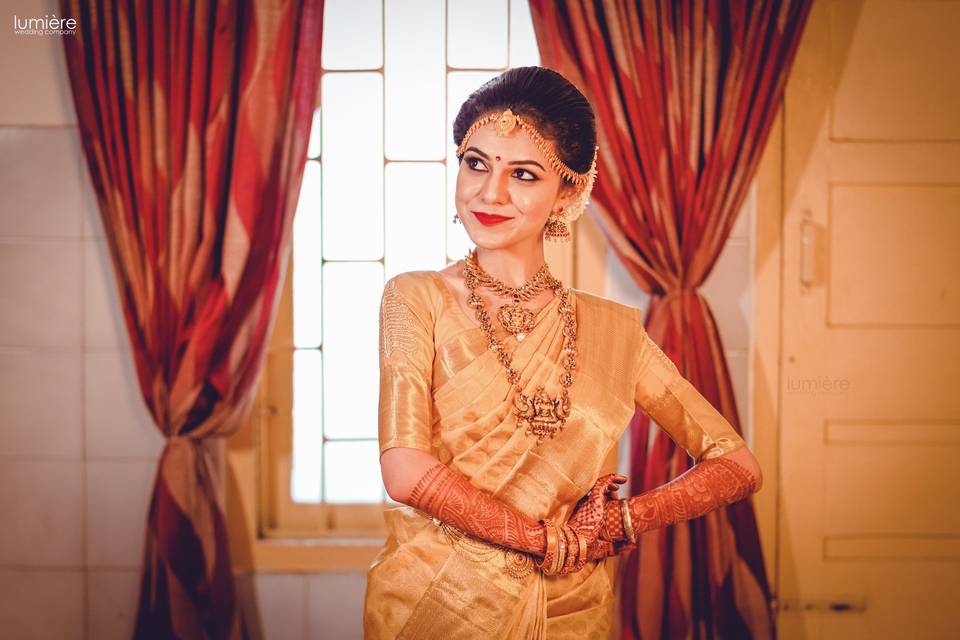 Looking for the right outfits for your own wedding is a headache and a huge confusion too. You do not want to be too repetitive but also would like to stick to some kind of traditions. Why not go for a colour and outfit that can represent both traditional and modern sensibilities you have and to whatever degree you want to present it. A gold colour saree for wedding functions is a classy choice that many millennial brides are making.
A gold colour saree for wedding is a choice that can never go out of style and can also be moulded in the way you prefer it to be. You can go down the conventional route or choose to add your own sense of style to your gold colour saree for wedding. Want to look at some of the options that we think will work best?
1. Your Traditional Gold Saree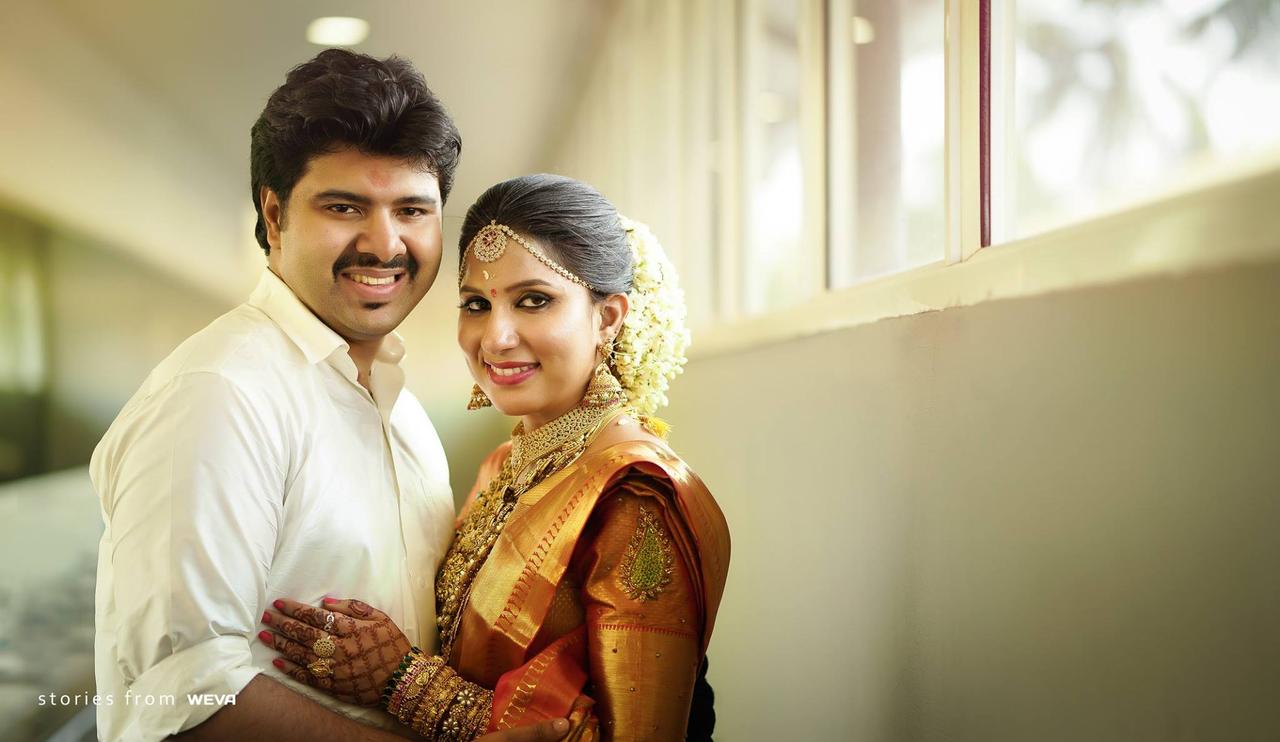 For the brides that do not want to wear something contemporary can go for a gold colour saree for wedding in a very traditional avatar. Going for a plain gold saree with a blouse that matches it can be a simple but effective outfit for a wedding function. Pair it with your old family jewellery could be a good idea to complete the look. This outfit works for a bride that is not looking to go for something unusual, especially in the south of India.
2. A Saree That Flows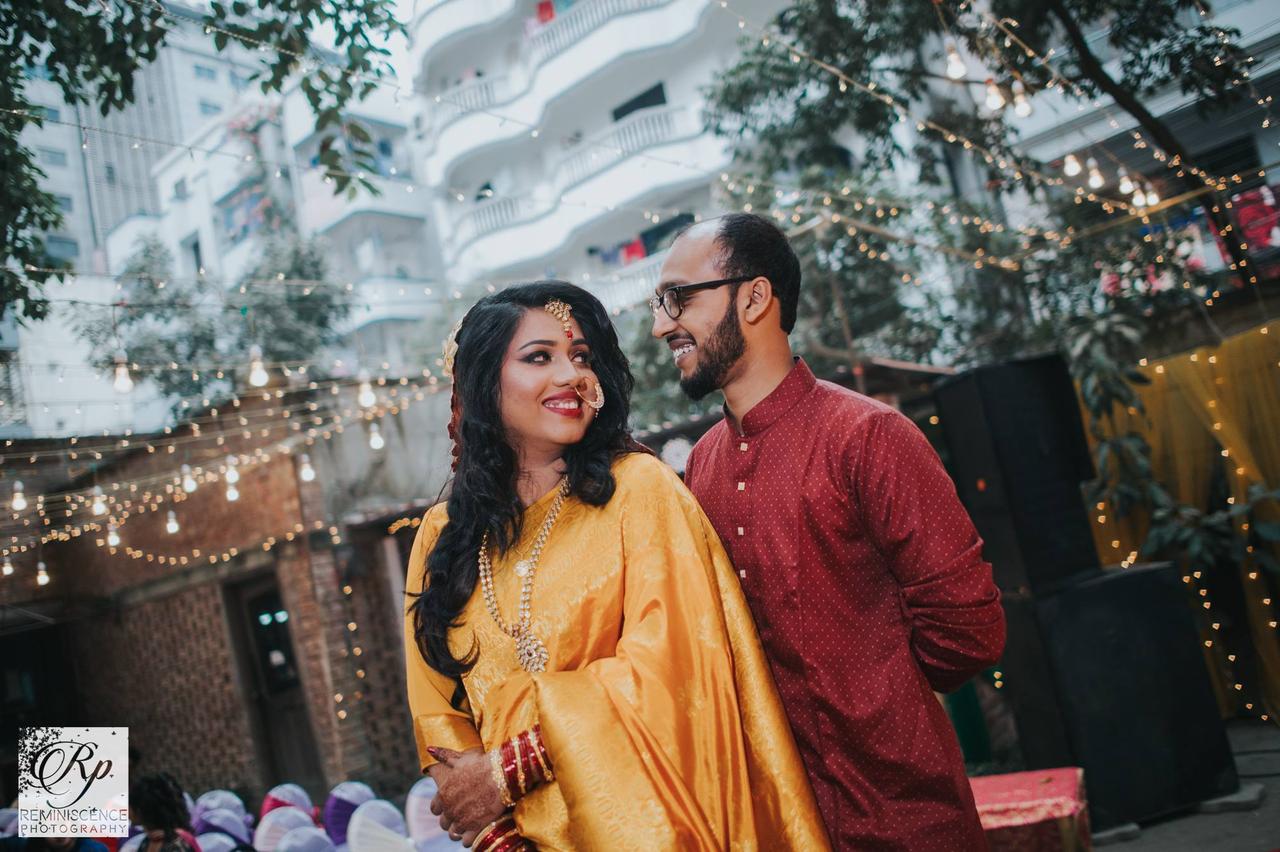 Image Courtesy: Reminiscence Photography
This yellowish gold saree is one gold colour saree for wedding that would make you feel like a heroine. Like in the movies this saree would flow as you move, letting all your childhood dreams come true. An outfit like this can be worn with either traditional or contemporary jewellery, making both the look work equally well. It is an ideal choice for a function like Sangeet or Reception. Make your hair more dramatic and striking by adding curls to them for your big day.
3. Captivating Gold Embroidery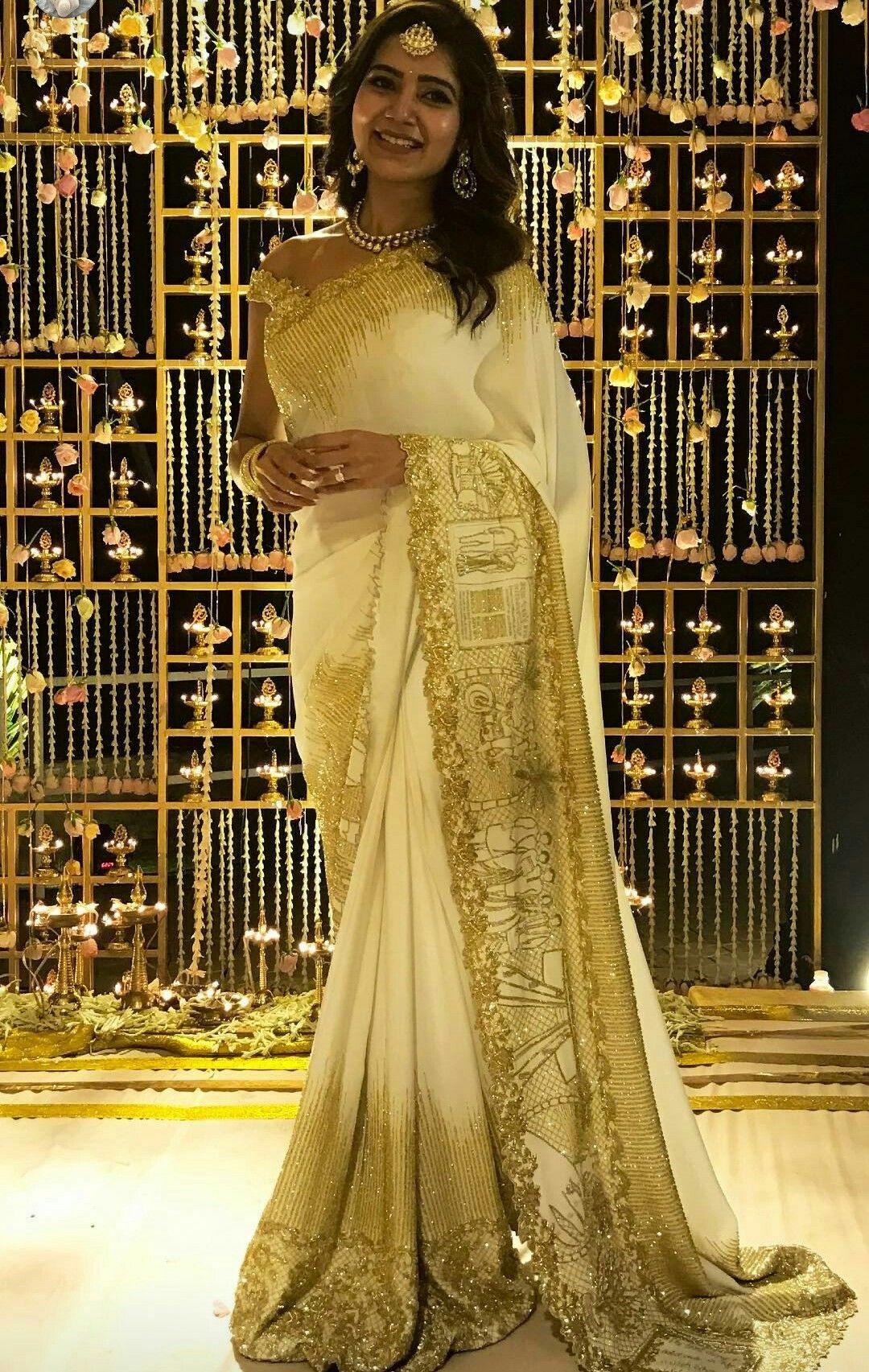 Image Courtesy: Stories By Joseph Radhik
While looking for a gold colour saree for wedding, it is not compulsory to choose something completely golden. You can go for different base colours with heavy gold embroidery and make it work. The best part about the saree is not just the beautiful gold embroidery, but the story that it tells.
This saree is the definition of the modern gold saree that a bride would choose for her main wedding day function. Do not go for heavy jewellery here, but maybe light Kundan pieces can help you keep it classic.
4. Dull Gold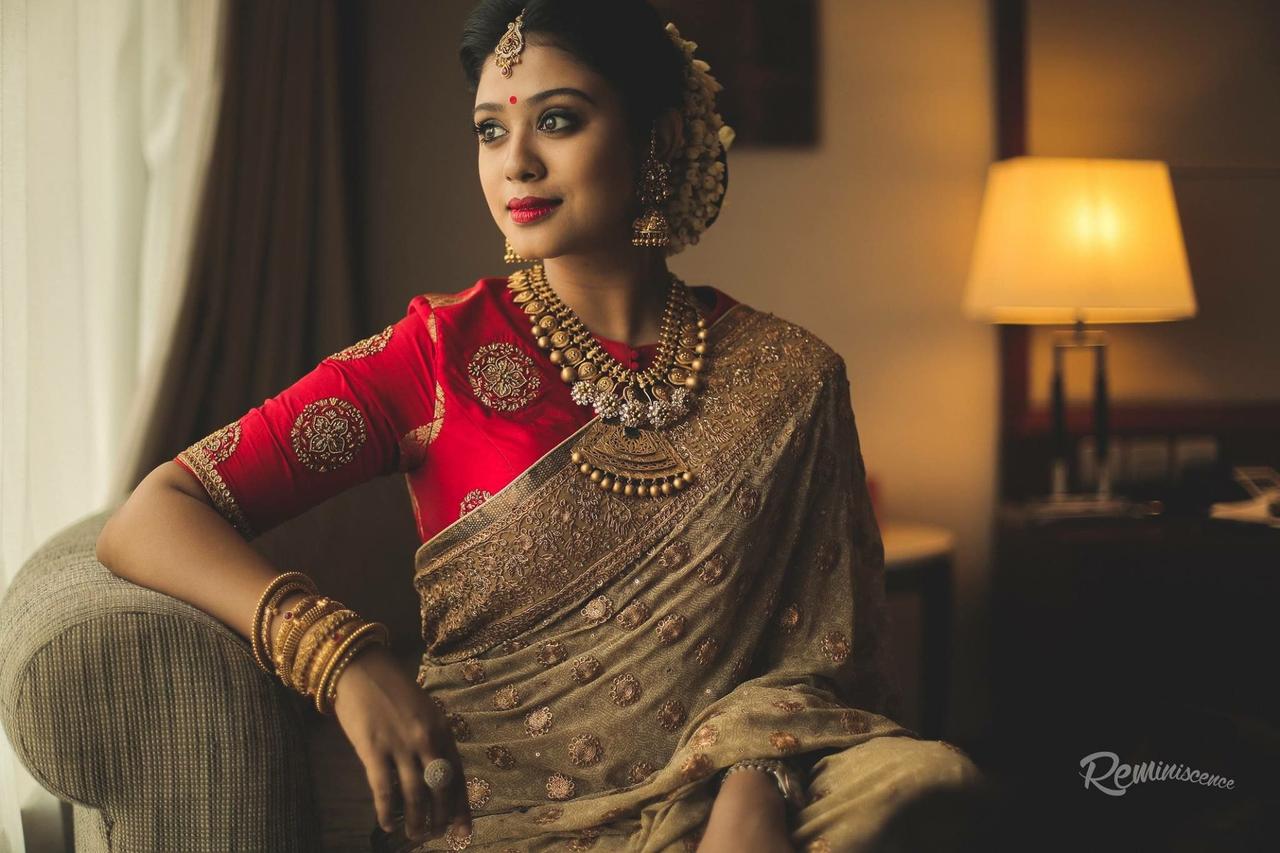 Image Courtesy: Reminiscence Photography
Though the word 'dull' does not usually inspire beauty in our thoughts, this dull gold saree surely will. This stunning saree is not just different but is also work or art for anyone who cares to observe it. It contrasts delightfully with a bright red blouse. Go for jewellery that stands out on this saree to add to its richness. A saree like this would not just be appropriate for the wedding day but can also work well for the Reception night.
5. Silver And Gold Go Hand In Hand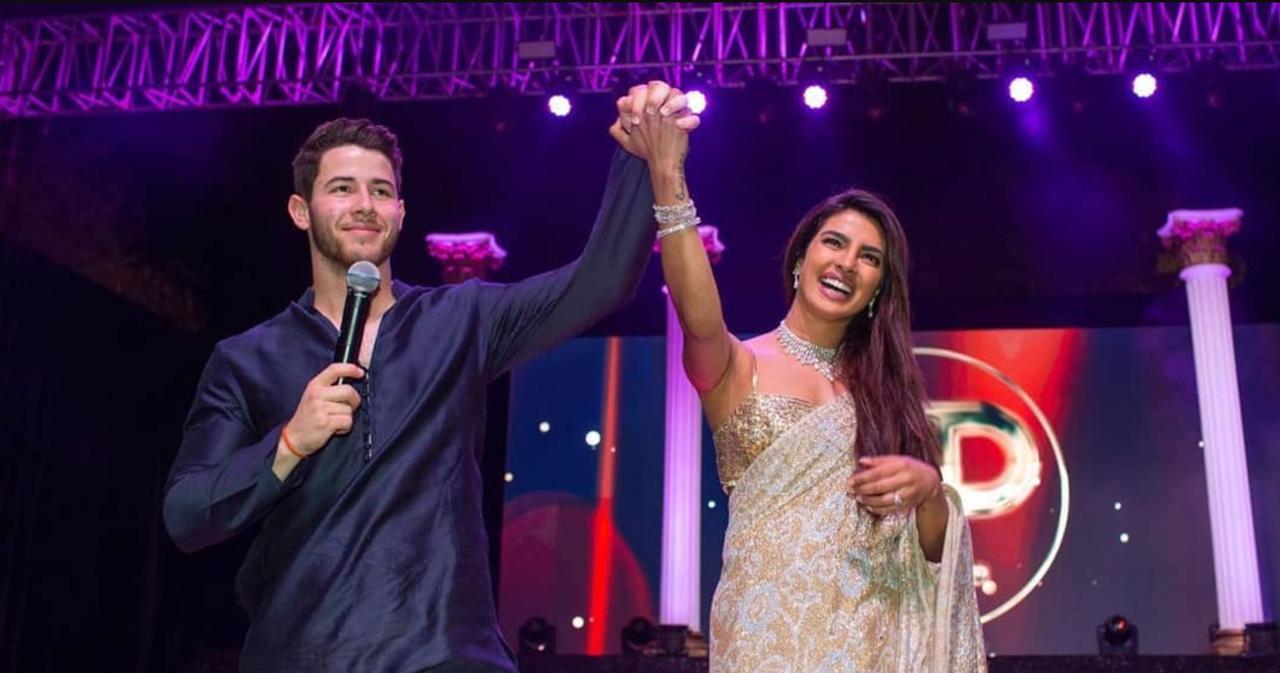 This mesmerising silver gold saree that Priyanka Chopra wore for her Sangeet night has a to be one of our most favourite gold colour saree for wedding. While the saree in itself is captivating, the fact that the biggest global icon wore it for her wedding is a testament to its beauty. Take tips and avoid heavy jewellery with this saree, and for brides that feel the need to add some colour to it can go for emerald jewellery instead of the diamond ones here.
6. A Burnt Gold Wonder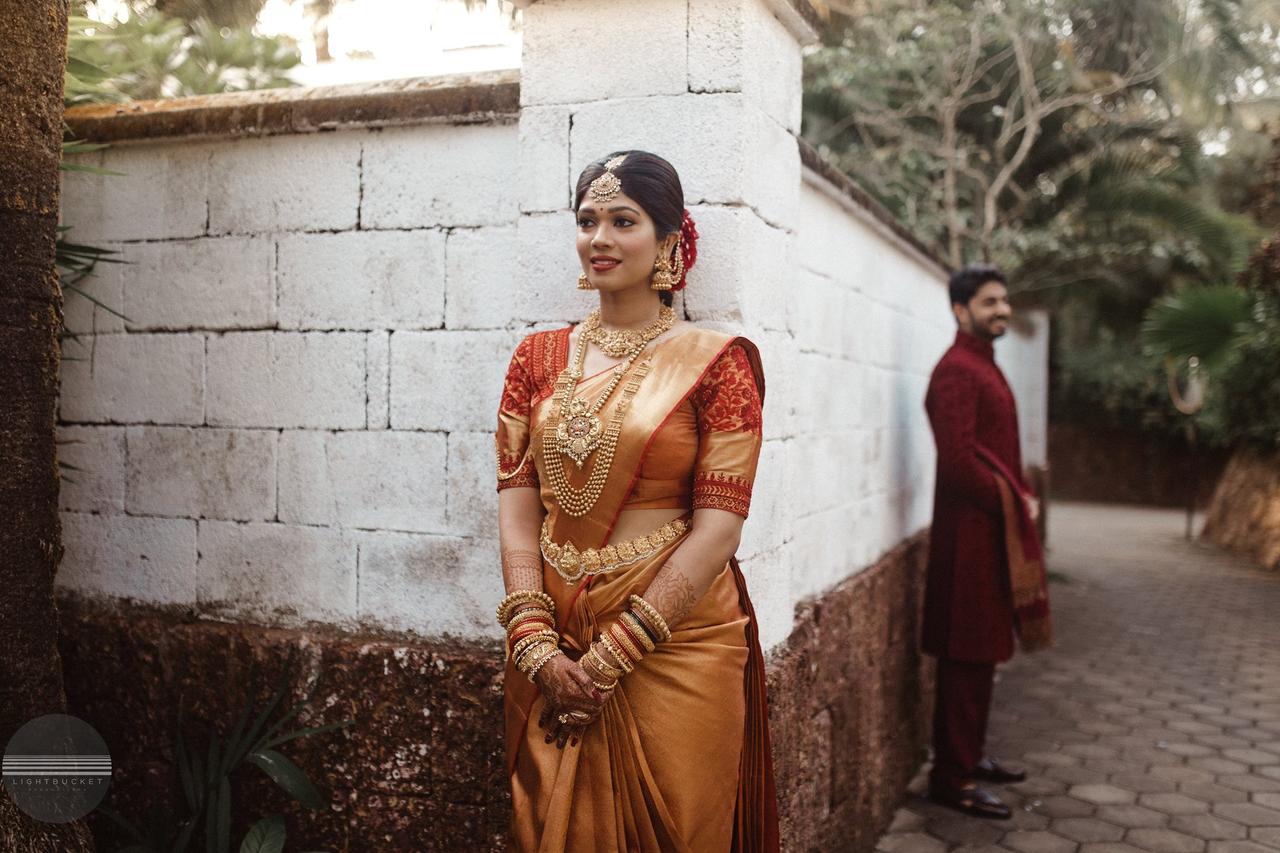 Sometimes plain gold does not work for everyone's taste, and if that's the case, try this burnt gold saree for one of your wedding functions. This saree might be simple looking, but its colour is what sets it apart from the regular gold. Your regular gold jewellery would look brighter on this saree and also make it appear different and new. This saree would look wonderful for your wedding day.
7. The Gorgeous Gold Silk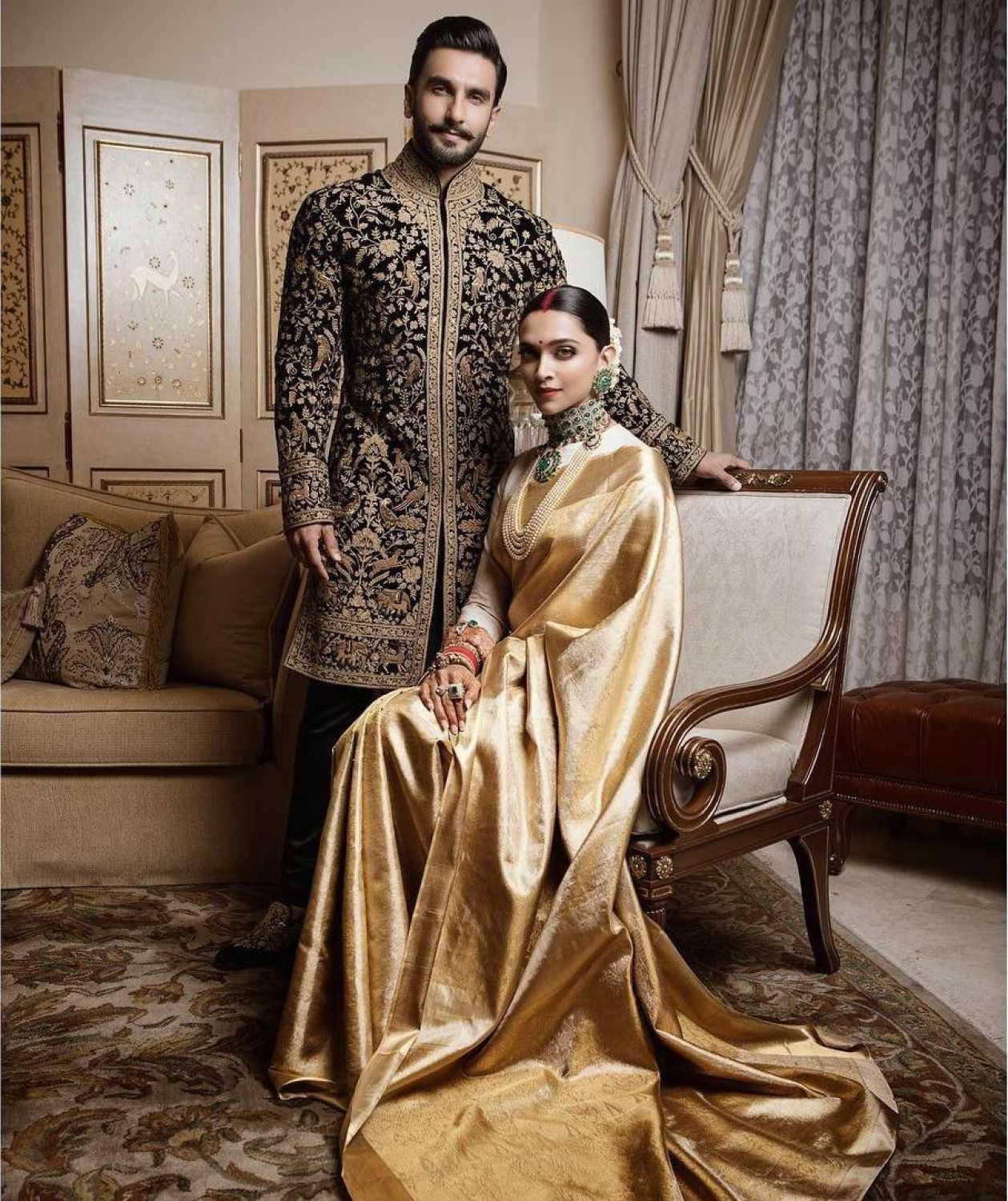 Image Courtesy: Sabyasachi Mukherjee's Collection
Go for a solid 9-yards of gold silk with nothing in between. Let the saree speak for itself and shine bright like real gold. This saree can come under a traditional as well as a modern look depending on its drape and styling. So do not just settle for one thing when you can have both. Add some colour to this saree by wearing colour stone jewellery rather than statement gold pieces. It could be the perfect saree for your traditional reception night.
8. Gold On Gold Work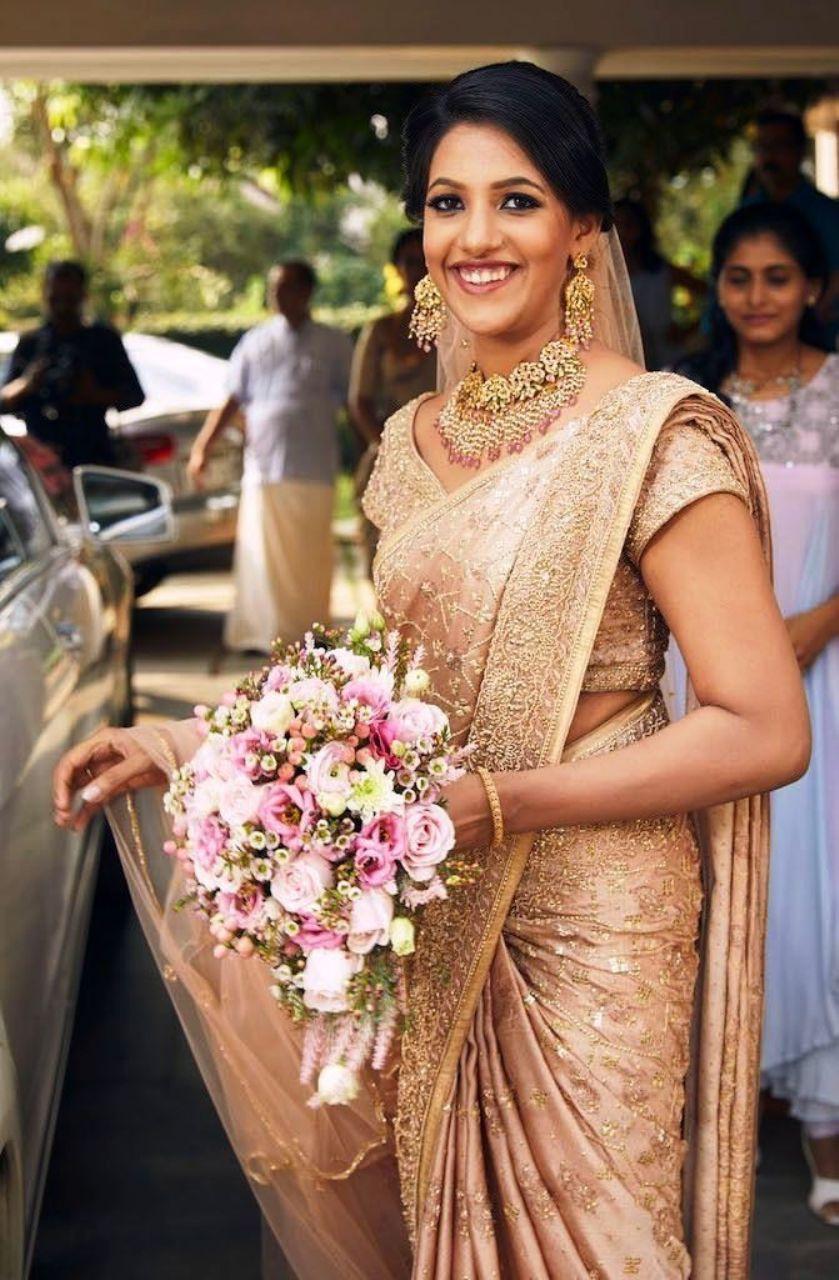 Image Courtesy: Dinesh Mahadevan
This saree is just perfect for any bride who wants a light but arresting outfit on their wedding day. This saree would not just be perfect for a Christian wedding but also a light Hindu wedding ceremony. Go for statement jewellery that compliments the amazing saree and the work on it.
All these oh-so-gorgeous gold colour saree for wedding just prove that the colour gold never goes out of style. It can look traditional or modern but will always fall under the classy category.
What are your classic go-to colours for weddings? Tell us in comments if you'd choose a gold colour saree for wedding functions.