Innovative Wedding Cards to Inspire Your Own Designs for the D-day
Set the tone for the most awaited day of your life with gorgeous, trendy, and innovative wedding cards. We share with you our top picks. Get inspired!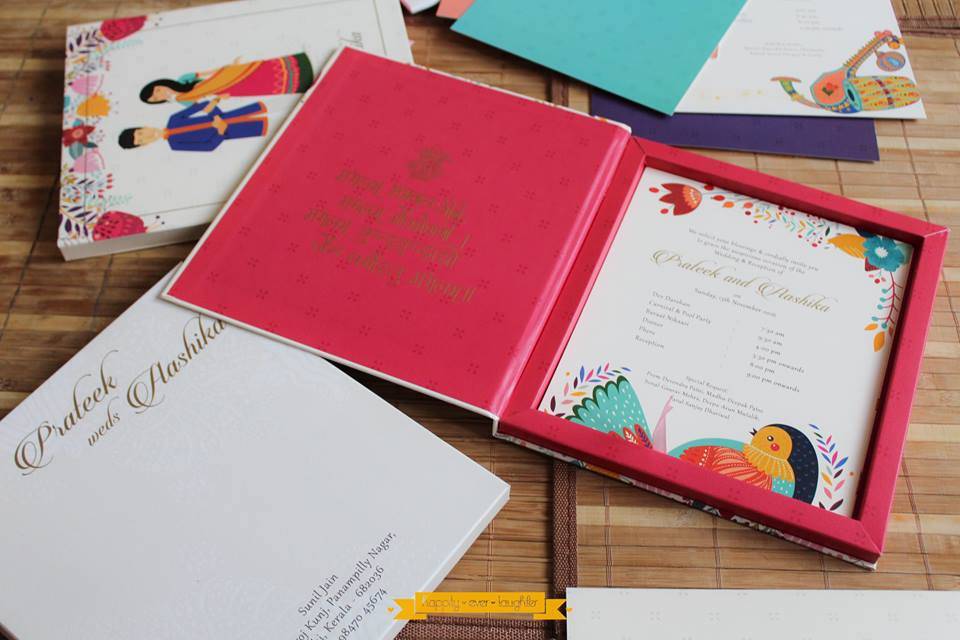 We can't agree enough that wedding invitations set the tone for the big day. And the last thing you would want is your guests to feel depressed when they open your wedding invite.
If yes, then you have come to the right place as here, you will get a chance to feast your eyes on some of the best innovative wedding cards that are making couples go crazy.
From quirky, cute to the downright traditional wedding invitations, the list below has it all covered. Why don't you look for yourself and choose the one that makes you and your sweetheart smile!
1. Crime master case file innovative wedding cards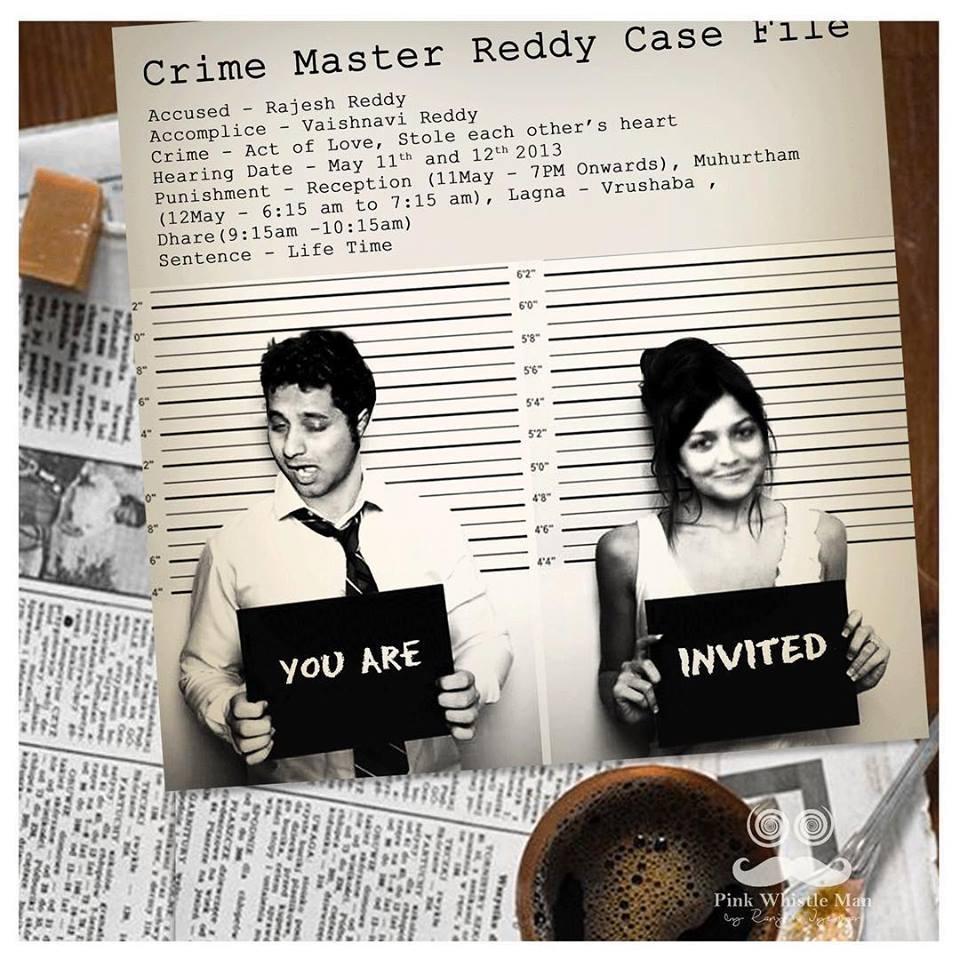 If you love quirky, then you ought to have this wedding card for your wedding day. It's funny and quite creative. Couples that love doing things a little differently will fall in love with this type of wedding invite that is designed in black and white with pictures of the bride and the groom posing like criminals with placards displaying you are invited.
While the groom holds the placard displaying you are, the bride holds the one that displays invited. The funny expression on their faces is bound to make your guests laugh as soon as they open the invitation.
2. Innovative wedding cards with passport theme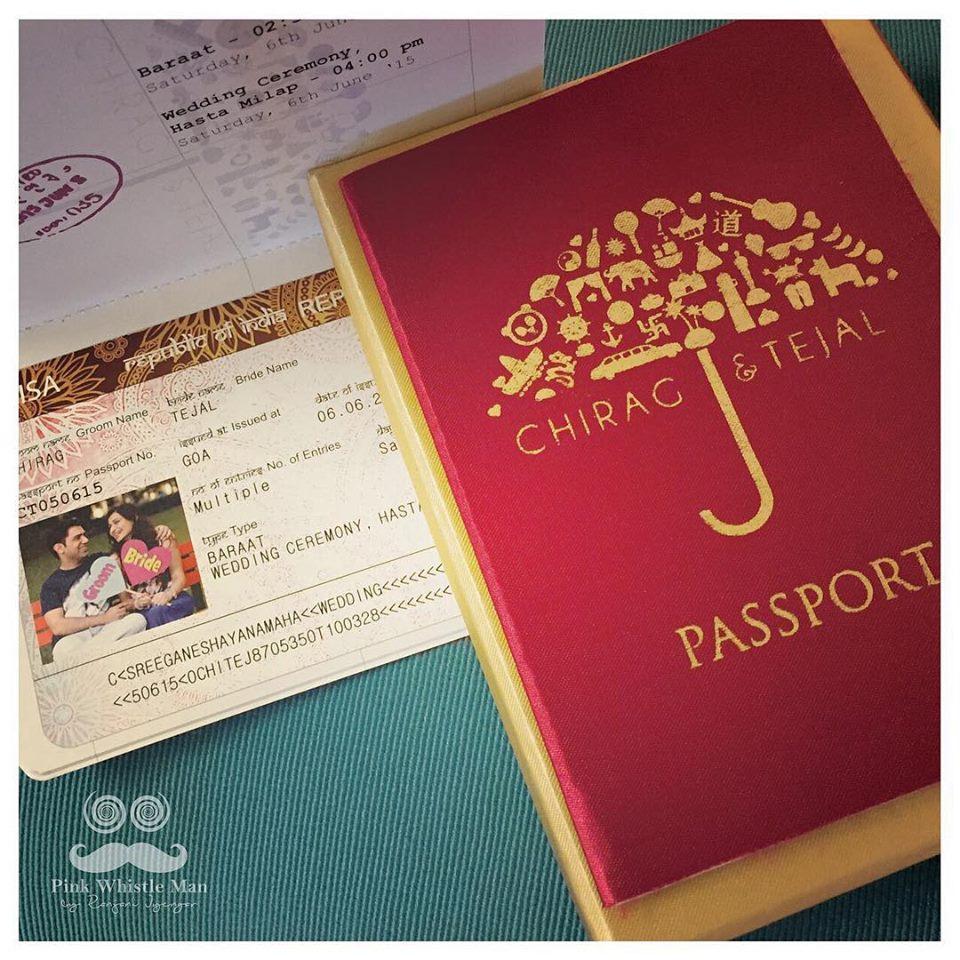 Do you want each and every guest to appreciate your funny side when you send them your quirky wedding invite? If yes, then pick a passport themed wedding invitation and seal the deal.
Passport styled invites are in vogue these days and everyone is talking about how cool these look. Most destination weddings are announced using passport themed wedding invites.
These can be created using any custom design, fonts, photos and layouts as one desire. Also, these can be teamed along with boarding passes displaying the venue of the wedding, date, and time of marriage and reception.
3. Cassette innovative weddings cards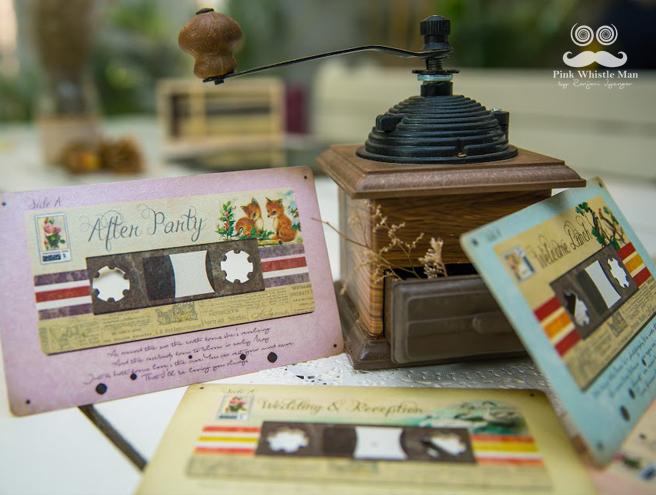 DIY wedding invitations make you nail your wedding in style. One such innovative invite is themed on cassettes.
This particular theme is suitable for such couples that have grown up listening to ABBA on their mixtapes and have strutted across streets and corridors wearing shoulder pads and baggy jeans. So, for all those that have never let the '80s vanish from their hearts, cassette themed wedding invites are an ideal pick.
4. Innovative wedding cards with the playing card theme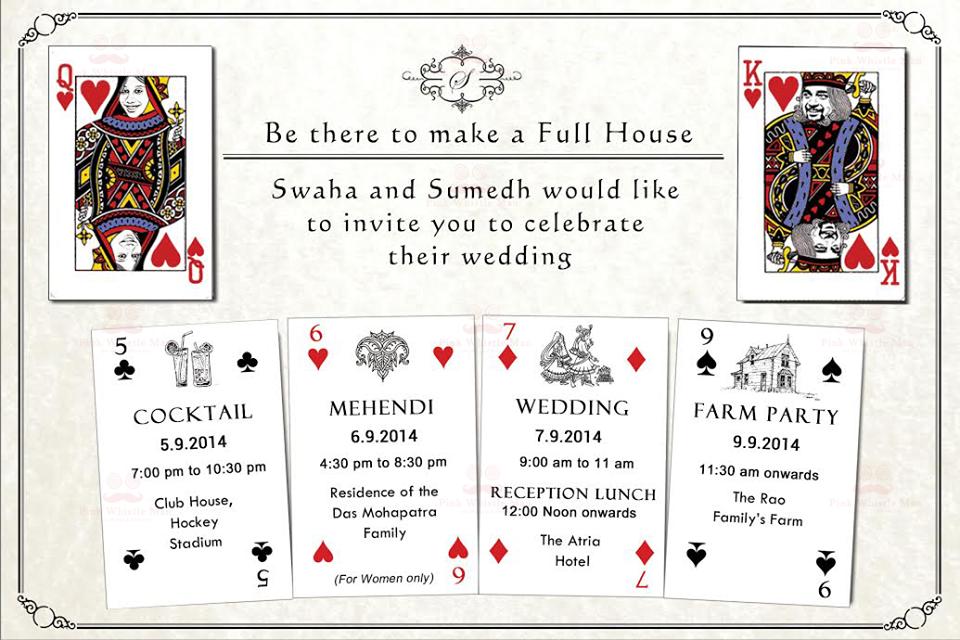 The playing card themed wedding invitation is ideal for those lovebirds that love to play cards. This invitation looks funky and gives away fun vibes. The Queen of Hearts and the King cards can be created using any kind of material and stationary as one likes. Also, there are umpteen ways to include wedding details in such a type of card.
For example, get the queen and king card logos designed on top corners of the card mentioning the names of the couple. Just below, get the other cards designed mentioning the time and details of other functions like the cocktail, mehndi, wedding day and reception. Your guests will look forward to coming to your special day when they get playing cards as wedding invites.
5. Innovative wedding cards with an adventure theme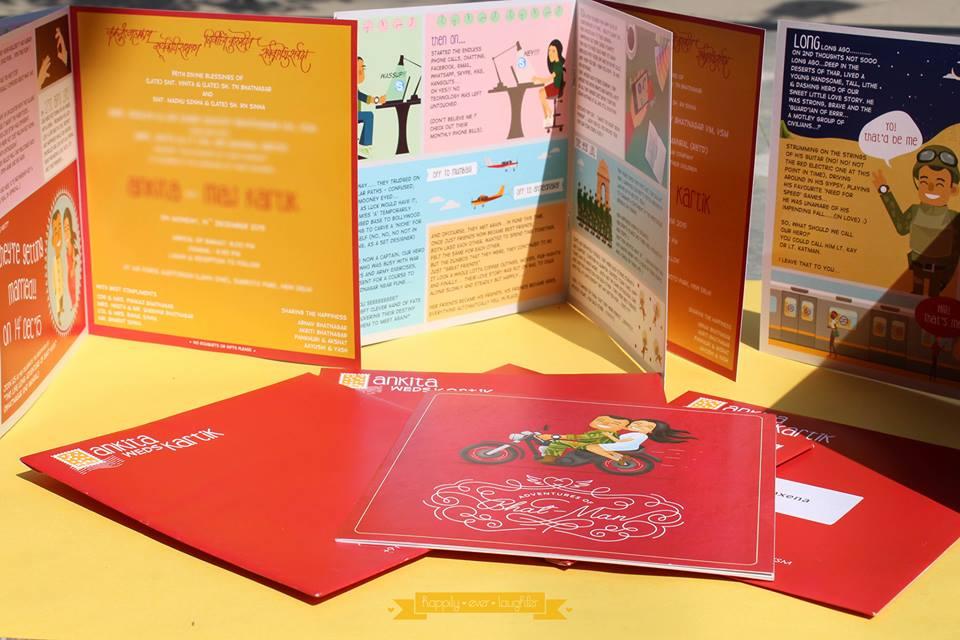 These invitations are cool and perfect for adventure-loving couples. Involve caricatures of the couple doing their favourite activities like trekking, biking or paragliding to add a quirky look to the invites.
6. Innovative wedding cards in boxes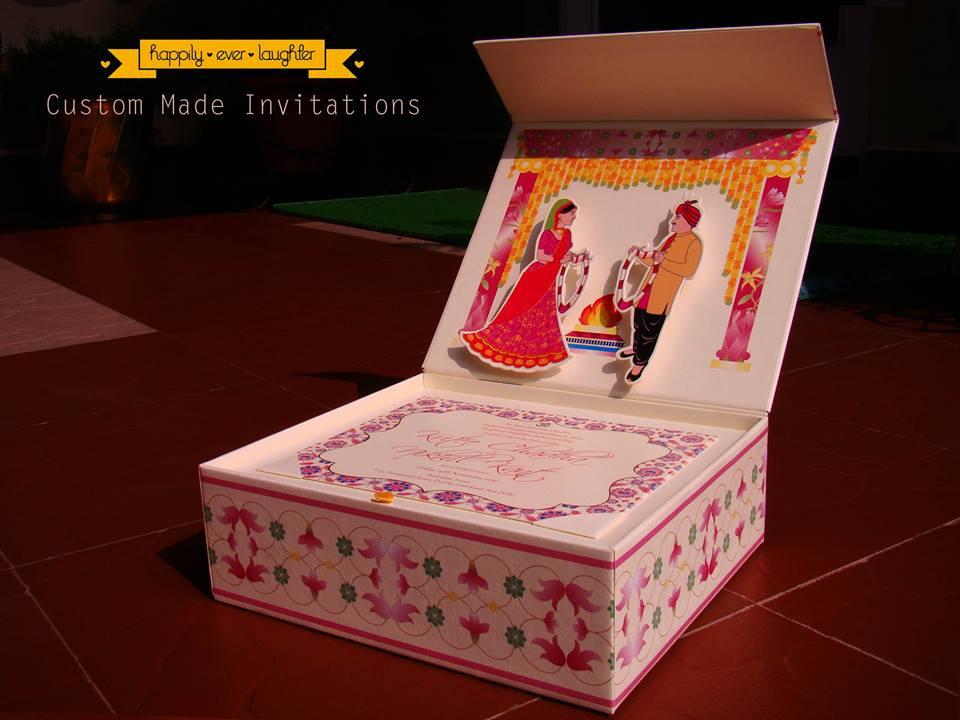 Make your guests excited to your upcoming wedding by sending them creative boxed invites. Create incredible boxed invites by using textured paper, crafty decorations and ornamentation like monograms, illustrations, poetry as well as aesthetic colour schemes. Put in unusual treats like organic soaps, or mini bottled beverages like tea for a cheeky affair.
7. Innovative wedding cards with a destination theme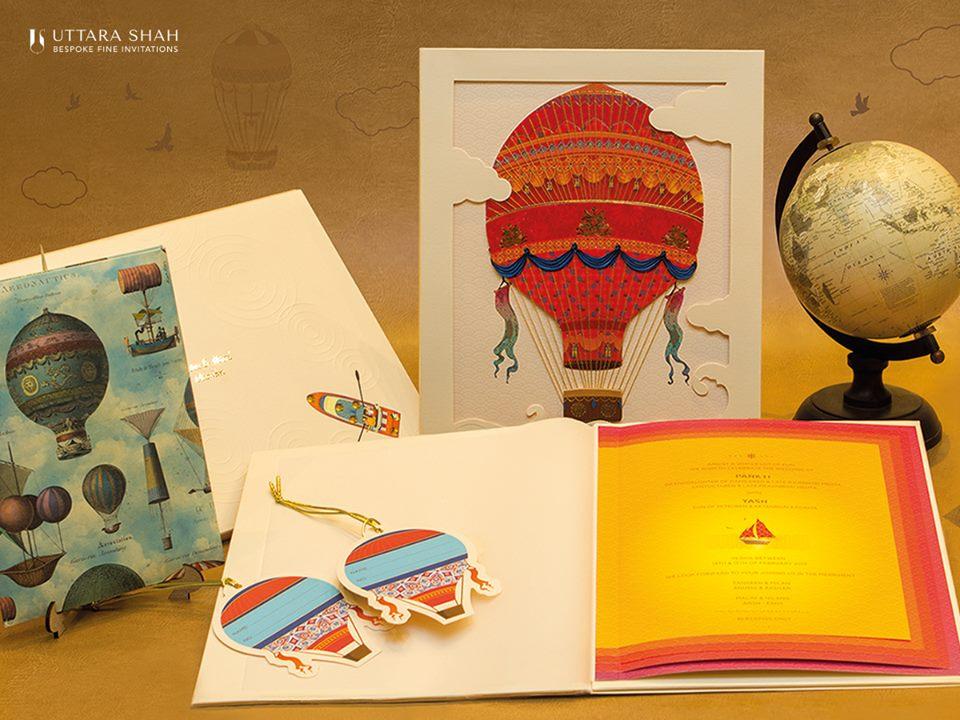 If you are going to have a destination wedding, do get your invites that reflect the destination angle such as this card where the couple have picked a Goa themed wedding invite for their guests. Reflecting the charm of Goa, the card looks extremely eye-catching with its interesting designs and choice of a colour palette.
8. Innovative wedding cards with a royal theme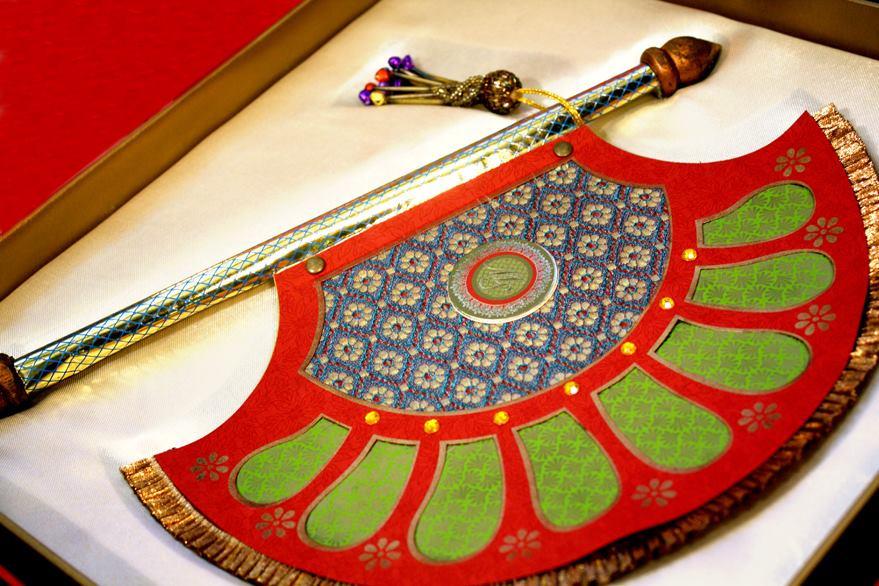 Are you having a palace wedding? If so, go for a royal inspired wedding card to make your guests thrilled for a regal styled marriage that they will soon attend. These cards need to look flamboyant with traditional motifs and designs.
For example, have your card maker create traditional durbar fan styled invites with rich colours and adornments. Aren't all these ideas simply fabulous? Feel free to pick any card design that you feel will reflect the style of your wedding to the fullest. Be sure to match it up with your partner's likes and wishes as well.
Which wedding card would you like to pick for your wedding? Let us know through comments.