These Latest Indian Bridal Sarees Are All About That Desi Swag!
Tired of the seeing the same–old bridal lehengas? Instead, you want a unique yet traditional outfit for the big day then check out these latest Indian bridal sarees.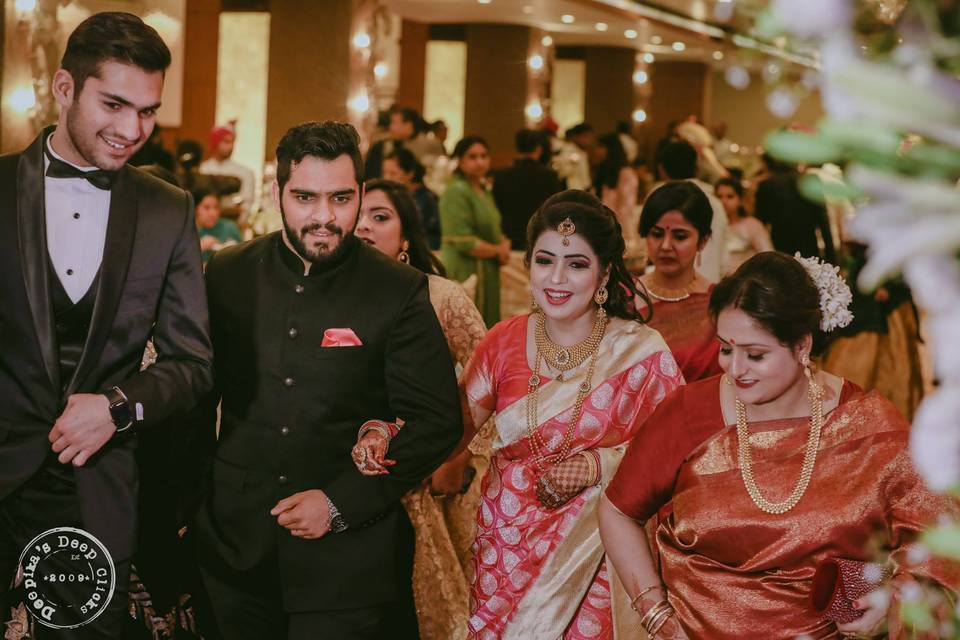 Even before we get married, or the date is set, the search for the perfect bridal outfit begins. Be it a lehenga or a saree, we all have our ideas of perfection but the trends have a major pull on this decision. As the rave for bridal lehengas, be it for the big day or your sangeet doesn't seem to die down, the Indian bridal sarees seem to shine out for their understated elegance, traditional designs coupled with subtle modern hues.
Sarees were always the first choice of brides in the past owing to its cultural significance and simply the way it accentuated and compliments a woman's features. From your mother's Indian bridal saree down to the latest catalogue of designers, there are so many different kinds of Indian bridal saree which cater to every bride's liking and aesthetics.
While Indian bridal sarees still remain a dominant choice among south Indian women, it is still to gather some pace in other sections of the country making it a unique choice.
So, check out these latest Indian bridal sarees which harness the best of both worlds – traditional and modern - for the classic millennial bride who wants to step into the world as a Desi bride.
1. Heirloom Indian bridal sarees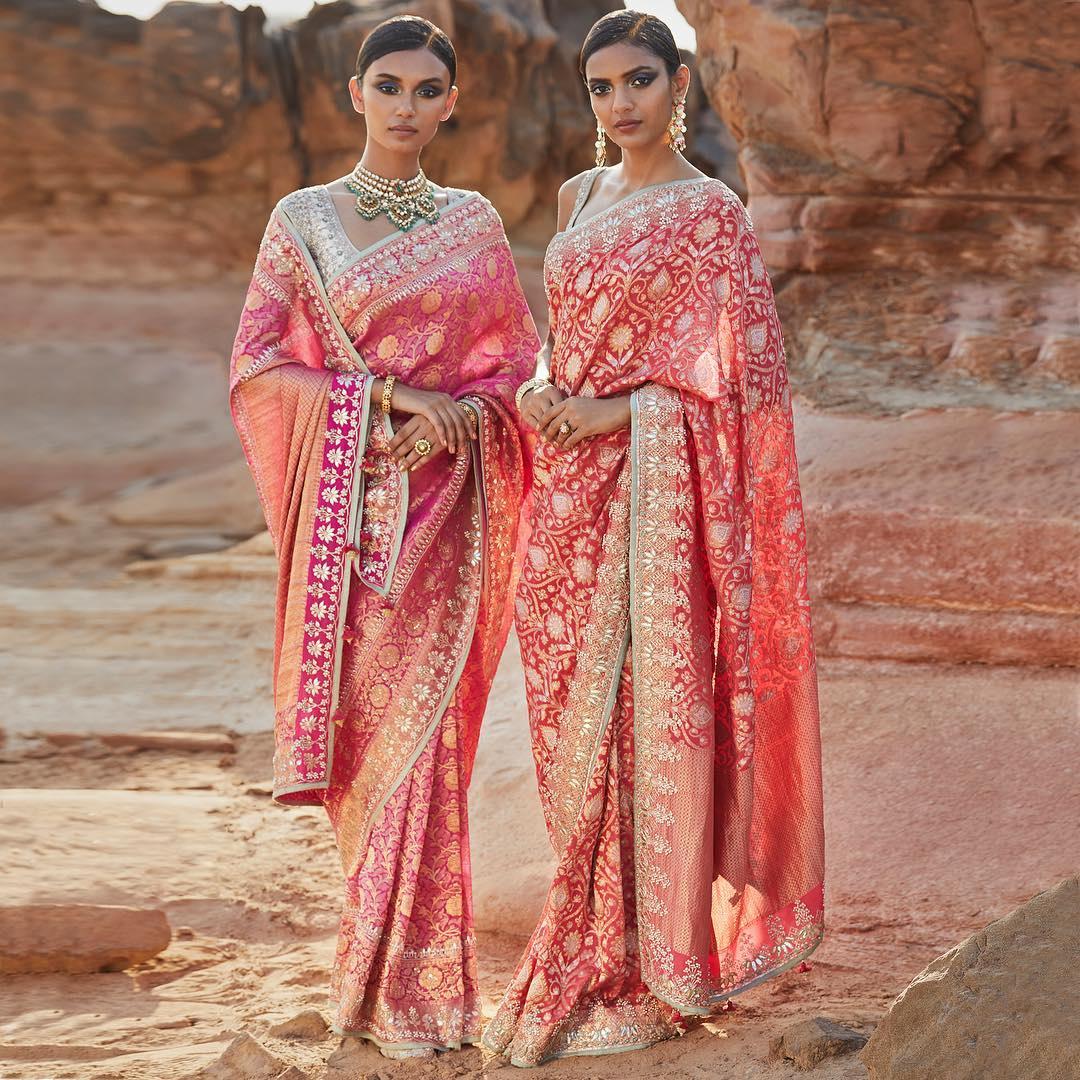 Ah, what an excellent set of classic Indian bridal sarees. These silk Banarasi sarees by Anita Dongre are quite the pick for its traditional design which is bound to stay evergreen through your life. These classic sarees are featuring bright colours and Gota Patti work along the borders which accentuate the saree's inherent beauty make for the perfect Indian bridal sarees for those Dulhans seeking for something traditional in the classic Indian bridal colours.
The beige blouse both sleeveless and with sleeves seem to be working beautifully well against the bright colours and paired with the statement bib set from the designer's line of jewellery called Pink City.
2.
A traditional bride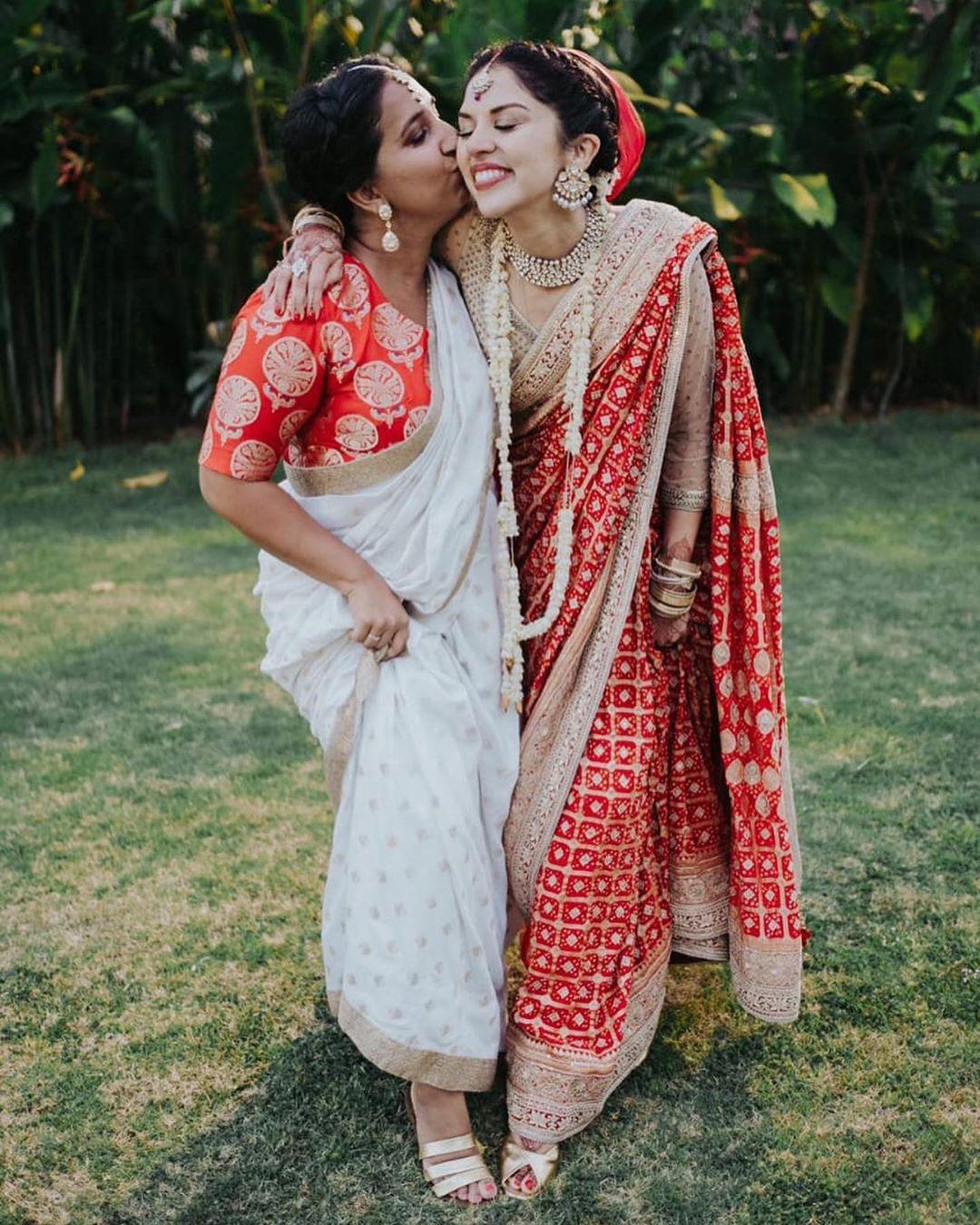 Indian bridal sarees which feature Indian handiwork and craftmanship in all its glory just win us over at first glance. So naturally, when we saw this bride gleaming on her big day in this Tarun Tahiliani saree we just had to feature her!
Dressed in a traditional Bandhini saree with embroidery work featuring a delicate beige border, this Indian bridal saree is just beyond perfect. Set against the regal saree, the bride wore a net blouse with 3/4th sleeves which gives it the much-needed modern edge. This is the perfect heirloom pieces for the brides looking for a traditional Indian bridal saree.
3. Floral bliss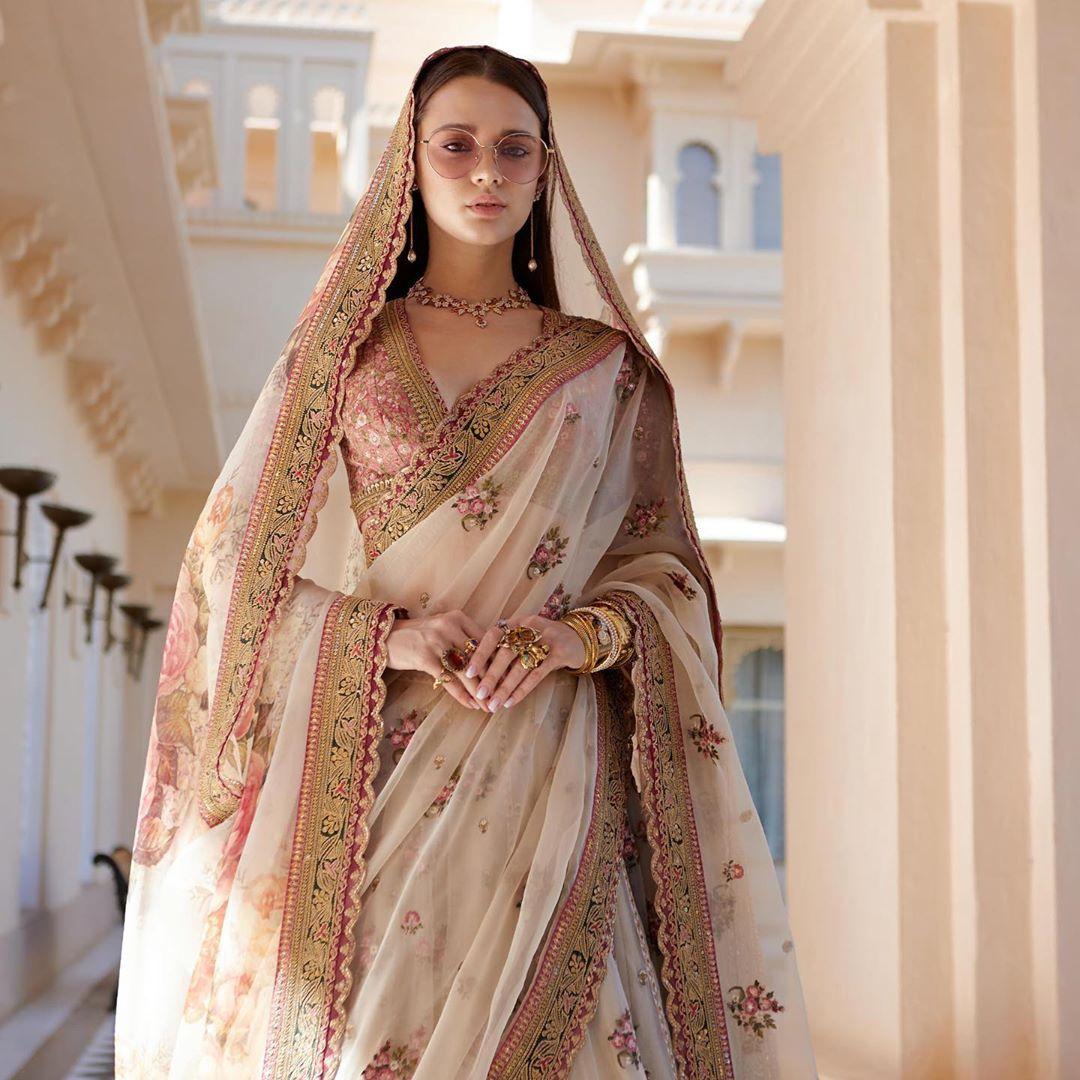 Image Courtesy: Sabyasachi's Instagram
Just like his luxurious and statement-making bridal lehengas, Sabyasachi Indian bridal sarees are giving us some major fashion goals and this particular saree is no exception to his detail-oriented work and magical colour schemes.
Set in white, pink and green this saree is a bold yet traditional choice for brides looking for trendy Indian bridal sarees. The thick gold border, brocade deep cut blouse and the floral palla all seem to be working well together very elegantly. The shoot's retro vibes are channelling all the right hues for a summer bride!
4. The regal drape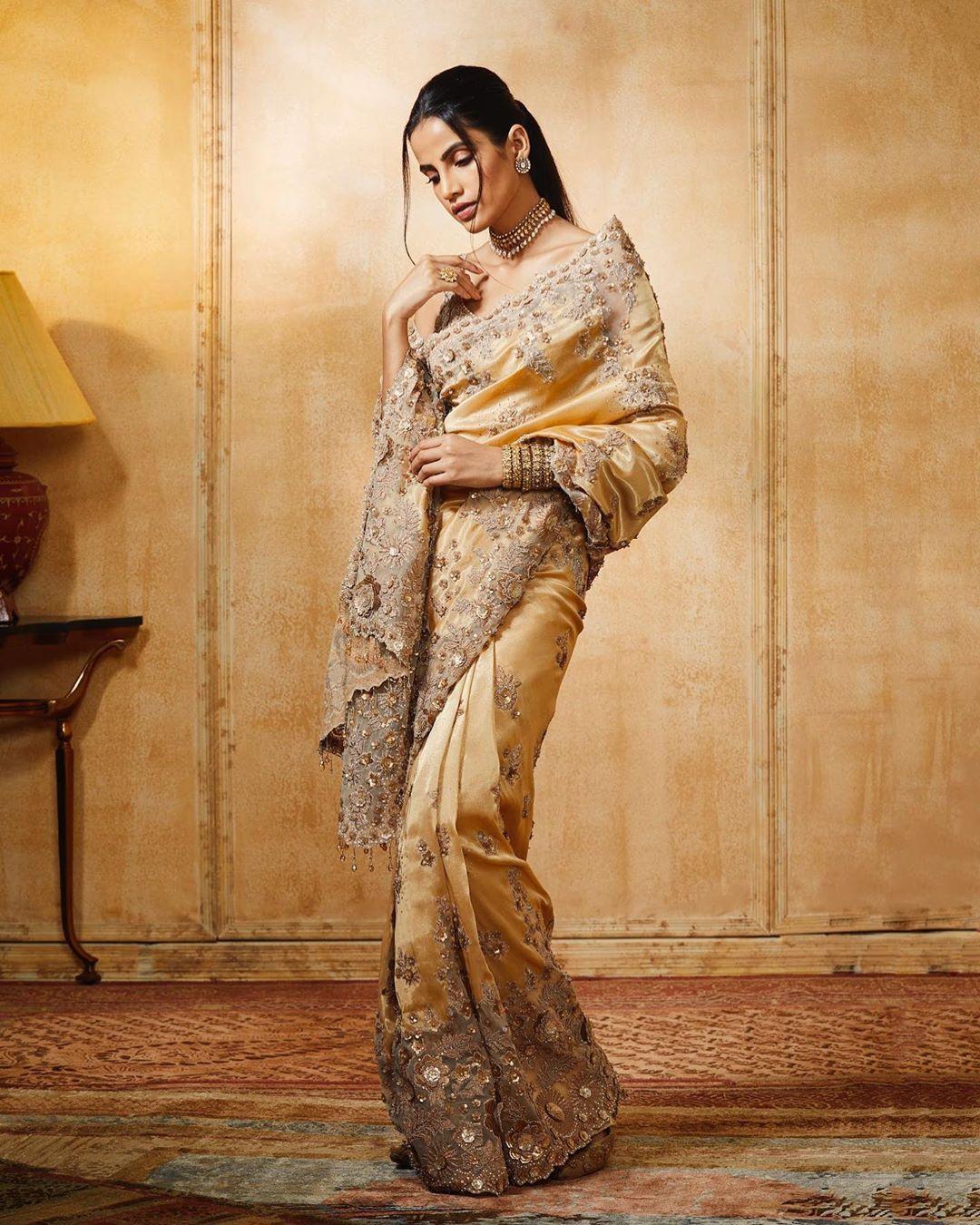 Tarun Tahiliani's Indian bridal sarees seem to be an embodiment of everything royal! Starting right from the choice of work down to the fabrics, each of these Indian bridal sarees features the best of everything and this saree is no exception.
Set in a muted gold-yellow this saree is highlighted with both Gota Patti and silk embroidery and has won us over! If you are looking for Indian bridal sarees which stray from the traditional colour palette which still remain true to the regality of traditional patterns, this is the pick for you! The hand-embroidered work Swarovski crystals are just something out of this world.
5.
All about the glam!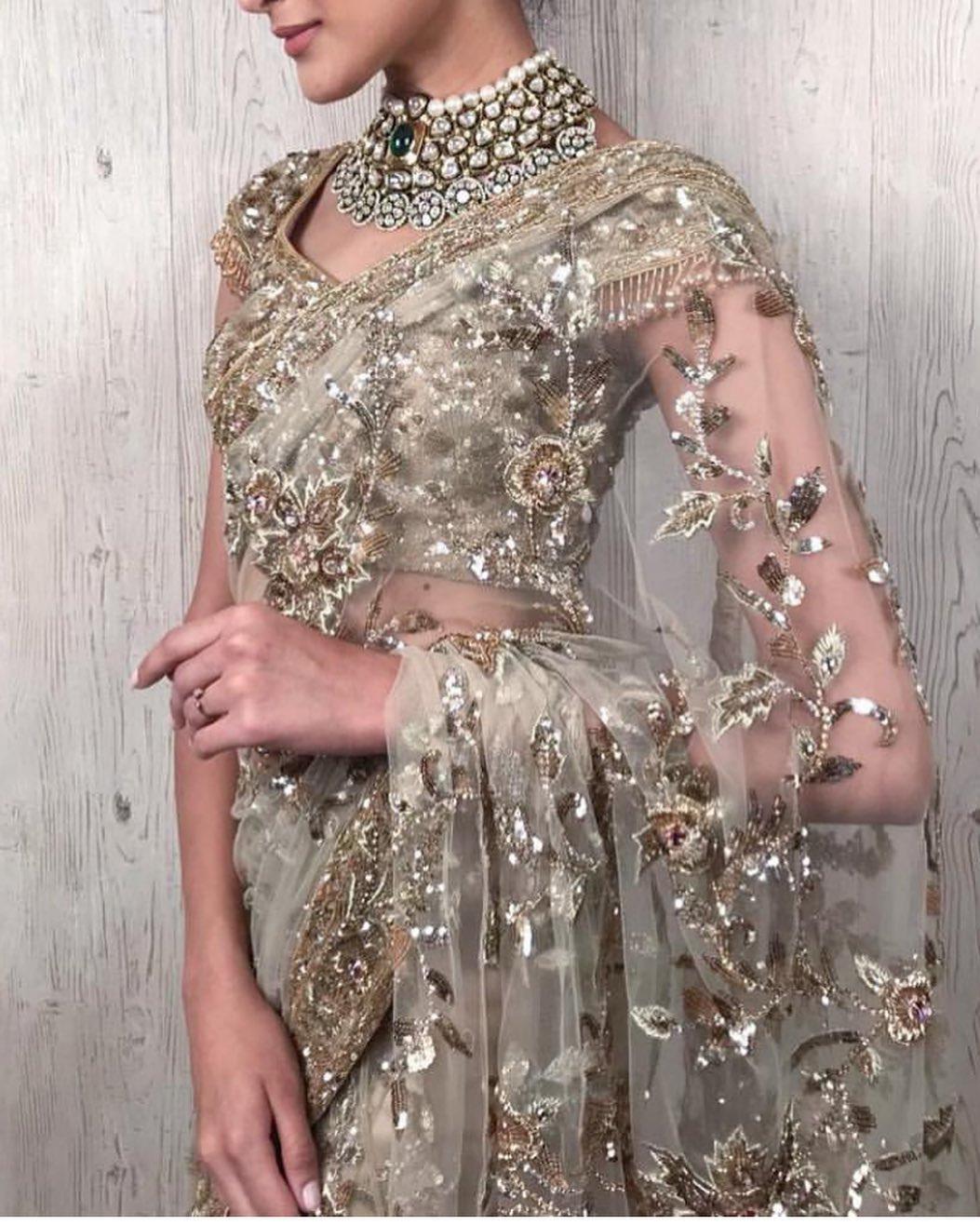 One look at designer Suneet Varma's instagram page and you know you've landed in the glam town featuring the heavy decadent works in delicate hues suiting modern taste and sensibilities. The unapologetically bold Indian bridal sarees in colours like baby pink, beige and white have just captivated us from the first glimpse.
If the traditional sarees are a little on the simpler style and you want something all about the glam, then this beige-gold saree featuring layers of intricate embroidery is for you! Paired with a fresh makeup look and a statement choker, this look is good to go.
There are so many more routes to take when it comes to Indian bridal sarees, you could even choose an elegant saree gown from Gaurav Gupta or a bright Benarasi saree from Bageecha. The list is endless but once you understand which colours or even style of saree you want to wear, finding the perfect Indian bridal sarees should not be an ordeal especially with this list! What are you waiting for? Just bookmark it already and start your hunt for the perfect Indian bridal sarees. You could even check the many e-boutiques which keeps all the big names in Indian fashion online!
So, which of these Indian bridal sarees did you like the most? Do let us know in the comments below.