Wondering How To Do Makeup At Home For A Party? 6 Easy Tips To Try
Here is how to do makeup at home for a party which is exactly what you want in the least possible time. Just choose your style and rule the party in the quickest makeup routine!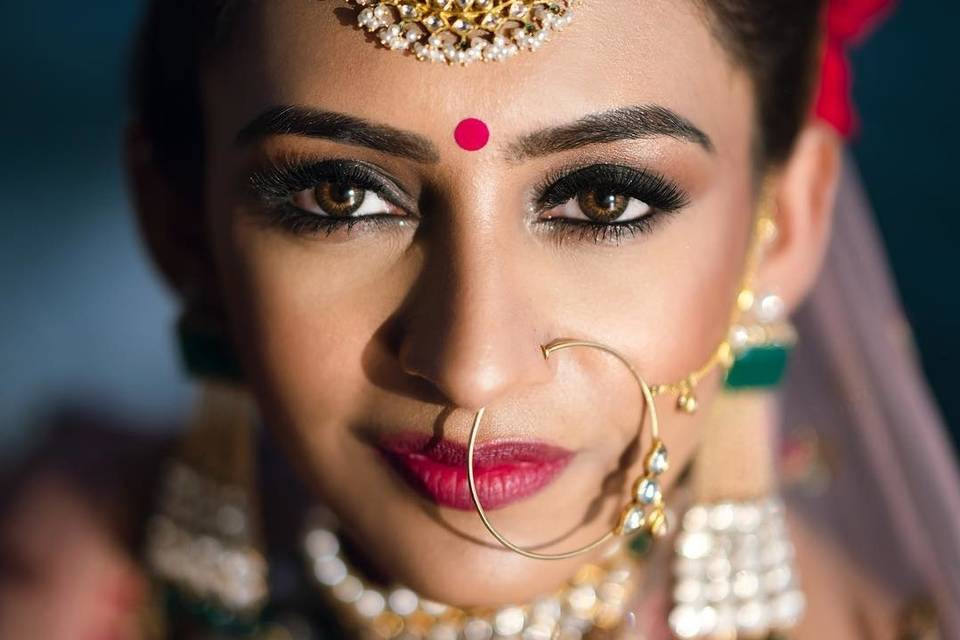 There is absolutely no doubt about the fact that all of us have either made a good joke of ourselves or have seen somebody getting all decked up with the flashy makeup done by the Parlour vali Didi at some point in life, (unless you are among the majority of South Delhi's posh makeup prodigies). It is high time that you get some idea of how to do makeup at home for a party.
Talking about how to do makeup at home for a party, you must remember a few basic pointers before attempting any look, which we shall discuss further. Do not worry if you are new to doing makeup at home, just take it easy and this article shall help you make the most of makeup and cosmetics and without taking much time or efforts (or anxiety).
1. The Highlighter Game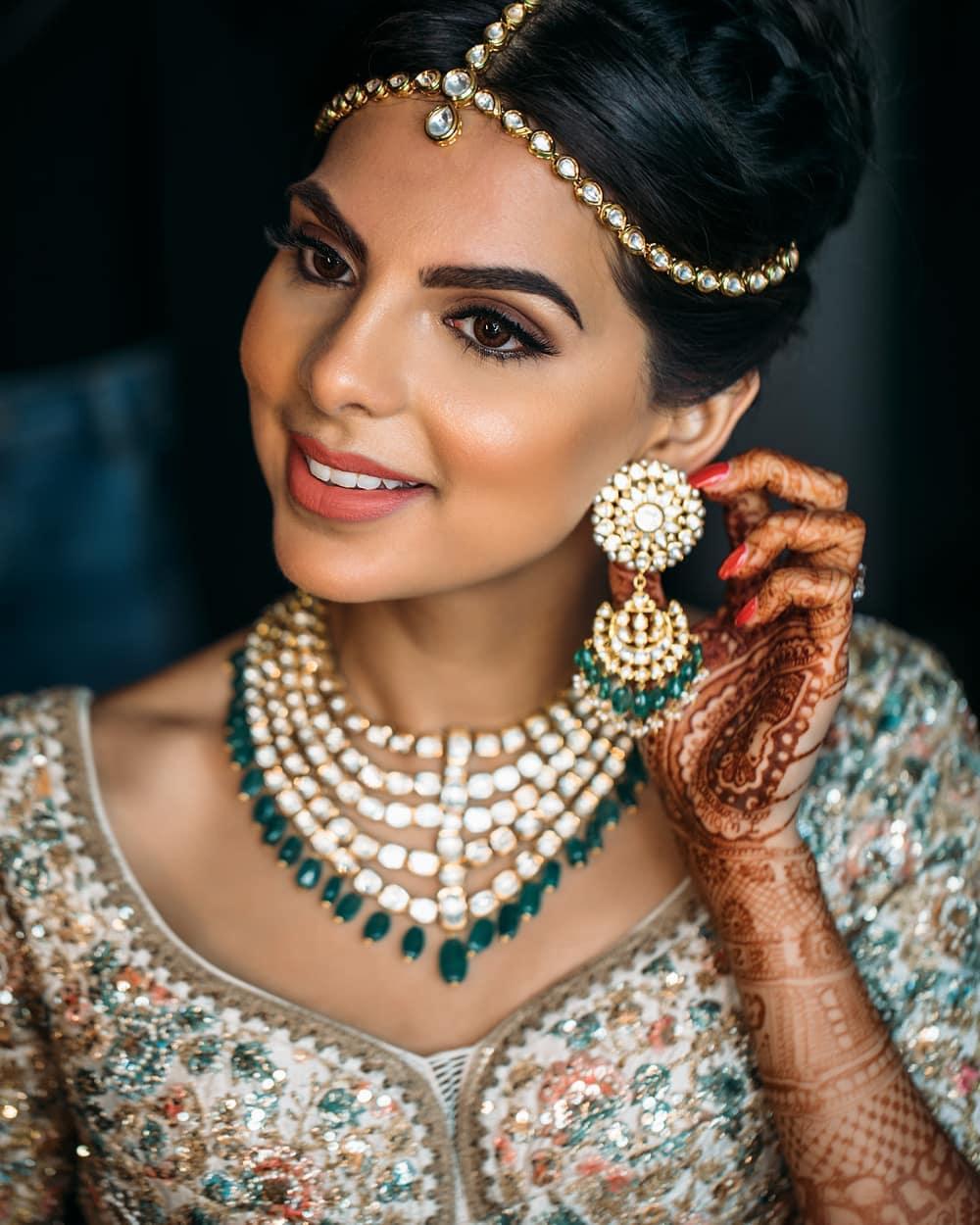 Fresh makeup looks are something which has been ruling the makeup industry these days. The mirror-like highlighter game is getting stronger with each passing day. When learning how to do makeup at home for a party, you must realise the potential of a highlighter in your look. The golden highlighter looks best with your bridal lehenga with embroidery in golden thread.
Just prep your face with a BB cream (a saviour for lazy women) or a light foundation base. Use concealer under your eyes and a little on your chin's centre. Contour the edges of your face. Get that brow game strong and neat. Use a single shade of eyeshadow matching your dress. Get your thick faux eyelashes on and get the final touch with a medium stroke of eyeliner.
And last but not least, the sole product that can make you the star of the evening is the highlighter. Use a lipstick in a similar shade to add that glam to your entire makeup. Remember these basics while learning how to do makeup at home for a party.
Pro tip
If you have a square face, contour your forehead in an umbrella shape and on your cheekbones followed by just the edges of the jawline. Learning how to do makeup at home for a party was never this easy.
2. The Minimal Nude Look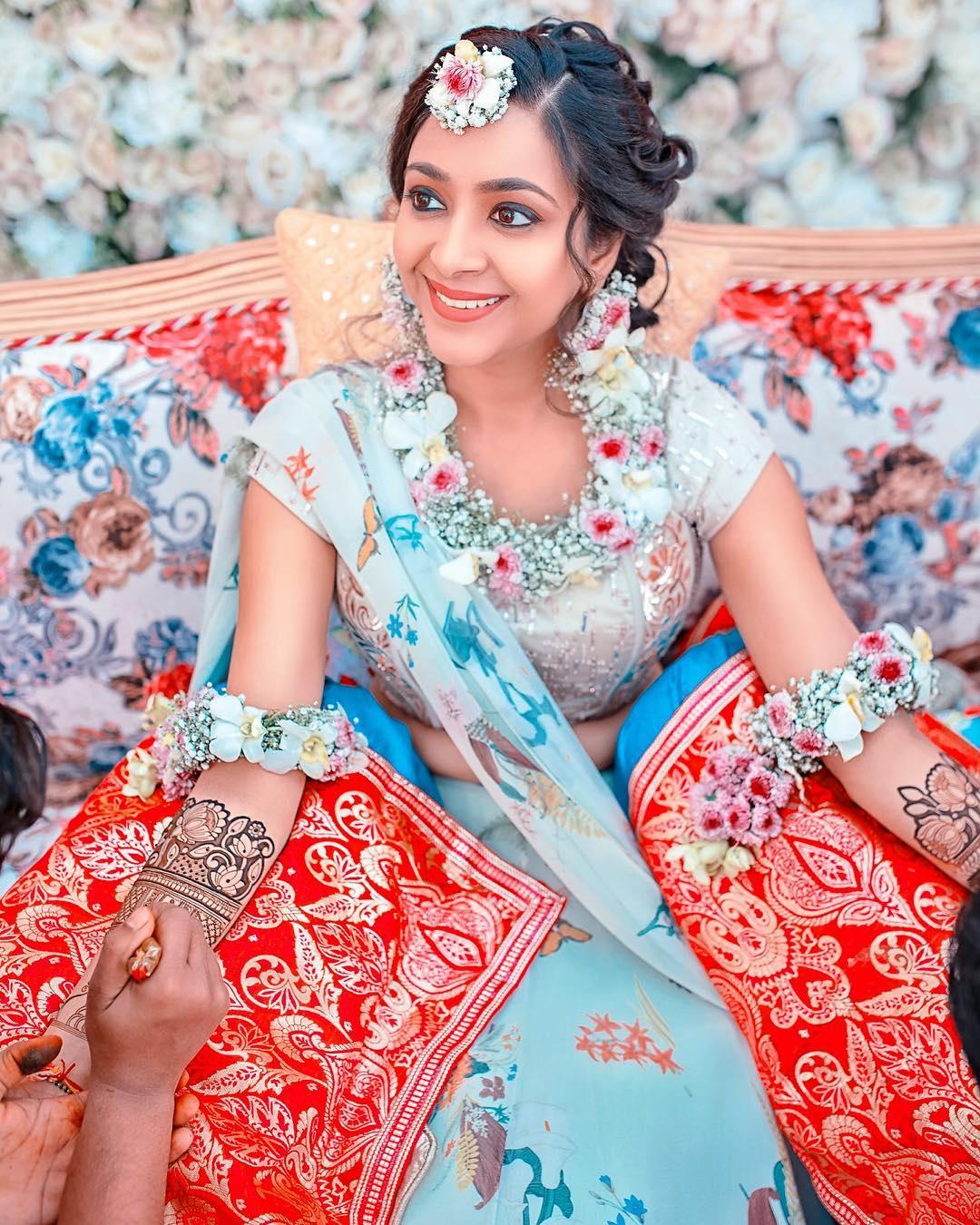 Another one of the fabulous minimal makeup looks for the ones looking for how to do makeup at home for a party. This one is an ideal makeup look for the people looking forward to a high-end evening party in a sleek shiny gown which requires a balanced look. This is a clean, dewy look perfect for all summer parties.
All this look requires is a bit of concealer used on your facial spots and under the eyes. That brow game going strong using a brow fluffer in order to give them a dreamy volume. Choose a mild nude lipstick shade from the pink palette and dab a little of the same on your cheeks as a blush. You can also choose a liquid blush. Just a stroke of eyeliner and a dab of nude eyeshadow and you are good to go. Go, rock that incredible eye makeup style!
Pro tip
If you have not got your brows tweezed to perfection (it is okay, we all get lazy), apply a tiny bit of concealer or foundation below the edge of the brow arc. It transforms you into a perfectly groomed fashionista. These small hacks can make your worries about how to do makeup at home for a party go away.
3. The Eye Shadow and Lipstick Combo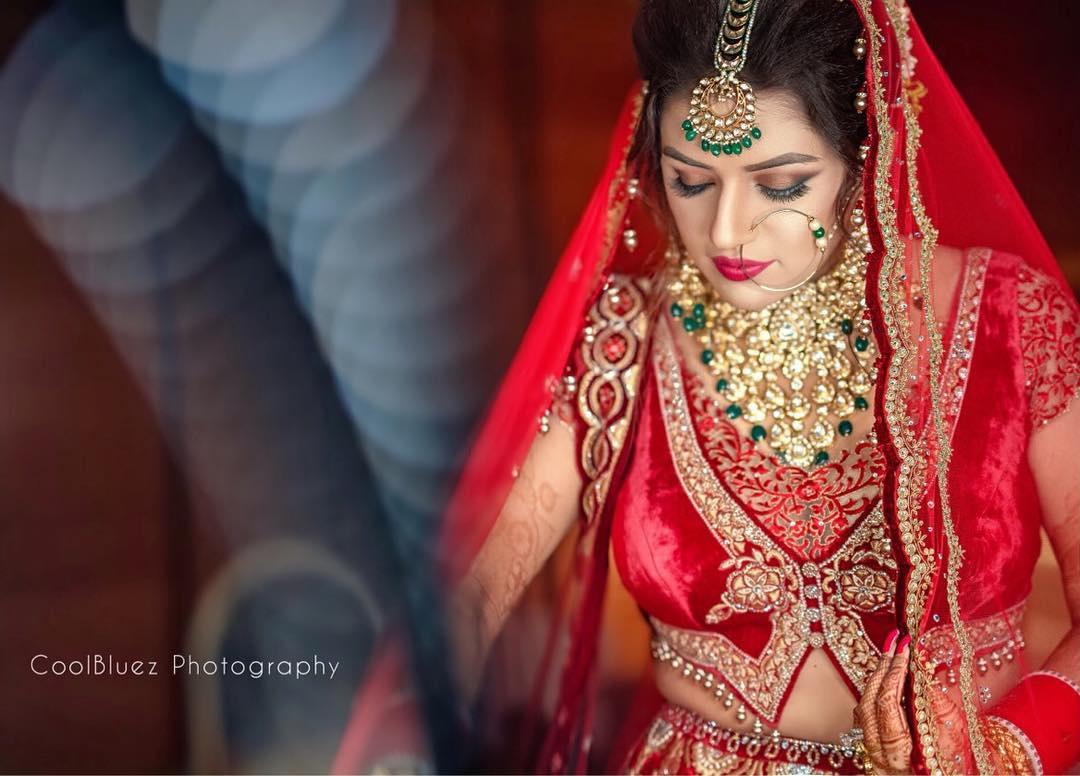 Isn't this the ultimate answer to how to do makeup at home for a party? The fashionista looks extremely stylish and party-ready with that bold eyeshadow adding all that oomph and drama to the fab look! Thinking of how to do makeup at home for a party, such looks work best for close parties, especially in the Indian setup. Simple Indo-western dresses need such over the top glam looks to balance out the look.
Prep the face with the primer and contour as before. Get those brows thickened with a brow pencil. Use those lovely thick lashes. What adds that oomph factor to the look is the dark eyeshadow with a touch of OTT golden highlighter. Go for a darker shade of lipstick and choose the blush in a lighter tone of the similar shade. While learning how to do makeup at home for a party - do not underestimate the potential of a lipstick as well. The neater the edge of dark lipstick, the more professional your makeup looks.
Pro tip
Use the same highlighter used for the cheekbones and facial edges to the inside of your eye. As visible in the picture, the edge of the eye towards the nose adds a distinct hot glam. Extend that highlighter game to the undereye as well.
4. The Touch of Nude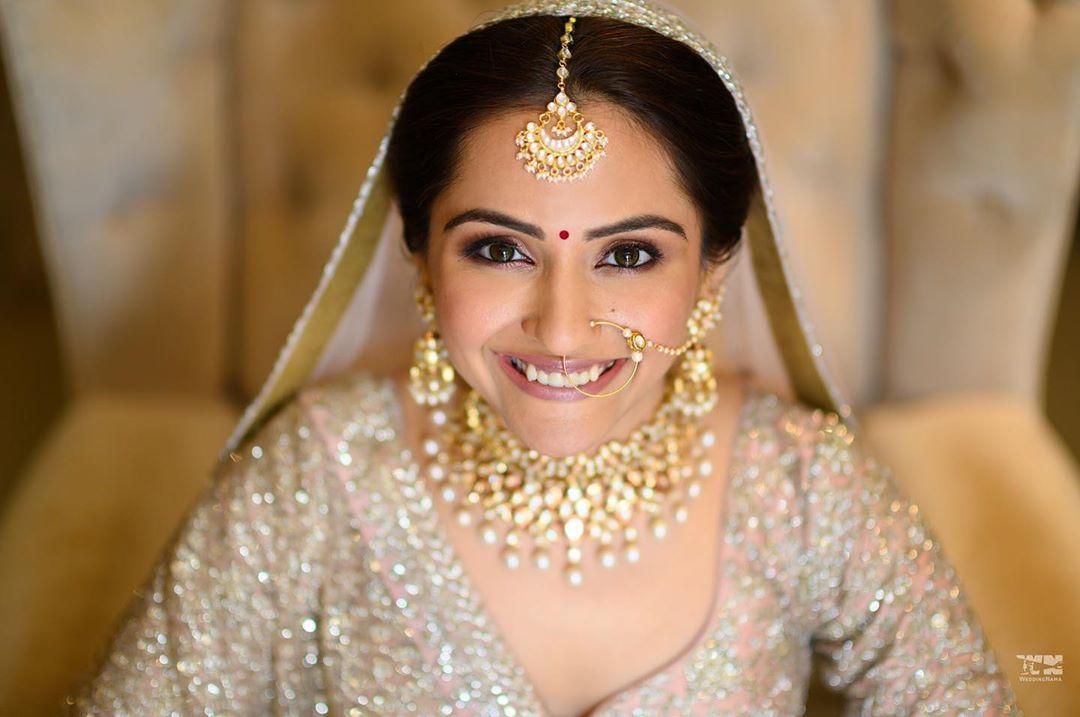 Another subtle look under how to do makeup at home for a party guide list. The nude makeup comprises of a thin base of light BB cream. Just the basic contouring followed by a good blend for the perfect summer look. This look has been prepped for an Indian party with a dash of eyeshadow in a darker shade of the outfit and a similar earthy tone for the lips. What takes the nude look towards perfection is the little sparkling bindi.
Such subtle looks work fab for the ones who have minimal knowledge of makeup and look forward to learning how to do makeup at home for a party. Adorn a lovely little bindi and a tiny bit of glittery eye shadow and you are all set to rock that makeup look which looks nothing less than the one done by a professional. So, what are you waiting for?
Pro tip
If yours is a round or oval face like this lovely bride, contour the outer sides of your face in circularity. Ranging from the forehead (covering 1/3rd of your forehead) to cheek area on the back side till where chin starts. After completely blending the smooth long stroke on the sides, pick up your concealer or a brighter tone of the foundation for your chin, the centre of your forehead and your under eyes (till where nose starts).
5. The Lash Game on Point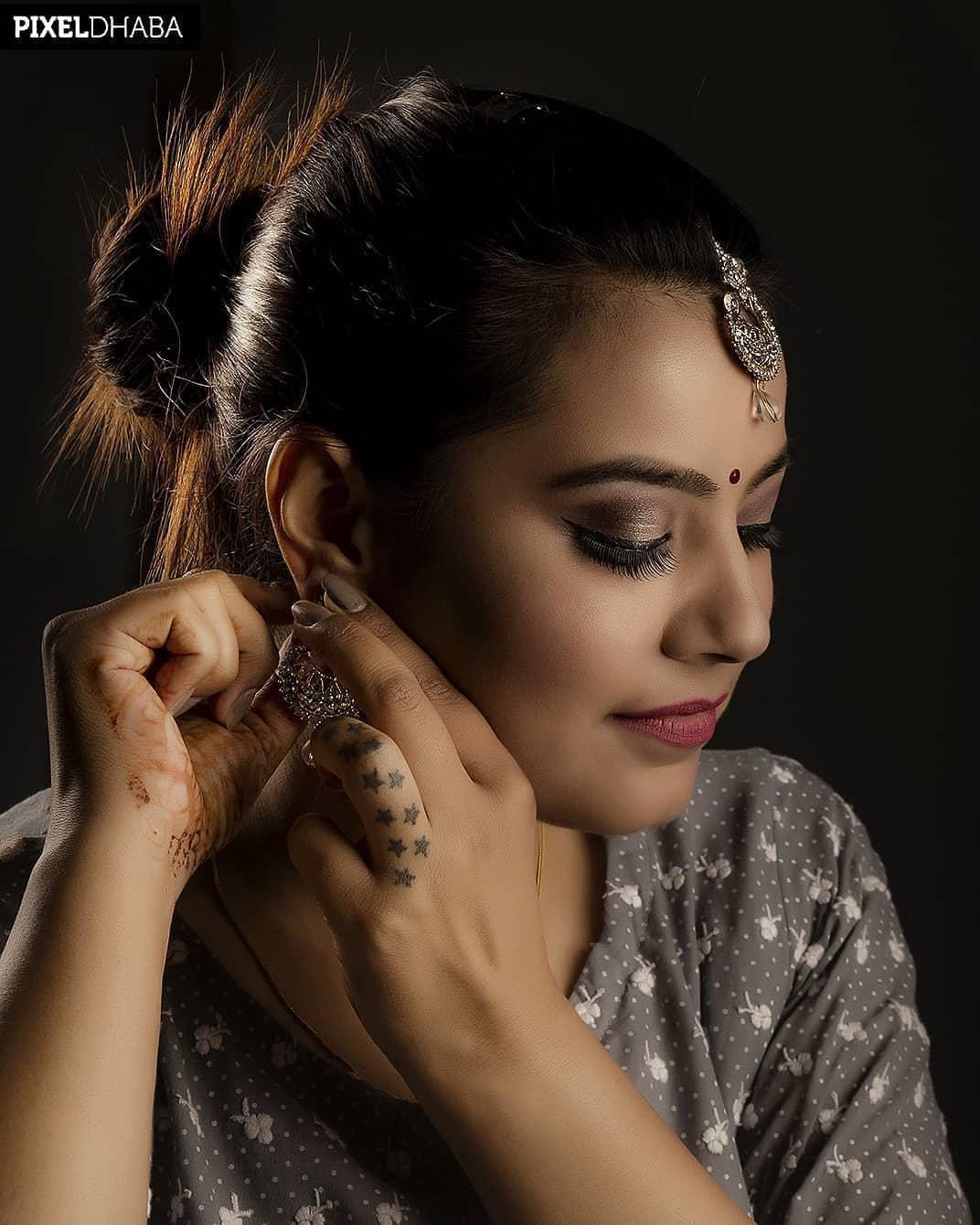 Image Courtesy: Pixel Dhaba
I think all of us agree that the lady in this picture is wearing quite a professional level of makeup. With her brows, her lipstick and how can I not mention, her perfect eyelashes. Will any of you be surprised if I say, that, you can achieve this clean makeup look by taking care of just three things. Just three prominent features have actually curated this fab look.
The nicely pencilled and puffed eyebrows are what subconsciously work as one of the most significant pointers of how to do makeup at home for a party. The perfectly applied lipstick is what follows next. Last but not least is the lovely pair of faux eyelashes. Aren't they the ultimate stealer of the entire look? With the base foundation done right, all you have to do is keep the three grounds covered and you will rock the party.
Pro tip
If you have a diamond-shaped face, then you are probably a lucky one. The contouring is probably the easiest for you. You just need to contour those cheekbones and the concealing goes the same like the rest. So technically, you don't have to worry much about blending a lot while learning how to do makeup at home for a party.
6. The Glitter Game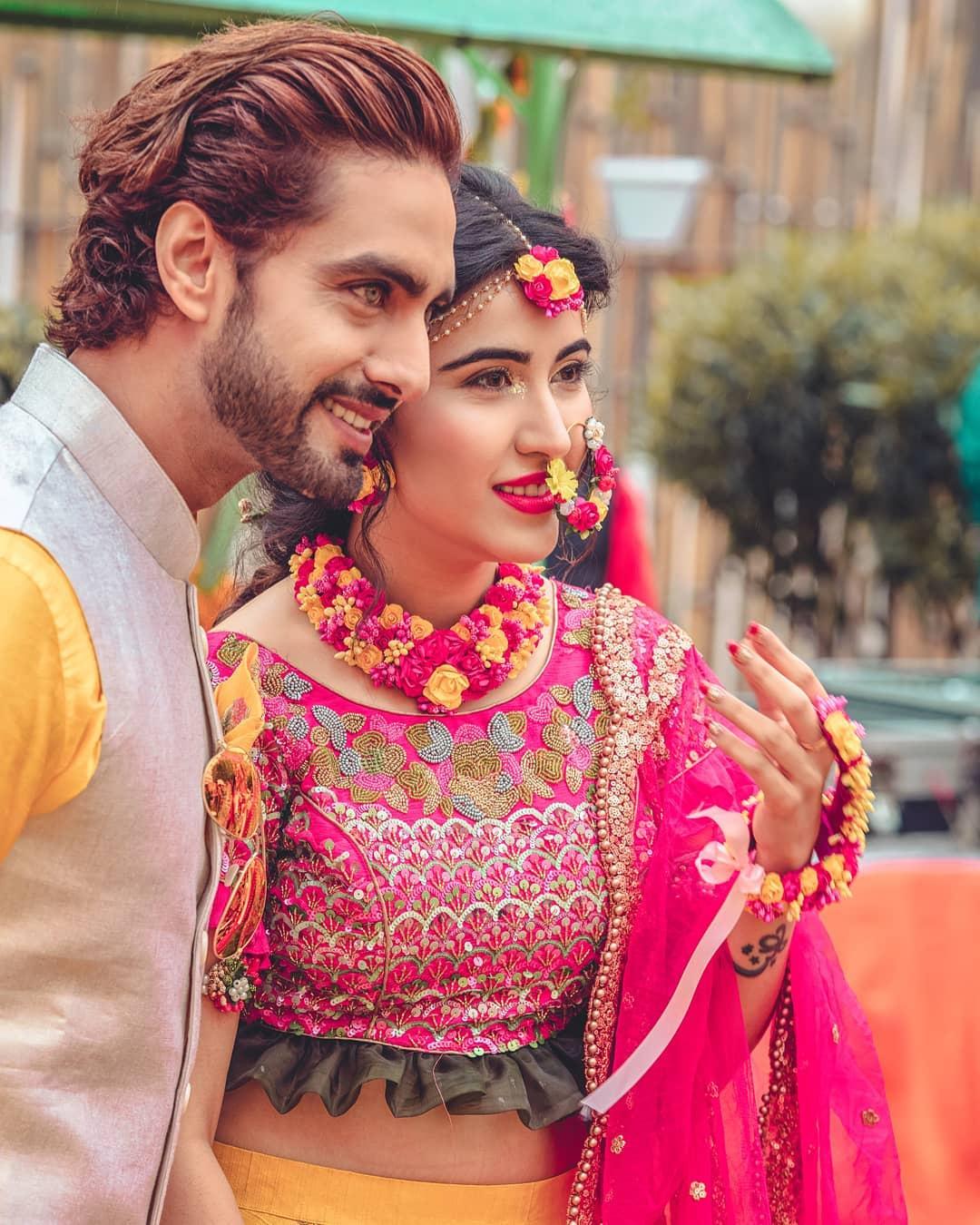 This is the perfect example of what you call, "Being less is more"! Even though it looks as if it is tonnes of makeup abilities captured in a single picture, but trust me, all it needs is an artistic hand. If you are good at applying eyeshadow, you can surely do this. While on your lookout for how to do makeup at home for a party, you'd find that this one has the potential of adding just the right amount of glam to your look.
It is just the right use of glitter on the inner side of the eyes, with patient use of the hand. Even if you go simple with the base and every other makeup detail, this look is going to work wonders. Just go for the base, your go-to lipstick, definitely your eyebrows and you are ready to play with your eyes. It is totally okay if you want to skip other details in any of the looks. Just choose your statement cosmetic and stick by it.
Pro tip
One of my most favourite makeup hacks is playing with the white kohl (kajal). The latest trend in the eye makeup industry is applying white kajal to your eyes' waterline. It not just defines your eyes in a very edgy way but also adds a professional touch to your look. It makes you stand out, makes your eyes look sharp and is classy at the same time.
With such a variety of simple yet iconic looks explained to you above, hopefully, you have got all your answers to how to do makeup at home for a party. The pro tips given are some of the hacks that work for me, picked from some of the expert makeup artists. Right from applying lipstick in the most professional way, to playing with the highlighter, keep that curiosity going. And remember to keep these party makeup mistakes at bay.
We would love to know which is your absolutely favourite statement cosmetic item which can transform you even without the details like contouring.