Fantastic Hand Embroidery Designs for Sarees You Should See!
Hand embroidery designs for sarees come in a variety of styles that impact the vibe of the garment. If you're planning to wear a saree to a Sangeet, here are some styles you must check out!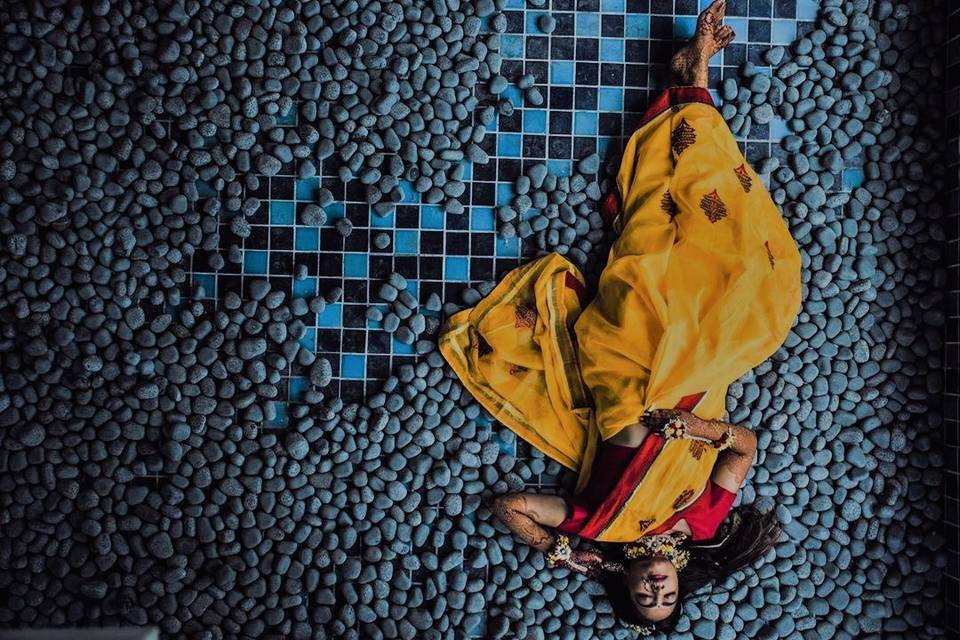 One of the most elegant garments that a woman can wear, a saree is the perfect ensemble for a Sangeet ceremony, whether your own or a friend's. One of the reasons for this is, of course, the fact that the garment is so glamorous (and glamour is exactly what a Cocktail night is about). However, another main reason that people don't ways think of is the fact that sarees flow beautifully and the movement this garment offers is ideal for looking alluring on the dance floor!
Sold on wearing a saree? Great! Now let's take a look at a few hand embroidery designs for sarees!
1. Floral embroidery on an ivory garment!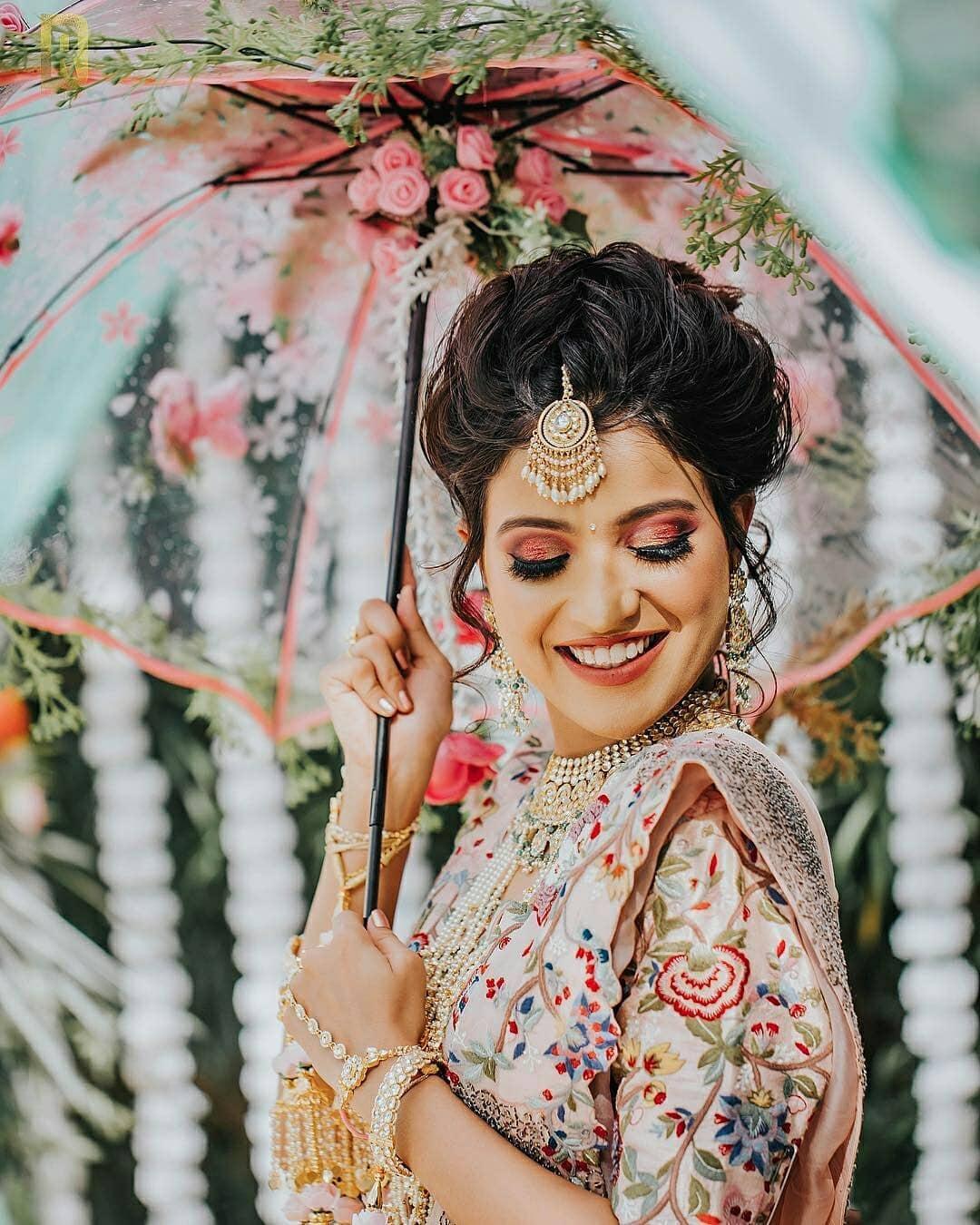 Floral embroidery is something that never really goes out of fashion. These hand embroidery designs for sarees look particularly delicate because of the nature of the saree itself, making it a great option for women who want to rock a very feminine and sexy look. Of course, there are ways to make the floral embroidery a bit unique.
An ivory saree with Kashmiri Crewel embroidery can look super stunning, and if you do get your hands on such a piece, make sure your accessories are muted so that you do not steal the spotlight from the embroidery work!
2. Chiffon with hand embroidery!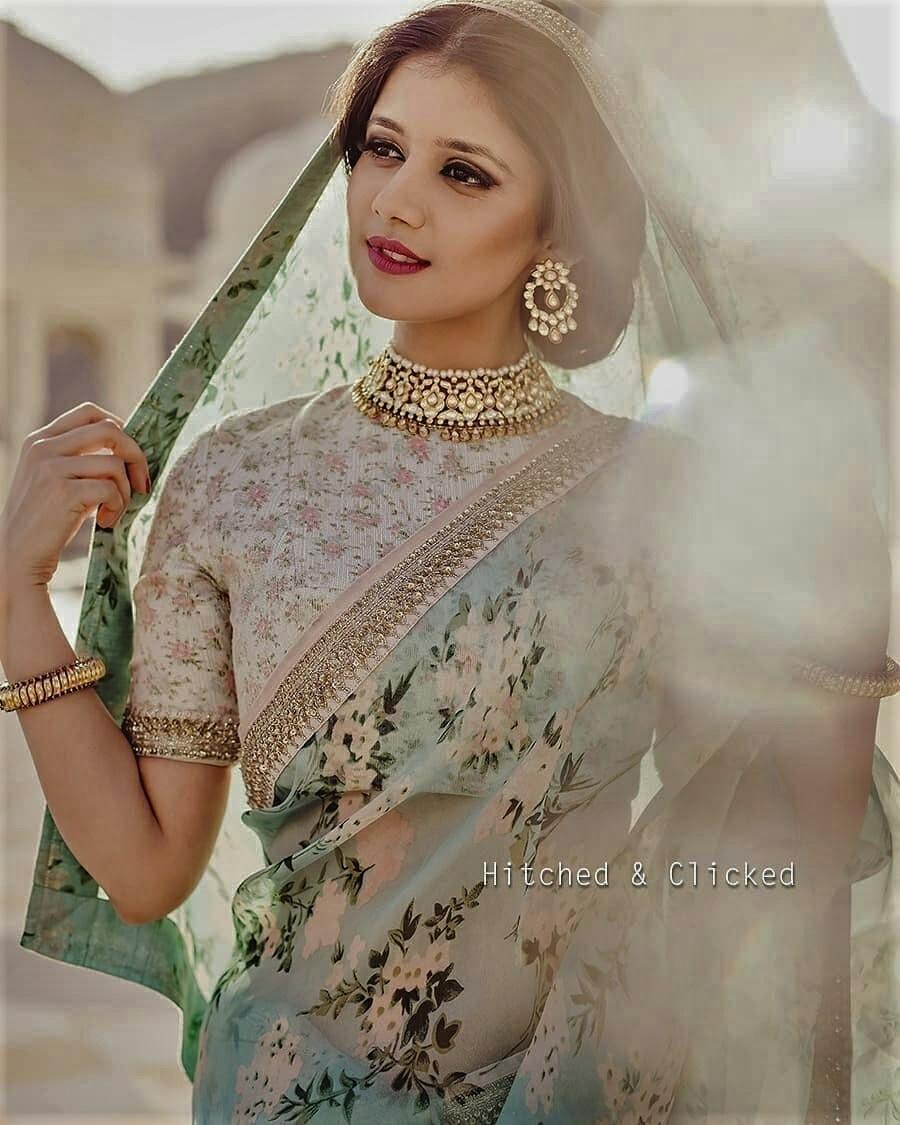 Most people believe that chiffon and hand embroidery designs for sarees do not really go hand in hand because chiffon is such a delicate fabric. However, this is not the case. Most chiffon sarees do offer the scope for hand embroidery in the form of sequin, stone, and light thread work.
Of course, the keyword here is light because this fabric cannot support embroidery like zari. The saree you see in the picture is a Sabyasachi creation, and we love the regal vibe with the chunky jewellery and high-necked blouse!
3. Bridal saree with hand embroidery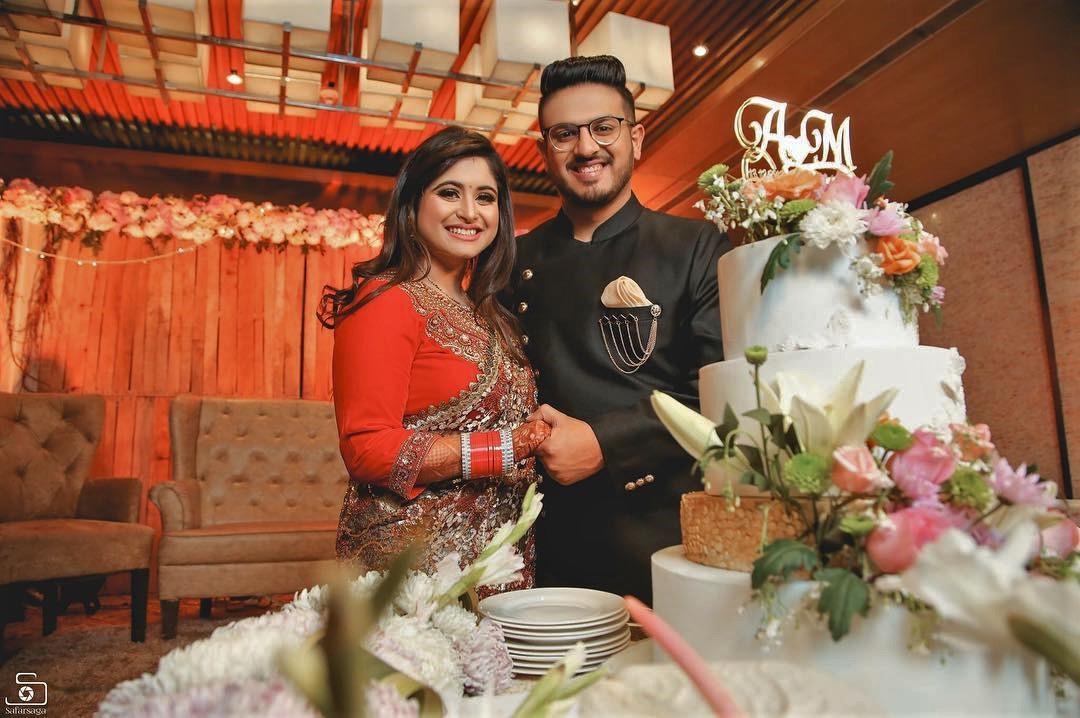 Silver hand embroidery designs for sarees tend to be a bit rare, as most brides go for gold. However, the combination of deep red and bright silver looks stunning and the final effect is perfect for any bride who wants to stand out. The embroidery on this saree is mostly concentrated on the body, with a large part of it also on the blouse. A lovely combination like this prevents the embroidery from becoming a little too heavy.
4. Light sequin embroidery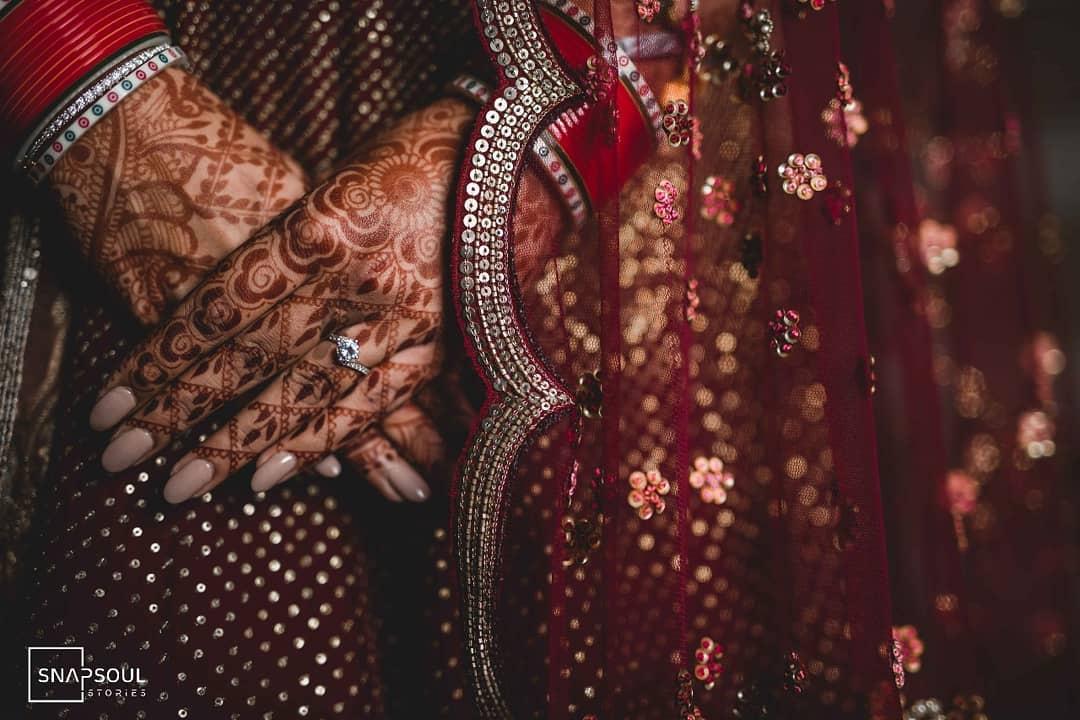 When you think of hand embroidery designs for sarees like zari, the only issue with the same is that the garment can become quite heavy, and most brides tire after an hour or two of wearing the same. However, you can mimic the heavy look of zari and Zardozi work by picking a garment that uses threadwork and sequins instead. Your outfit will still look heavy without actually feeling that heavy! Don't dismiss the weight of your outfit as no big deal – you'll be wearing jewellery too so keep the outfit wearable!
5. Light blue Sangeet look!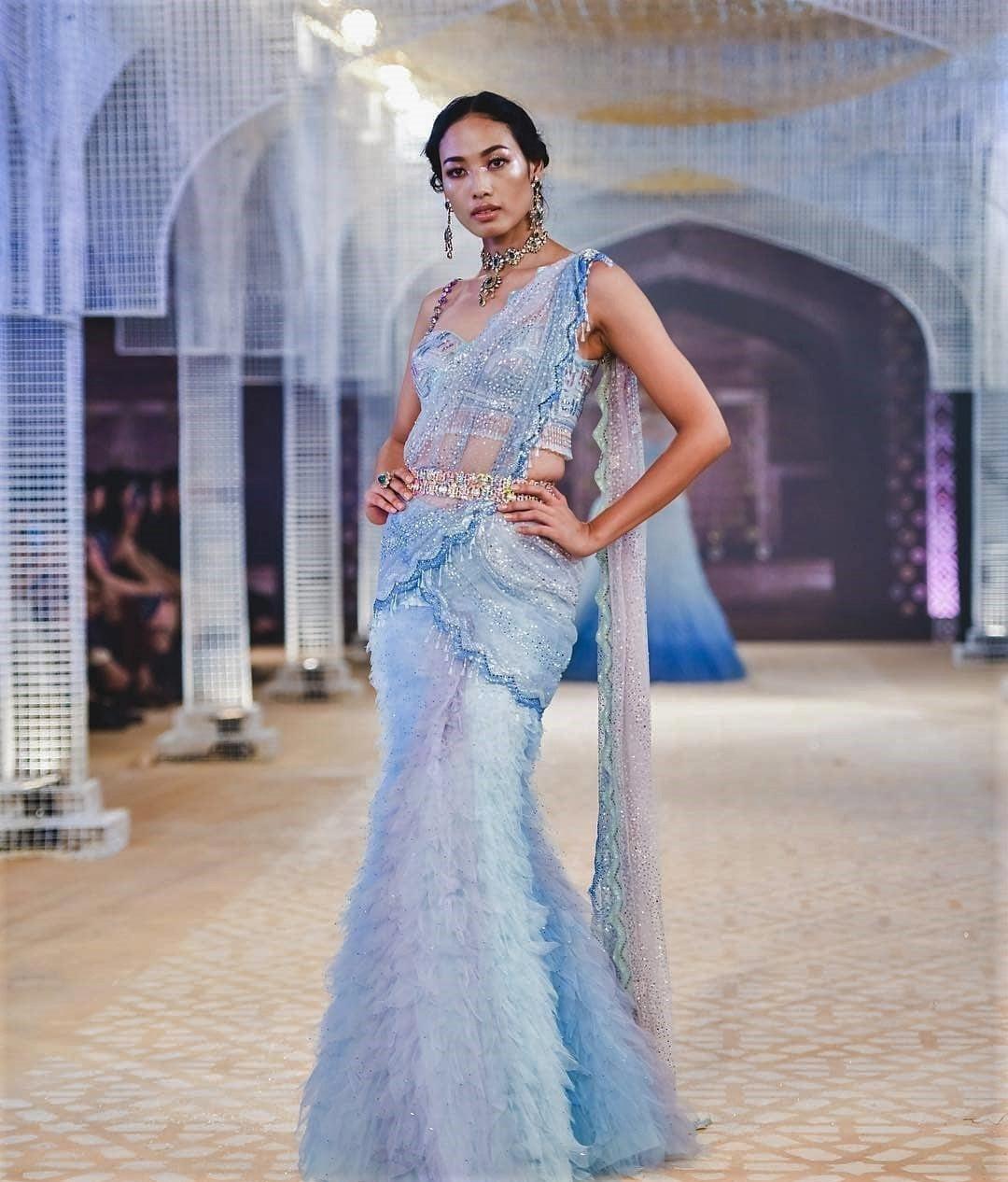 With pastels being so in vogue, this saree is a great option for contemporary brides looking for an unforgettable Sangeet. The light silvery stones and sequins offer a great look without, you guessed it, weighing down the garment. You can wear this one and dance the night away without feeling as though your bones are going to break anytime! If you're wearing something similar, then it makes sense to pick silver jewellery because powder blue and silver shine beautifully together. Go for a grey smokey eye and light pastel lipstick to the complete the look!
6. Peach saree with heavy embroidery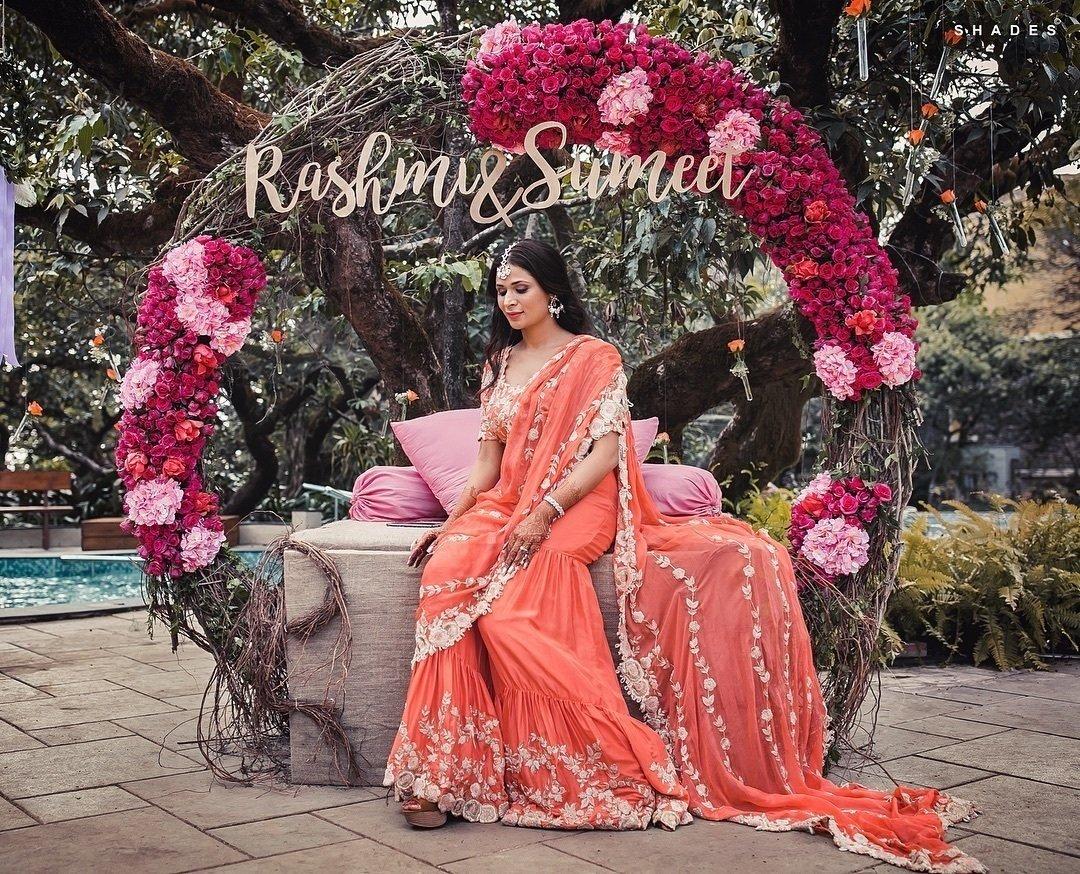 Image Courtesy: Shades Photography India
If you have your heart set on silver hand embroidery designs for sarees, then you must pick pastel colours. This is because pastel shades help colours like silver pop, while not really achieving the same effect with gold (unless you pair mint green and gold). This saree has silver embroidery all over the body, and while it reflects the sun during a day event, the embroidery takes on a slight yellow hue, adding another dimension to the whole look. Of course, this isn't just apt for a day event. Wear it to a Sangeet with gorgeous Kundan jewellery and no one will forget how great you looked!
As you can see, hand embroidery designs for sarees come in a variety of styles and you can sport an ensemble that suits your personality perfectly. There are many ways of incorporating hand embroidery designs for sarees, such as having them only on the blouse, the borders, the lower half of the garment, or even all over. Many sarees have a ton of designs on pallu with the rest of the garment plain, and this creates a great effect when the saree is draped!
Digging these sarees? Pair them with the perfect jewellery. Check out these jewellery stores near you!