10 Gold Necklace Set Options For The Most Stunning Bridal Look
Choosing the bridal jewellery set plays a crucial role in finalising your look. Go through this list of stunning gold necklace set options to get an idea about what to pick!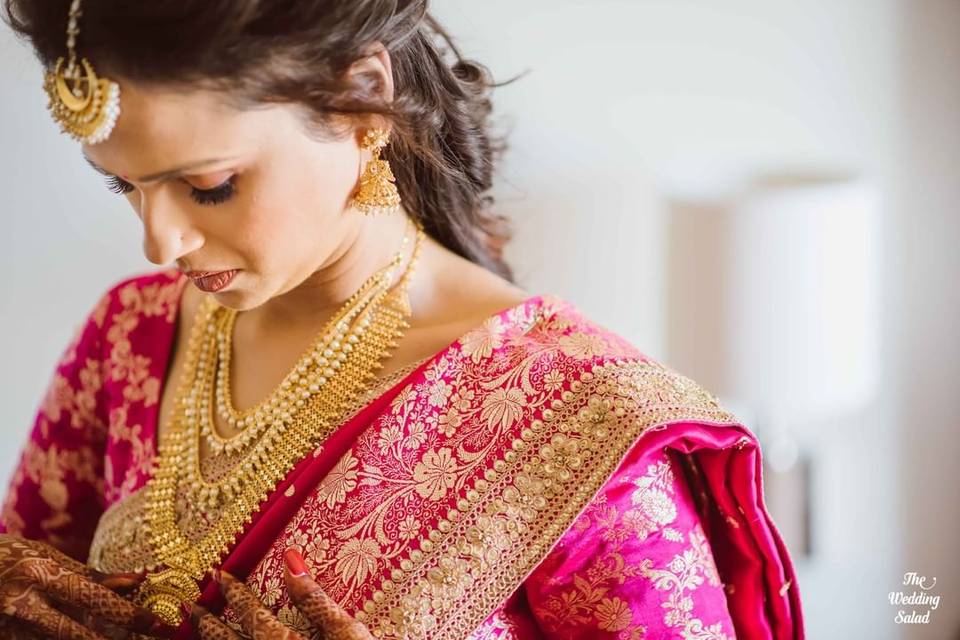 We all know what an incredible role the jewellery set plays in a bride's look. You can wear the prettiest of outfits but if the jewellery you wear is not up to the mark, then it affects your overall vibe drastically. With the innumerable options of bridal jewellery sets available now, brides definitely feel spoilt for choice!
Kundan jewellery, Polki jewellery, mango Mala set, gold necklace set, diamond jewellery, Maharani Haar and the use of stones; all these are some of the top bridal jewellery options you have.
Since more and more designs and variations are coming up, people are forgetting the beauty of gold jewellery. It is the one kind of jewellery that looks absolutely stunning with almost all attires. The best part about a gold necklace set is that it goes perfectly with the perennial bridal colour of red.
The combination of red and gold can never grow old. However, in no way does it mean that it looks bad with outfits of other colours. It goes with some really light colours or dark colours with blouses made of velvet. Keeping all these things in mind, let us take you through a comprehensive list of gold necklace set options that will surely leave you wanting for one.
1. A big choker with white unpolished stones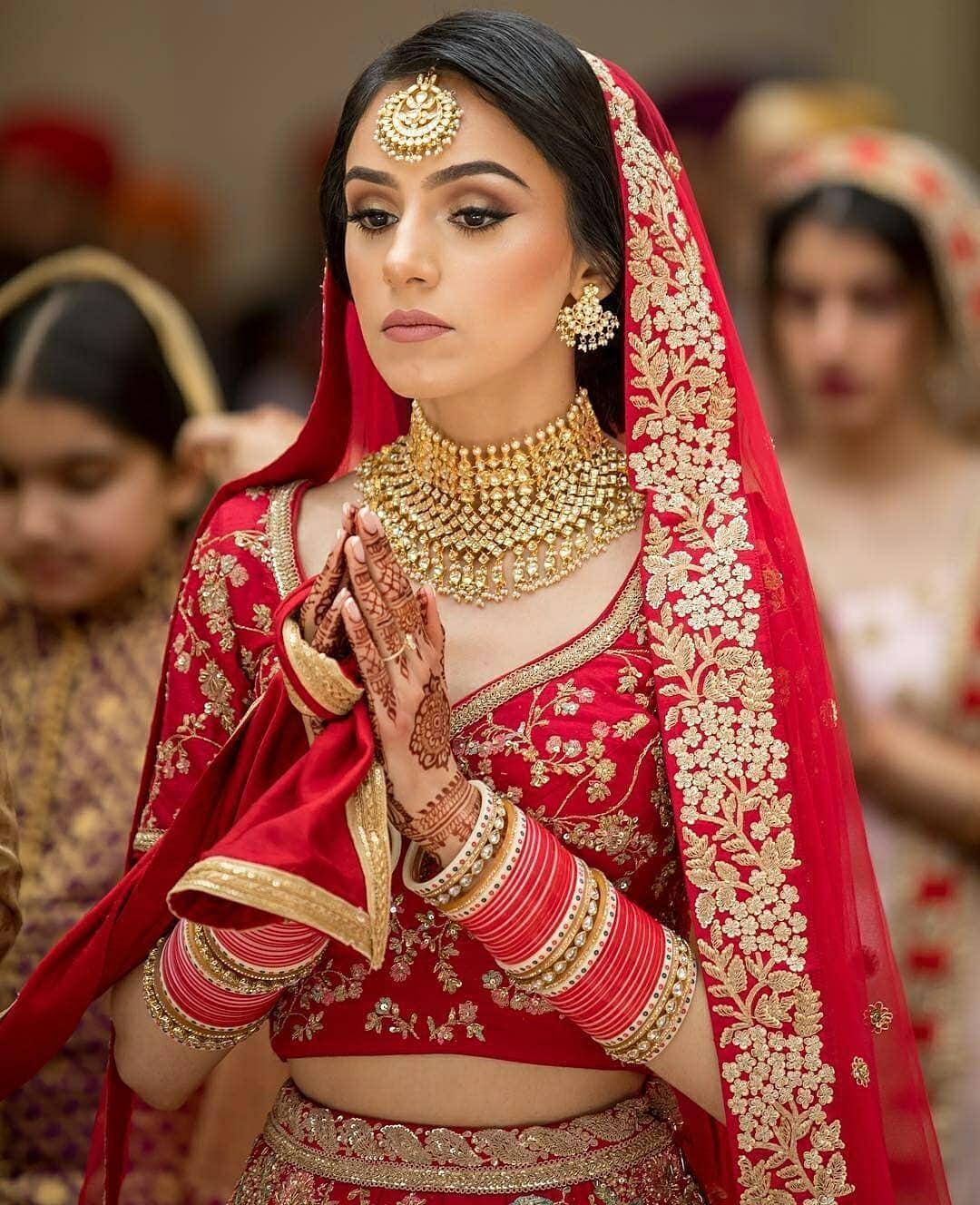 Image Courtesy: Cinematic Films
Choker necklaces have been one of the jewellery sets doing the rounds ever since many designers have styled celebrities and models in it during the last few years. The best part of this piece of jewellery is that it gives you an elegant look and gives enough breathing space for your blouse with heavy embroideries to stand out. The white unpolished stones add to the beauty of the necklace.
2. A pair of short and long necklaces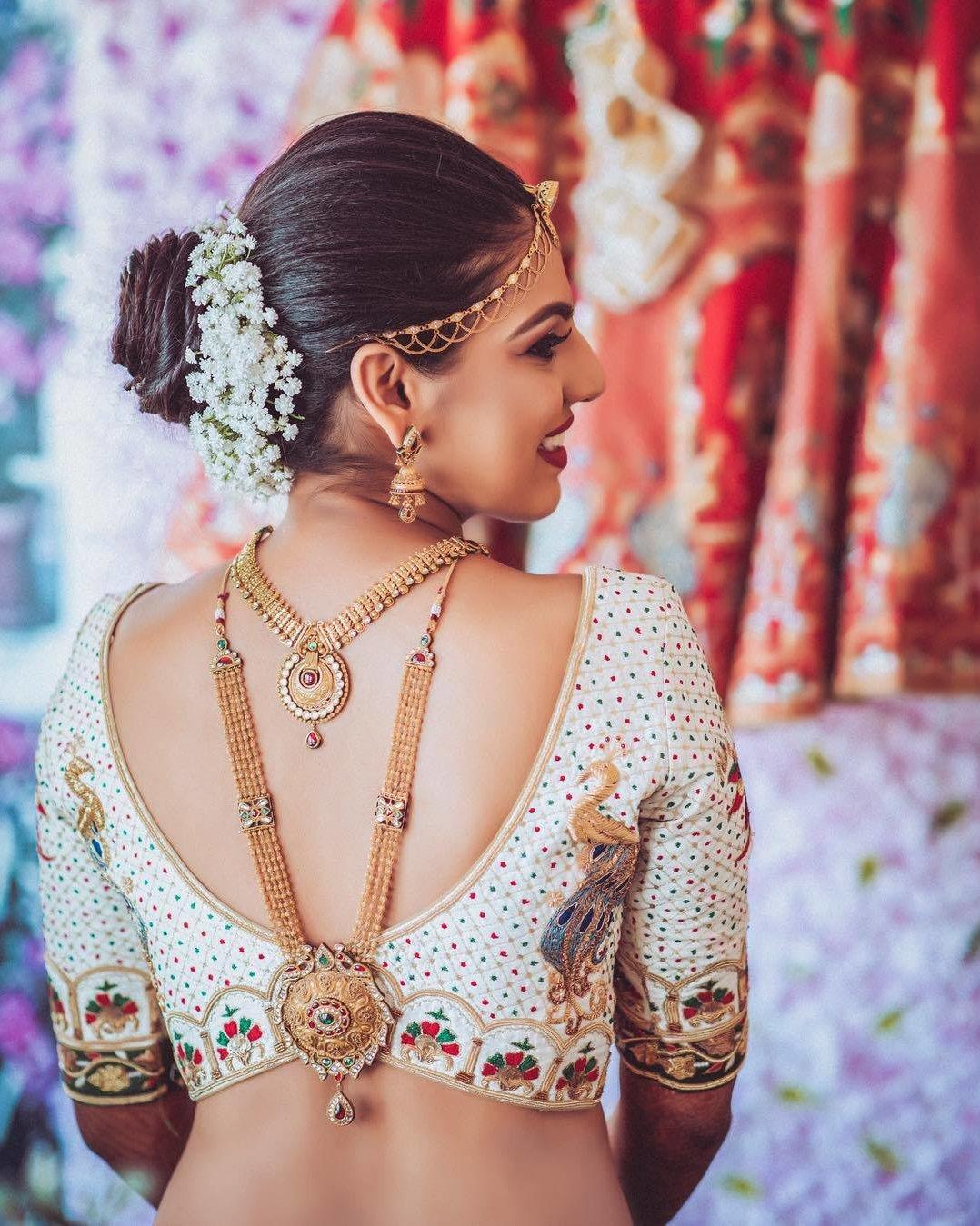 If you are looking for a gold necklace set with two pieces then this beautiful pair of necklaces will be the best. Both the necklaces have circular pendants with the right amount of stonework on them. It is ideal when the bride is looking for a minimalistic approach with her jewellery.
3. The right amount of red with the gold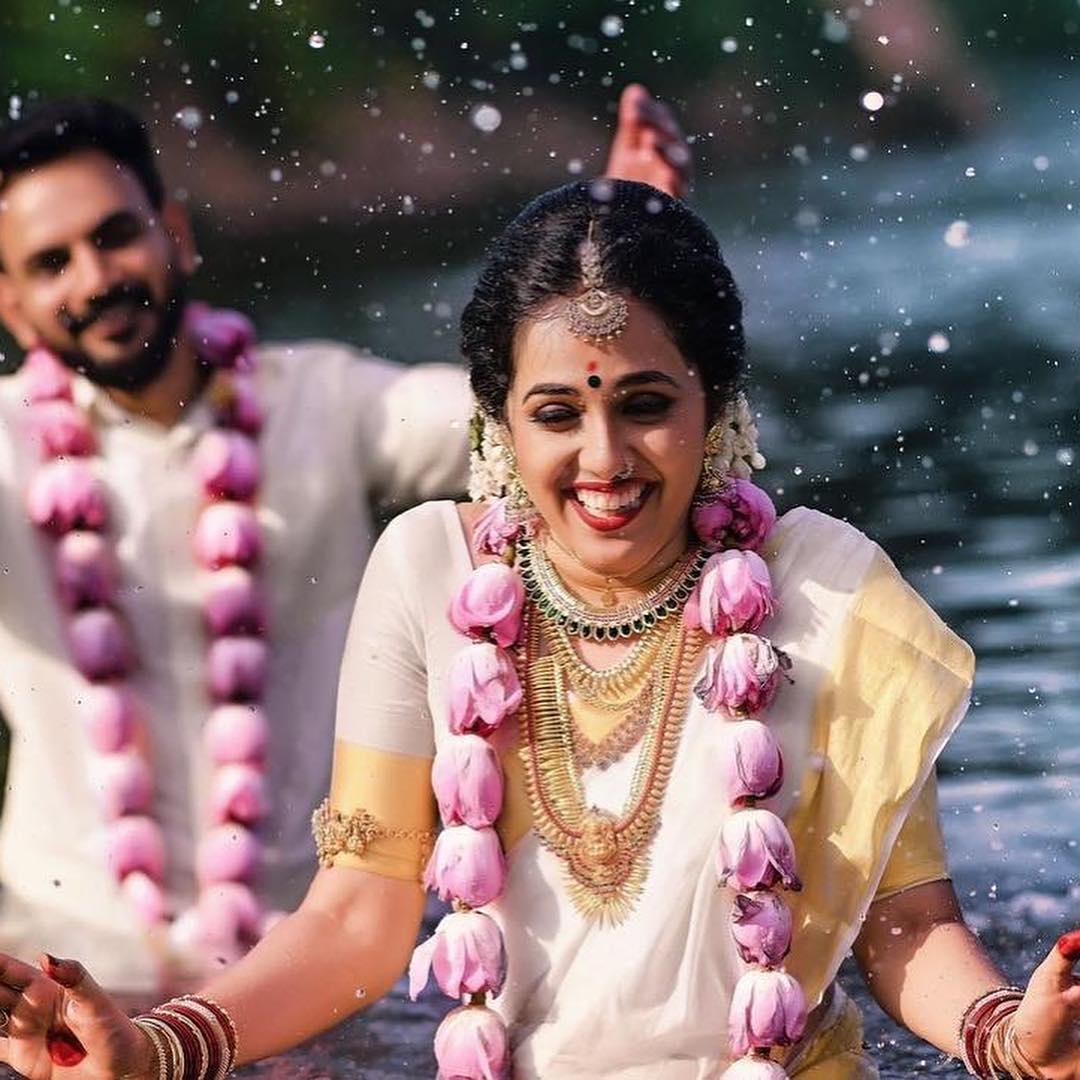 A clear favourite among South Indian brides, this gold necklace set has the perfect combination of gold along with red stones. The long chains have a thin needle-like finish to them. However, the shortest necklace uses diamonds and emeralds, which creates the perfect combination with gold jewellery and the white Pattu saree the bride is wearing.
4. The princess vibe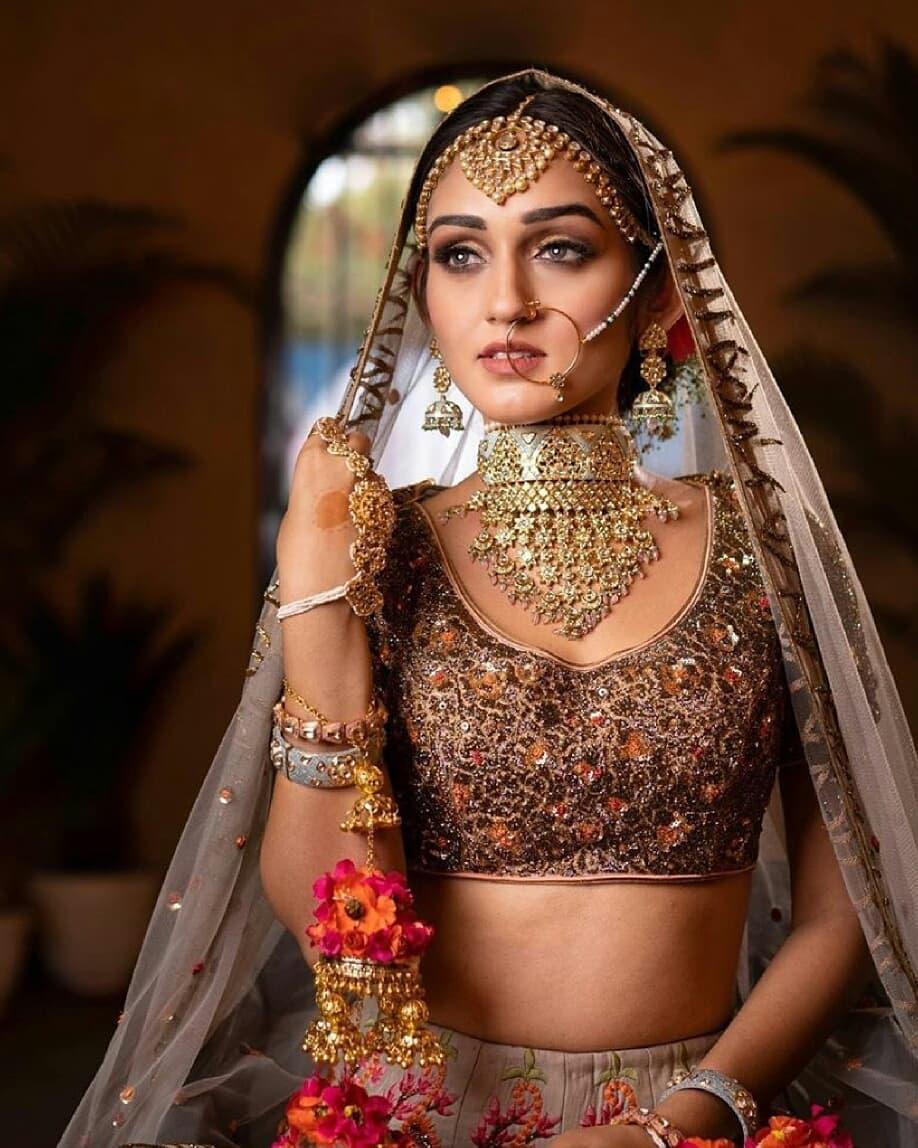 If you want a princess vibe then selecting the right piece of jewellery is the first step to achieving that look. This beautiful gold necklace set has a broad finish at the neck on which the beautiful gold set is assembled. Just below the choker, the V-shaped necklace has layers of popular Indian formations on it.
5. A complete set of gold necklaces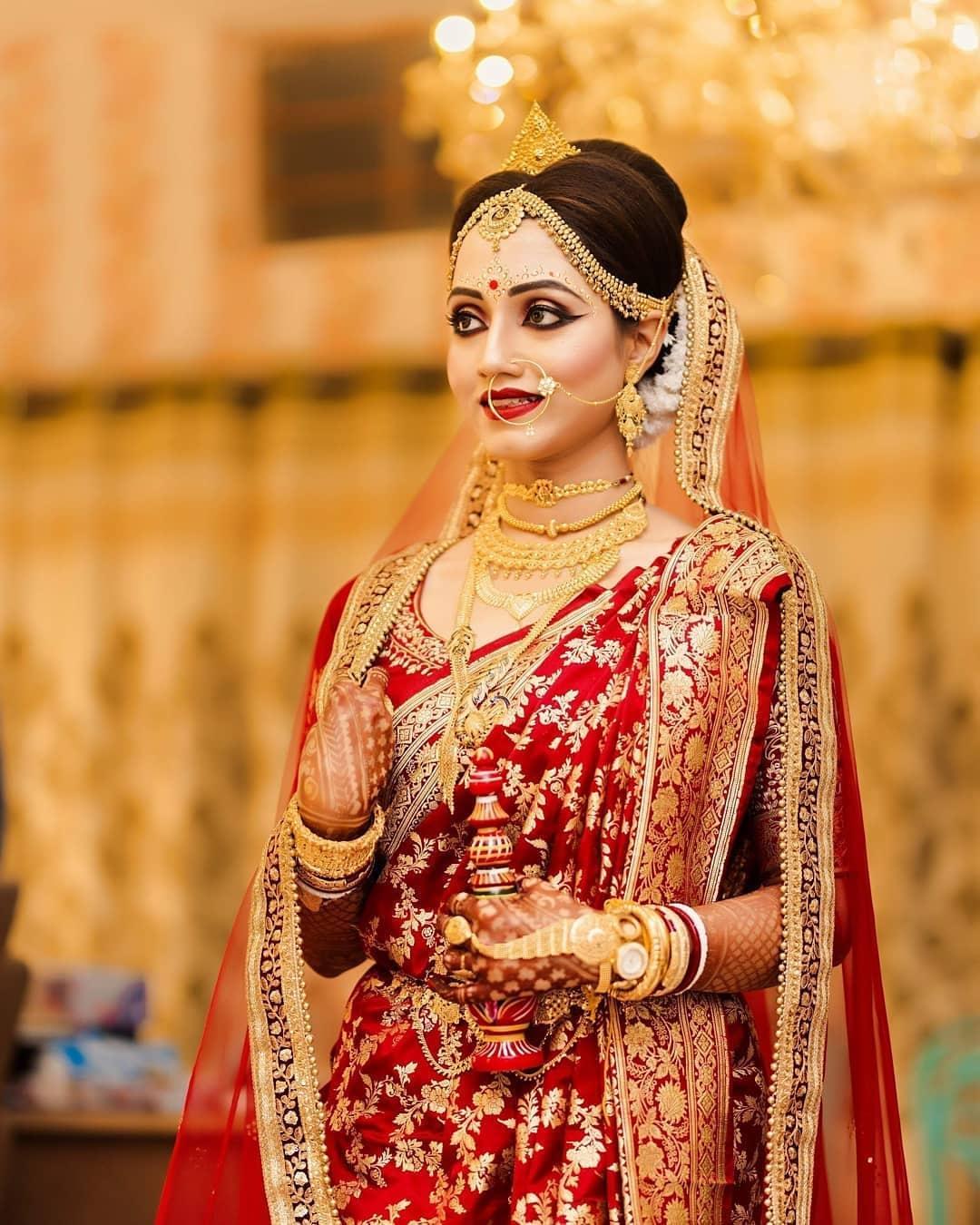 If you want multiple chains and necklaces made of gold then this approach can help you. Two sets of chokers, short necklaces and a long necklace complete this gold necklace set. The ornaments made solely out of gold give you the look of a goddess. Moreover, it perfectly matches the red saree!
6. Beautiful temple jewellery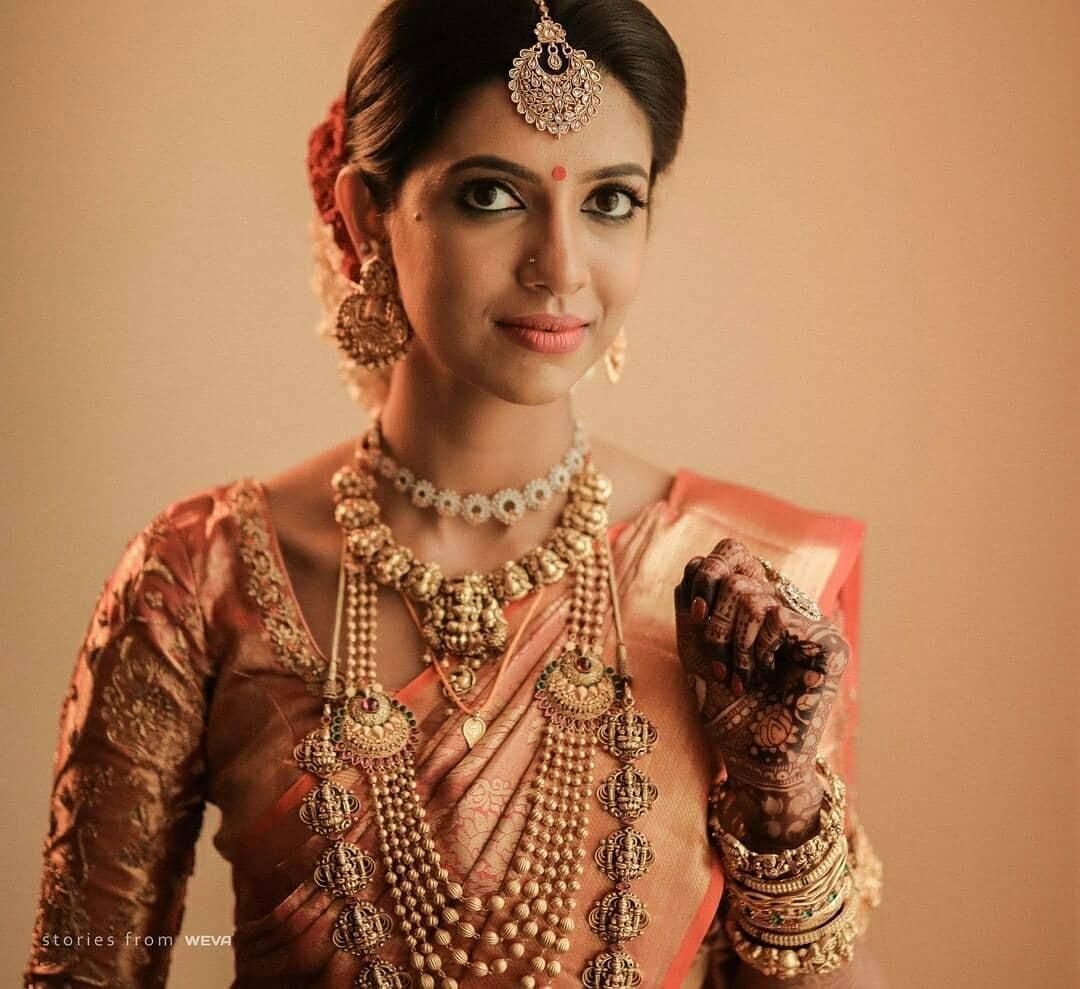 Temple jewellery is one of the most popular jewellery sets doing the rounds of late. It has made a huge comeback, especially in South India. This gold necklace set looks exactly like the ones you see on statues at temples. Do not miss the intricate details of the set.
7. A heavy choker and a long necklace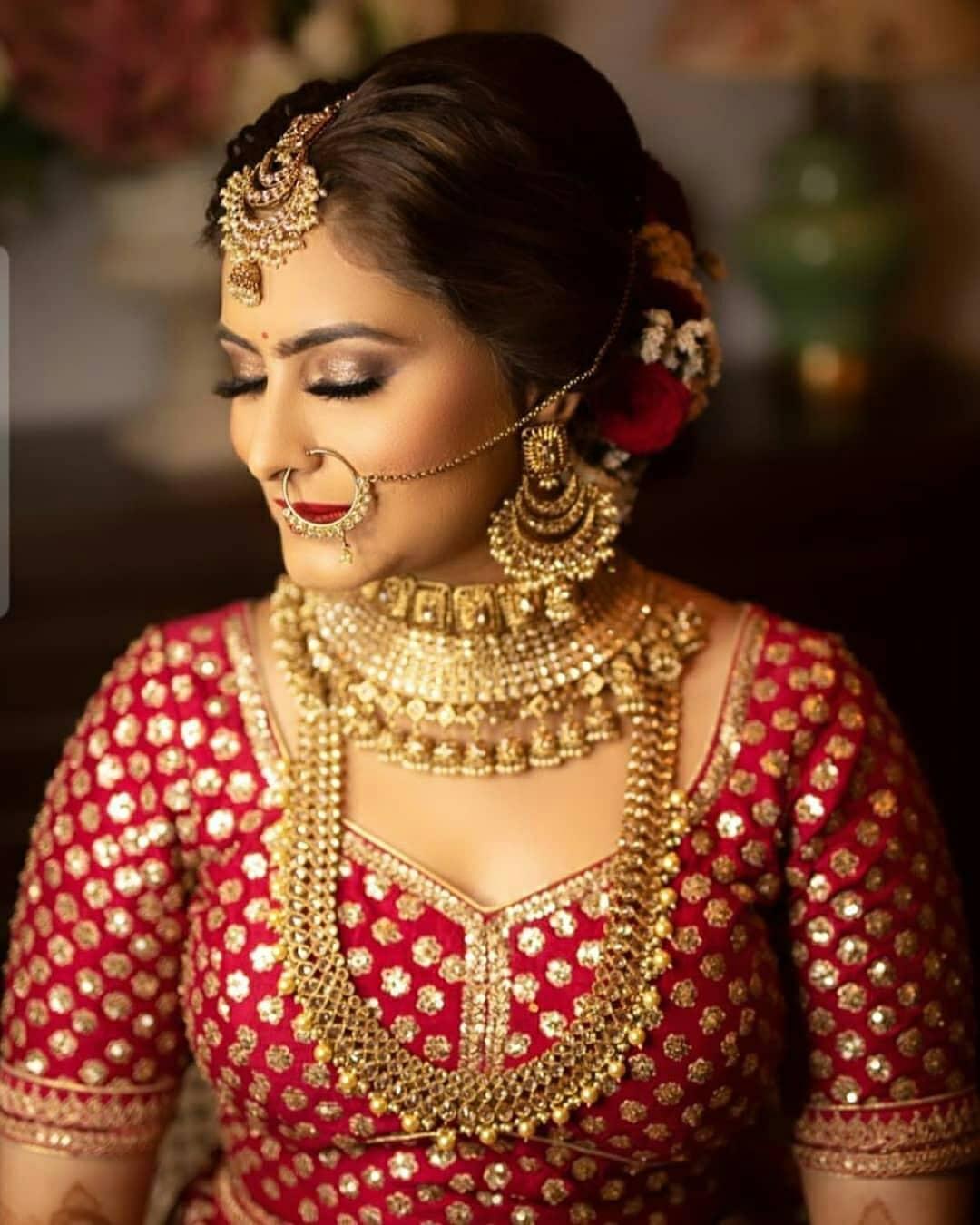 If you like both, chokers as well as a long necklace, then why not combine the two to form a beautiful gold necklace set? This combo will look absolutely great if you are going for the heavy look with big pieces of ornaments to wear. The choker has incredible detailing in each layer with jhumkas falling like tassels at the lower layer.
8. A single choker will do the trick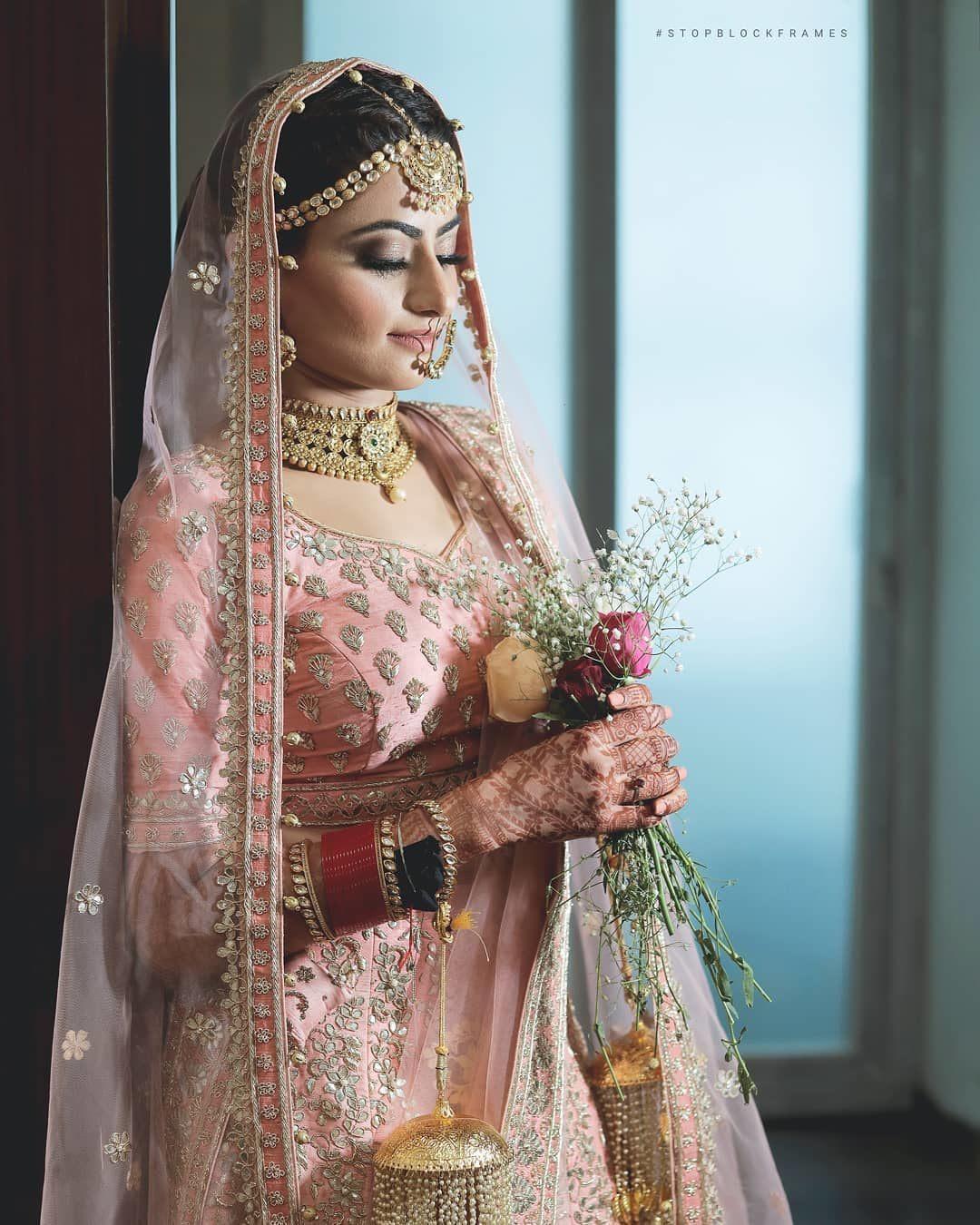 If you want a clean look with minimal clutter then go for a single choker that is big enough to get noticed but small enough to give you the immaculate look you desire. Make sure that you get a choker that has enough detailing on it, as it is the only ornament you are planning to wear.
9. The simple look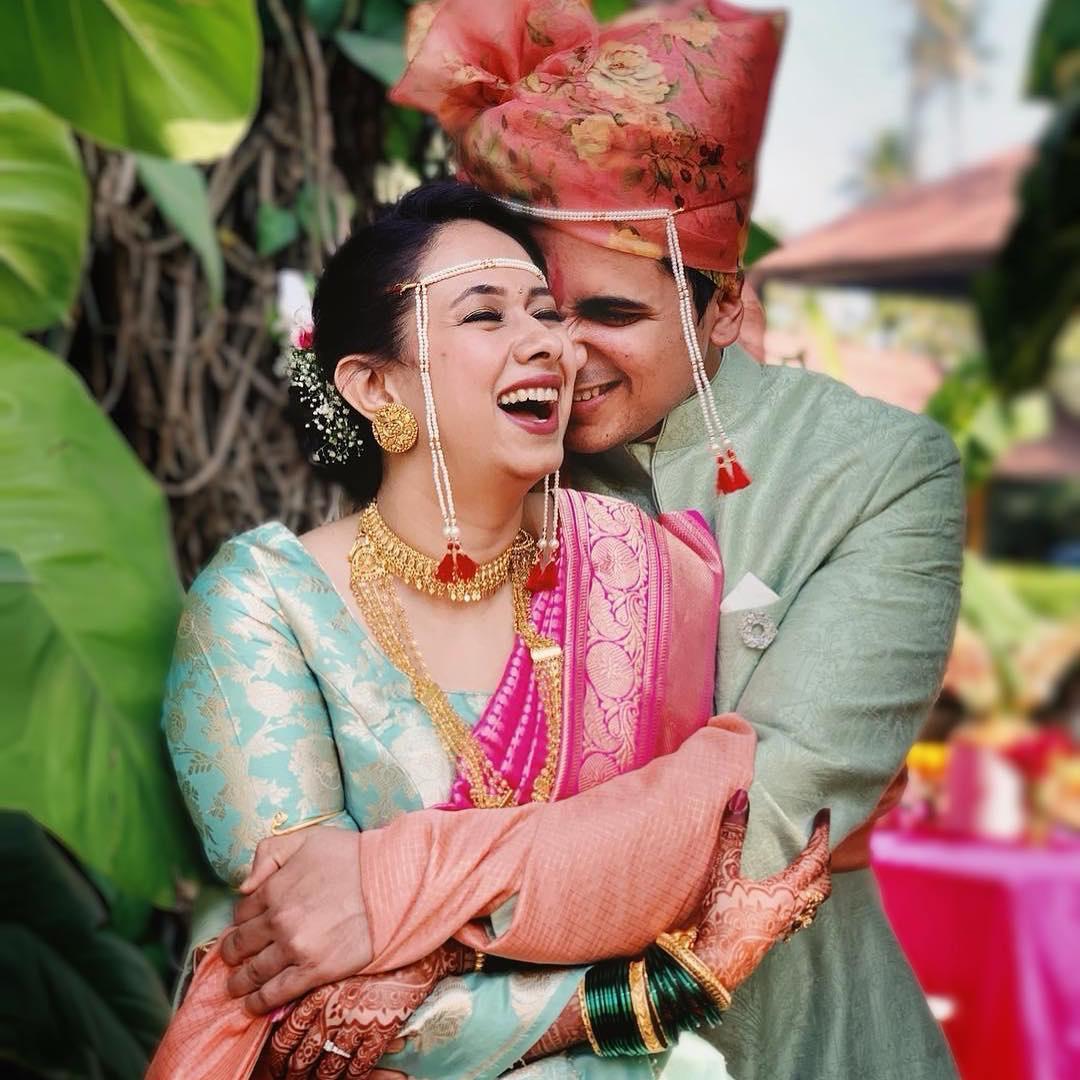 For a simple look with just the gold, you should wear a small necklace with enough detailing and a long simple chain to make it a gold necklace set. It is perfect for a completely minimalistic approach.
10. A Teenlada necklace for the groom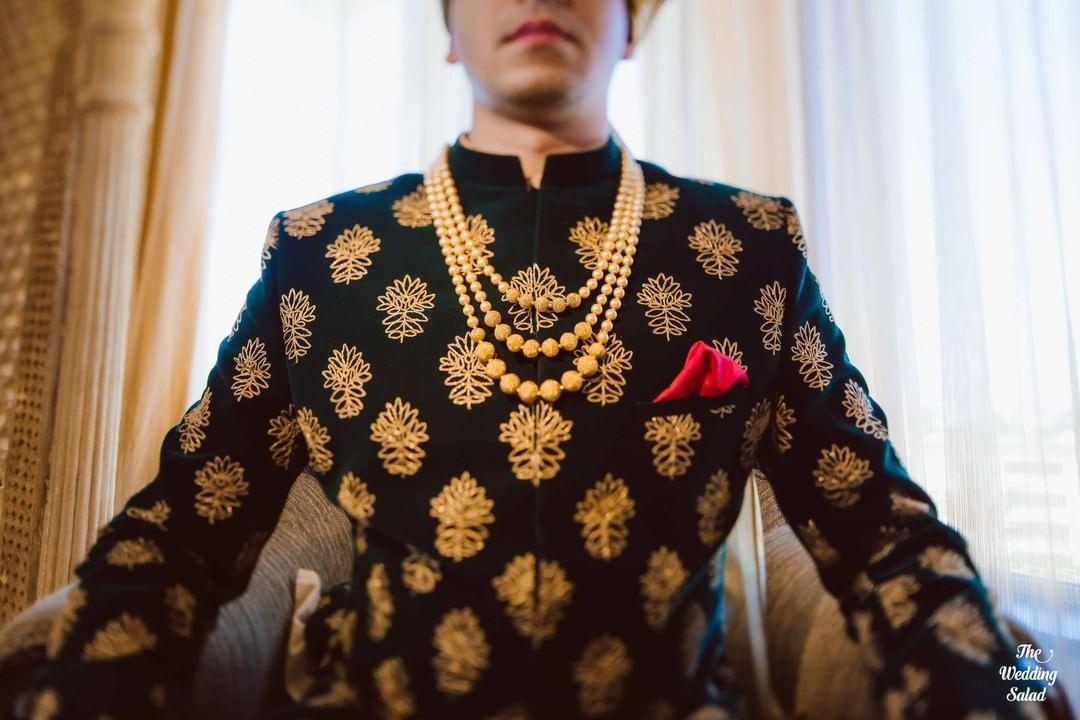 Who said only brides wear a gold necklace set? Look at this stunning Teenlada necklace for the groom! The bead-like formation gives a royal touch to it and is different from the usual stone-based necklaces a groom wears.
Now that you have gone through this wonderful list of pieces, you must surely have an idea about what to get for yourself. Just make sure that whatever you get matches your outfit perfectly!
You may visit our list of vendors on our website to look at the best jewellery shops near your town.