Gharara Designs: Stunning D-Day Attires for the Millennial Brides to Make That Unforgettable Style Statement
Keen to pick style cues for your Sangeet, Mehndi and wedding from the likes of Sonam Kapoor, Alia Bhatt and Kareena Kapoor. We sing of the Gharara, the different Gharara styles available and where to pick one which resonates with you.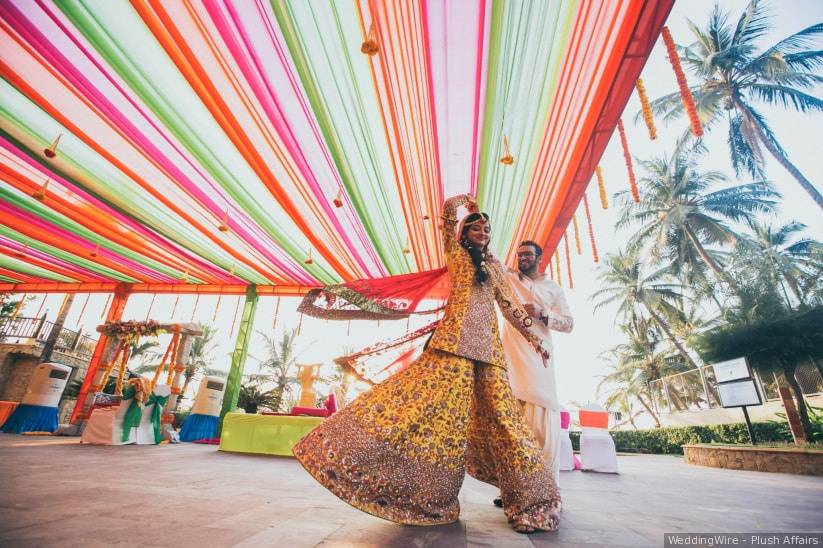 Style alert! Ever since Bollywood beauties started sporting them for their own appearances, the Lucknowi attire, Gharara has received a new lease of life. A new wedding trend, we have seen brides across the country sport it in a wide range of styles, cuts and combinations. Every time a trend pops up in vogue, it does pass by with the passage of time and like every royal trend, it comes back in fashion to make a statement even louder than the last in varieties that will leave you stunned. The Gharara designs are one such trend that was brought back by the B-town divas and it has indeed got our brides going gaga for their D-day outfits.
For those of you, who don't know the difference between a sharara and a Gharara we simplify some basic features of a quintessential Gharara. A Gharara consists of a short or mid-thigh long kurta, a pair of wide-legged pants that are sort of gathering at the knee and flaring towards the lower part. Whereas, a sharara consists of a short or mid-thigh long kurta, a pair of wide-legged pants which are flared from the midriff to the bottom. It is an outfit that helps you enhance your curves and flaunt the femme goddess in you on one of the biggest occasions of your life.
The Gharara style
A Gharara is a set of a short kurta with wide pants, which flare towards the end seams. Some styles fit till the mid-thigh or knees, dramatically flaring outwards from that point. Others see the flare develop from the waist onwards.
Nowadays, traditional Gharara designs have been reinvented by designers to cater to the chic and stylish modern brides. It is a versatile outfit that can be flaunted on your Haldi ceremony, Sangeet ceremony or other wedding ceremonies. Every year and each wedding season brings with it a host of new trends and styles. These are definitely one of the most trending statements in 2018 and we, here, showcase what and when you can wear, style and flaunt them.
Popular Gharara Designs
There are a plethora of designs when it comes to selecting a Gharara be it for your wedding day or for your Mehendi ceremony or even your Haldi. There is a Gharara design for each of these days that will make you look stellar and turn the heads in appreciation of your fashion statement. Here are the most common forms of Gharara designs available in the market. Have a look at this galore and see which strikes your fancy.
1. Lucknow Gharara Designs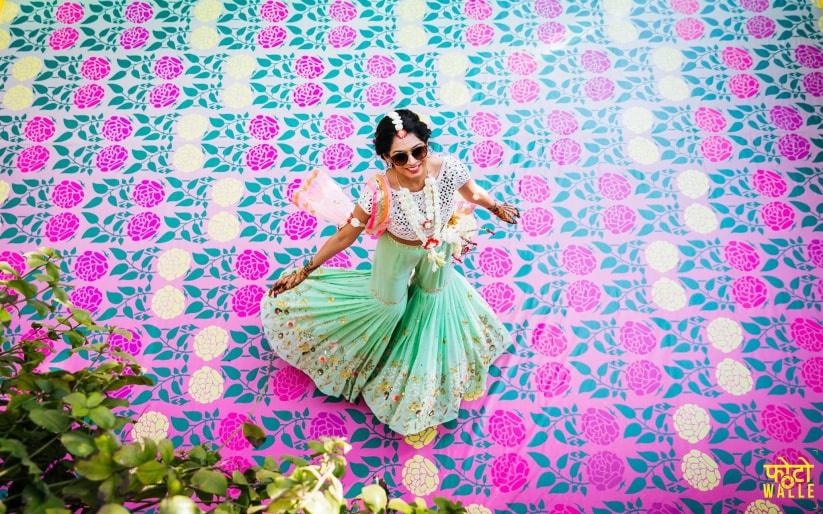 Lucknow Gharara designs are the more traditional in their approach, yet have the versatility to be trendy. This is basically a wide flare bottom pant that is ruched near the knee so the flare is more dramatic and voluminous. Lucknow Gharara designs are best paired with short, thigh-length tunics or a waist-length blouse designs. You can choose to add a dupatta or wear it without one for an Indo-western look. The Lucknow Gharara designs are usually embellished with Gota work, floral prints and soft flowy fabrics. Lucknow Gharara designs in pastel tones with subtle gold thread or Gota work are one of the most sought-after wedding trends in contemporary times.
Lucknow Gharara Designs 2018 trend: Pastel Shades, Gota Work
Who should wear it: Tall brides who have a slim to medium frame of body type.
Pair it with: Juttis, Gota/thread work jewellery and lots of bangles
When to wear it: Haldi and Mehndi, Chura ceremony, Engagement or Sangeet
2. Chatapati Gharara Designs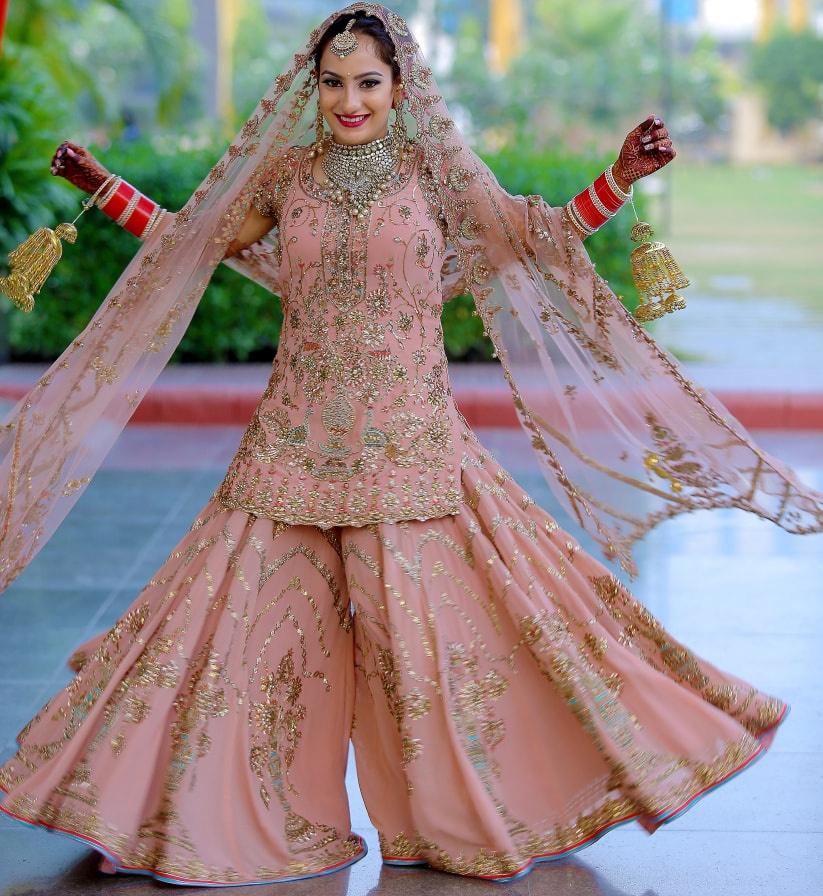 Similar to Lucknow Gharara designs, the Chatapati Gharara designs are wide flare bottom pants too. However, these are flared right from the waist down. The Chatapati Gharara designs are more voluminous and may even look like a long skirt worn under a tunic or a kurta. These are usually preferred in thicker and richer materials, and may be printed or plain with Gota, thread or even mirror work. Most people sport the Chatapati Gharara designs with long tunics and skip the dupatta for a hassle-free and trendy look. This outfit works great for all of your wedding ceremonies. But, you can also pin the dupatta over your head like this real bride is seen sporting in the above photograph.
Chatapati Gharara Designs 2018 trend: Bold and vibrant colours, prints and embellished borders
Who should wear it: Chatapati Gharara designs work great for all body types.
Pair it with: Comfortable heels, accessories like Bangles and statement jewellery
When to wear it: Engagement, Mehndi, Sangeet or Reception
Where to shop for the best Gharara designs in Delhi?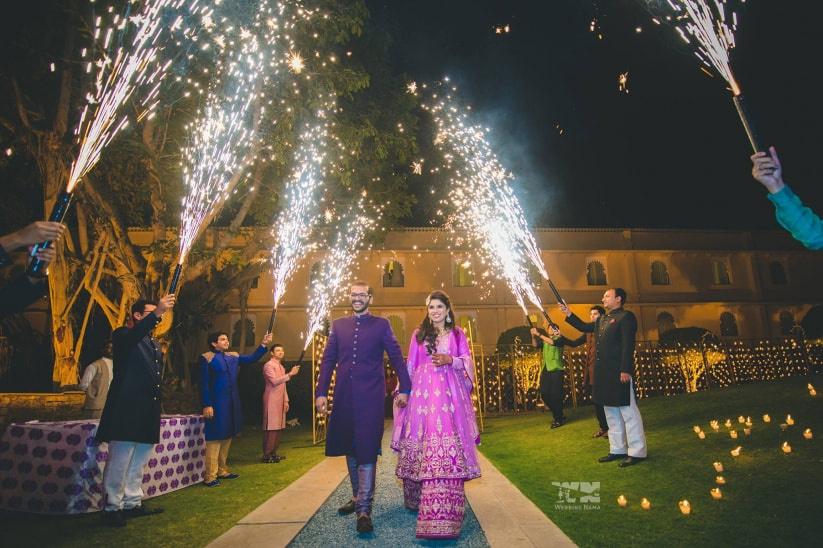 Delhi, the capital of India, has also become the capital for wedding shopping. It comes as no surprise that you can shop for the latest and the best of Gharara designs right here. One of the most popular places, that offers a wide variety of Gharara designs is the Gharara Studio. As the name suggests, it is the place to visit if you want to try on different kinds of Gharara designs, that will perfectly match your personal style and make you look absolutely ethereal. It is a regal attire that has come down from the time of the Nawabs and the Begums and flaunting this attire for the wedding just adds to the royal touch of the ceremonies that you have so vividly taken care of to be perfect.
There are places that offer Gharara designs apart from their suits and Anarkalis and even lehengas, but there are also those places that specifically indulge in the sale of this royal ensemble for the brides-to-be. Some other popular places in Delhi to look for Gharara designs are:
Gharara designs have been reinvented, keeping pace with modern day trends and styles. Brides today like to experiment with different cuts and attires, to add variety and vibrancy to their wedding outfits. A Gharara, though majorly worn by Muslim brides, has seeped into all corners of India; becoming a rage in wedding fashion. Have you checked out the latest Gharara designs? Will you sport this stunning attire on your wedding functions?
Go ahead and book a Gharara for one of your wedding functions. And share your Gharara shopping experience with us in the comments below.