When you start with your wedding budgeting, invitations are the area where you can actually save a lot. With some unbelievably creative wedding invitation tools and applications, you can make your own wedding invitations for free. Apart from the fact that it saves a whole lot of money, you also have the option of customising and personalising you invites just the way you want them. However, you must keep certain important things in mind while using a free wedding invitation maker tool and application. Take a look and make sure you incorporate them on your own paper or digital invitations.
1. The DO's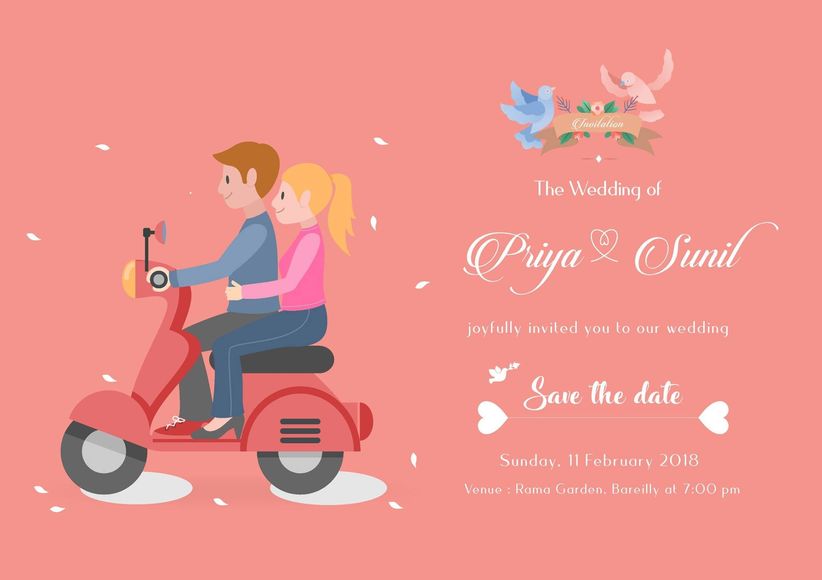 Since you have the liberty to take your creativity to endless horizons, try different styles and ideas. Don't restrict yourselves to patterns and make a masterpiece out of your invitations. Here are a few things you must do while using a free wedding invitation maker:
Consistent Wording: When you're using free software to frame your wedding invitation wording, make sure you maintain consistency throughout your invitation. Make it look like personal and yet formal. Choose edit tools like Grammarly to avoid any typos or grammatical errors.
Attractive Typeface: Use beautiful calligraphy and stylish fonts for your invitation. Create a balance between the type of pieces like names, event info and details by to maximise the contrast between different elements in your card.
Match the Colours: If you have a particular wedding theme, pick your invitation colour matching with the theme. With free wedding card maker tools, you get the freedom to select your own style synchronising with your events theme.
Use the chic "Ampersand": Replace your "And's" with cool ampersands as they definitely look much cooler. For example,
"We request your presence at the holy matrimony of Arindam & Aromita on August 12, 2019, at Sainik Farms, 7:00 pm onwards."
Choose Fancy Packaging: A neat packaging means the world and must be paid attention to. when you're going for a free wedding invitation maker tools, ensure your paper invitations have great packaging. Look for ideas at some gift packing ideas and try them on your wedding cards.
Include important info: Always clearly mention all the invitation info on your wedding card. Like the Host line, names, venue, date and time details etc. Also, give precise directions and an easily readable map or location link.
Link to your website: If you have created a wedding website, do include the link to your web-page on the invitation.
Make it a keepsake: When you put so much effort in designing your own invitation, you would want your guests to keep it, won't you? Pick the best photographs from your stunning pre-wedding photo shoot for your invitation. Use classic, quirky or romantic couple quotes to go with the invites. Give your guests a tour to your journey through the invitations and they will keep it forever!
2. The DON'Ts
A free wedding invitation maker tool gives you countless options to experiment and create new styles for your invites. However, you must remember to NOT overdo things given liberty! Let us take a look at the things you should avoid while framing your own wedding invites:
Clutter: Yes we all know how tempting it becomes to try and use every colour and font on the palette! But you must absolutely refrain from overuse. Don't clutter your invitation card with too many words fonts, colours and sizes. Maintain the readability of your card while making it look unique.
Vague: The last thing you want to do with your guests is to confuse them. Whether it's "who" you want to be on your wedding or your "no gifts policy"...don't be vague about your ideas. Clearly mention who you are inviting and what exactly are you looking forward to. If you want your guests to dress to according to the theme, mention that. If you don't want your guests to bring kids on your Cocktail party, clearly mention "no kids please." More you are transparent, better you will be able to manage the whole wedding.
Stuff all events in one: Don't try and stuff all your pre-wedding and post-wedding event info in one invitation card. You probably don't want everyone in every single event. So why generalise your invite? Use separate leaflets or pages for separate occasions. And make sure you send the invites to the right people!
Ignore Spellings of Names: Double check the correct spellings of your invitees' names. It's doesn't impress well to send wrong spellings especially of the names. Never ignore the importance of spellings and every word right before you send them out.
3. Important Tools
Now that you have a fair idea on the things to keep in mind while creating your invite using free wedding invitation maker tools, let's get some names of software that you could use:
Paperless Post
Canva
Evite
Greetings Island
Adobe's Spark Post
Crello
Fotojet
My Shaadi
Explore each free wedding invitation maker tool and see which one you find most comfortable to use. If you have a technical knack, you can play around a bit with the software before picking your own template. Put your creativity and techno edge together and bring out a unique wedding card that your guests will keep with them. You can go for audio-visual invitations or simple 2-D cards, an invitation video for Whatsapp or a classic paper invite-whatever you choose, make it look special and personalised.
Put a little bit of your hearts in the invitations and that would do all the trick!