Here's How You Can Pair Lovely and Unique Flower Jewellery for Mehndi with Your Colourful and Chic Outfit
Wearing flower jewellery for Mehndi is all the rage these days. A rage we all are surely thankful for. It looks elegant and earthy. They are one reason that makes Mehndi an exciting event. Here's how to pair your outfits with flower jewellery.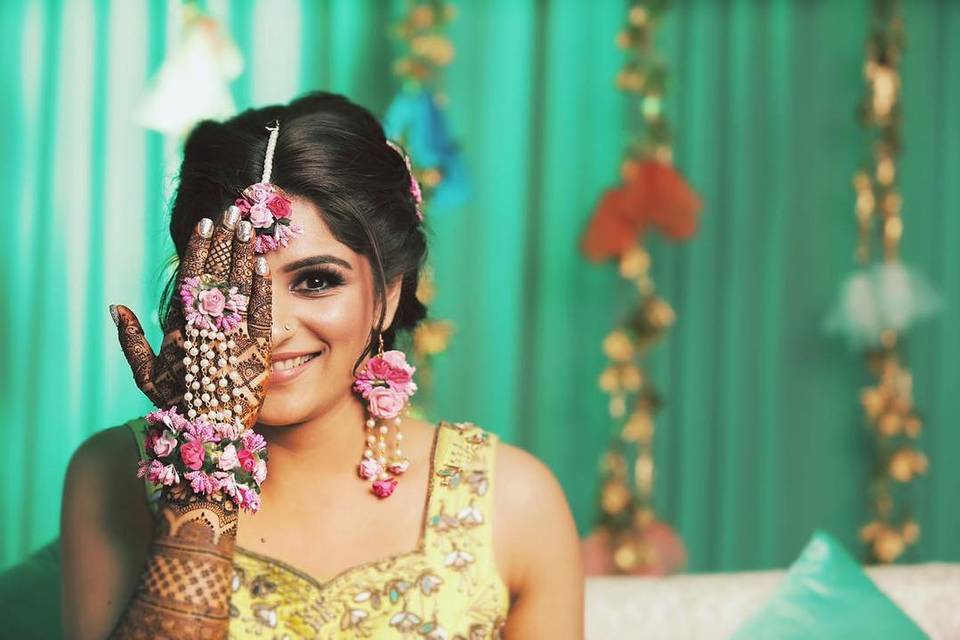 The lovely poppy yellows, the greens, whites and pastels and the lovely smell of henna. It's finally time for your much awaited Mehndi ceremony. The idea of colourful and pretty lehengas and equally colourful flower jewellery makes us go weak in the knees.
Mehndi outfits can be so versatile because this is one event that captures the bright and carefree bride in her element which makes her look exceedingly beautiful. What adds to the aesthetic is the lovely flower jewellery for Mehndi. Not sure how to execute it? Here's a little inspiration.
1. The brightest colours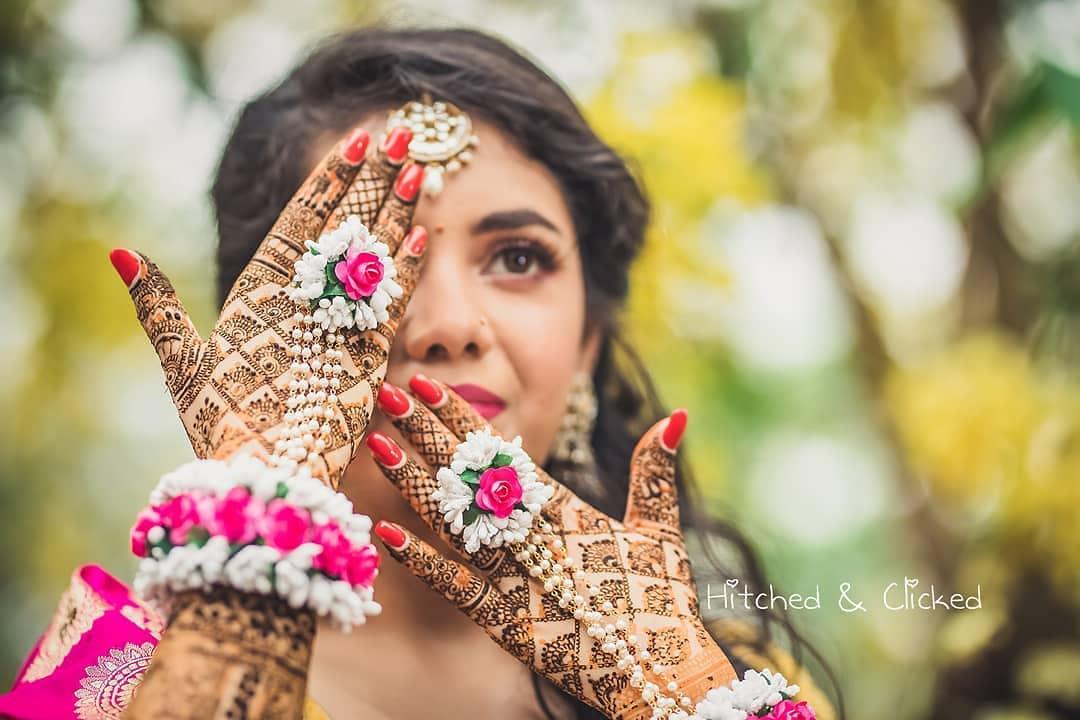 This bride has paired up her saree with pink and white flower jewellery for Mehndi. See the pattern? She has a gone a shade lighter in the same colour spectrums with her outfit and jewellery. There are little green leaves peeping out from her jewellery which is oh so adorable!. Also, she has paired up her Maang Tikka with little pearl details along with her flower jewellery for mehndi aesthetic. The look is really cohesive and satisfying.
2. Yellow with baby's breath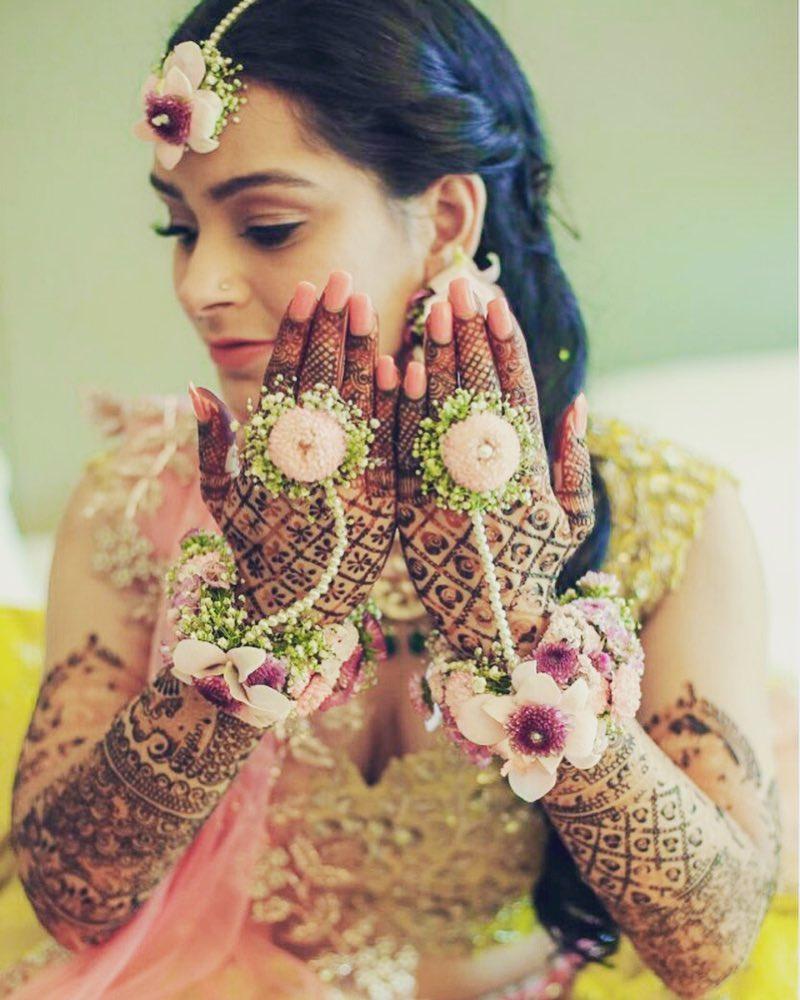 Yellow and pink are an undeniable lovely combo. This brides heavy yellow blouse with a bordered pink net dupatta is a lovely combination. She's gone ahead and also paired her flower jewellery for Mehndi with the dupatta. The eye-catching element though is the baby's breath (the little white flowers). Yes, that's what they are called and are a lovely addition to her simple flower jewellery.
3. The perfect match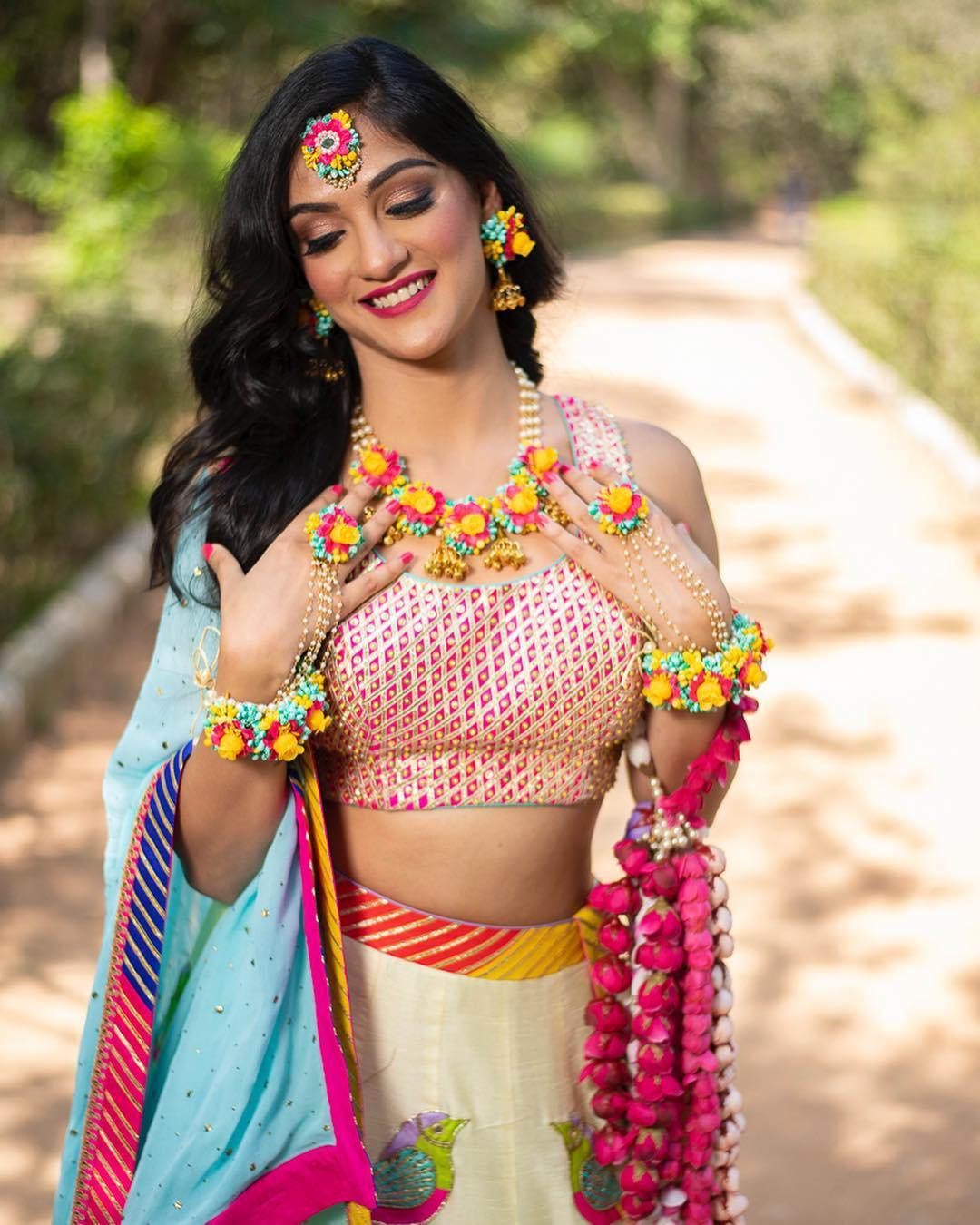 This bride has tried to incorporate nearly all colours of the outfit in her flower jewellery. What she's also done is that she has opted for different colour tones in both. This does a really beautiful job of perfectly matching each other while also adding a bit of contrast. Her ensemble's extremely bright colours make for lovely pictures too! She's lovely, isn't she?
4. Garlands and pearls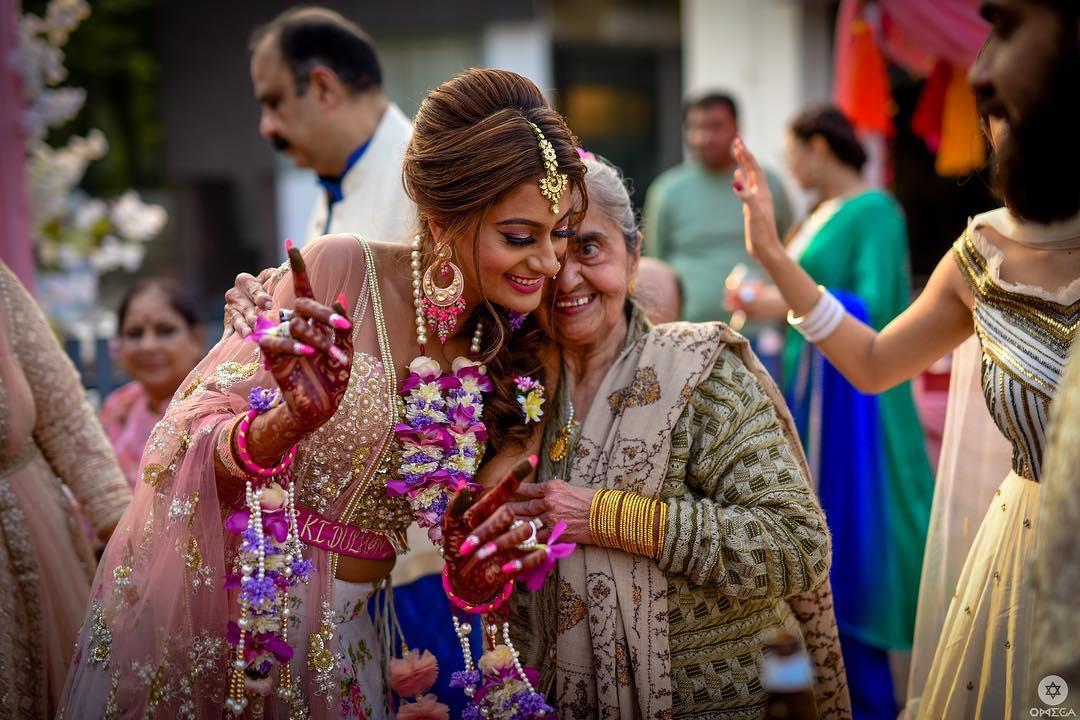 We adore the lovely colours in this bride's flower jewellery for Mehndi. The only colour matching in the outfit and the jewellery is the baby pink but they still complement each other perfectly. The reason for that is an abundance of floral detail in her outfit. Moreover, the bangles with the flower and pearl hangings look really elegant.
5. Flower Kalire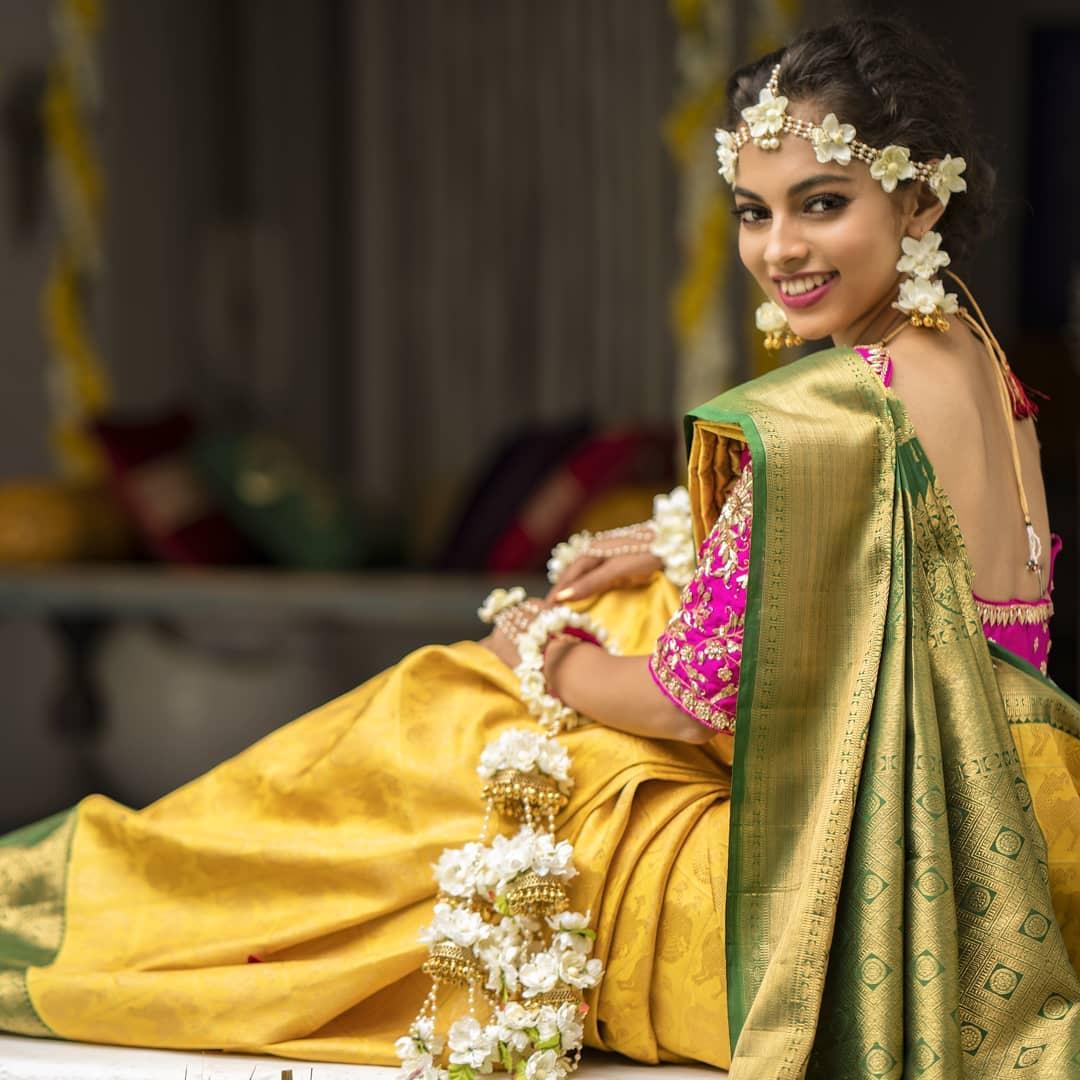 The white flower jewellery for Mehndi against the bride's colourful silk saree is striking to look at. Even the colours of her saree are in contrast with one another and they look captivating together. She's gone for white with such contrasting and bright colours. It's unexpected but it still works so well! It's probably the little gold detailing in the jewellery that matches with the saree and brings the whole look together.
6. Strike a balance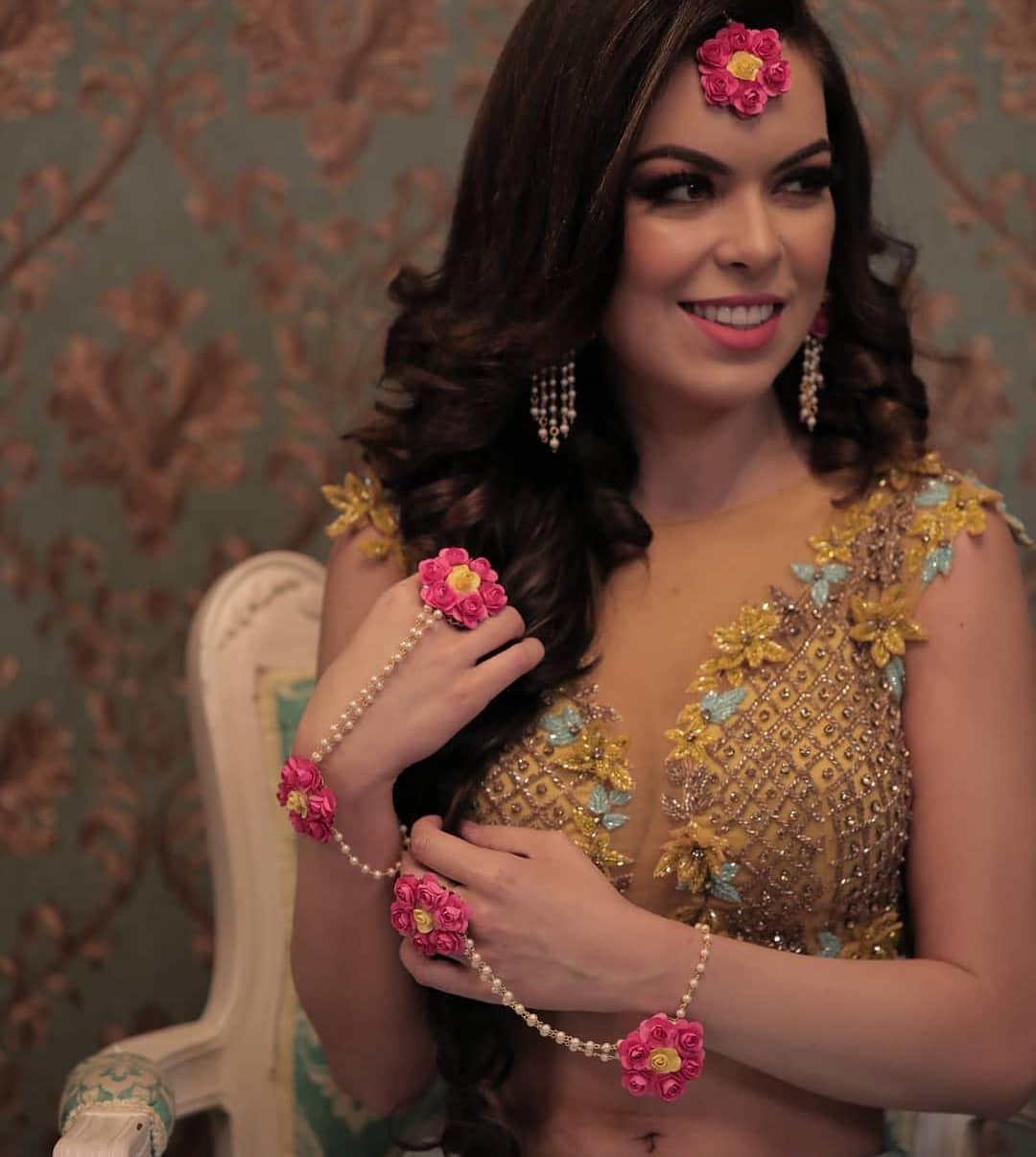 The canary shade heavy work blouse is so beautiful we can't take our eyes off of it. The little turquoise flowers on it add a pop of colour and make it look all the more alluring. It's amazing how she has decided to pair the two colours with deep pink flower jewellery for Mehndi. She's also maintained a perfect balance with a heavy blouse and rather simple and lightweight jewellery to go with it.
7. White And Red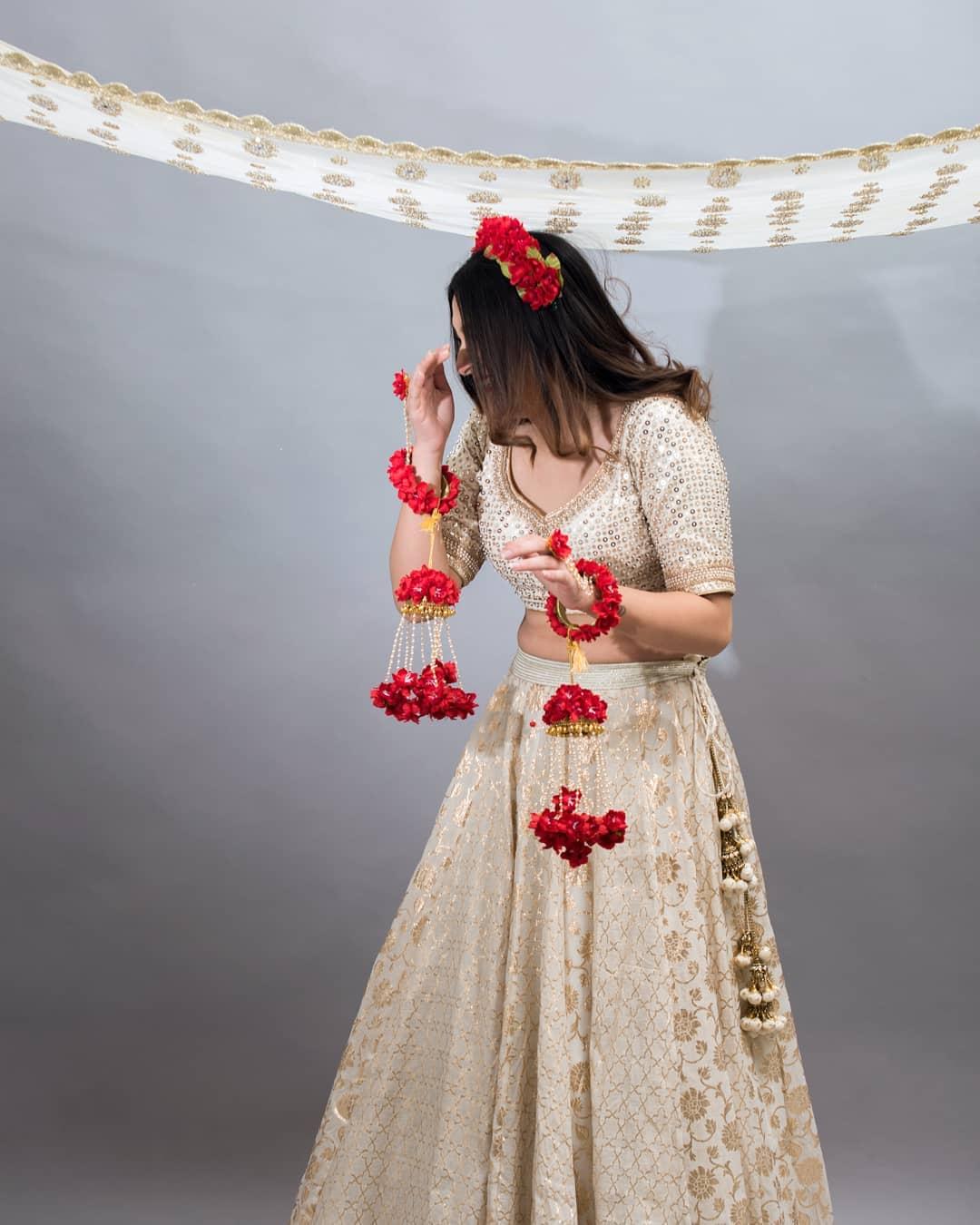 What an undeniable beautiful combo. While Mehndi might all be about the bright shades, white is something that can work anywhere. Especially with the gold work that runs along the length of the lehenga. Pairing this white and gold lehenga ensemble with deep red flower jewellery for Mehndi was a great idea. Little gold Ghunghroos peaking through and the white pearl strings add an element that perfectly matches her outfit. The highlight though has to be her flower headband, adding an element of Frida Kahlo to her look!
8. The Heavy Flower Jewellery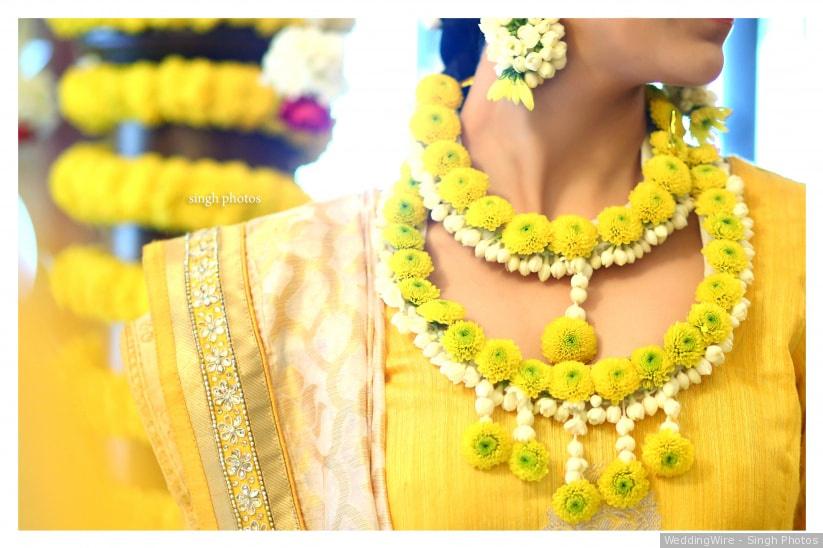 This is so undeniably beautiful and unique from what we usually see. Going for this lovely white and yellow flower jewellery against a similar shade suit looks delightful. Her jewellery is bright and big yet it sits so well with the simplicity of her attire. We're loving the big prominent marigolds woven together with slightly long strings of white flowers.
May this help you find the perfect flower jewellery for Mehndi combo and you look as lovely as always. You do not have to worry about the kind of makeup to go for, your makeup artist would do the magic. Other than that, remember to shine, for it is one of the most carefree and lively events among all the functions. Make sure you pick bright shades because that really is what works for Mehndi. And while you're on it, hope you've already shortlisted your favourite mehndi designs. We hope you have a crazy one!
How do you plan to doll up for your Mehndi?