Beautiful Flower Jewellery for Haldi Options That Will Bring out the Best in You!
Brides wearing colourful flower jewellery has become a trend. With this trend spreading like wildfire, most brides have ditched the mainstream jewels to go for these flower jewellery for Haldi ceremony. Let's have a closer look at them!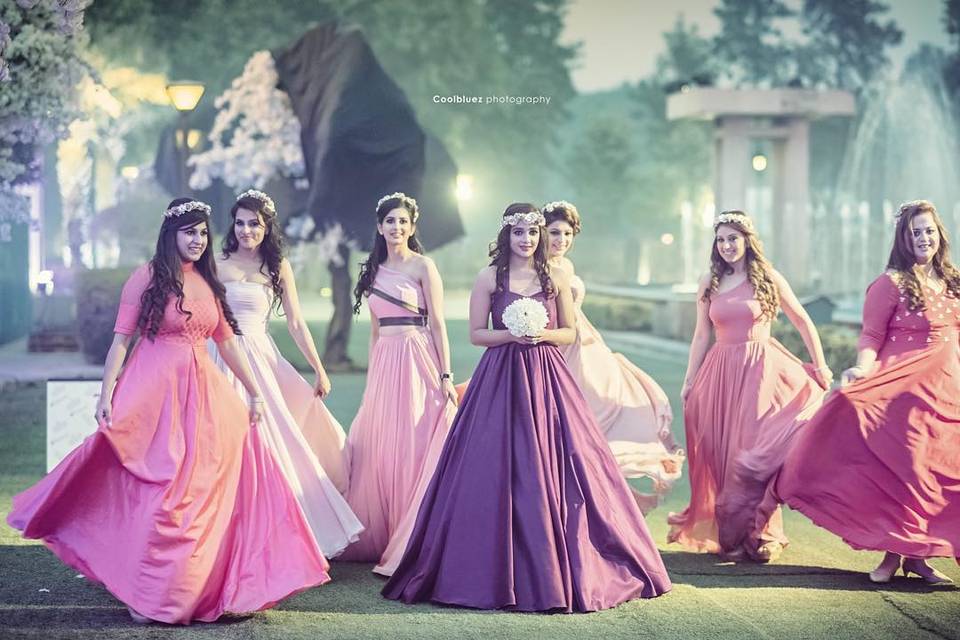 The Haldi ceremony in a wedding is the day when the bride and the groom are applied a turmeric paste that's typically made up of turmeric and any oil. This day is celebrated to purify the wedding couple, getting rid of all the impurities on their skin in an age-old traditional way by applying haldi. Turmeric has many benefits in general, however, when it comes to your skin, it can work as a great astringent, preventing breakouts before your big day.
Usually, the bride doesn't wear her good clothes for the Haldi ceremony, but these days, the trend has changed and in order to ensure they look great irrespective of the ceremony, these brides are wearing flower jewellery for Haldi ceremony. Whether it is finger chains or flower necklaces, these flower jewellery for Haldi have made a name for themselves. The following are a few options you can explore if you want to wear them!
1. Floral Hair Piece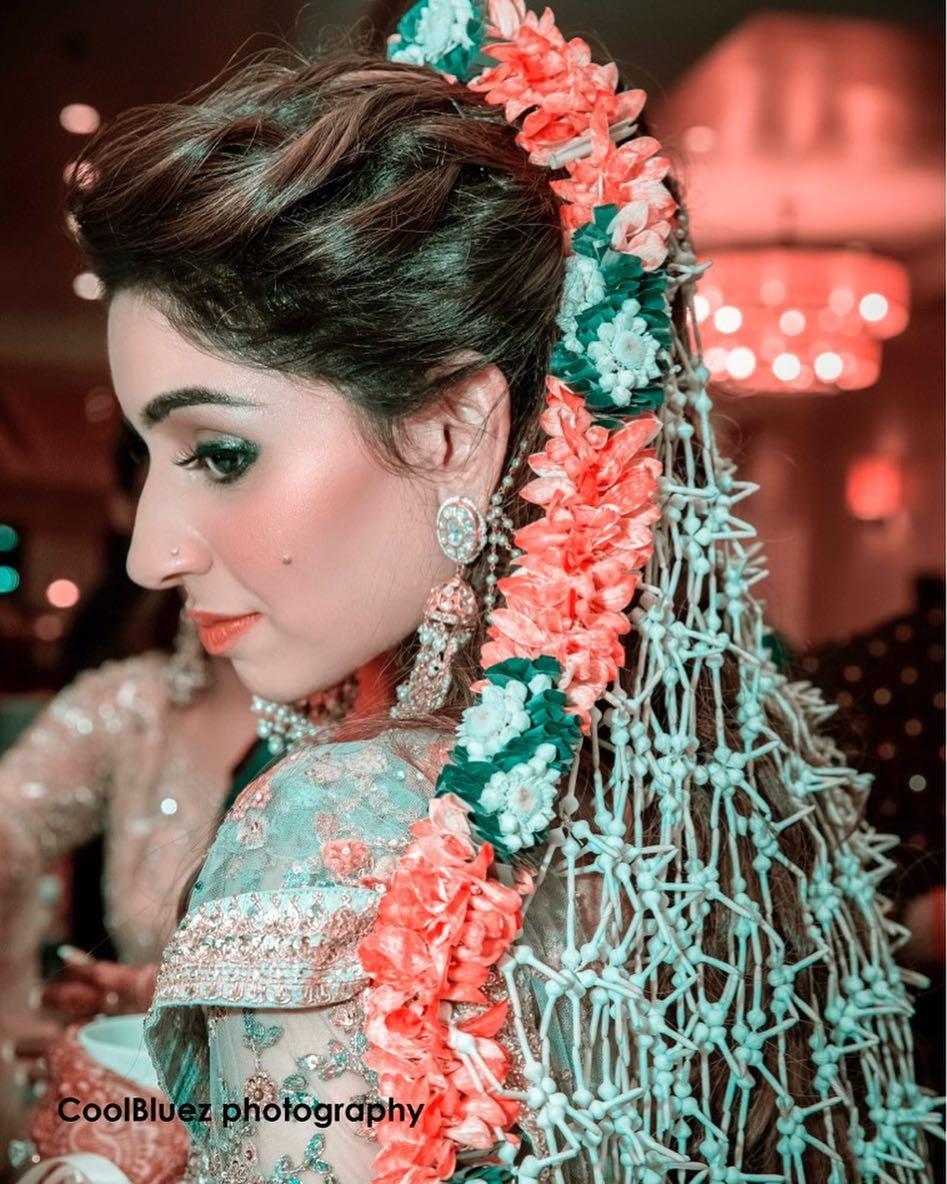 As the Haldi ceremony takes place, you would need to tie up your hair properly and add a beautiful floral hair piece. These hair pieces can be either huge or small, according to your style and needs, and this jewellery can be made up using fresh flowers. As flower jewellery for Haldi ceremony, it will great at great effect as your family applies the turmeric paste on you and its fragrance lingers around.
Apart from being a hairpiece, flower jewellery for hair is also available in the form of a Gajra, made up of flowers like lavender, sunflower, jasmine and more. If you're wearing a braid, the flower jewellery for Haldi can be wrapped around it and if you're wearing a bun, it can be worn over it. There's always a way with a hairpiece!
2. Floral Necklace and Bracelet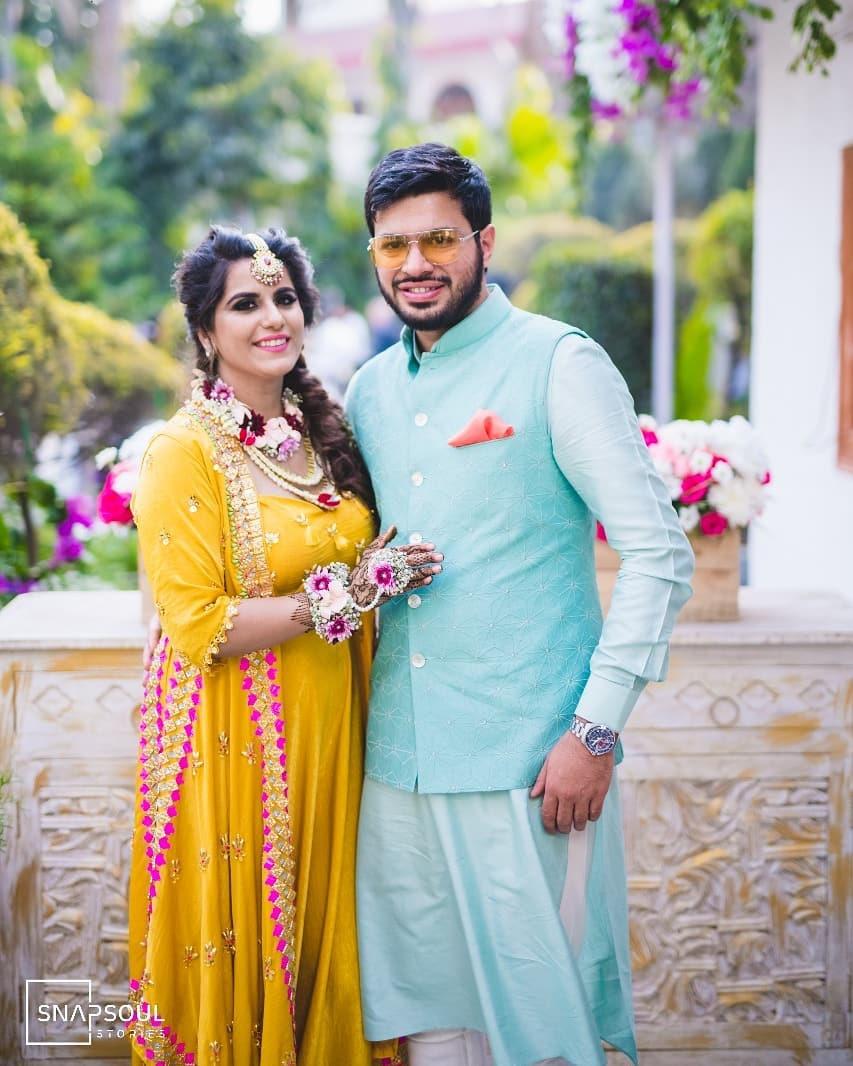 Flower jewellery for Haldi can be highly mesmerising with a garland of fresh flowers in the neck and your hands. Known as the floral necklace and bracelet, these are one of the floral jewellery pieces that don't only look good but also give out an amazing fragrance. With the Haldi ceremony going on, these jewellery pieces will work to give you a charming look with lilies, roses and marigolds taking the place of diamonds and gold. You can wear a short necklace or a longer one, or go for just one bracelet instead of two. There are different ways of donning these flower jewellery for Haldi ceremony.
3. Flower Mang Tikka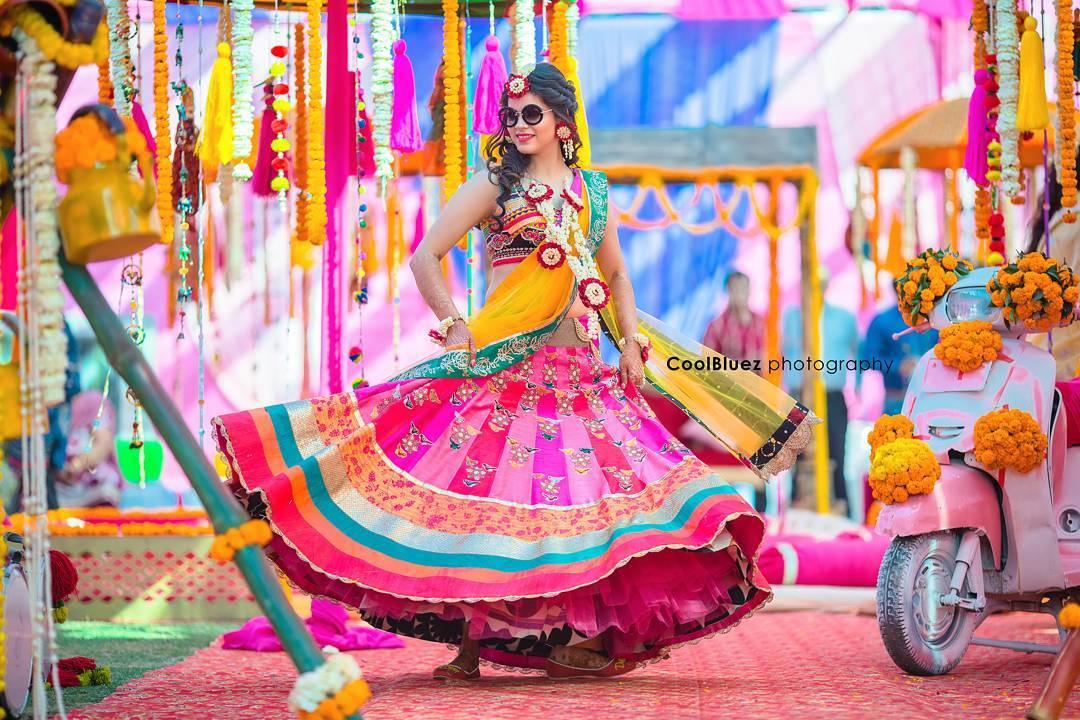 It's quite amusing and interesting to find a girl wearing a floral Mang Tikka these days, especially, when women are inclined towards wearing real jewels. However, floral Mang Tikkas are the perfect flower jewellery for Haldi. Set with pink and yellow flowers on your parting, this type of floral jewellery looks quite delicate when sitting against your hair. You can also don matching floral earrings to make the perfect set. With your family members gelling you up with the haldi paste, you can make one hell of a style statement with this flower jewellery for Haldi ceremony using just one Maang Tikka on your head.
4. Floral Hair Clips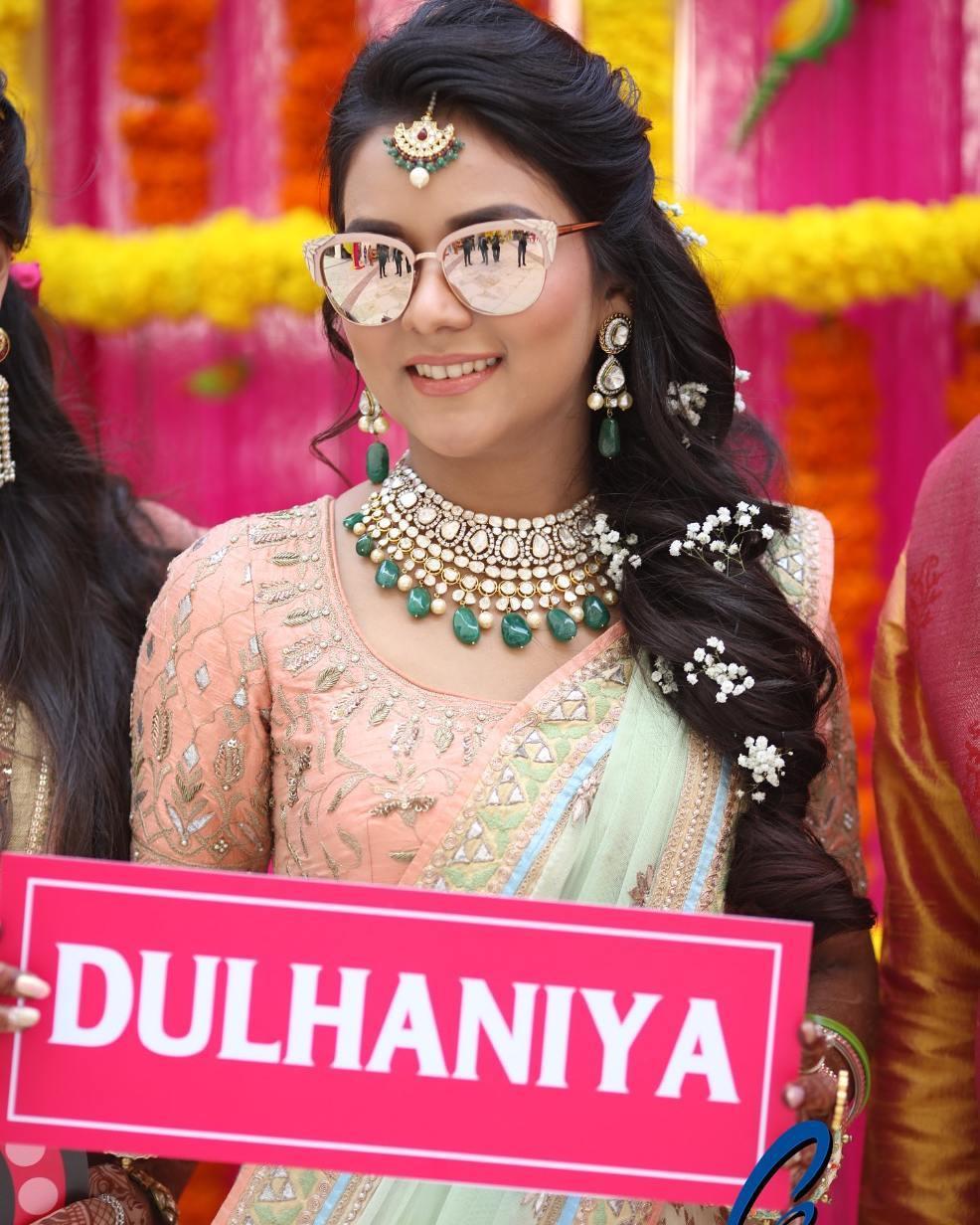 Think of all those hair clips you have used since you were a child. Yes, the ones you used to wear to your school and college! Weren't those so convenient? Floral hair clips are quite different from what you used to wear as a child, though. While you get your hair done by a hairstylist for your Haldi ceremony, you shouldn't be opting for a generic look, should you?
Get a few small floral hair clips to decorate them and make a style statement at your Haldi ceremony. Everyone would be amazed to see your flower jewellery at the Haldi ceremony.
5. Floral Matha Patti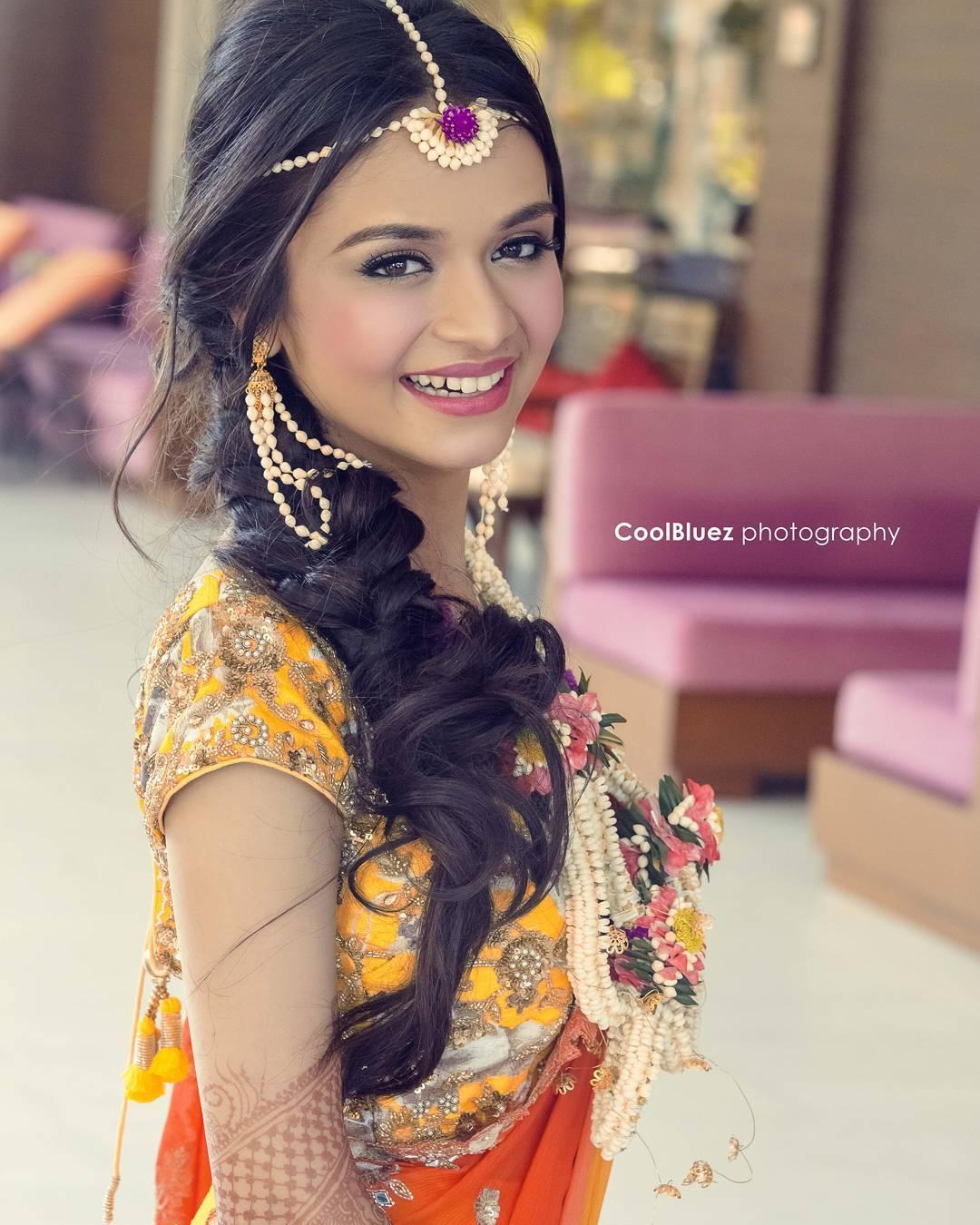 Imagine a delicate floral Matha Patti designed for you to wear during your Haldi ceremony. Such flower jewellery for Haldi would be marvellous and breath-taking. Made up of fresh flowers, the Haldi ceremony would be an auspicious time for the bride as well as her family to wear such accessories. With the bride donning and flaunting her floral Matha Patti, the haldi can be applied on her from head to toe as she happily says goodbye to her bachelorette life. Along with the flower jewellery for Haldi, she can wear other styles of the same at other occasions as well like Mehndi or Sangeet.
Flower jewellery has been a trend in the market for a long time, making it something that all brides must try. Beautiful and colourful garlands for hair, hands, feet and neck have been made to make them look adorable, especially on their Haldi ceremony. If you don't want to go out and buy them, you can always learn how to make flower jewellery at home!
Get in touch with our makeup artists for the perfect Haldi look!