7 Fancy Juda Hair Accessories That Make For A Head-Turning Bride
Planning to wear a fancy juda for your big day? Why not dress up your bridal hairdo with one of these accessories. From fancy bun chains and clips to a traditional Gajra, we have got a list of ideas for you. Take your pick!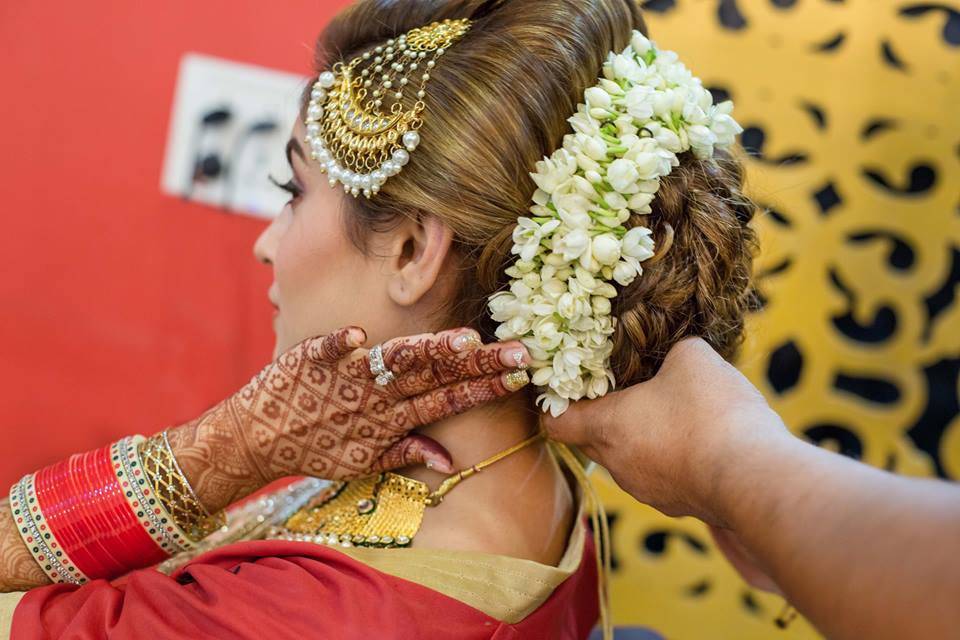 Bun or juda is one of the most popular hairstyles flaunted by brides. Do you know the reason why it's so loved and why every bride goes gaga over it? Well, because with a bun, you can never go wrong. Also, it can be decked up in plenty of different and chic ways using pins, clips, bands and whatnot. The list is endless. So, would not you want to have a look at some of the hair accessories for a fancy juda? Look and get inspired! From bridal buns to curly hairstyles - check them all!
1. Bun Chains
Bun chains are one of the most beautiful bun accessories to be used for decorating Judas. Gone are the days when you would just use a simple chain. Nowadays, designer bun chains are used to glorify a juda. For a fancy juda, brides can wear pearl strings. Bun chains also come with stone studding along with big metallic pendants that are usually pinned up at the centre of the bun.
2. Funky Hair Clips for Fancy Juda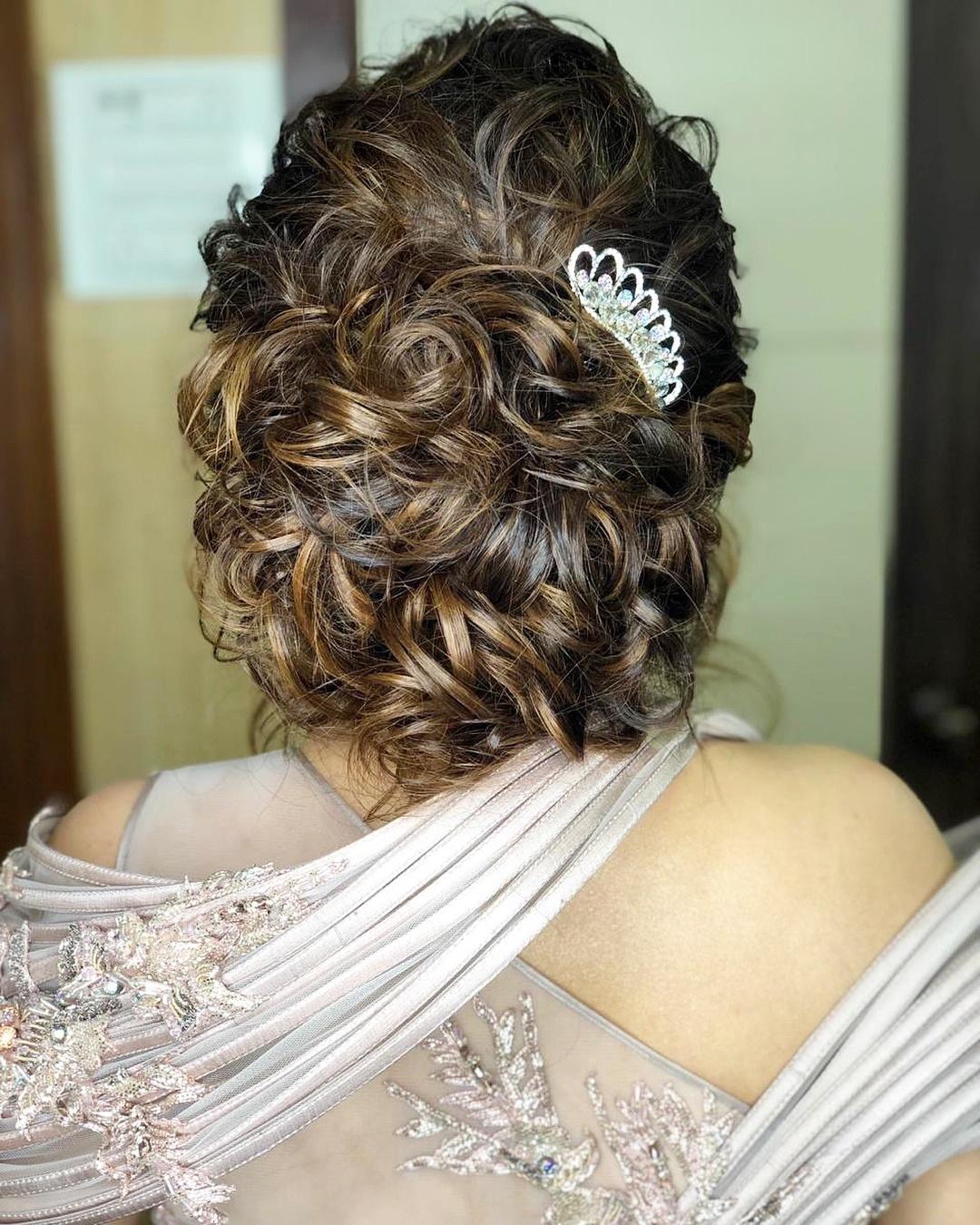 Indian brides are not shying away from using hair clips that look over the top. Hair clips go well with traditional Indian lehenga as well as Indo-western gowns. You can choose a clip with myriad designs like flowers and celestial bodies like the moon and stars.
3. Baby's Breath
Baby's breath hair accessories lend a serene look to your bridal persona. Indian brides are going all the way picking their favourite baby's breath hair ornaments like never before. These ornaments lend an aesthetic appeal. Either, use real baby's breath stings for decking up the outline of your bun, or else, go for baby's breath hairpins.
4. Gajra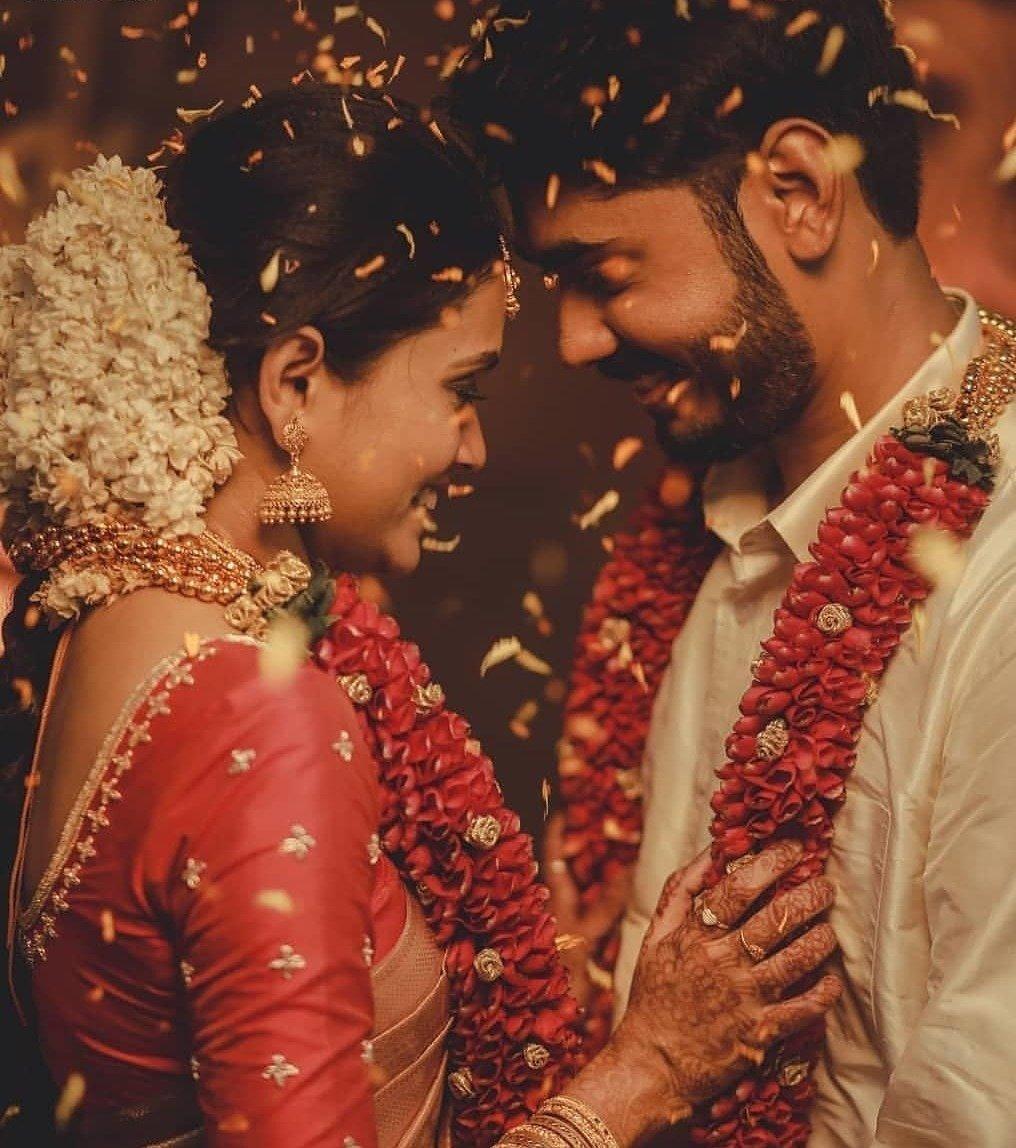 Image Courtesy: Moon Wed Lock
No Indian bride can say no to a Gajra garland for her traditional bun. This is the appeal of Gajra or jasmine. From simple gajra strings to bouquet style, brides are flaunting this sweet-smelling flower in many creative ways. If you are wearing a low juda, create a small Gajra bouquet to deck it up, or, wear a massive bun, and dress it up fully with a Gajra.
5. Fancy Juda Brooch
For an extra bit of dazzle, use hair brooches for your fancy juda. These suit every bride and come in various designs like corsage and clip. For a whole new spin to your bridal look, wear a corsage hair brooch crafted with silver and crystal. For a more traditional appeal, wear a brooch with Kundan.
6. Real Flowers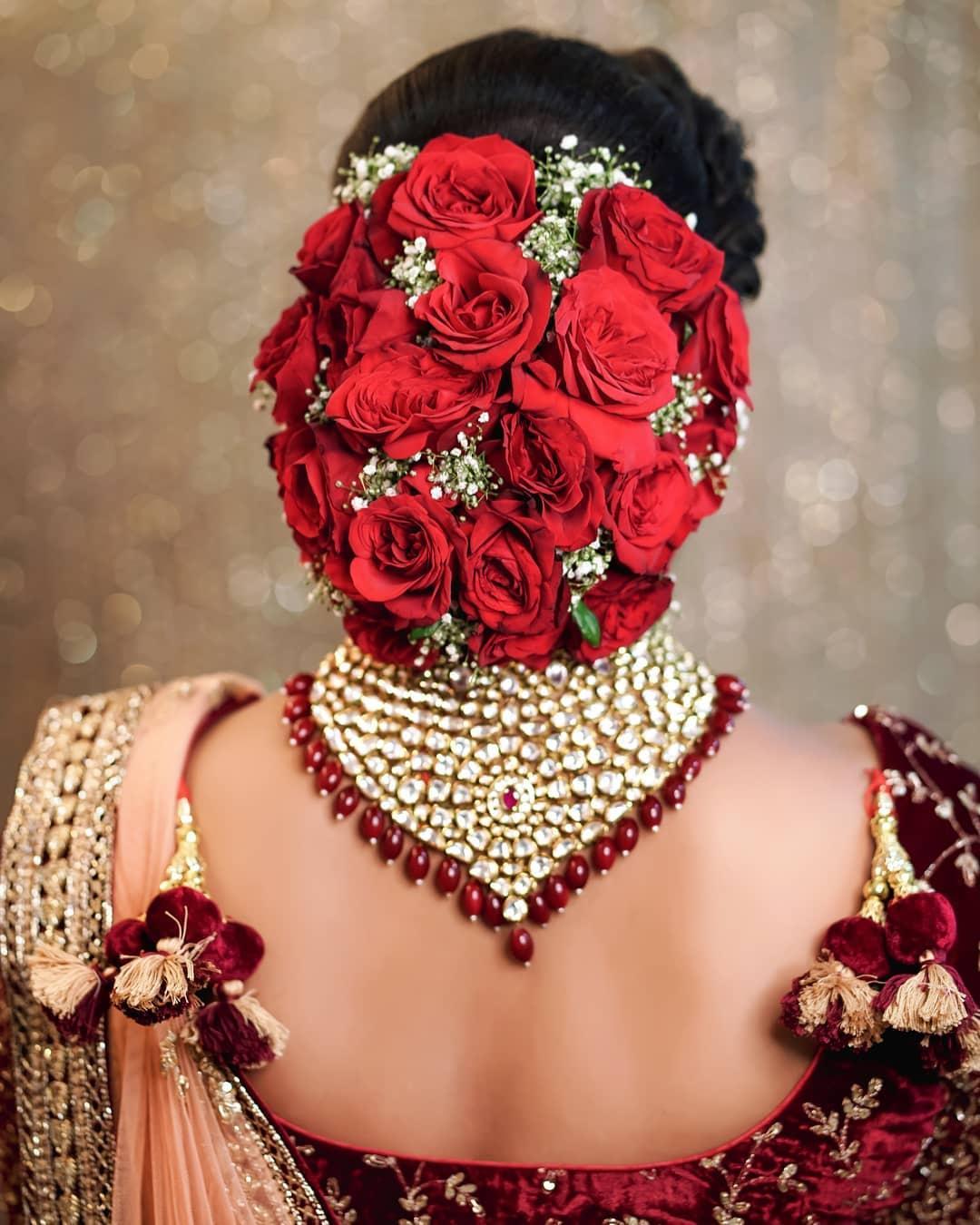 Image Courtesy: Aanal Savaliya
Can anything ever compete with real fresh flowers when it comes to hair accessories? Well, no. Real flowers have a magical effect and when worn on hair, have the power to add oomph. Why not try a rose bun where you dress up the whole juda with red roses? Or, how about going all white and pink?
7. Bobby Pins
Are you going to wear a bun on your wedding day, and looking for glam ways to decorate it? Well, try bobby pins that will add oodles of charm and class to your bridal look. Pick juda pins that come with floral petals for a feminine look. Or, choose one with tinkling Ghungroos or bells. Kundan juda pins too look classy.
Using jewellery for bun accessories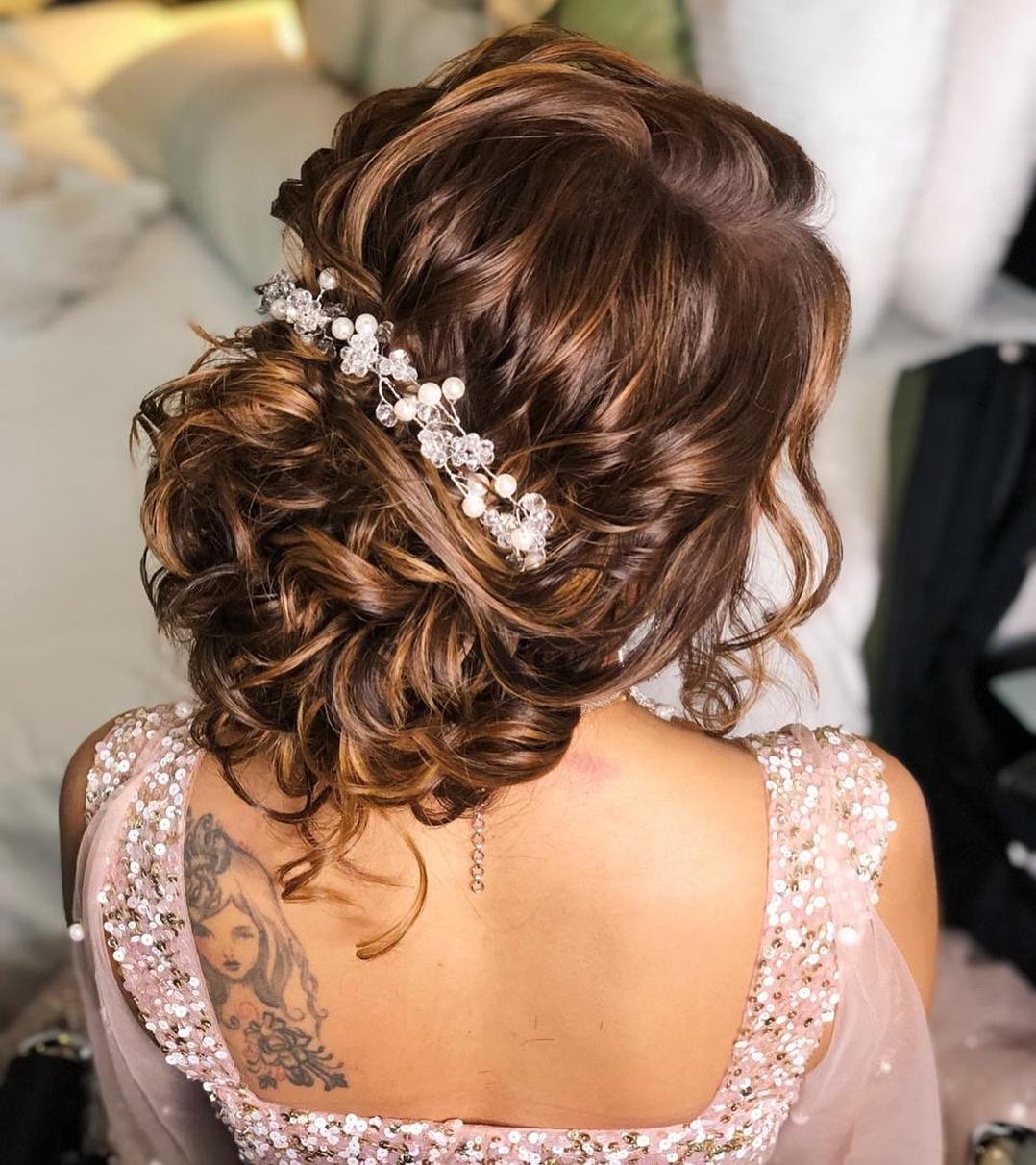 There are no hard and fast rules to dress up your bridal hair. If you are planning to have a fancy juda on your wedding day, then, you have many alternatives other than using the stereotypical pins and barrettes. Your jewellery pieces too can be put to good use for this purpose. Pick your golden Passa or Jhoomer and wear it in the middle of your bun. Alternatively, dress your juda with a gorgeous pearl earring!
1. Using Headbands and crowns for fancy juda
Want to give a twist to your bun? Well, try dressing it up with a stone studded band with golden floral motifs! Bands and crowns are a new age bridal hair accessories and look chic. For a diva like look, dress the upper portion of your bun with a heavy stone studded hair crown.
2. Dramatic studded pins for fancy juda
Add loads of drama to your bridal fancy juda with elaborately designed and studded pins. For a huge bun, you may dress its border or outline with gigantic stone studded pins. If you want to look ethereal, pick pins with pearls and stones. For a simple look, pick a 3D floral pin.
Aren't all these fancy juda hair accessories simply out of this world? These hair ornaments suit every bride and are perfect for every wedding occasion. Just make sure to hire a professional hairstylist for a flawless look!
If you had to choose, which ones would you add to your own hairdo? Let us know in the comments below.