7 Spectacular Engagement Themes for an Inspiring Event and Tips on How to Get Them Right
Themes are quite "In" whenever it comes to any wedding event. You've read all about the exciting Indian wedding themes so far. So, how about we give you some fresh ideas on engagement themes this time. Intrigued? Keep reading!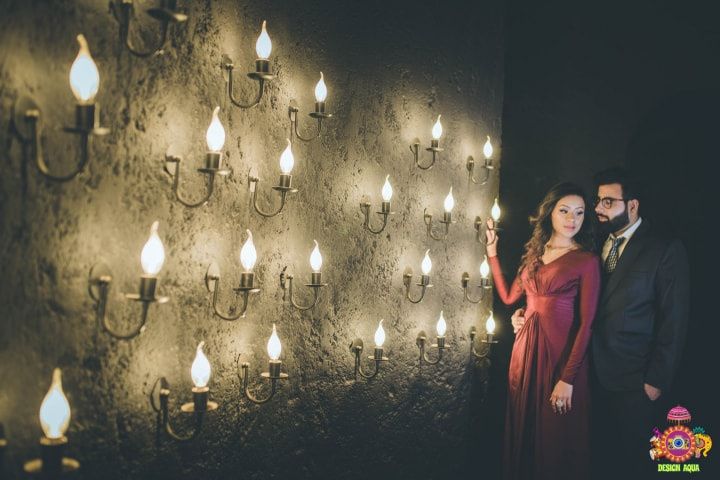 The best thing about planning a ring ceremony is, it's not as huge a task as the wedding, but you can have a little bit of the fun from every other wedding and pre-wedding event. Shopping for the engagement dress, choosing romantic songs for your first dance and deciding a theme…being the first big celebration of your journey, things are exciting and fun while planning an engagement. So, what if we make this whole process a bit more thrilling?
Read on to know some brilliant engagement themes you can go for and choose all your Sagai elements accordingly!
1. Rustic Theme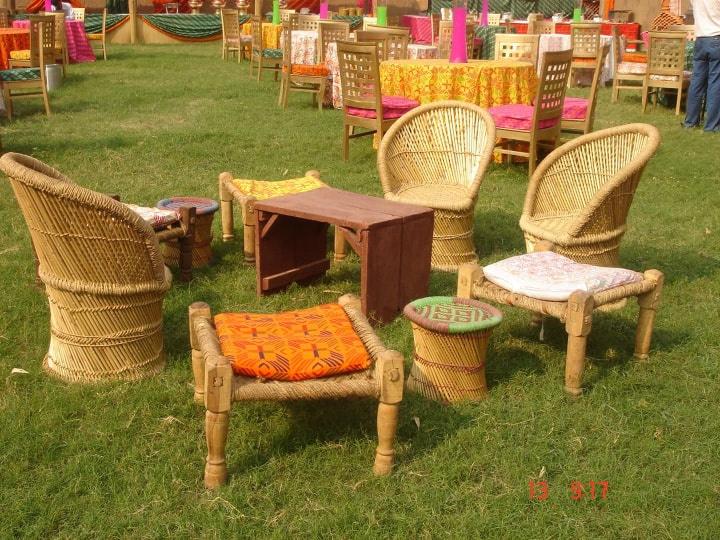 Get in touch with your roots and give your whole engagement function some rustic vibes. Being one of the most loved engagement themes, having a rustic or a rural theme would definitely add some character to the function. Go for a village themed venue with mud huts and haystack as a part of your décor. Here are the ways to implement the theme.
Décor: Bamboo or cane furniture, jute mats and rugs, lanterns, dupatta drapes and earthen pots as a part of the decoration. Put some Hookahs and hand painted wooden chimes to add to the flavour.
Outfits: Bride- Lancha or Chaniya choli, Patiala salwar with Bandhani dupatta, Kohlapuri Juttis. Go with oxidised jewellery, designer or terracotta jewellery matching with the theme. Groom- Dhoti-kurta, kurta-pyjama with jacket, Juttis.
Take help from: Wedding Lights Events (Delhi), The Big Kreation Entertainment (Mumbai), The Purplerings (Bangalore), The Silvers and Event Management (Kolkata).
2. Fairy Tale Theme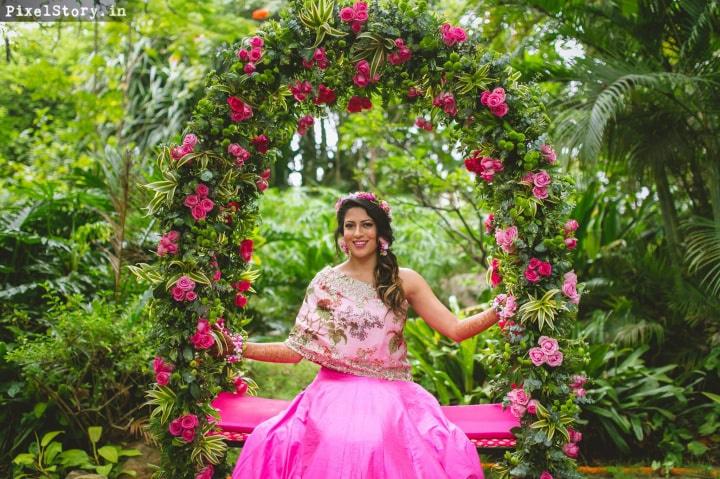 One of the brides' favourite engagement themes is the fairy tale. And if you too a girl with a princess fantasy, this is your chance! Floral swings, ruffled pink gowns, tiaras and chandeliers…go all the way and live your own fairy tale.
Décor: Floral hangings, chandeliers, ponds with swans, petals Rangoli, drapes with mirrors and lights.
Outfits: Bride- Pastel coloured gowns, floral tiara, diamond or stone jewellery and silver heels. You can also go for contrasting footwear and accessories.Groom- Dark suit or a tuxedo with matching footwear.
Take help from: Elysian weddings (Delhi), Ruia Decorators(Mumbai), Bridal Blush Samantha (Bangalore), Global Bridge events and Promotions (Kolkata).
3. Garden or Forest Theme

Birds chirping, cascading creeks and overdose of chlorophyll all around you- if that's how you want your ring ceremony to look like, Jungle is your engagement theme! Get engaged right on nature's lap with apt décor and outfits to go with.
Décor: Floral Rangoli, fern and leaf streamers, artificial waterfall, wooden chairs and benches, logs as tables, bonfire, hanging lanterns from the trees.
Outfits: Bride- Olive or bottle green lehenga or kurti with skirt/lancha; brown, beige or chocolate footwear, rustic artificial jewelleryGroom- Indo-western outfits, forest green Kurta with pyjama, white shirt with dark trousers.
Take help from: Utsav Creations (Kolkata), Mpire Events(Mumbai), Katha Weddings(Bangalore), Rivaah(Delhi).
4. Cabaret Theme

Jazz, cocktails, retro outfits…rock the night with one of the grooviest engagement themes- Cabaret! Talk to your DJ to put on some of the 70s-80s classic numbers, dim the lights and simply recreate that Moulin Rouge ambience on your engagement.
Décor: Disco lights, glimmering bulbs, red flowers and satin or velvet drapes.
Outfits: Bride- A scintillating gown in red, maroon or black, stone jewellery, black or maroon stilettoes. Groom- Dark suit without a tie, pocket square, matching accessories.
Take help from: Cavalry, The Lounge (Mumbai), Blue Frog (Bangalore), The Quantum Lounge (Kolkata), 1-Oak(Delhi).
5. Eco-Friendly Theme

One of the engagement themes that a lot of millennial couples are going for these days is the "go green" theme. If you want to give something back to mother nature while you celebrate your big event, this one is for you. Think earthen lamps, paper flowers and an absolutely 'No Plastic' engagement ceremony.
Décor: Paper flower, twig and fern streamers, dupatta and bangle decorations instead of lights and bulbs, painted Rangoli.
Outfits: Bride- You can go for cotton printed lancha or skirt with a top or khadi silk or handloom saree with terracotta or oxidised jewellery. Groom- Khadi kurta-pajama with jacket and brown Juttis.
Take help from: Sheetal Bardeja(Delhi), Party Insects(Mumbai), Experiential weddings by Mapsor (Jaipur), Designing Vows (Bangalore).
6. Bollywood Theme

And now, one of the most popular engagement themes of India-Bollywood! Because, who in our country doesn't love Bollywood? Put up your favourite movies' and actors' posters and ask your guests to dress up as some popular Bollywood movie costumes. Let the fun with your ring ceremony begin at the B-town! Also, don't forget to keep all the pop Bollywood songs across the decades as your engagement music!
Décor: Film stars' posters and cutouts, mock sets of popular movies, swings, pianos and other famous props that are used in Bollywood.
Outfits: Both the bride and groom can choose any of their favourite film characters and dress up like them. (Hint: Devdas and Paro!)
Take help from: Navkriti Creation (Mumbai), Sambhrama Wedding Planners (Bangalore), Reckon Wedding Services (Delhi), Zodiac Entertainment (Kolkata).
7. Royal Theme

How about adding some dose of regal to your engagement? One of the engagement themes that truly makes you feel like a king and a queen for the day is the royal theme. Send out your invitation scrolls and serve drinks in Shahi Surai . Get royal on your special day! Add some scrumptious Kebabs, Biryani, Shahi Tukda among the Nawabi cuisine to your menu for a complete royal experience.
Décor: Huge chandeliers, floral curtains and flower carpets, floral drapes, silk drapes with mirrors, floating candles in large brass pots and flower petals on the aisle.
Outfits: Bride- heavily embroidered lehenga or sharara or silk saree , golden or Kundan jewellery. Groom- Bandhgala, sherwani or dhoti-kurta, a sword and a pearl necklace.
Take help from: Mayfair Banquets (Mumbai), Taj Falaknama Palace (Hyderabad), The Stellar Gymkhana (NCR), Hotel Arya International (Kolkata).
Coordinate with your designers, stylists , florists, decorator and venue vendor while choosing the engagement themes. Have a clear conversation on the availability of all the elements needed. If you have anything particular in mind regarding the guest dresses to go with the theme, do convey that to the guests. You can also organise your food menu as per your theme. If you're having a Green theme, you can ask your guests to donate to an NGO instead of giving gifts. Discuss with your wedding planner about the options and possibilities to implement a spectacular theme for your engagement party.
If you are looking for amazing venues to go with your engagement theme, take a look at our vendor's list.