Embroidery Suits: The Only Thing You Need This Wedding Season!
Embroidery Suits have made it to the wedding industry and are a total fad. Here we have some alluring Embroidery Suits with style tip for you to consider!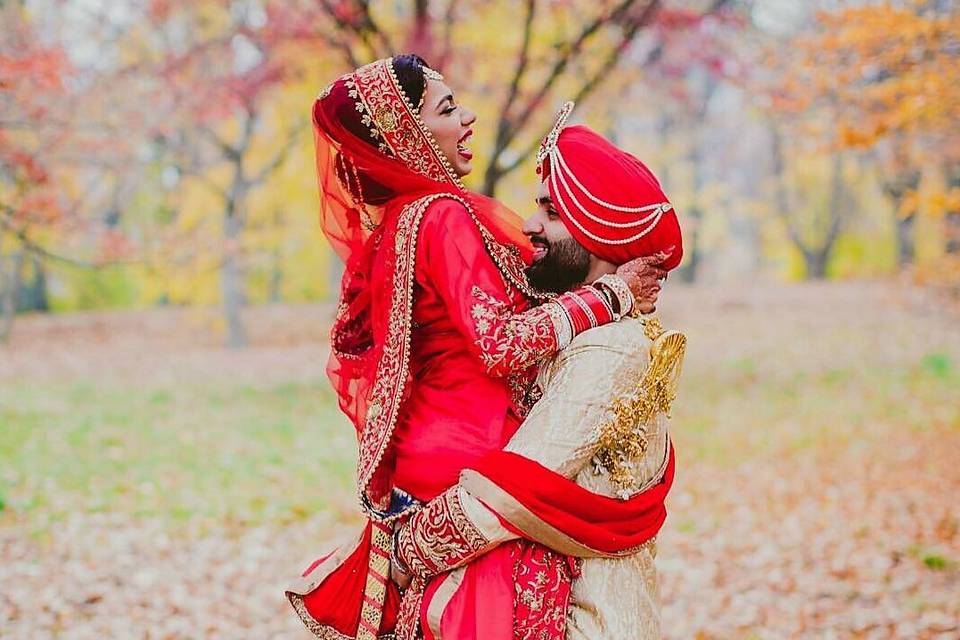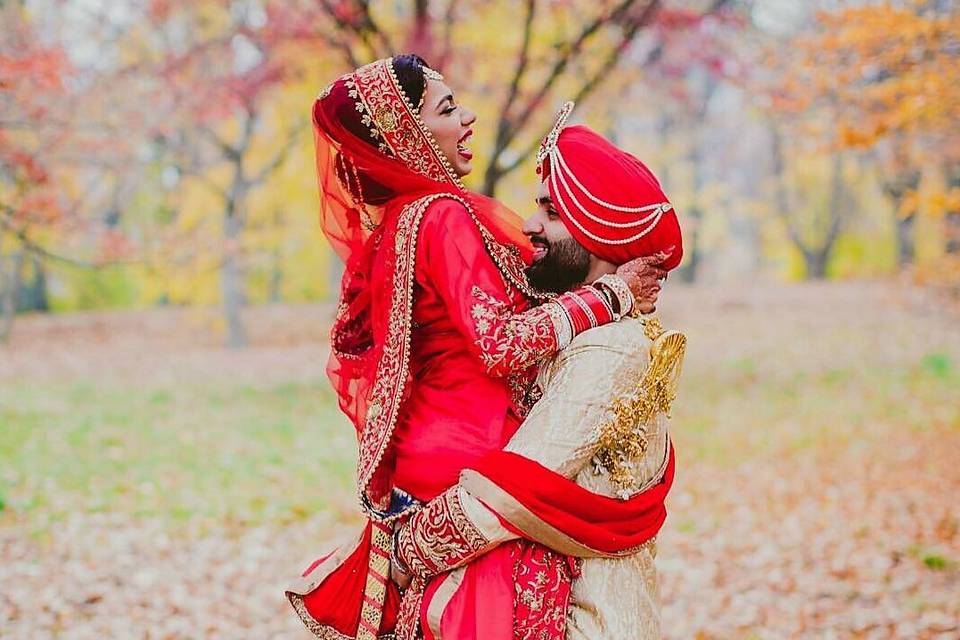 Image Courtesy: Har Kiran Basra's Instagram
A plethora of stitches and specific designs put together can make or break your suit. Decorating fabrics with abstract designs and motifs with a thread and needle can result in intricate embroidery designs. The sewing is carried out along with adding adornments such as mirrors, metal strips, beads & pearls on the foundation fabric. Talking about Indian embroidery, the famous of all is the Aari work.
Another one on the list is the Kashida embroidery from Kashmir, comprising of local symbols like Cherry Plum, Lilly and Apple blossoms. Embroidery on suits can be varied, which means that embroidery suits can be either worn as a casual or a formal outfit. It is a must to have at least one salwar suit design or a Kurti which has hints of embroidery on it!
This wedding season, take your pick off the following options that we've curated just for you:
1. Vibrant Red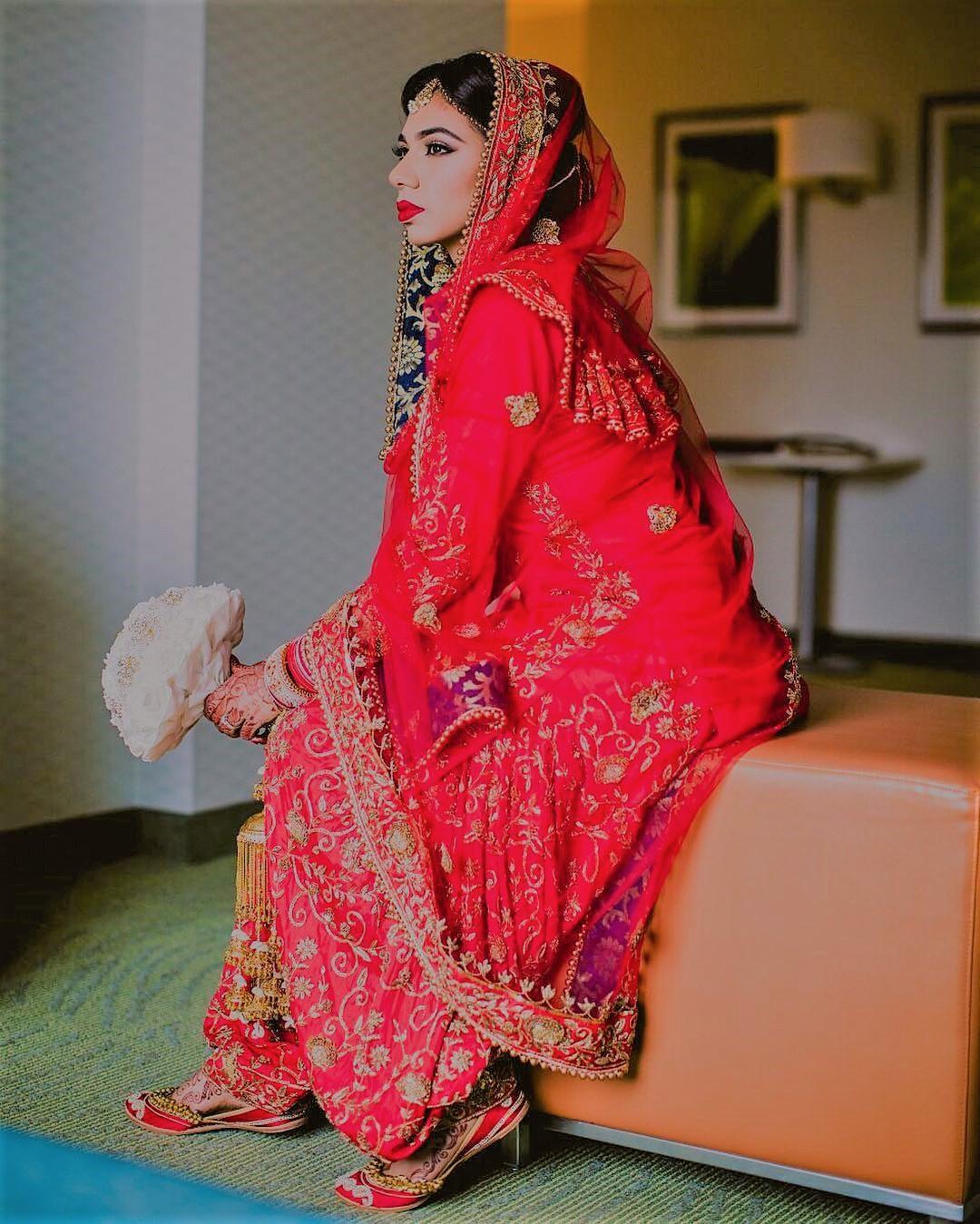 Image Courtesy: Har Kiran Basra's Instagram
Red is the colour for your big day, but what is a suit without embroidery on it? The intricate Delden embroidery on red fabric looks great. You can choose to keep the Kurti simple and instead, on the other hand, you keep the salwar heavy with golden thread embroidery.
Put a Maang Tikka on and there you go, elegant and effortless beauty. Such embroidery suits are a classic and you've definitely got to get one!
2. Jacket Goals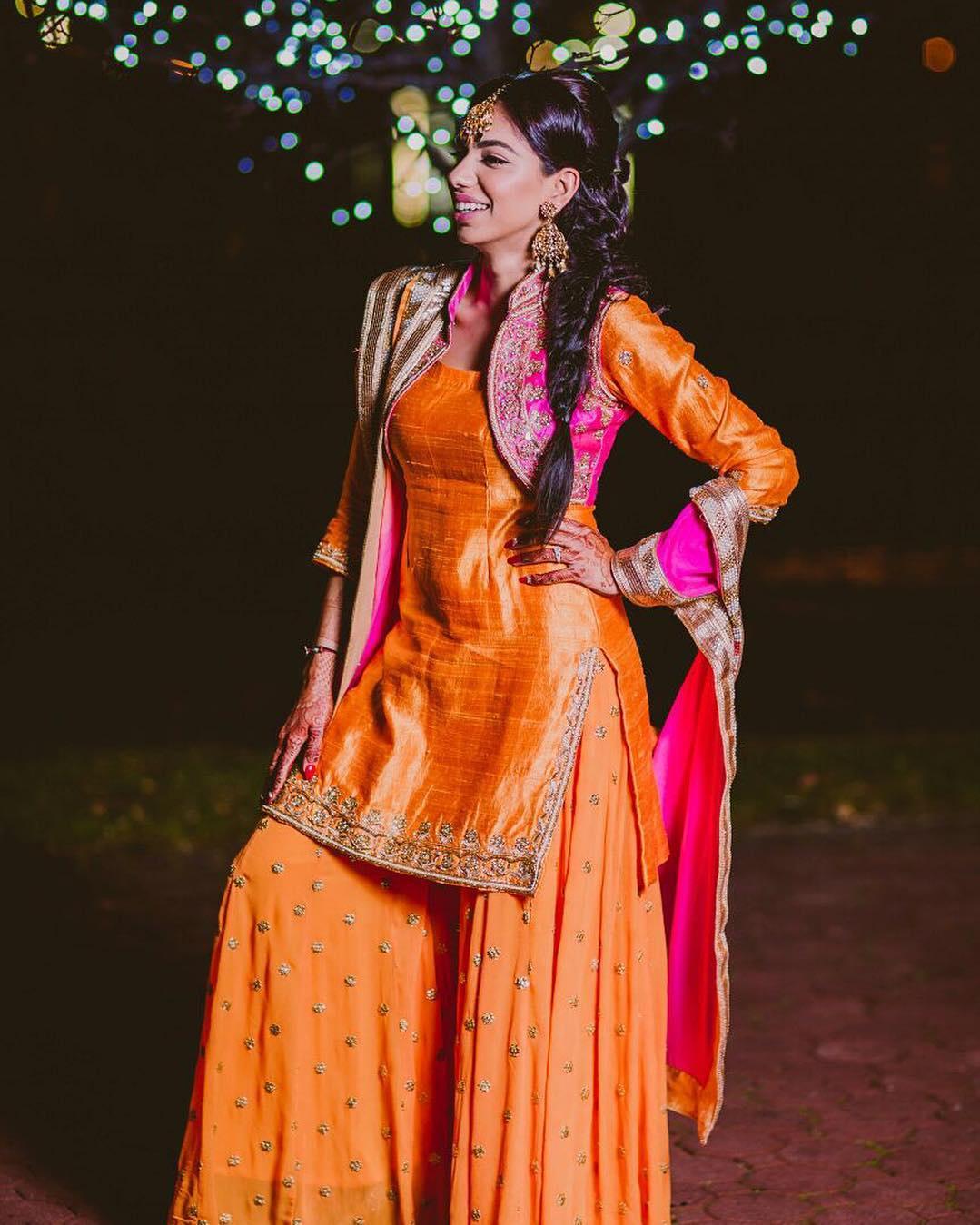 Image Courtesy: Har Kiran Basra's Instagram
Want to look different but are too confused to put together a unique look? Throw a jacket full of embroidery over a plain Kurti! In a world that is filled with common looks, it's time to be a little different! Giving us some chic feels, this one jacket can flip the entire look.
Get a fabric with unique embroidery embellishments and attach a Dori on the back. You should also carry a small clutch bag to complement gorgeous embroidery suits such as this one.
Here's a style tip, pair that statement jacket with a Garara that has Mukaish work on it!
3. Old World Charm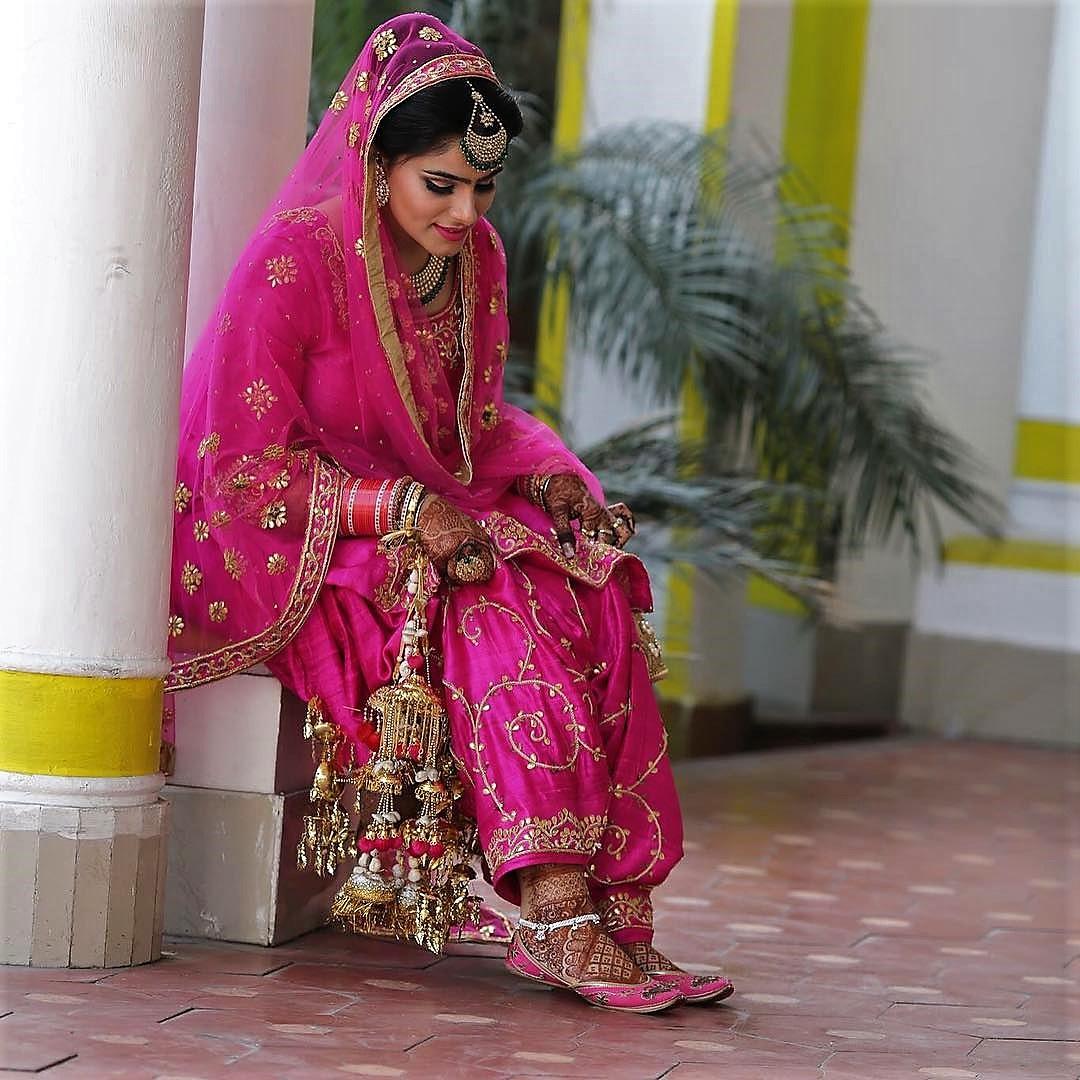 Image Courtesy: Har Kiran Basra's Instagram
If you are on a budget, this has to be your thing. For this kind of embroidery, pure silk fabric is the perfect base. Craftsmen take days or even months to create such types of embroidery suits. Pairing this Pink embroidery suit with a Punjabi Jutti can give us some major beauty and trendsetting goals.
This suit gives you a chance to pick any colour jewellery. However, we'd recommend that you go with a heavy Polki set.
4. Beauticious Powder Blue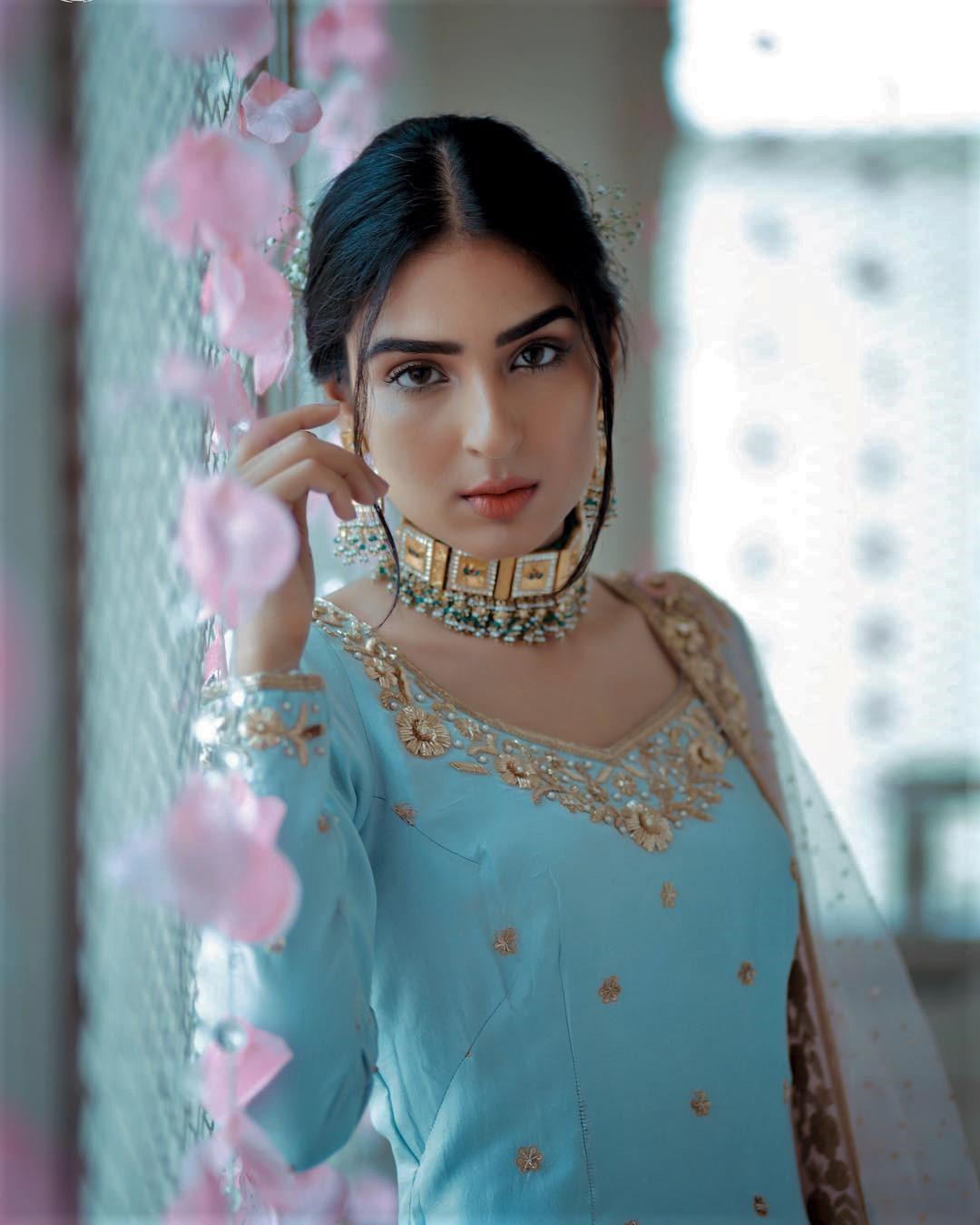 Image Courtesy: Har Kiran Basra's Instagram
If you are a wedding guest or amongst the main wedding ladies, deck- yourself up in this Golden and blue graceful suit. A combination of pastel blue and golden is absolutely picture perfect.
Pull off the look with an antique Choker and danglers. Keep simple by adding some fresh Gypsy flowers on the hair. What a stunner she looks!
5. The Majestic Pink Anarkali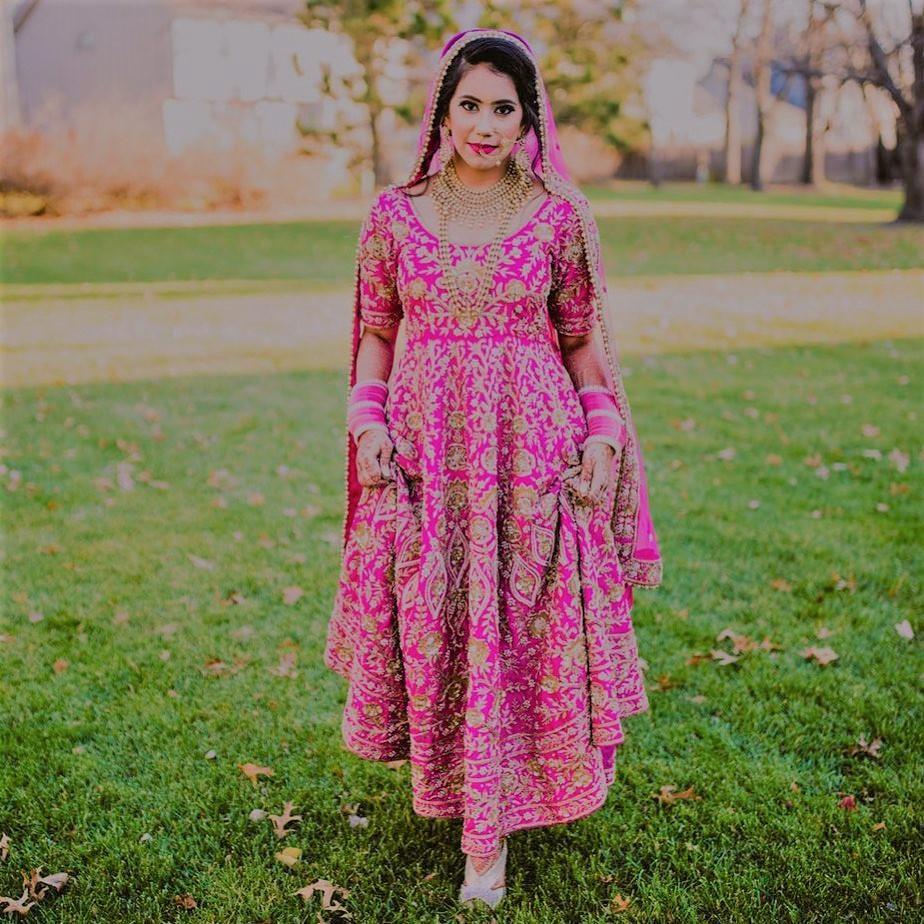 Image Courtesy: Har Kiran Basra's Instagram
This piece has the right amount of bling! Twirl away in that hand embroidered suit like a fairy on your big day. This dark Pink Anarkali suit with Kantha embroidery will definitely make you look like the belle of the ball.
Make sure your Anakali has a Yok filled with embroidery. The radiant finishing of Kantha work is one of the most renowned forms of embroidery pan India. As a bride, you can wear double layer Gold necklace with a big gold Nath.
6. Luscious Sequins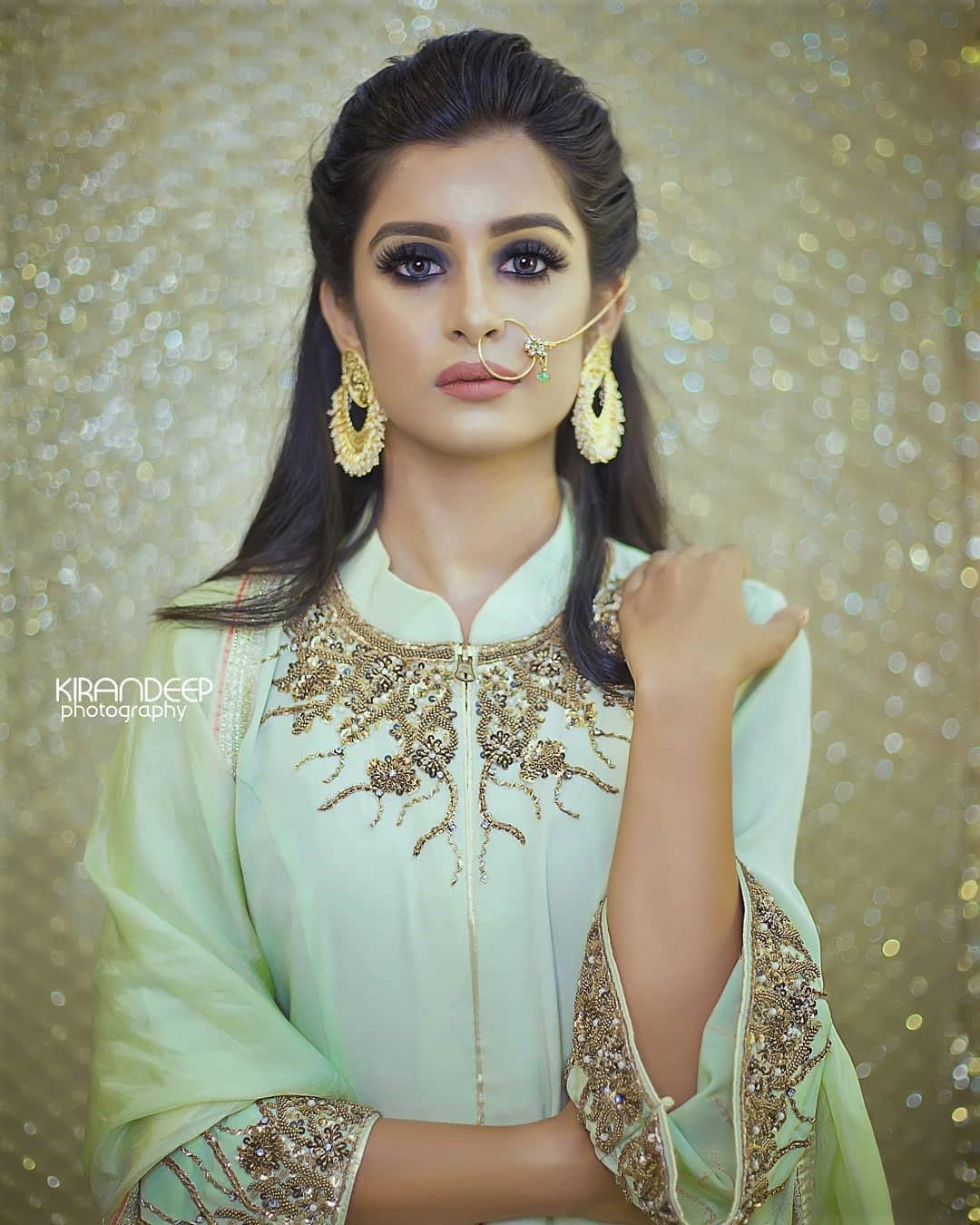 Been crazy about sequins? It's time to dazzle everyone with embroidery suits that have golden sequins. Keep it simple and classy with a plain white colour fabric with heavy sequins embroidery, especially on the neckline and at the rim of the sleeves. Don't you think an amalgamation of sequins, Zardosi and hints of emerald stones laid out on a pearl White fabric would look stunning?
7. Dupatta Goals
You too can set some dupatta goals with your embroidery suits. Though this may sound like a pain, it's time to go hit the fashion streets and fetch some top-notch tailors.
If you are a fashion freak and wish to experiment a little with that dupatta of yours, you are free to add embroidery to hems of your dupatta and create a unique take on embroidery suits. 3-D hand embroidery is in vogue. Get your hands on it.
8. Orange is the new Black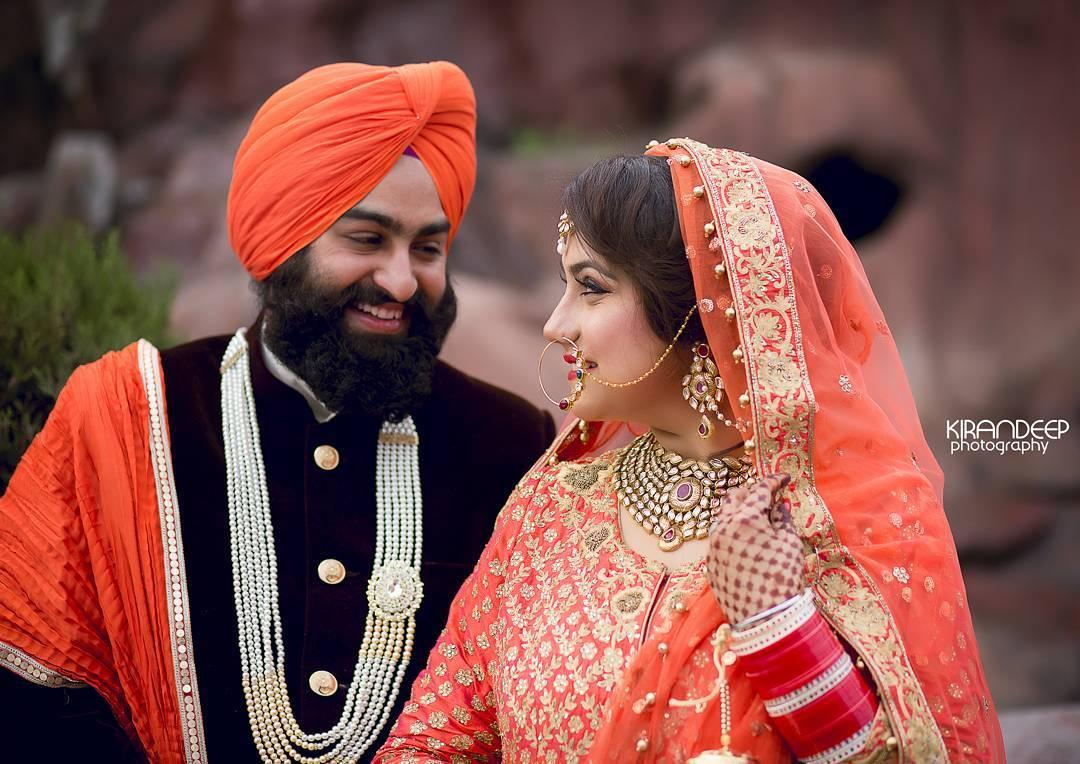 Orange is definitely a great colour to sport. How stunning does this Sikh bride look in a Gota Patti embroidered suit? Gota Patti work looks lovely when scattered across the suit. Such embroidery suits can never truly go out of fashion.
9. Gulabi Queen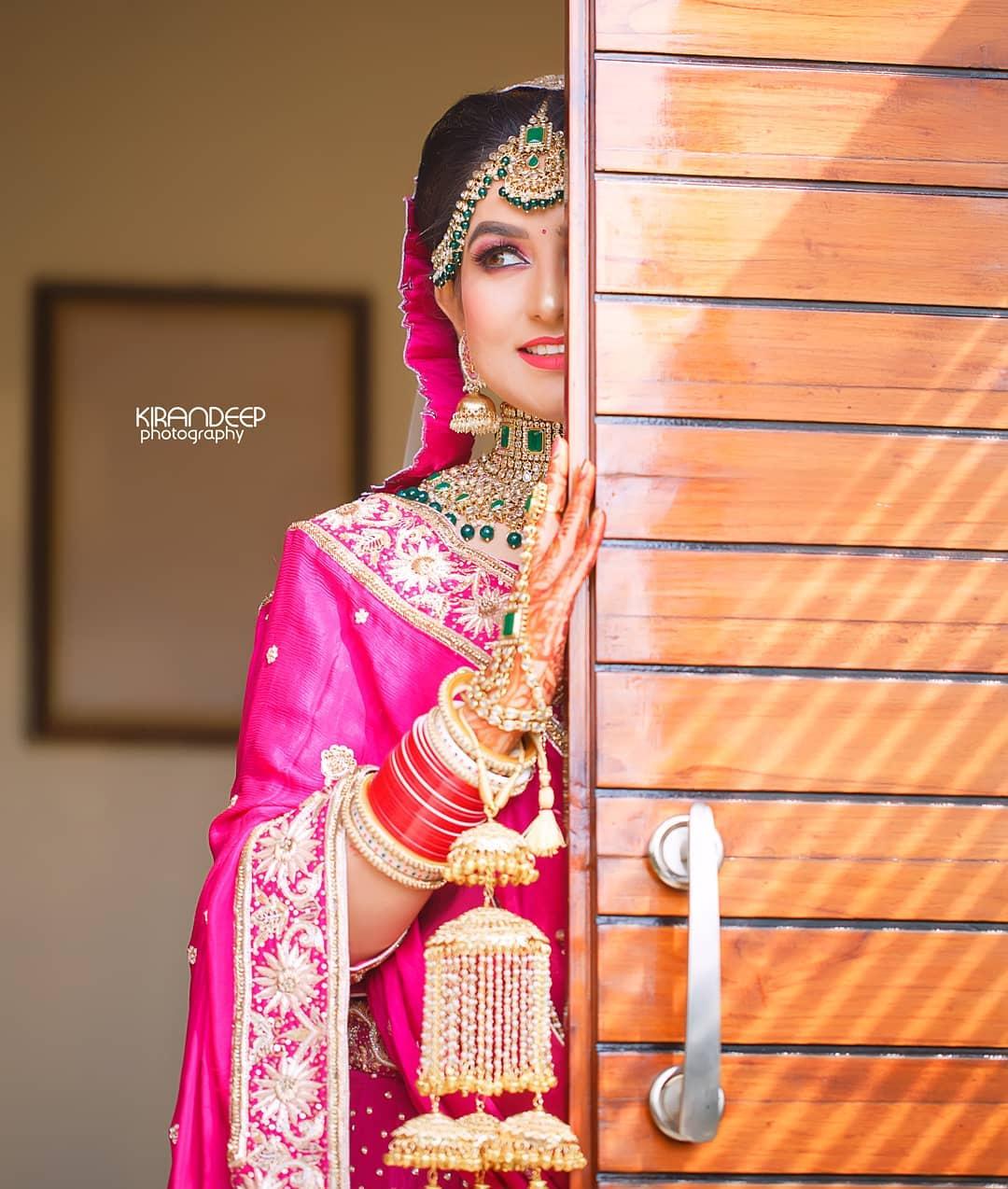 A delicate hand embroidery cut work on a vibrant pink fabric looks out-of-the-box. The golden embroidery mixed and matched with the contrasting green pearl necklace makes this ensemble a royal affair. Love it how this bride pulls off pink, golden and hints of green.
Make-up tip: Wear a beautiful pink blush on the apples of your cheeks.
It's said that simplicity is elegance and ultimately fashion is all about styling, isn't it? It's time to wear some breathtaking embroidery suits. For that, you gotta sit and brainstorm with your Karigar and kill it with the final look!
Get in touch with these awesome tailors near you once you've finalised your look!