5 Reasons To Go For A Chikankari Lehenga On Your Big Day
Chikankari is one of the oldest forms of embroidery to come out of India. Find out why you must wear a Chikankari lehenga on your wedding day!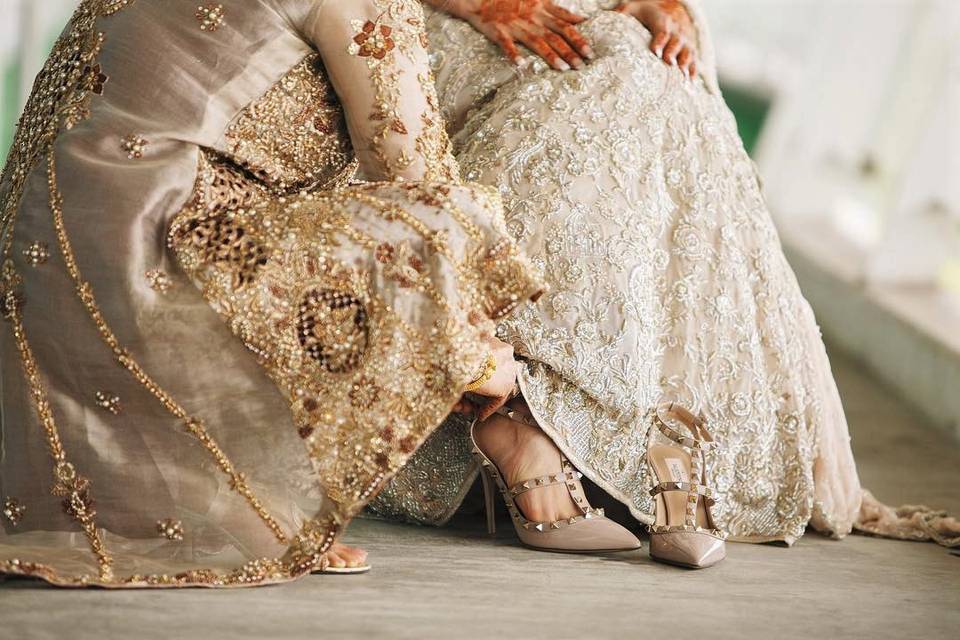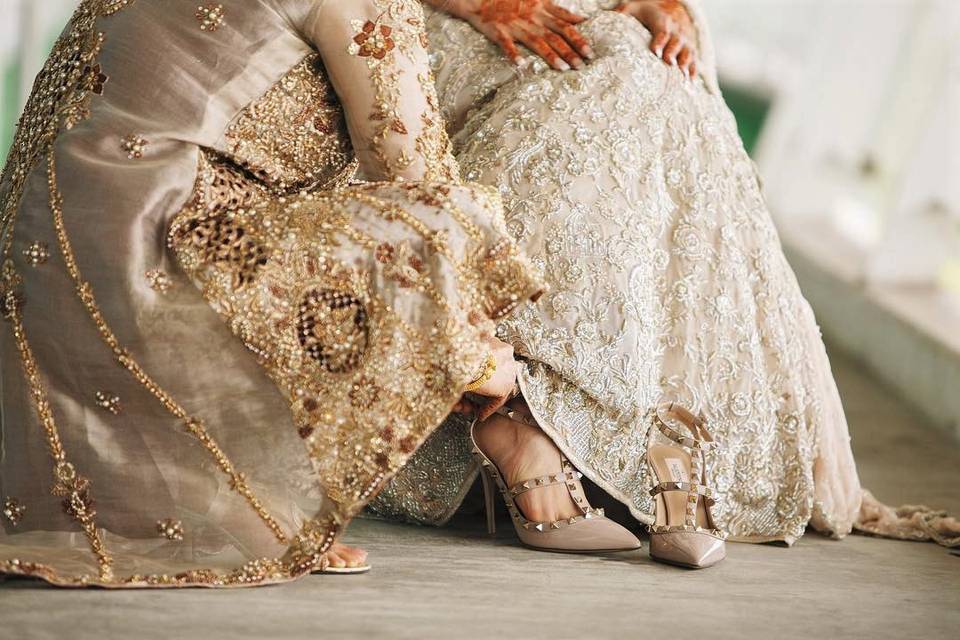 Image Courtesy: Memoirz
When we talk about Indian embroideries, Chikankari is the first one that comes to mind. It is a traditional, hand or machine embroidery style, which first began in Lucknow. It is a very delicate type of embroidery done on a colourless muslin cloth or on a white yarn known as Tanzeb.
However, now with the advancement in machinery, it is carried out on a variety of fabrics such as chiffon, georgette and cotton. Chikan work is also called shadow work as it typically has white embroidery.
While the style in Persia originally used straight lines and dots, the embroidery evolved to include curves and floral patterns when it came to India. It is rumoured that Shah Jahan's wife, Mumtaz Begum, was a huge fan of this work and popularised it to a great extent!
Let's find out why you should wear Chikankari lehenga!
1. Why Chikankari Lehenga?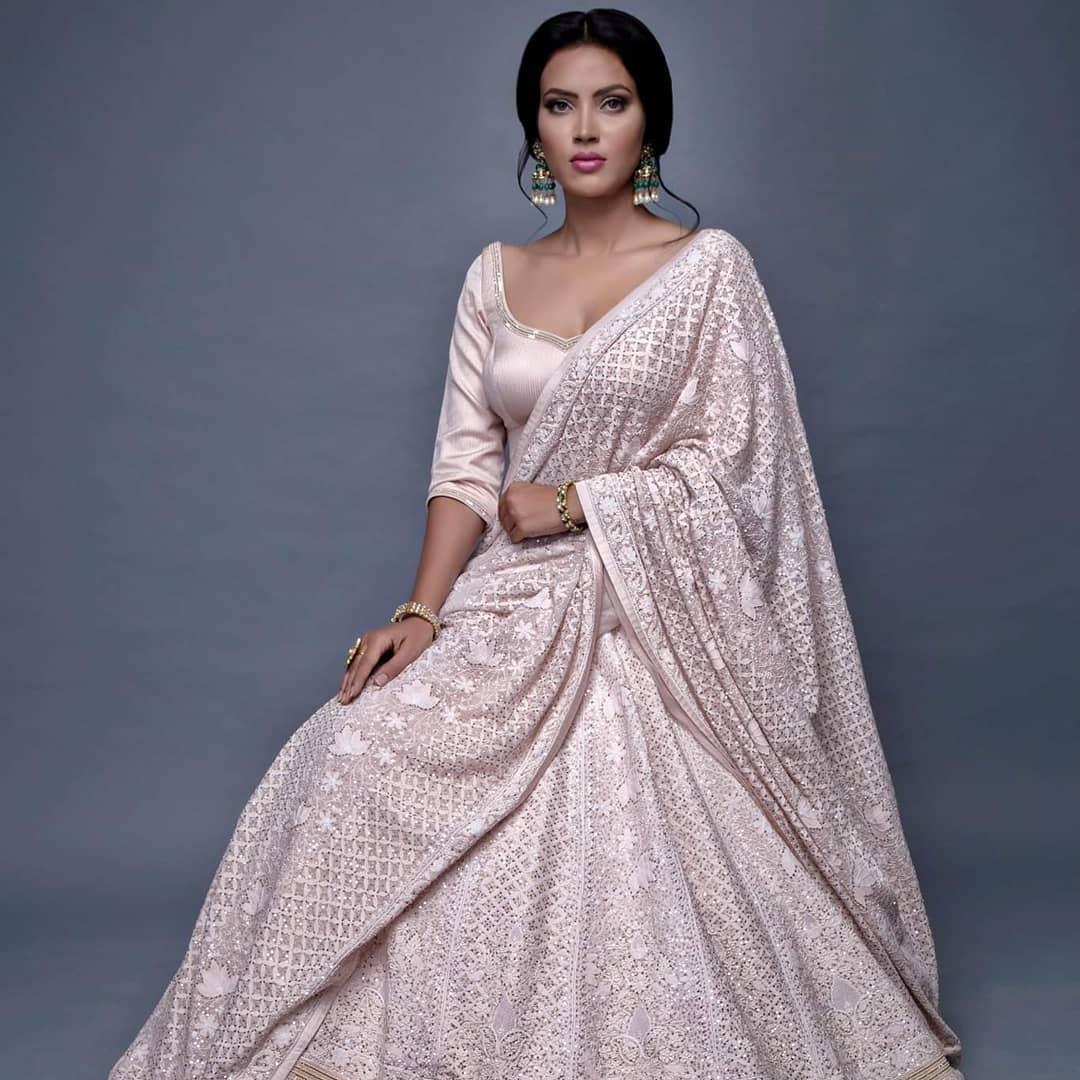 Image Courtesy: Anjul Bhandari's Instagram
A Chikankari Lehenga is often quite delicate, with light embroidery on an even lighter fabric. The charm of this work is quite subtle, and brides who do not want the standard red lehenga look should definitely think about wearing Chikankari work on their wedding.
Wearing this outfit will make you look absolutely ethereal, which is a look that few brides manage to pull off on their wedding day! A part of this boils down to the muslin fabric and, of course, the rest depends on the jewellery that you pair with it.
There are plenty of options for brides when it comes to a Chikankari lehenga such as Taipchi, Pechni, Pashni, Bakhia, Khatao, Gitti, Jangira. Then there is the popular Jaali stitch that gives a net effect and is influenced by Mughal architecture. This is the pride of Lucknow and is subtle and extremely elegant.
The richness of Chikankari work on lehengas, when blended with the right type of bridal jewellery can give enchanting results for the big wedding day. Brides often go for pastels over red when it comes to this work.
Additionally, here's some good news for brides who are about to have a summer wedding – a Chikankari lehenga weighs really light as compared to lehengas with other embroideries and embellishments!
Keep reading to know more about this work and bridal lehengas that incorporate it.
2. Different shades of Chikankari Lehengas and modern embellishments!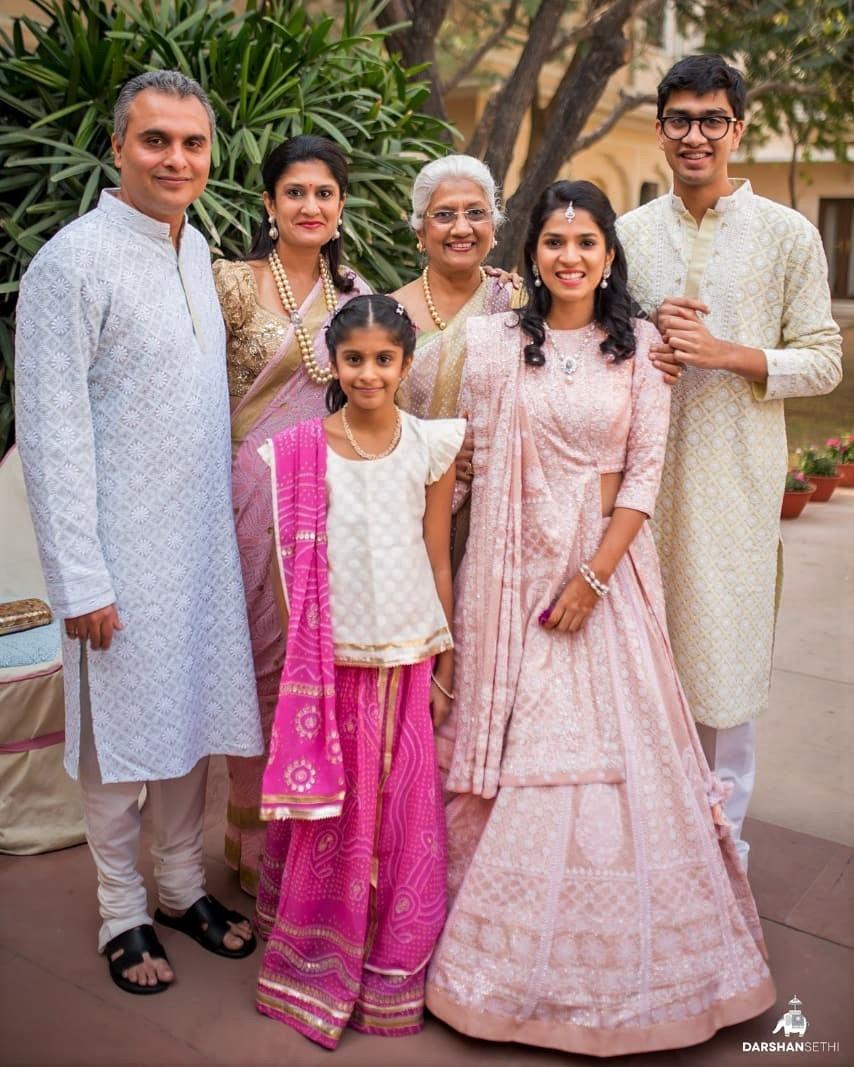 Image Courtesy: Darshan Sethi Photography
Chikankari work is famous for its white colour. However, while a traditional Chikankari lehenga is white-on-white, you'll find many contemporary pieces in numerous pastel shades. Newer collections offered by Manish Malhotra, Ritu Kumar, Anita Dongre, and Anjul Bhandari all feature stunning Chikankari options in pastel pinks, mint greens, and powder blues.
So, if you're wondering whether you'll find lots of Chikankari options in different colours, the answer is yes. If you're wondering whether colourful lehengas with this work can still 'count' as Chikankar, it's still yes!
Image: Image: chikankari-lehenga_monishajaising_purple
In the picture above, we see a stunning Chikankari lehenga in a light lavender shade, a great option to see whether this embroidery style fits with your colour aesthetic! If you're planning a pastel themed wedding, you can definitely wear this delicate looking lehenga without hesitating!
3. Stars embracing this look!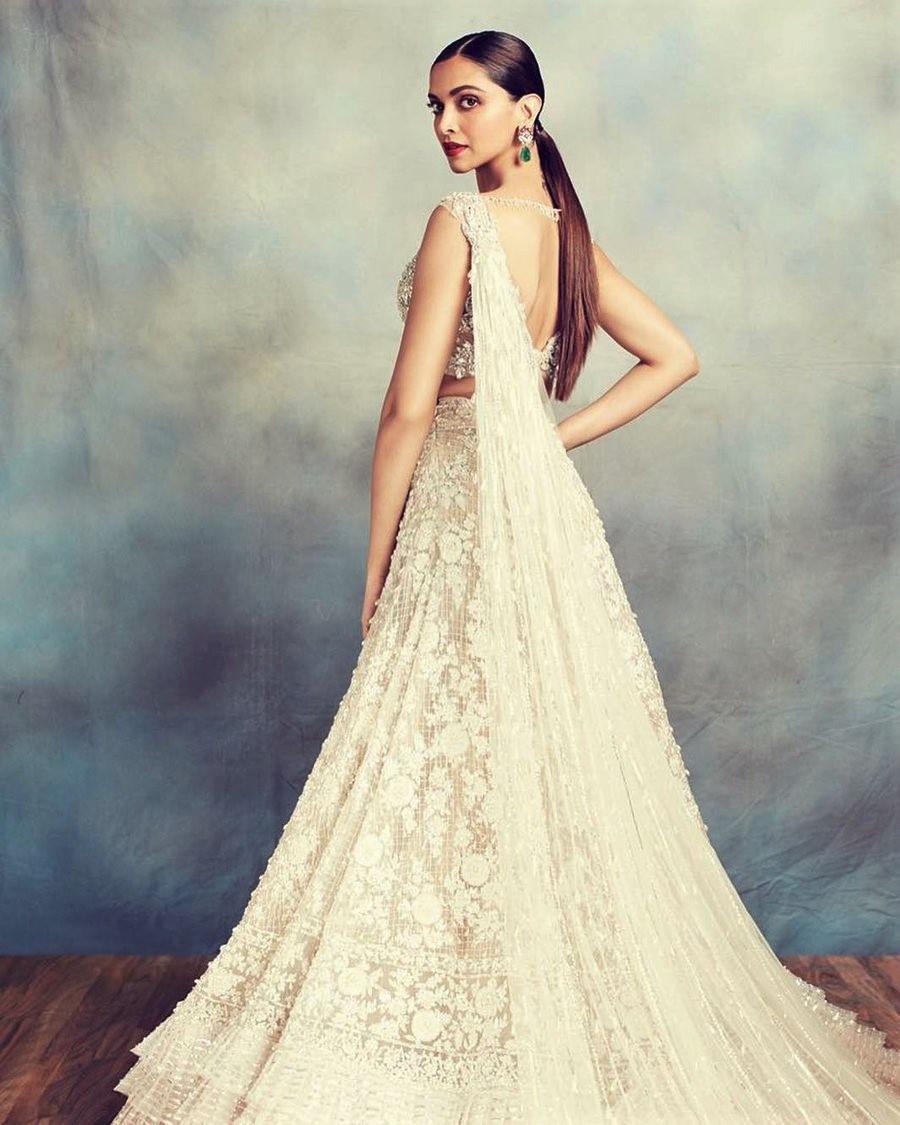 Image Courtesy: Manish Malhotra's Instagram
Of course, modern brides don't want to wear anything unless is marked as high fashion by B Town celebs!
Deepika Padukone wore a White Chikankari Drape-style lehenga by Manish Malhotra recently. She decided to wear a heavily embellished blouse with intricate jewellery. The green emeralds paired with White lehenga look stunning. We've also seen other celebrities like Shraddha Kapoor and Alia Bhatt wearing Manish Malhotra's latest Chikankari collection.
Of course, don't forget that Abu Jani and Sandeep Khosla also offer this work, and many celebrities have been wearing the same over the last few years now!
So, bride-to-be, if you're wondering whether a Chikankari lehenga is technically trendy, then yes it is!
4. Bridal tips for a Chikankari Lehenga!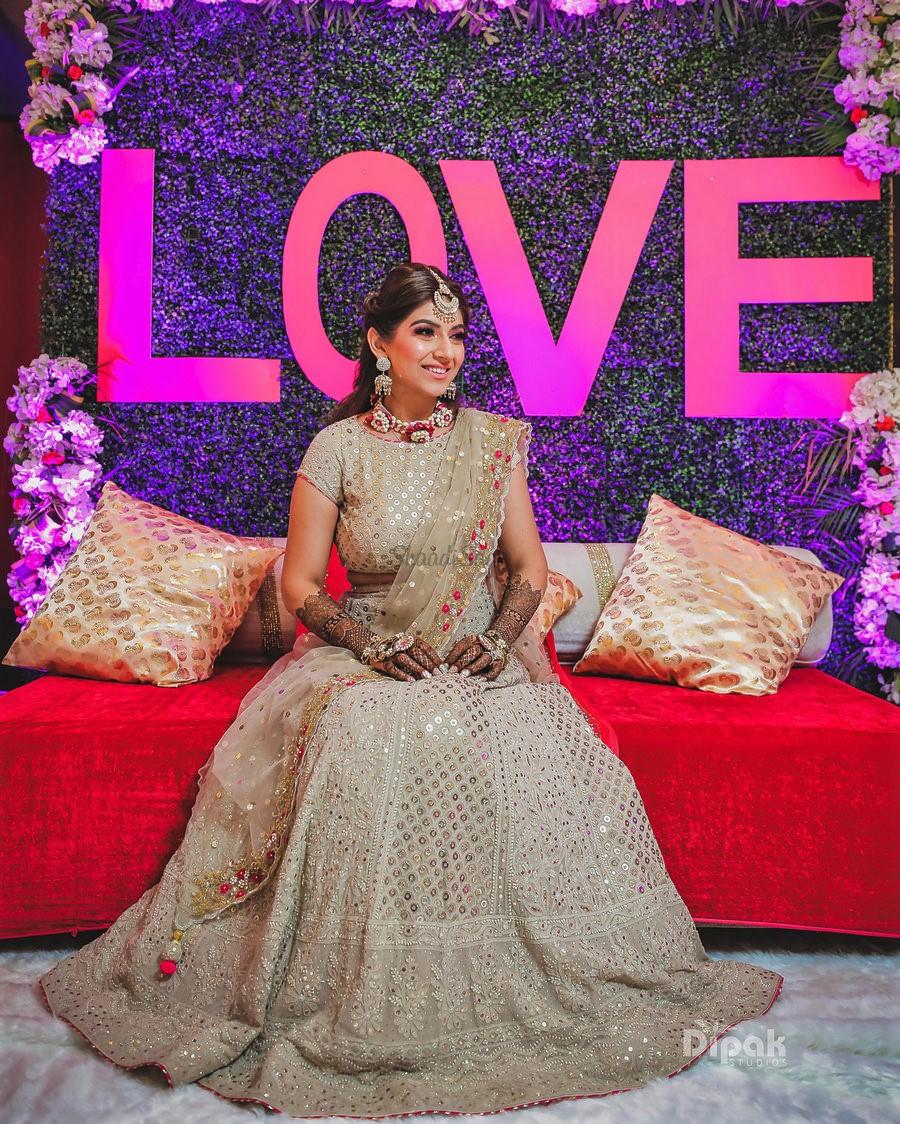 Matching pearl jewellery with Chikankari work is a no-brainer. Somehow, the two blend together really well and look gorgeous. You can also go with delicate choker designs in gold, Rani Haar, if you want to create a contrast between the delicate garment and heavy jewellery, or light, Meenakari pieces that offer pops of colour!
5. Match it with the groom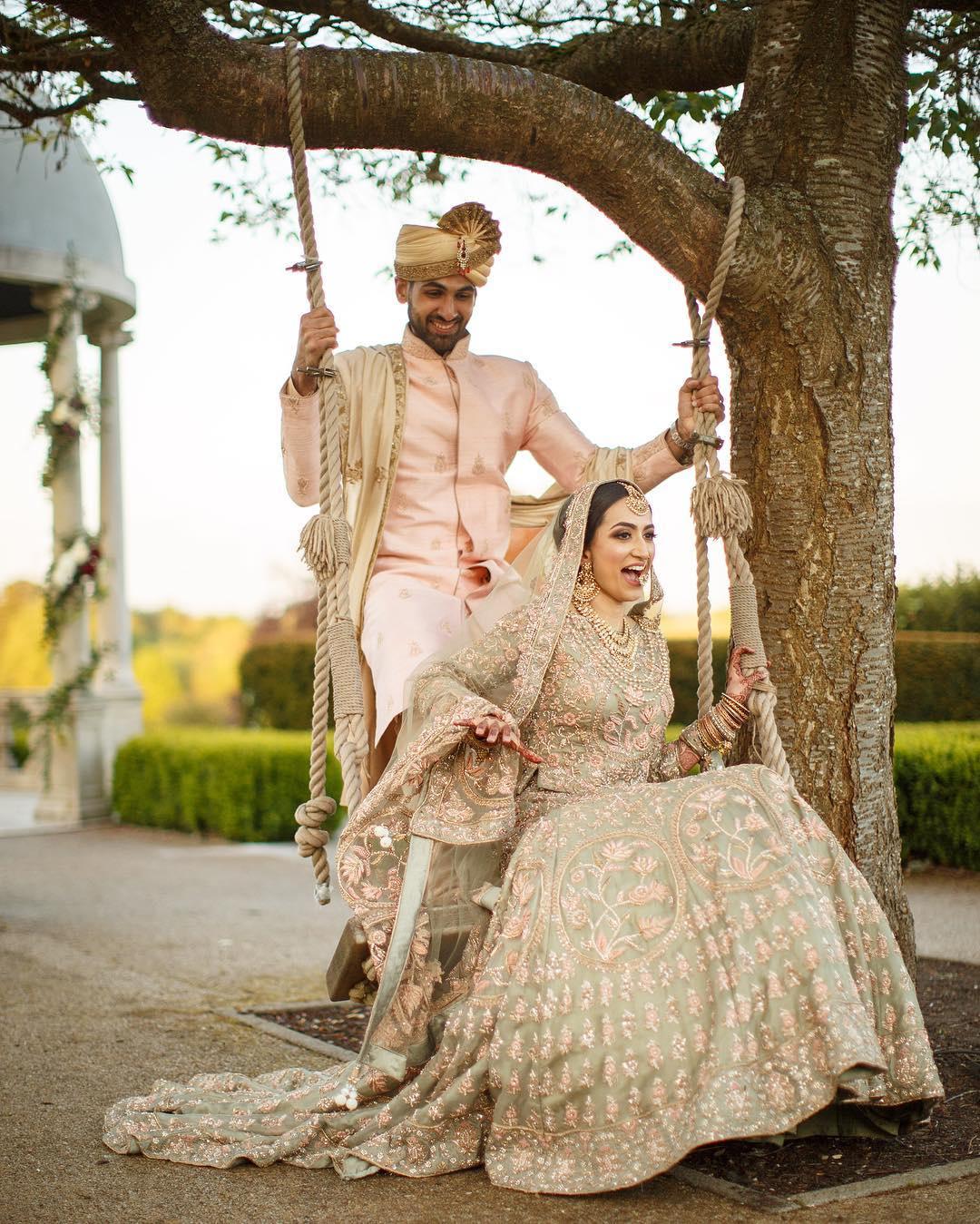 Image Courtesy: Memoirz
On your big day, there is nothing like twinning with your spouse. You can get a Chikankari Sherwani customised for your hubby and make sure that the two of you look great together! If you're wearing a Chikankari lehenga for a light event, you can also go ahead and get a Kurta Pajama set stitched for your hubby! This can make for a great Mehndi outfit!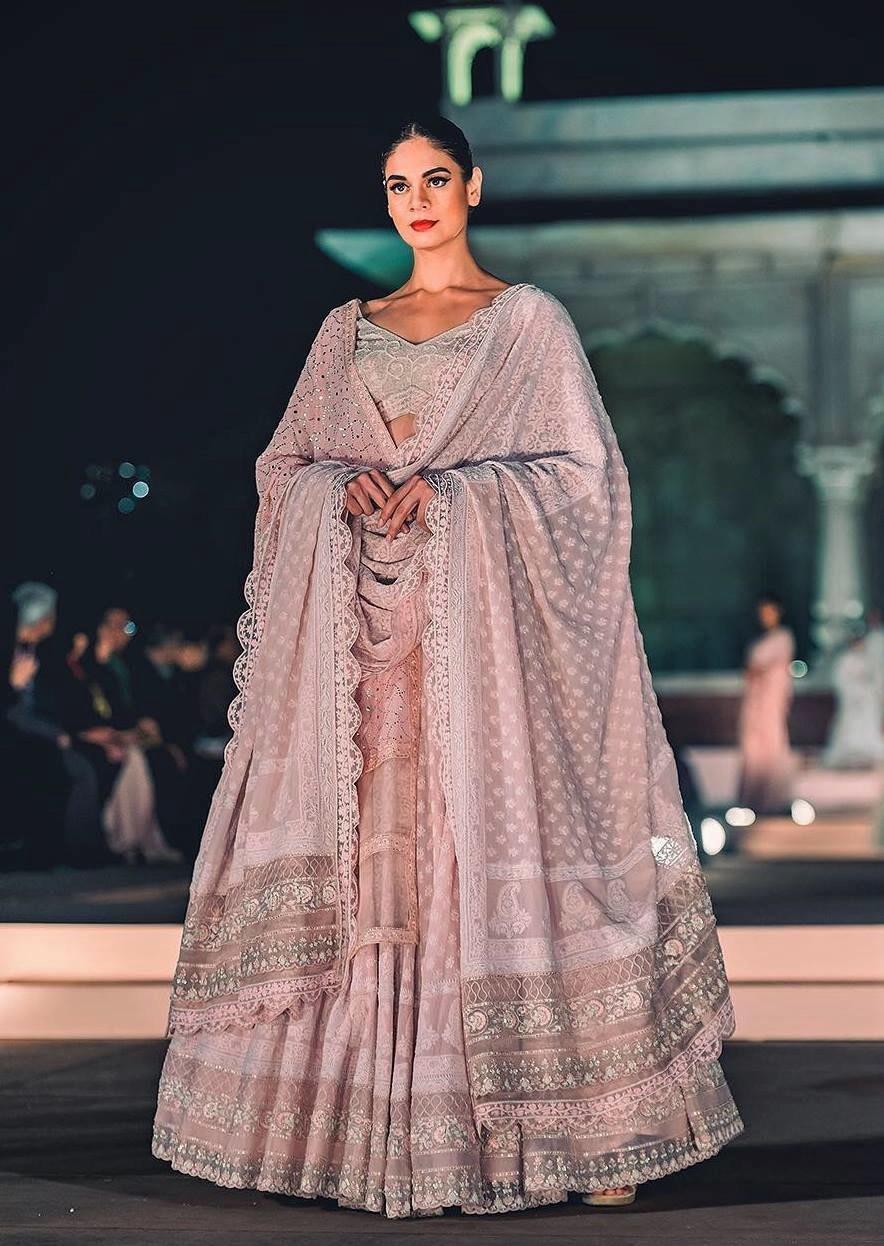 Image Courtesy: Rahul Mishra's Instagram
With sheer elegance and simplicity, a Chikankari lehenga is something you just cannot afford to miss. This classic heart warmer should absolutely be a part of your wardrobe. Do consider this option especially if you want to take the road less travelled by when it comes to wedding lehengas.
Go get started on your hunt for best stores in Lucknow for trendy designs in Chikankari lehengas!