The Only Manish Malhotra Bridal Collection You Need to See
The feel of embroidery under your hands, the lustre of zari and some filmy goodness added to your Manish Malhotra bridal collection. What more could you ask for in a wedding ensemble? Find out!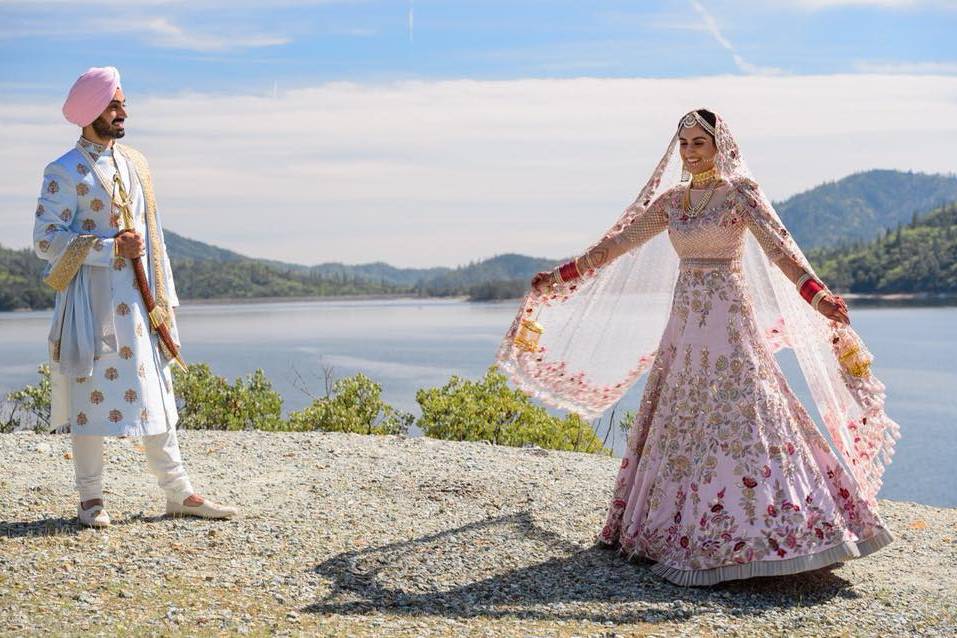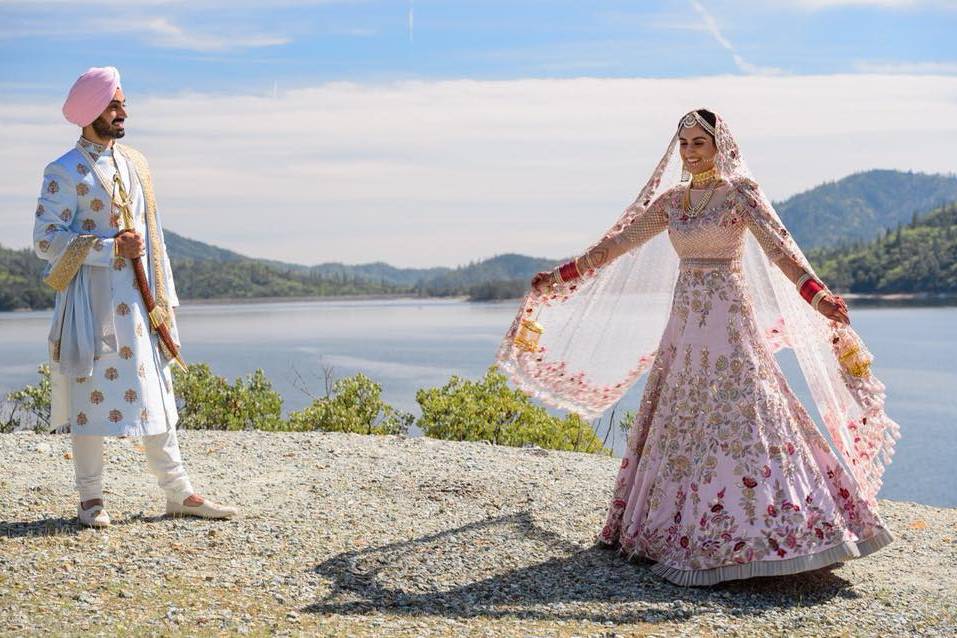 When I was a kid, I would dream of wearing those extremely flowy chiffon sarees like the ones Madhuri Dixit wore in Dil Toh Pagal Hai and I also wanted to get serenaded by my Rahul in lush green valleys and go all filmy and bat shit crazy with my Bollywood fantasies. Why not, right? Nothing wrong in being a little obsessed with Bollywood. But who do you think gave us those beautiful designs that looked gorgeous on all our damsels in some of the most iconic movies in Bollywood?
Yes, you guessed it right! It indeed is Manish Malhotra. Known in the fashion industry as the most sought after designer of all leagues, his repertoire dates back to him designing some amazing clothes for Urmila and making her look uber cool in Rangeela. Our Bollywood weddings would be incomplete without the top-notch celebrities parading in his original designs with panache, his signature gowns, bridal lehengas and sarees making all the heads turn. It has been every Indian bride's dream to adorn a Manish Malhotra original on their weddings.
So we would like to help you out by presenting to you some of the most iconic ensembles that are a part of the Manish Malhotra bridal collection that would take the breath away of your significant other and catapult the minds of your guests at your wedding. Let's check it out:
1. Rosy and Regal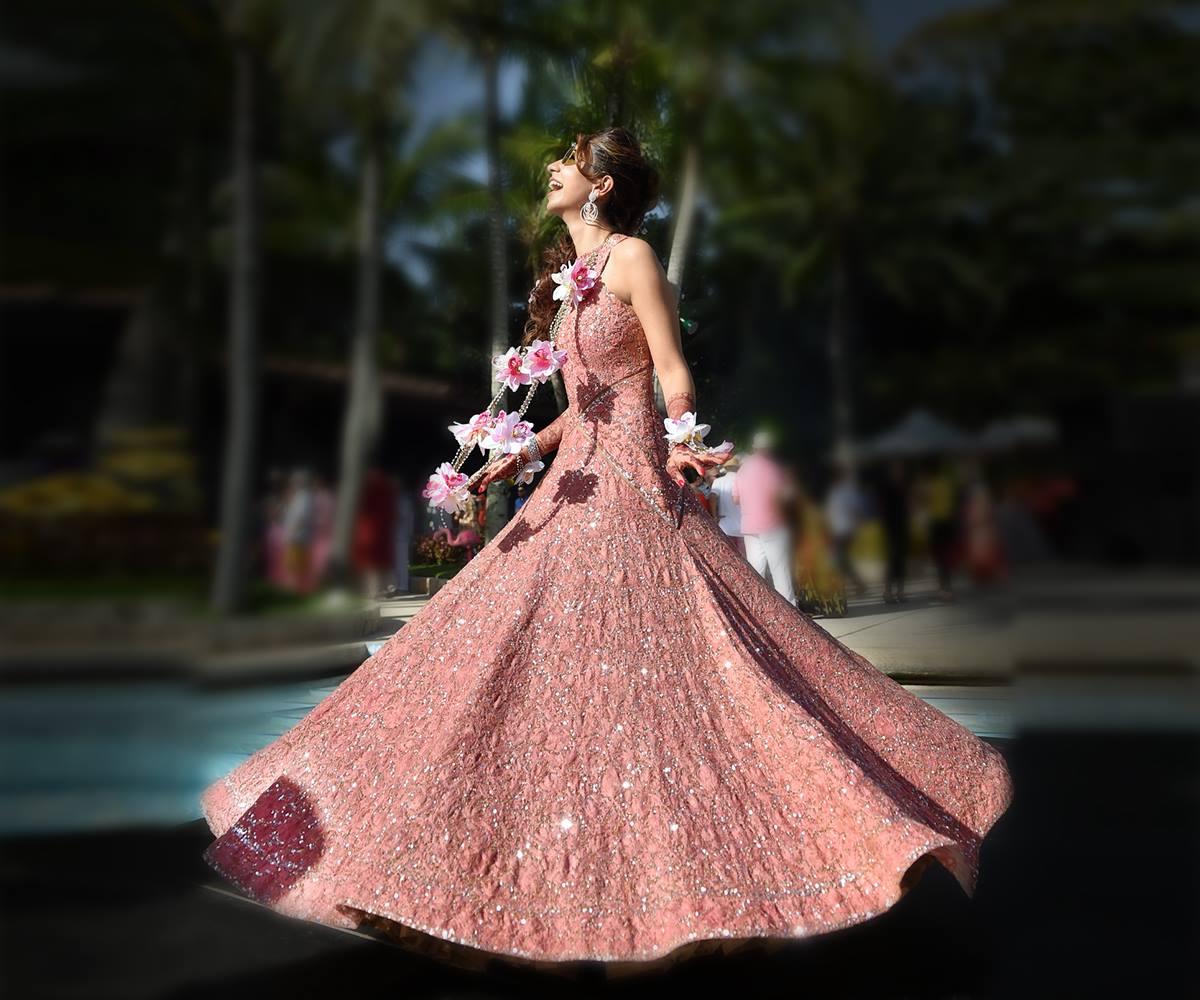 This one is easy on the eyes and will make you feel every bit of a royal princess that you are. An old rose gold handcrafted gown with sparkling sequinned tulle inserts placed in a crisscross pattern that has the threadwork from Kashmir. This beguiling gown would be perfect for a bride who exudes elegance and is as poised as a flower, making it on of the most coveted pieces in the Manish Malhotra bridal collection that can be worn at the cocktail party.
2. Lavish Lavender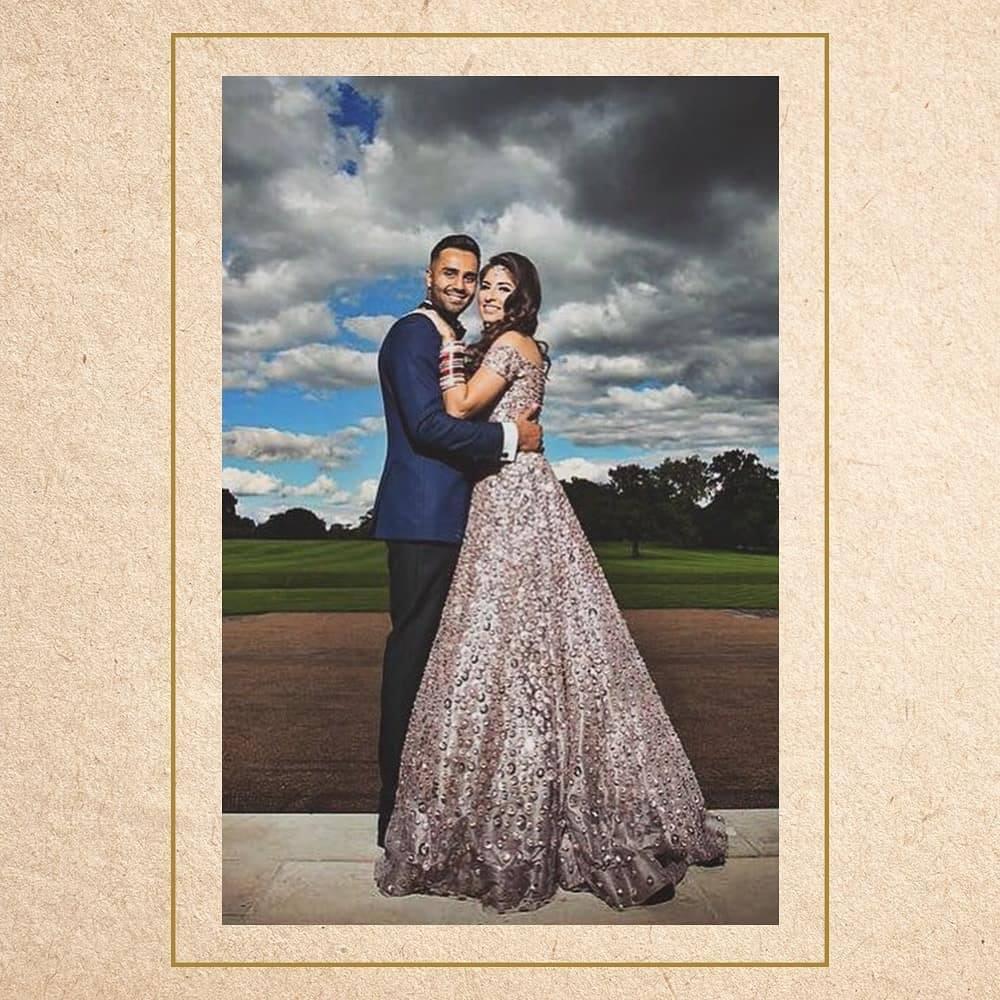 This gorgeous princess line lavender-grey lehenga with floral patterned sequins that illuminates the whole place with its starry brightness will be perfect for the reception. It is a match made in heaven for someone who likes soft tones but still wants to jazz it up. In other words, it is lit!
3. Black Beauty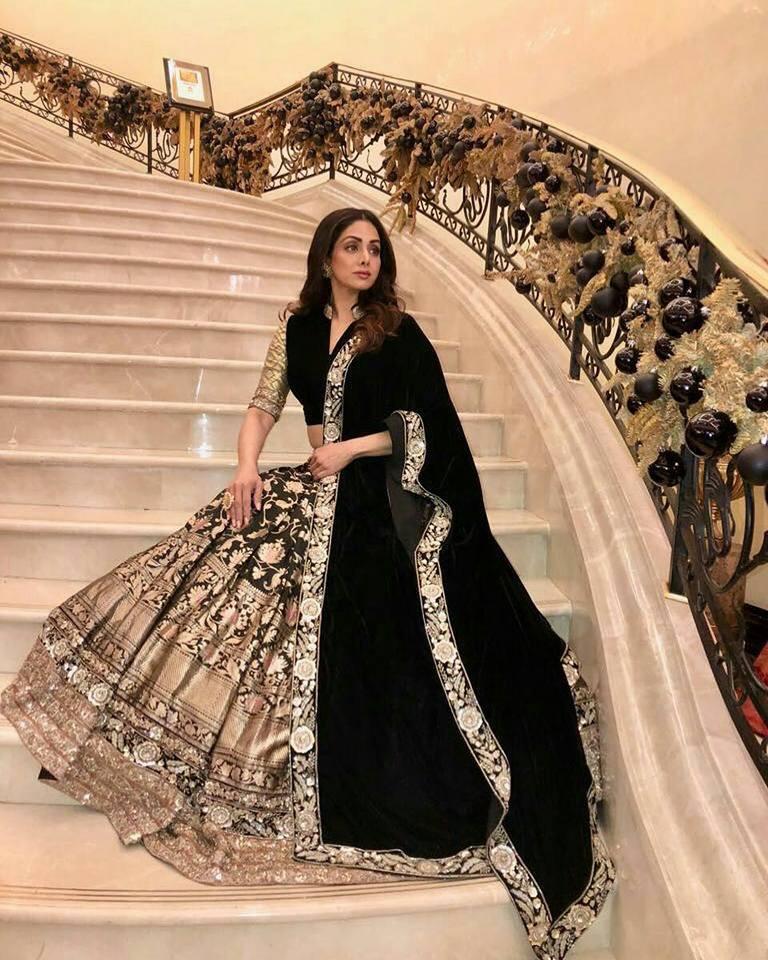 Whoever said black should not be worn at a wedding surely did not understand fashion rebellion. This pitch black ensemble is replete with intricate silver motifs. It is perfect for all the punk rock brides who defy rules made by society and rock any colour in style. This packs a solid punch in the Manish Malhotra bridal collection.
4. Popping in Pink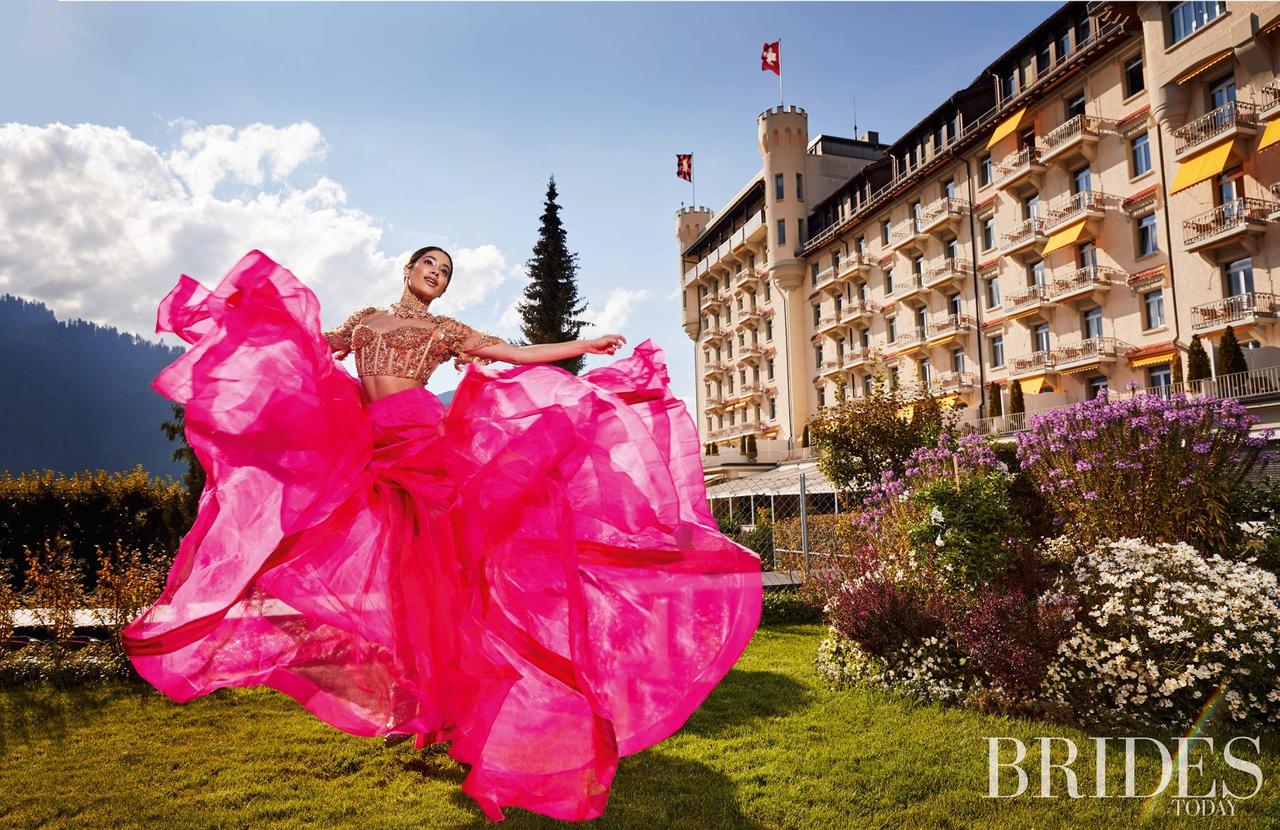 Image Courtesy: Brides Today
This pretty pink lehenga radiating happiness and pure awesomeness coupled with a rose gold embroidered blouse is meant for a complete diva! This not so subtle pink ensemble is perfect for the sangeet ceremony where the bride will be the show stopper, literally! No Manish Malhotra bridal collection is complete without this bright colour.
5. Rad in Red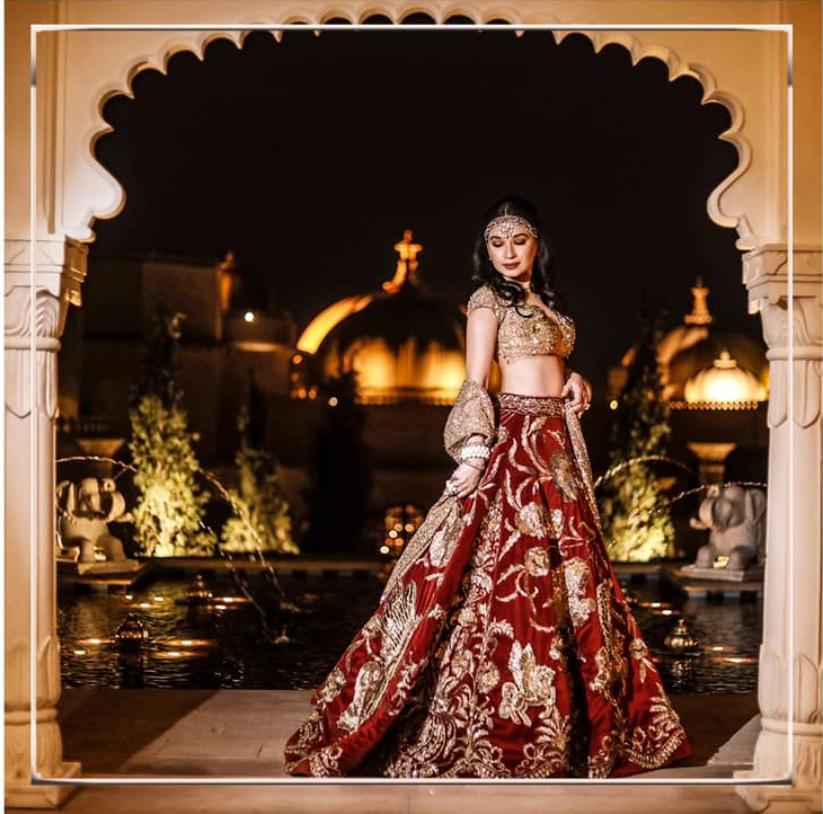 This ravishing red coloured velvet lehenga with golden flower motifs and a spectacular golden blouse is a quintessential example of what an Indian bride likes to wear at her wedding. Red is the colour of love and is considered auspicious in Indian weddings. You can't miss this classic from the Manish Malhotra bridal collection.
6. Brilliant Blue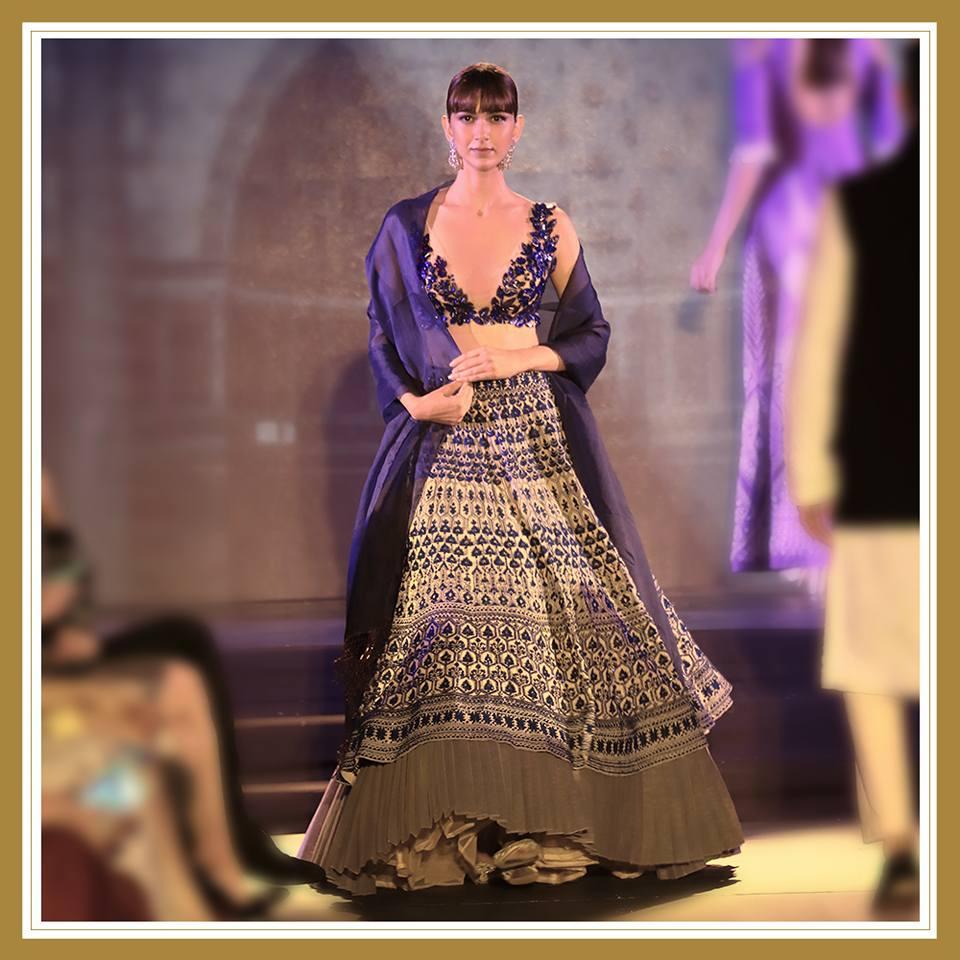 This beautiful blue and grey lehenga with intricate embroidery and a sheer blouse with striking blue leaves will entice the mind of the groom and make the guests in awe of your beauty. This colour is usually not worn at weddings but only a bride who is confident enough to pull this off and knows that blue is her colour will look prepossessing in this gorgeous ensemble.
7. Glorious Green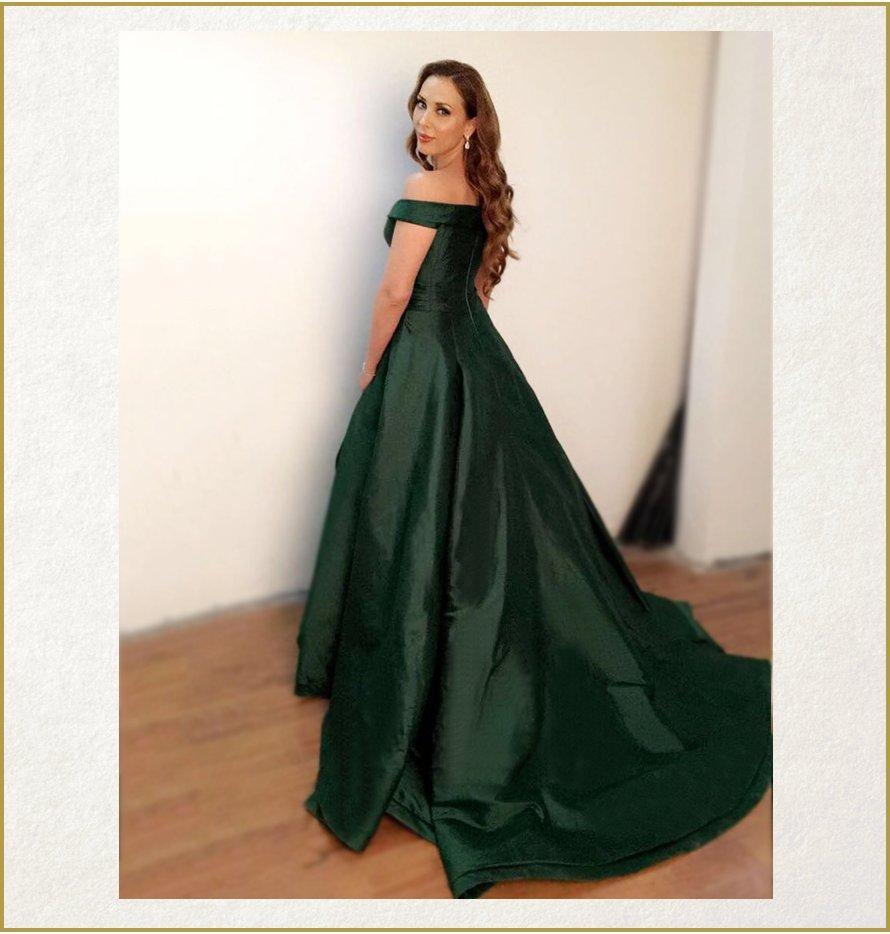 This cascading gown in gorgeous bottle green colour is perfect for a stylish bridal shower and will make everyone else around you green with envy *pun not intended*. This would be perfect for someone who loves being a nature lover and believes in the soothing effect of the colour green. More power to you.
8. Bountiful Brown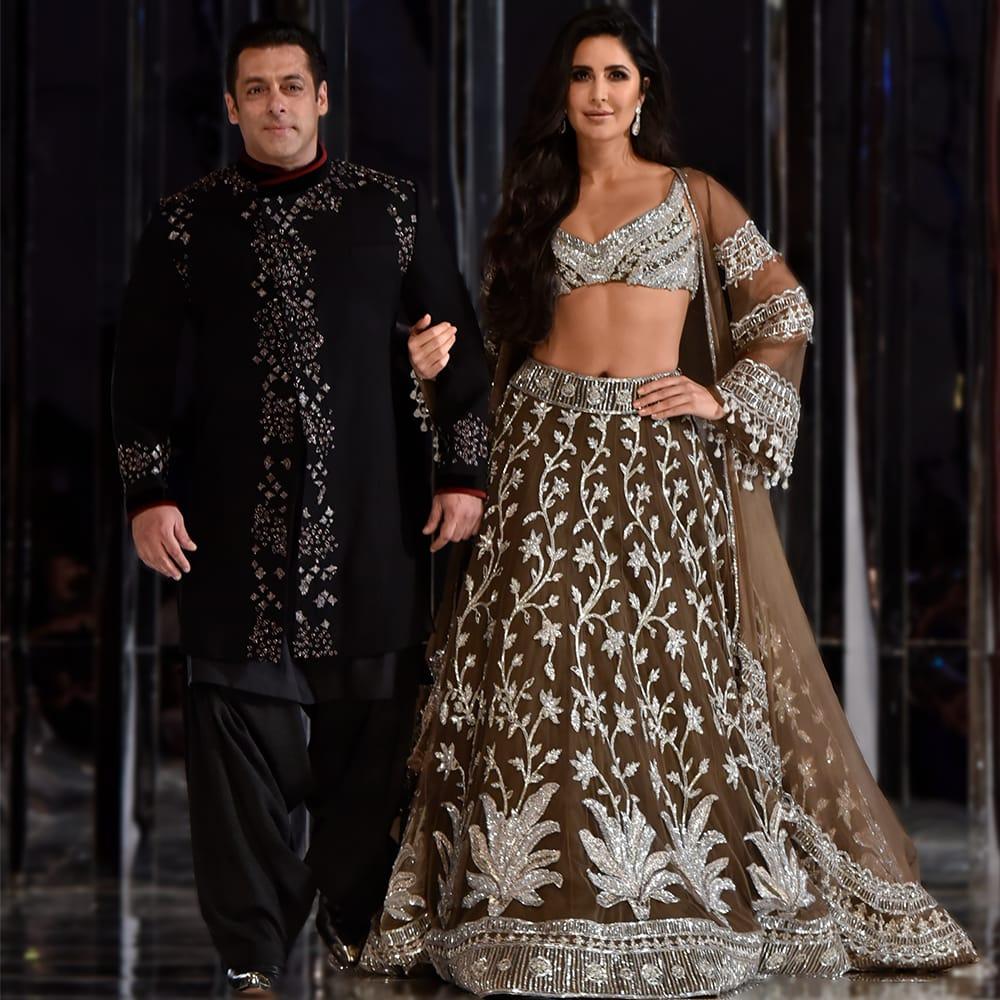 This brown sheer lehenga with silver embroidery is such a rare and beautiful colour that not many brides can pull this off. But we believe in the fact that this lehenga is made for someone who is courageous and grounded just like the colour and will look magnificent in this ensemble. This can be worn at the engagement ceremony.
9. Floral Finesse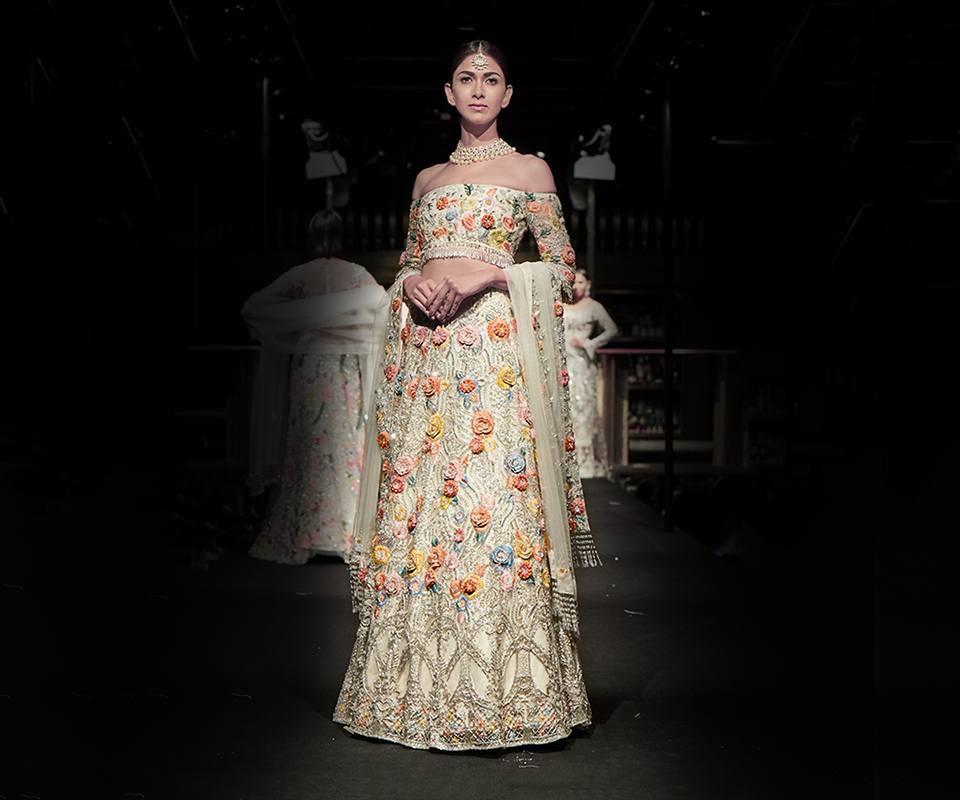 This beautiful beige coloured Indo-western ensemble with colourful flowers and a resplendent off shoulder crop top is a perfect amalgamation of traditional embroidery and modern design. Wear it at your Haldi and rule the world with the flower power. This is perfect for a coy and cute bride who is shy but lovely.
10. Winter Wildness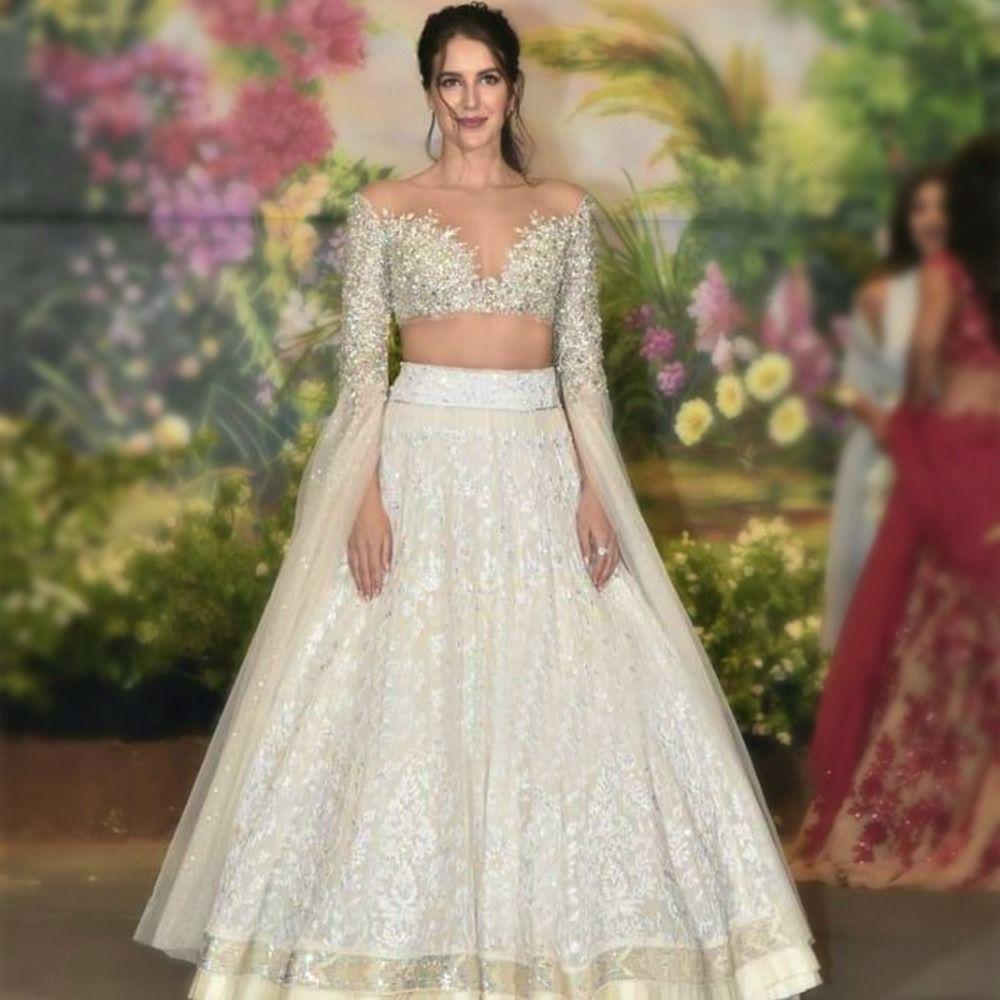 This exquisite white lehenga with its deep neck shimmery blouse which is to die for will make you look like a dreamy goddess ascending from the heavens above. A white lehenga would be perfect for someone who is the epitome of tranquillity and peace. This can be worn at the wedding or at the reception. Another feather in the Manish Malhotra bridal collection.
11. Wonderfully White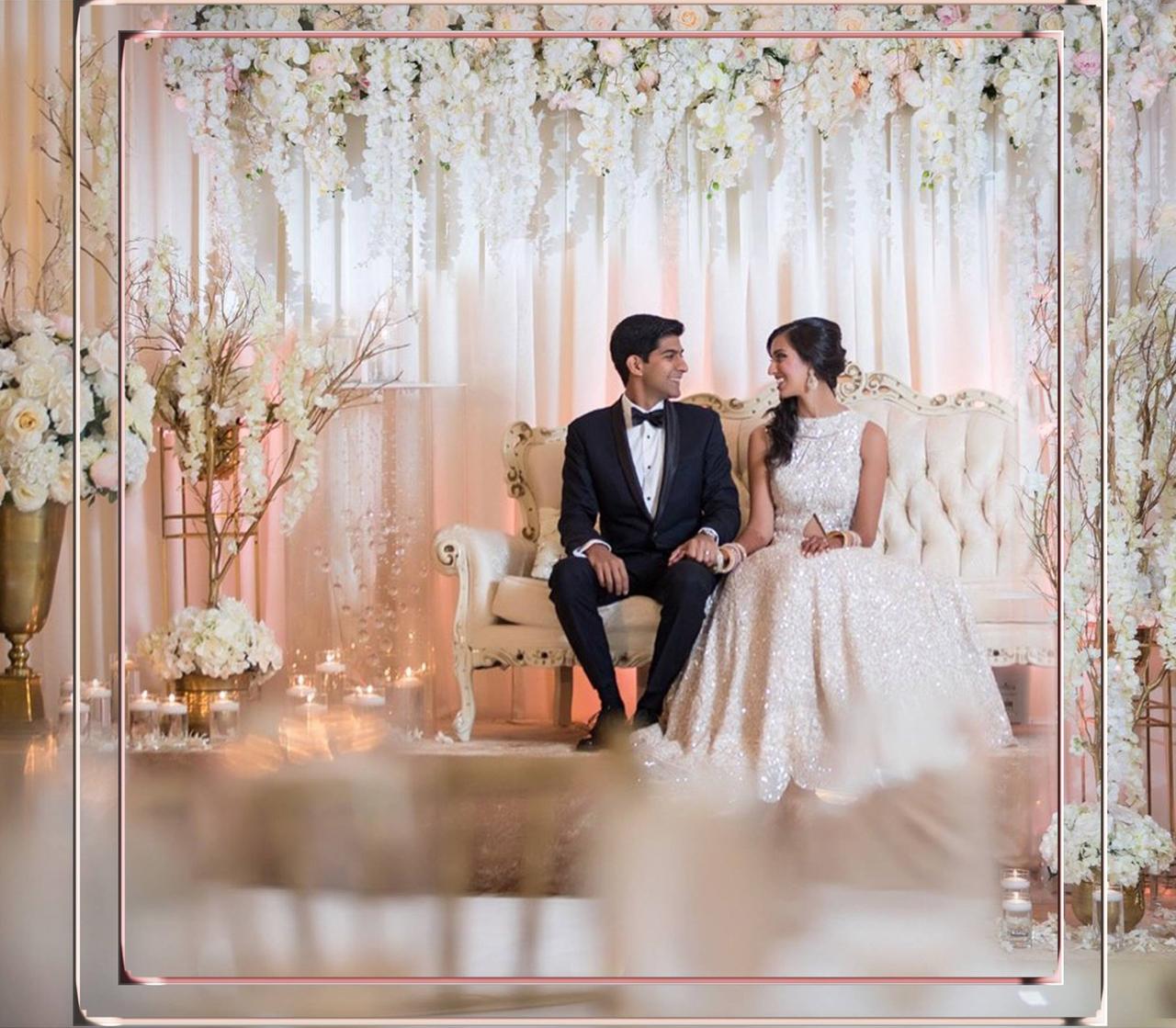 This wedding gown will look perfect while you walk down the aisle for your beloved and take those vows for an eternally blissful married life. It is elegant and graceful and your significant other won't be able to take his eyes off of you!
Manish Malhotra's designs have been taking the country by storm and these heavenly ensembles are a perfect example of trending designs, intricate embroidery and fabulous colours. This bomb Manish Malhotra bridal collection will be a hoot at any wedding and win over a million hearts.
Check out some of the best Manish Malhotra designs on our website and go buy that gorgeous lehenga for your wedding.
Note - All images are from Manish Malhotra's Bridal Collection