7 Beautiful Chaniya Choli Design for Wedding to Help You Dress the Best on Your Big Day
"Looking for some head-turning Chaniya Choli design for wedding this year? We have a specially tailored list exclusively for you. Check out for some ravishing Chaniya choli designs to rock every wedding event".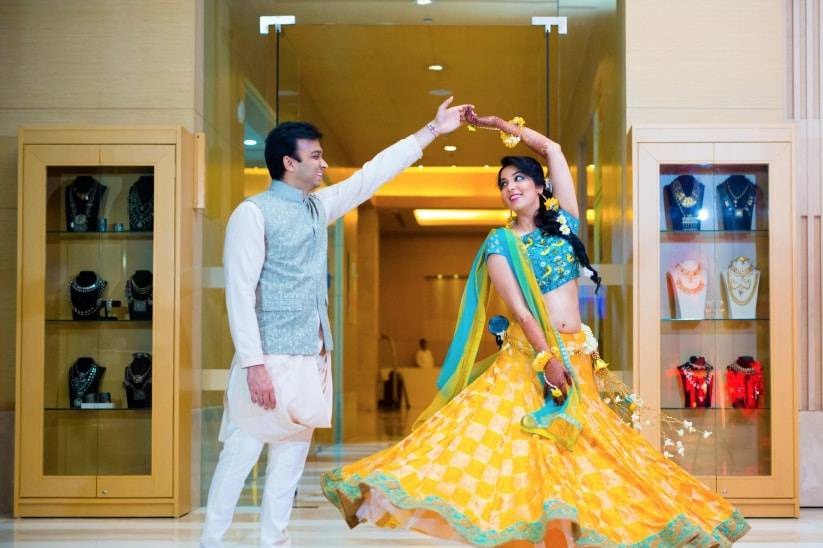 Hailing from the rustic land of Rajasthan and gorgeous Gujarat, Chaniya Choli has stolen many hearts of women all over the country with its vibrancy. Originally regular wear, it has now elegantly become a part of the wedding couture amongst millennial brides. Easy to carry, stylish and boho...a Chaniya Choli has a mixed bag of elements which are especially appealing to contemporary tastes. Read away to know more about some ravishing Chaniya Choli designs for wedding that would steal the show.
1. Floral Ghera Skirt with Broad Borders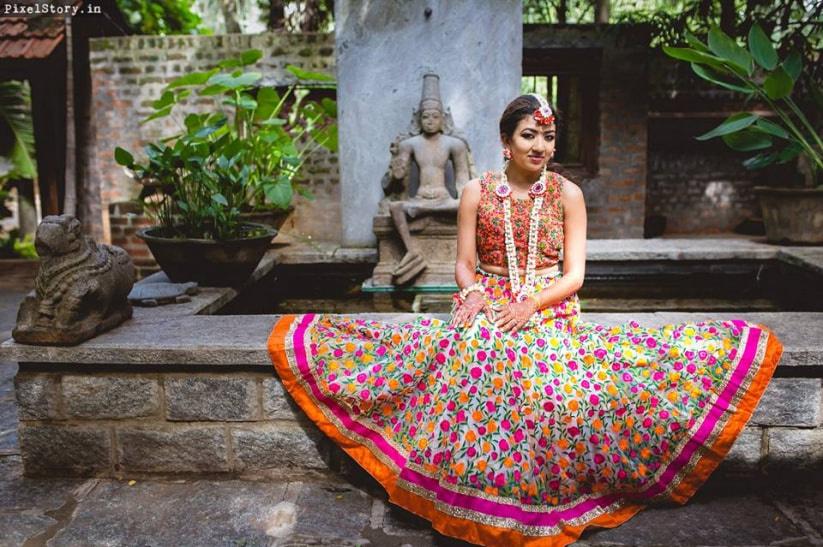 Getting a floral pattern as your Chaniya Choli design for wedding occasions is sure to become an absolute hit. Choose a vibrant colour like dark pink, yellow, magenta or orange with floral prints on your Chaniya choli skirt. Add broad borders in matching colours to add a bounce. Make sure your skirt has enough flair or Ghera and go with similar floral prints for your Choli.
Ideal occasion: Haldi, Mehndi or Sangeet.
Accessories to go with: Gota patti, floral jewellery for Haldi/Mehndi.
2. Embroidered Skirt with Contrasting Full Sleeve Cold Shoulder Choli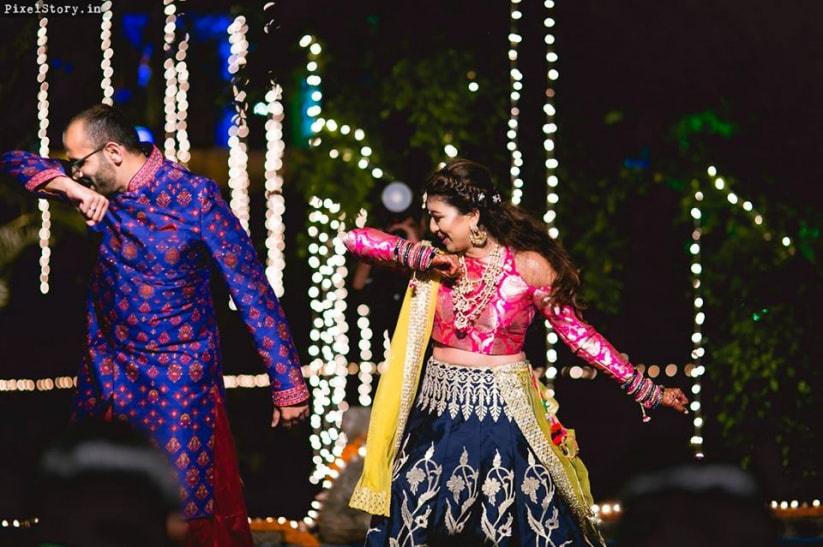 Shine like a starlet in a midnight blue embroidered skirt on your Sangeet night. Pair it with a contrasting magenta or fuchsia full sleeve choli with a cold shoulder cut. You can go for a yellow or golden Dupatta with this to complete the look. Instead of a heavy lehenga, go with this gorgeous combination of Chaniya Choli design for your wedding or maybe your sister's.
Ideal occasion: Sangeet night, Engagement or reception.
Accessories to go with: Bangles matching both with a skirt and the choli, heavy earrings and a maang tikka.
3. Floral Skirt & Matching Choli with Mirror Work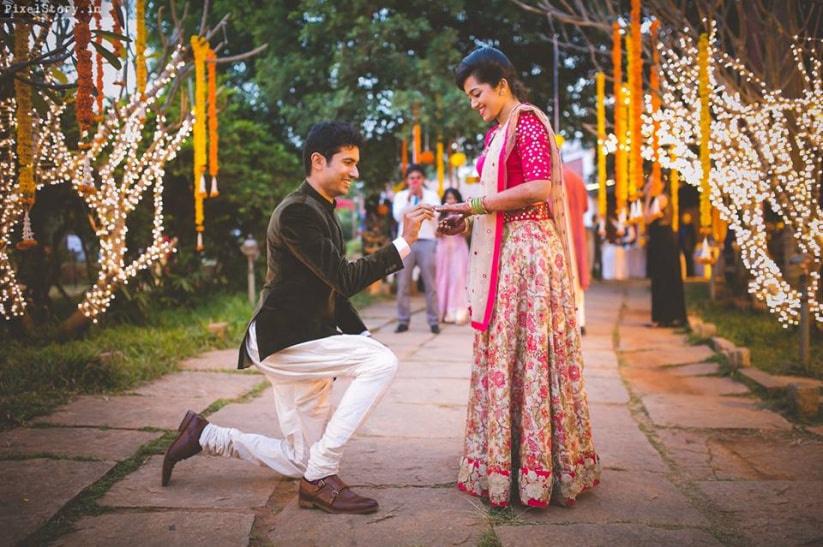 Let's give you a universal tip: you can never really have too much flowers when it comes to Chaniya Choli design for wedding! Whether you go for small daisies or bold tulips, they almost always work as your ghagra print. Get some mirror work done on your matching Choli, and you can easily opt for the same colour for your skirt, Choli and Dupatta. Match the borders of the dupatta with the Choli colour and go for light shade for the dupatta body.
Ideal occasion: Engagement or Sangeet
Accessories to go with: Tiny maang tikka, modest earrings and light bangles.
4. Bright Yellow Skirt with Low Cut Beige Choli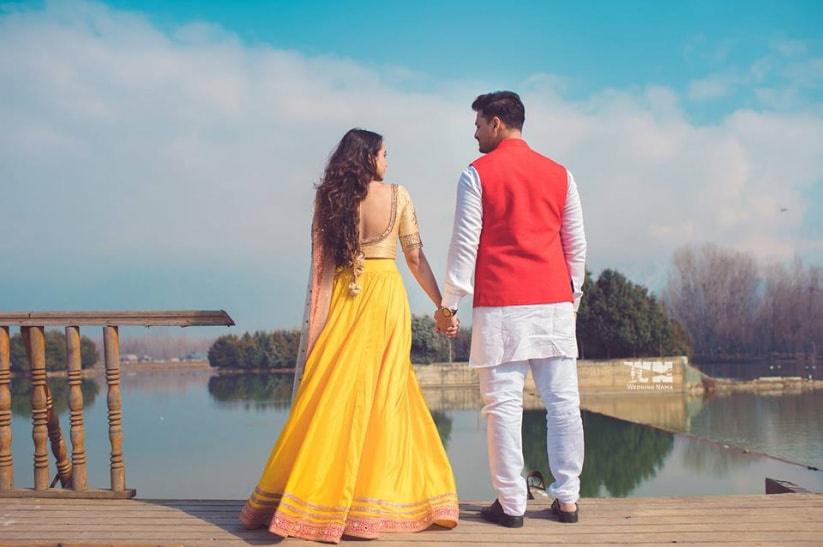 Yellow is the colour of happiness and festivities. Dazzle them all with a bright yellow silk skirt and pair it up with beige Choli. You could get embroidered sleeves on your low-cut Choli in brown or golden.
Ideal occasion: Sangeet, pre-wedding shoot, Mehndi, day wedding of sister/friend.
Accessories to go with: Light gold jewellery, matching potli bag, oxidised necklace and earrings.
5. Red Jacket Choli with Off-White/Beige Ghagra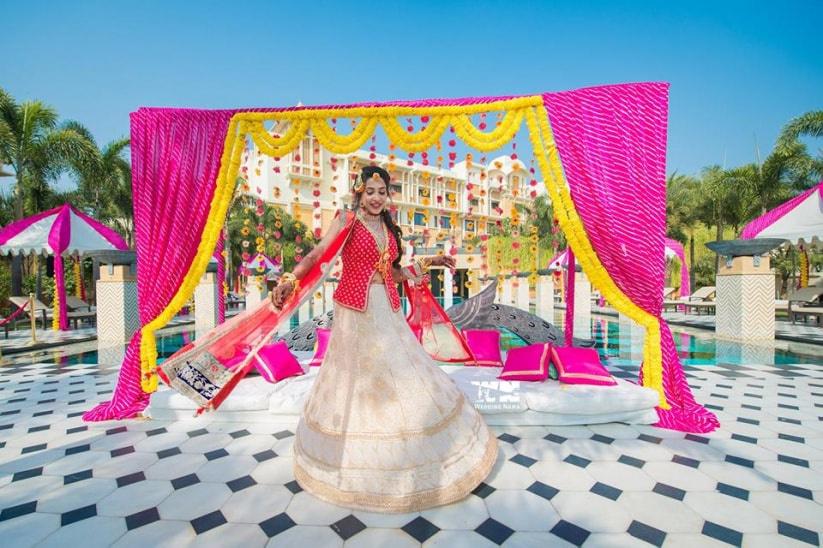 How about you go a little bizarre on your wedding day? Choose a bright red jacket choli with golden dots with a beige or off-white skirt. Think a little out-of-the-box while choosing your Chaniya Choli design for wedding. And to weigh it up, throw in a net dupatta with heavy embroidery on the borders. Sport this jacket choli with swag and you will be setting a trend for many future brides.
Ideal occasion: Day wedding, Sangeet, Engagement.
Accessories to go with: For Day wedding: Gold jewellery, heavy necklace and earrings. For pre-wedding events: Gota jewellery, floral Matha Patti, red bangles, red potli bag
6. A Backless Choli with a Tie-Up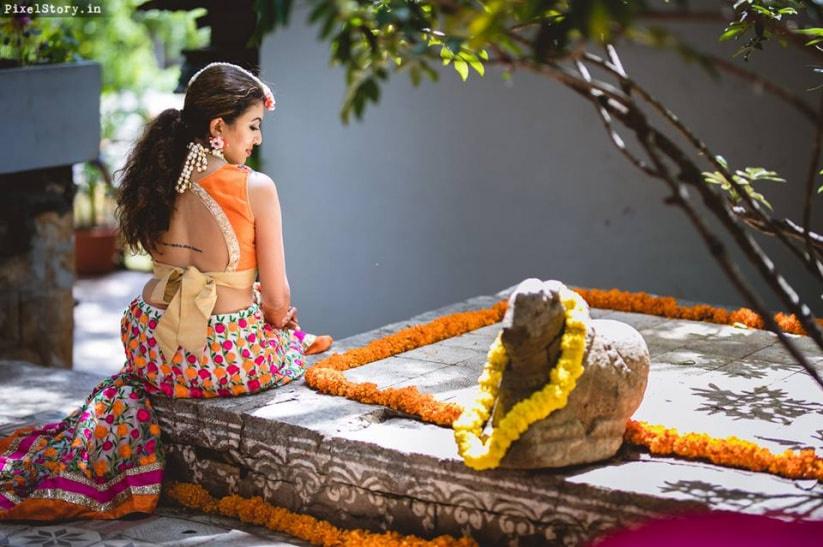 Get a backless Choli with a tie-up for a bold and traditional fusion. You can choose the colour of your Choli and match it with your colourful Ghagra but go for a nude colour tie-up to add a little drama.
Ideal occasion: Haldi, Mehndi, Sangeet.
Accessories to go with: Gota Patti, floral bangles. Make sure you tie your hair up.
7. Deep Purple Skirt with Animal Motif and Golden Choli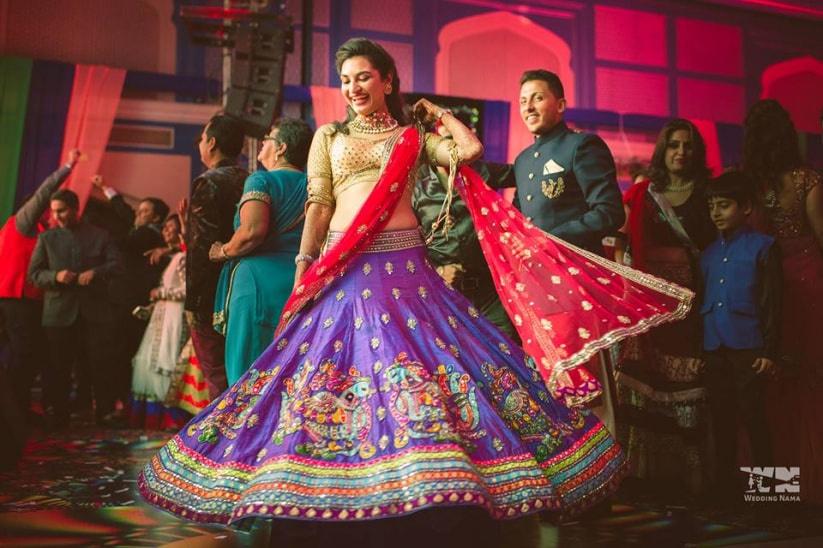 With such a vivid Chaniya choli design for wedding, prepare to brighten up the room with your aura! Peacock and elephant motifs on your deep purple skirt will keep the traditional Rajasthani vibe intact. Mix it up a bit with a golden half-sleeved Choli with heavy embroidery in the same colour.
Ideal occasion: Engagement, Sangeet, reception and Mehndi.
Accessories to go with: Kundan necklace, Armlets and Kadaa.
Experiment with your Chaniya choli design for wedding and try out unconventional styles and combinations. Knee length skirts with off shoulder Choli, off-beat patterns, a fusion between traditional colours and contemporary designs or stunning accessories with your lehenga choli. Just let go and follow your instincts. Get some tips on Ghagra inspirations for the gen-next brides. So don't wait and start looking for your own Chaniya Choli that instantly says, "You"!
Take a look at our list of bridal lehengas and bridal jewellery for your own wedding and pre-wedding events.