10 Cape Suit Images That Show Why This Trend is the Hottest!
Why go for simple & normal suits when you can look like the ultimate fashionista in a cape suit! Check out 10 suits with a cape that are too beautiful for words.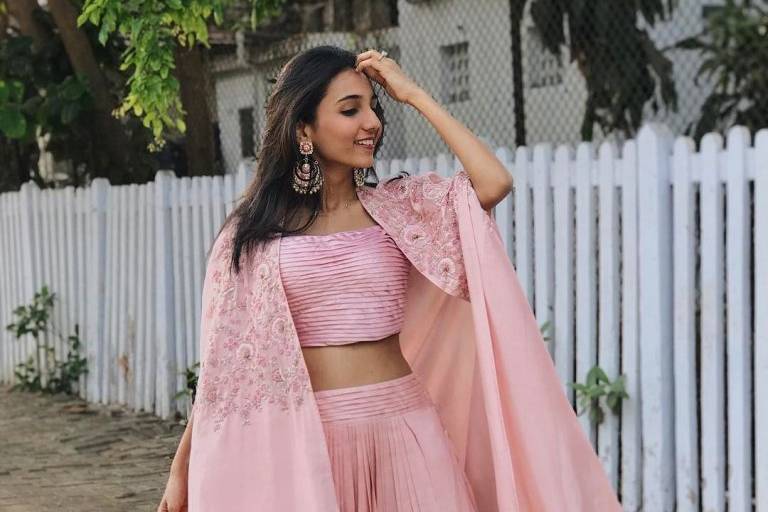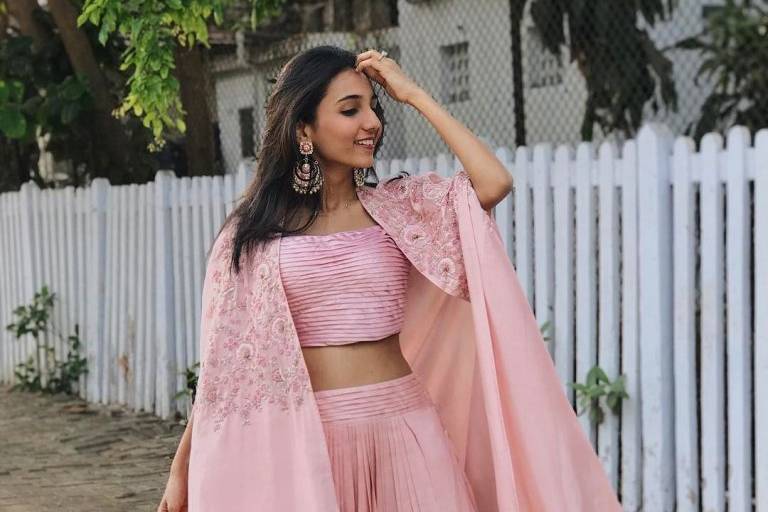 Image Courtesy: Urban Clap
Suits are a staple in the wardrobe of every Indian woman, regardless of their age. Whether you are a teenage girl or a woman in her 30's, we know your closet is full of suits. But, before you think that you've got enough of this humble garment in your arsenal, think again because the fashion industry found a new way to revolutionise them!
Cape suits are the hottest trend this season. This is a style that can work as a sleeveless jacket and eliminate sleeves altogether from a dress, lehenga, saree or suit. Today we are going to show you the most gorgeous cape suit styles available in the market right now.
After looking at them, you will not be able to control yourself from wanting to wear them. They completely change a simple suit look to a fashionable and contemporary one!
White suit with a lace cape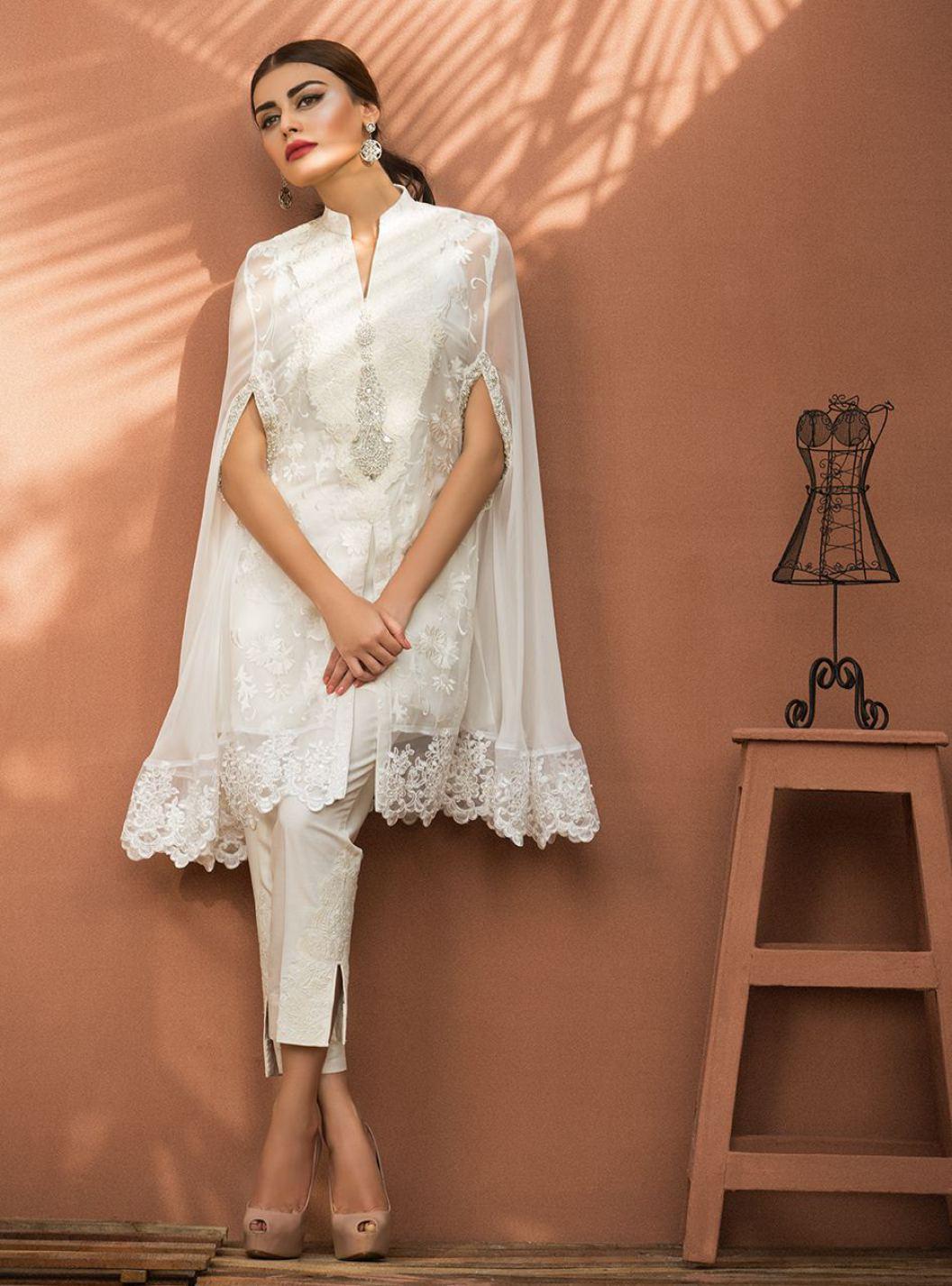 Image Courtesy: Best Stylo
The first suit is a white number with a straight kurta and simple trouser pants. The suit is quite simple in itself and you cannot wear it for a special occasion. However, the lace cape gives this look a complete 360 turn. The subtle embroidery work on the neckline and the lace border takes this suit to the next level.
Asymmetric suit with a cape top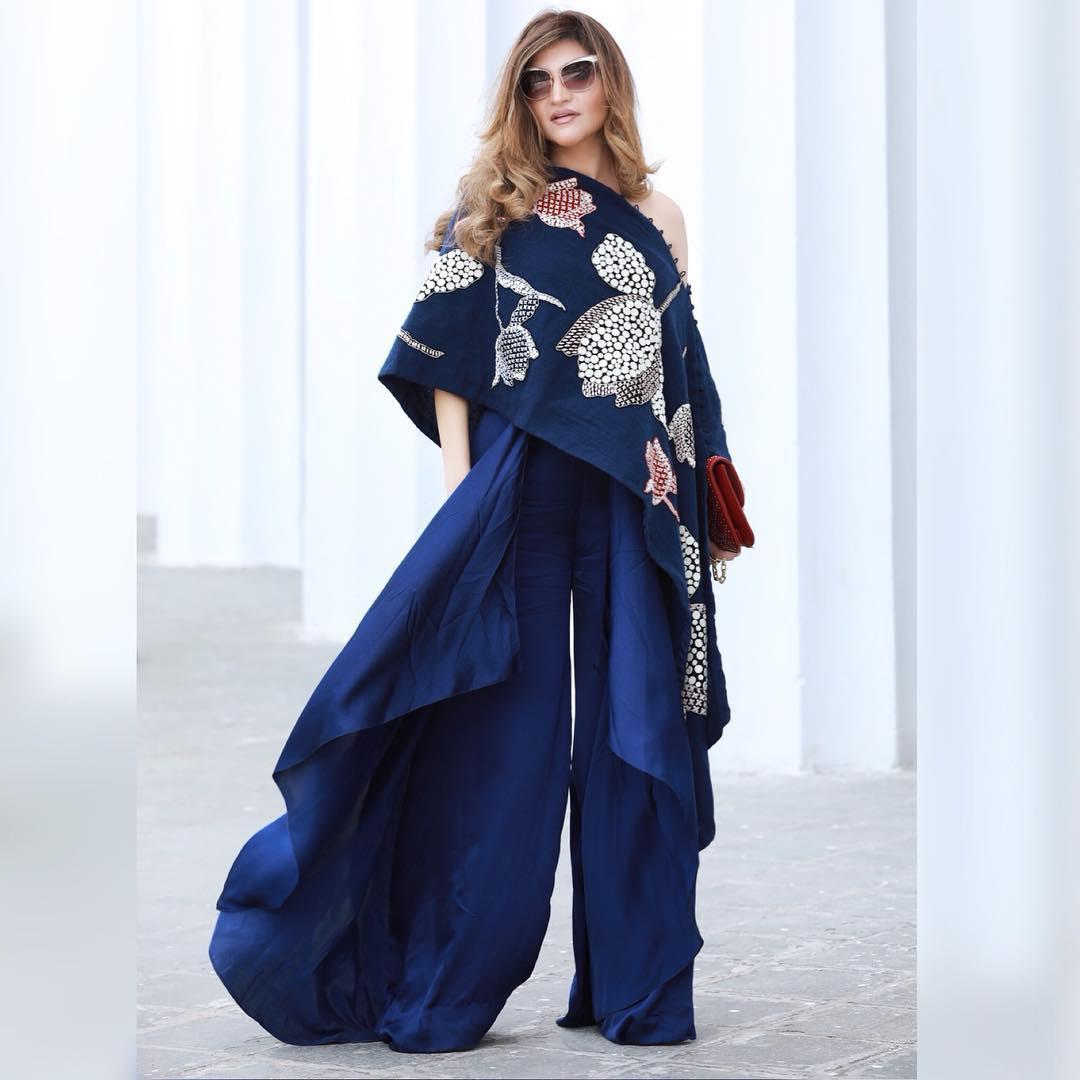 Image Courtesy: Kat Diaries
The next cape is an asymmetrical piece that not everyone can pull off. You need a high level of confidence to be comfortable in this asymmetrical trouser and cape top suit. However, once you pull this off, all the eyes will be on you.
Palazzo suit with an asymmetrical net cape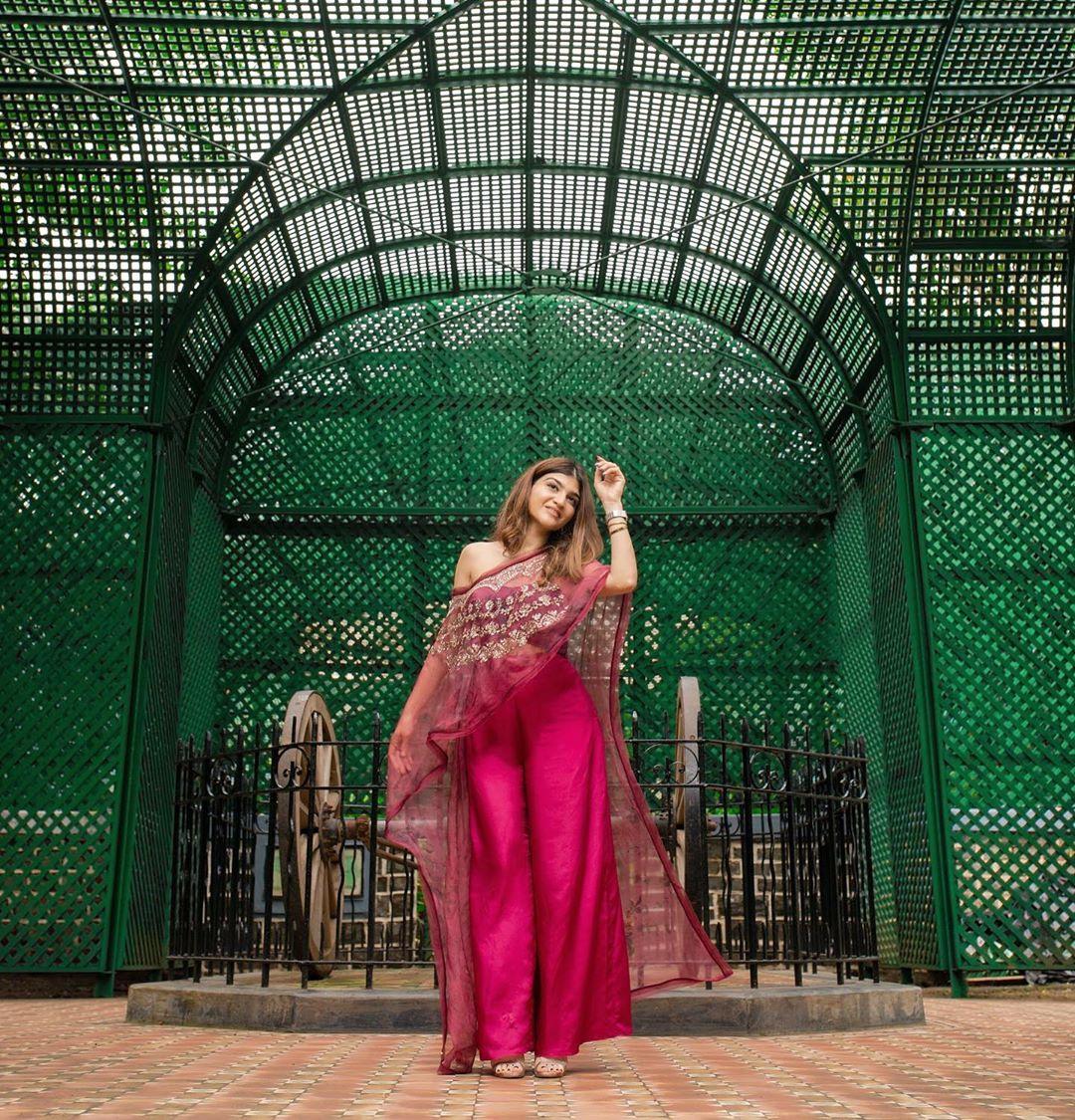 Image Courtesy: Kat Diaries
Nothing is more comfortable than a pair of palazzos when it comes to the suit categories. The bright wine colour palazzo and the simple tube top looks gorgeous with the asymmetrical floor length net cape.
Off-shoulder sharara suit with cape sleeves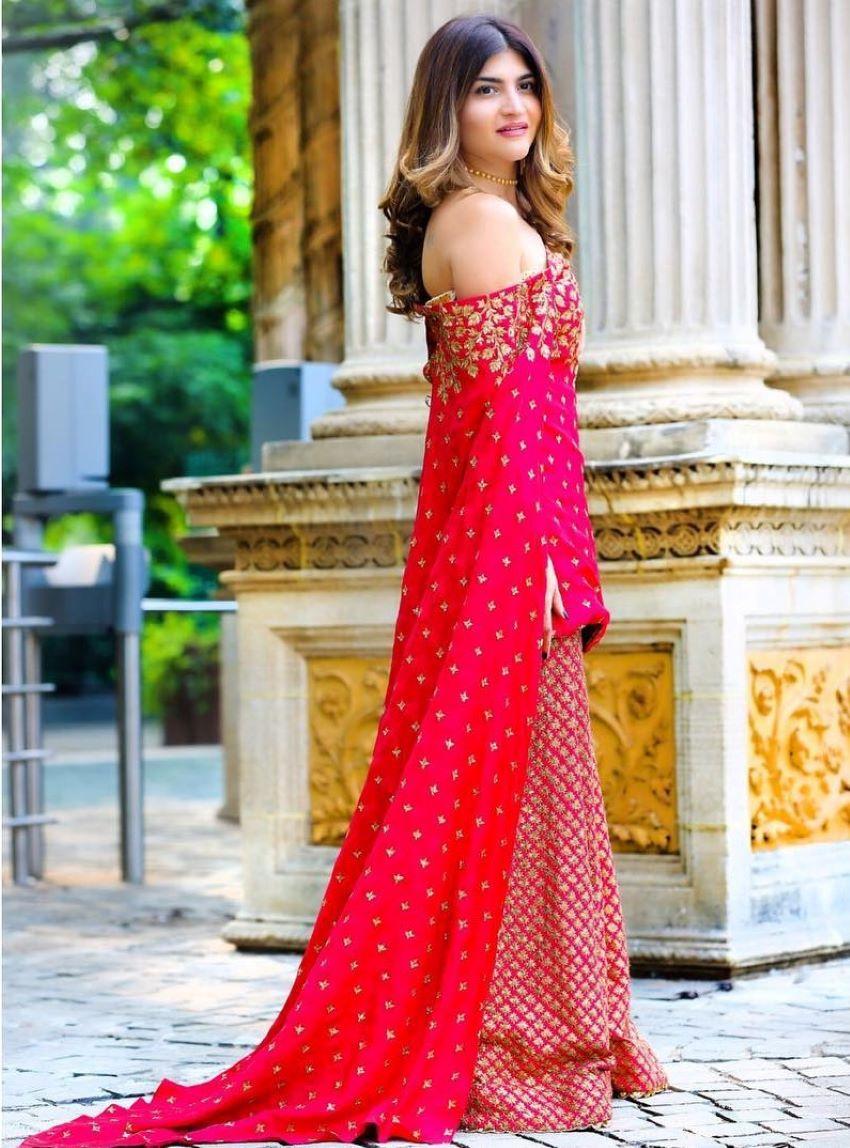 Image Courtesy: Kat Diaries
If you are looking for a heavy cape suit that you can wear for your own Reception or Sangeet ceremony, this off-shoulder Sharara set is one of this kind. The cape sleeves kiss the floor, which gives this outfit a whimsical twist!
Crop top and dhoti trousers Indo-western suit with cape sleeves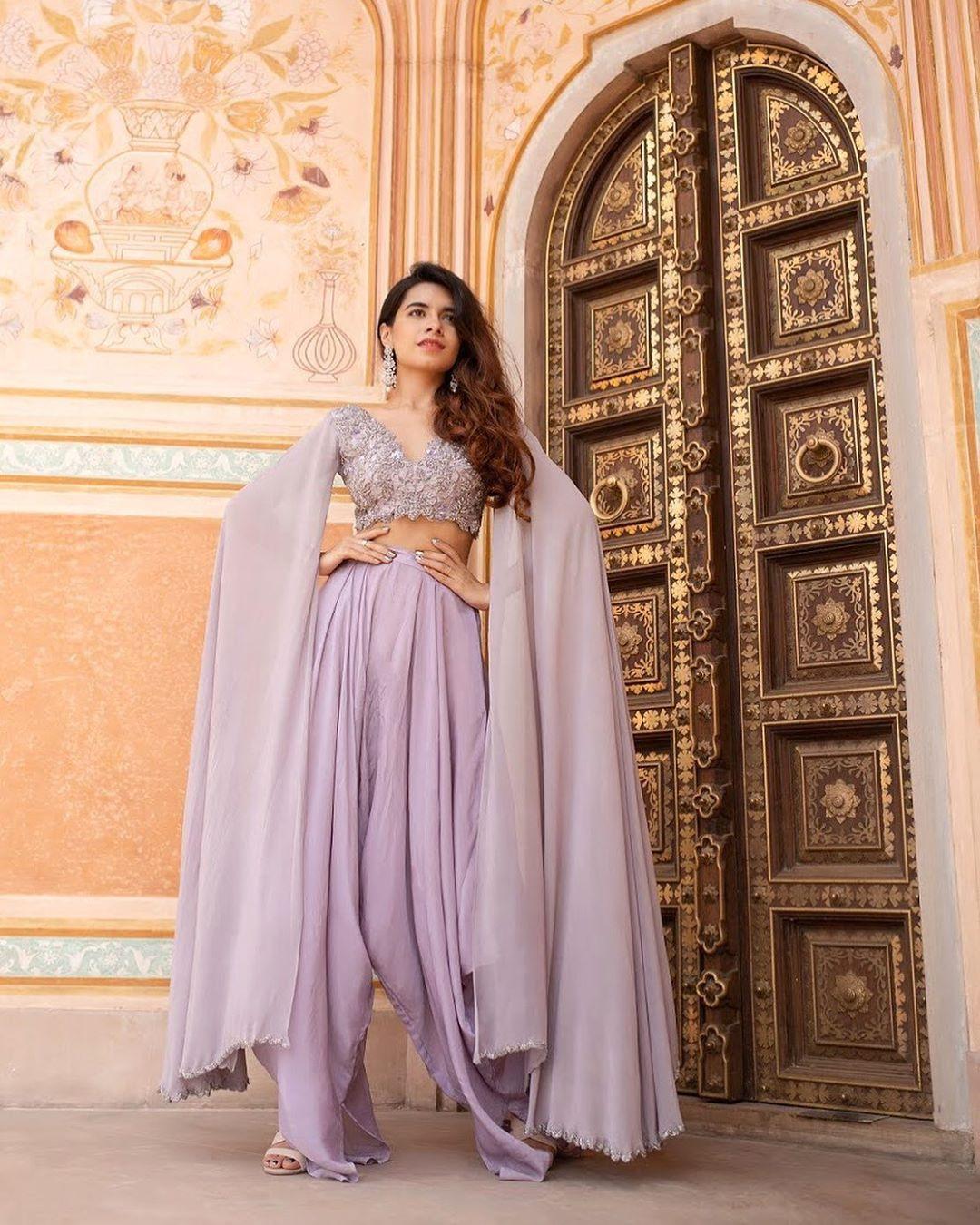 Image Courtesy: Label Prerna Mehra
Indo western outfits have been trending for a few years now. They instantly jazz up any outfit, whether it is a suit or saree. These lavender dhoti trousers are so pretty and breezy along with the studded crop top blouse. The cape sleeves completely bring this outfit together!
Silver Indo-western dhoti suit with a ruffled cape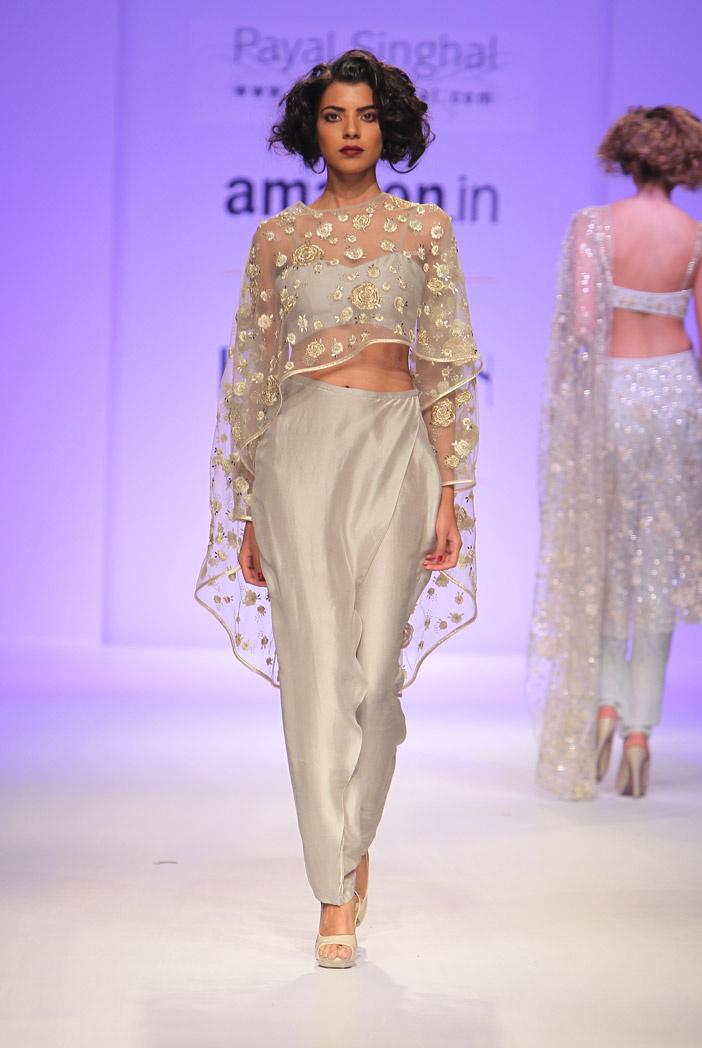 Image Courtesy: Payal Singhal
This cape suit has quite some similarities to the previous one. This Indo-western suit also has a dhoti style trouser along with a studded blouse. However, the similarities end there! This look stands apart from the last one because of the ruffled cape in this ensemble. You can wear or detach them whenever you want.
Golden Anarkali with detachable net cape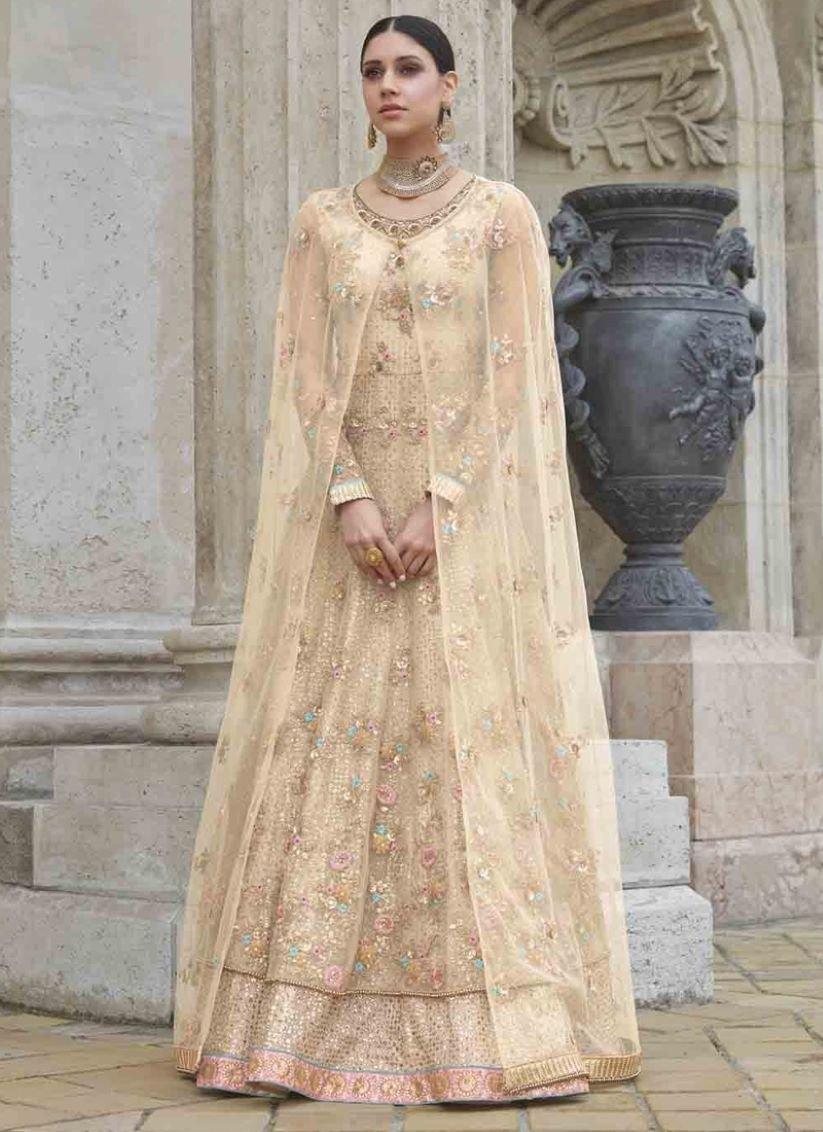 Image Courtesy: Shree Designer Saree
This cape suit is a traditional Anarkali suit in a soft golden colour with sequin work and colourful floral embroidery. The cape in this suit is more like a queen's cape that you see in fairy tales. Pretty fitting for brides, don't you agree?
One-shoulder suit in black with net cape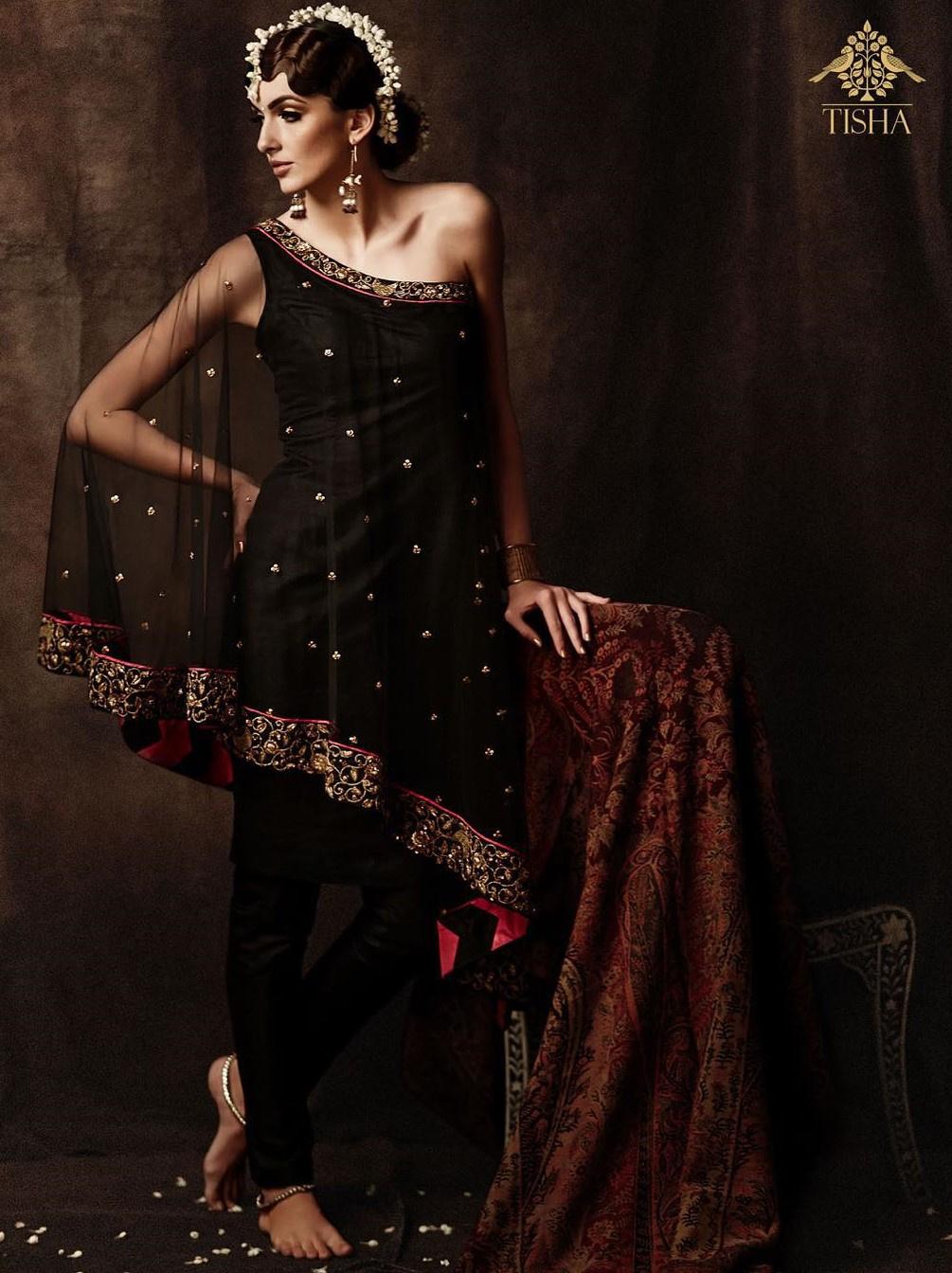 Image Courtesy: Tisha Official
The next cape suit is the perfect blend of vintage and modern. The style of this suit comes from the 80's but the one shoulder detail makes it perfect for 2019. The one-shoulder net cape attached to the neckline of the suit adds an interesting detail to this entire look!
Golden Anarkali with a velvet cape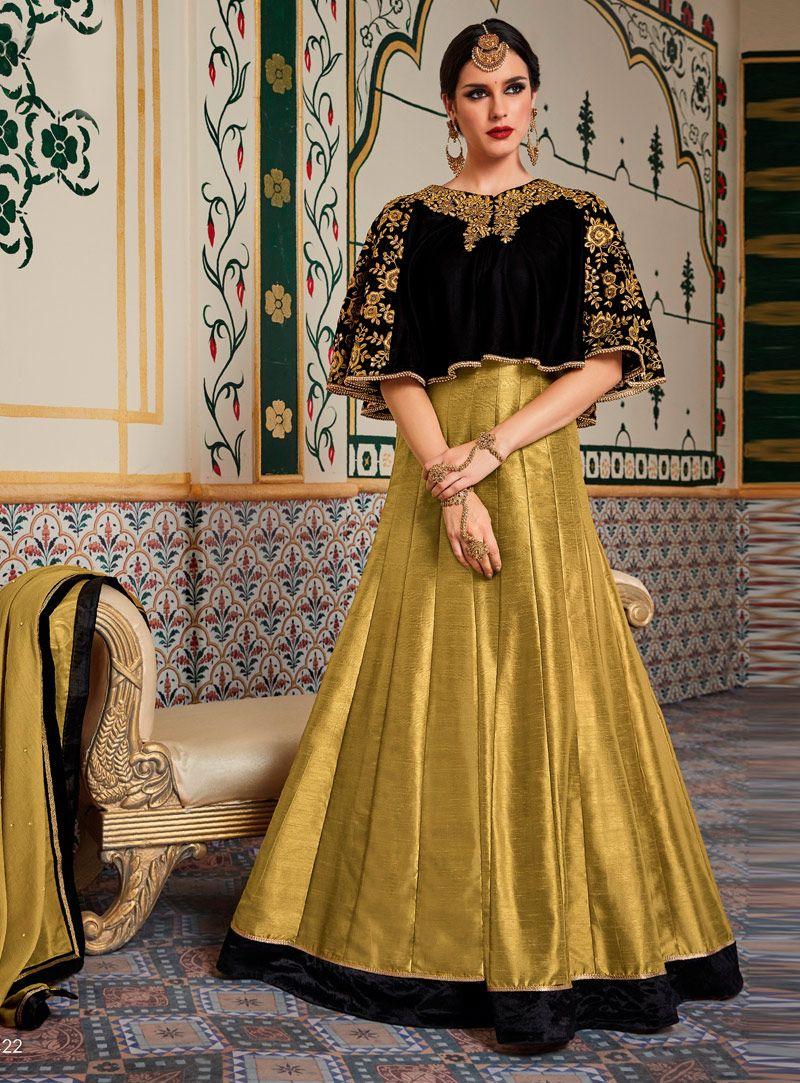 Image Courtesy: Pinterest
The next cape suit is also an Anarkali piece. The velvet cape jacket completes this super stylish outfit that is fit for a bride for any event, be it the Sangeet or Reception.
Dhoti kurta with cape and trouser pants in peach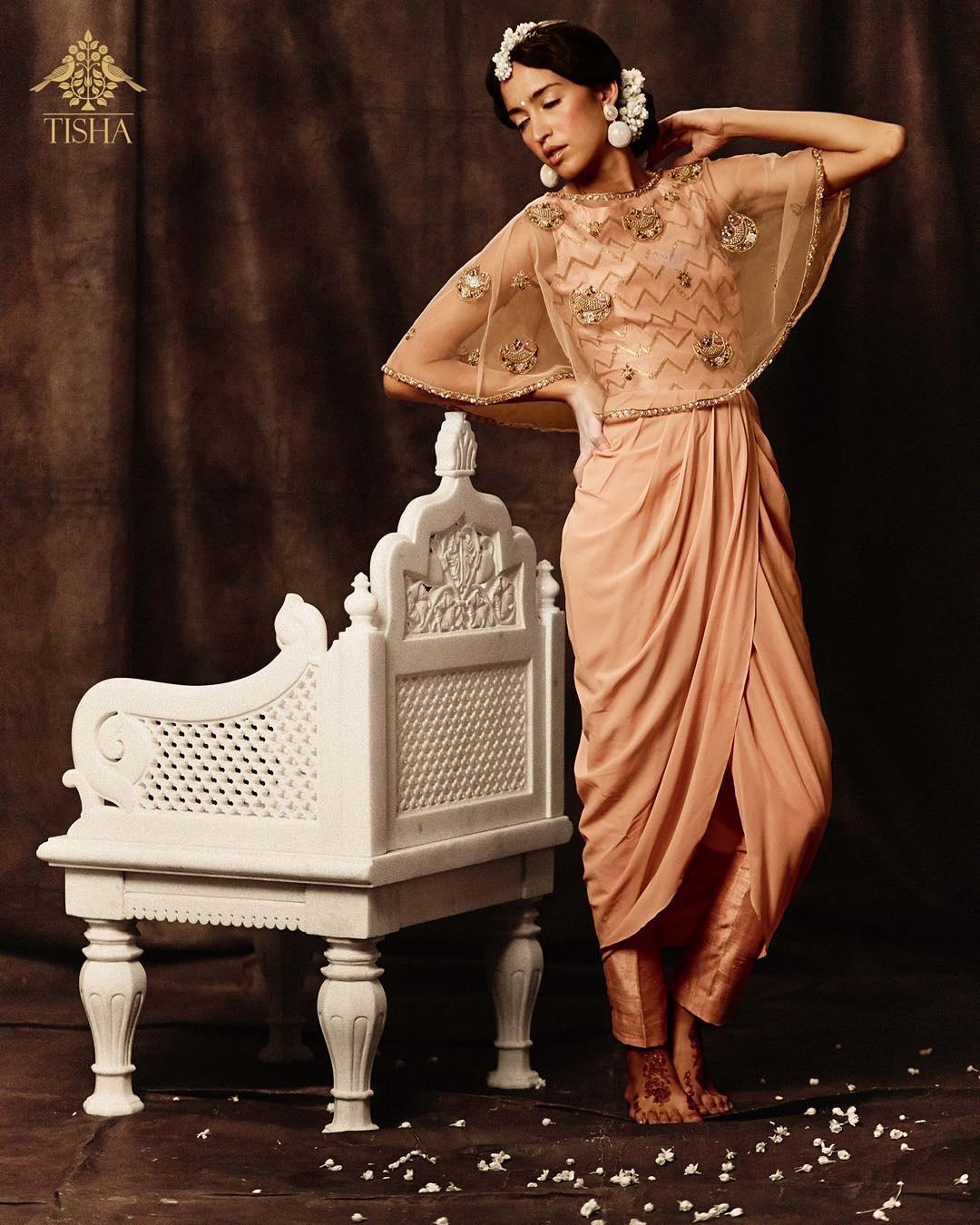 Image Courtesy: Tisha Official
The last cape suit is a peach set with the first style of the cape that introduced capes in the market. The simple trouser pant balance out this look and compliments the dhoti style kurta and net cape.
These 10 cape suits have all the latest elements that are popular right now. No one can say that capes are outdated after looking at these suits. If you are getting married or going to someone's wedding this year, you definitely need to wear a cape suit for at least one event!
Check out these stores near you that offer great Indian garments for all occasions!