15 Stunning Bridal Dresses Images From Red To White!
Every bride needs some inspiration and a lot of research before choosing her one perfect dress. Check out these very different bridal dresses images that are #Goals!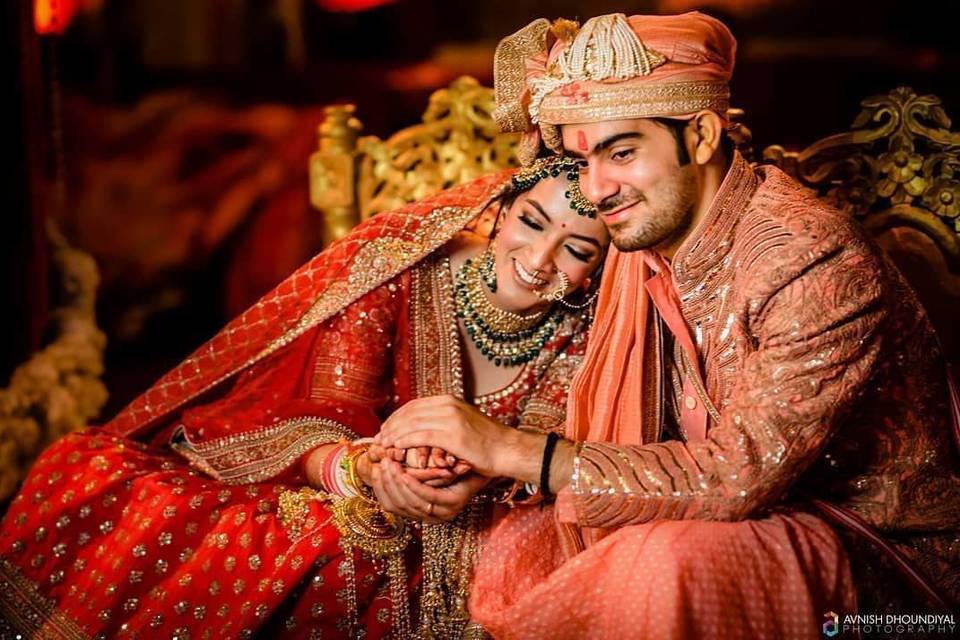 The first thing any bride worries about as soon as her wedding date is set is how to look for her wedding outfit. She may have some ideas about what she wants but needs to know all the latest trends.
Here are all the bridal dresses images that are beautiful and quite different from each other. You can take a look and decide what styles you like and what colours can work for your dream bridal look. These will also give you a good idea about some good bridal poses for your wedding photos!
Take all the advantage you can get from these pictures and starting scrolling now!
1. Classic red lehenga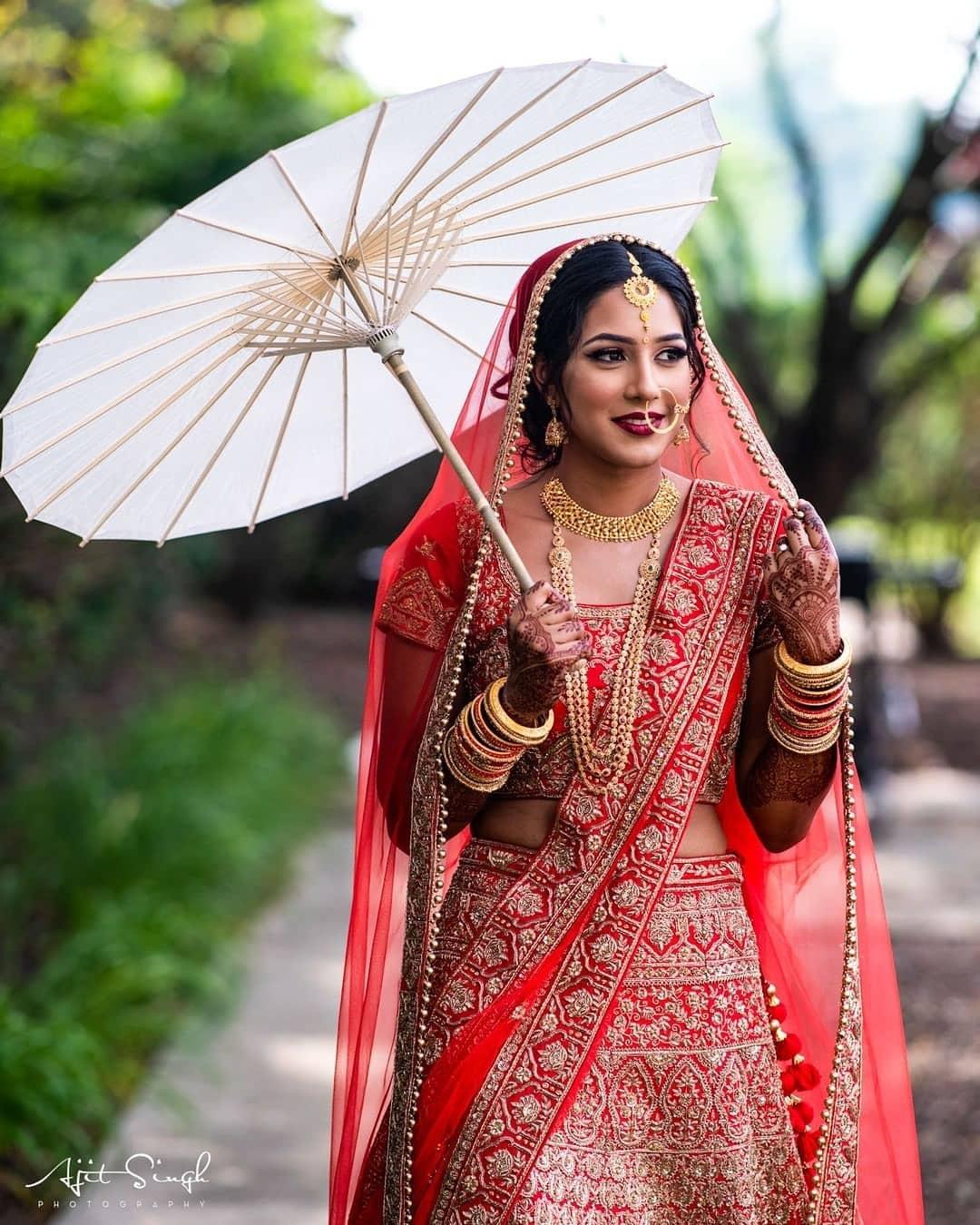 Image Courtesy: Ajit Singh Photography
An outfit becomes a classic because it works. In India, red is the most auspicious colour of marriage. From the Sindoor to the bangles, everything is red. It makes sense that red is the classic colour for wedding outfits as well. Any bridal dresses images list is incomplete without a classy red lehenga.
2. Anita Dogre's pink lehenga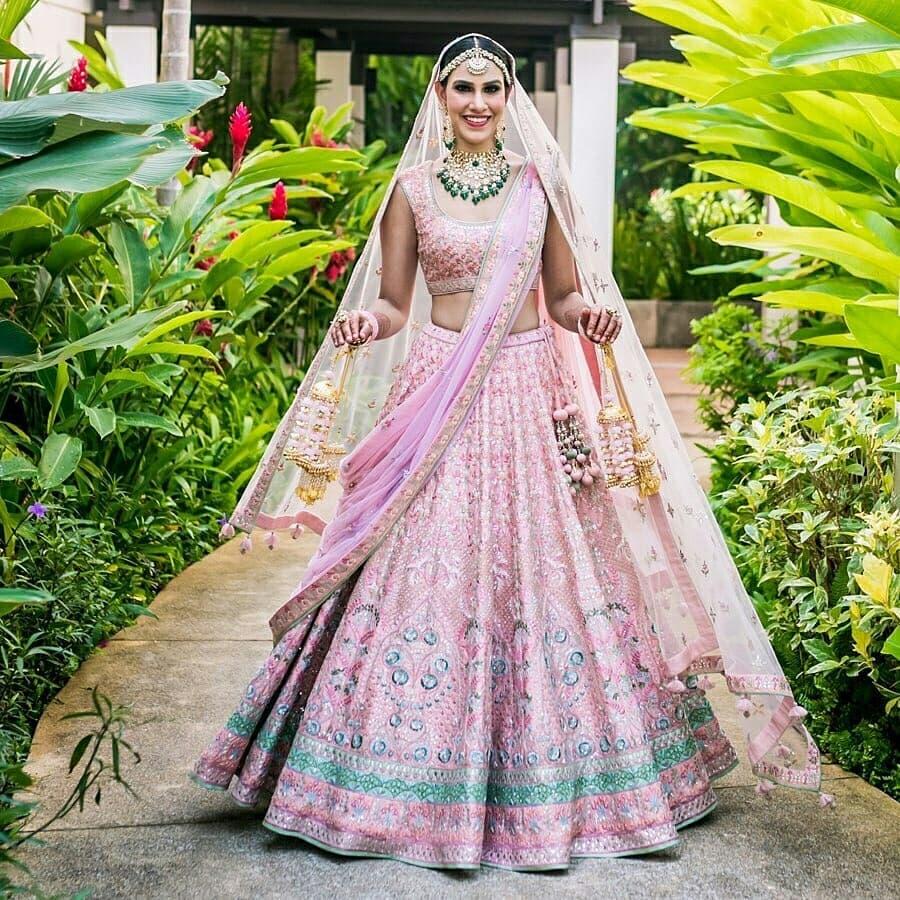 The best thing about us millennials is that we like our choices. Good thing is that we have some very talented designers in our midst. This light pink masterpiece is by Anita Dongre. The teal print stands out brightly, making it ideal for a bride with a colourful personality looking for a pink lehenga!
3. Golden Pattu saree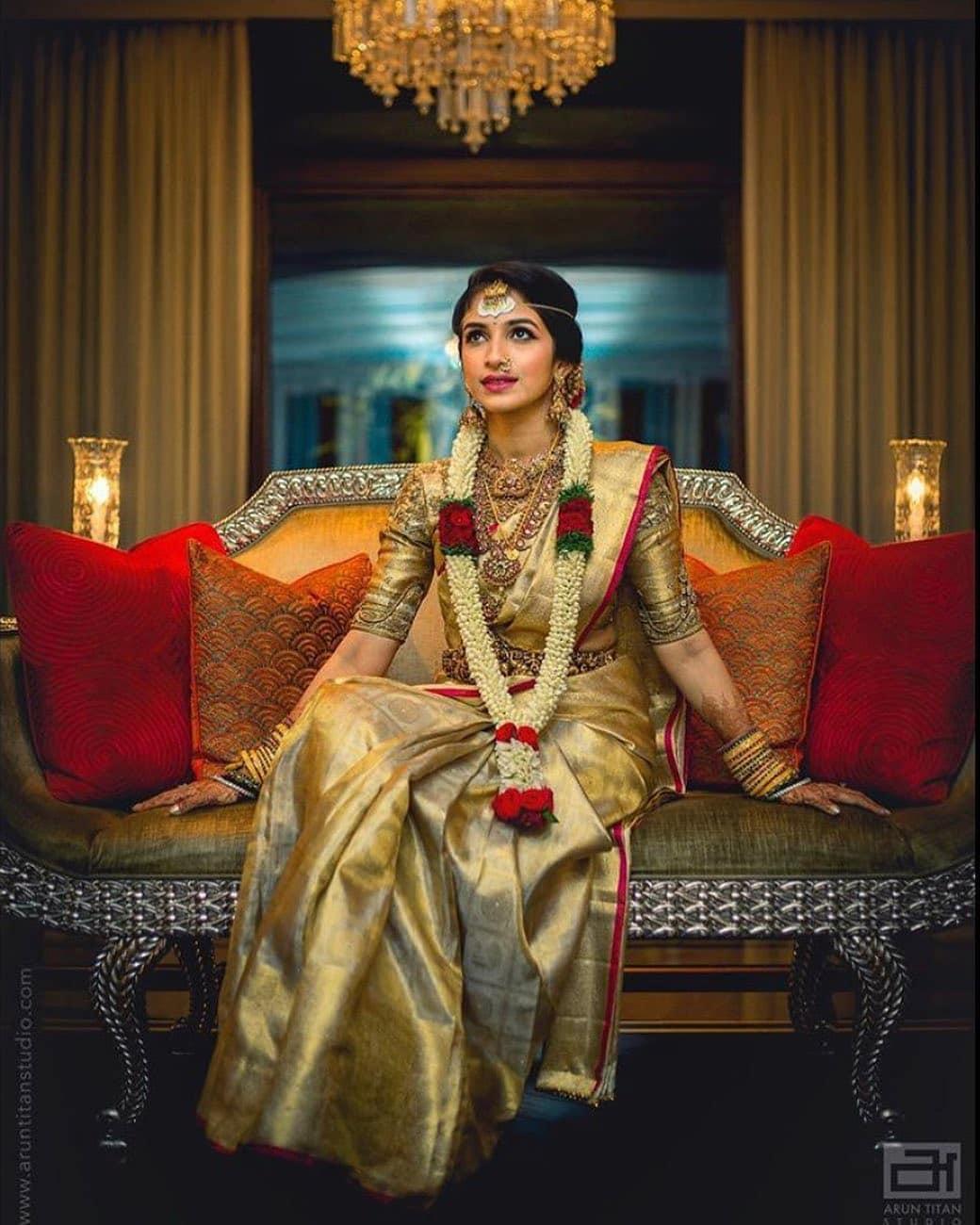 South Indian brides to this day wear sarees for their weddings. It is a big part of their culture. Looking gorgeous in a golden Pattu saree that is perfect for a southern bride is a great idea which is why this is a part of our bridal dresses images list.
Do not forget to pair gold temple jewellery with your saree look.
4. Beautiful Chikankari white lehenga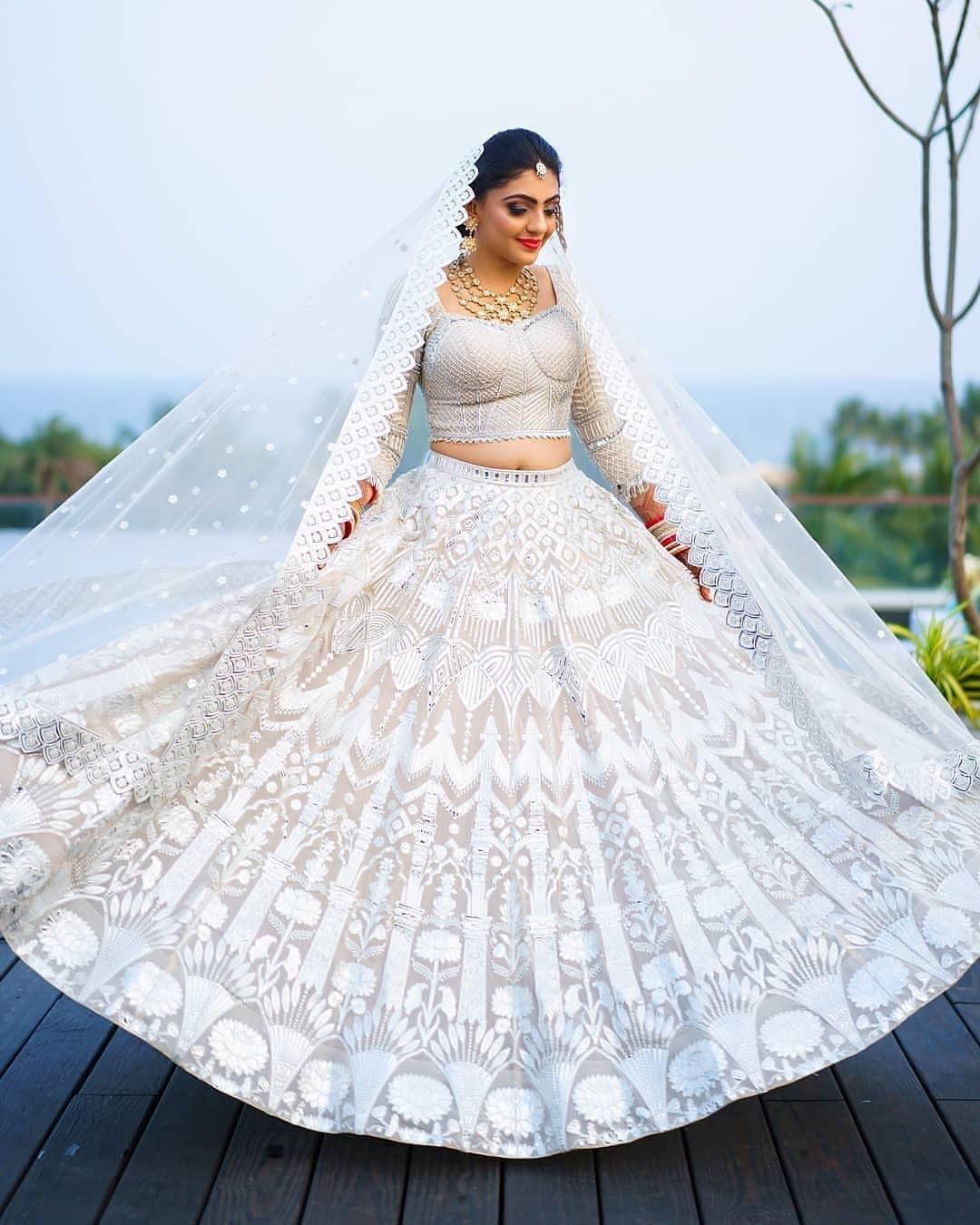 While white may not yet be as popular for bridal outfit choices in India, we cannot say that it does not look divine in this image. We may have a few converts amongst us once they see this! With the shiny blouse, it may also pass as silver.
5. Lace white dress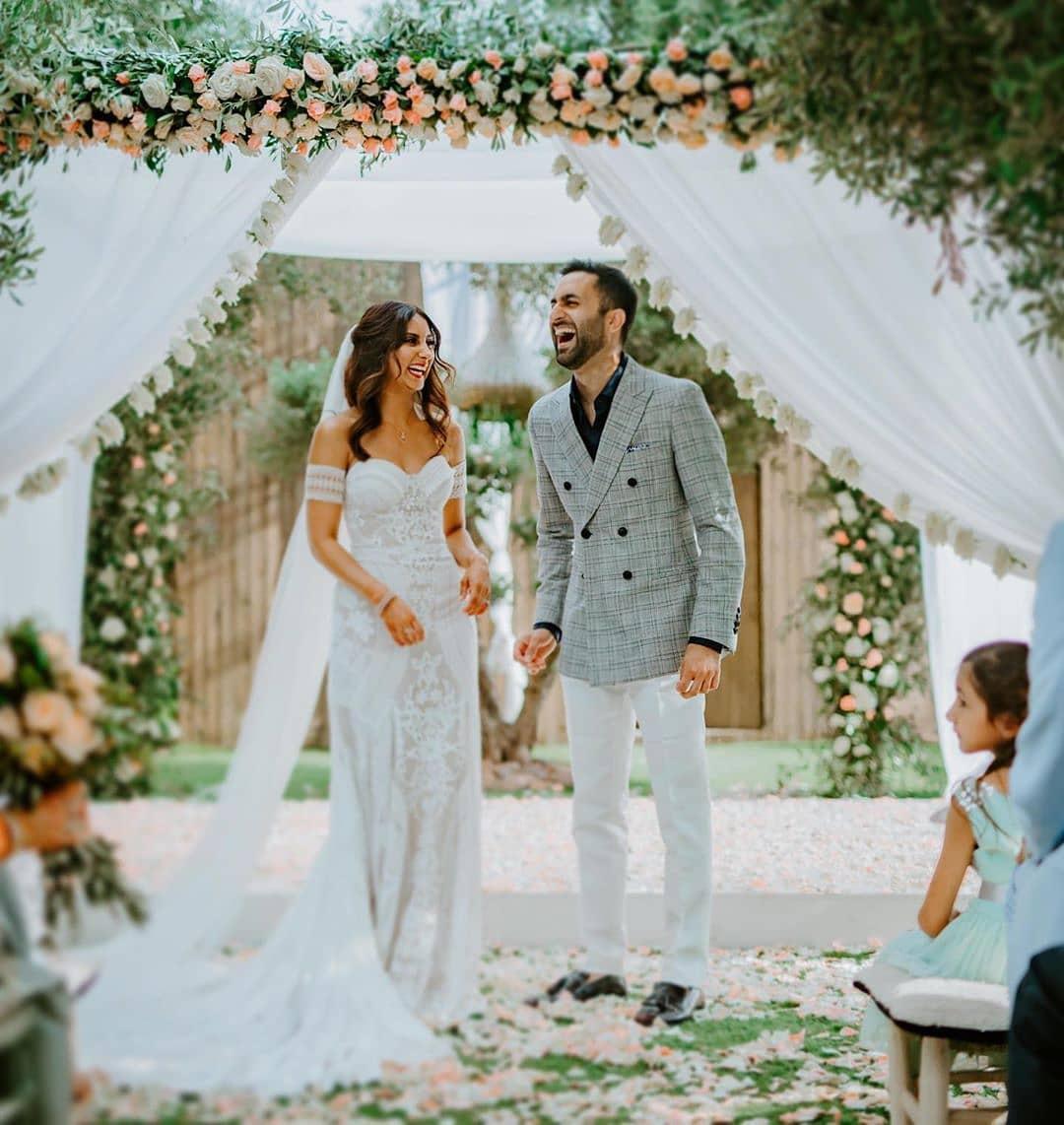 Talking of white wedding dresses how can we forget the beautiful Christian weddings that take place here. For those of you looking for bridal dresses images especially in white, this one's perfect!
6. Embroidered orange lehenga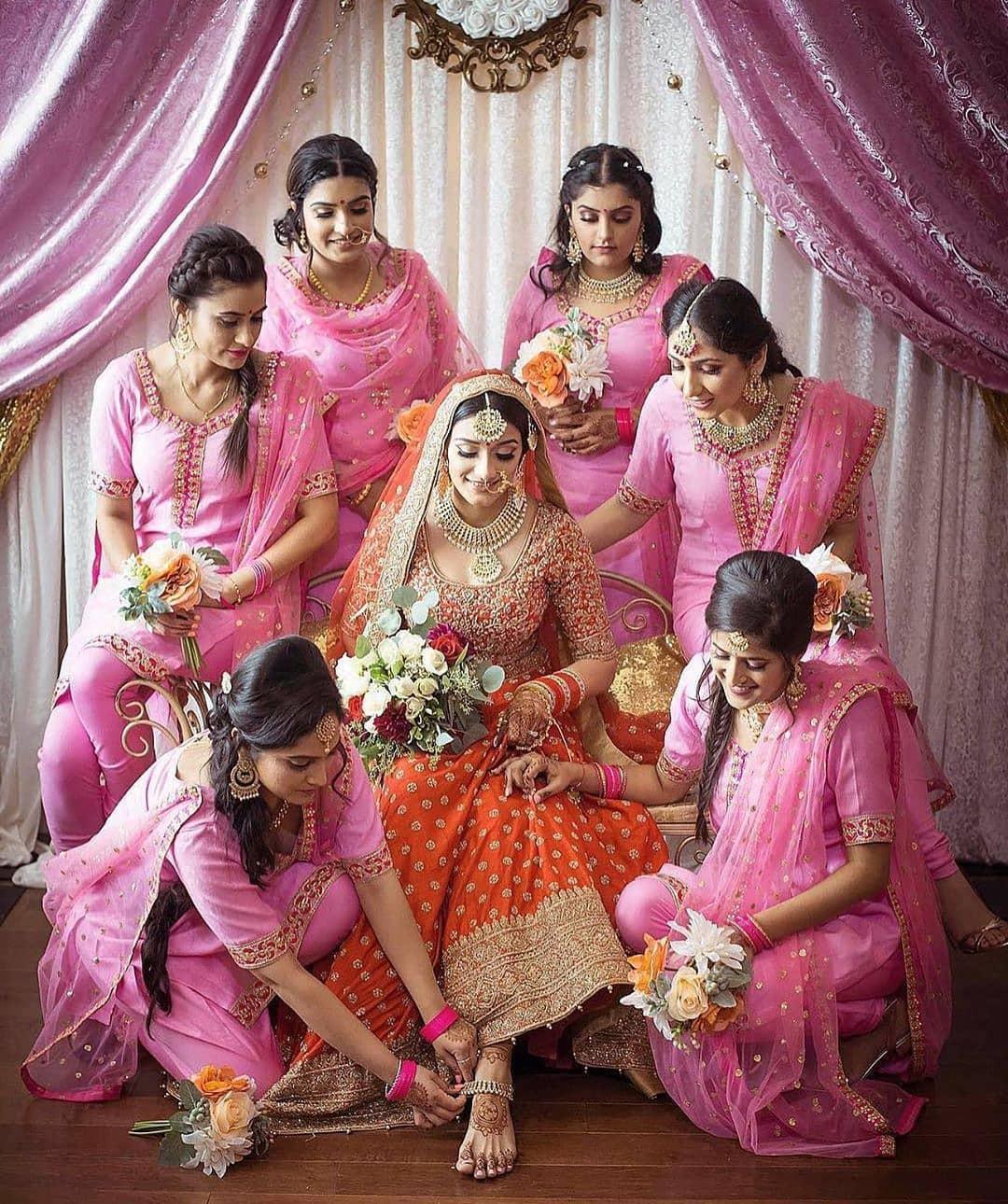 Image Courtesy: G Stills Photography
Orange is a great middle-ground for someone for who is looking to wear a classic lehenga with a little twist. It is an important member of the red family but has a personality of its own.
7. Velvet maroon bridal lehenga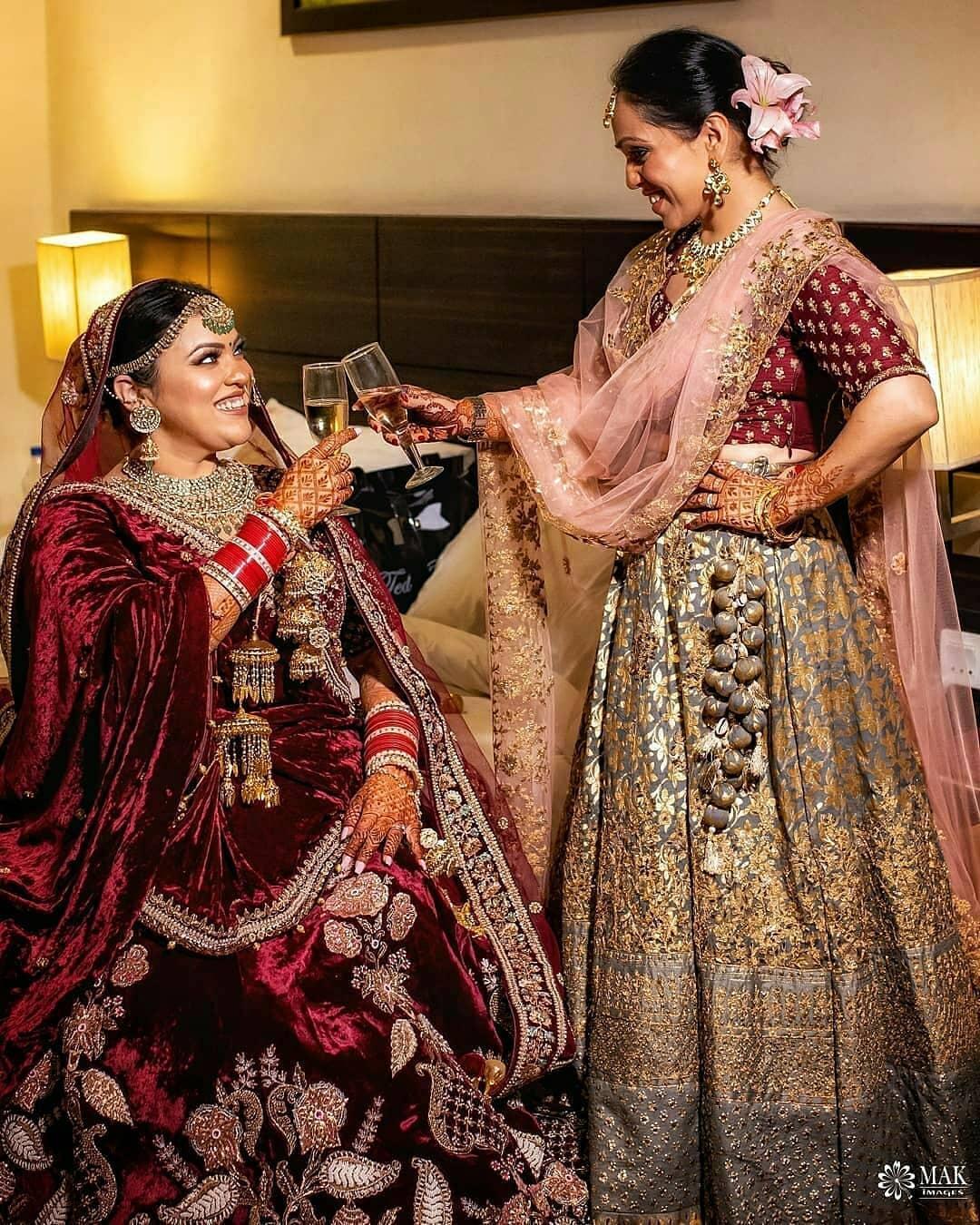 Maroon is another option for someone looking for classic bridal dresses images. The addition of velvet is great here because its the perfect fabric to bring out the regal touch. The velvet lehenga option is perfect for a night wedding!
8. 50 hues of pink lehenga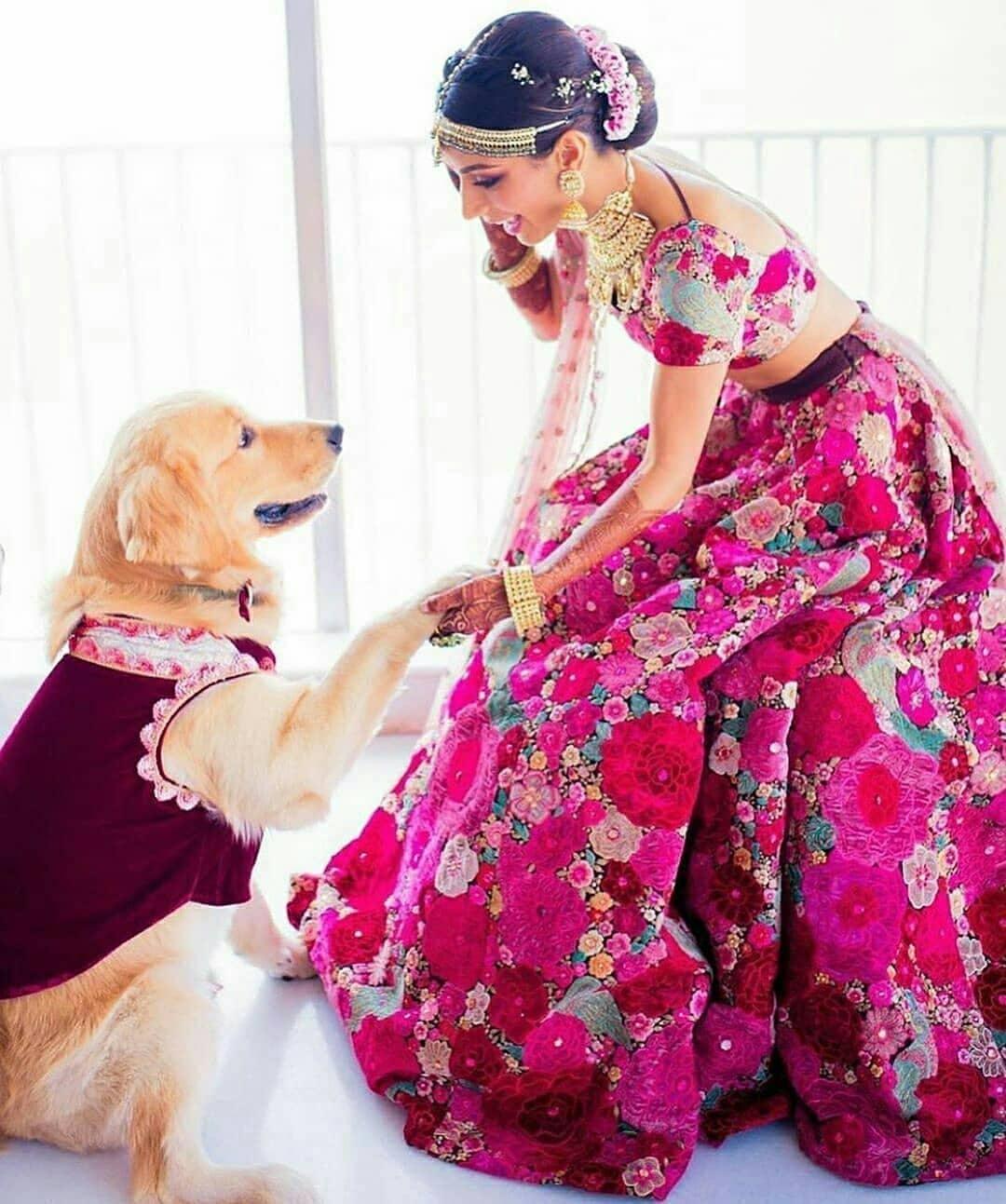 Floral prints always look wonderful on brides on any occasion. But we have never seen bridal dresses images with hundreds of flowers in different sizes and shades of pink from dark to baby pink. And how cute is that dog by the way!
9. Cream and golden lehenga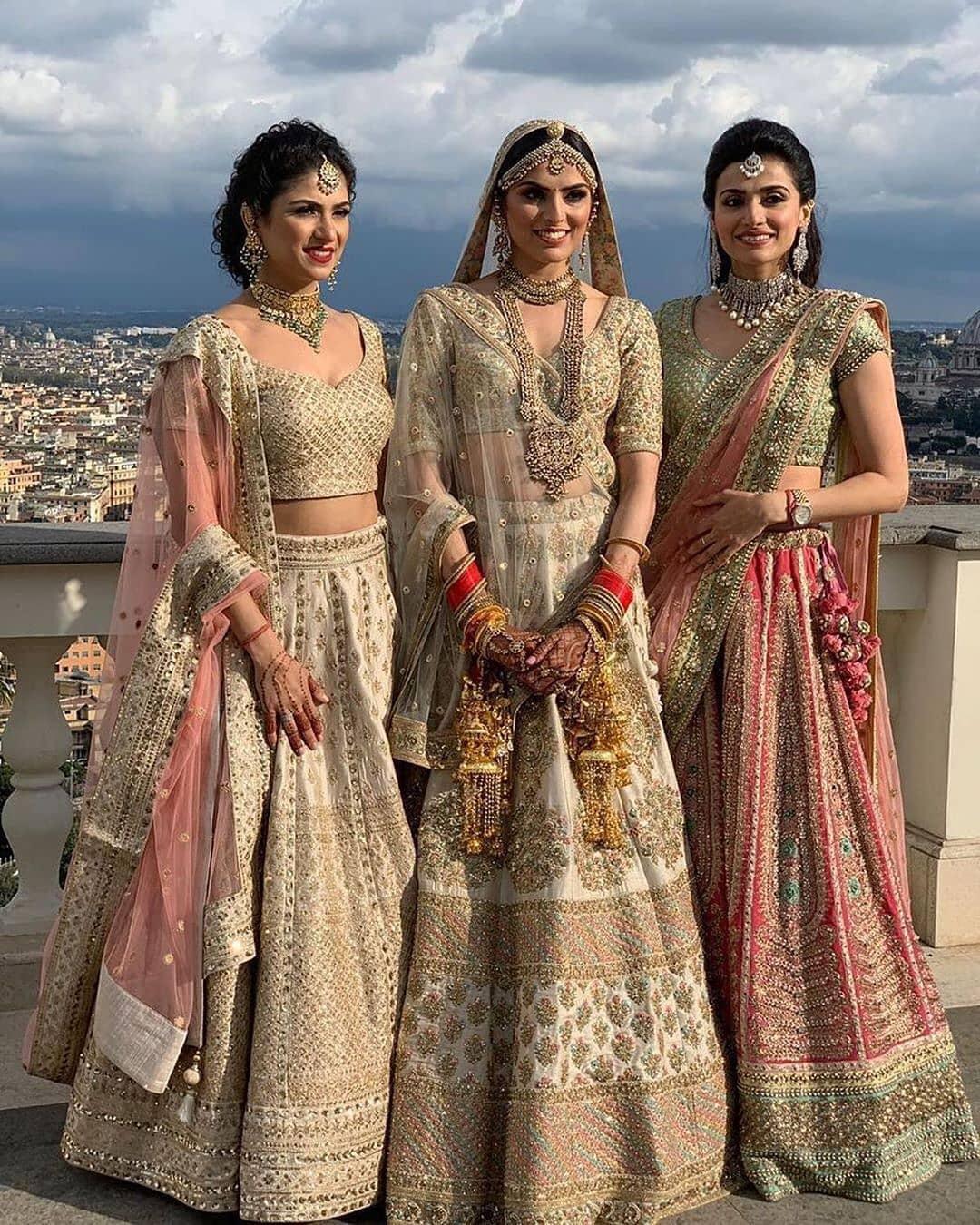 Image Courtesy: Sabyasachi's Instagram
When looking for bridal dresses images you cannot escape Sabyasachi designs. The brides of Sabyasachi are always seen rocking some of the most stunning outfits. You can also look gorgeous in his designs on your wedding day!
10. Hot pink ombre lehenga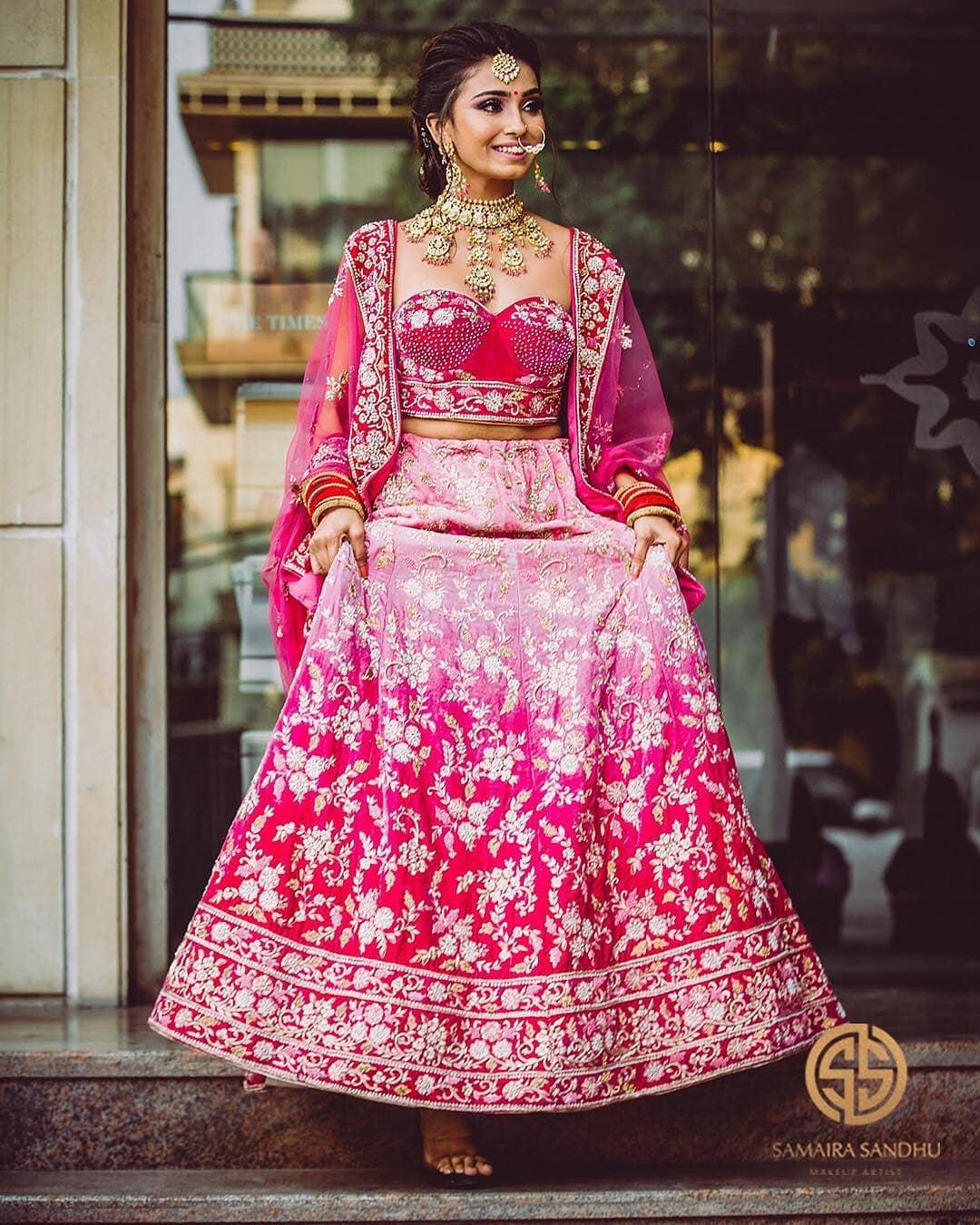 Image Courtesy: Samaira Sandhu Makeup Artist
A studded blouse with a sweetheart neckline and an ombre lehenga with traditional embroidery work is perfect for a millennial bride. If this outfit does not end up in your favourites list, we don't know what will.
11. Golden sequin lehenga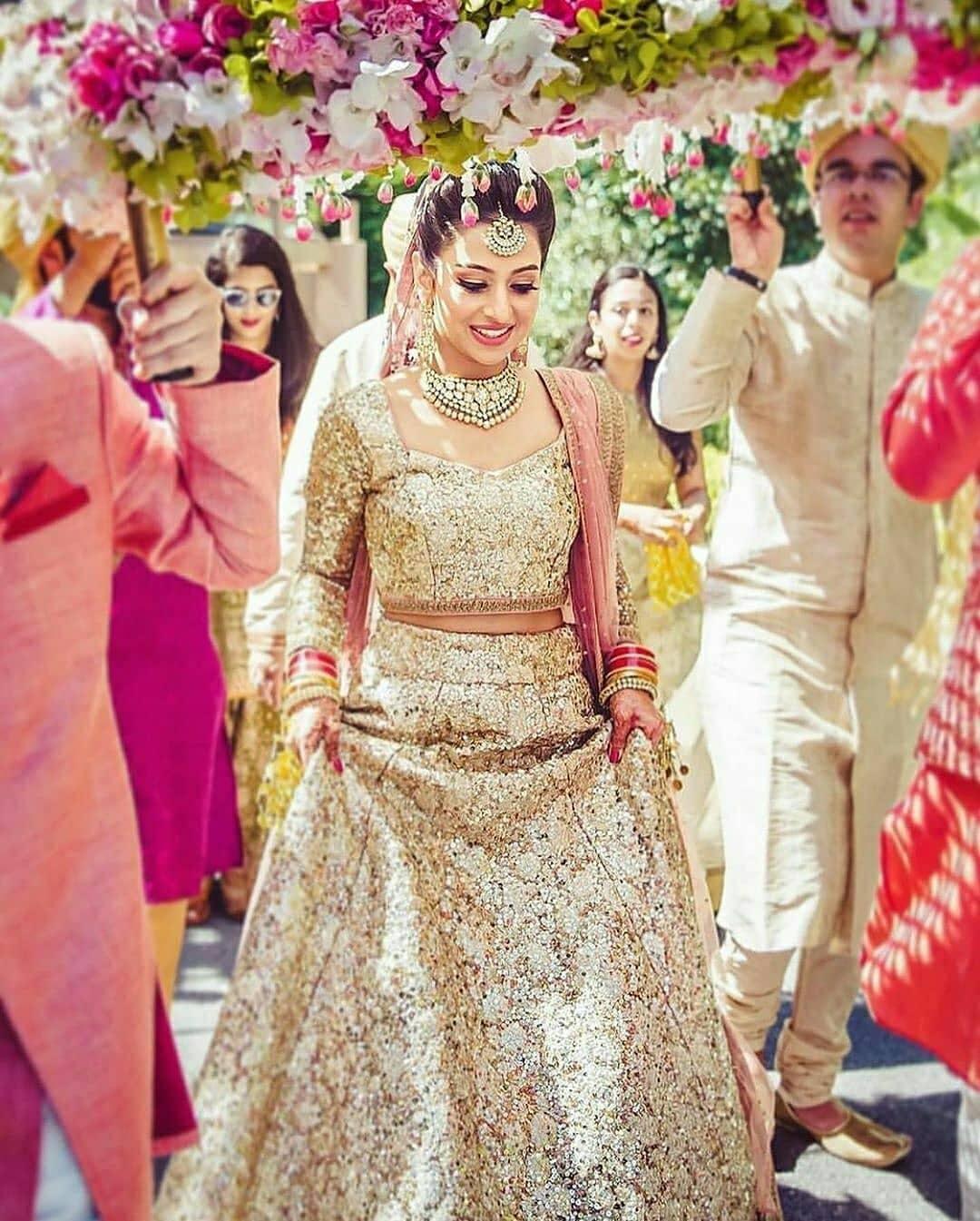 Image Courtesy: Shades Photography India
The next in line of bridal dresses images is for the brides who love to dress OTT. The first is a fully sequined lehenga with a pink net dupatta. We assure you that no one will shine more than you.
12. Embroidered silver lehenga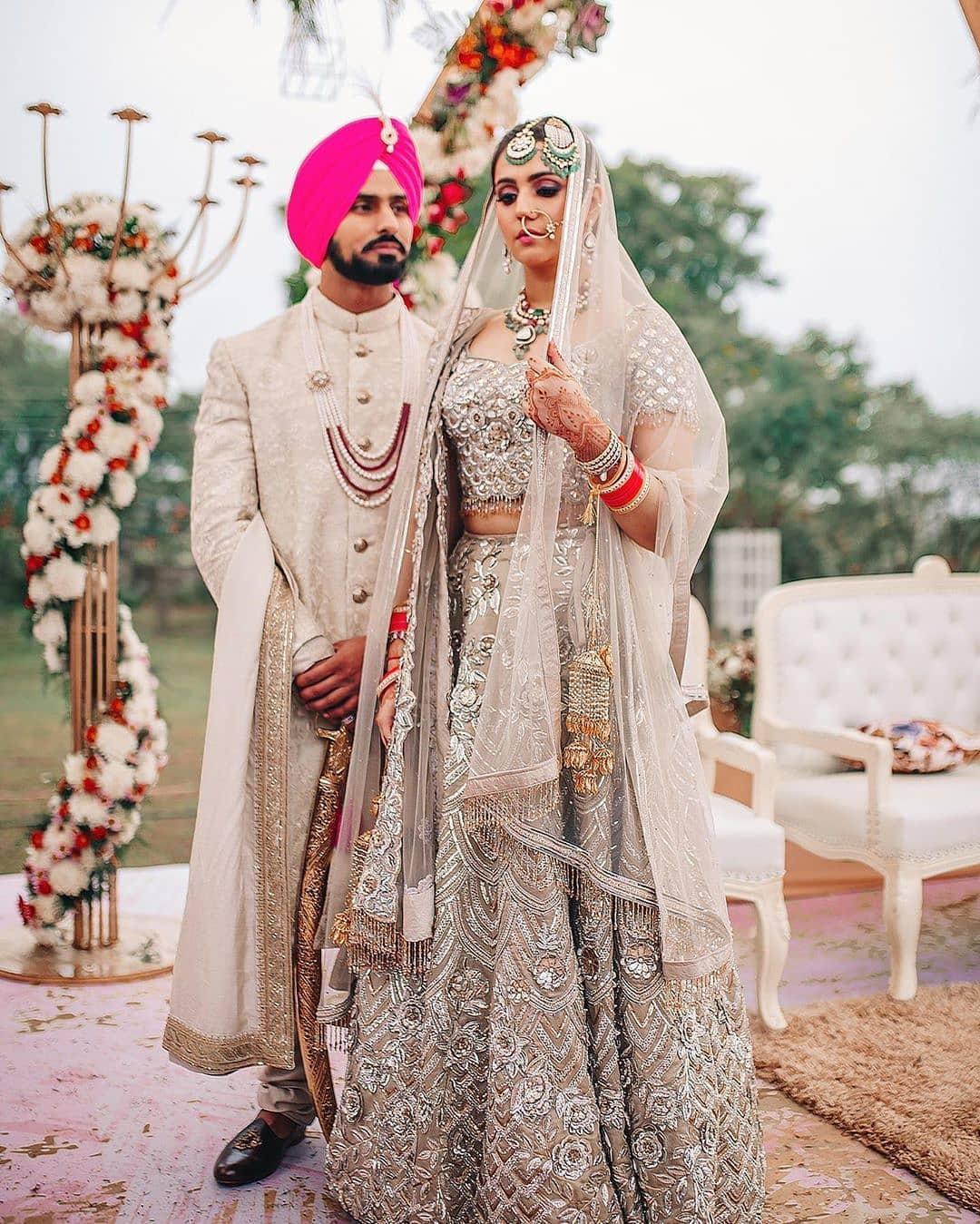 Image Courtesy: Shades Photography India
The next is a heavily embroidered silver lehenga with beige undertone to it. The beading and the mirror work is a nice addition and the tassels complete the look!
13. Red Kanjeevaram Pattu saree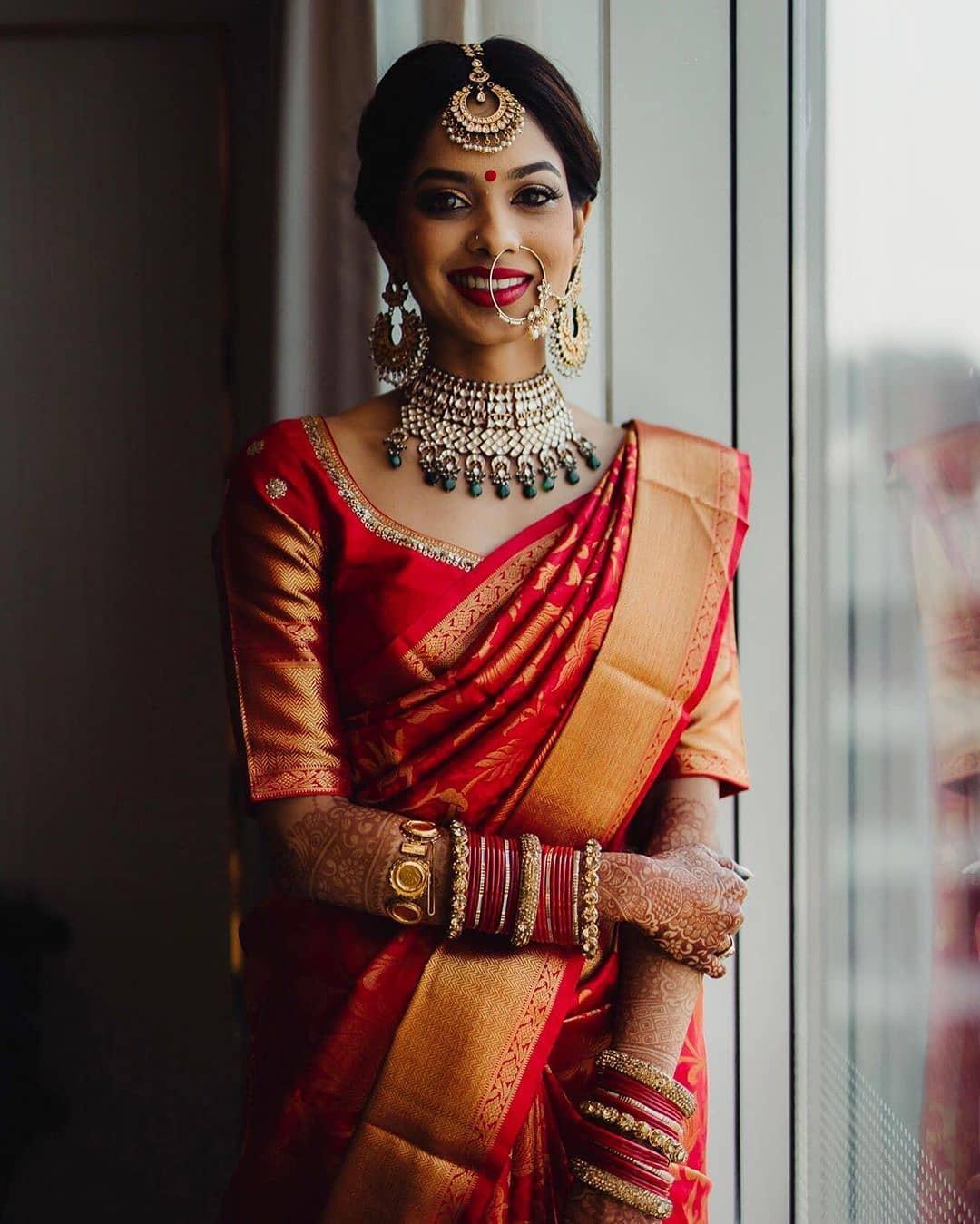 We have another bridal saree option for all you beauties. As we mentioned earlier, red is the classiest colour for traditional brides. And nothing is classier than a Kanjeevaram silk saree. You are sure to look like a red angel wearing something this like.
14. Pastel salmon pink gown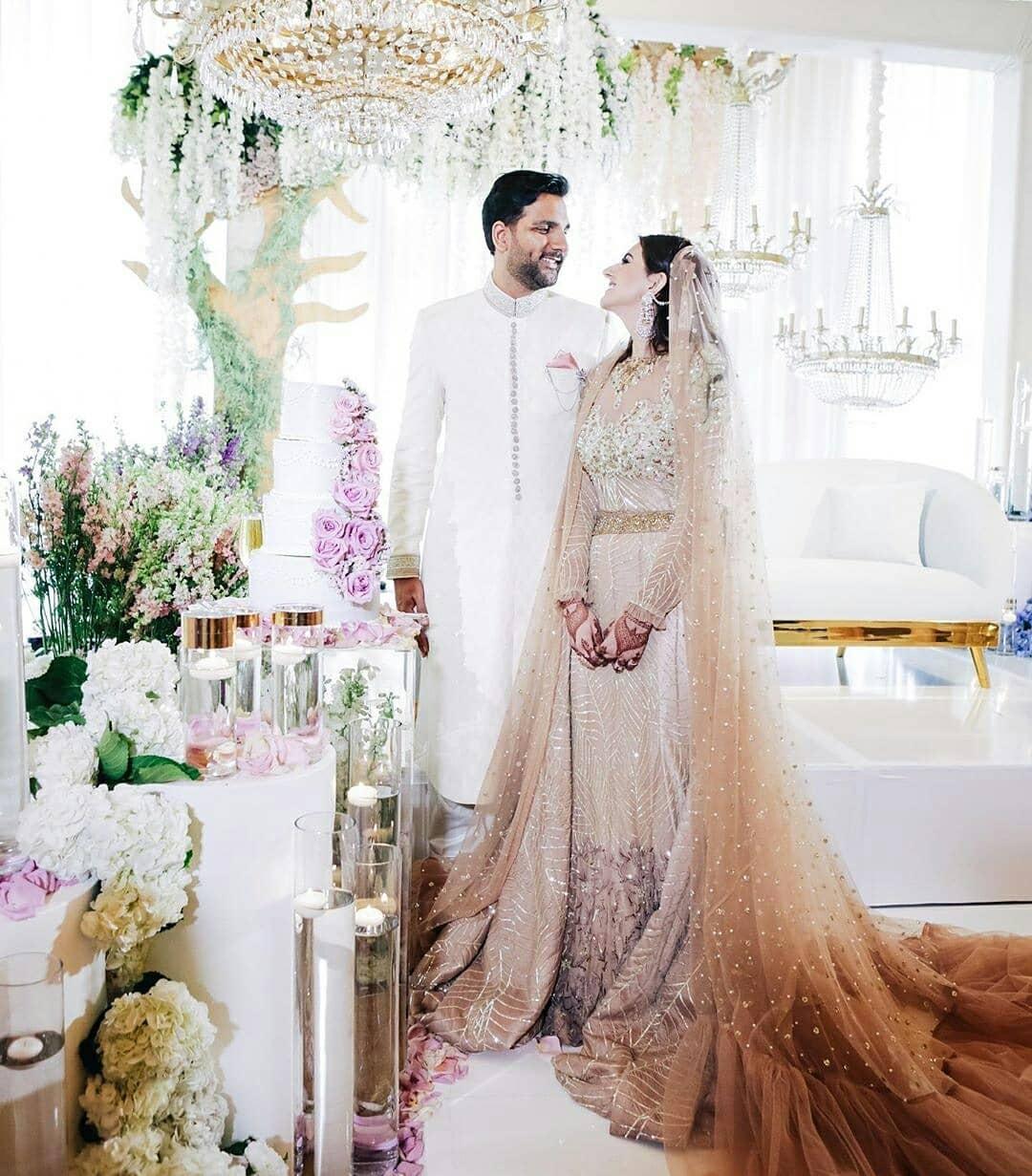 Image Courtesy: Warrior And The Gypsy
Someone who wants to look different than any other bride, this pastel salmon pink gown with a sheer neckline and sleeves is a unique choice. The net veil is also a great addition to this bridal look. The beadwork is also very eye-catching.
15. Light blue lehenga with colourful motifs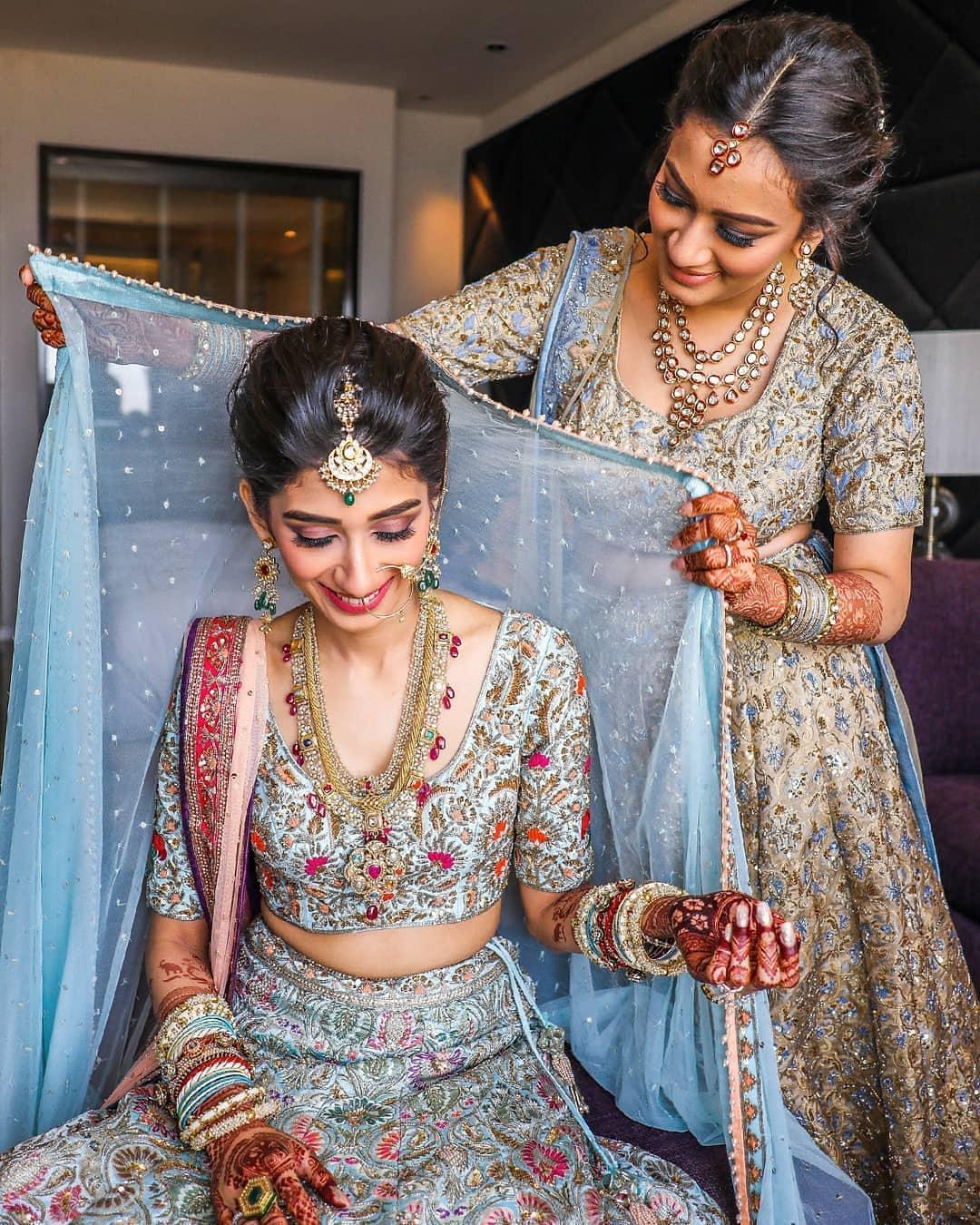 The last on our list is a light blue lehenga. It has many coloured motifs spread all over. The look is completed with a pink dupatta with a red border.
We hope you like our bridal dresses images and have a vision for your own dream outfit! Do not forget to tell us your favourite dress in the comments section below!
Check out these stores near you that offer bridal lehengas!