6 Trending Bengali Marriage Videos Every Couple Must Look At
Looking for themes and ideas for Bengali marriage video? We share with you trending ones to help make yours unique, personalised, and watchable.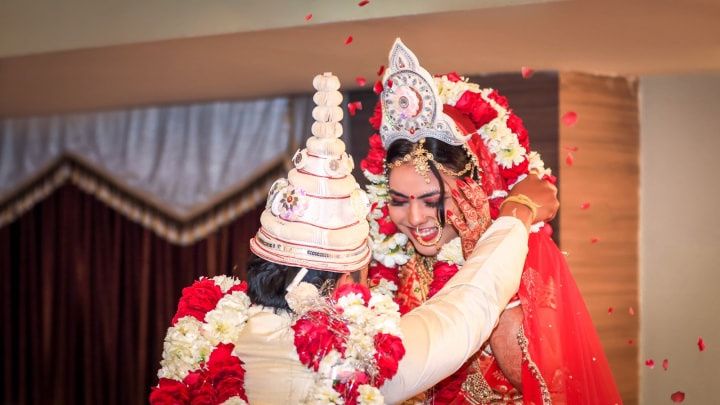 The trend to shoot wedding videos in creative ways and styles has undergone a major change in the last couple of years. Even a quintessential bride wants to experiment with themes that were earlier unheard and unseen in a Bengali wedding. A bong wedding these days is considered plain unless it has a themed marriage video that can be posted on social media networks for friends and family. Below are a few amazingly shot Bengali marriage videos that will help to inspire you with their subtle romantic tones, humour, and absolute classiness!
1. Videos that convey happiness
Shown below is a very nice Bengali marriage video shot, titled "The best of us" and captures the wedding ceremonies, right from 'holdi' as Haldi is called in Bengali, Baraat, and the wedding rituals leading up to marriage. It captures the precious and unforgettable moments in the lives of the bride-Suma and groom-Mohit in a rather Bollywood way. The theme chosen is happiness and every little detail is meticulously captured and covered. The video is crisp and not one bit boring with happy and feel good songs from Bollywood movies. If you are planning to have a Bengali wedding, then ask your videographer to edit it in such a way that it can infuse all kinds of trendy wedding-themed songs in a clever way. Avoid any song which has a double meaning. Just like in the wedding video listed here, keep a classic mix of songs that suit every event that is associated with the big day.
2. Bengali marriage video infused with humour and fun
Tickle your funny bones with marriage videos that are a riot of laughter. Bengalis love their humour and do not shy away from having fun even at formal occasions like a marriage. While many get tremendously serious when their wedding video is shot, some people prefer to go all wild. Seen below is a hilarious Bengali wedding video shot in 2017. The video will make you laugh till you drop to the floor with its humorous commentary by the groom's friend. Similarly, you can try personalising your video with your best buddies in charge of the entire wedding. To make your wedding video little more fun; infuse it with light moments such as the video of Jhilik and Sulagno. The entire video is very sweet with friends and the couple commenting on them and their journey. It is a light-hearted marriage video kept very simple and short.
3. Romantic Bengali marriage video
Marriage is the most romantic moment in a couple's life. Why not create a marriage video that when watched many years hence, will bring tears of joy in your eyes! The marriage video of Ishita & Ashwini will inspire you to get hitched soon. It's a very romantic video that covers pre-wedding events like the sangeet, the wedding day and captures treasured moments from the couple's big day. The close-ups of the bride are beautifully shot with every little expression on her face perfectly clicked. The video has an eclectic mix of English, Hindi and Bengali numbers to give it more style.
4. Classy Bengali marriage video
Marriage is considered a sacred event among all Indians. The wedding video of Priyanjali and Kunal is a testimony that Bengalis love to celebrate marriages with class. This video is appealing to your eyes and ears with a nice selection of songs. Many special moments of the couple are captured artistically with melodious background music. Some clicks are shot in slow motion and highlight the expressions and feelings of the bride, her groom, and the guests.
5. Bengali marriage video of ANIRBAN-BIDISA
Looking at this wedding video of lovebirds Anirban and Bidisa will make you want to imitate each and every style followed in it. It's a sweet video that captures all the special moments and events of the couple's wedding. The videographer has clicked moments of laughter in a very pleasing way. It's a video that makes its viewers feel enchanted with a cool selection of background scores.
6. Bengali marriage video of Shemonti & Sudipto
Take note of how cleverly this video has been shot of the couple's big day. It's an amazing video that gives you an account of each event minutely. Bengali functions like Puja, Haldi, wedding, reception (Bou Bhath), and Ashirwaad at the bride's place have all been beautifully captured. The most appealing aspect of this video is its amazing shot of the bride and the groom. Also, the moment where the bride's mother can be seen crying tears of joy makes you. The lingering shots of the bride in her wedding attire with makeup are simply gorgeous.
No matter which style you choose, just make sure that it complements your personality so that remains interesting enough to watch over and over again.
Which Bengali marriage video did you find most appealing? Let us know through comments.