How to Make the Most of Wedding Invitation Templates for Your Wedding
Find out how to take the smart route in designing invitation cards with the help of wedding invitation templates.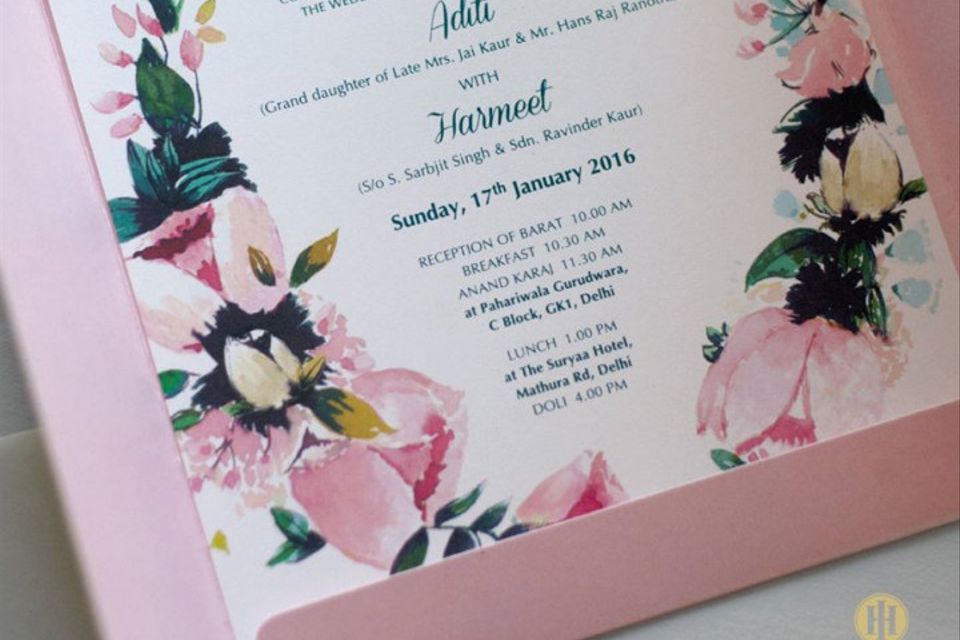 A wedding invitation card sets the tone for your entire celebration and gives a glimpse of the theme for the entire Shaadi. While not only letting the guests in on the location and dates, you give an inside scoop of the overlying theme be it traditional hometown style, pastels along the beach, a full-blown party in a metro city or an elegant hideaway nestled in the hills. It reflects the family's happiness and respect in calling for everyone's presence to bless the couple on starting their new big chapter. With all those small footnotes, a wedding card gains importance much more than we would like to attribute.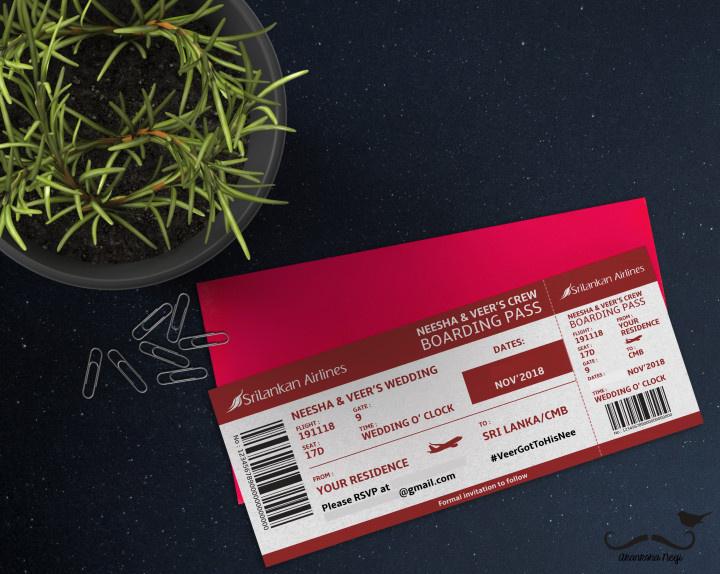 With each passing decade, these wedding cards too have evolved. It is no longer is just a choice of font and the colour of the font, a dilemma our parents faced. But now it is a choice of medium, print or digital, of font, of colour, of theme and even of including goodies or making everything more tech-savvy with a video. There are so many routes to take with the wedding invitation. We bring to you a list to help you navigate through the sea of wedding invitation templates.
1. All about the theme & style of wedding invitation templates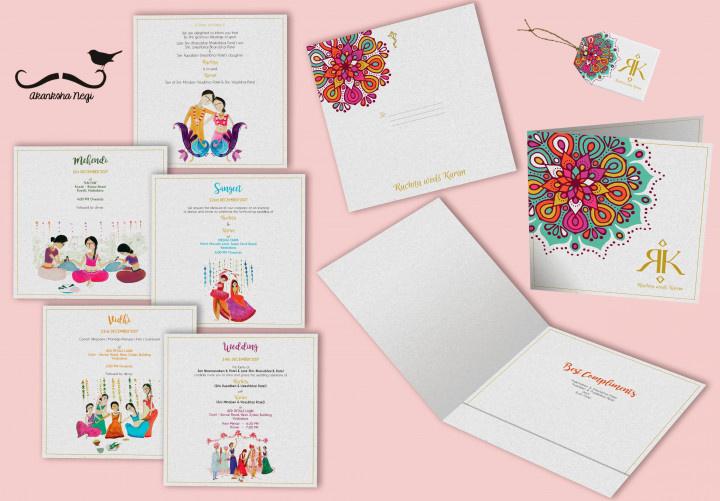 Irrespective of the card being a physical one or digital, you must decide upon a theme or colour scheme which will be recurrent across your entire wedding be it your décor, outfit or even personal style which will be replete across the entire celebration. Is it a summer wedding or winter? Let the color scheme reflect that and seem true to even your venue. We especially love it when couples decide to personalise their cards with caricatures and personal jokes and a little hint of their personalities here and there! It's just adorable.
2. Choose the words carefully after choosing wedding invitation templates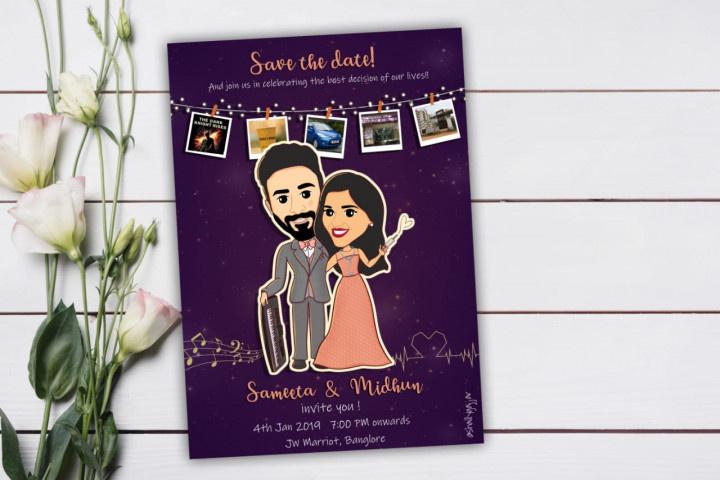 Apart from the basic, host's name, invitation request, function details and venue details. You must choose if you want to include a wedding quote, prayer or wedding hashtag and even wedding registry details. Once you decide upon the basic skeleton of the card, including theme and colour schemes, you must move onto the words, which is the most important aspect! You could do a funny tone, a different language while mentioning the details in English. While the couples name is the highlight, it is often followed by the parent's name and even grandparents. The following sentences are the official invitation which can be formal or even quirky. Next, with the venue, you must elaborate on the date, time and even outfit theme, if any. You could include a map for the venue if it a tricky one!
Moving onto quotes, including one gives it a personal touch, a glimpse into your love story and a wedding hashtag is just a necessity which you could include even on the e-invite.
3. Wedding invitation templates for e-invite... or not?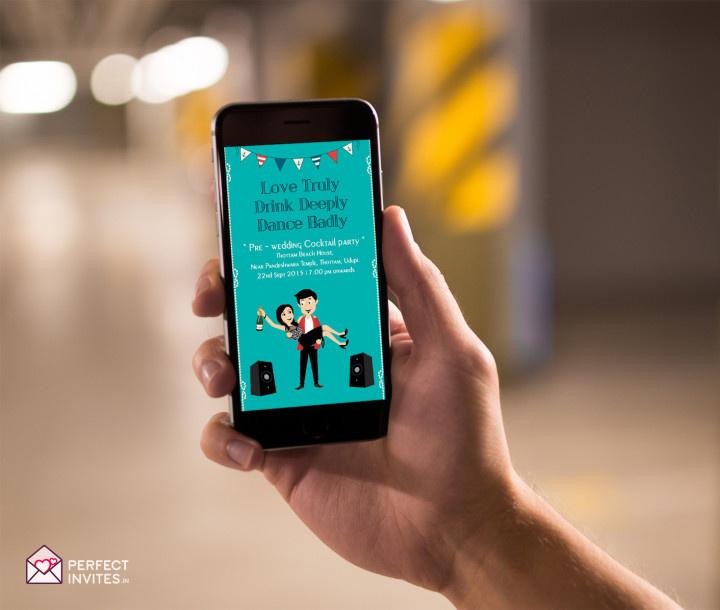 While many couples go the traditional printed card routes based on personal preference, we are growing quite fond of digital invitations and have come to realise while traditional cards can't be completely abandoned it is easy to distribute these cards to relatives who love and cherish this personalised touch, you could opt to create a digital invite for friends and colleagues who would love the digital touch which allows the space for so much creativity. From involving the hashtag to providing the location for your wedding everything is so streamlined, modern and yet quirky. You also cut down on the expense of physically sending cards and manufacturing an extra lot. You could also cut down on end-moment invites but sending these out. If you'd already had your pre-wedding shoot or have some fun nice picture, you can even include the picture in this e-invite.
4. Wedding invitation templates with goodies or without?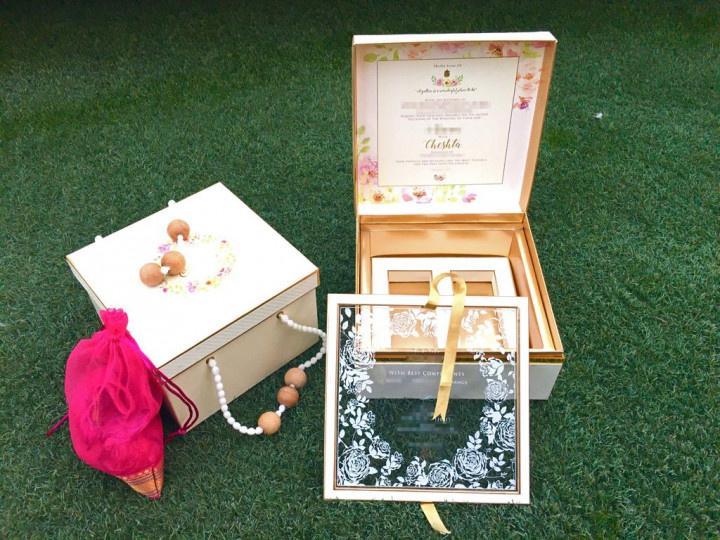 Apart from the whole wedding invite itself has come to evolve another elaborate tradition of including goodies which vary from an array of food items like dry fruits, sweets and even gifts like personalised stationery. Now, this is totally an option and is based on the couple's personal choice and budget. One might even choose to skip this step completely and choose to leave a gift for each guest upon arriving for the wedding which makes it even more personal.
Wedding invites, the start of it all, a pleasant request asking everyone near and dear to you and your family to join and bless you at the start of your new big chapter. We know of so many couples including our parents and even relatives who have held onto their wedding invitation with such admiration and sincerity, we have come to hold these cards with more importance and sentiments.
A wedding card is something you will cherish for all your life just like all the memories made at this auspicious and grand celebration. With all this said, it then becomes important to let the guests in on your personal taste and brew excitement in their hearts for the day to come. So celebrate your love!
Tell us in the comments how helpful were we in making your job of choosing wedding invitation templates easier.