What Style of Heels Should You Pair with Different Types of Christian Wedding Dresses? Let's Find Out!
You want to check out these heels to go with all of your wedding dresses, right from exchanging vows to doing your first dance at the reception. Here's your guide!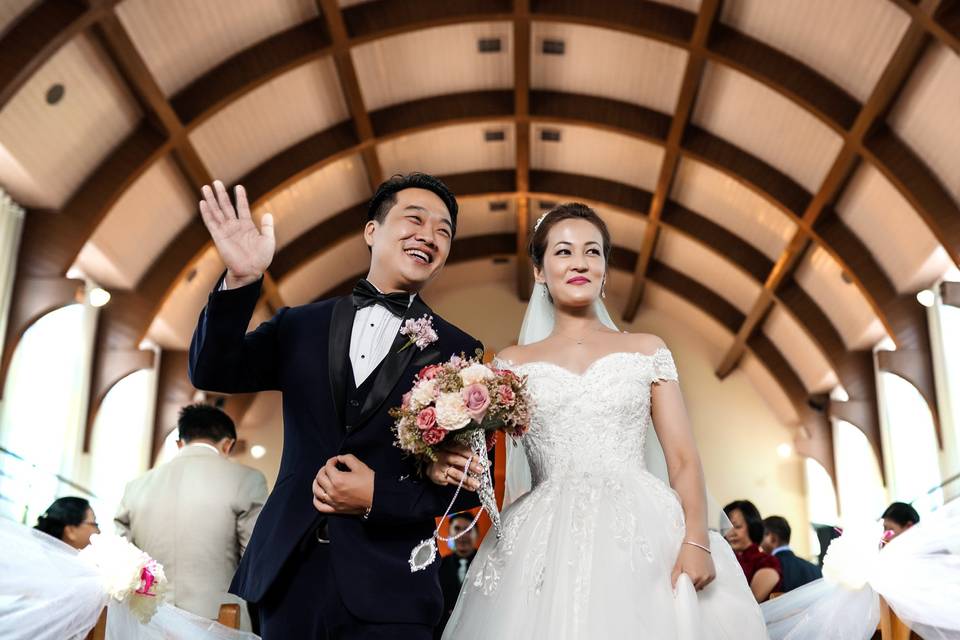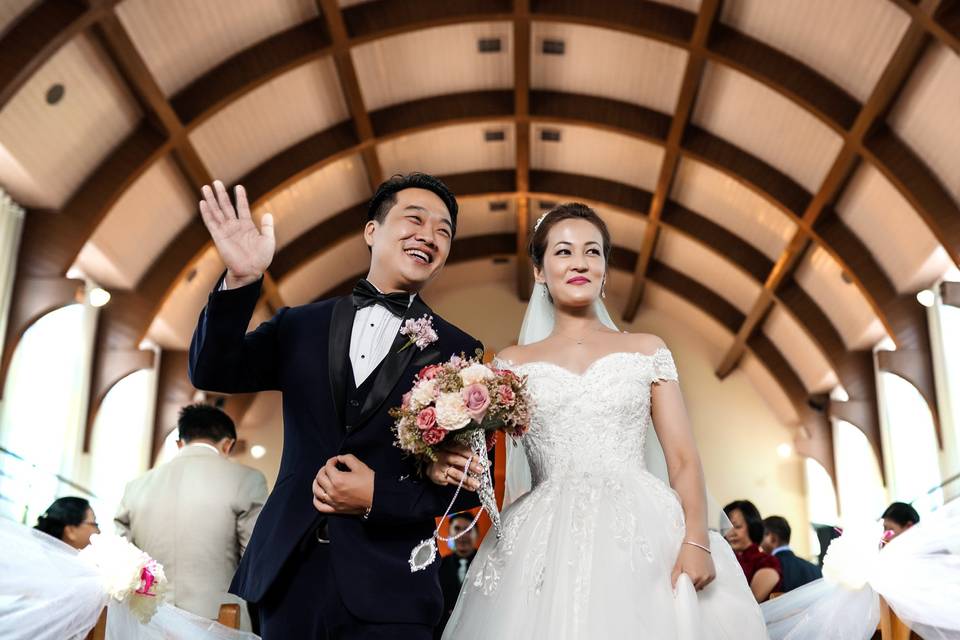 Image Courtesy: Jonah Photography
When stark white becomes your favourite colour of the season, you know that your wedding date is around the corner. For a Christian bride-to-be, trying out white wedding dresses happens to be one of the most crucial and time-consuming parts of getting wedding ready. But what comes next is equally important and rather something the brides-to-be often don't put much thought into. Be it any style of wedding dresses that you select, it is very important that your footwear not only compliment the attire in style but equally in terms of comfort as well.
After all, you don't want to wander around your wedding and reception venue holding your heel-straps wrapped around your fingers! Keeping just the comfort and style you need in mind, we present to you some smart heel options that you can flaunt with all types of Christian wedding dresses. Take a look!
1. Spool Heels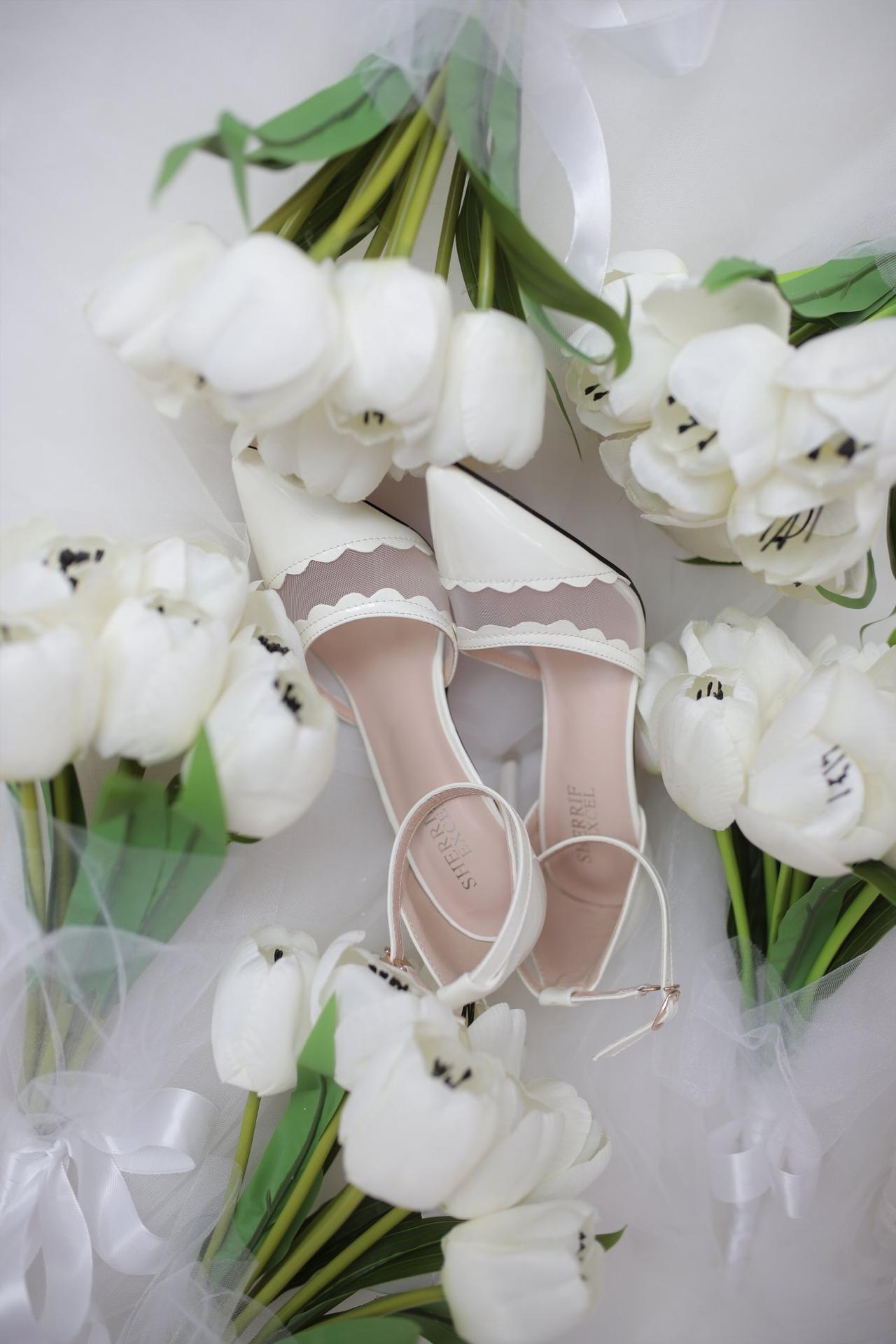 Image Courtesy: Jonah Photography
Spool heels might appear pointed at the toes but these are quite comfortable upon wear. Wider sole and back with narrower bridge area makes this pair of footwear perfect for long hours of wearability. These beautiful pair of spool heels are perfect to give a softer appearance to a wider-feet. The best way to complement these with the wedding dresses is if you accessorise them with tea-length wedding dresses, trumpet skirt wedding dresses, A-line midi wedding dresses and other mini and midi wedding dresses style.
2. Strap Heels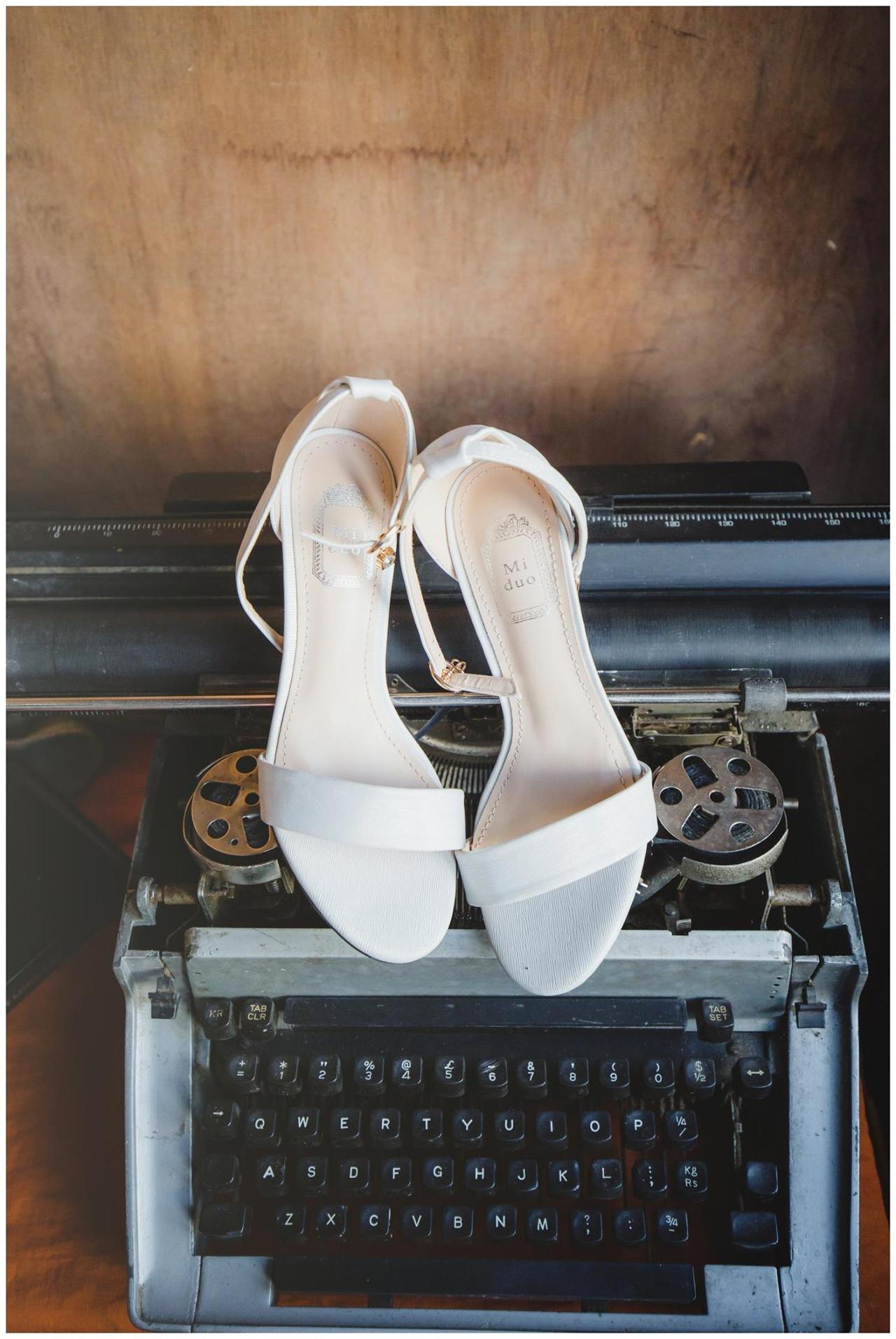 Possibly the most elegant and classy pair of wedding heels among the lot, strap heels are evergreen and can be used from parties to even working days at length. Strap heels are simple, with nothing extravagant, but offering ample breathing opportunity for the feet(say bye bye to feet odour), great balance (thanks to the securing straps) and total comfort for the bride-to-be to be animated sans all the pain. If your wedding dress is a hand-me-down or you have found your match from the vintage wedding dresses store, then Strap heels are your go-to!
3. Pointy Toe Pump Heels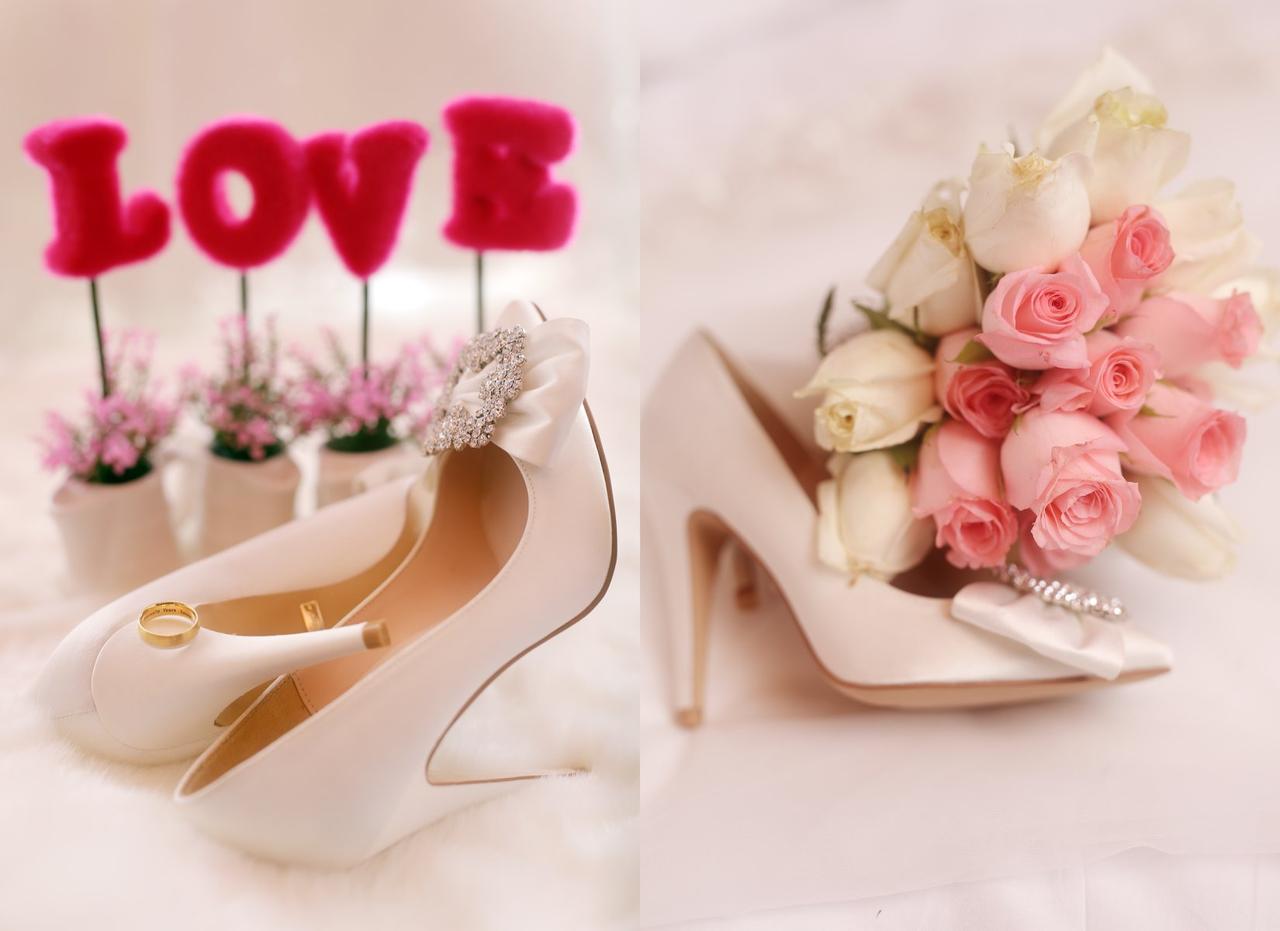 Image Courtesy: Jonah Photography
For the brides-to-be who rest their faith in fashion and fashion alone, these pointy toe pump heels are your salvation. You might want to secure pain-relieving pads up your heels for these beauties to not be troublesome at all, but the show pointy toe pump heels will put-up with any kind of wedding dresses will be an absolute fashion show in itself! Opt for pointy toe pump footwear in maybe kitten length heels so as to avoid your feet going sore. You can either go ahead and purchase the signature Manolo Blahniks or you can find several footwear stores selling the same design in an array of colours for you to select from.
4. Embellished Peep Toes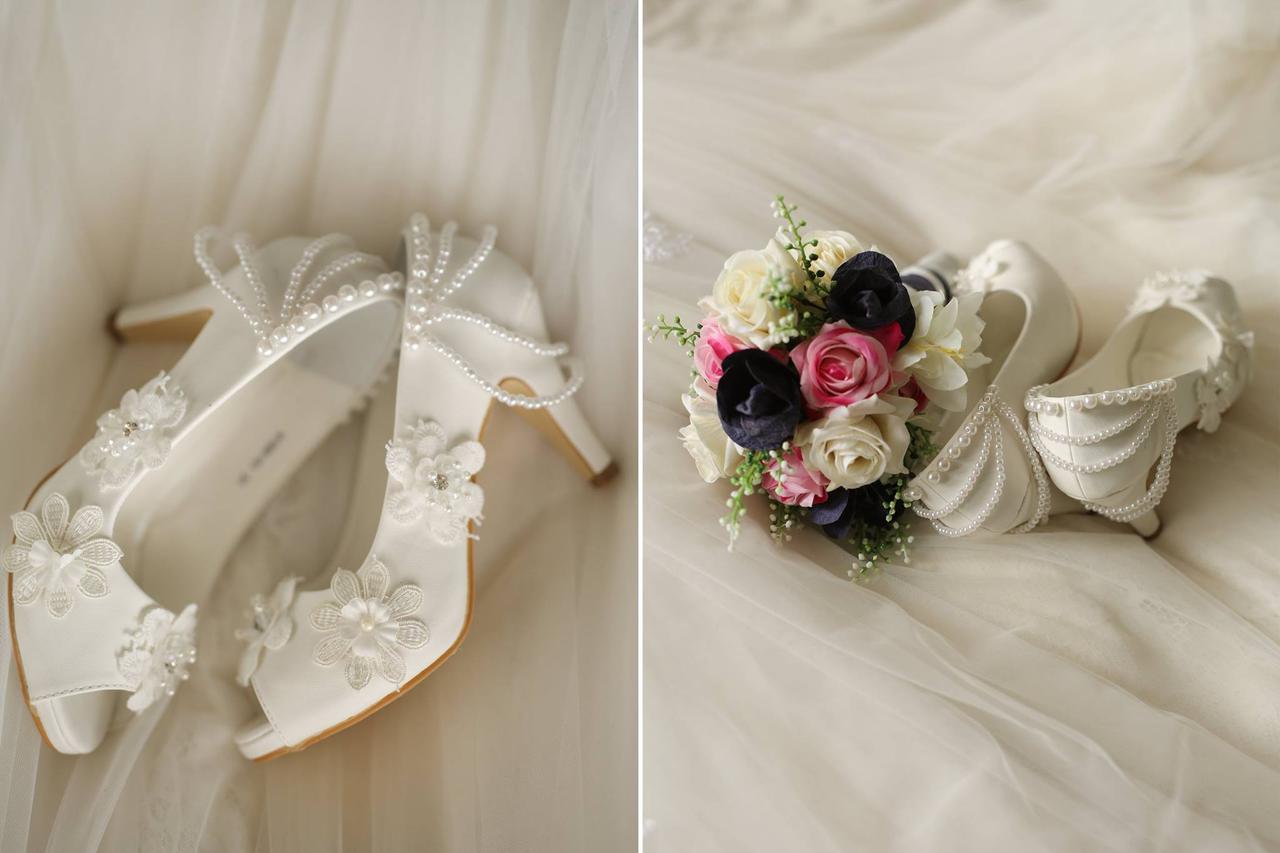 Image Courtesy: Jonah Photography
Have your Cinderella moment and let the cameras zoom in on your feet, because such embellished peep toes are surely going to become the talk of the party in no time. Find someone who can intricately embellish peep-toes based on the look and style of the wedding dresses that you have finalised. This way, you can get yourself a unique pair of heels all for yourself and the custom footwear will add on the vogue quotient to the wedding dresses, effortlessly!
Pair the embellished peep toes with traditional A-line wedding dresses, the dramatic mermaid wedding dresses or the showstopper ballgowns to make your modish nature known and heard.
5. Glittery Peep Toes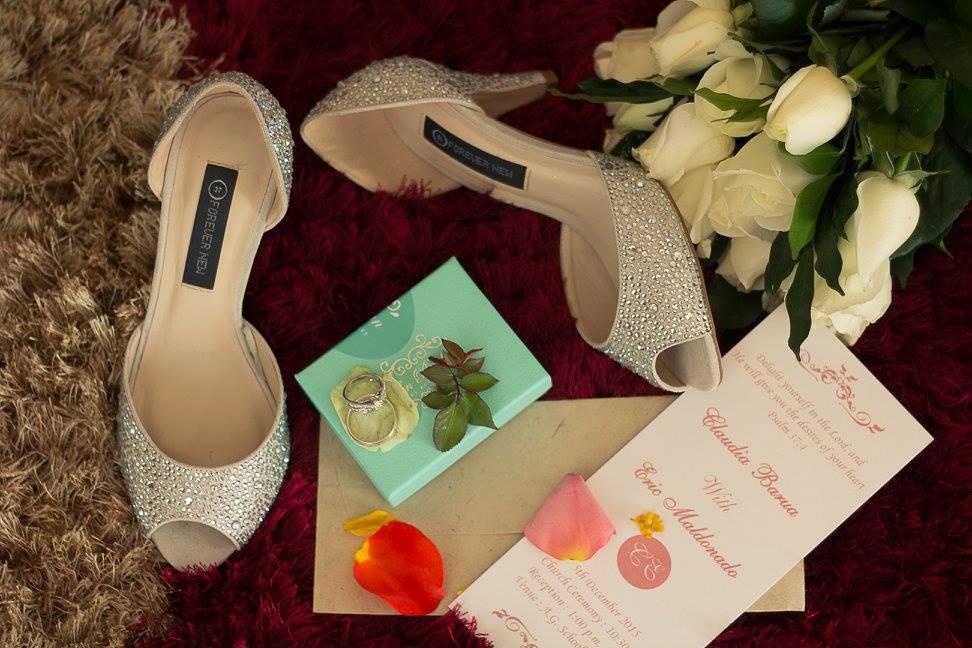 Image Courtesy: 724 Photography
The difference between embellished peep toes and glittery peep toes is that while the former can look glamorous without an ounce of shimmer to it, the latter can shine bright like platinum or twinkle like a star and make a shimmery statement flawlessly. Glittery peep toes are perfect if you plan on keeping the wedding dress and the veil as simple as that of Grace Kelly! Adding just the right amount of luxury to your wedding trousseau, glittery peep toes will dazzle without compromising on the comfort, balance and long wearability features that all wedding shoes need to offer.
Strutting your way down to the altar in a beautiful wedding dress, accompanied with the right pair of wedding shoes is something you would want in complete harmony. These choices are perfect to be paired with every and any kind of wedding dresses that you can possibly imagine. Do remember to play with hues of whites to match your footwear with your ensemble perfectly. If you still feel the itch to be a little experimental, then go ahead and opt for a pair of nudes that are closer to the white colour palette and yet offers a different take to the whole wedding shoe affair.
Which, according to you, are the perfect footwear matches for all kinds of wedding dresses? Tell us in the comments section below.