Buy now! 5 Wedding Saree Collection Colours For Each Modern Bride
Making a killer wedding saree collection is easy, if you choose to ensure that you have every one of these classic colours in place. Count, buy and be at peace.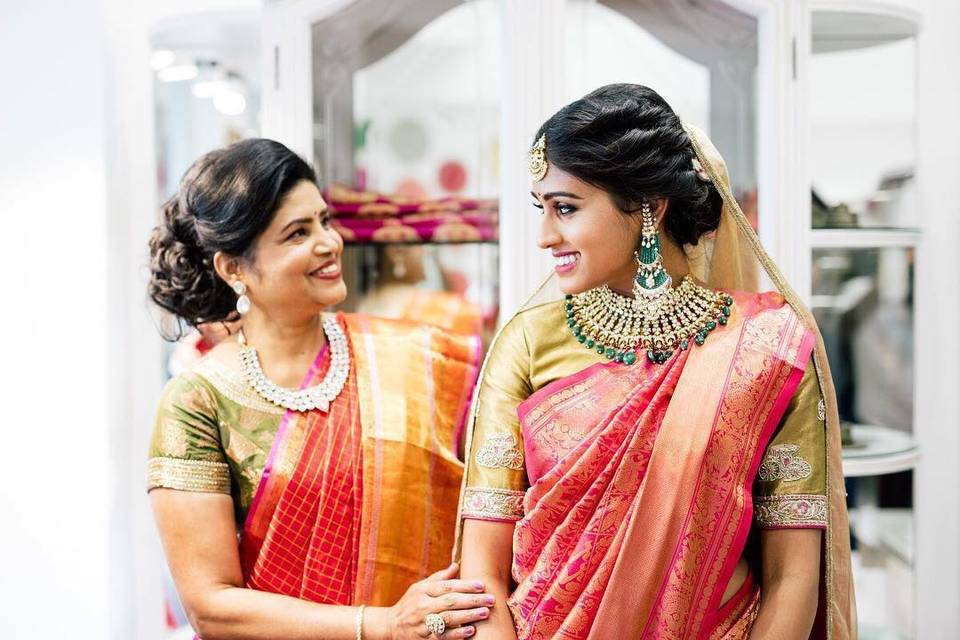 From designers like Tarun Tahiliani to Manish Malhotra, this six-yard fabric has fascinated everyone, as it's one of the most famous attires worn in India. It's much more comfortable than a bridal lehenga, it's easy to wear and it's available in vibrant hues & patterns as well.
Wedding sarees derive inspiration from the vivid culture of our nation. Let's have a look at some of the most popular wedding saree collections which form the basis of most classic saree troves for brides.
1. An Auspicious Yellow
Indian weddings are a dynamic mix of vivid colours, zest and zeal representing each custom and ritual of our Indian heritage. Like the Haldi ceremony, where most of the north Indian brides prefer wearing yellow, the colour blends into notions of fertility down south and is popular for Mangalorean, Marathi and Reddy brides alike.
A yellow wedding saree is a part of the wedding and pheras, since yellow is considered an auspicious colour signifying opulence and prosperity and a wedding in India signifies the meeting of two souls who bring prosperity to the family. Hence, the Maharashtrian bride wears yellow at the wedding.
It's also believed that yellow looks best on tan and medium skin toned people, all you need to do is raid the nearest wedding saree collection store and try a unique style!
2. Cream And Gold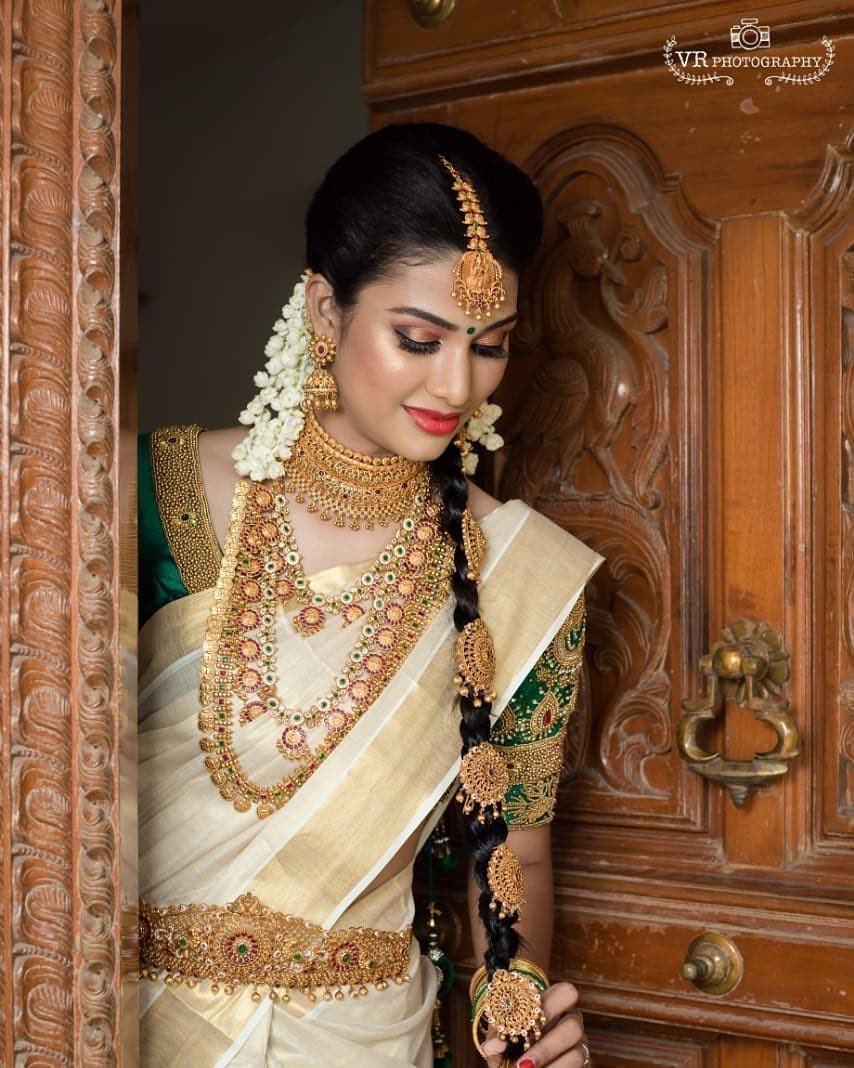 Imagine cream and gold sarees and you're bound to be transported to the backwaters in Kerala. Even though Kerala silk sarees offer a lot more, these classic combination is an essential (be it for your own wedding / post-wedding look) or that of a close friend.
However, did you know that this wedding saree collection essential (whether in its high shine or muted variant) is part of Mangalorean and Konkani traditions as well? In fact, in the latter, it's worn as two distinct fabrics that are brought together.
Look east and you'll find this combination in Assamese Muga silk as part of the state's bridal Mekhela Chadar get-up.
3. Gorgeous Gold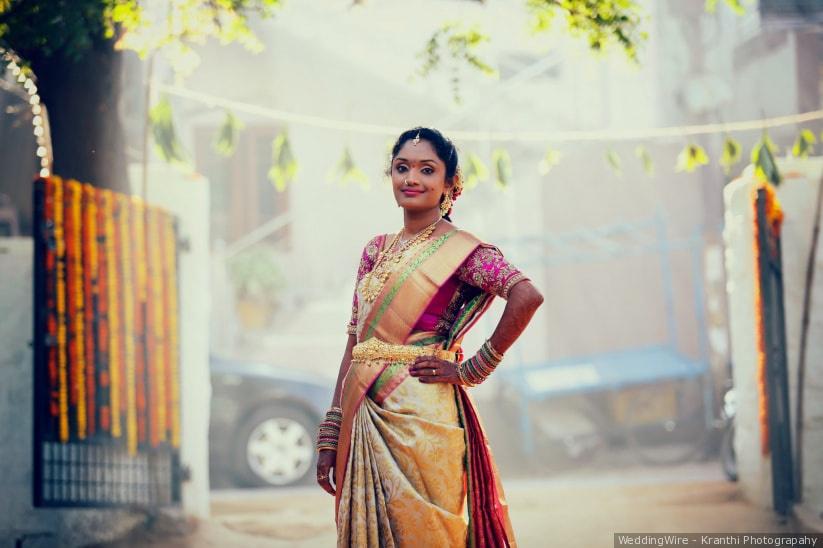 Many brides in South India wear gold silk sarees for their wedding as it's the colour of prosperity, purity and good health. Apart from wearing gold jewellery, South Indian brides prefer to have space wearing a golden saree in their wedding saree collection as it signifies the Goddess Lakshmi who brings prosperity to the family. Amazingly, the gold colour brings out the features in the complexion of South Indian women adding a distinct charm to their personality.
Gold reflects the shine and energy of the Sun and hence, it's such a significant part of any south Indian wedding saree collection and popular among the people.
4. The bountiful green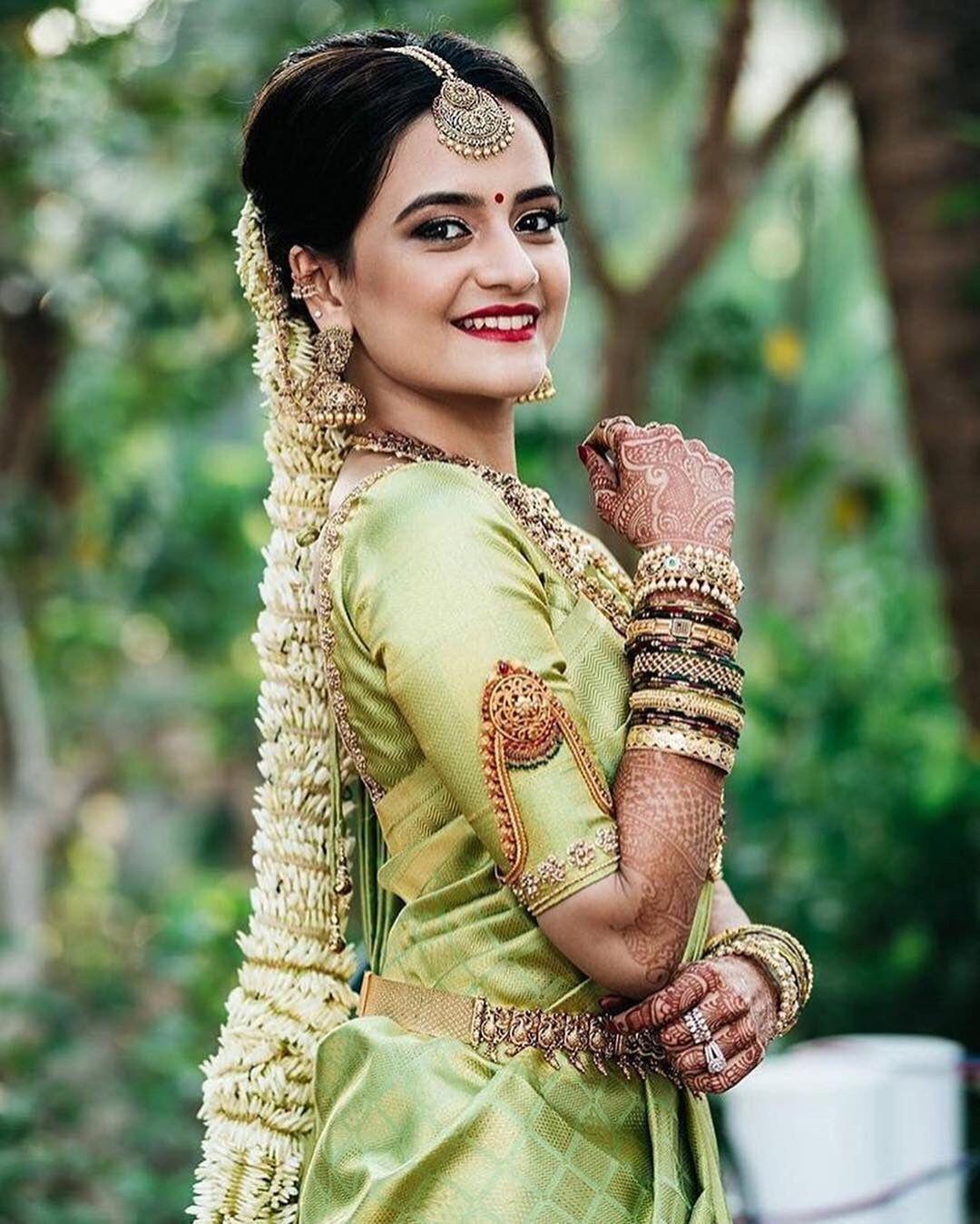 Image courtesy: Photosynthe by Metal Farmer
From deep green tones to the lighter Pista varients, green has a place in her hearts and our treasure troves as far as a wedding saree collection is concerned. Take to the colour with the same love and you'd understand why it works across the Deccan - from Marathi brides to Tamil ones, Gounder to those from Kerala.
The auspicious colour will make you ready and glisten on your big day.
5. Rocking Red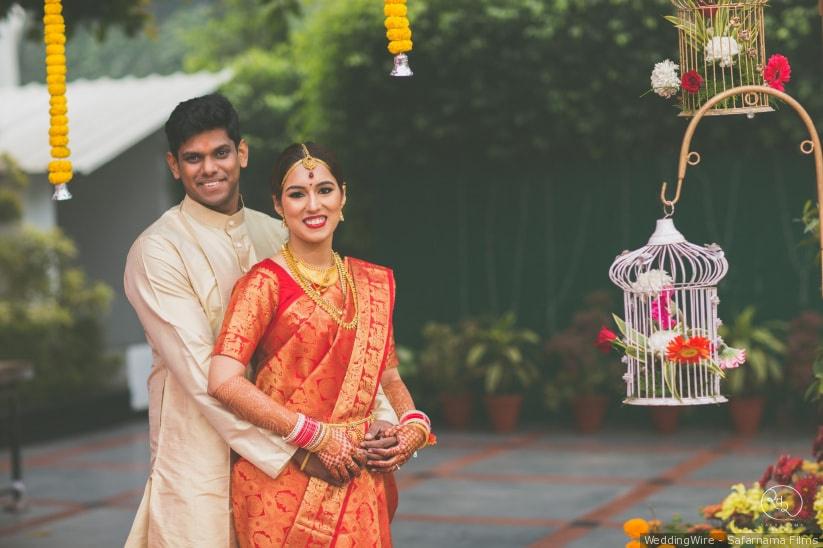 With pastels and many other shades like blues, pinks, maroons and whites coming in the picture, the traditional red colour has taken a back seat but no matter what, red always looks ravishing on all the brides. Red looks good on any every skin tone adding the attractive charm that grabs everyone's attention.
Red is a significant colour in our country as you find it in sindoor, tilak, bindis and even bridal churas, it's commonly associated with love and passion, making it the preferred choice of bridal wear colour for their D-day. Nowadays, even the grooms match their attire with their bride's outfits being a part of the popular thematic wedding trends today. So, if you go for the traditional wedding look, splurge in the red wedding saree collection and dress up for a poised Indian bridal look.
Most of the wedding saree collections from leading Indian designers showcase these colours and you can also look out for the same. Soon-to-be brides always want the perfect wedding dress and Indian wedding sarees will always stand-out. For the brides who have an adventurous edge can experiment with different colours, patterns and designs and look gorgeous in a saree. Synchronise the colours of your saree with the groom's sherwani giving your wedding photographer a strong element to play with.
We Have Listed Some Extra Haircare and Makeup Tips That Will Help You Look Absolutely Regal and Stunning:
Now, that you have a pool of wedding saree collection that will help you look absolutely stunning on your big day and on those leading up to your wedding day, we will help you prepare a bit more on the makeup and hairstyling front. If it piques your interest, then keep reading for some cool tips and hacks!
1. Consult your makeup artist and show her the colour that you are planning to wear. Your makeup and outfit should complement each other and that will only happen when your makeup artist knows the colour scheme that you have chosen for your big day
2. Change your daily skin care routine way before the wedding actually approaches. Healthy skin from the inside will reflect the same on your outside. The more the glow, the better will your makeup look
3. Some face masks and hair masks are your new best friends. Look up for some home remedies to add that perfect radiance and bounce to your hair and skin
Follow these steps way prior to your wedding and you will surprised with the results it brings you!
Which colour combination did you pick for your wedding saree collection? Tell us through the comments!