9 Funky Sister Marriage Invitation Ideas For Your Inspo
To help you plan your sister's wedding better, we have come up with a list of unique sister marriage invitation ideas, which are easy-to-do & fun designs too. Read to know.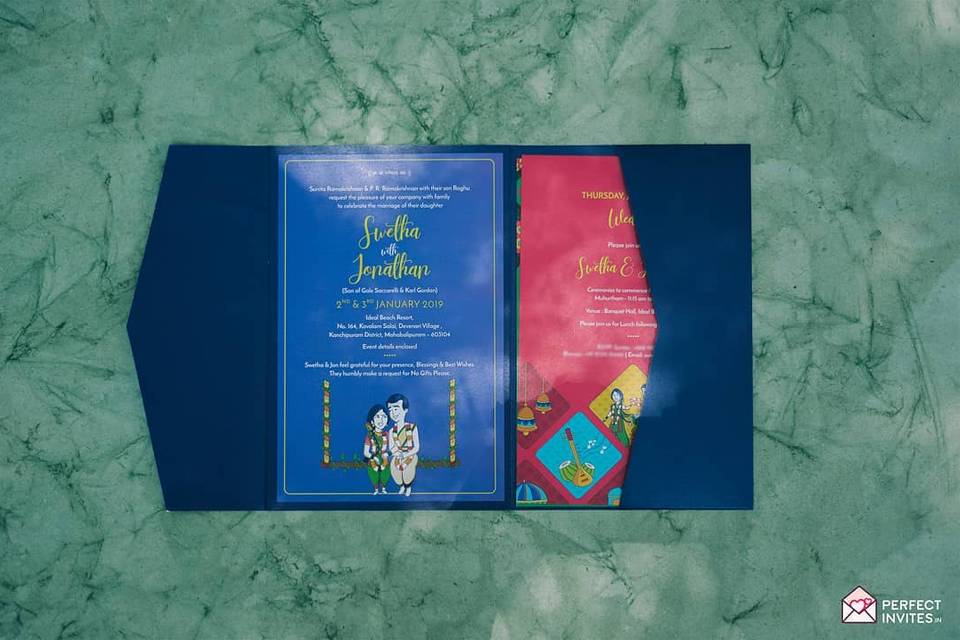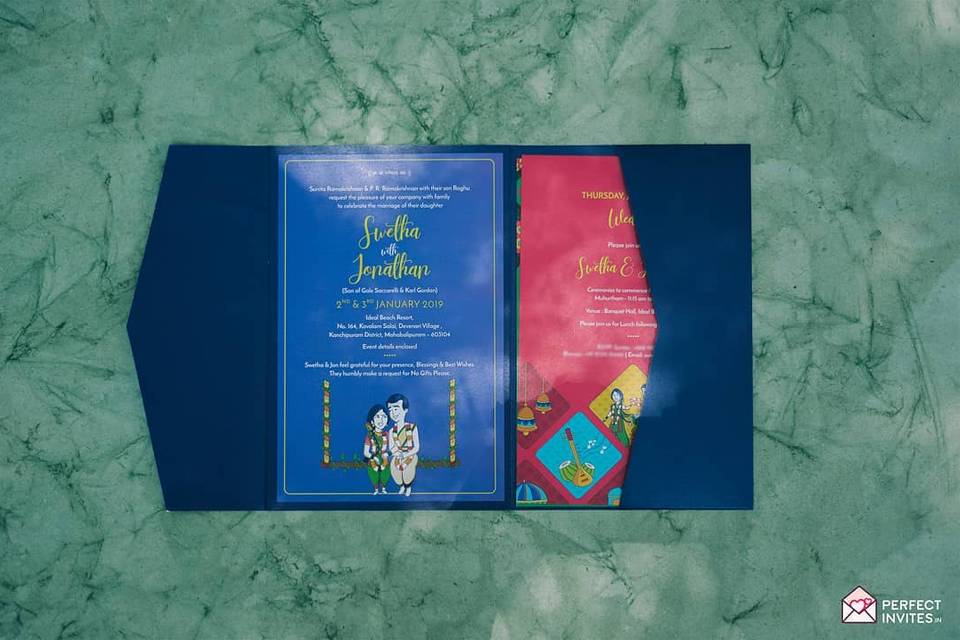 \
Image Credits- Perfect Invites
As a sibling, you may find yourself more excited about your sister's wedding than your own. Although you spent half your childhood in disagreement with your sister, now she means the world to you. Quite naturally, when your sister decided to spend her life with the man of her dreams, you promised her a wedding she will never forget.
Right from designing the most unique sister marriage invitations, to help her find the perfect pair of Jimmy Choo, you promised to be there. Curating marriage invitations can be a hectic task and this is exactly why we have curated a list of sister marriage invitation ideas that will come in handy while you create your own sister's wedding invitations.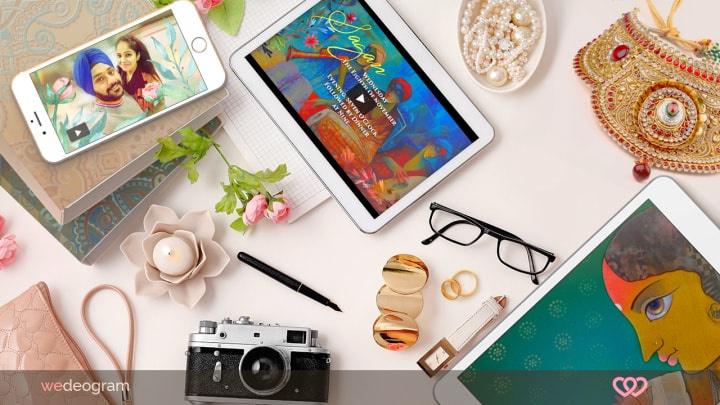 Here are some unique sister marriage invitation ideas that can help you through this commitment:
Make it a Game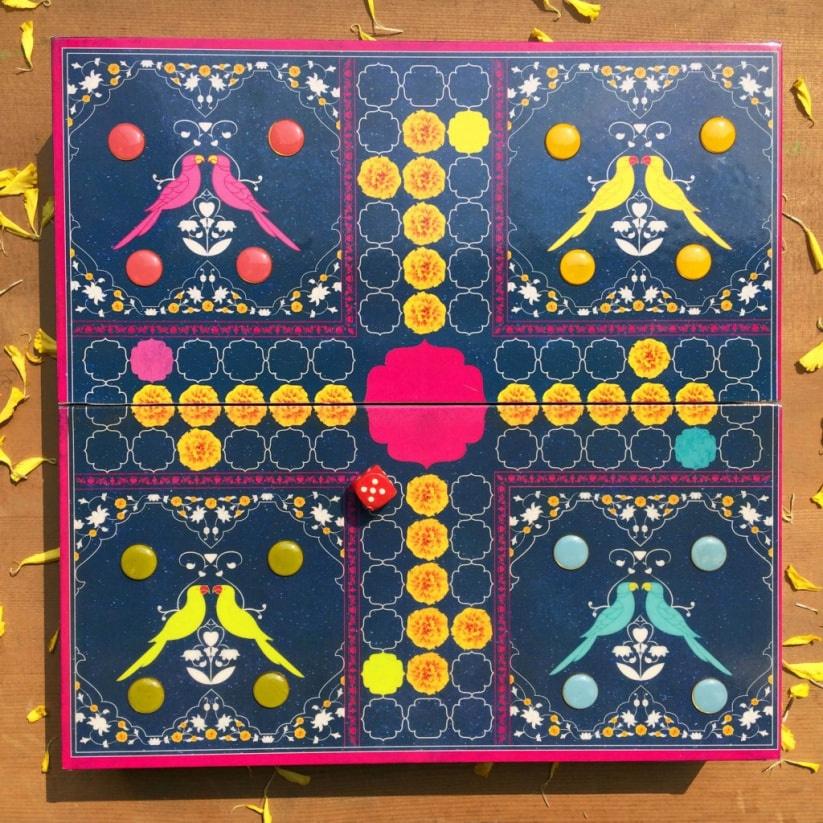 Image courtesy: Simran Monga
Simran Monga is a graphic designer who stumbled upon decorating wedding cards while she was brainstorming for her sister marriage invitation ideas. For her sister's wedding invitation, she designed the box in such a way that once the box was empty, it could be put upside down and used for a Ludo game. This is a perfect way to design a keepsake wedding box. Such an interesting keepsake would become the talk of the town because the guests would be amused.
Put on your thinking hats and start brainstorming on how would you like to design your sister's marriage invitation - scrabble, UNO or snakes and ladders; so many options to pick from! Pick something that you and your sister used to play a lot back when you were kids to make it more personalised.
WhatsApp Videos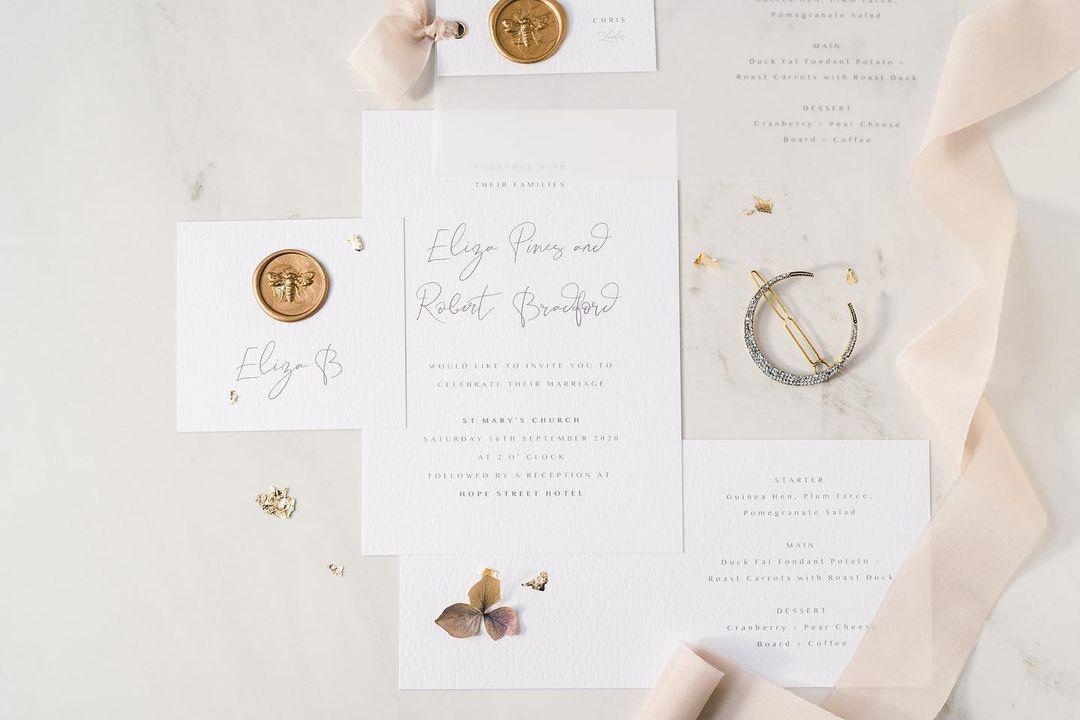 Image Courtesy: Knock Knock Penny Studio
Creating Save The Date videos has become a raging trend. The bride and groom either hire a photographer or a wedding videographer for their pre-wedding photoshoot and then some of these images/footage can be cropped or spliced to create a video, for the WhatsApp wedding invite. This could solve two purposes with one resource for your set of sister marriage invitation copies!
Another offbeat idea would be to make a video consisting of random old photos of your sister and her groom (their baby images, photos of their teenage years) and creating a hilarious video invite. You'd be the perfect (Read: Typical), sibling if you happen to pick this!
Wedding Website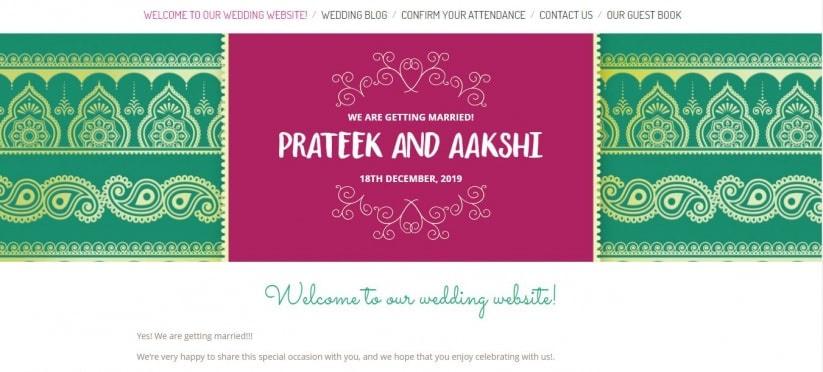 If you want to save the environment and wish to go digital, you can always design a website for your sister's wedding. And you don't need to worry about spending a bomb on getting the website designed. Investing in a wedding website will turn out to be a good return as your sister will be easily able to track her guest list on it through the RSVP feature. All of the wedding photos can also be easily shared through one single platform. You can even install a countdown timer to show the number of days left to the wedding to make the website look more interesting.
Many wedding platforms give the option to build your own wedding website. You have the option to choose from the pre-existing gorgeous templates. You can personalise it according to your wish. Once your sister's wedding is over, you will always have this website to relive these moments.
Caricature E-invite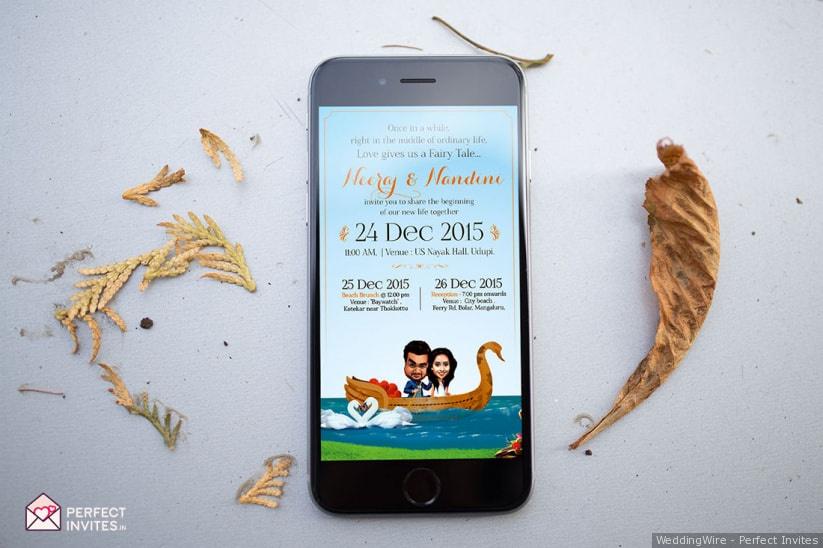 You can also get a caricature of your sister and her groom made into an e-invite. This could be an interesting way to add some twist to your sister's marriage invitation. This could be sent as an invite or a friendly reminder to all your near and dear ones.
Pulling her leg will never cease to be fun, so why not employ a caricature or two in your sister marriage invitation. Add as many fun elements as possible to make it hilarious!
Adding Keepsakes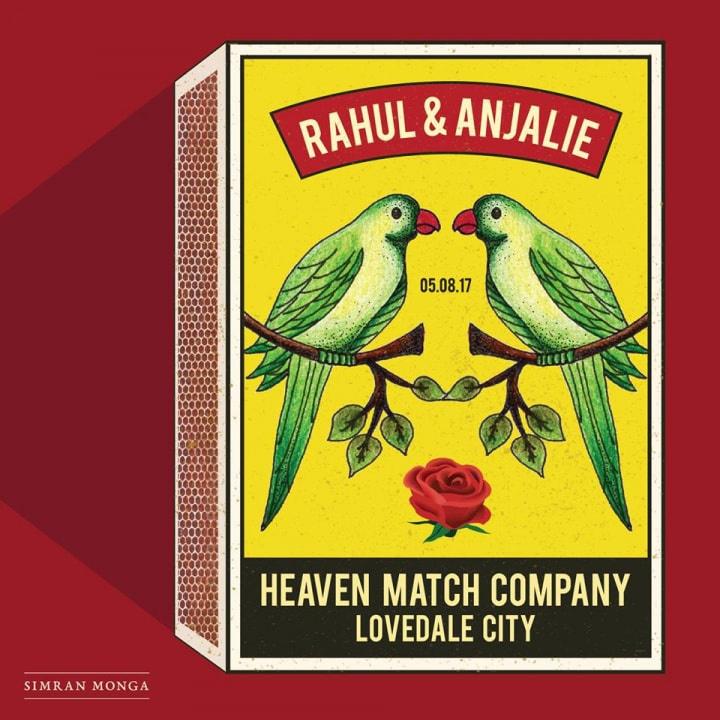 Image courtesy: Simran Monga
Adding souvenirs into your sister marriage invitation ideas is a great thought. If you want your friends and family to remember your sister's wedding even after it's over, then add some exciting keepsakes. You could add glass jars and fill them with interesting snacks (like nuts or dates) or you could design the wedding invite in the shape of a retro matchbox.
Another interesting idea would be to add a small photo frame with the couple's wedding hashtag imprinted on it along with the invite. Make sure it is not of glass but some other material that can withstand small shocks of mishandling.
Playing Cards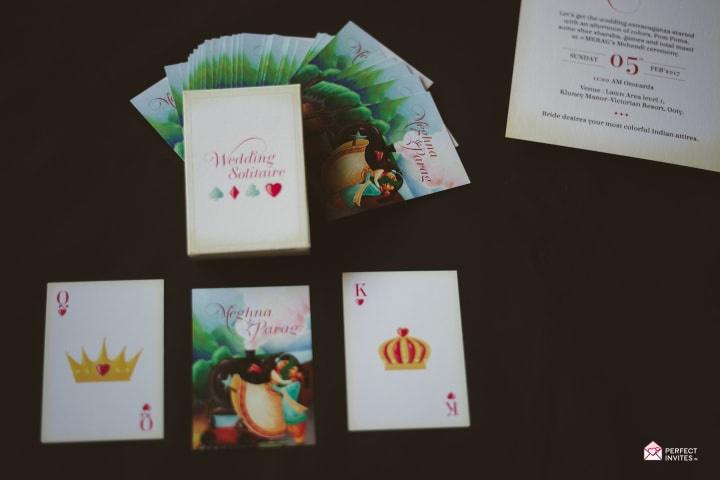 Another quirky sister marriage invitation idea is to gift your friends a set of playing cards. One side could have the wedding details like the couple's photo or a caricature of the couple with the date of the wedding and the other side could be the playing card symbols.
This idea can work well if you and your sister love playing cards or your sister is getting married around the Diwali season. The guests can easily use the deck of cards during game nights and play Teen Patti!
Cool shapes, concepts and sizes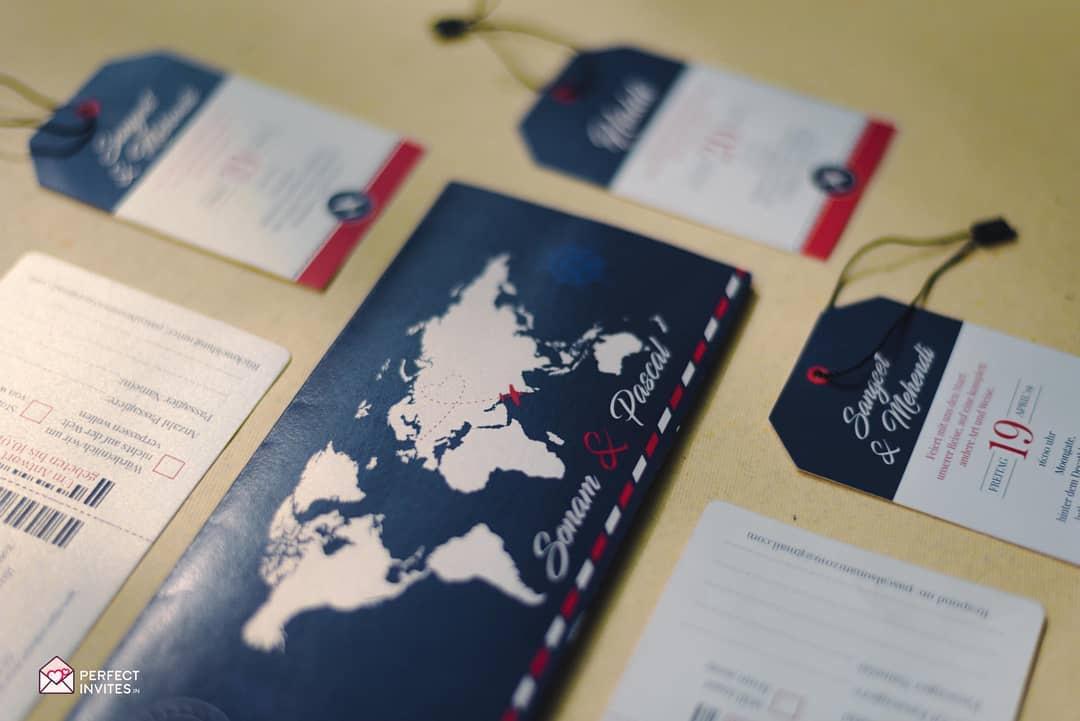 Building on the idea of unique tokens that go along with your sister marriage invitation cards, consider a theme-based set of invites, shaped in a unique way. For example - This jet-setting couple had opted for an airline boarding pass and luggage tags as the idea for their wedding invitations. While the main card was a boarding pass that brought their guests on for the experience, the tags marked which events they were specifically invited to.
Try this idea especially with your Didi's besties, when you strive to invite them for a bachelorette party. You could also extend the thematic to meld into any spinster party ideas you may have.
Sealed for impact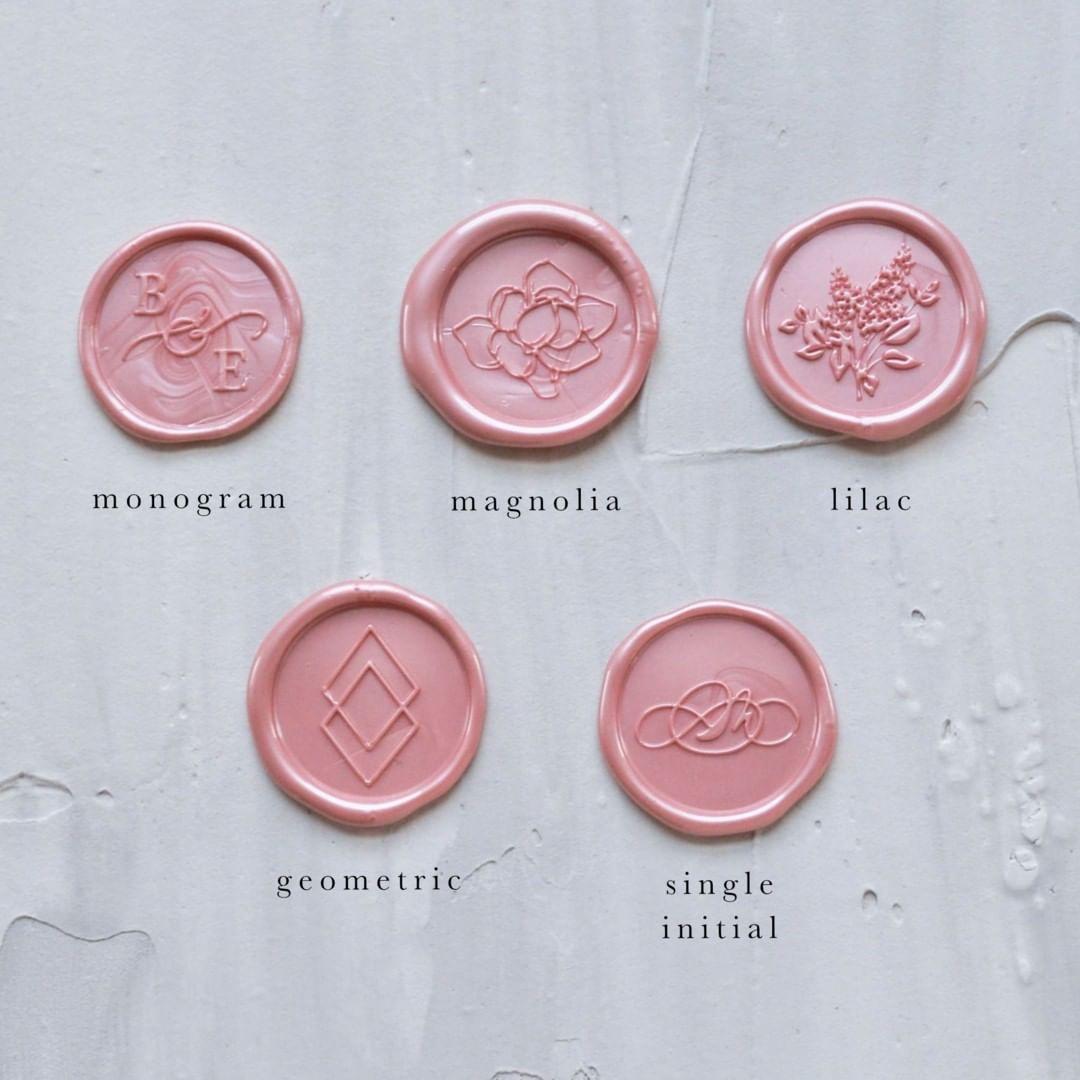 Image courtesy: Playful Pen
With the Game of Thrones finale just beyond the horizon (may #KhalessiRIP), engage in your show enthusiasm by jumping on the rebound trend for the year - adding monogrammed wax seals to your printed invitations and signature envelope designs (another major wedding card trend).
Try these inspirations in the House that she reckons is all about her and let your sister's tribe know it too with these sister marriage invitation details.
Clear, mirror and stand-up matter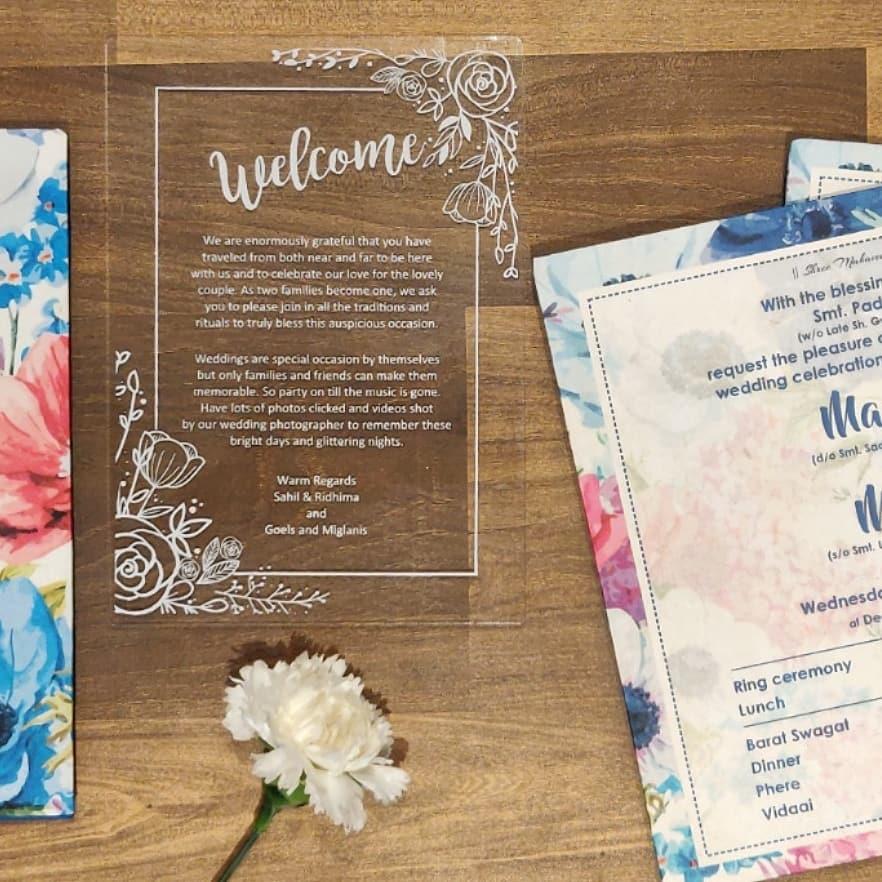 Let your sister's wedding card matter stand up and beyond on their own (with the wedding invitation itself printed on a clear surface). You could opt for a thin acrylic sheet, a plexiglass insert or a mirrored surface. You call also get your sister marriage invitation printed using a 3D printer, While the trend hasn't caught on as much in India as elsewhere, it leads to a surprisingly stable block and adds to the curio value of the card itself.
There are a lot of ways you can ensure that your guests remember your sister and her marriage invitation. We hope to have inspired you with some crazy sister marriage invitation ideas. Whether to pull a prank on your sister while inviting your guests or leaving her a sweet gesture, we're sure your grey matter will have cooked up something by now. Do leave in the comments below if you have some suggestions.
If you think you need help, hire a professional wedding invitation designer.
With words by Meha Khera