6 Stylish Ways to Wear Your Silk Saree This Wedding Season
Bored of the mundane ways of styling a silk saree and wish to try something out of the box? Here are some cues from renowned fashion bloggers and designers that'll help you do just that.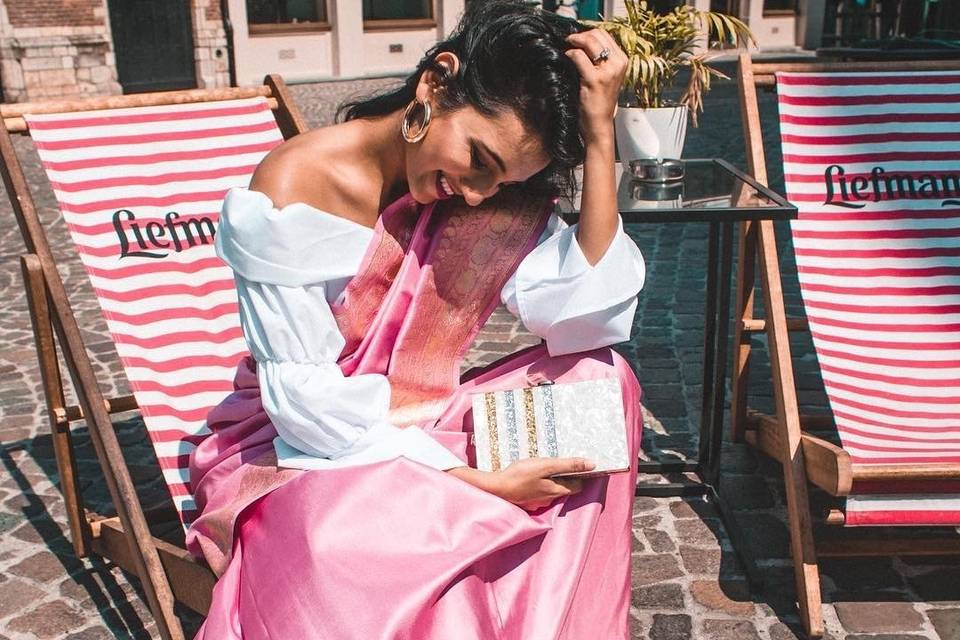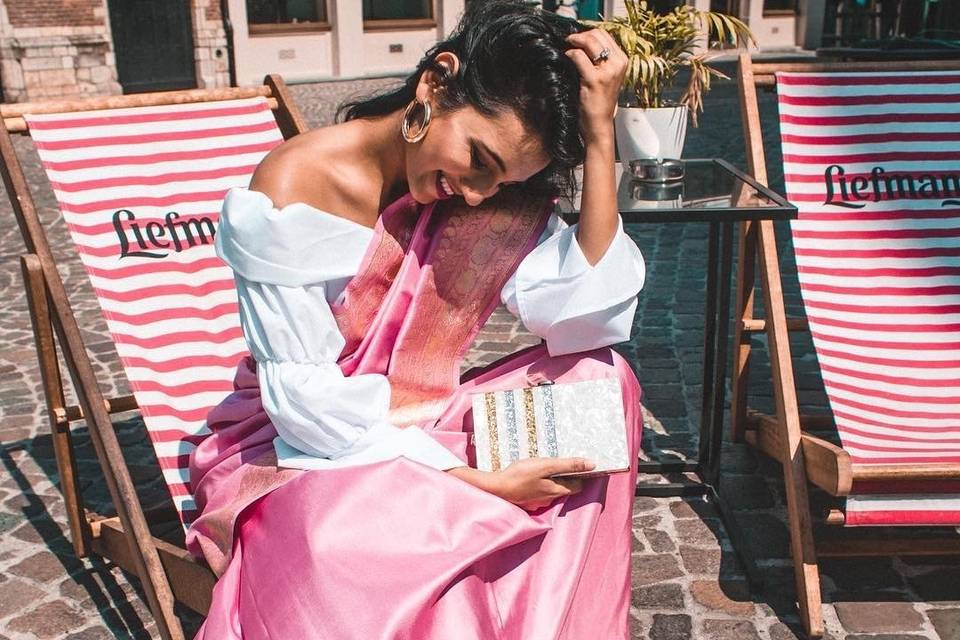 Image Courtesy: Masoom Minawala
A silk saree is a classic choice of outfit that every bride decides on stuffing her bridal trousseau with. Apart from being the most flattering piece of fabric, it is also one that can be styled in gazillion ways and not all of them necessarily have to be traditional. So, if you're someone who would love wearing a silk saree on one of your wedding ceremonies but ditch the traditional way, we've got you covered.
We have curated some of the most interesting ways that a silk saree can be styled to make sure that it looks easy going and yet very classy. So, take a cue to style those beautiful silk sarees over and over again in unique and unusual ways to make it look classy yet trendy each time you wear them.
Floral silk saree with a Shirt Blouse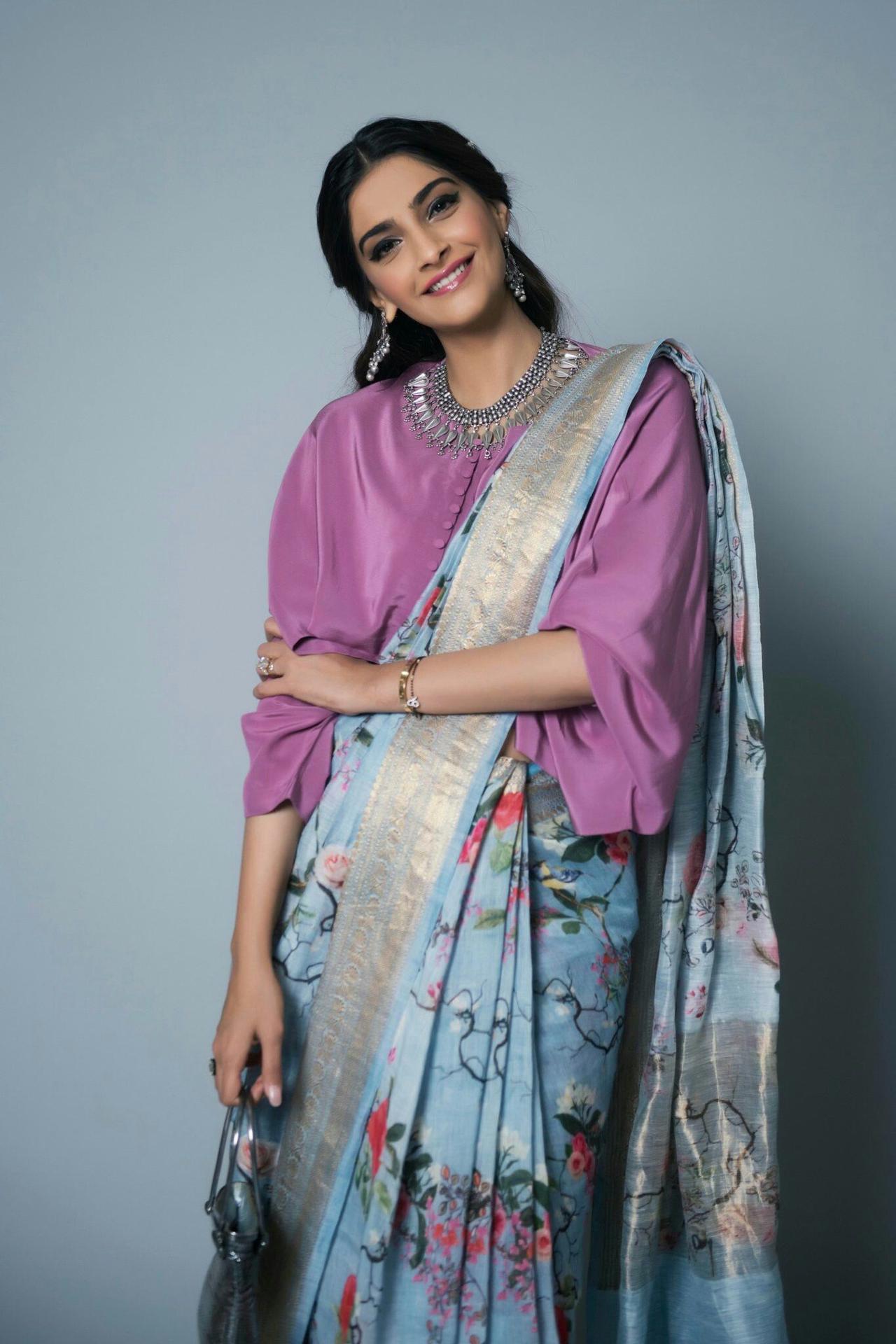 Image Courtesy: Sonam Kapoor
Have you ever thought of pairing your silk saree with a shirt-style blouse top kept in your wardrobe? Well, if you haven't, then take your first styling cue from this design. The beautifully free-flowing purple satin-finish blouse with front button looks seamless when paired with a powder blue floral silk saree. The idea here is to go for a slightly off-beat colour combination so that it doesn't look too obvious and gives your outfit the chilled out vibe that you've been trying to crack.
Style it up with Off-Shoulder White Shirt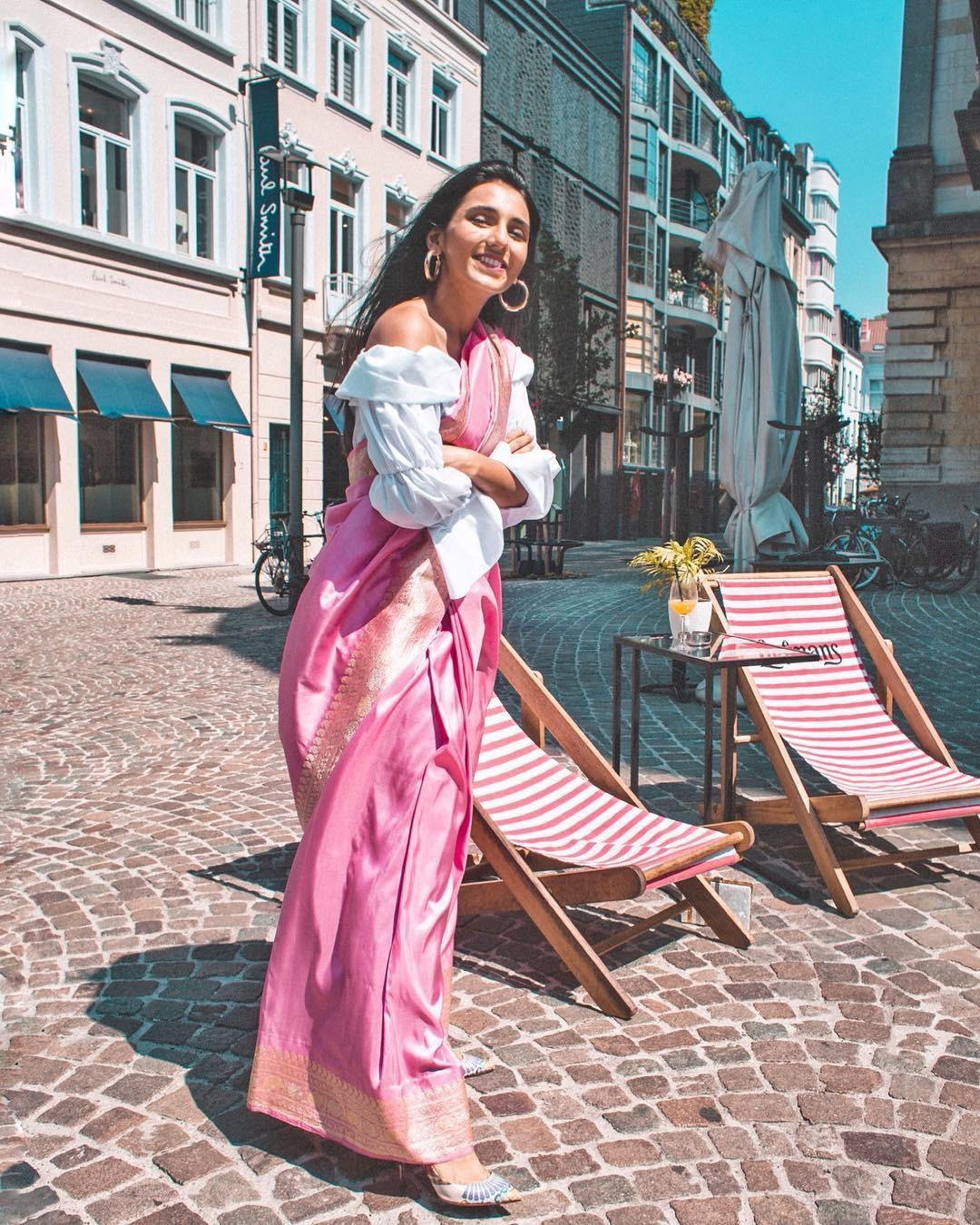 Image Courtesy: Masoom Minawala
Is there anything that does not go well with a white shirt? Well, we don't think so and to prove our point look at this cool pink kanjeevram silk saree that looks absolutely breath-taking with a white off-shoulder blouse style shirt. The ruffles on the neck and sleeve do not just add more glamour to this look but also makes it work well as a brunch outfit.
Silk Saree with a Corset Blouse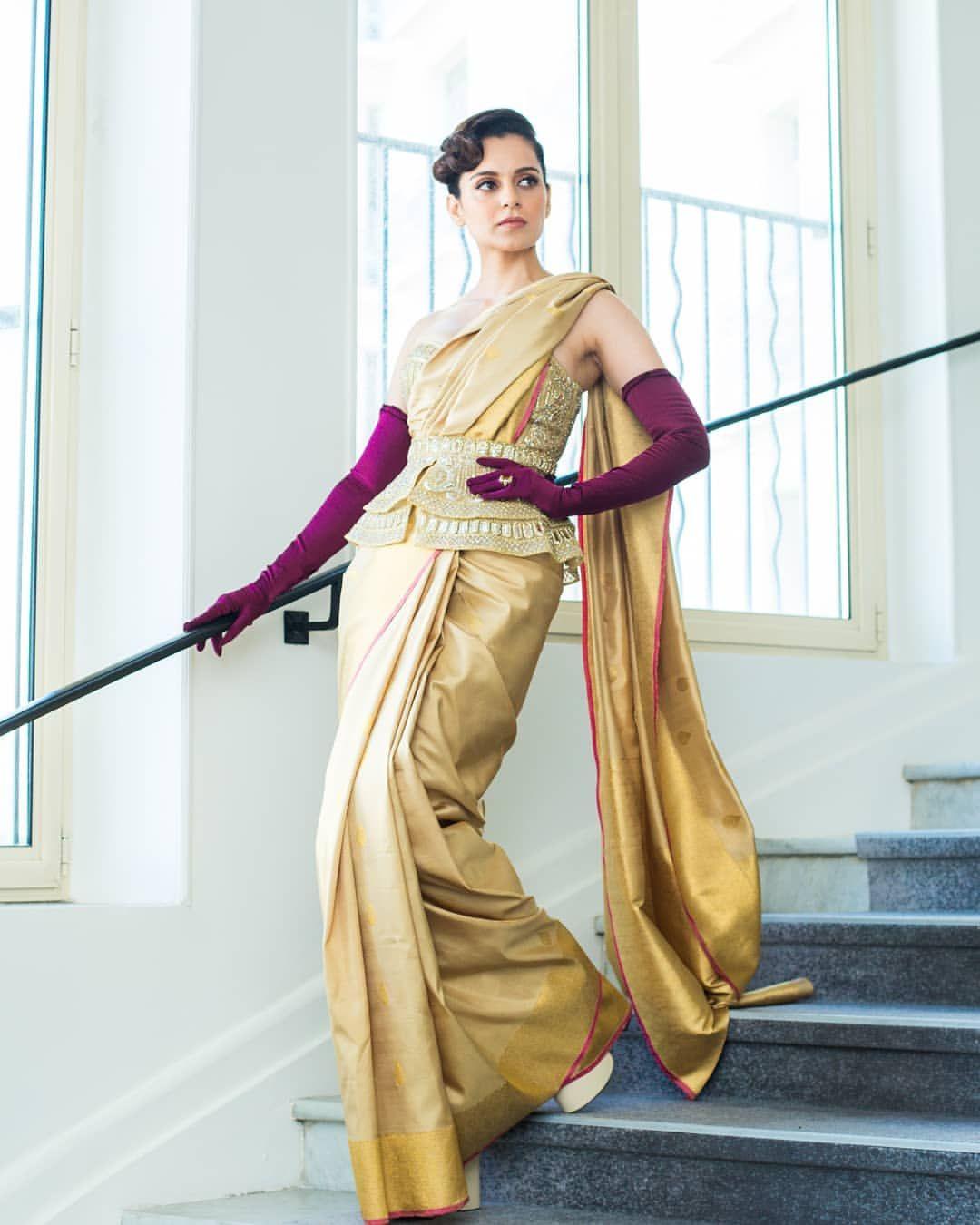 Image Courtesy: Kangana Ranaut
Now for brides that think of our styling cues to be too informal, here's a Victorian-themed idea for you to carry your silk saree to a formal occasion. The embellished corset blouse and a peplum belt with this gold silk saree is what we call as a masterstroke for brides that love OTT styles and themed outfits. If you're still not convinced by this trendsetting look, complete it with the dramatic plum coloured gloves and the low sleek bun to make an unforgettable impression.
Solid Silk Saree with Coat & Belt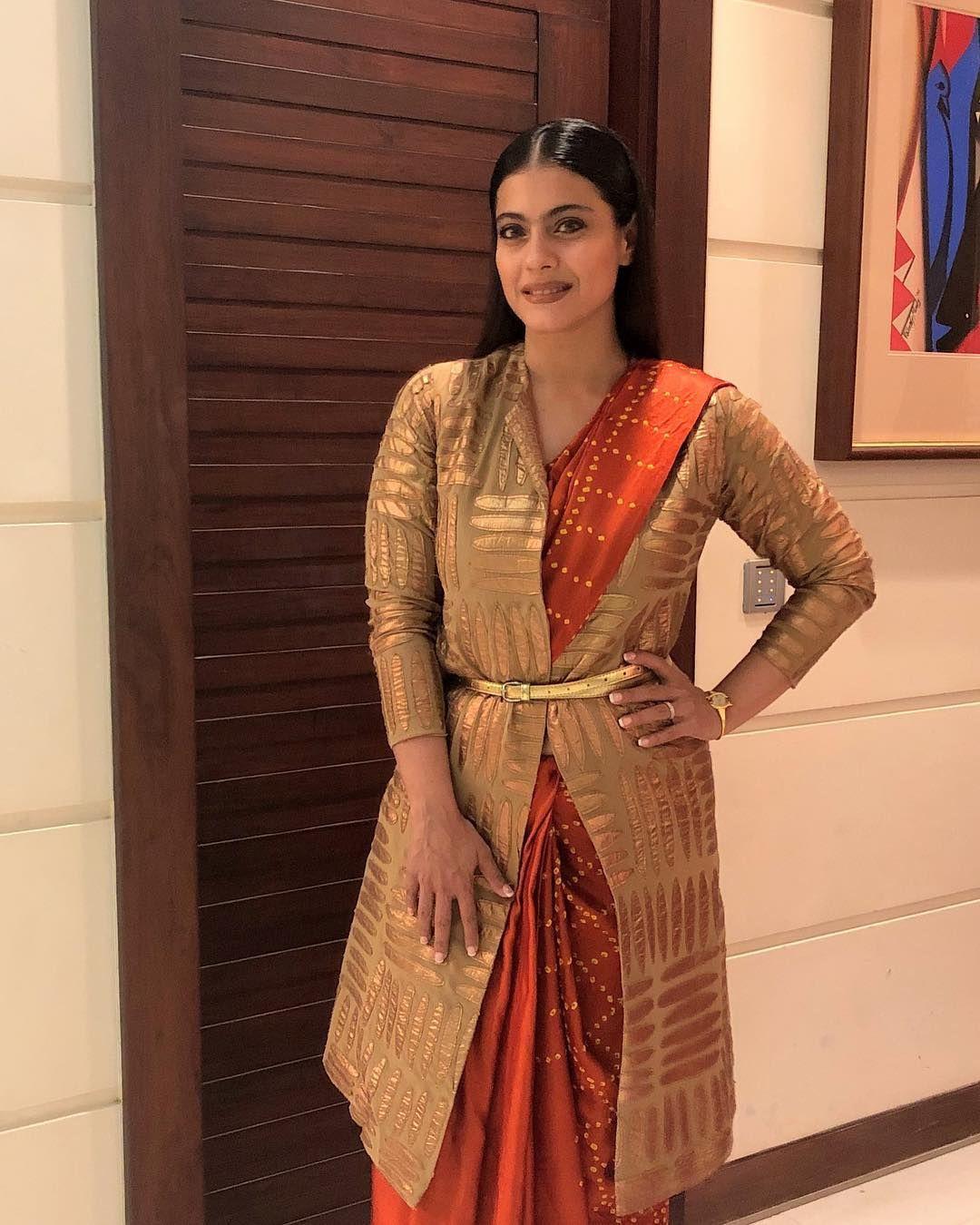 Image Courtesy: Kajol
For those of you that find the top and saree ideas to be too casual, another unusual way to style your silk saree for a formal occasion is to make use of your evergreen golden jacket and belt with your saree. A jacket over your saree might be stylish enough for you to walk around and get noticed but the golden belt on the waist allows the outfit to look flattering on your body while also looking very classy and chic.
Saree with Blue Denim & White Shirt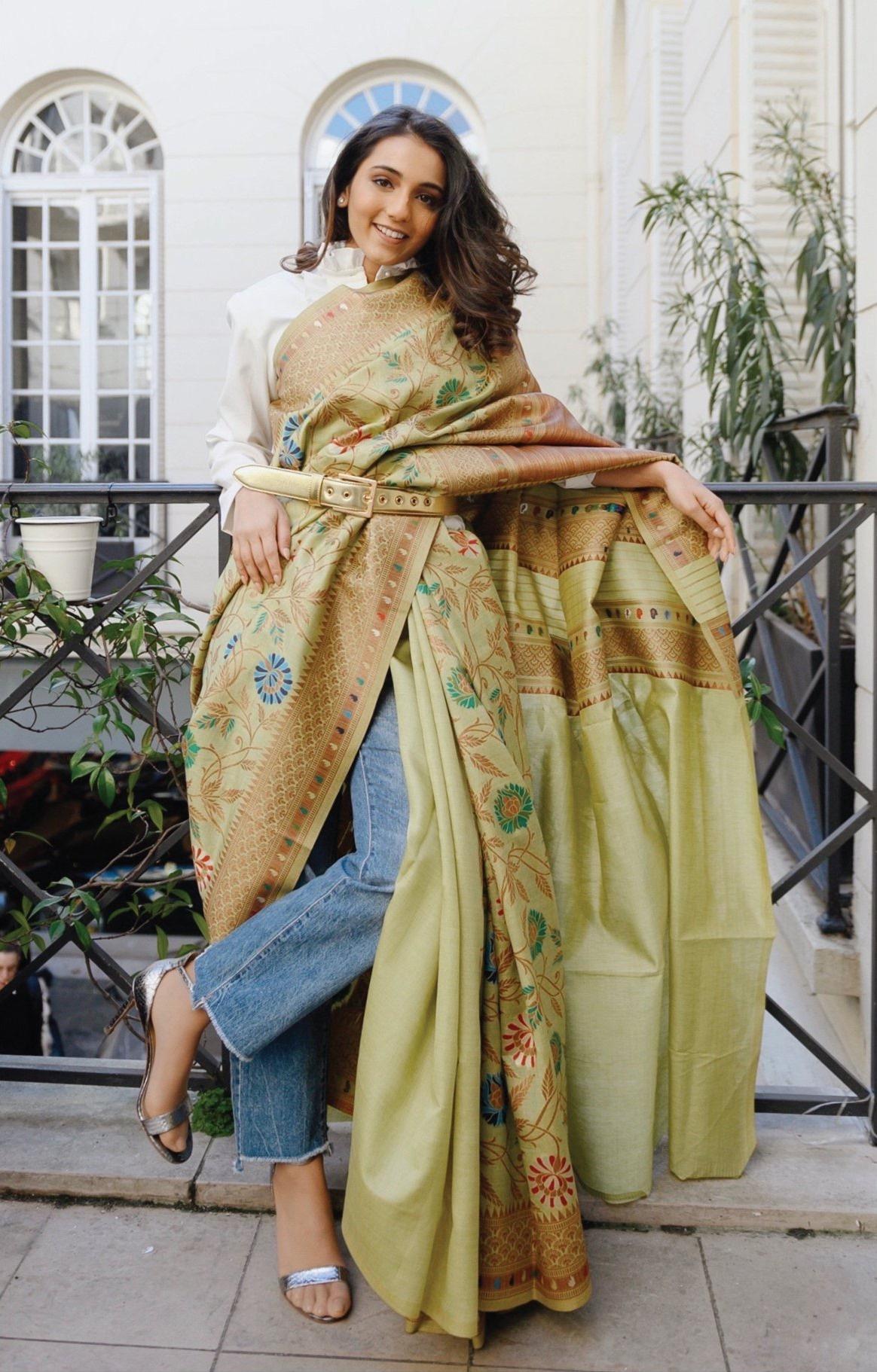 Image Courtesy: Masoom Minawala
Masoom Minawala wore this beautiful green silk saree with colourful weaves and paired it with blue denim, white shirt, golden belt to make it look extremely stylish and classy. The high neck white shirt looks evergreen while the saree pleats on the side make sure that the blue denim is visible. However, our favourite bit of this outfit is the golden belt on the waist that gives the entire look a definition it requires. So all you OTT divas out there, give this style a try the next time you step out to make fashion headlines in your city.
Silk Saree with Pleated Waist Coat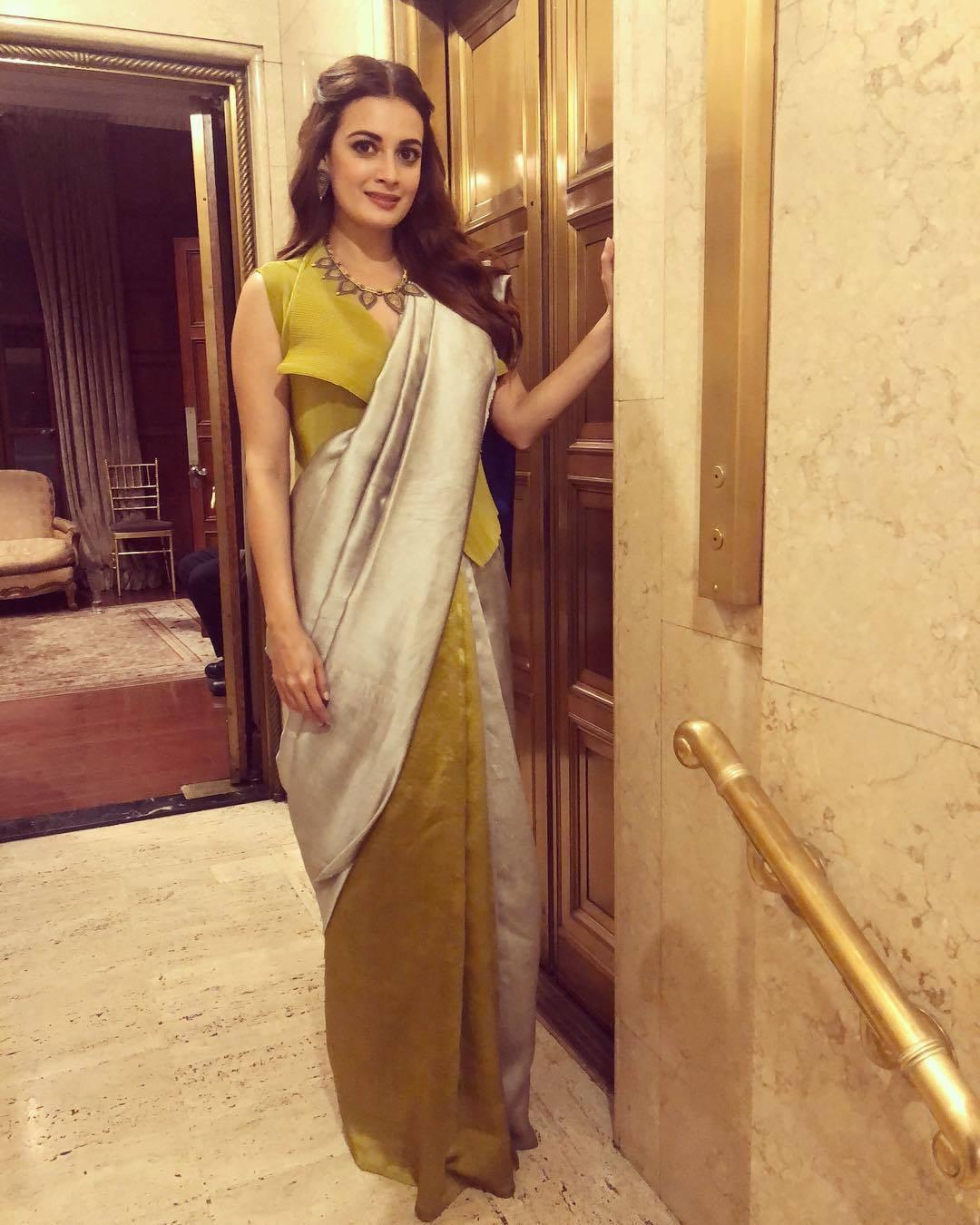 Image Courtesy: Payal Khandwala
Last but not the least on our list of unusual ways to style your silk saree is this gorgeous idea of pairing a pleated waistcoat with a multi-coloured hand-woven silk saree. While the waistcoat can be layered on top of the saree or below it depending on your taste, what we are sure of is for it to look just as stunning either way. This one is for the brides that have a minimalistic yet unusual taste and like styling their outfits in an understated but classy way.
Aren't you thrilled with these extraordinary ideas of making a silk saree look different every time you wear it? Well, we surely are and therefore we'd like to suggest our brides to not spend too much money buying too many sarees and rather invest in these unusual ideas of styling it and making it look one of a kind each time they wear it.
Which of these unusual ideas of styling the classic silk saree amused you the most? Tell us in comments if you have any other ideas that too work like magic.