10 Simple Bridal Rajasthani Mehndi for Hands
"Mehndi is the colour of love and your bridal Mehndi art deserves to be special. Colour your hands with some stunning Rajasthani Mehndi designs that would simply wow everyone. Take a look at our list of Mehndi art styles for some inspiration".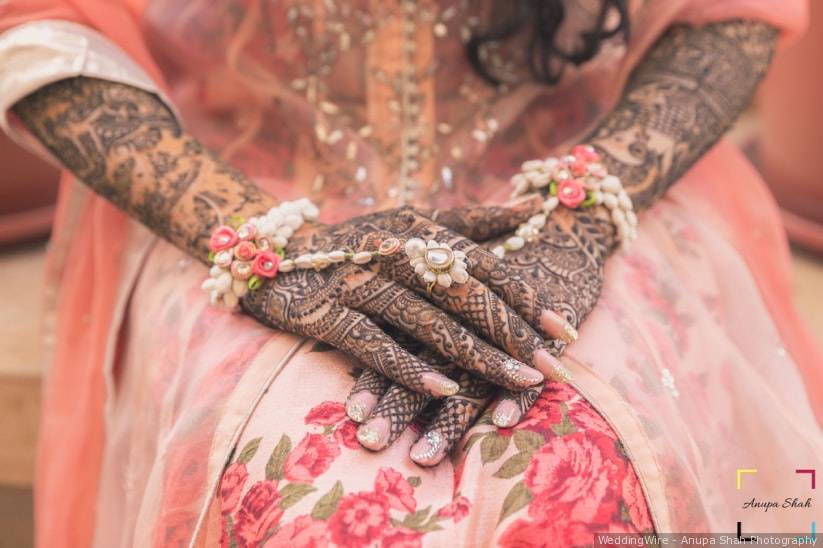 After months of planning and hunting, you've finally selected your wedding dress. Now comes the part when you need to find a perfect Mehndi design that would complement your gorgeous outfit. This is where Rajasthani Mehndi comes to your rescue. A traditional art form with intricate designs based on folk and cultural traditions, you can never go wrong with those spectacular Mehndi styles from Rajasthan. Know a bit more while you feast your eyes with the gems of henna art.
From Arabic mehndi patterns to Paisley or even white Mehndi design; there is literally a pool of henna designs that will not only wow your senses but make you look like a million bucks on the day of your Mehndi ceremony. Rajasthani mehndi patterns feature one of the world's most intricate designs and given to the thought that goes into weaving a Rajasthani mehndi pattern; this style of mehndi is every bride's favourite when it comes to her very own Mehndi ceremony. So, if you are tying the knot anytime soon, then take notes and see if one of these stunning Rajasthani mehndi designs is the one for you!
Paisley fashion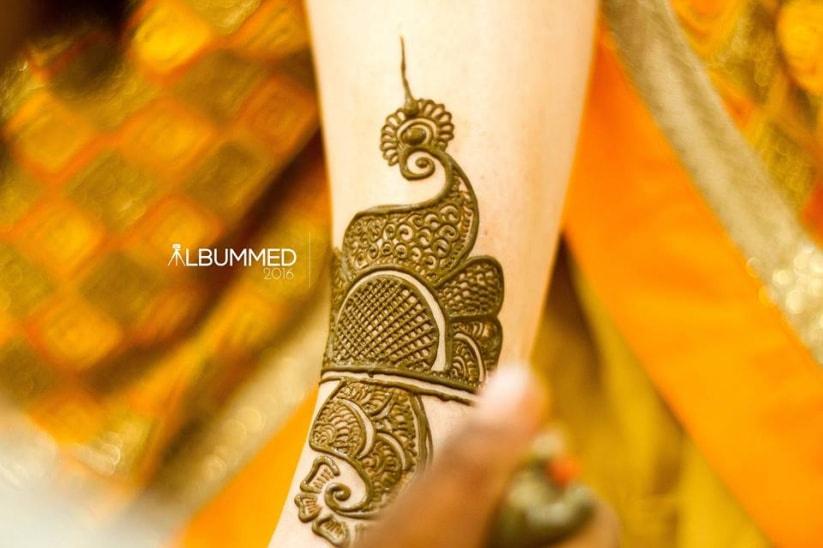 Paisley is perhaps the most favourite Rajasthani mehndi designs among brides. It's elegant, classy and perfect for those who're looking for that 'bold and beautiful' look. Here are some gorgeous paisley Mehndi designs. Adorn your hands and feet with stunning paisley designs. You can go for exclusive paisley all over your hands.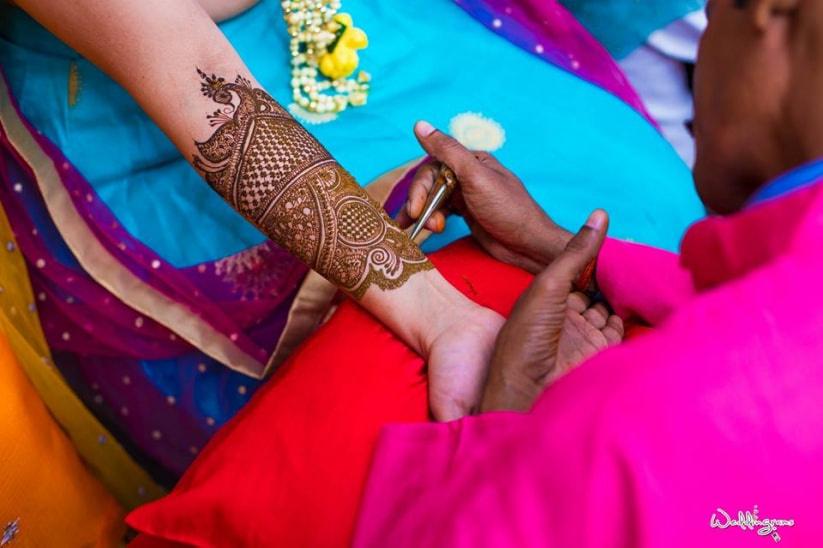 Or you can mix it up a little with other Mehndi pattern combos with floral patterns and leaf motifs. Paisley is one of the most common and widely used patterns that you can see in the mehndi designs. The beautiful peacock at the forearm provides the whole design with an edge which is later on filled with beautiful and intricate henna designs.
Read More - 200+ Traditional and Modern Mehndi Designs For Brides and Bridesmaids
Chadar Design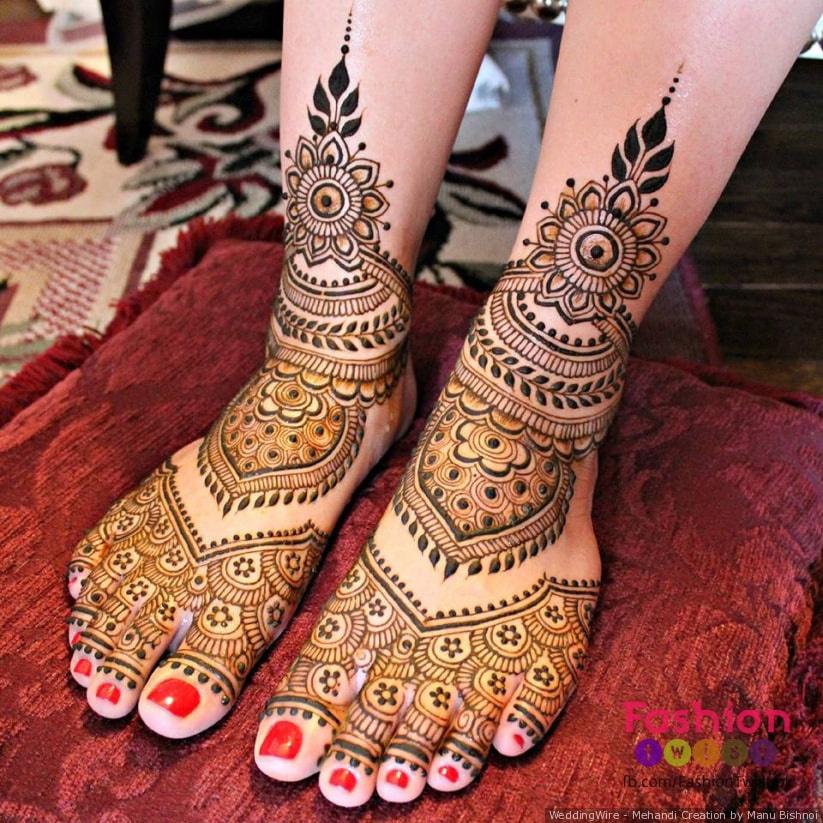 Brides who believe in the 'less is more' phrase, can opt for subtle Chadar pattern. This Rajasthani Mehndi design looks extremely chic and is quite popular among the millennial brides. Try out different motifs and arrangements. You can also go a little elaborate with your Chadar design to get a fuller look.
Read More - 70+ Simple Mehndi Design Pictures for Brides To Be
Mirror Mirror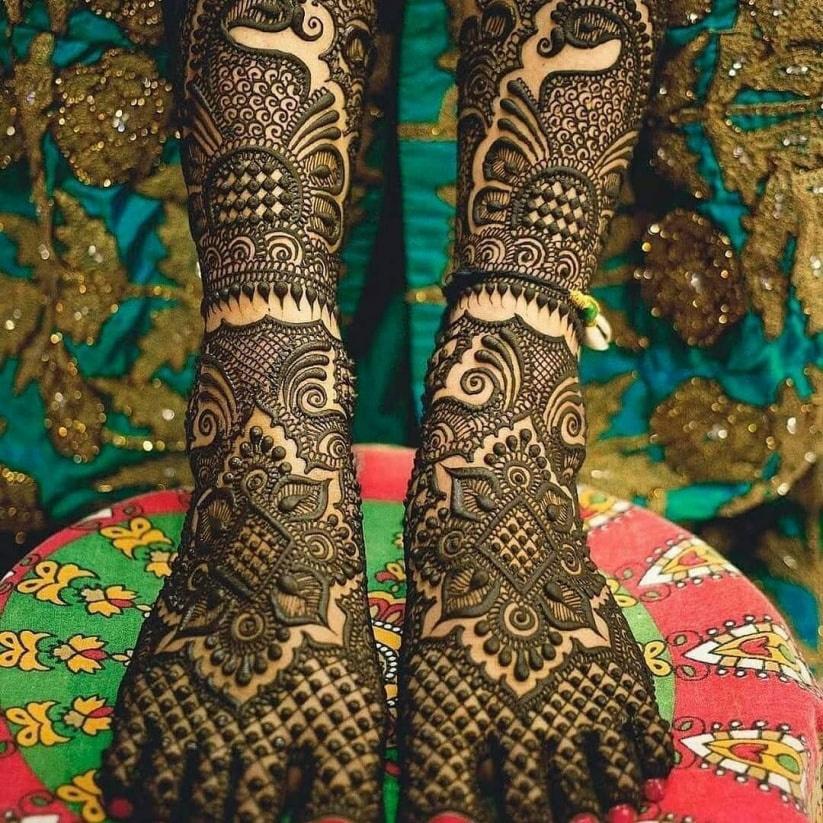 Creating the mirror pattern in a Rajasthani Mehndi design is possibly the toughest henna art form. Not only does it have to look identical on both hands/feet, but it also involves intricate compositions for the desired outcome. Here's another gorgeous design by Manu Bishnoi that showcases an astounding mirror image pattern on the bride's feet that look ever so gorgeous.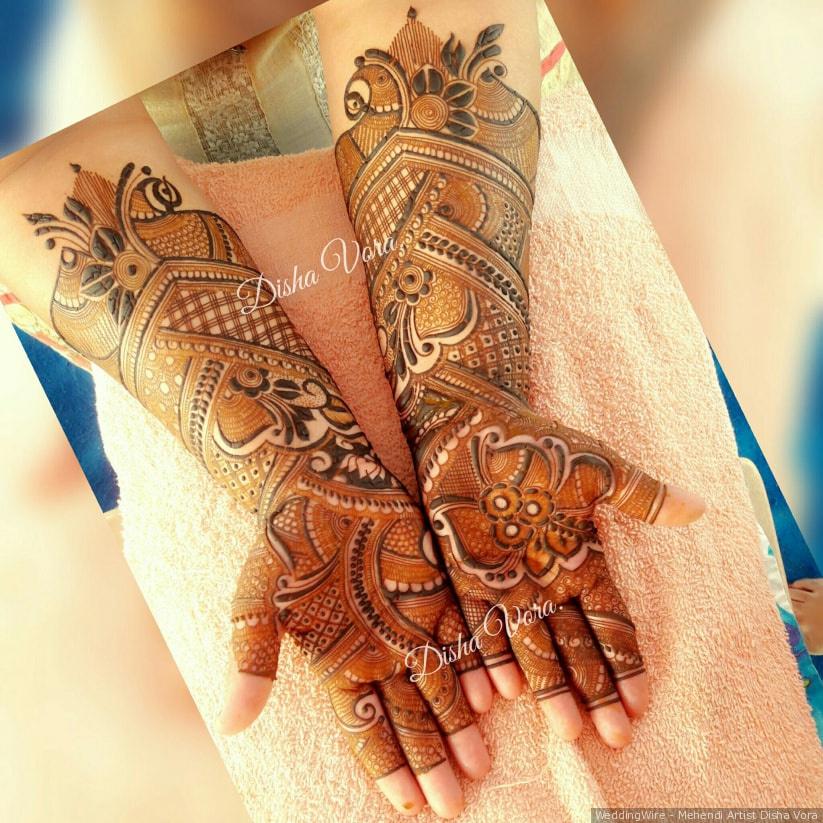 For the mirror patterns, you can choose a similar design that would reflect on the other hand or just think of a bigger version of the design and it can flow in both the hands. The continuous flow of mehndi design on both hands would be a stunning display of artwork.
Peacock beauty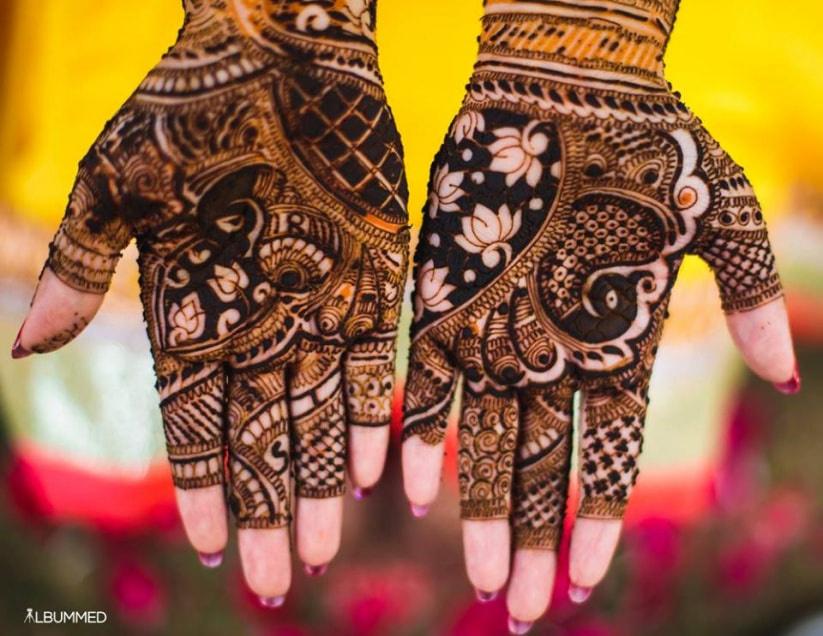 Every Rajasthani Mehndi design has a traditional relevance behind its origin. Peacock is quite a significant motif used in Mehndi designs mainly because of its abundance in Rajasthan. Artists use various combinations and arrangements using peacock in their Mehndi designs. Sometimes the artists use peacock as one of the accessorising features in a story; like with leaves, trees or flowers.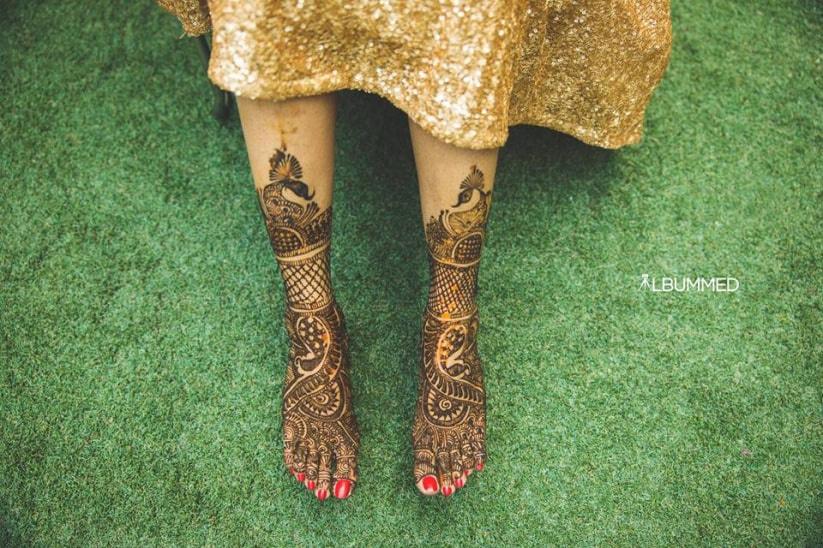 Or they are also used along with other shapes and patterns, simply to enhance the whole picture. Peacock motifs are also largely used for mehndi designs that provide the whole design with a regal aura.
Read More - 12+ Dulhan Mehndi Design for Hands & Legs to Complete Bridal Look 2021
Dulha Dulhan Mehndi Design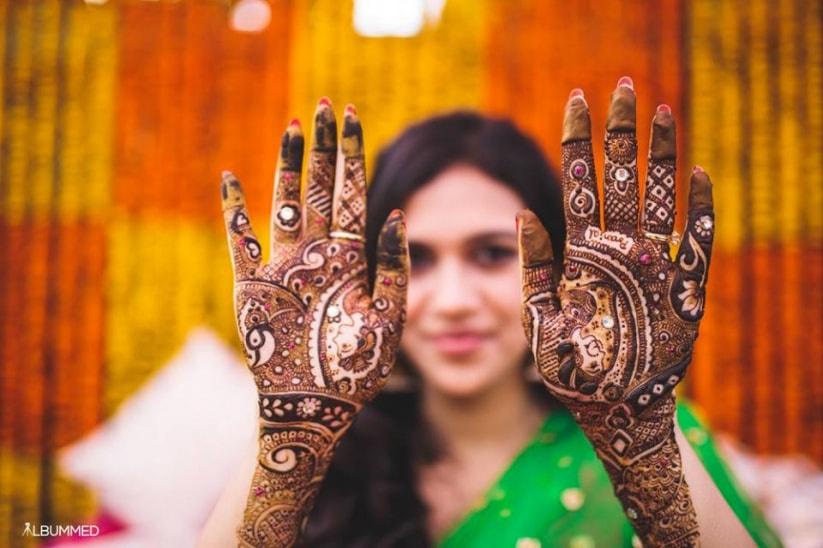 Making henna images of the bride and groom is a very popular Rajasthani Mehndi design, which is modern yet traditional. More focus is on the portrayal of the bride and groom on the hands while the surrounding space is filled with intricate and beautiful floral and paisley patterns.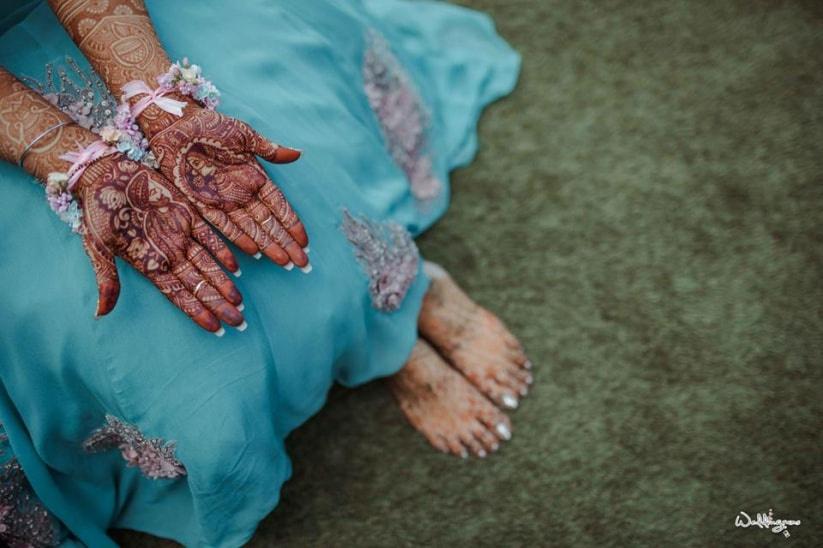 This particular pattern originated from the Rajput style when the artists used to draw pictures of the prince and the princess who are to be married, along with their Doli and Baraat. Keeping the traditional essence intact, where the bride got her hands painted using prince and princess images.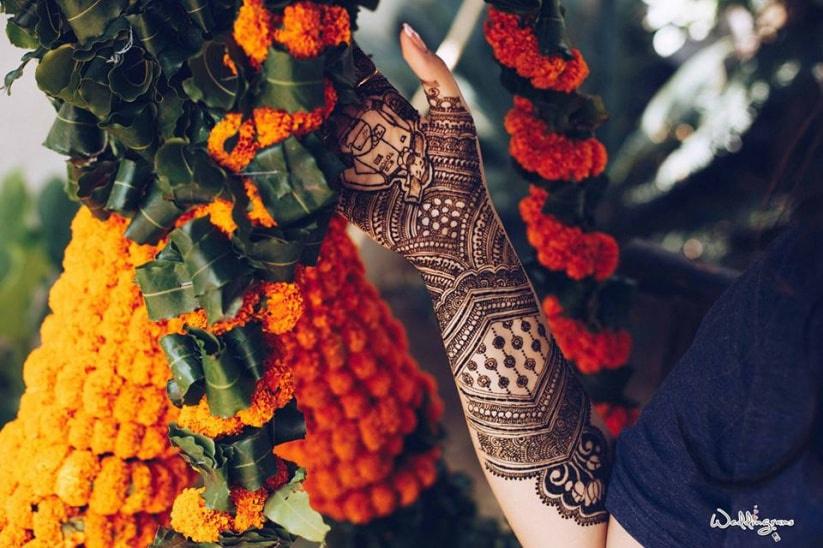 Or you can add a bit of fun by painting your own images in your Mehndi designs or customise it just the way you want. It is a full hand design that is filled with stunning motifs and designs. The design also displays a jali pattern with the Dulha Dulhan design.
Mango leaves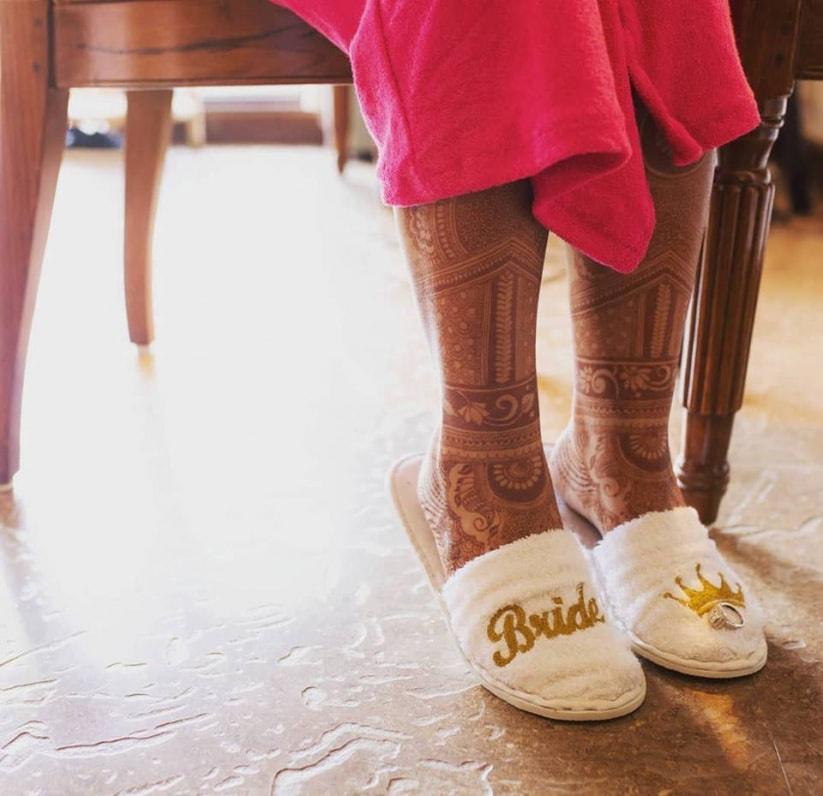 Mango leaves are considered sacred during Indian festivals and weddings. Hence using mango leaves as a Rajasthani Mehndi design is quite a common practice. Take a look at some of the finest Mehndi designs based on mango leaves.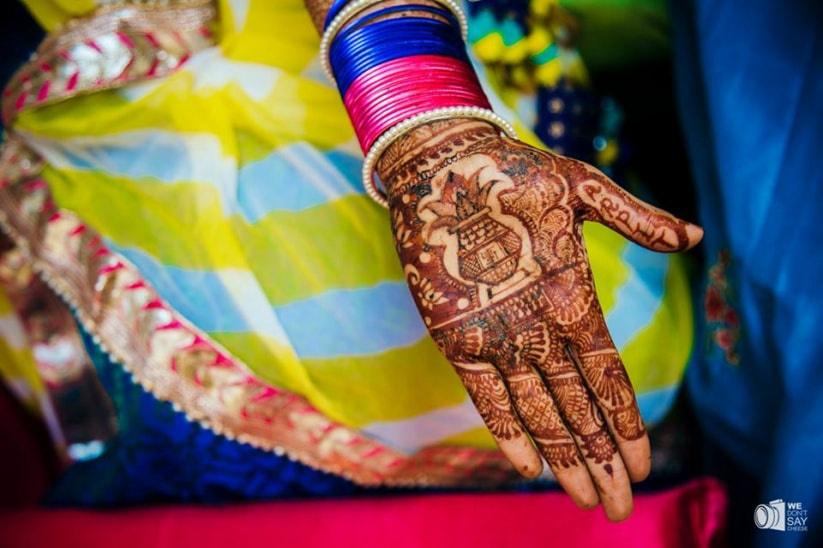 Apart from the mango leaves, the image of a Kalash gives the picture a wholesome wedding vibe. While this design would work perfectly for your wedding ceremonies, it would look equally beautiful for any number of festivals where henna plays a significant role.
Geometrical Designs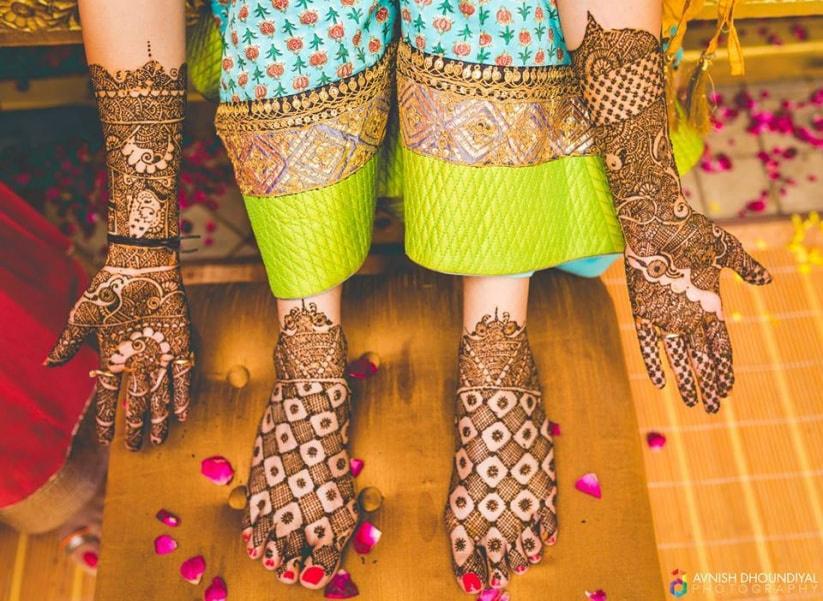 Using different geometrical shapes and figures in Rajasthani Mehndi design is a popular trend among brides since ages. Mehndi artists use their imagination in blending contemporary and classic designs using geometrical shapes. The diamond shapes on the feet look simple yet beautiful especially with the accompanying peacock heads at the top.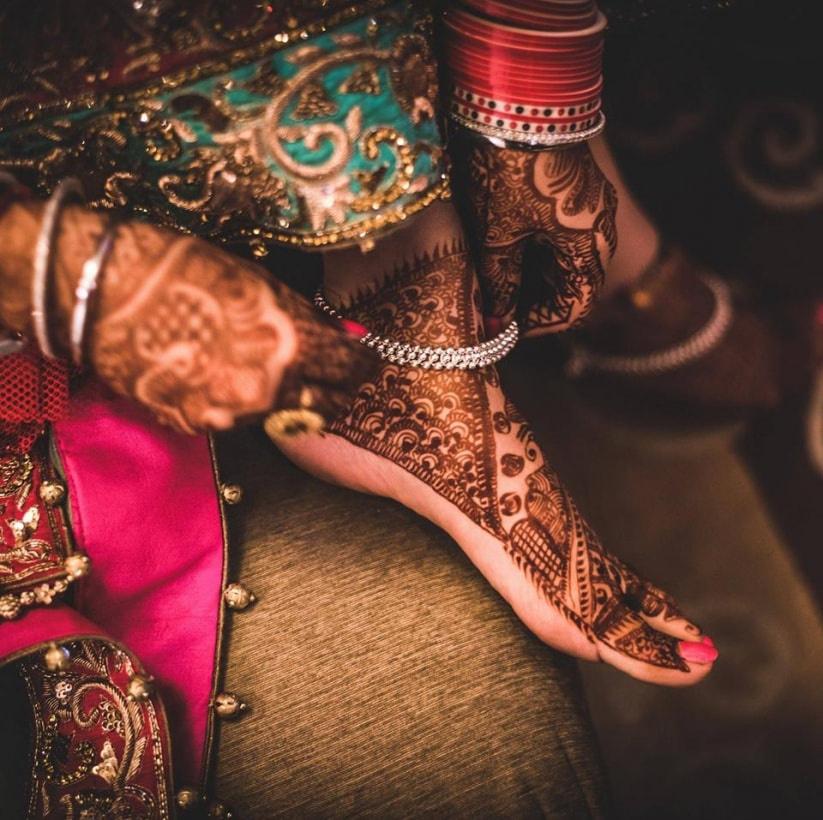 Here the henna artist has used a large triangle as an enclosed space for finer little shapes and patterns inside it.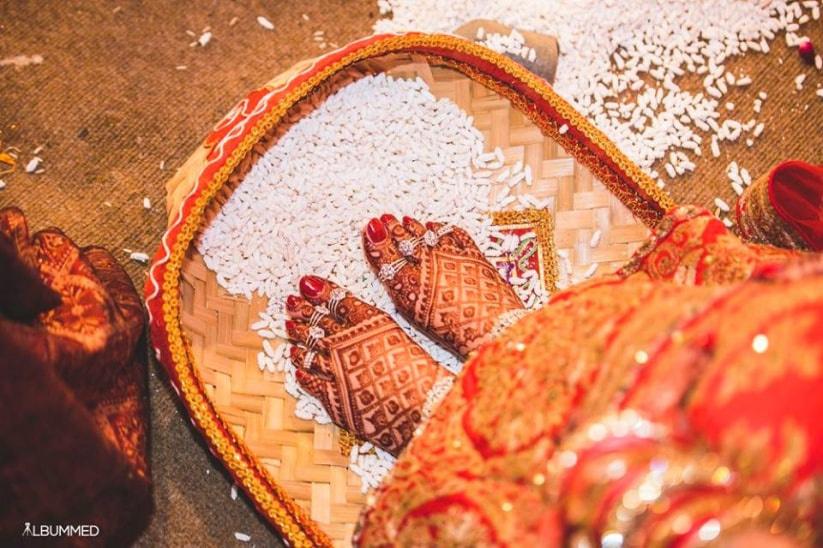 Tiny henna leaves or peacock heads inside square shapes are stunner designs used on these brides.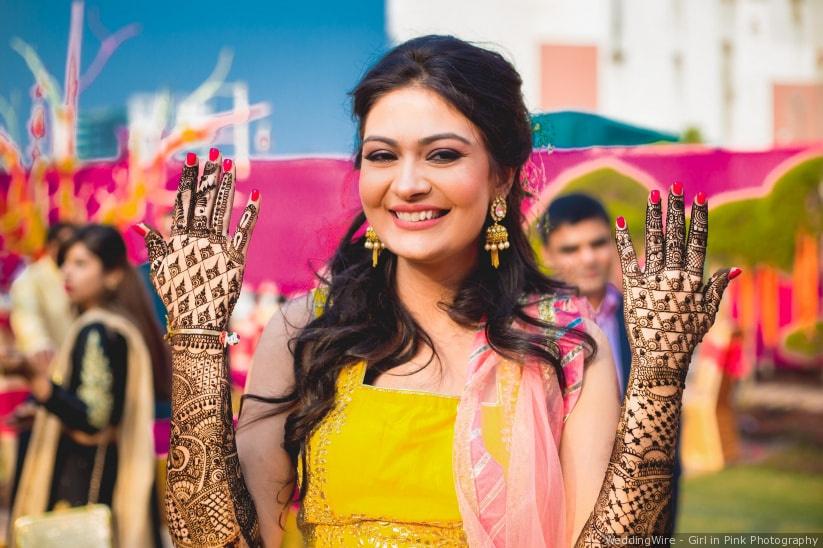 Floral Love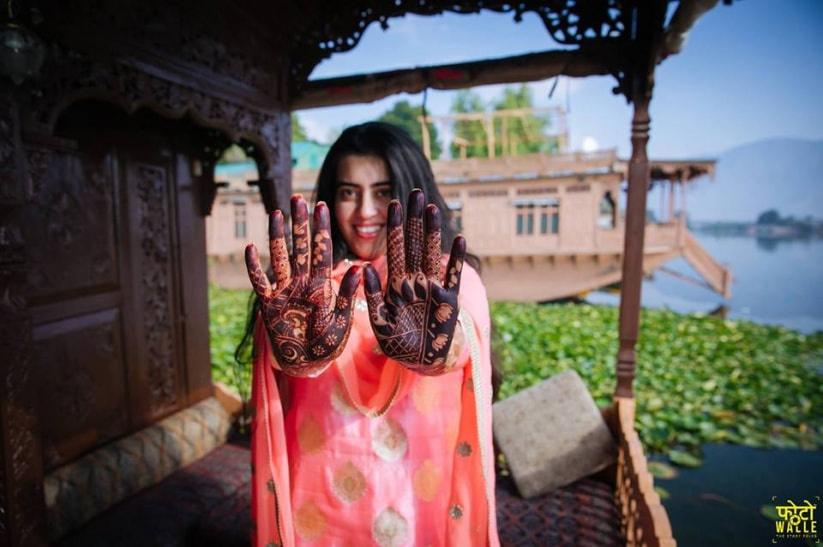 Flowers and weddings are almost synonymous. So why not in Mehndi designs? No Rajasthani Mehndi design would be complete if there are no flowers or floral based patterns in them.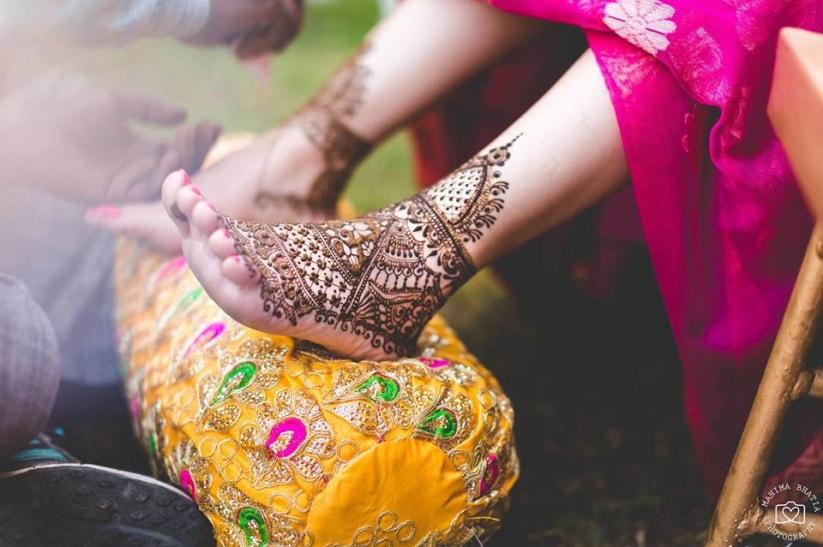 Flowers and paisley go very well together as parts of a design. You can use both for better impact. And of course, with the flowers, throw in some leaves too!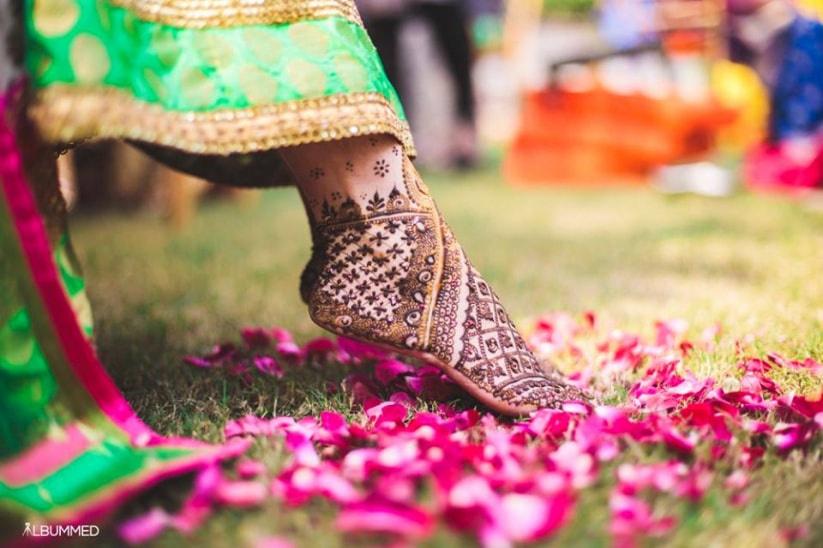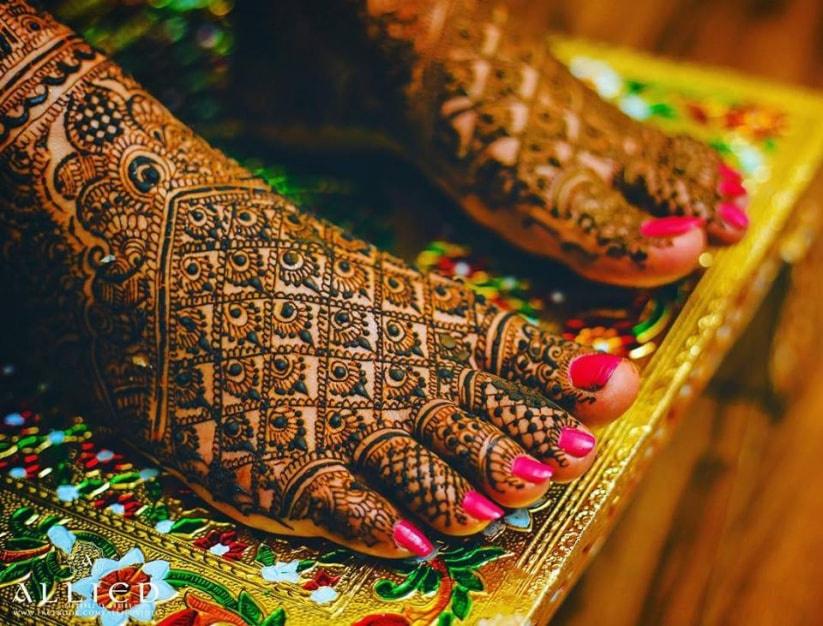 Whether you want to go traditional or contemporary; choose any shape, pattern or motif...you will get almost all your answers in a Rajasthani Mehndi design.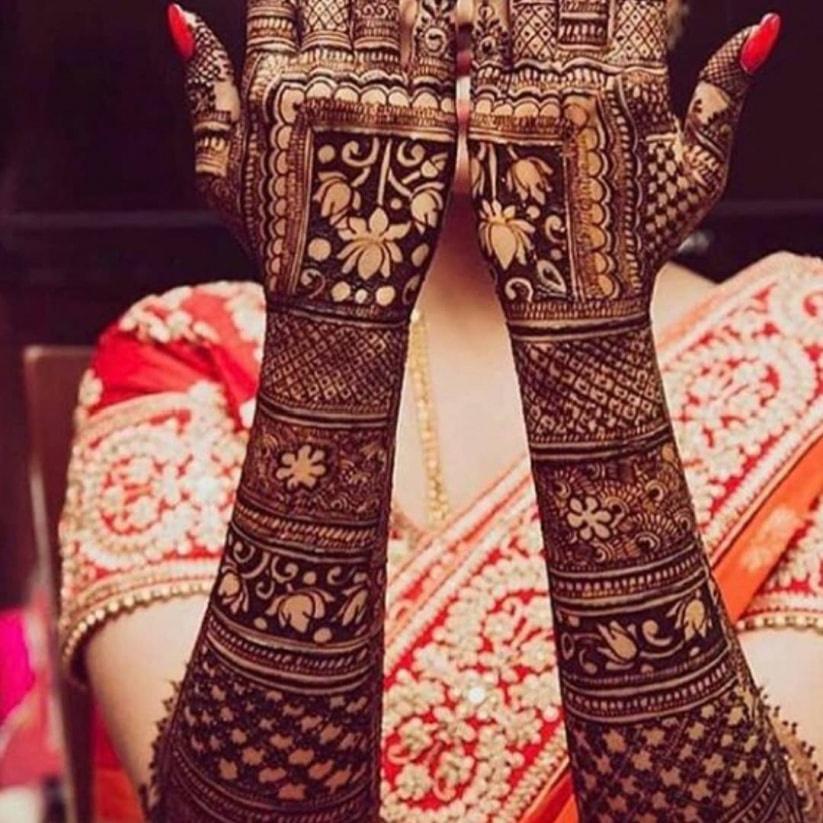 Now that you have woven your senses with some of these stunning Rajasthani mehndi designs, have a look at some easy mehndi designs and a handful of simple mehndi designs which are stunning and are perfect for not only the bride-to-be but are also a hit choice for the bridesmaids.
Mythological Mehndi Designs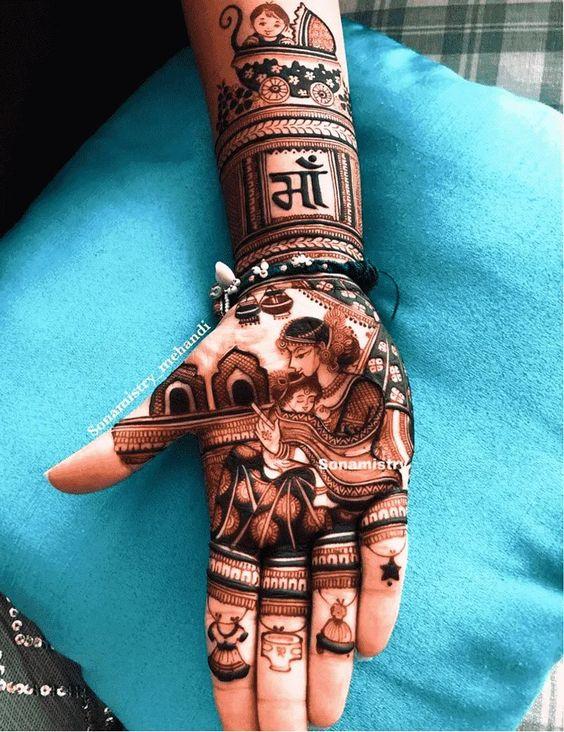 Image Credits - Pinterest
No matter how modern we became, we can't forget our spirituality and religion. Here are some mythological mehndi designs that are inspired form mythological books.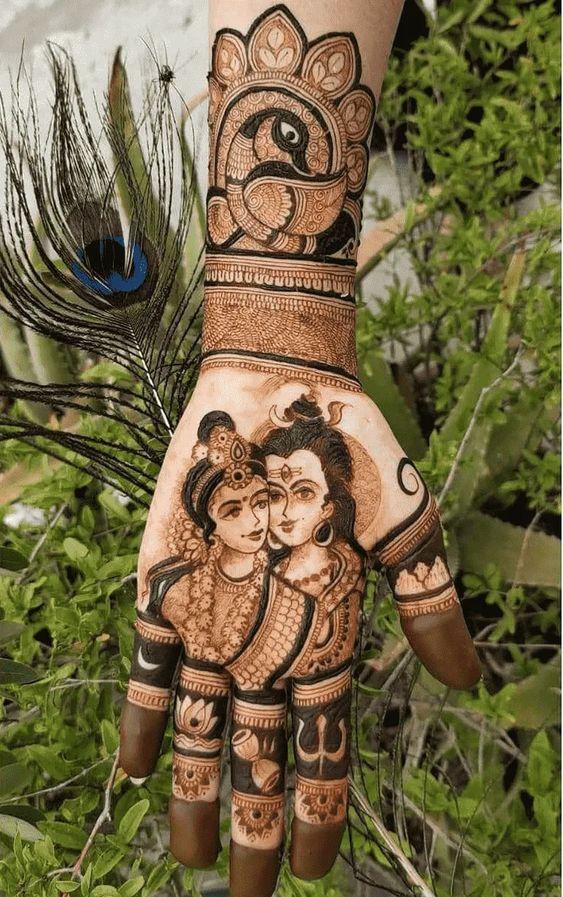 Image Credits - Pinterest
This mehndi design depicts the pure personification of true love. See how god and goddess depicts a perfect married life. Such designs are considered auspicious in Indian families.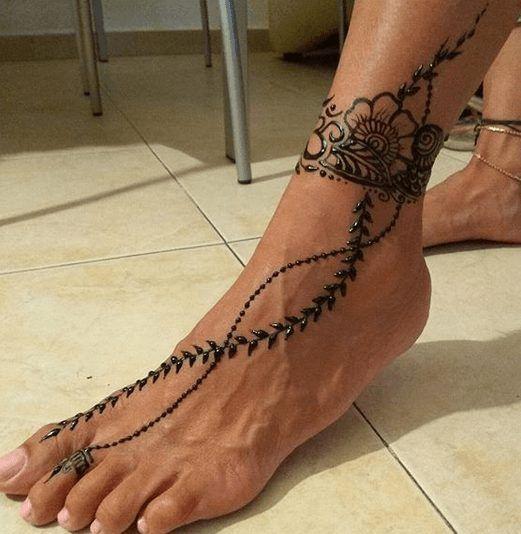 Image Credits - Pinterest
Why designs for feet should be compromised when we know a perfect foot mehndi can add so much grace to your demeanor during all those wedding functions.
Animals And Folklore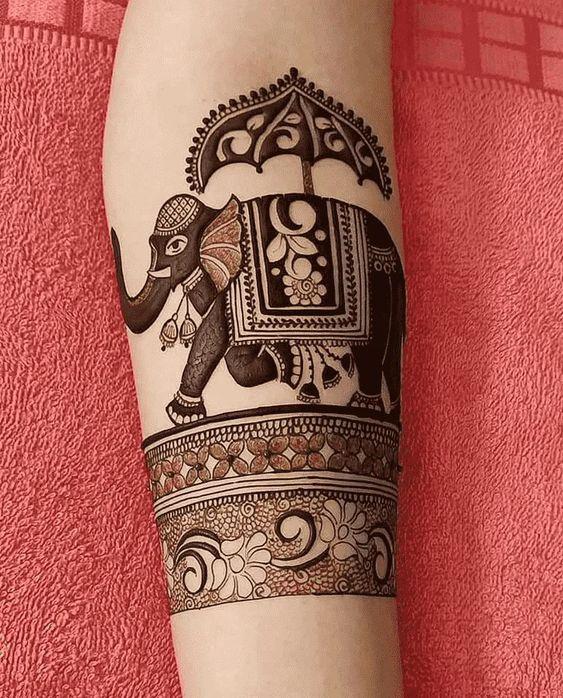 Image Credits - Pinterest
Animals like elephant exhibit Rajasthan's royal culture and thereby the design of elephant is commonly used in the Indian weddings by the brides. These animals add touch of royal to the bride's personality too.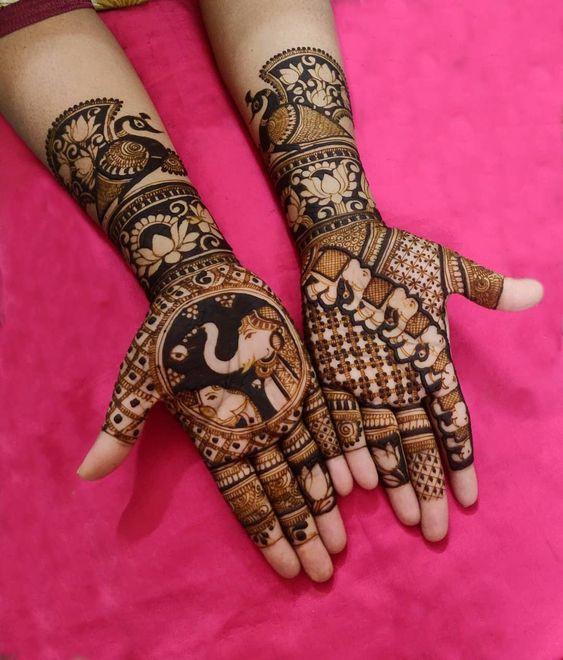 Image Credits - Pinterest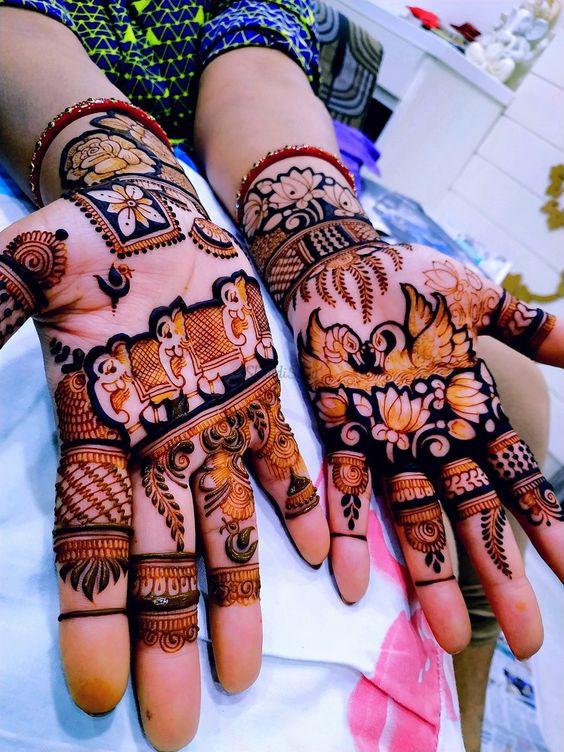 Image Credits - Arjun Mehndi Arts
Fine Mehndi artists today are brimming with creative ideas to give you a unique bridal look. Don't be afraid to show your love in the most artistic and aesthetically enhanced ways. After all, Mehndi signifies the colour of love and compassion. Paint your love all over and let the world know!
Aren't you amazed by the stunning henna pattern? Get in touch without talented Mehndi artists for some exclusive designs for your wedding.
With Words by Alaknanda Bhattacharya