Elements That Complete a Rajasthani Bride and Make Her Look Spectacular as a Bride
Want to dress up like a Rajasthani bride for your big day? Incorporate these elements to your look.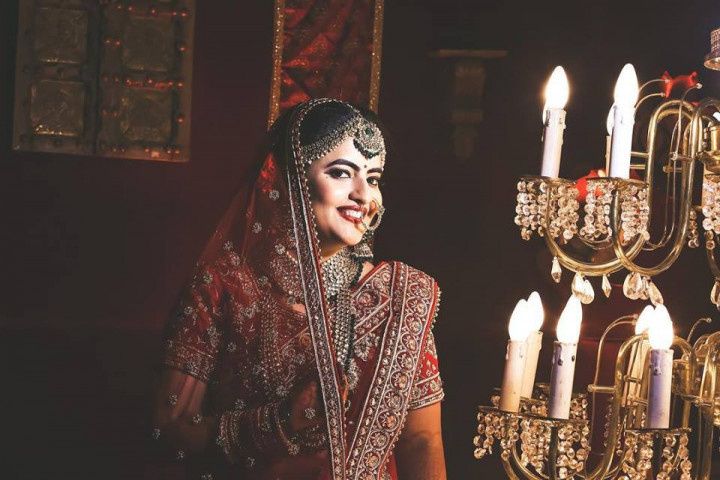 Do you love the regal look of a Rajasthani bride? A Rajasthani woman on her wedding day looks nothing less than a queen with myriad elements giving her a balanced and harmonious look. From her gorgeous and colourful embroidered dress, the exquisite pieces of jewellery that she wears, the royal hairstyle she flaunts, the intricately designed mehndi work on her hands and legs to the regal makeup, a Rajasthani bride looks iconic. Let's take a look at what goes into making these gorgeous brides? Have a browse!
1. Rajasthani Jewellery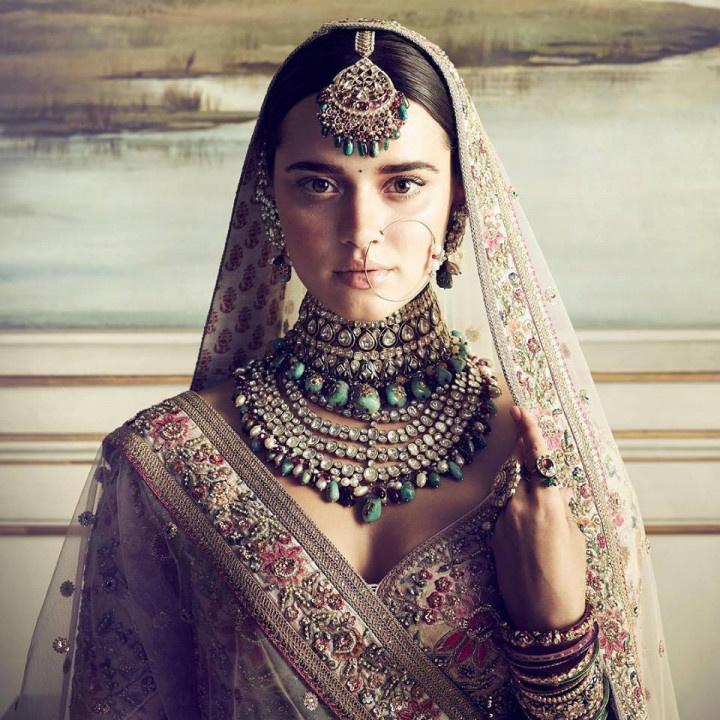 Image Courtesy: Sabyasachi's Instagram Handle
Rajasthani brides wear a lot of jewellery to look like a queen. These pieces are traditionally set with stones and diamonds. The designs on Rajasthani jewellery are intricate and lavish. Essentially there are five pieces of bridal jewellery that need to be mentioned:
Nathni: A Rajasthani bride cannot look complete unless she wears a nathni or a nath which is essentially a nose ring studded with stones and beads. Usually, it's latched on every bride's ear with a string.
Aad Aad: As unique as it sounds, an Aad Aad is a typically Rajasthani necklace made up of gold and decorated with a huge pendant, designed with stones and diamonds.
Bajuband: An armband, a bajuband is worn on the upper part of a bride's arm. Made of gold and studded with stones, it looks spectacular on a Rajasthani bride.
Rakhdi: All Rajasthani brides wear Rakhdi that comes with a string studded with precious stones and one big bell-shaped pendant crafted out of gold or silver.
Kamarband: Brides in Rajasthan love to wear waistbands that are crafted out of gold, copper or silver.
2. Rajasthani Lehenga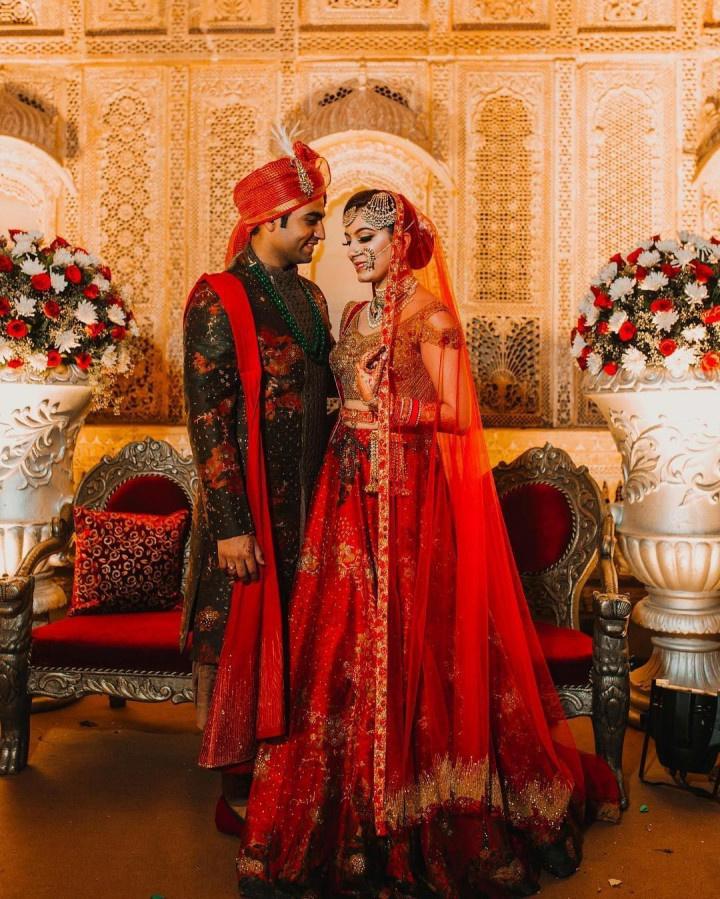 No Rajasthani bridal look seems complete without the traditional lehenga choli. It's a must to wear a wedding dress and is made with silk and embroidered with semi-precious stones, silken threads and floral patterns. Are you having a Rajasthani inspired wedding, and want to look every bit like Deepika of Padmavat fame? Well, don't just drool over; take a look at these famous Rajasthani lehenga designs that will make you swoon!
Panelled lehenga choli: It is a stylish dress that has stitched panels that fall seamlessly.
Mermaid style lehenga: The trendiest among the lehenga designs, the mermaid design comes fitted at the waist and suits heavy built brides.
Straight cut lehenga: Suitable for all body kinds, this design flows down effortlessly without any flares.
3. Rajasthani Hairstyle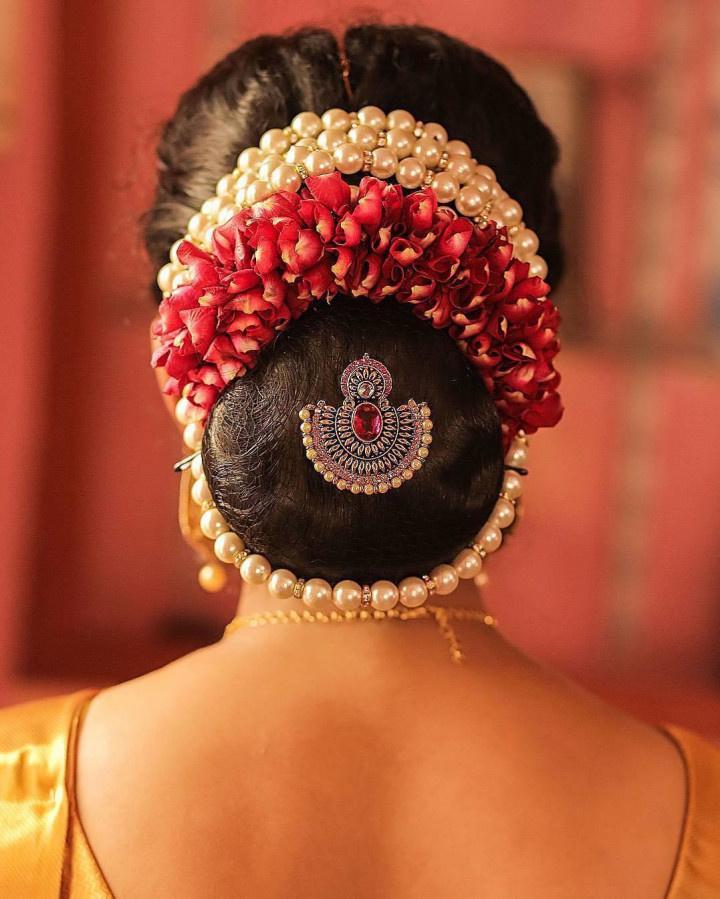 Image Courtesy: Colour Padam
If you want a harmonious bridal look, then you just cannot ignore the importance of hairstyling. Every Rajasthani bride must have a well thought out hairstyle that suits her style as well as her attire that she plans to wear on her wedding day. Look at some of the most in vogue Rajasthani hairstyles below:
Fishtail braid on the side: This hairstyle suits every bride as it lends a very pretty look to her. It can be tied loose or tight. You can deck your braid with small flowers for a glam look.
Top knot bun: Decorate your juda with flowers and stone studs to look like a queen on your wedding day.
Other trendy Rajasthani hairstyles include the classic braid and middle part puff with a braid.
4. Rajasthani Makeup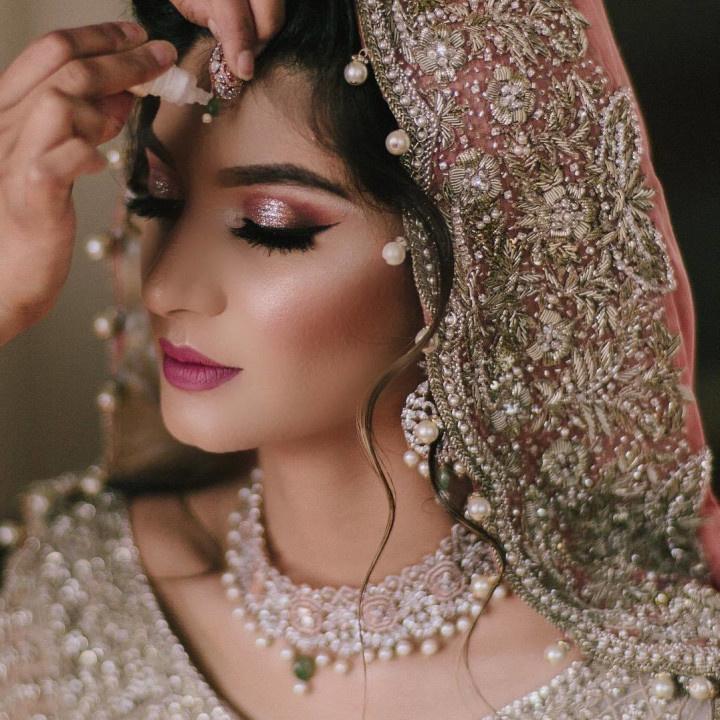 Image Courtesy: Dollhouse_Beauty_Bar
Most Rajasthani brides have a little wheatish complexion and therefore, they love to apply earthy makeup like Kohl and mascara that lend a distinctive look to their personality. The bridal makeup is toned down and doesn't look gaudy at all. Some important makeup essentials include:
Eyeshadow that matches the lehenga choli.
Light cream toned blusher and foundation.
Black mascara and eye kohl or liner.
Matching lipstick.
The makeup of a Rajasthani bride typically looks very simple, though, nowadays, brides are choosing to wear shimmer to add more oomph to their bridal look.
5. Rajasthani Mehndi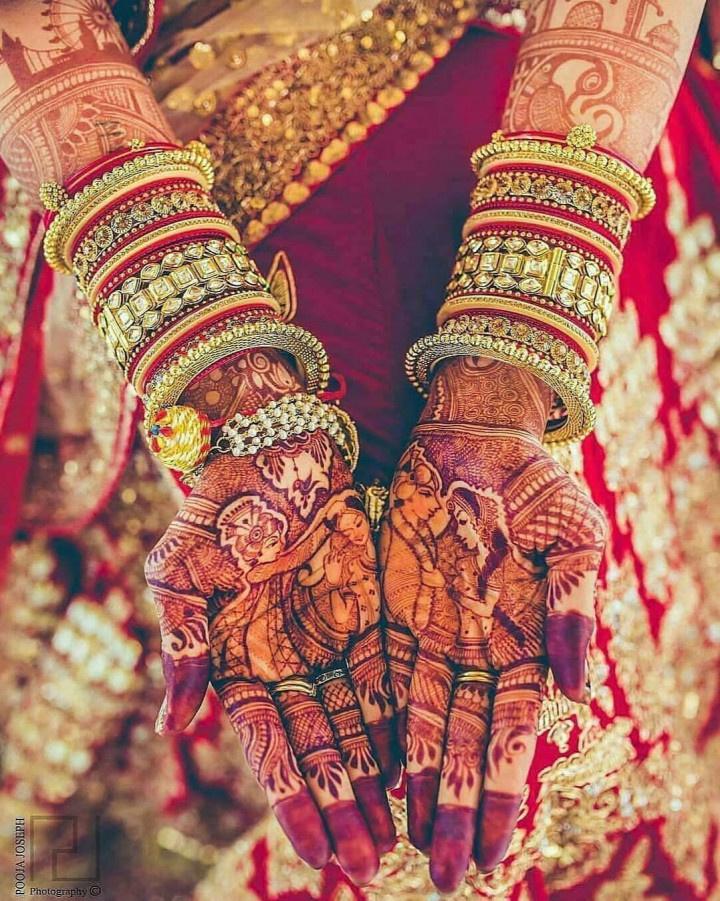 How can one imagine a Rajasthani bride without elaborate mehndi? Brides of Rajasthan love applying different types of mehndi designs on their hands, palms and legs with motifs of peacocks, gods and goddesses. Some trendy mehndi designs that you can choose for yourself are:
Dulha Dulhan design: You will spot at least a few brides sporting this popular mehndi design on their hands. Add other complementary motifs like dhol and paisleys to it if you want.
Peacock design: Love peacocks? Try this motif as it looks traditional and very intricate.
Elephant and swan: These motifs bring out the diversity and richness of Rajasthani culture.
A Rajasthani bride is an epitome of grace and looks spectacular with colourfully embroidered attire. Her jewellery, makeup and mehndi make her appear royal and earthy. Go ahead and try this look for your own wedding!
What are your thoughts about a Rajasthani bride? Let us know through comments.