12 Punjabi Bhangra Songs for Your Wedding Playlist
These Punjabi bhangra songs in your wedding playlist will get everyone on the dance floor like never before!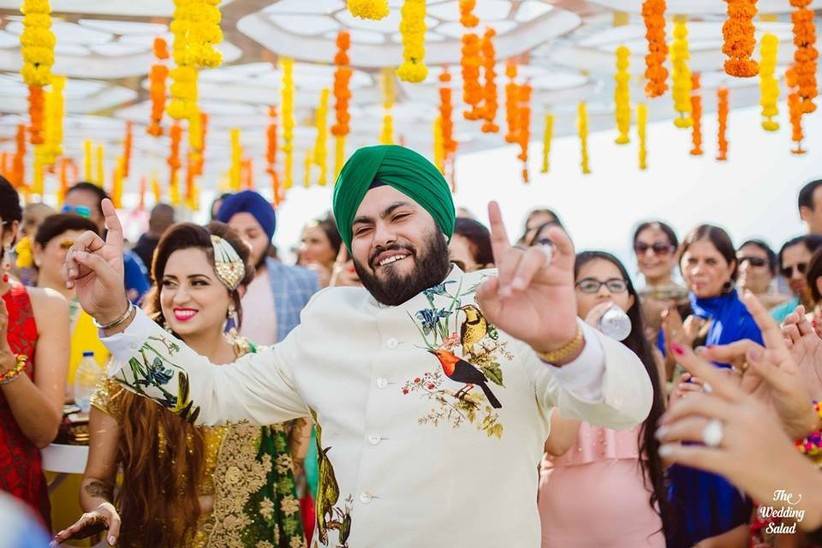 No wedding would be complete without family and friends dancing their heart away for the pre-wedding functions and big day celebration that follows. Whether it's those cool Hindi beats or even the latest happening English tracks, Punjabi bhangra songs are also a must to rock the dance floor for any wedding function.
Other than the mouth-watering food and all the excitement about dressing up, planning and looking stunning, one thing that gets everyone all pepped up for a wedding is the fun and dance that you just cannot miss. So no matter if it's one of the many pre-wedding function or a big day celebration, preparing your playlist and choosing the best songs for your wedding functions is very important.
Whether you're hiring a professional DJ or not, it's always very important to sit down and discuss the playlist for all your functions. You do not want the crowd to be all bored, right? It's a time for a whole lot of fun and dance, so go ahead and plan it up in style. Now, to make things easier for you, we decided to give you a list of some of the best Punjabi bhangra songs that you could play for your wedding functions.
Lamberghini
One of the most happening Punjabi bhangra songs that's played in pubs and for parties is the popular Lamberghini number. Dance your heart out with your partner or roll in a solo performance if that's what you prefer. If you love the idea of performance with friends or the gals, then you could practice up a dance performance on this groovy Lamberghini number because the beats will simply not let you stop tapping your feet at all. Let the crowds scream while you shake and sway to this happening number.
Morni Banke
Looking for that actual Punjabi bhangra beats that will make everyone kill it on the dance floor? Then Punjabi bhangra songs just like this will get the whole crowd on the floor dancing like crazy. One of the most happening songs played at almost every wedding, you just cannot miss this one at all. You could go ahead and copy the actual dance steps or come up with your own innovative dance styles to just have fun and dance to your heart's content.
Suit Suit Karda
How many times have you actually replayed this song? I guess a 100 times because the beats are super addictive and you just can't stop singing and shaking that leg every time you hear this one. The Suit Suit Karda song is one of the most popular tracks played at weddings, so why not have this Punjabi song played at your wedding too?
Laung Gawacha remix
The next fantastic number on the list of Punjabi bhangra songs is the Laung Gawacha beat. Once the crowds are all pulled in and high on the songs, you could ask your DJ to mix in the Laung Gwacha track and watch how the crowd screams and goes crazy the minute they hear the song slowly rolling in. The Laung Gwacha track has to be on your list of must-play tracks for sure!
Sadi Gali
How can anyone miss this fantastic track when it comes to Punjabi bhangra songs? If you're having a DJ or you're not, make sure to add this one on your list of songs to play for your functions. A nice pre-planned performance would also work wonders for your day.
Wakhra Swag
Are you planning to have a performance with the girl gang? Then the Wakhra Swag song would really get everyone on the dance floor. A nice remixed version of this song with faster beats or little mixing by your DJ would take this song to the next level. Adding this superhit song to your song list would always be a great idea for all your wedding functions.
London Thumakda
Repeat, repeat and repeat – this is how we describe this song! For a happy celebration, this is one of the best Punjabi bhangra songs ever! This song has the ability to get 'everybody' on the floor – like really everybody (even the non-dancers). Yes, even those non-dancers who never get on the floor to dance will at least shake a leg on this song we guarantee! A perfect wedding song for sure!
Ishq Tera Tadpave
A favourite when it comes to Punjabi bhangra songs, you just cannot miss the 'oh ho ho ho' lyrics that will make everyone on the floor dance like super crazy. The beats of the song are so fast and groovy that letting your hair down and having fun together on a song like this is just amazing. Screaming whenever the 'oh ho ho ho' lyrics hit in would seriously leave the crowd asking for more.
Kudi Gujarat Di
An all-time favourite, the Kudi Gujarat Di song has always made it to almost every Punjabi wedding. You may start off on the new trending tracks but will ultimately land back to this evergreen song that has rocked every party for years. Add this on your list of Punjabi bhangra songs and watch your party being a complete hit!
Bolo Tara Rara
We've literally grown up hearing this song being played for almost every occasion, right? A never-fading song due to the lyrics and the beats, play this popular Daler Mehendi song for your Haldi and Sangeet and dance with the crowd like never before! Plan up a special performance too on this song and you would surprise everyone with your dancing skills too.
Tunak Tun Tun
Another popular Daler Mehendi song of the 90s rules the dance floor at every Punjabi wedding. Get energised and pumped up the minute you hear this song and dance to the beats of this fantastic song for all your wedding functions.
Laung Laachi
Here's one Punjabi song that's making all brides go crazy over. A perfect song to add to your performance list too! Dance with the ladies or with your man, either way, you're going to rock for sure dancing on this one!
These were some of the best Punjabi bhangra songs we've listed out for you. If you've not heard them before, make sure to listen to them a couple of times and imagine what it would be like to play it on your wedding day. If you feel your crowd is going to love these numbers, then definitely add them to your playlist. If you're having a DJ, then make it a point to talk to your DJ about the type of crowd and what's the preference of songs you're looking for. If you would like the fast remixed versions of these Punjabi songs, then listen to those tracks as well before you make your decision.
If you loved listening to these Punjabi bhangra songs and planning to add them to your wedding playlist, then let us know the songs you've chosen. Also, don't forget to find a choreographer who'll help you match the beats.