9 Pre-Wedding Shoot Locations and Ideas That Make for a Breath-Taking Romantic Story to Tell
Create the perfect picture story for your wedding by choosing the right location and, of course, the wedding photographer.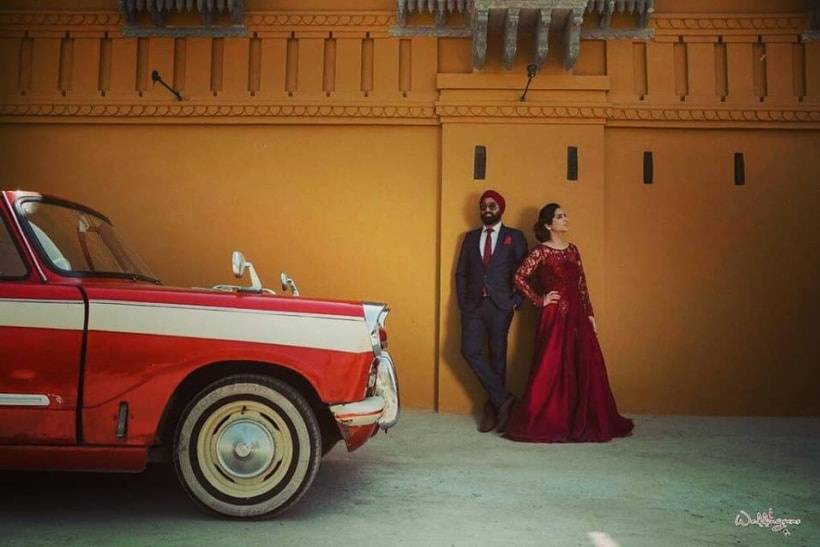 The pre-wedding shoot pictures are a reflection of your story and also the best way to showcase it to the world. And to get that, you need a photographer who understands your expectations and is ready to push all limits to achieve them. To complete the picture, all you need is the perfect backdrop. Look at these gorgeous pre-wedding shoot locations in Delhi to be inspired to weave a story of your own and complete the tale beautifully put together in frames that will be cherished forever.
The pre-wedding shoot pictures are a representation of the relationship you share with your better half. Be it the fun type, the romantic type or the madly in love type, all of it has an expression and your pre-wedding shoot is the perfect compilation of the phases of your life before you end up tying the knot forever. Each frame upholds the sanctity of the relationship and you will be overwhelmed by the beauty of the pictures and how good you look together.
Clicking photographs and shooting videos as a means of chronicling your journey as a couple is one of the most thoughtful ways of building a life together. But, no matter how much love there is between you two it would be amazing if your photographs' backgrounds were just as romantic or perhaps dreamy as your couple. We will make your task easier by dropping you hints of which locations you could pick to have your pre-wedding photoshoot at. Read on to find out some of the most famous spots for pre-wedding photoshoots for couples who are a few months or perhaps days away from tying the knot.
1. Hauz Khas Village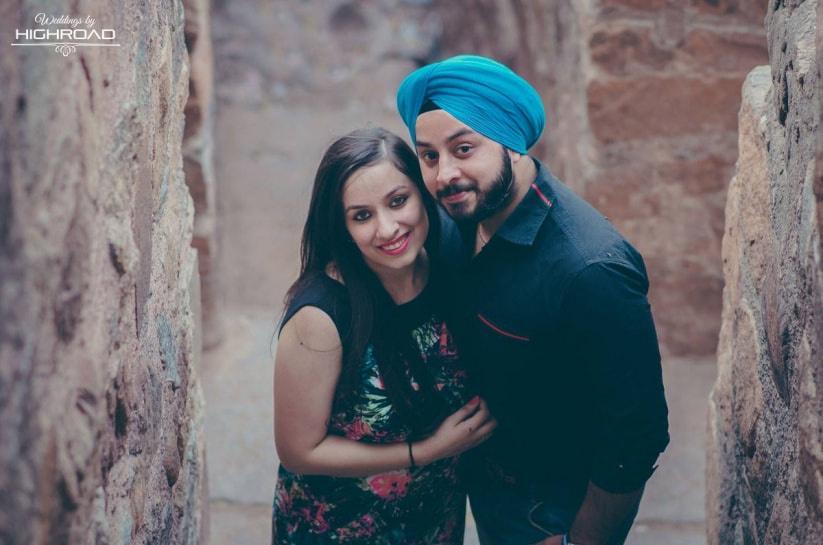 The fort and the deer park at the Hauz Khas Village offer numerous opportunities for a splendid pre-wedding shoot. Be it having nature as the backdrop of your pictures or flaunting contemporary pre-wedding shoot dresses against historical structures, you can try it all here. That's actually what Payal and Sony (pictured above) did for their pre-wedding shoot in Delhi. The stone walls and the grassy green stretches with trees and the lake in the Deer Park, Hauz Khas is a treat to the eyes once it becomes the background to your special moments.
Entry Fee - Nil
2. Humayun's Tomb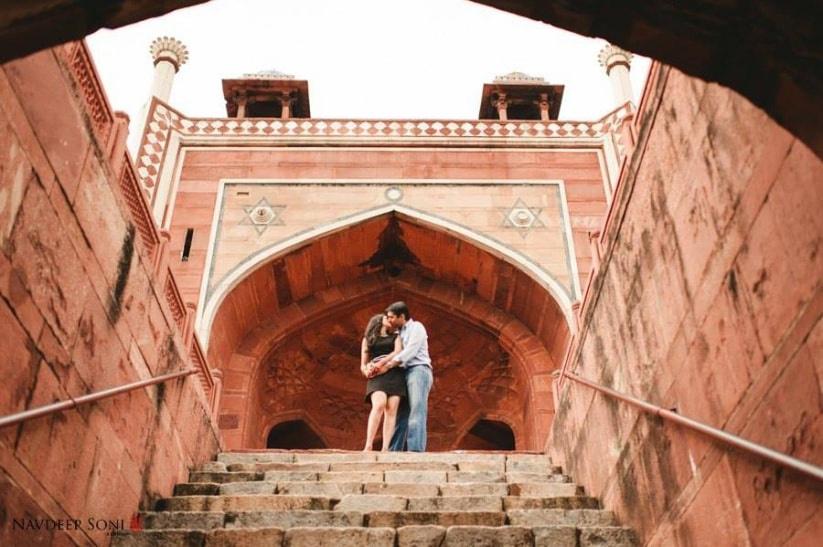 Looking for a vintage feel in your pre-wedding photography album? Head to Humayun's Tomb for the perfect Mughal background to your romantic story. Your wedding photographer can capture some great candid shots while you are strolling around the grounds. As far as ideas are concerned, have a look at the pre-wedding shoot Navdeep Soni Photography did for Bhavna and Nitin at the spot. You can also decide to bring out the royalty in you with anarkalis or a long flowy skirt and your groom can sport the kurta look. This pre-wedding shoot location calls for florals and bright colours on you.
Entry Fee – ₹30 (Indians) and ₹500 (Foreigners)
3. Lodhi Art District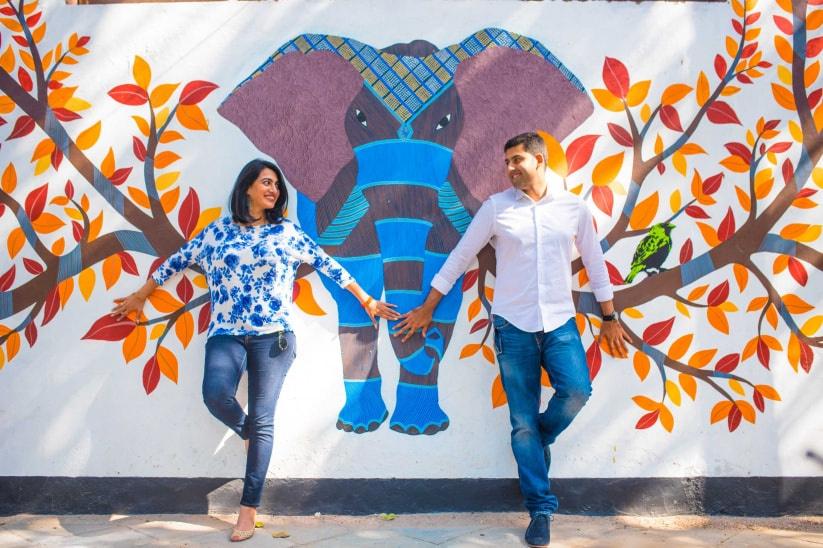 Image courtesy: Shiv Sharma Photography
The latest addition to the list of locations for a pre-wedding shoot in Delhi is Lodhi Art District. It is India's first open-air public art gallery with walls painted by around 25 street artists to create unique visual effects. Make full use of the walls for some quirky photos using interesting props. The backdrop is so colourful and vibrant that you can easily flaunt plain colours or block print attires to let the background do the talking for you.
It did make for a nifty backdrop for Kriti and Sahil's pre-wedding shoot in Delhi!
Entry Fee - Nil
4. Khan Market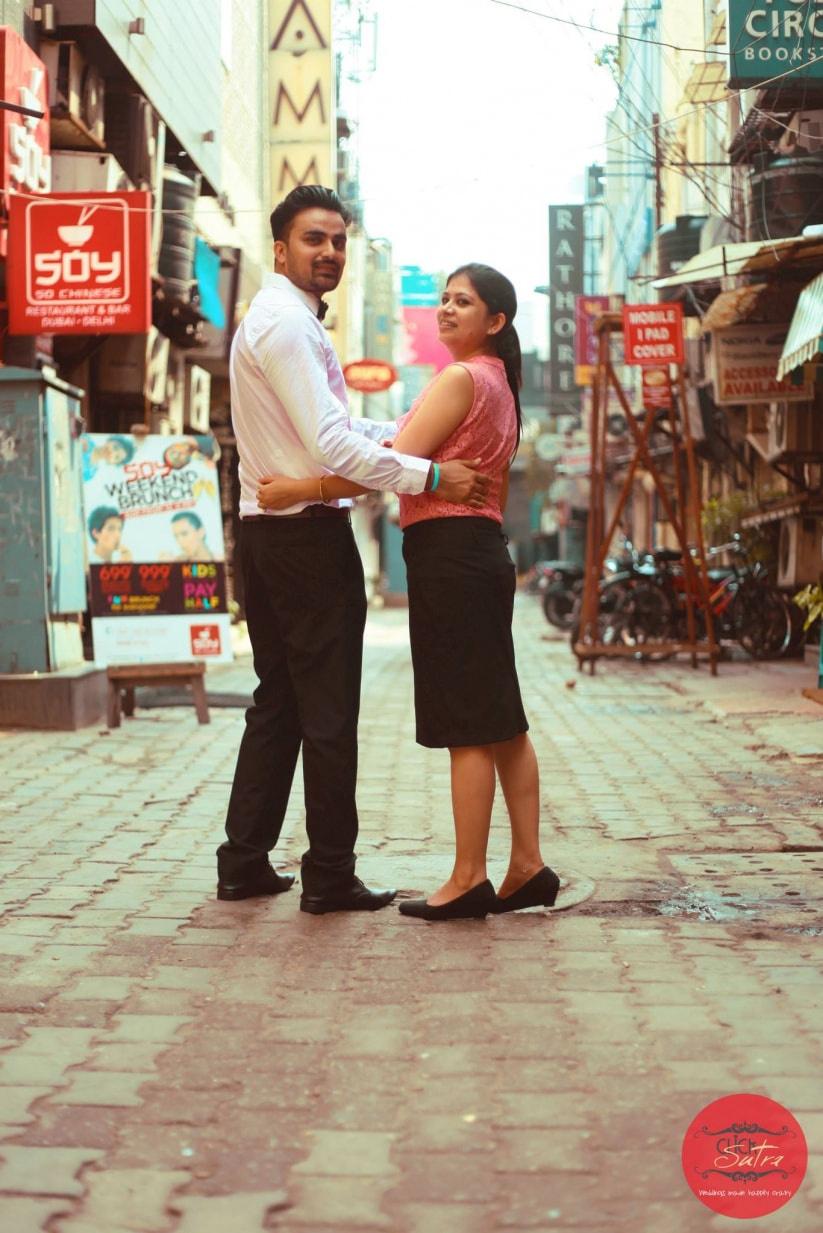 If you are a true 'Dilliwalla', then you will completely understand why Khan market is one of the locations for a pre-wedding shoot in Delhi. The lanes of the market will invoke a sense of belongingness and bring out the romance between you two quite naturally. Even better if you can manage to get your favourite restaurants for your photoshoot. Did you get your "#followmeto" picture yet? If not, then maybe lead him to Big Chill Cafe?
Entry Fee - Nil
5. Agrasen ki Baoli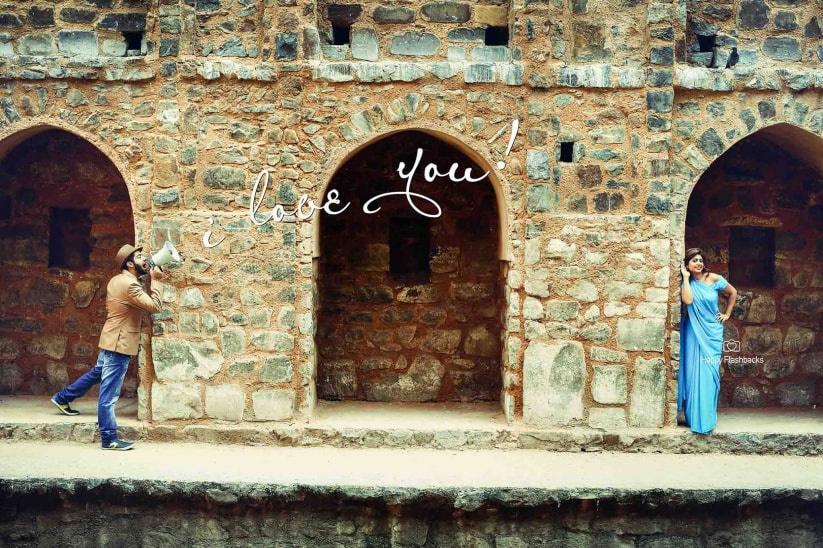 Agrasen ki Baoli has been a part of many romantic Bollywood songs, like Bol Na Halke Halke from Jhoom Barabar Jhoom, because it is so picturesque You can have a beautiful Indian pre-wedding shoot at this location that can speak of the simplicity of your story. The goofiness in you can come out through your pre-wedding shoot pictures and the stairs almost always make for a gorgeous #followmeto picture.
Entry Fee - Nil
6. National Rail Museum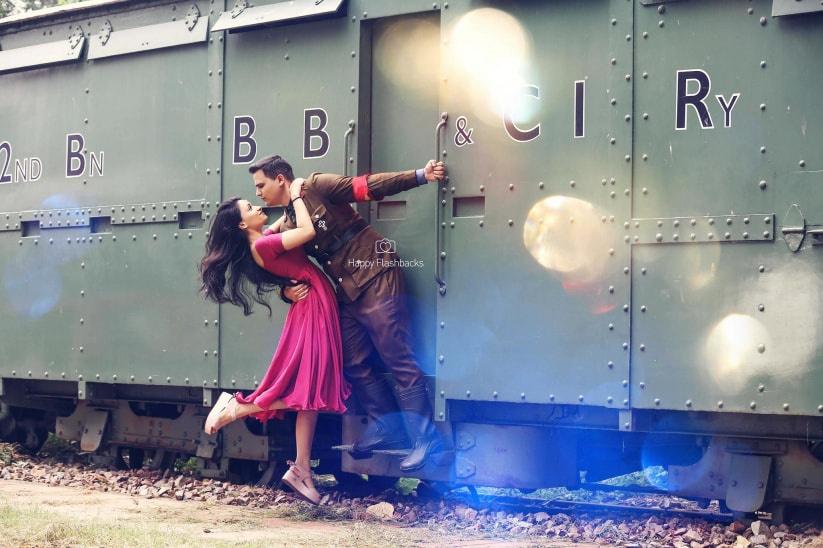 Sounds amusing or confusing? Its beauty as a pre-wedding shoot location in Delhi can be seen in the song Foolishq from Ki and Ka. You can tell your tale in a playful manner through the lens of your photographer. Also, planning on remaking a Bollywood scene for your pre-wedding shoot ideas? This is the place where you can live your "Jaa Simran jaa, jee le apni zindagi" moment.
Entry Fee - ₹20
7. Dusit Devrana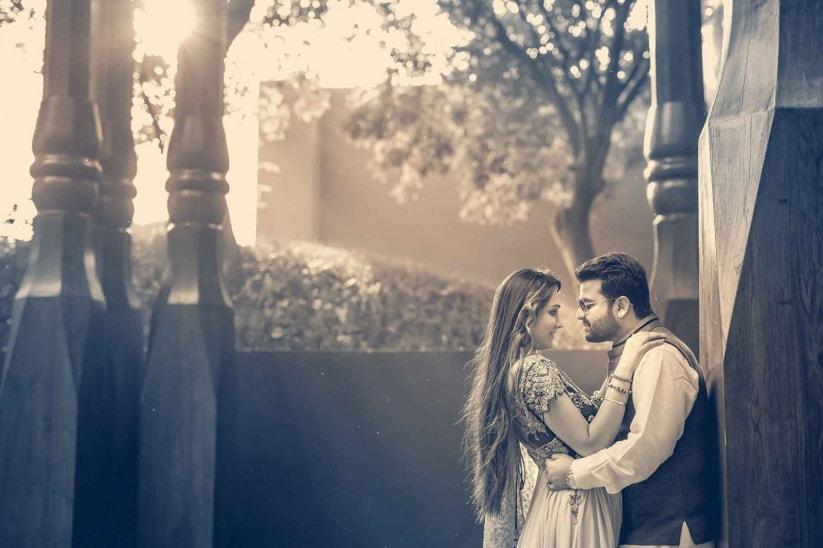 Dusit Devrana is a venue that offers an architectural background of every type — landscaped lawns, water pools and sandstone buildings. Whether you base your pre-wedding shoot around a theme or simply go candid, the pictures are going to be awe-inspiring.
Entry Fee - Starts from ₹30,000
8. Picture Perfect, Faridabad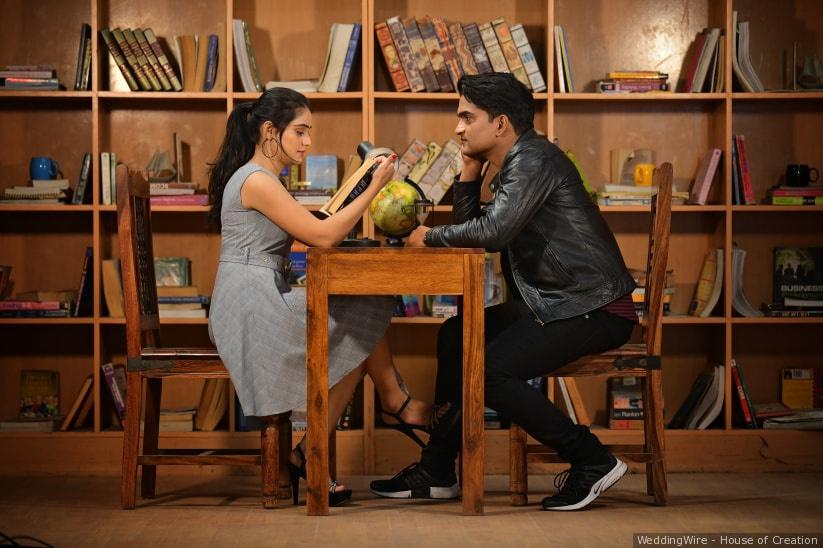 A pre-wedding shoot location just outside of Delhi, Picture Perfect offers you setups, complimentary props and changing rooms according to your selected package. All you have to do is waltz in with your partner and the wedding photographer, and create memories that will last a lifetime.
Entry Fee - Starts from ₹15,000
9. Okhla Bird Sanctuary, Noida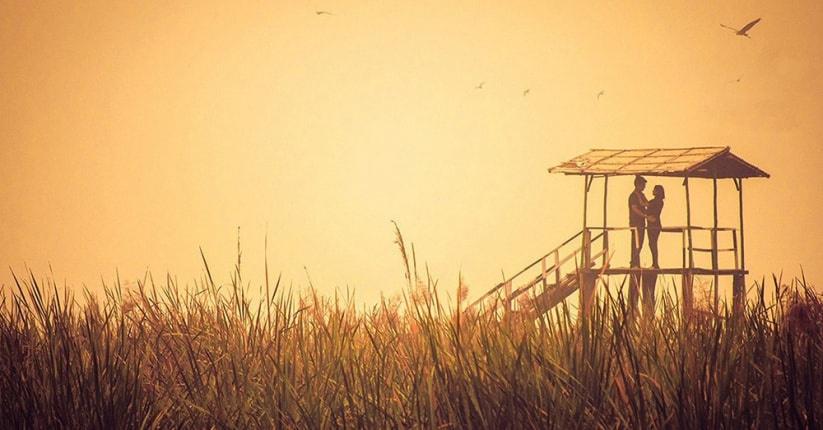 Get a rustic pre-wedding photoshoot at Okhla Bird Sanctuary and create a photo story that reflects the freshness of your relationship. Probably get a bike, jeep or a tractor to get a rugged feel or have the trademark Bollywood dupatta-flowing-in-the-air kind of pictures.
Entry Fee - ₹30 (Indian) and ₹350 (Foreigner)
Do keep in mind that every stunning picture will depend on the eye of the photographer. So when approaching one, have a detailed discussion about your expectations and ideas that can be implemented. Pre-wedding photoshoots fall into the category of candid wedding photography and will be priced accordingly. Talk to previous clients of your photographer before making any decisions.
Book your dream wedding photographer today!