30 Incredible Palki Designs to Help You Create the Wedding Entrance of the Century
You've planned the wedding of your dreams! Now it's time to enter your wedding venue in true royal fashion. Here are 30 ideas you can use to design your palki.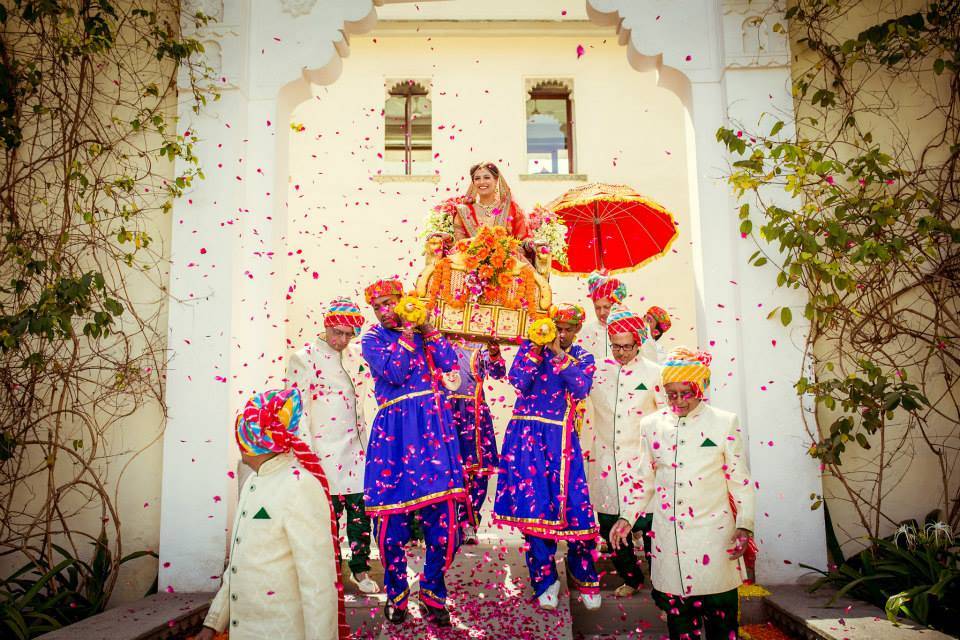 Every girl dreams of having the perfect wedding so it is only right that you get the royal treatment from start to finish. This means entering your wedding venue in an incredible palki design like a queen. It's all eyes on you on your wedding day so make your entrance one to remember. Brides these days have gotten creative with their wedding entrances from elephants to motorbikes. But none of this can compare to the old-time charm and beauty of a palki. A palki is a bridal carriage that the bride sits on and is carried to the groom by her brothers. Nothing says dream wedding like a royal entrance!
Make a grand entrance
You're the star of the show on your wedding day so you need to make a stunning bridal entrance. While there many different ways to do this these days, you can never go wrong with a palki. There's something beautiful and enchanting about a bride coyly seated in her palki, looking like a real-life princess at her wedding. Here are a few palki design ideas you can use to create that breathtaking entrance.
1. Maharani entrance
It's your wedding day so it's only right that you feel like a princess. Enter your wedding venue in a Maharani style palki design. Covered with magnificent red curtains and lined with jasmine flowers, this stunning palki design will give you all the royal feels!
2. A golden entrance
If you are more of a minimalist bride, keep it simple with a golden palki adorned with colourful flowers like chrysanthemums, tulips and peonies. It's traditional, graceful and a truly royal wedding entry!
palki-design-42-fps-productions-royal entrance
3. Royal entrance
Get festive with this colourful palki design that comes with a multicoloured umbrella to get your guests in the party mood. Complete with strings of jasmine flowers and velvet red cushion- this palki design says it's time to party!
4. Trendy entrance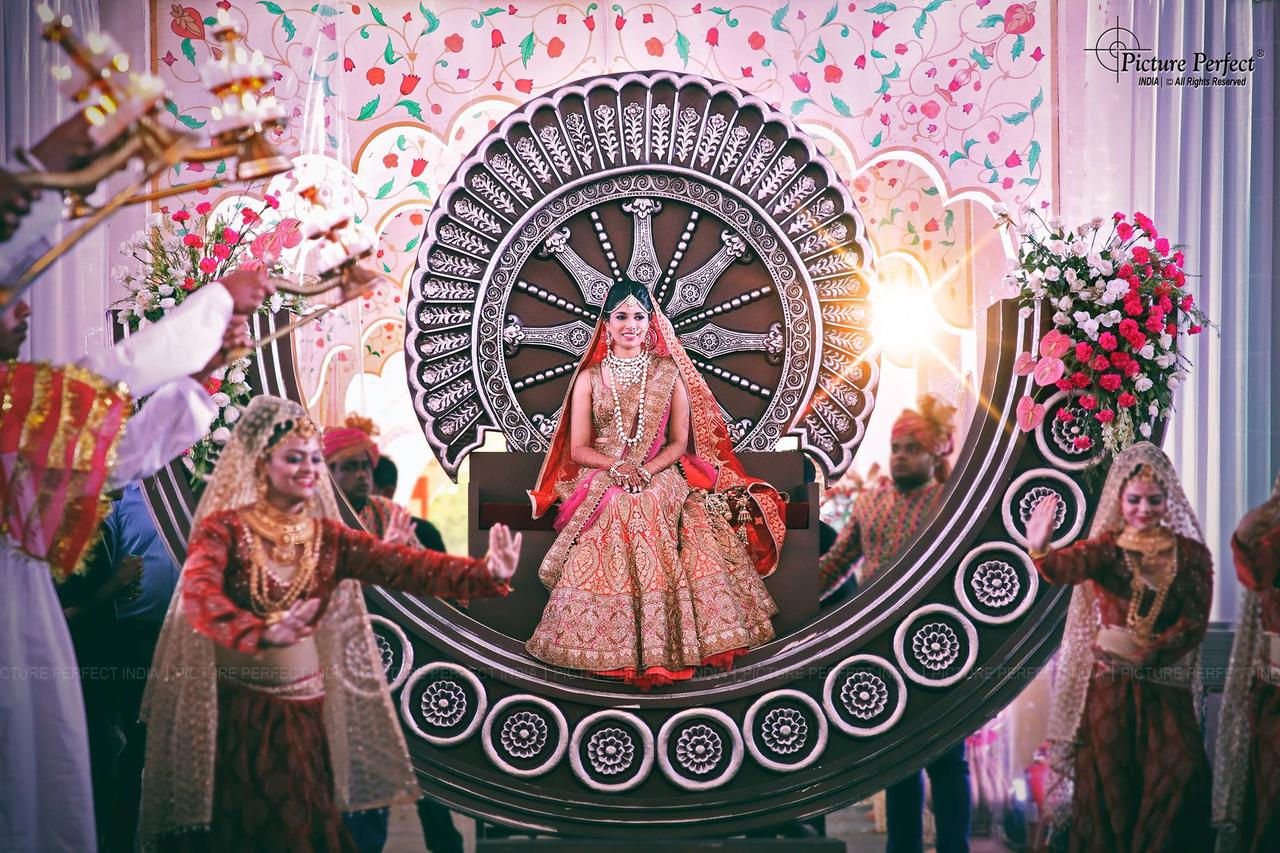 Take your palki game to the next level with this absolutely incredible design. This modern palki design makes you look like a royal Queen straight out of a novel. The grey and black design will be a stunning contrast to your bridal dress- there's no doubt you'll be a sight for sore eyes.
5. Flower power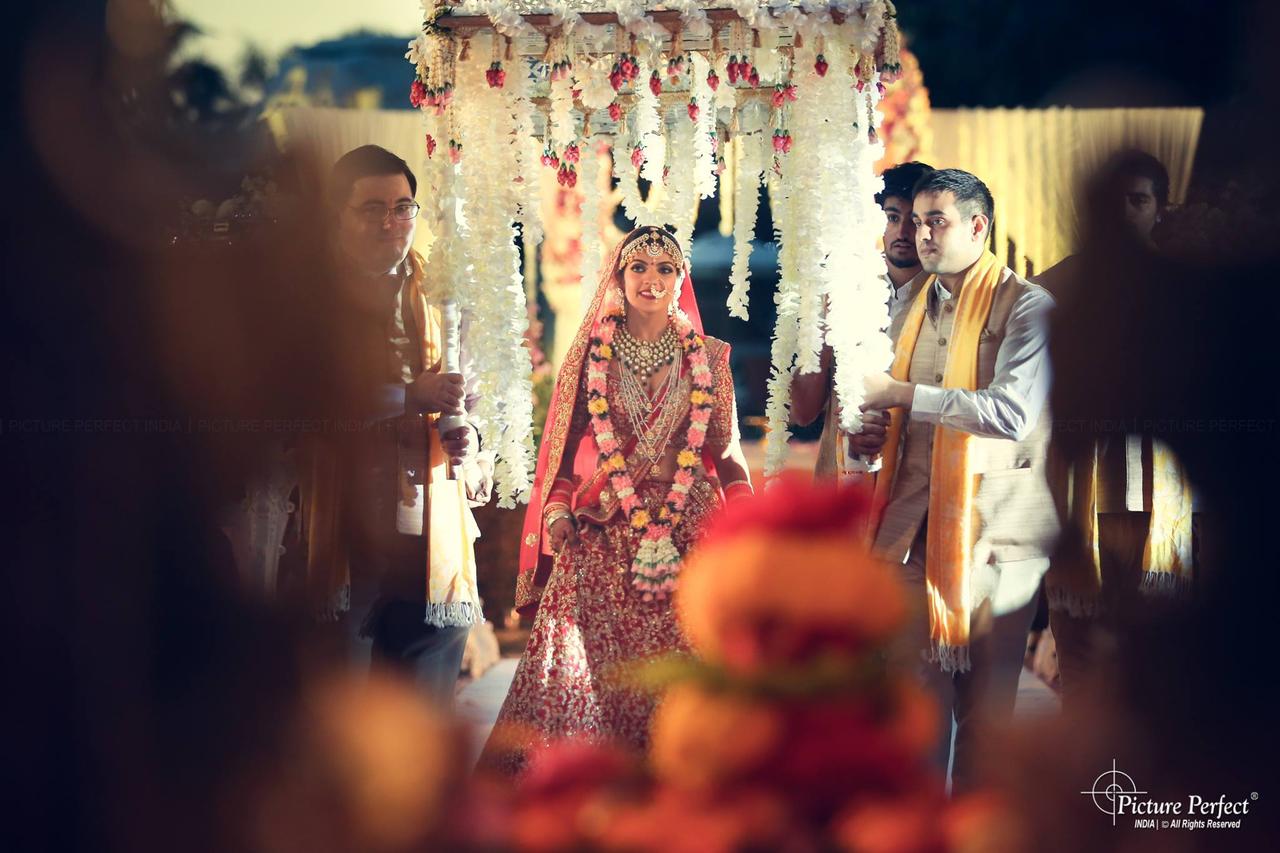 You can never go wrong with a great floral arrangement palki design. Decorate your carriage with strings of white flowers and add a few peonies as colourful accents. You will be a true quintessential Indian bride set against the backdrop of white flowers.
6. Classic copper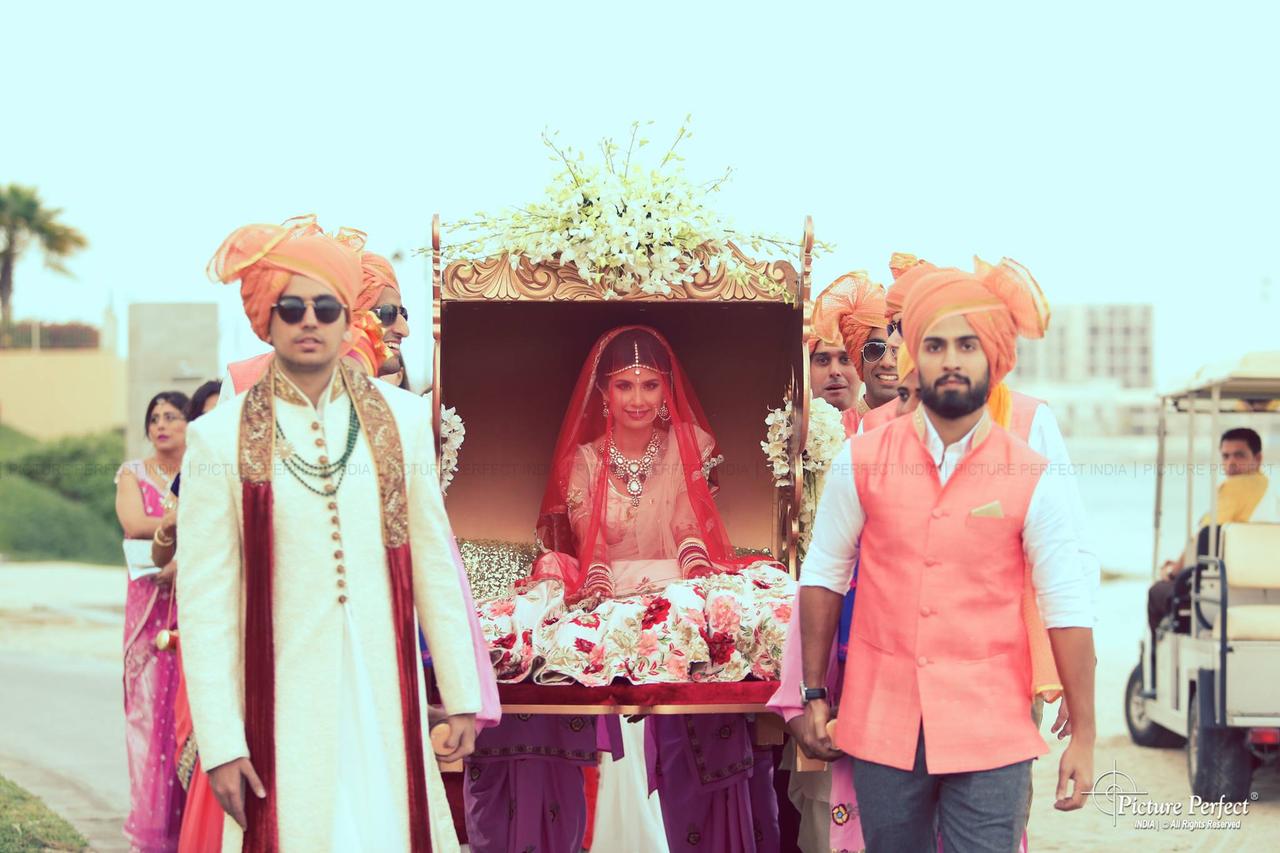 Exude some royal vibes with a classic copper coloured palki. You can add a floral arrangement to match your wedding theme for added flair. We guarantee you will be the belle of the ball in this ceremonial copper palki.
7. Tulip mesh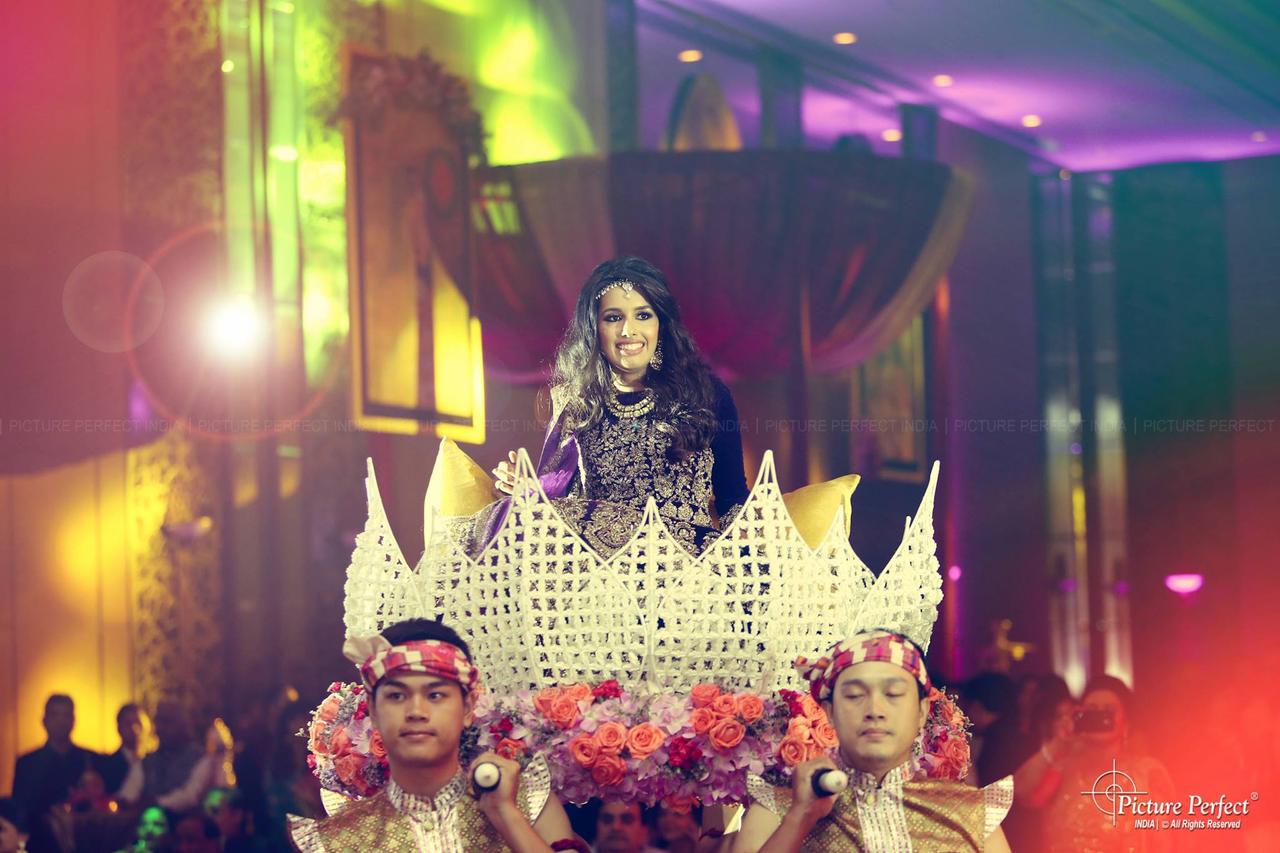 It's true that palki is synonymous with a traditional wedding entry but there's no reason why you can't get creative with your design. Turn heads with this white tulip shaped palki design that has a multicoloured floral arrangement bordering the base.
8. Old-time glamour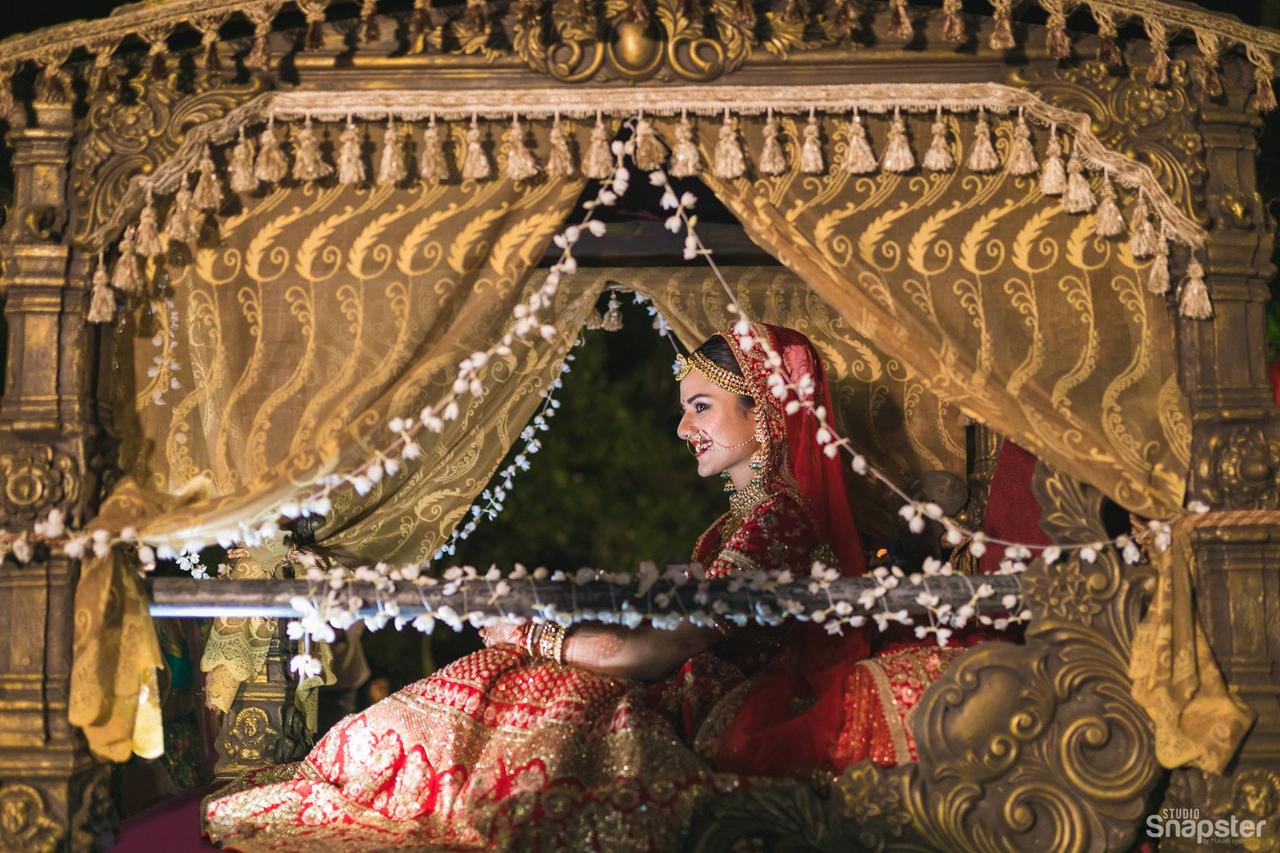 This bride is exhuming some seriously elegant vibes in this all gold palki design. Captivate your guests with this classic palki design as a backdrop to your beautiful red lehenga. This gives us those old-time glamour vibes all the way!
9. Floral arch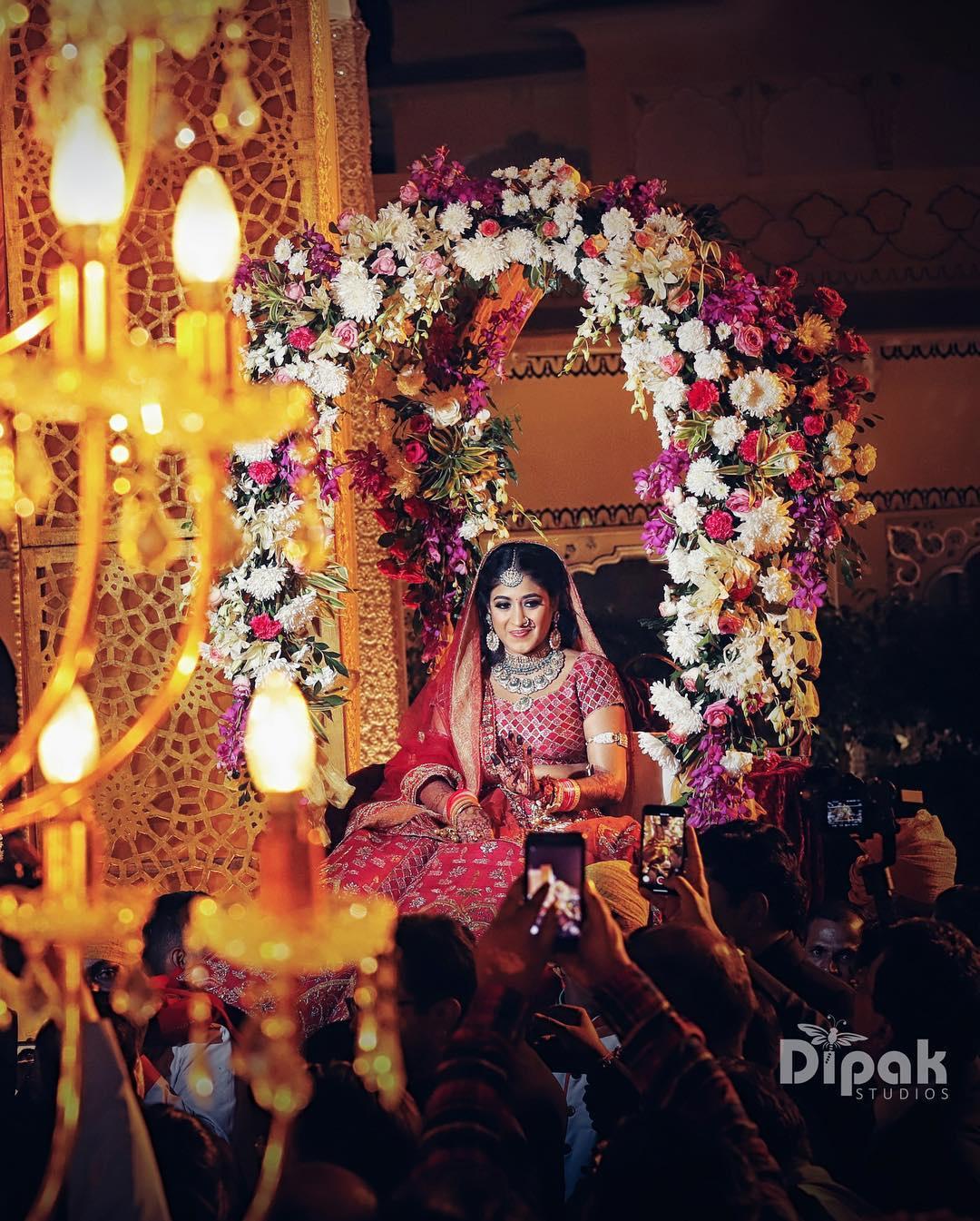 Another unique take on the classic palki design is a floral arch framing the beautiful bride. The double arched adorned with beautiful flowers will ensure that you make an unforgettable entrance on your wedding day. This bride definitely stole our hearts with this look!
10. Floral basket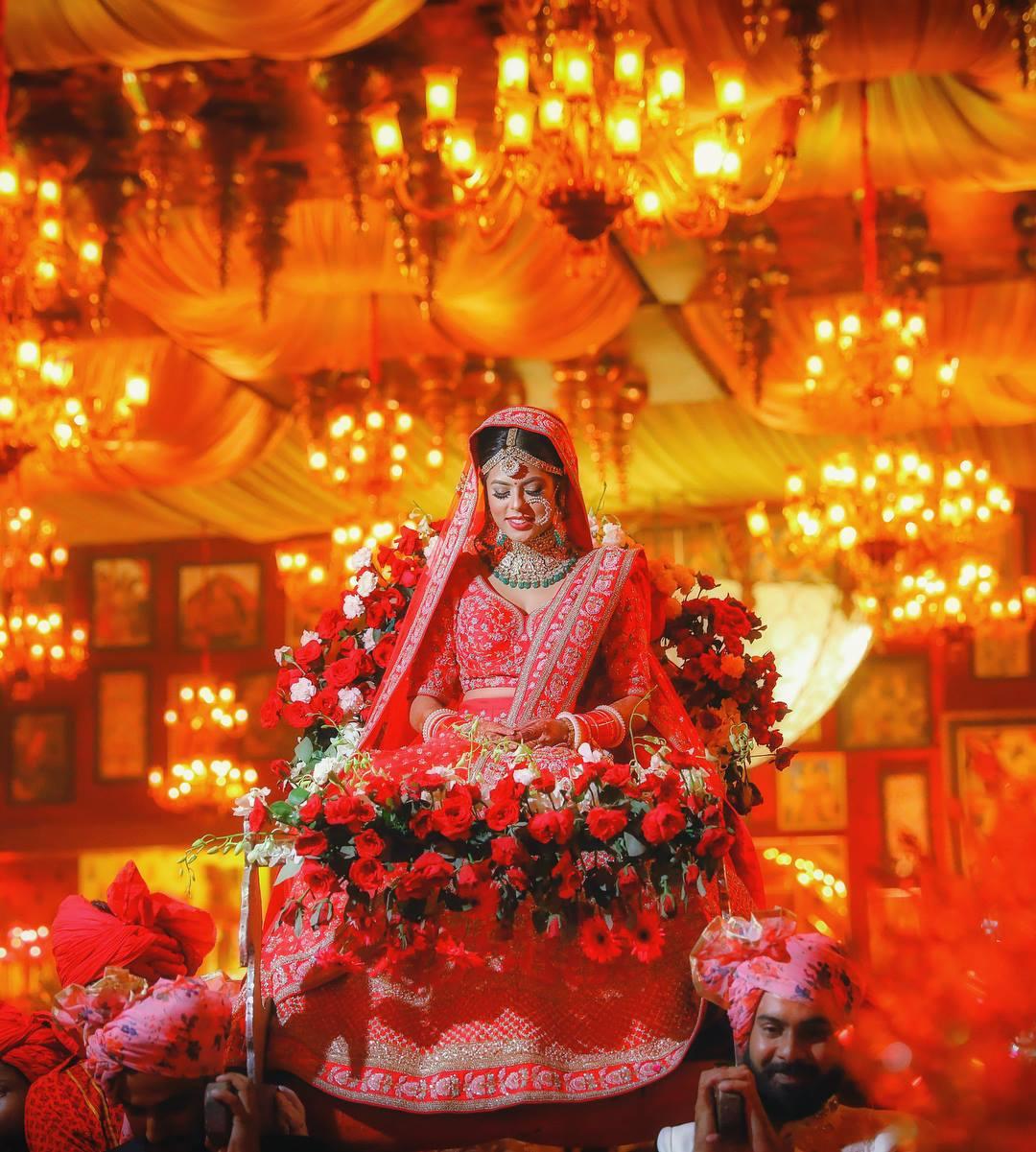 Have your fairy-tale moment in this beautiful basket floral arrangement! Pick your flowers to match your outfit or the wedding theme. A shy, beautiful bride adorned with beautiful jewels. What's not to love?
11. Majestic entrance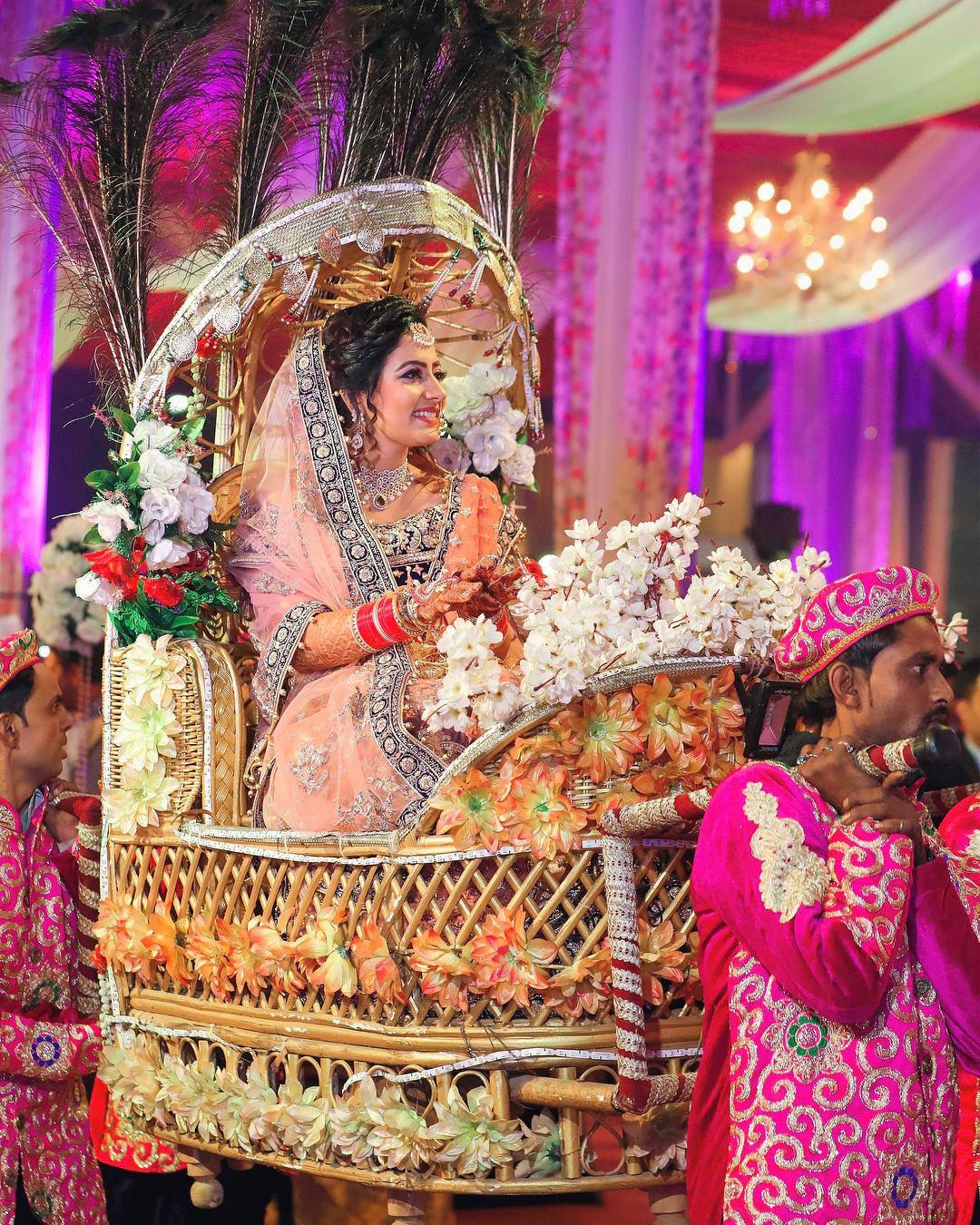 Make a queen-bee entrance with this show-stopper palki design. A golden carriage held together with flowers of many different colours. This palki design says elegant, graceful and is a real attention-grabber.
12. Floral canopy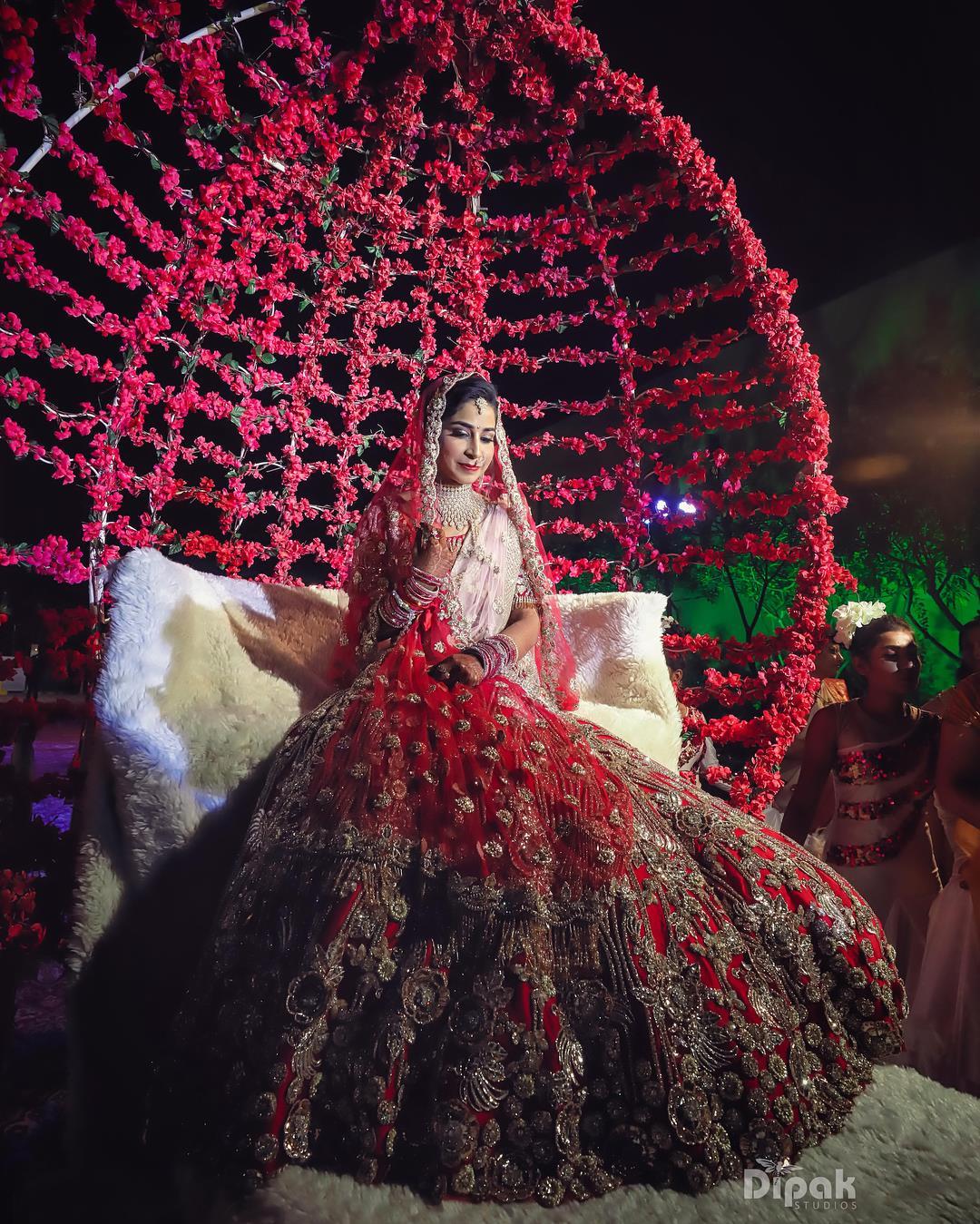 Amaze your guests with this one-of-a-kind floral canopy palki design. This over-arching floral set-up speaks for itself as it surrounds the bride giving her a real-life rani moment. The white seat is a great contrast to the beautiful red flowers.
13. Silver linings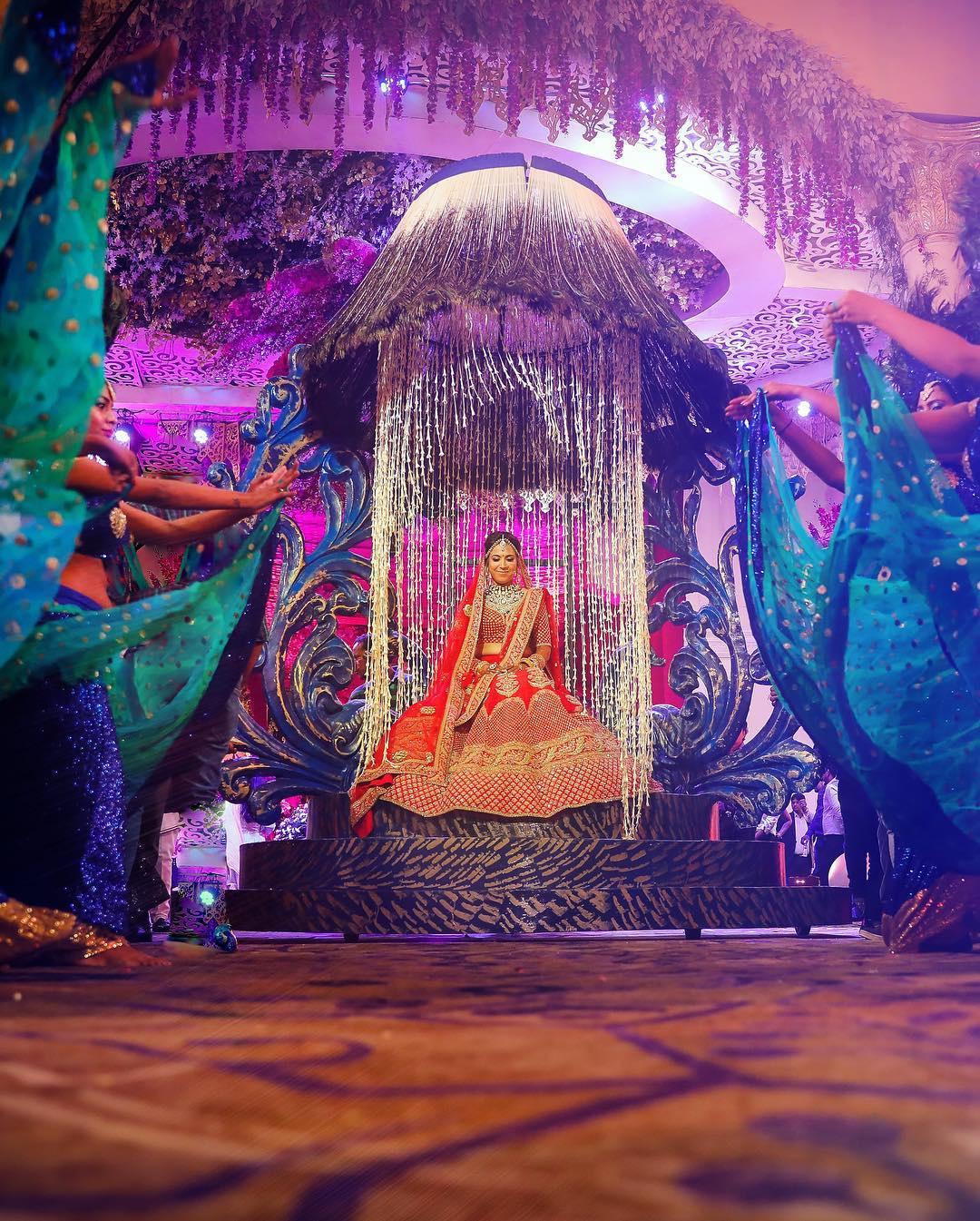 There something absolutely enchanting about this beautiful bride surrounded by a string of flowers and overcast by a metal arch. A true sight to see, we're getting some real Jodha Akbar vibes from this one!
14. Flower princess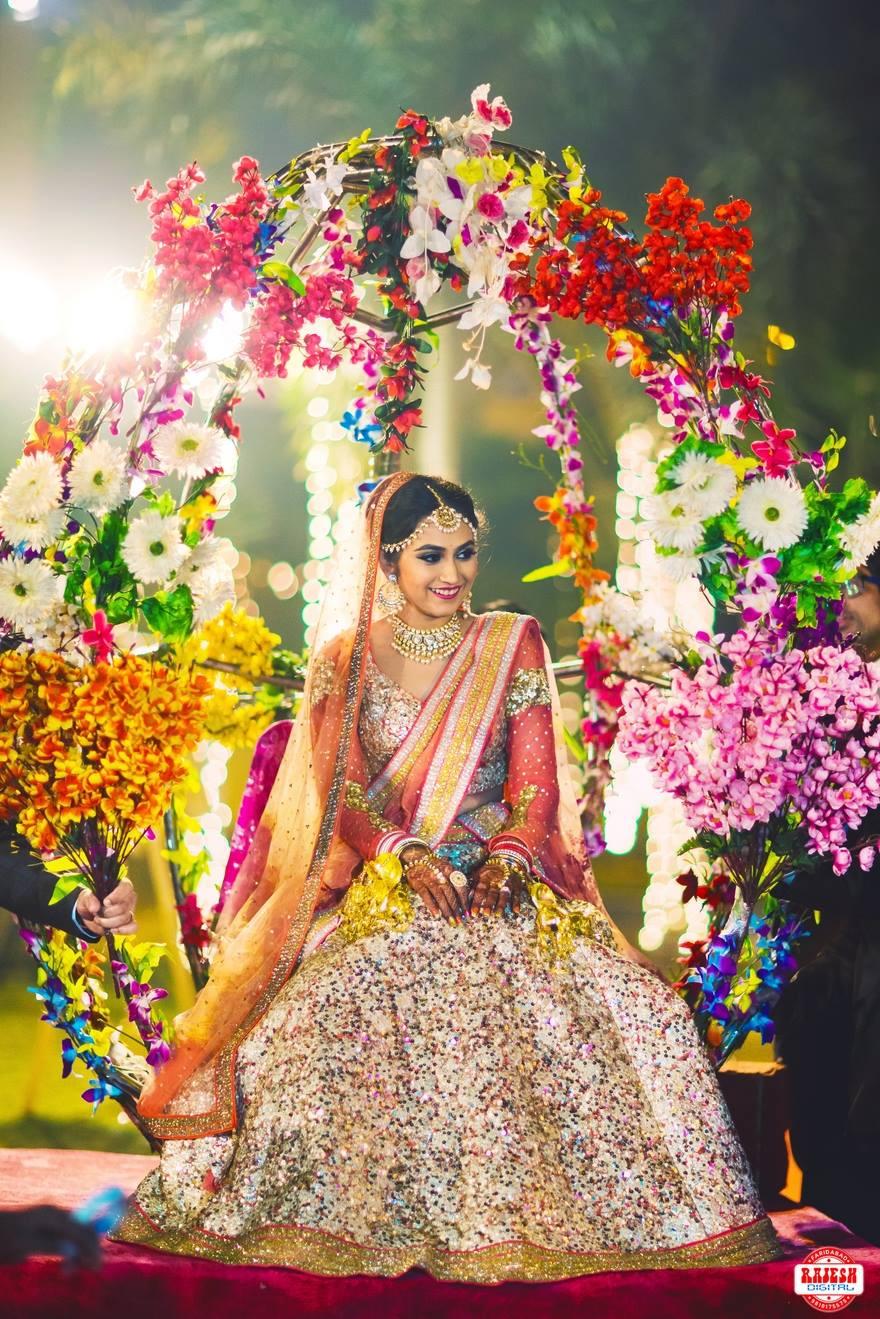 Go all out on your wedding day with this multi-coloured floral arrangement that will blow your guests away. Enveloping the stunning bride in this oval-shaped canopy not only makes her look like a princess but it also creates the picture-perfect moment.
15. Simple and modern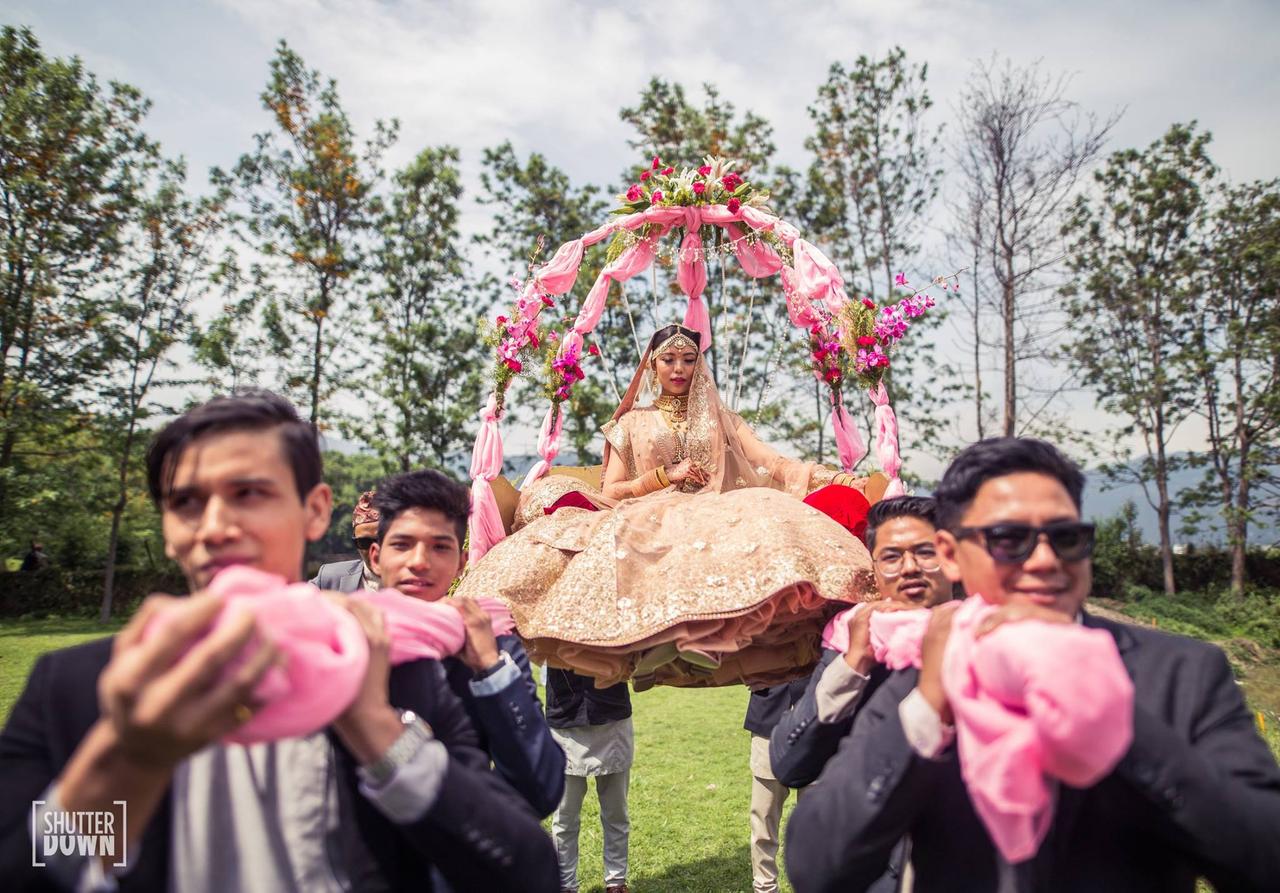 For the modern bride, a simple yet sleek palki design is the way to go. The overarching silhouette is covered with simple pink fabric and accented with some pink flowers to create that enchanting, royal look.
16. Light it up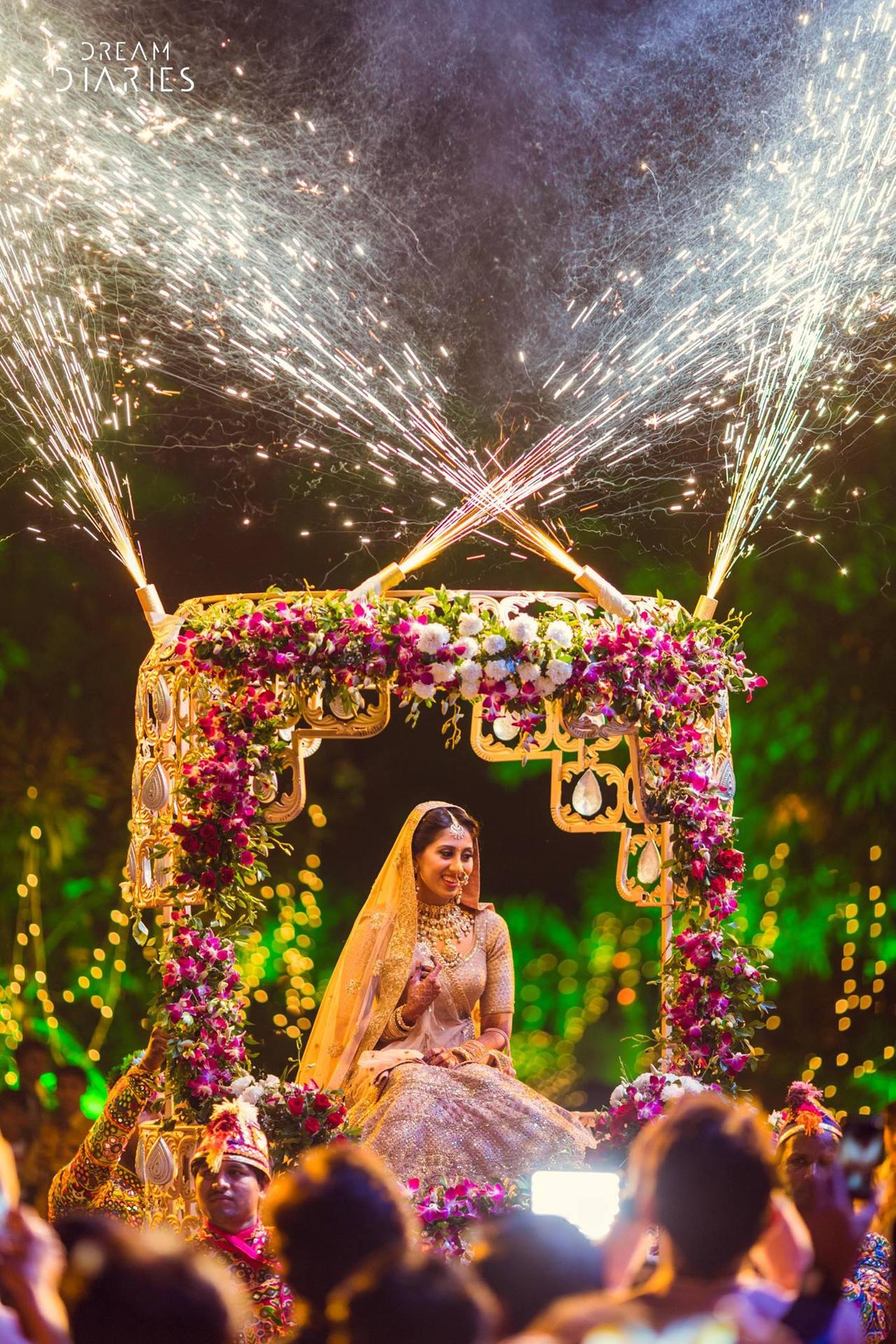 Image Courtesy: Dream Diaries
Add a twist to the traditional palki with this step detail surrounded by beautiful purple flowers. For added effect, you can have sparklers above the palki for that scintillating, festive look. You'll definitely spark some joy and happiness with this palki design.
17. A hooded entrance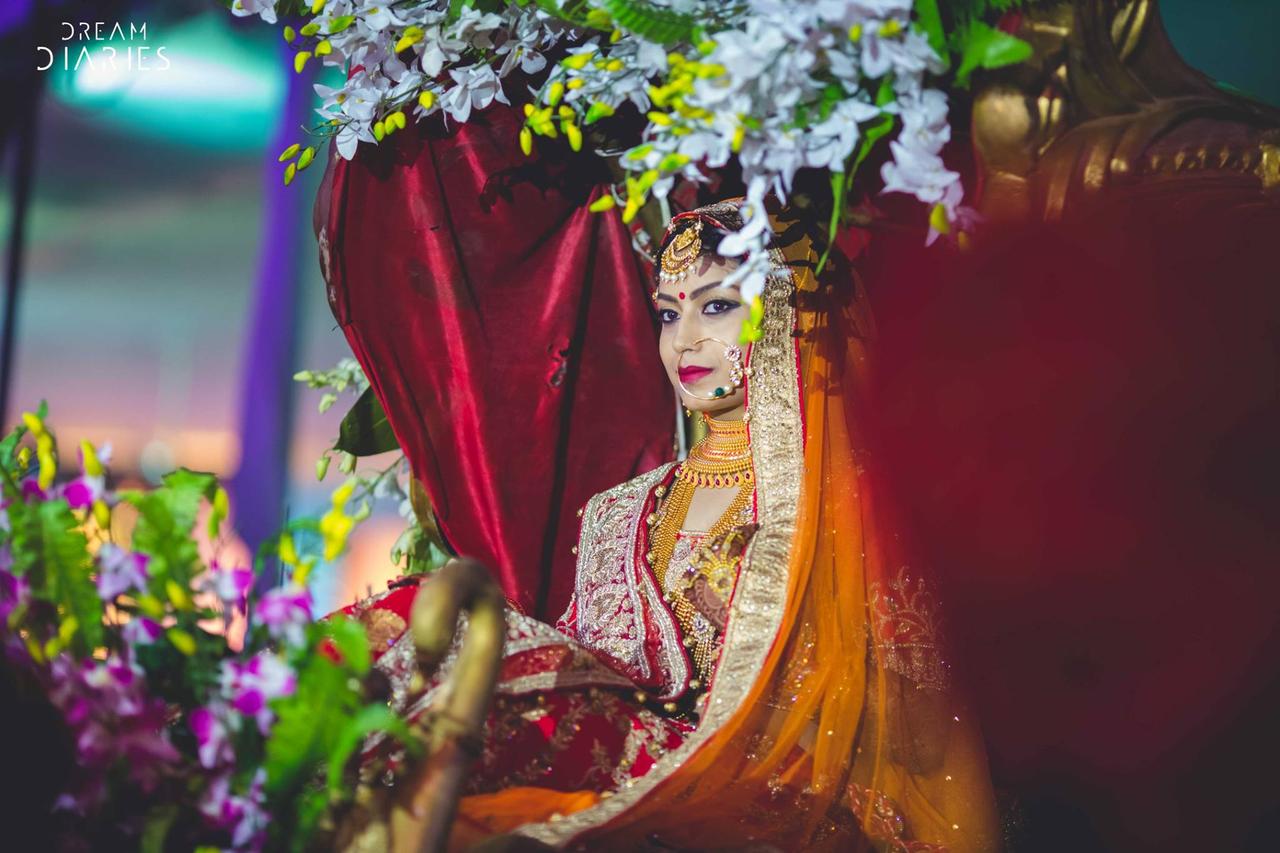 Image Courtesy: Dream Diaries
For that shy, graceful bride, this deep red hooded palki with gold detail will really complement your outfit and make your wedding entry a sight to behold.
18. Simple and sleek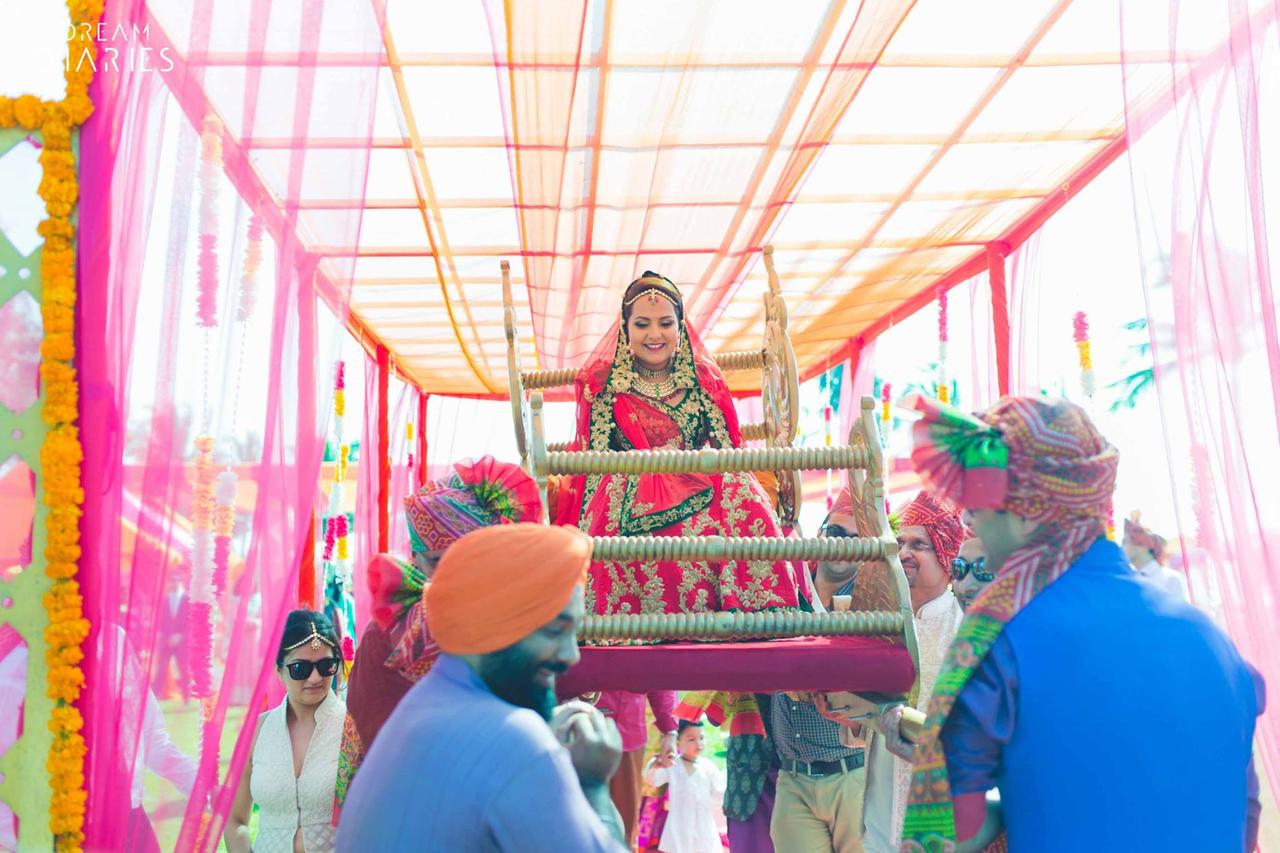 Image Courtesy: Dream Diaries
We live in an era of modern minimalism so there's no reason why your palki design shouldn't symbolise this. Check out this uber-cool, sleek palki with gold fixtures and carvings along with a red cushion for the bride to sit on. It's simple, minimal and elegant!
19. Traditional all the way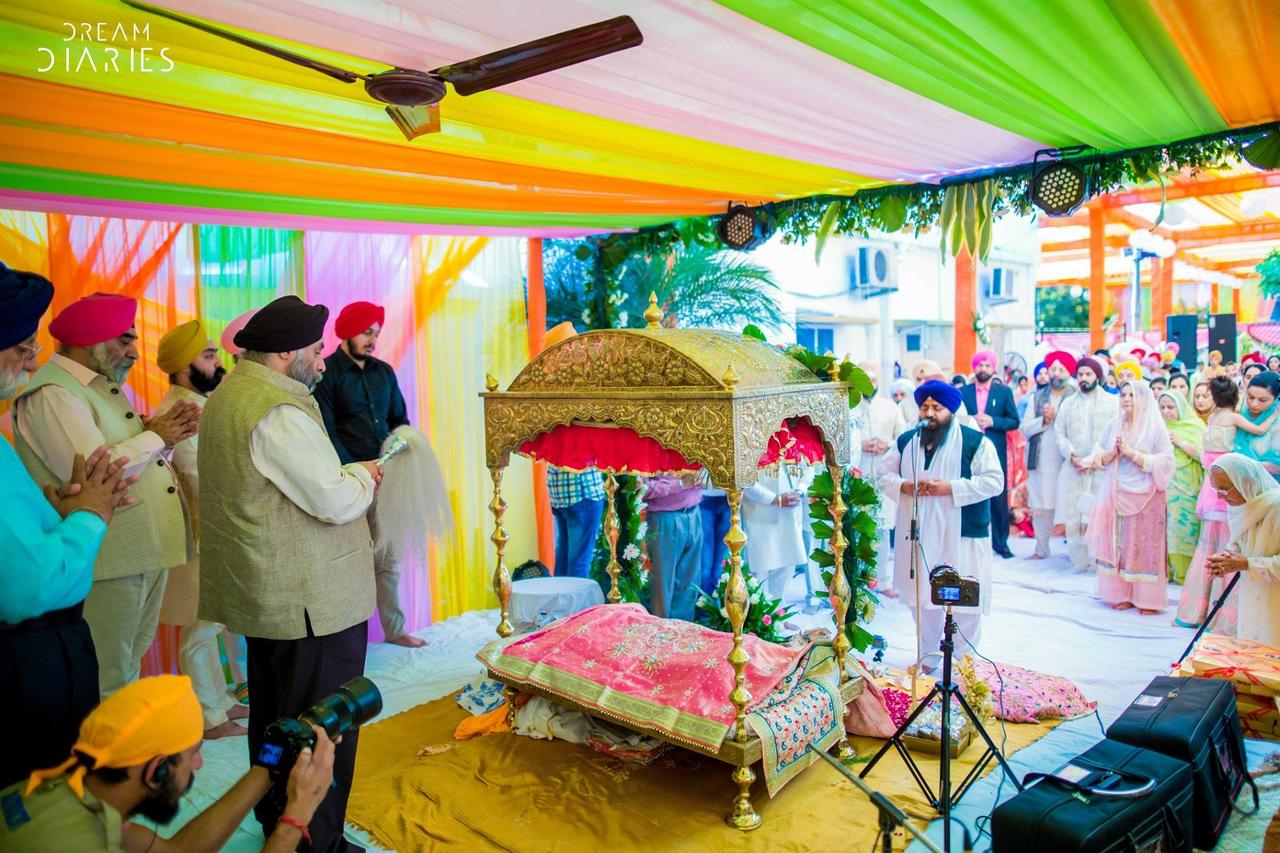 Image Courtesy: Dream Diaries
Getting creative with palki designs can be fun but there is also beauty in tradition. You can opt for a simple gold coloured palki with traditional carvings and designs along the sides and the arch. You can add some lace detail along the sides to enhance the palki.
20. Floral carriage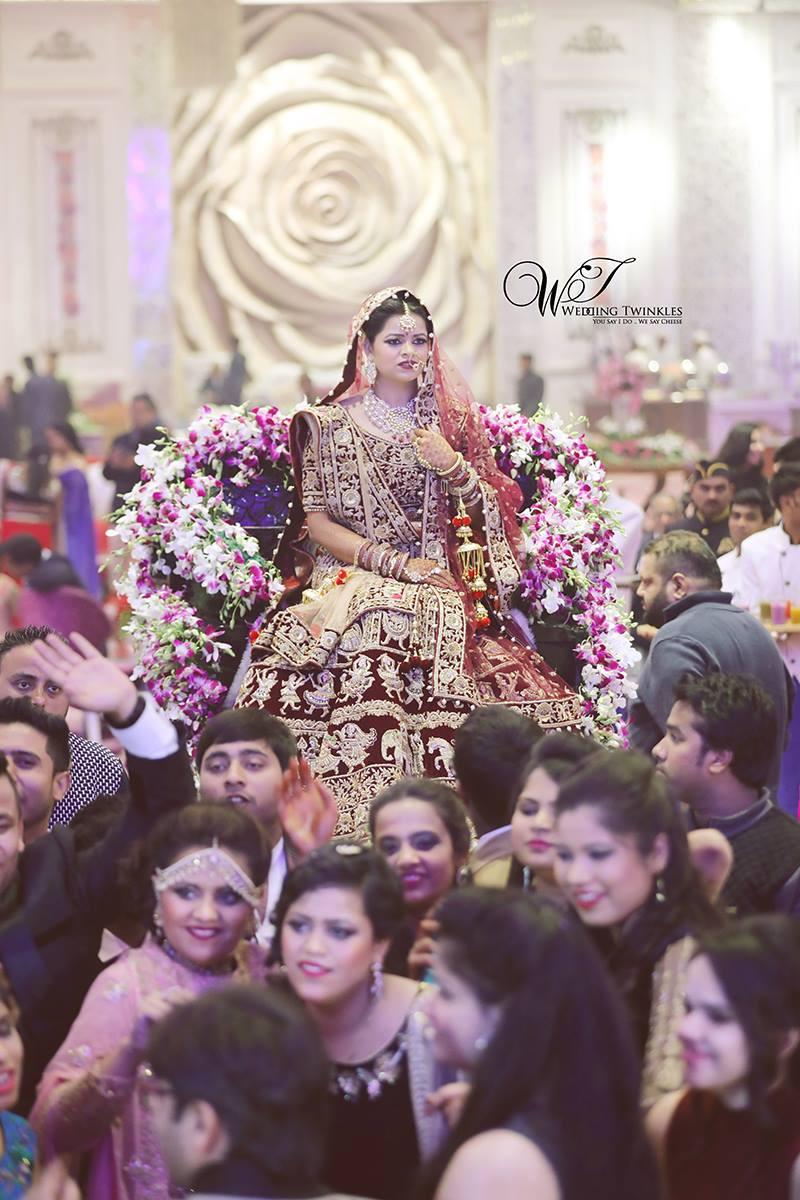 Enter your wedding like Cinderella at the ball with this carriage palki design. Line the carriage with a floral arrangement, you can get the flowers to match your outfit or the wedding theme. We're getting some real princess vibes with this one!
21. Circle design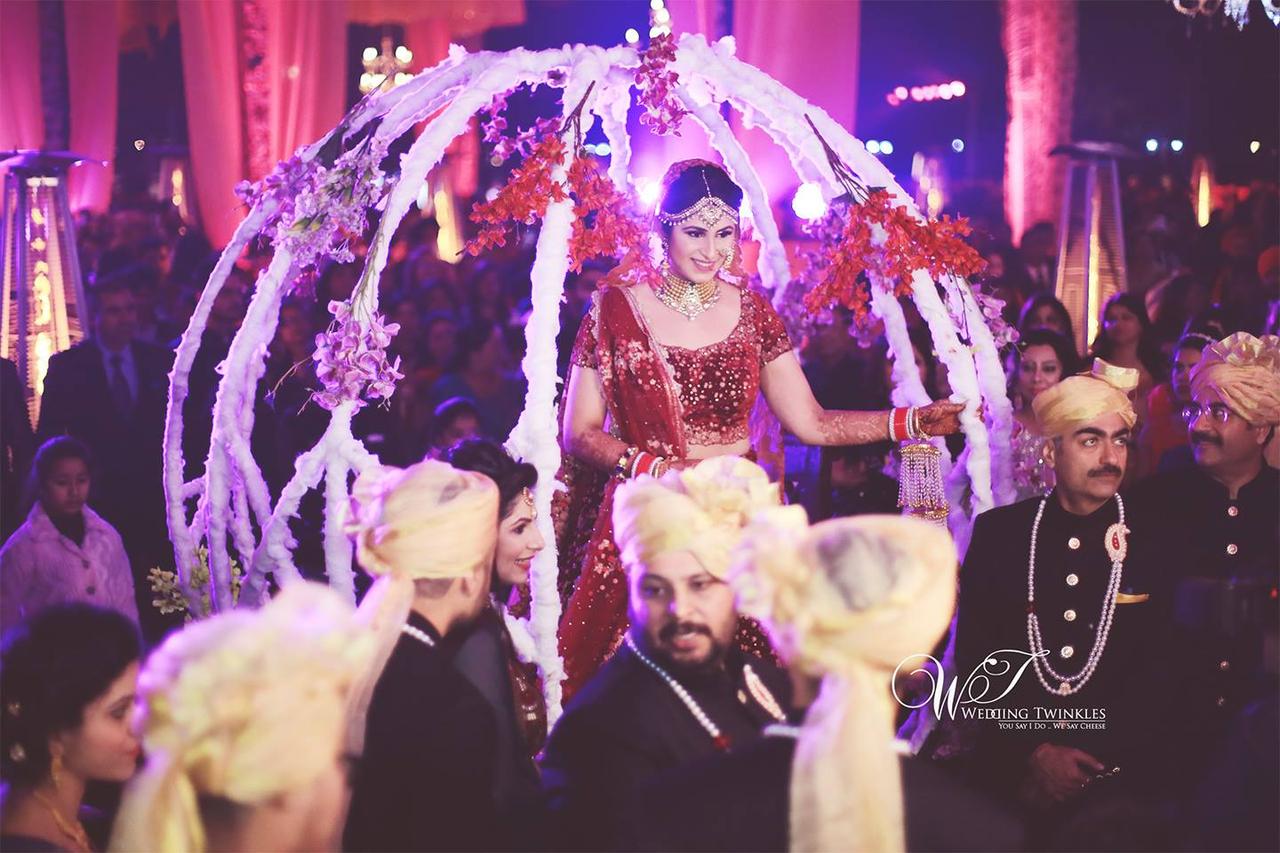 This ultra-cool and contemporary palki design is the sure-fire way to go for a modern bride. The circumference of this palki is lined with a white border and pink and red flowers to add some elegance to the design. This white palki is a great choice because it highlights the beauty of the bride and her outfit.
22. Step design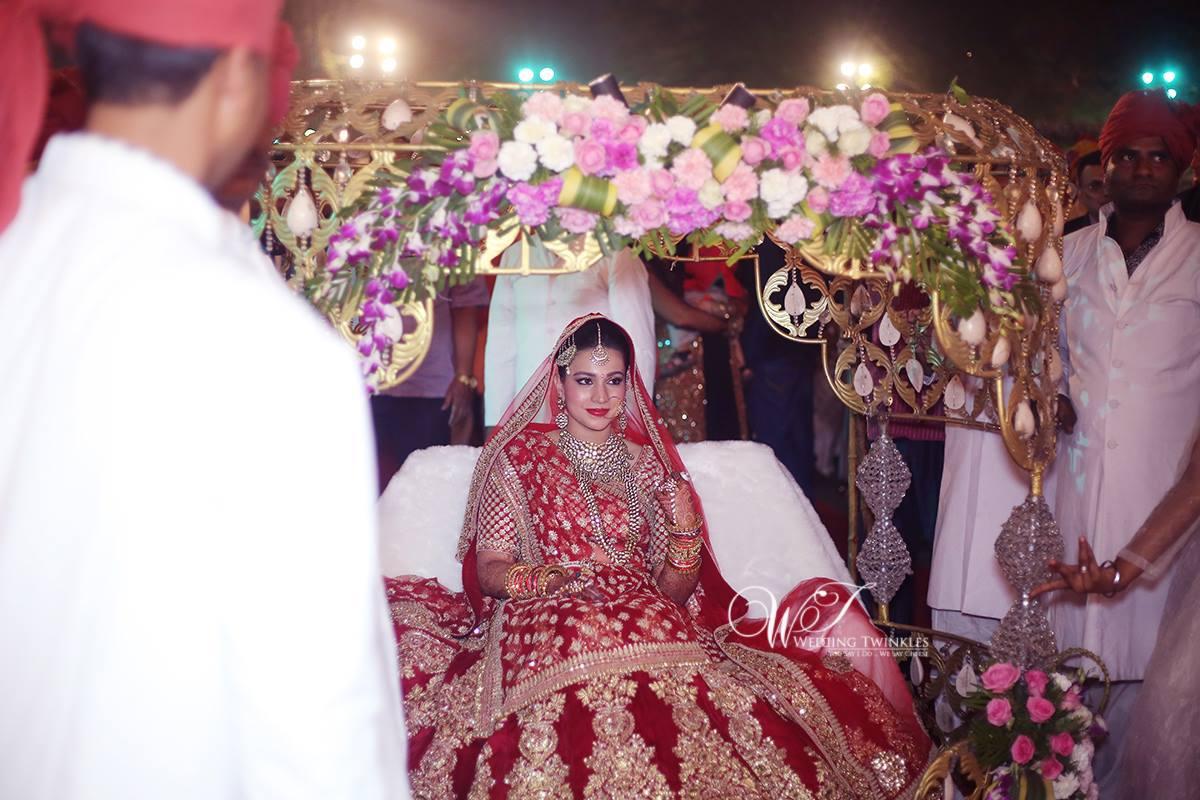 This step design palki adorned with flowers will make you feel like a queen on your wedding day. The gold palki paired with the pink flowers gives it a neutral look so they go well with any bridal outfit colour. The crystal details that hold the roof of the palki gives it a regal effect!
23. Palace design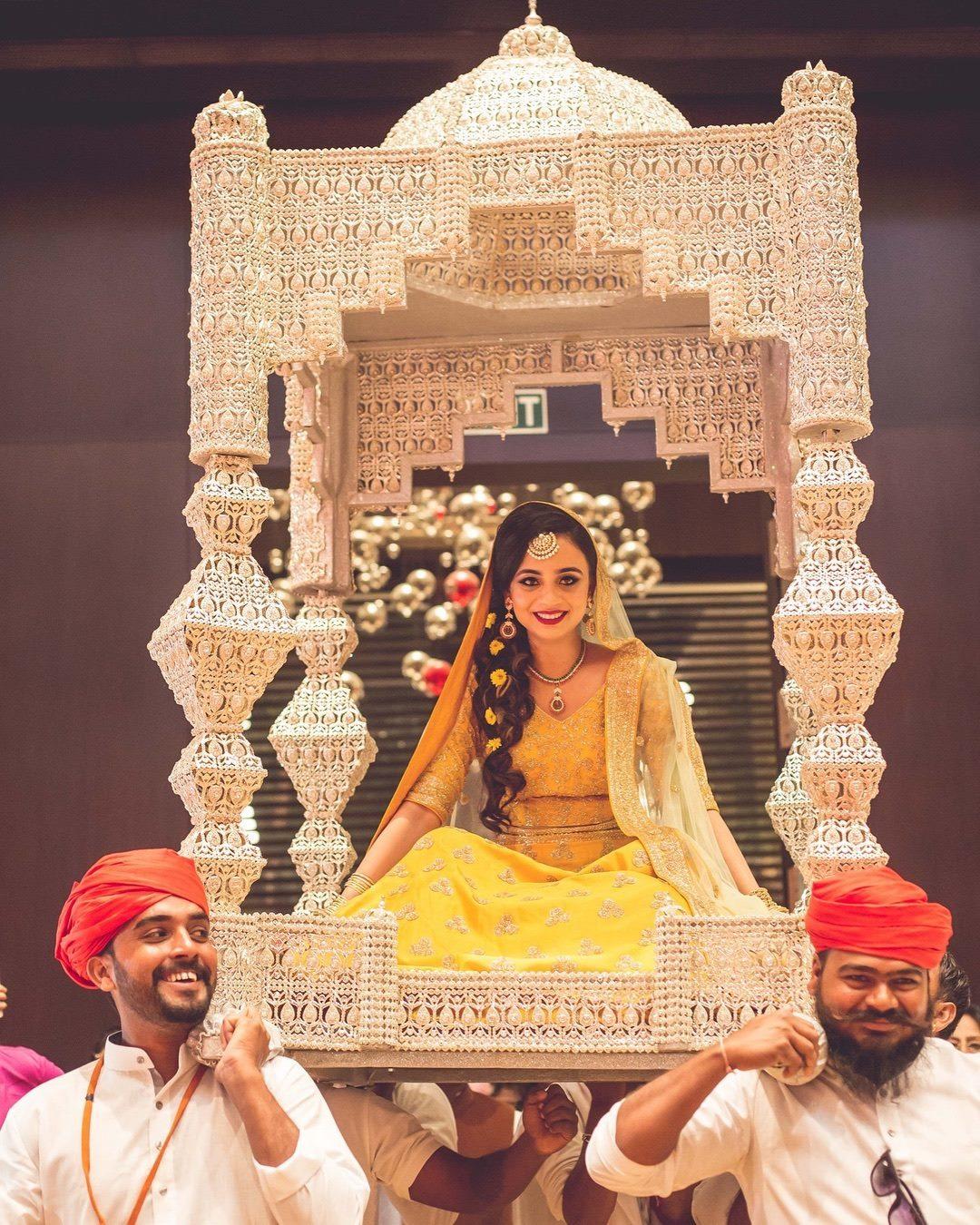 Why not pull all the stops and design your palki like a palace? This Taj Mahal inspired palki design will make you feel like a queen on her throne and is sure to bedazzle all your guests.
24. Stay classy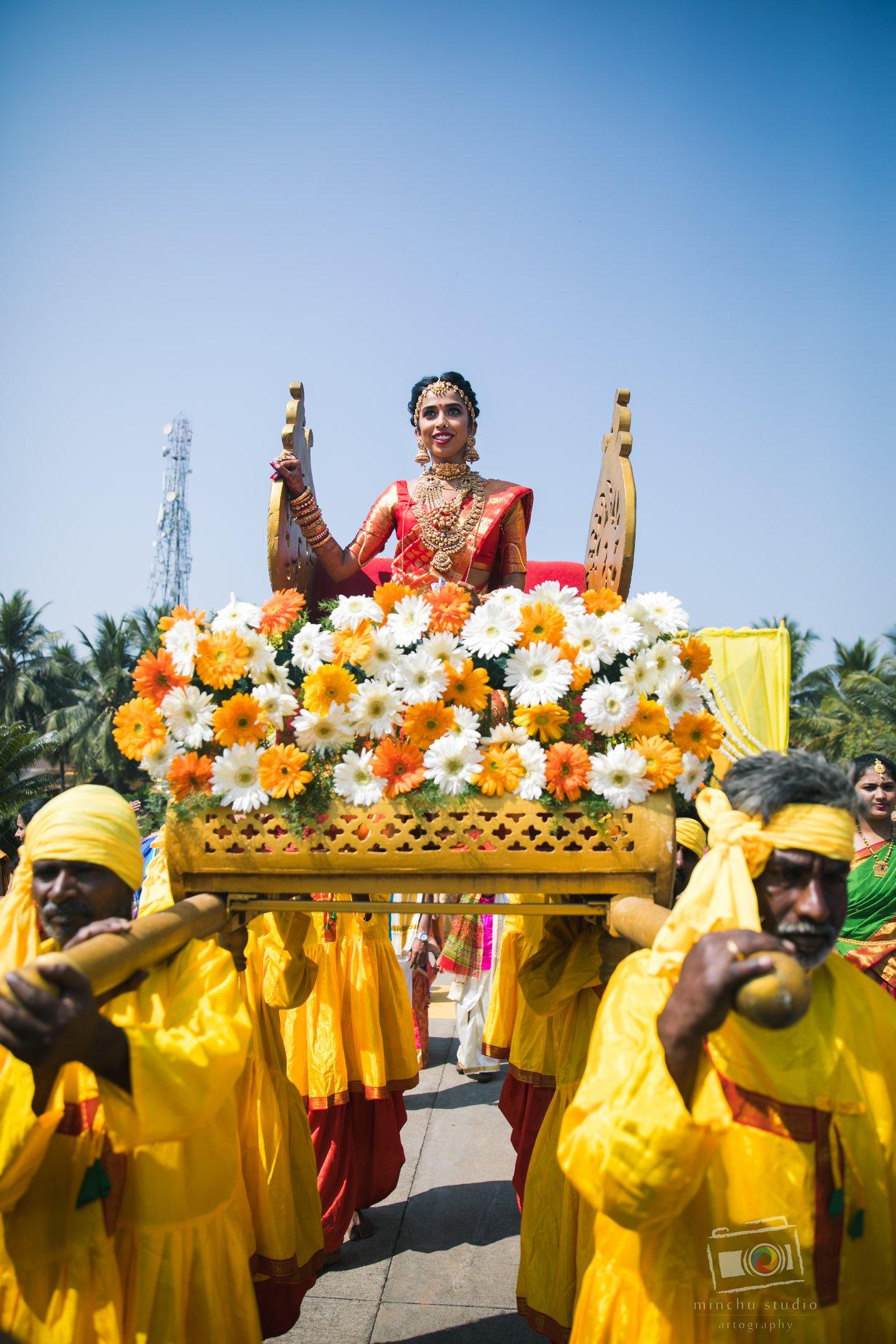 Keep it simple with this gold palki that comes with traditional gold detail. If you are a summer bride, spruce up your palki with a pretty floral arrangement front and centre.
25. Jasmine border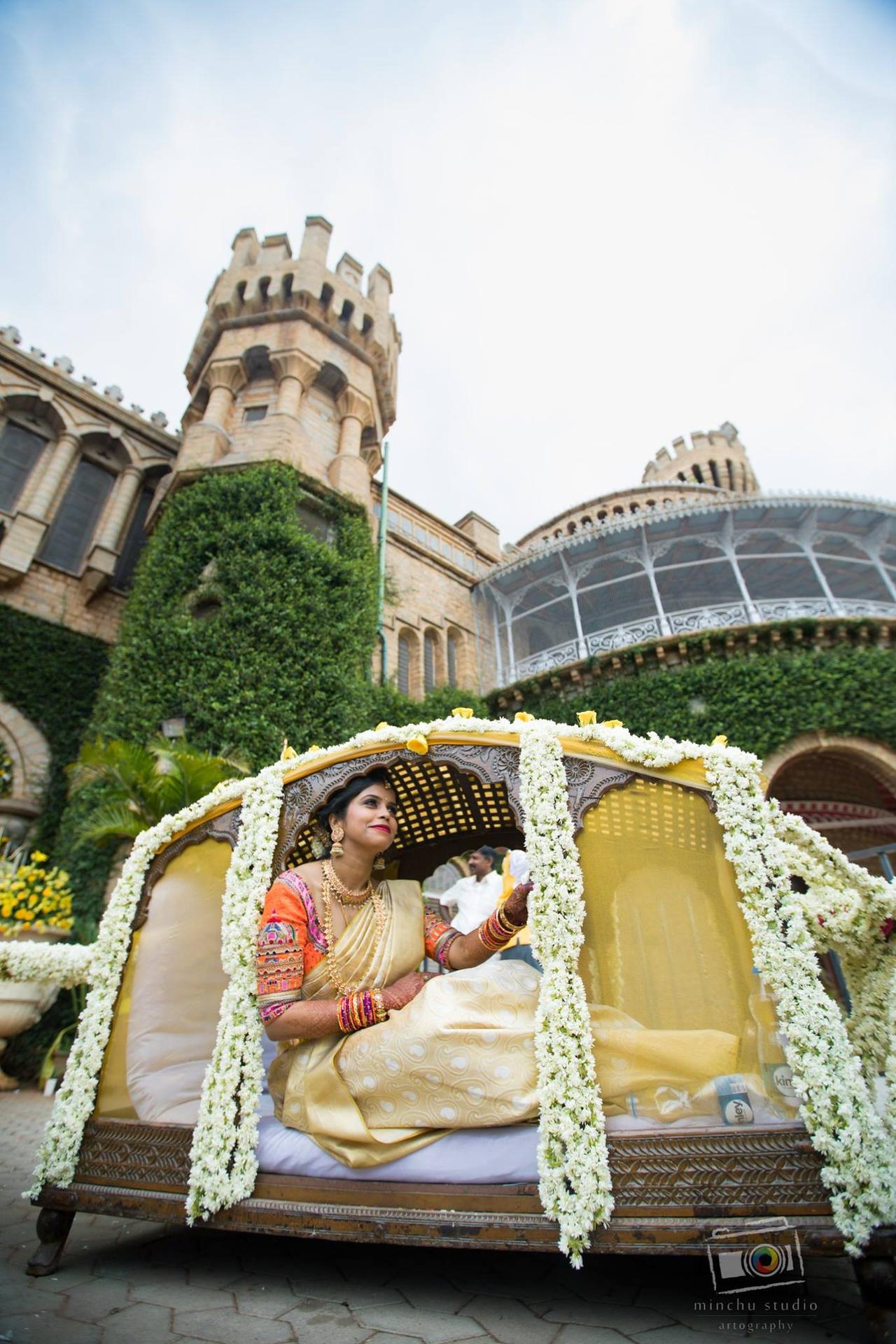 Nothing spells traditional like beautiful jasmine flowers. For that classic bridal palki design, line the sides of your palki with strings of jasmine flowers. Not only do jasmine flowers smell great but they also create a sophisticated, graceful look.
26. Enchanting entrance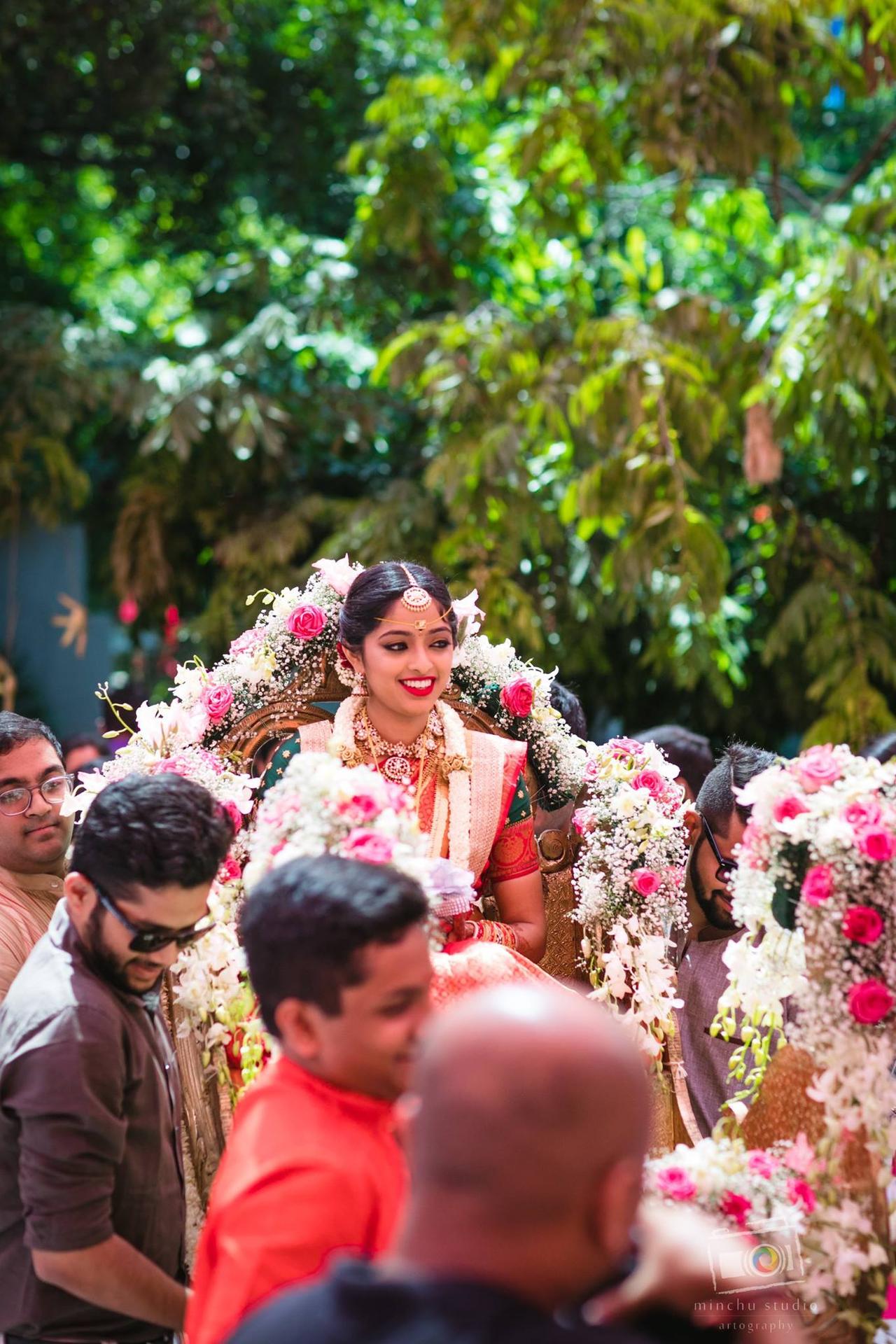 This regal palki design has a crown shaped backdrop that is lined with beautiful pink and white flowers. This palki design looks like it's straight out of a fairy tale.
27. Gold detail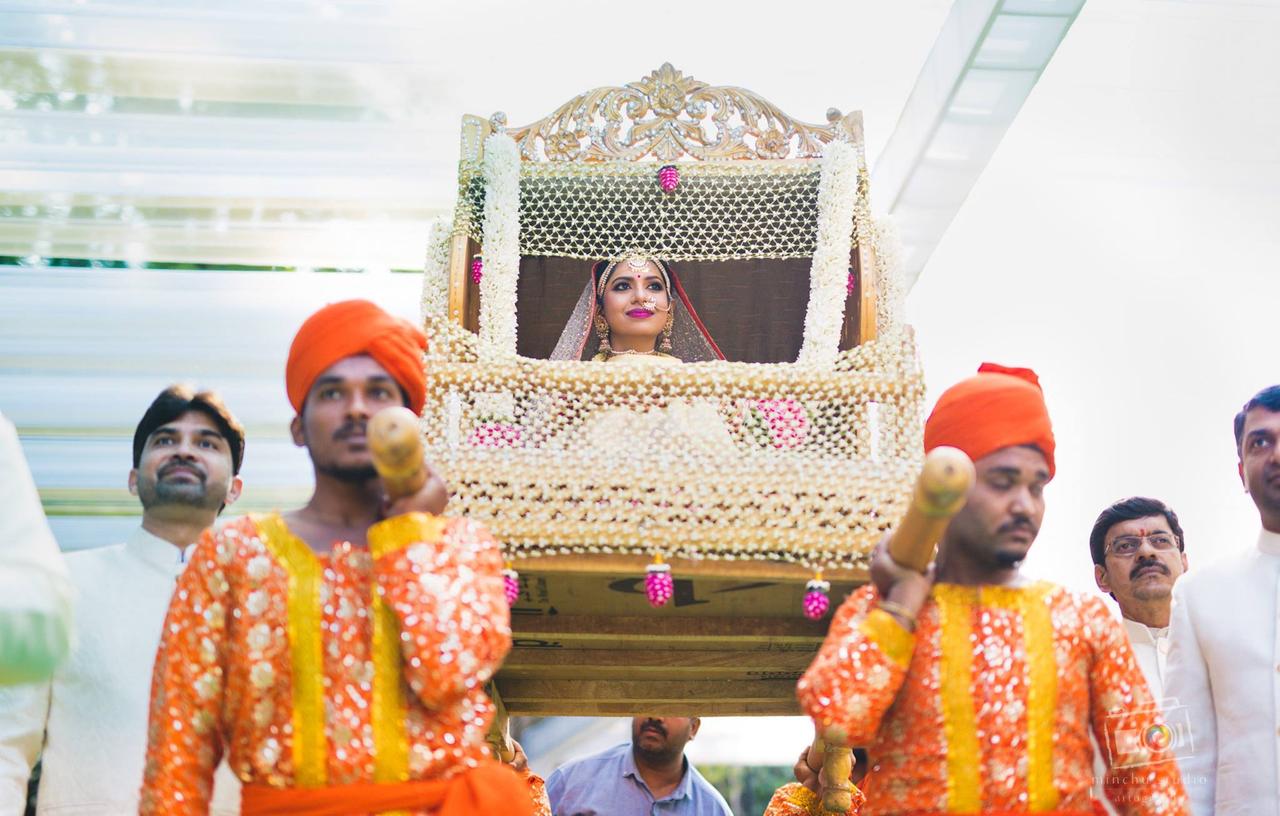 If you want to feel like Princess Jasmine from Aladdin, check out this incredible palki with gold net detail and an elegant gold carving. The look is completed with two jasmine garlands on either side. It can't get more royal than this.
28. Get colourful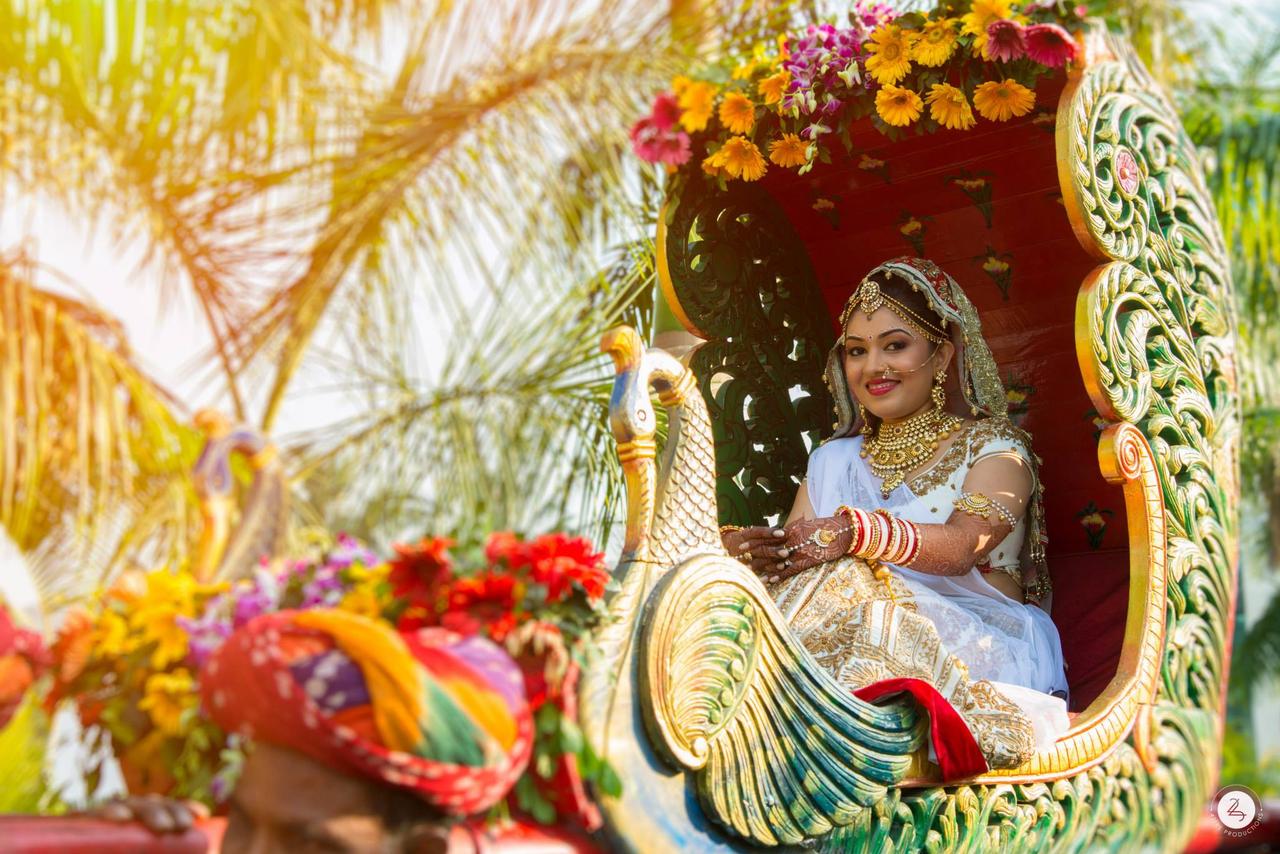 You can get creative with your palki design colours. Instead of the traditional gold colour, you can opt for a green or red palki. Many brides may also fancy a peacock style palki for their wedding entry.
29. Copper red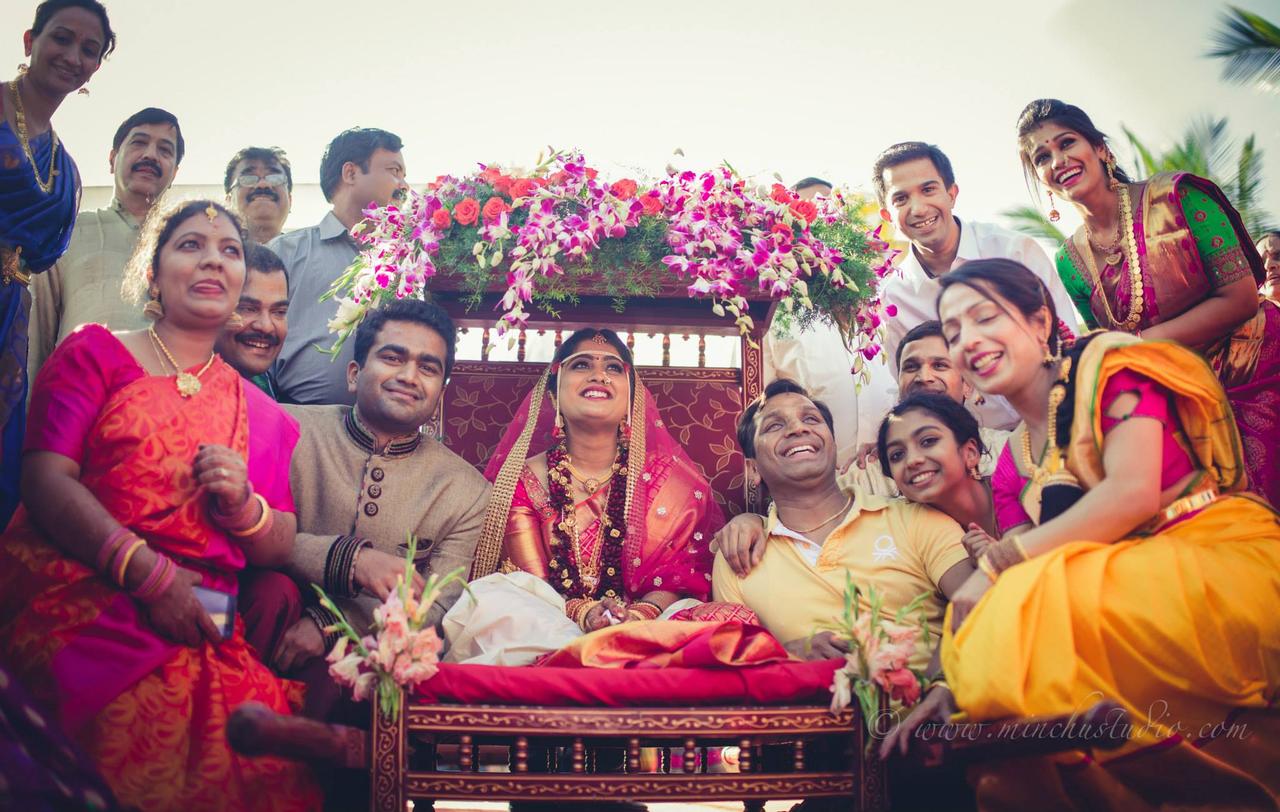 Traditionally, most palkis come in gold so why not change up your design with this modern copper red look. Although this is a different colour, the tradition is still retained with the leaf design that makes the palki look timeless and elegant.
30. When in doubt- match!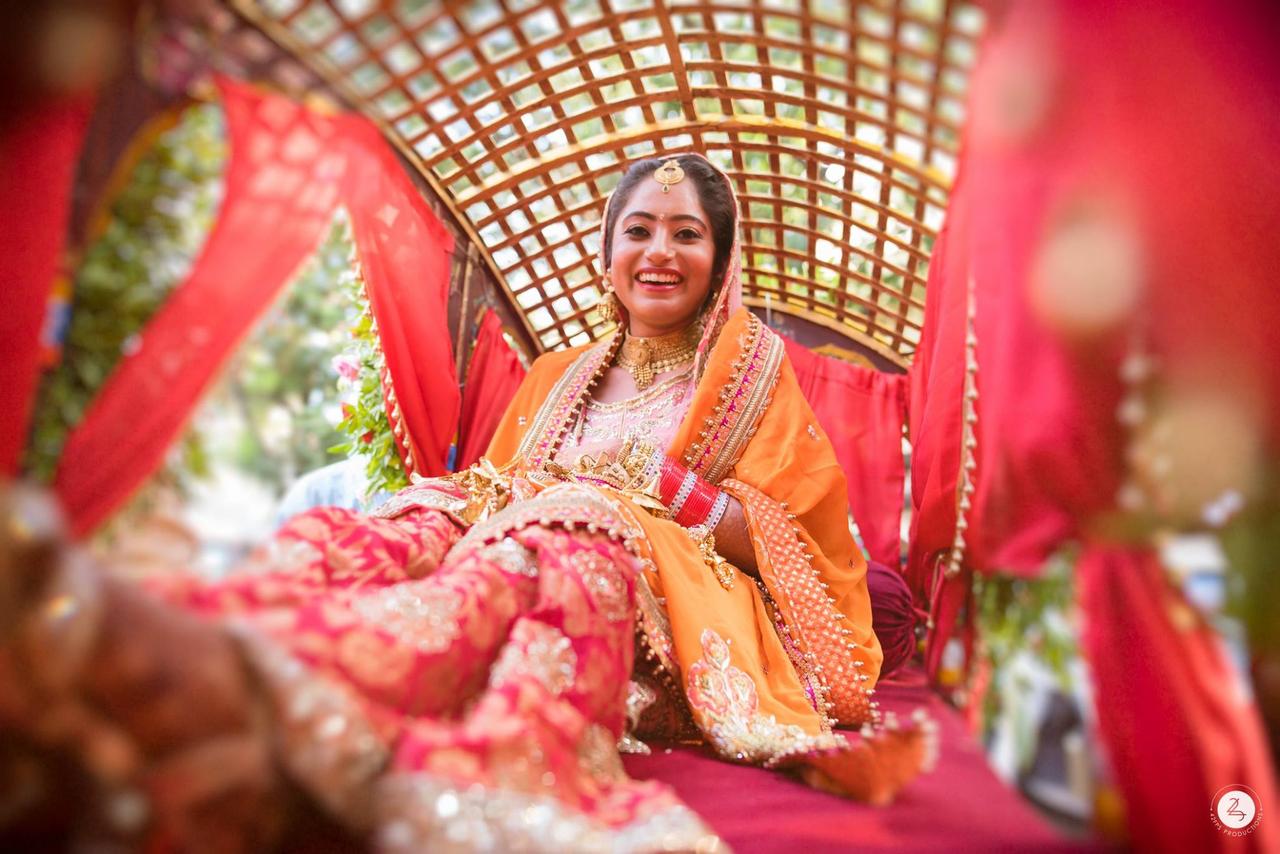 You are wearing the prettiest orange and red wedding lehenga so why not make your palki the same colour. This traditional palki is surrounded by red silk and overcast with orange square design. You can't go wrong with the classic red and orange wedding colours.
Enter your wedding in a palki is a timeless tradition and you can use the ideas listed above to create your very own fairy-tale moment. Your palki design should showcase your personality so get creative with the elements you incorporate. But more importantly, you should be comfortable while riding in style. We hope these ideas help inspire you to design the palki of your dreams. No matter what you pick we guarantee you'll look like a million bucks!
Inspired by these palki designs? Let us know your favourites in the comments below!