Easy-peasy Nail Care Remedies for Hands & Toes for Soon-to-be Brides
Your nails will get some unexpected limelight & so we want you to be prepared for it. Here are simple DIY nail care remedies to recover, nourish, and achieve strong, healthy nails in no time!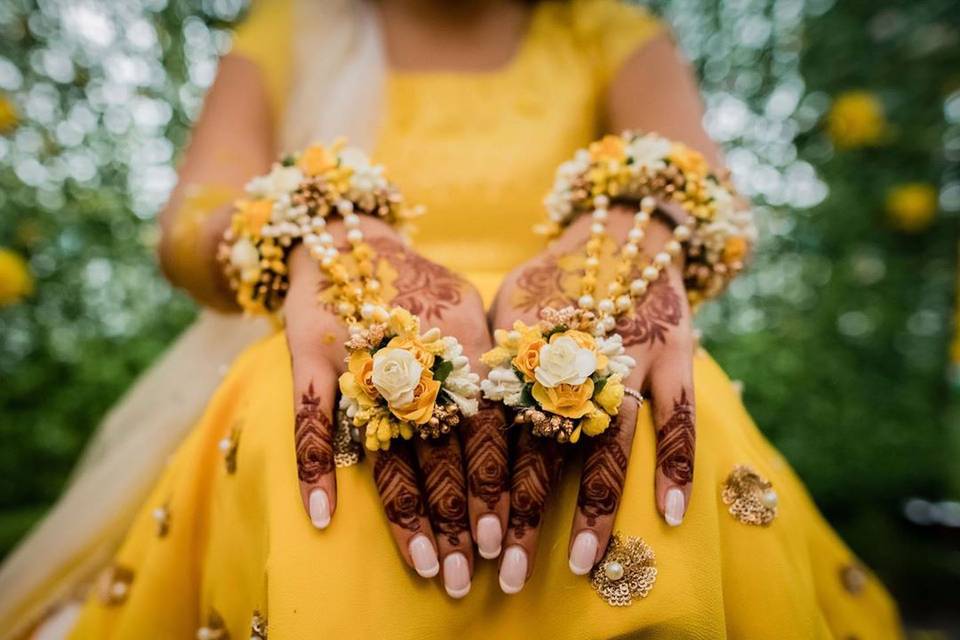 While we do a thorough job taking care of our face with routine facials and body by indulging in stress-relieving activities, practising nail care is equally important. Before you spin your head to look put-together, begin with the basics. It is very essential to have well-groomed, healthy nails for any soon-to-be bride out there. Be it your hands or feet, they are going to get a lot of attention by the shutterbugs as they capture every little detail of your bridal look. Make every picture count!
Nail care is not just about visiting the salon once for a fancy, exorbitantly priced manicure; it's about taking consistent care of them with easy home remedies. Here are some natural DIY nail care at-home tips for you to achieve nourished, beautiful nails in no time. If your nails are brittle, split, or damaged, no amount of polishes will make them better. Just like skincare, it's best to take care of the nails first before going in for polishes and nail art.
Here are a few DIY nail care home remedies that will soften and regenerate your cuticles, repair the yellowing nails, prevent them from breaking easily, and help them look beautiful and healthy!
But first, exfoliate!
Before we move on to Nail care, it is important that you exfoliate the skin on your hands and feet to make way for a clean canvas. For any hand and feet moisturisers to work, exfoliation is crucial. Exfoliate no more than once or twice a week. You can use raw sugar which is more granulated than the powdered one and is better for the skin on the feet. Mix sugar, honey, and coconut oil in a bowl and use this to gently scrub in circular motions.
DIY serum for healthy nail growth
If you face a hard time growing your nails, this home-made serum will help you strengthen them and promote much-needed growth. You can store this in a travel size bottle for a week and use it every day to get shiny, long nails.
2 teaspoons orange zest
1 tablespoon orange juice
1 tablespoon olive oil
1 tablespoon coconut oil
Take a fresh orange, grate the outer peel for the zest. Squeeze out fresh orange juice and put these two ingredients in a glass bowl. To them, add olive oil, and a tablespoon of warm coconut oil. Give them a mix.
Wash your hands and feet clean and pat dry them using a towel. Dip your fingertips and soak them for 10 minutes. Once done, you can wash off the serum and apply hand cream after. The orange juice will increase the production of collagen thereby helping your nails become healthy and strong. The oils will ensure moisturisation for your nails. You can use this serum daily or every alternate day.
DIY nail oil for healthy cuticles
Taking care of the cuticles is as important as taking care of the nail itself. Recover, nourish, and prevent your cuticles from any future damage with this simple DIY.
1 ½ tablespoon of almond/castor oil
3 tablespoons jojoba oil
5-7 drops lavender essential oil
Mix these ingredients together and save them for future use in a small, clean bottle. If you have a glass dropper bottle or an empty roll-on, they can also be used to store the nail oil. You can use this oil once a day or three times a week. Make sure to add essential oils sparingly and not more than the recommended amount. They are undiluted and can damage your skin if not used properly.
Jojoba oil is gentle, non-irritant, hydrating oil for the sensitive of skins. Almond oil is hydrating and helps strengthen brittle nails. It also adds shine and helps recover nails that have been exposed to bad nail polishes and acetone-based removers.
DIY soak for stronger nails
Here's another simple DIY soak to help your nails become stronger, whiter, and less prone to breaking.
2 garlic cloves finely chopped
¼ cup lemon juice
1 tablespoon honey
2 teaspoons olive oil
Take a glass bowl and add lemon juice, garlic and olive oil. Warm up the honey and mix it to the rest of the ingredients. Soak your hand and feet nails for a maximum of 15 minutes. Once done, wash your hands and put the cuticle oil from the previous DIY or simply rub in some olive oil. Apply a hand cream to finish.
While the lemon juice cleanses and whitens the nails, garlic promotes healthy nail growth due to the presence of selenium. Its antioxidant properties work like magic. Honey is known for its anti-bacterial, soothing and moisture-locking properties and works wonders for your hands and feet.
A little heads-up–The garlic in this DIY will leave a sting, so you can do this remedy during the evening for the smell to vanish the next morning. You can also use scented hand cream to mask the smell.
In your weekly TLC, do take out time to focus on your nails. Strong nails will help you stay away from fake acrylic ones that take a toll on your nail bed, no matter the quality.
Did you like any of the above DIY natural nail care tips? Do try these and home and don't forget to share results with us in the comments below!