Match Your Stellar Mother Daughter Dresses For Wedding This Way
Keen on a look that will set you apart from the crowd? Then match your outfit with your dear daughter this wedding season.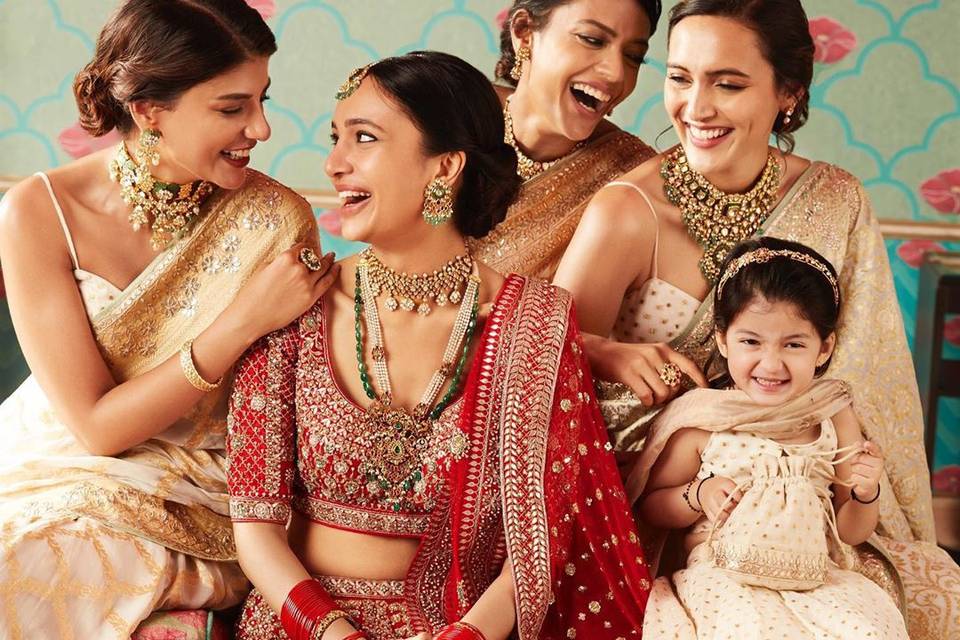 Stars do it and so do designers from the latest wedding couture brands. A match-up with your darling daughter is so, so in as designer wedding wear that we can't just talk about it enough! Here are a few mother-daughter dresses for wedding ideas that are high-brow enough to give us wedding goals.
Let's Begin The Pair-Up Routine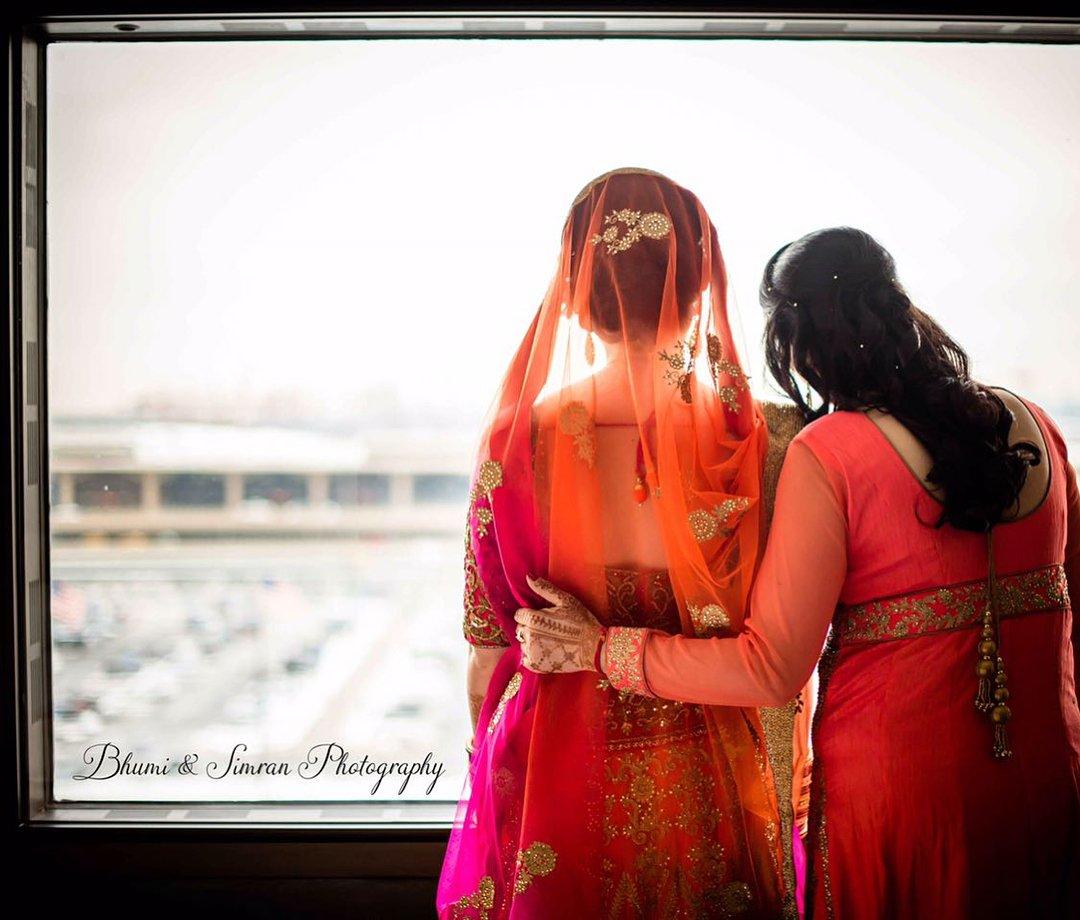 An on-point pairing for mother-daughter dresses for wedding is all about matching the outfit colour, design or even the style, to ensure that the two of you look like you've been proverbially cut from the same cloth. Here are a few looks that we've selected that do so perfectly well.
So, without further ado, here's an overload of mushy cuteness heading your way. Get ready to go aww, over and over again!
That Neon Green Delight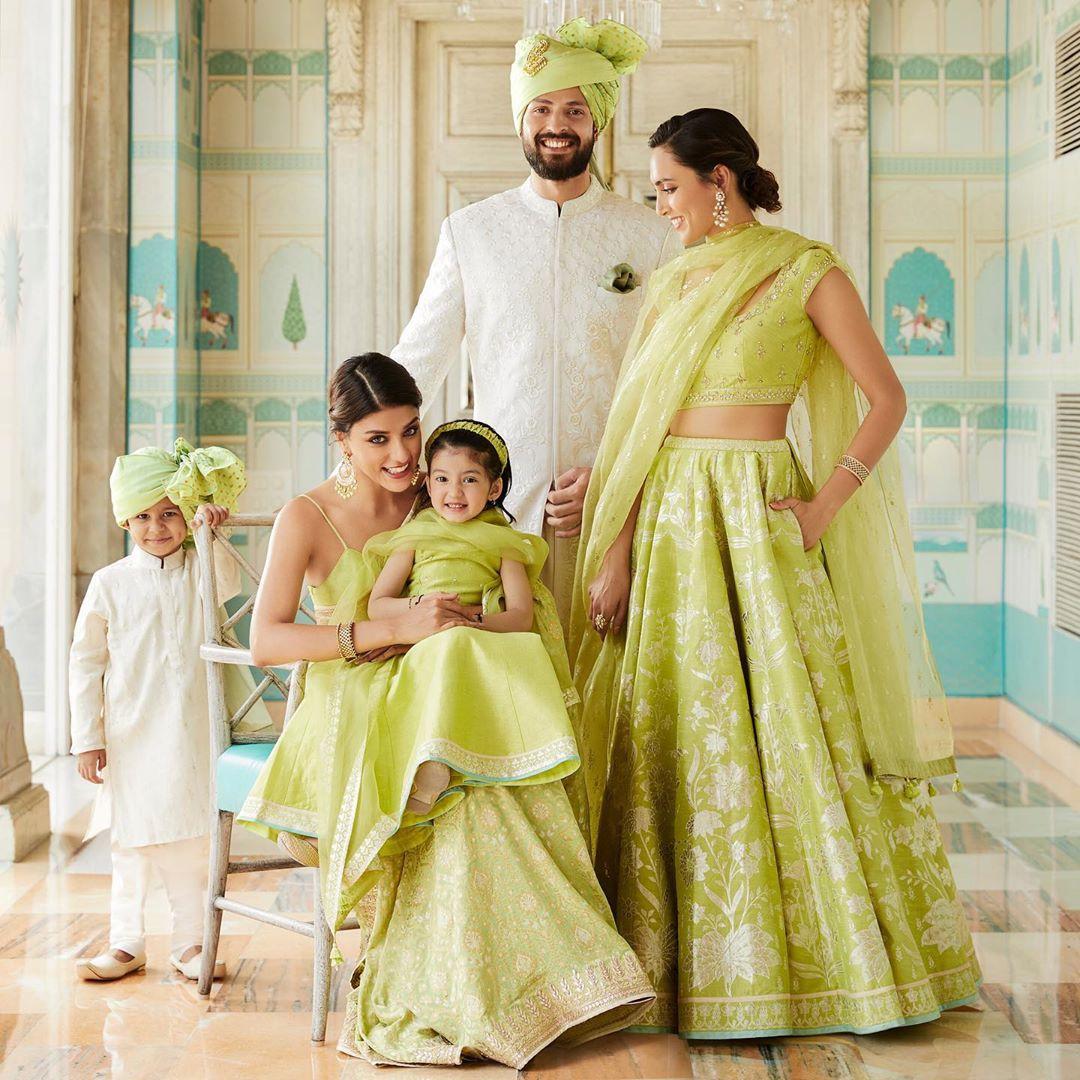 Colours that go pop, make you look pop too! Especially when you're pairing up your mother-daughter dresses for wedding with a mini-me version of yourself.
We love how Anita Dongre got this look right in her family editions for the Jaipur collection that she's recently brought to the table. Here, it's about matching the exact colour shade for your wedding wear, rather than the complete outfit and that's what works for this look.
Take it up a notch by matching your jewellery/accessories too. Get a custom, artificial jewellery set and request your bridal jewellery vendor to work the central motif in a hairband for your little love!
That Ivory Floral Fantasy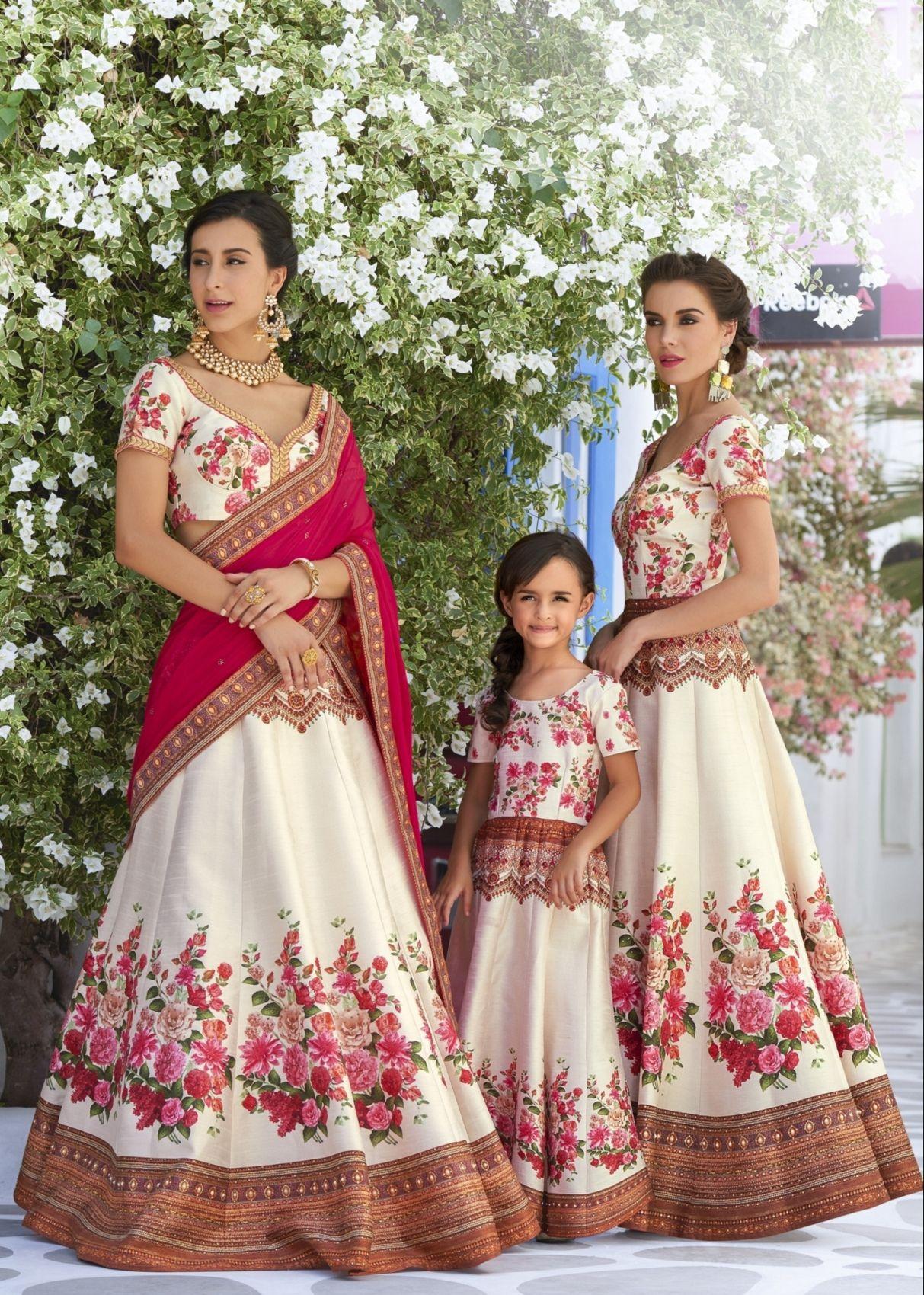 Image Courtesy: Pinterest
Ever since Sabyasachi broke the glass ceiling about wearing ivory, cream and white lehenga to a wedding, we can't just thank the Gods enough. Use your imagination in getting these base colours with a floral print into an outfit for yourself and your darling daughter.
If you're wearing these to a more conservative affair, pair the combination with a maroon lehenga dupatta for yourself and a maroon stole for daughter dearest.
That Vision in Lavender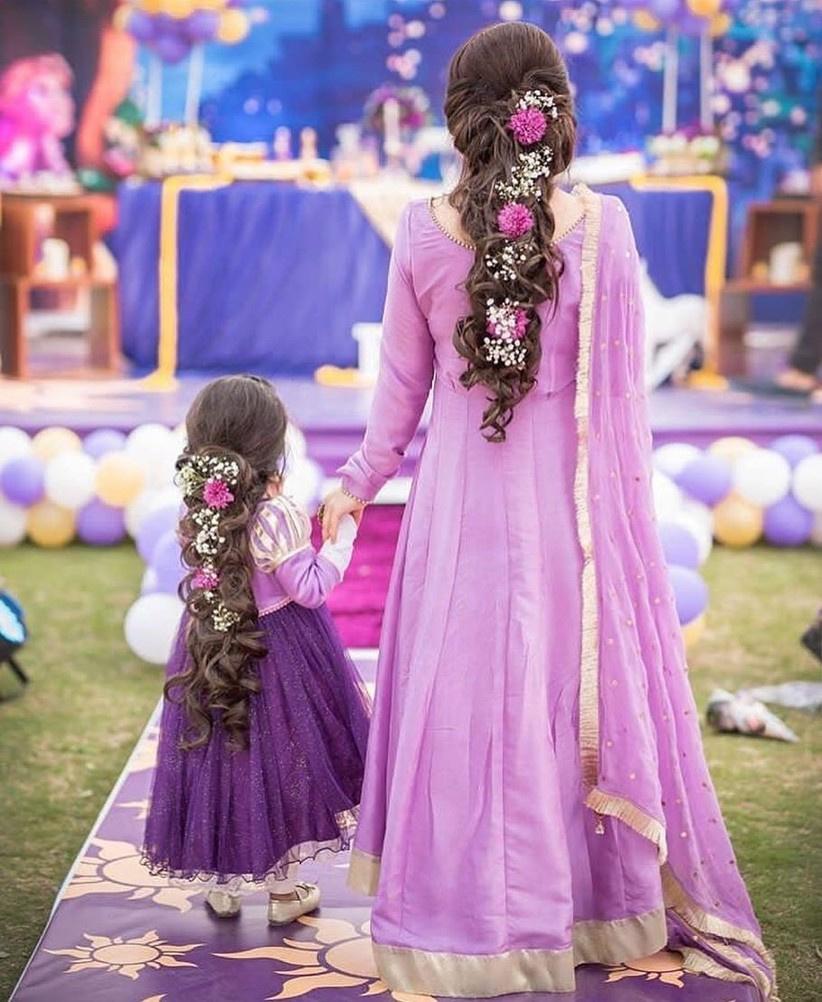 Yes, we can't say that we love lavender enough already. We love the twin versions of exquisite loveliness in the Anarkali suit for the mum and the Princess frock for her dear daughter.
Such mother-daughter dresses for wedding ideas can be absolutely on-point with the right set of styling nodes. And that here is the matching hairstyles for mother-daughter combos. They score it with the Tangled-like flowers in the hair approach.
That Set in Floral Embroidery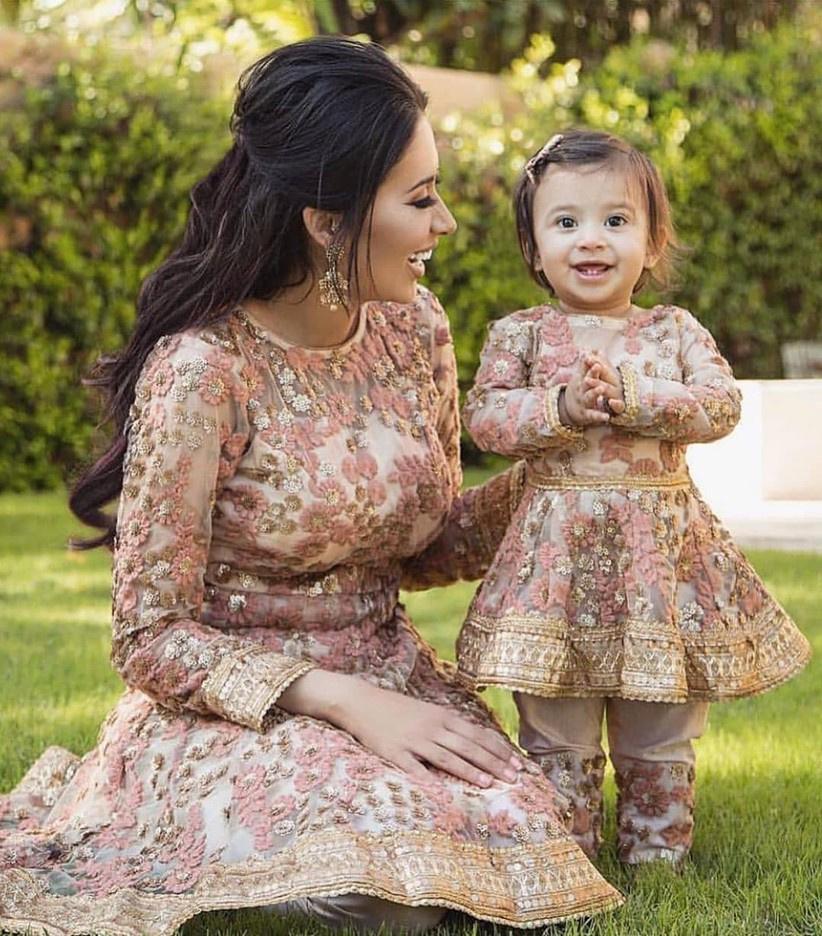 Image Courtesy: Bling
Gain some brownie points with a set of floral embroidery designs which harken back to the signature styles from Sabya and Varun Bahl. The pastel base works as does the embroidery on top, giving this set of mother-daughter dresses for wedding an on-point finish.
Finish the look with a dashing set of smiles that come straight from the heart. You can never go wrong with them!
That Teal & Cream Lehenga combo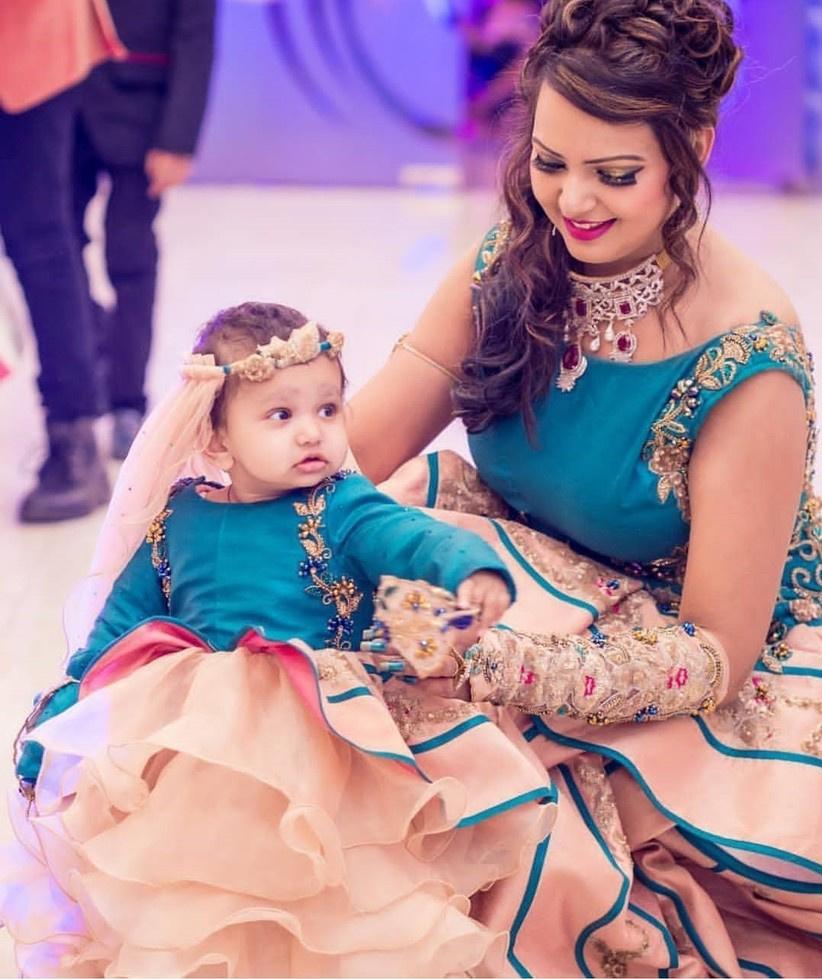 Image Courtesy: Focus Photo Studio
Ever thought of the difference a full match-up could bring to your swish entry at a dear one's wedding? We love how this duo did it with their own mother-daughter dresses for wedding set.
The duo paired teal (a deep back blouse design for mum and full-length sleeves set for her daughter dearest) with flouncy cream lehenga skirts and matched set of shoes. That's 10/10 to just make it right, accentuated by the caring look the mum has just for her daughter dearest.
The Peachy Perfect Pair up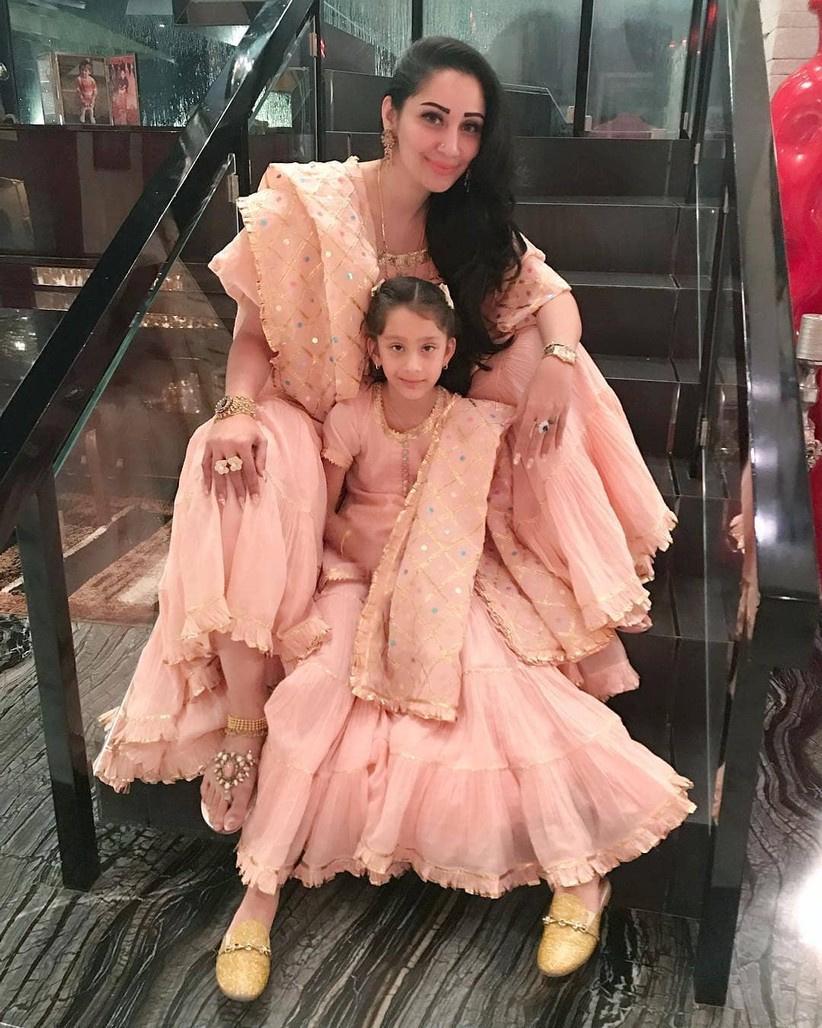 Image Courtesy: Manyata Dutt's Instagram
We're all for some celeb inspiration, especially when that set of inspiration comes from a carefree fashionista mum and her pairing with her dear mini-me. That's why we love how mum Manyata Dutt paired the mother-daughter dresses for wedding set in peach with her little girl.
The duo rocked peach Gharara designs with a Gota Patti dupatta and minimal, well-placed bling.
That Bling's So In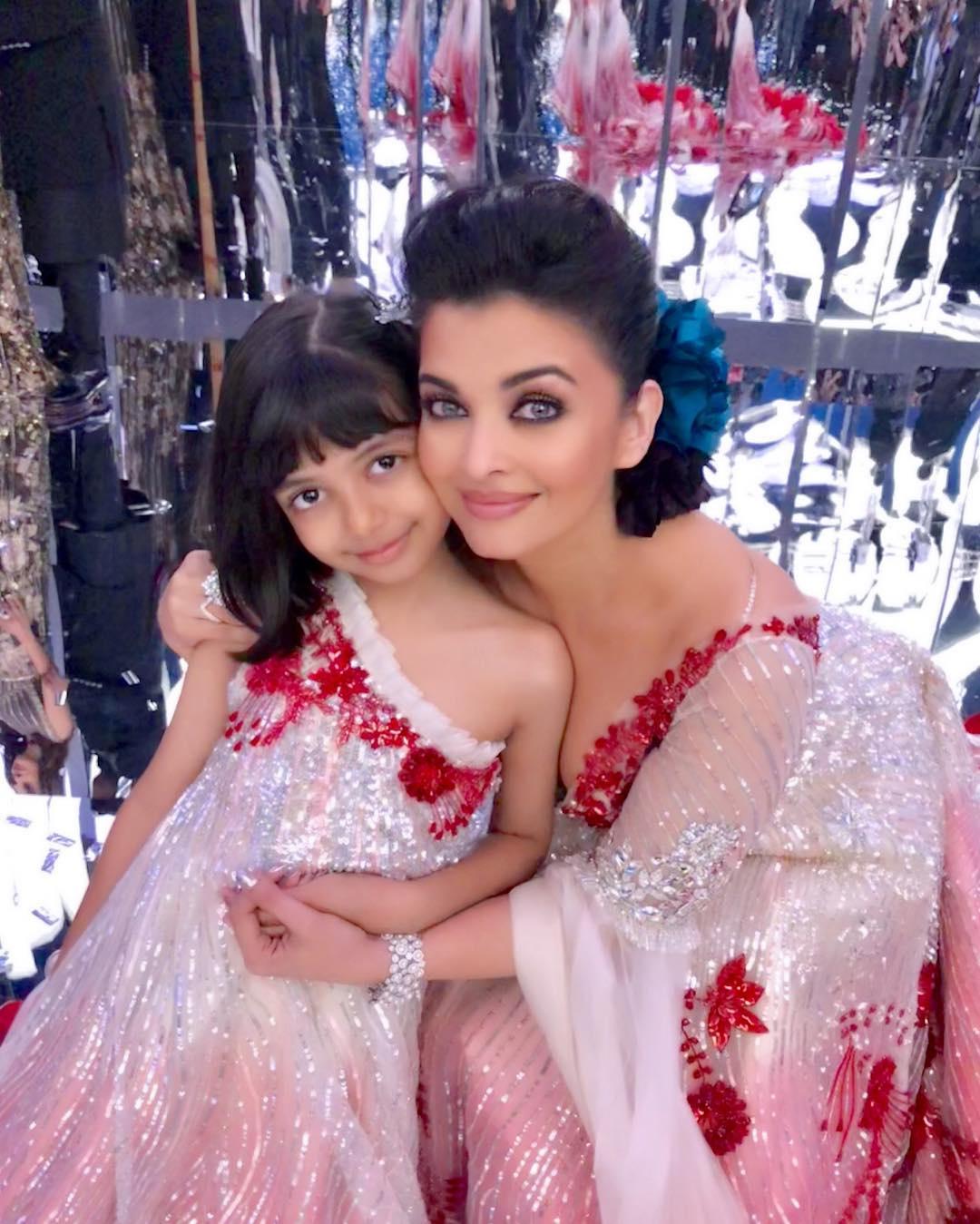 Image Courtesy: Aishwarya Rai Bachchan's Instagram
And how can we close a set of mother-daughter dresses for wedding collection without paying homage to ultimate Bollywood mom and bacha Jodi? That's Aishwarya Rai Bachchan and her dear daughter, sashaying in bridal couture fineries from a ramp walk that they did for Manish Malhotra in Dubai.
Blingy sequins are standard Manish Malhotra star notes, while the absolute replication in ruby red rose neck designs and white sequin notes simply elevate this set of mother-daughter dresses for wedding to just another level.
We hope that this roster of mother-daughter dresses for wedding shook you out of any misconceptions about this set of combination pair-ups. And no, they don't look like you utilised the leftover fabric from your set for your darling daughter. In fact, we recommend going a little overboard with your daughter's set, so that she looks like she would scorch the stage as well.
Which one is your favourite set of mother-daughter dresses for wedding. Point to it in the comments below.