Check These Lehenga Choli Images and Their Prices, for the D-day
All set to get your glam up for the nearing wedding day? We have curated a list of lehenga choli images with their estimated prices, to help you look your best!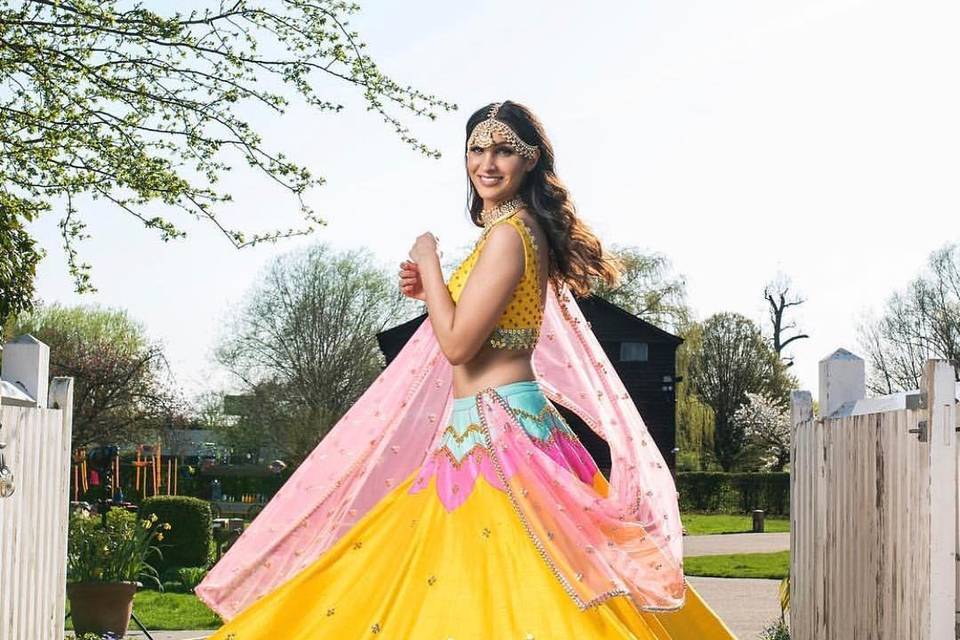 The moment the date of the wedding is set, the first thing that comes to the bride-to-be's mind is "What will I wear?" and a hundred questions that surround this choice. Picking the colour, the fabric, and the designer to finalising the minutest details like the sleeve design, the kind of embroidery, and the dupatta work, there is so much to do just for the outfit.
So to take this stress away from you, we have curated a list of fantastic options of lehenga choli images with prices. From designer outfits to custom couture, this list has a little bit of everything.
Look Stunning In A Hot Pink Lehenga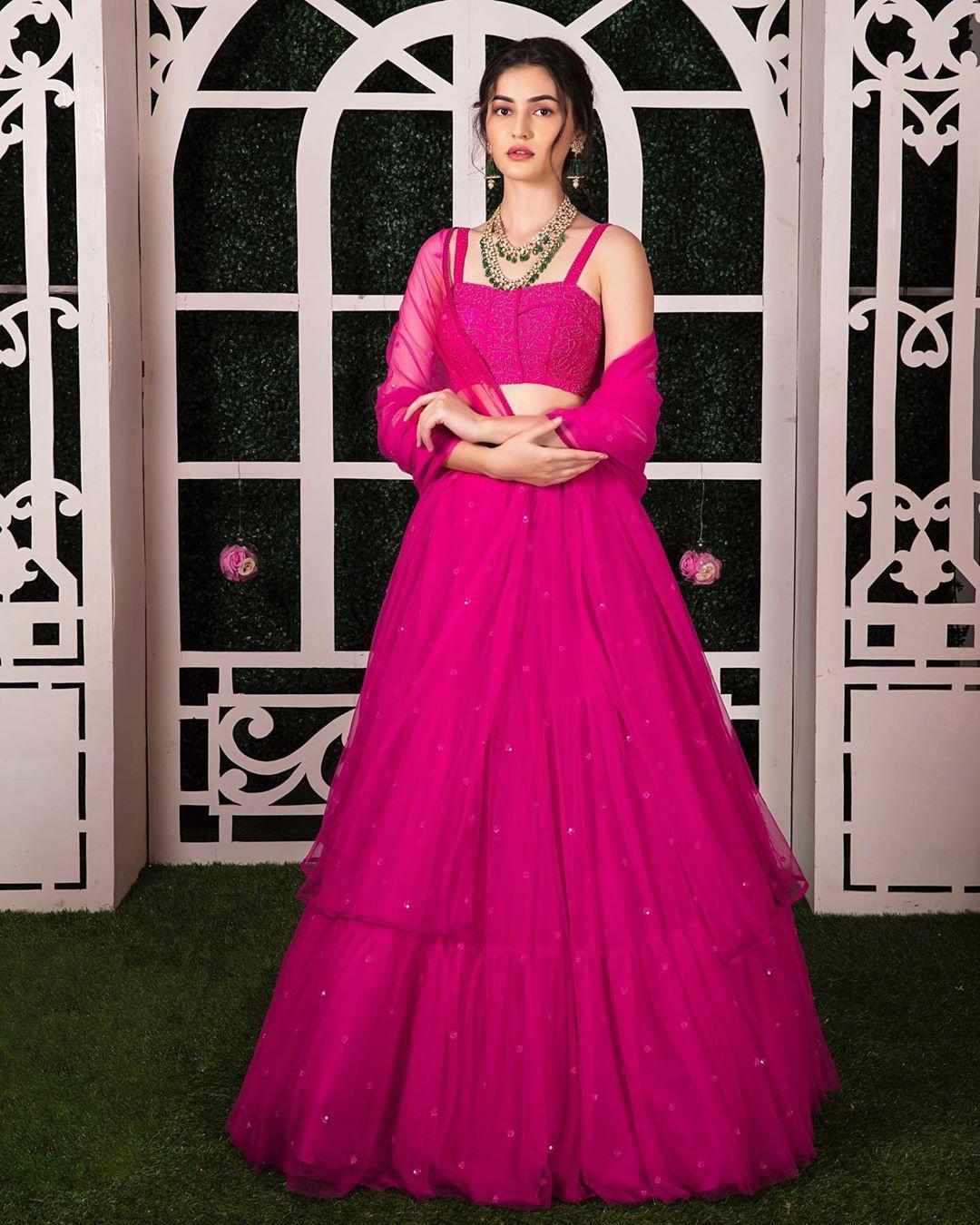 Image Courtesy: Geethika Kanumilli
This solid hot pink lehenga with a bralette style blouse and a tulle lehenga skirt is one of our personal favourites from this list of lehenga choli images with price.
While the blouse looks elegant with the delicate threadwork embroidery the tulle long skirt has minimal shimmer added to it, which makes it look even prettier. So if your heart is set on wearing hot pink on one of the wedding ceremonies, this lehenga is perfect.
This stunning lehenga by Geethika Kanumilli is priced somewhere between ₹35,000 and ₹75,000.
The Only Kinda Blues That We Want In Our Lives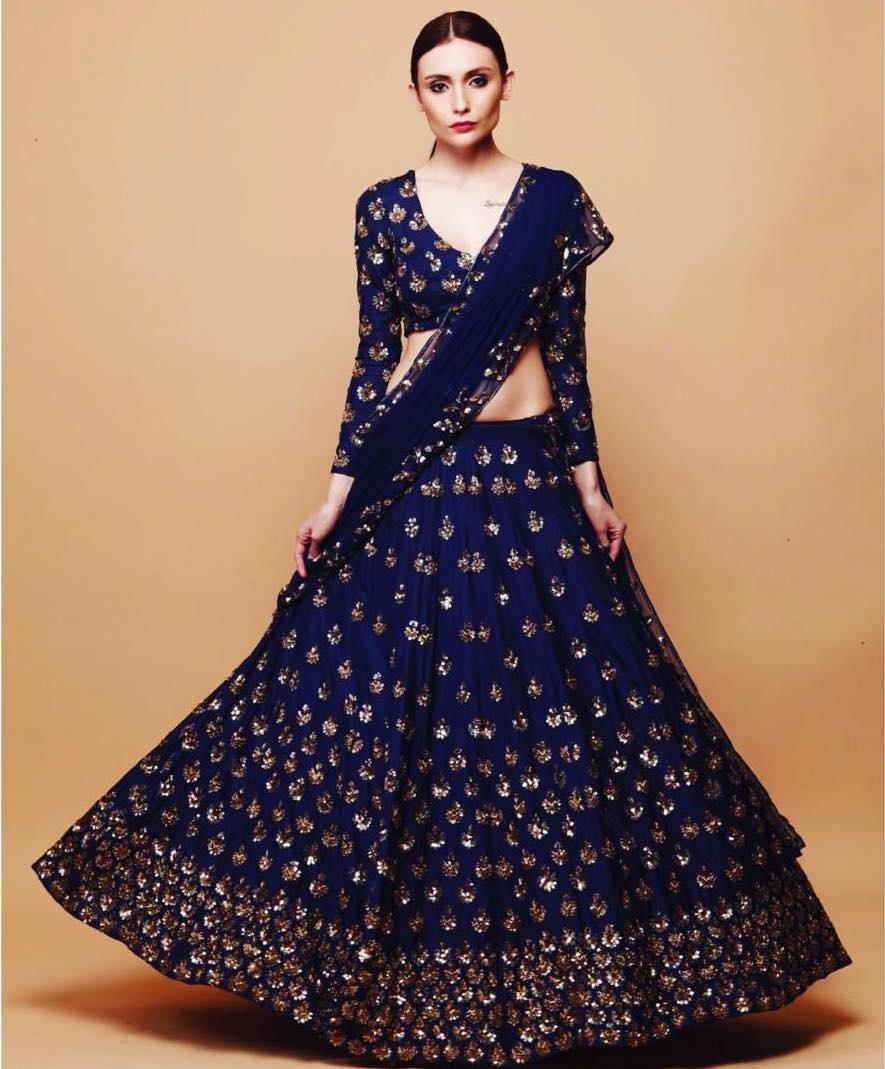 Ditch the regular reds and pinks for this beautiful royal blue lehenga. The copper colour sequins add character to this blue lehenga and make it look all the more eye-catching.
What we love the most about this stunning outfit by Astha Narang is how much attention has been paid to the detailing of the work, each piece of the ensemble is gracefully covered in sequin work. Aesthetically pleasing lehenga choli images with price like this one make for a great outfit option for the Engagement ceremony.
And you can make this embellished beauty yours for ₹88,000 only.
Float Like A Butterfly, Sting Like A Bee: Get This Bumblebee Yellow Lehenga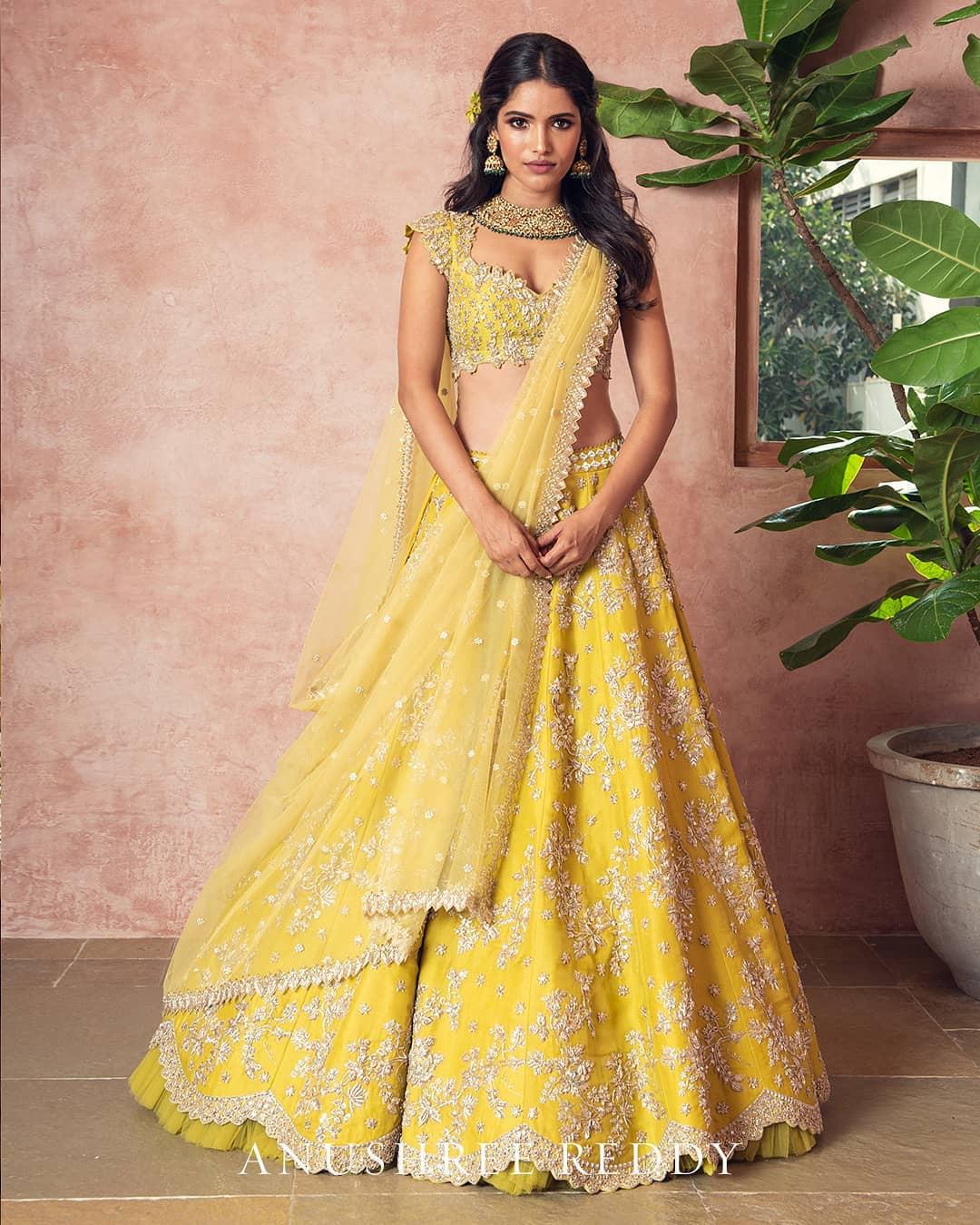 When Muhammad Ali said "Float like a butterfly, sting like a bee", we felt it. And if you did too, then this gorgeous bumblebee yellow lehenga should be on your to-buy list.
With light gold embroidery all over the skirt and cap sleeve blouse and lace border on the solid colour dupatta, this lehenga is a winner for sure. The intricate detailing on the outfit makes it an ideal choice for the bride-to-be to wear it on one of her ceremonies, and look like a stunner!
This alluring piece from by Anushree Reddy from our list of lehenga choli images with price can be bought for ₹2,49,000.
Choose The Classic Red Lehenga For Your Big Day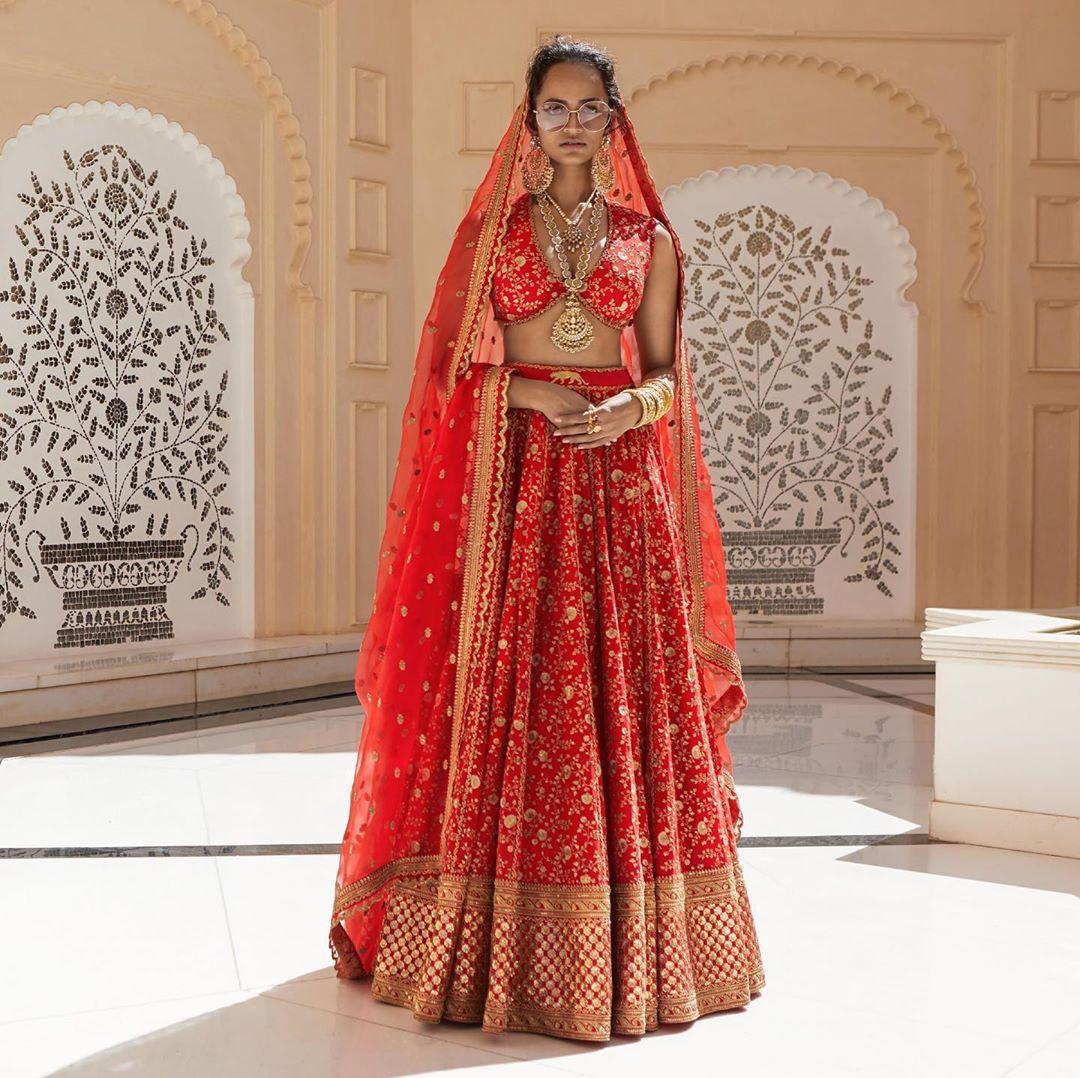 Image Courtesy: Sabyasachi's Official Instagram Page
When you are all about sticking to the traditional and classic styles, then you just cannot go wrong with this red lehenga for your big day. All the elements of this lehenga - the dupatta, the blouse with a plunging neck, and the stunning skirt are covered in golden embroidery.
And the colour combination is yet another classic that is popular amongst the brides-to-be, always has been, and always will be. You can fulfil that childhood dream of wearing that red lehenga that you pretended to play dress up in.
Price on request for this Sabyasachi lehenga.
A Gorgeous Mauve Pink Lehenga With Shimmery Tassels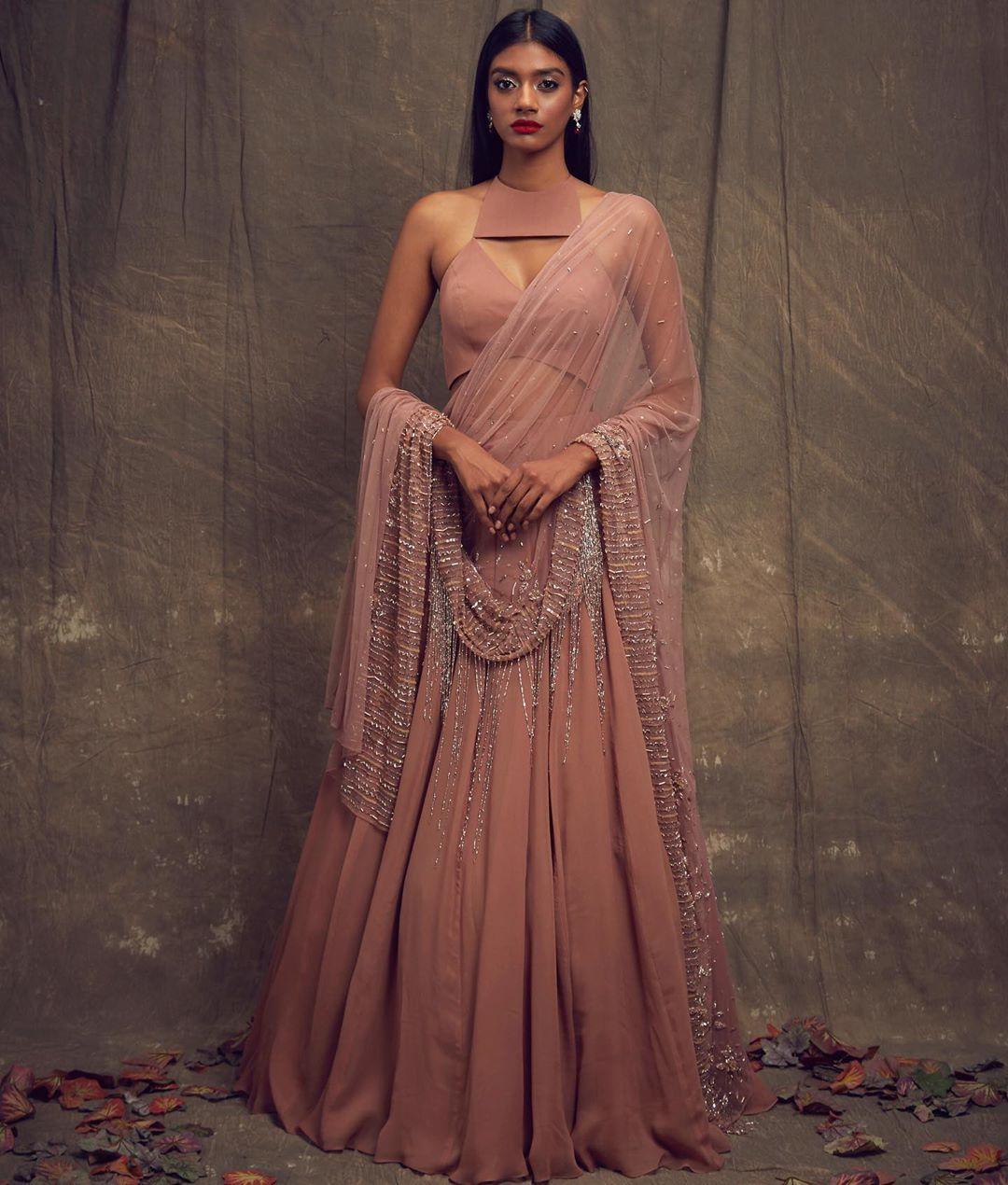 Image Courtesy: Ashni & Co
Mauve pink is a current favourite amongst brides and bridesmaids alike. The colour is winning hearts left right and centre. And well, so is this gorgeous lehenga from our long list of lehenga choli images with price. The simplicity of the ensemble is what makes it all the more classy.
With an eclectic cut-out blouse neck design and a plain lehenga skirt, the only source of dazzle is the shimmery tassel detailing on the border of the dupatta.
Perfect for a night ceremony, this Shloka Khialani lehenga is priced at ₹52,000.
Strike A Pose In This Blue And Silver Lehenga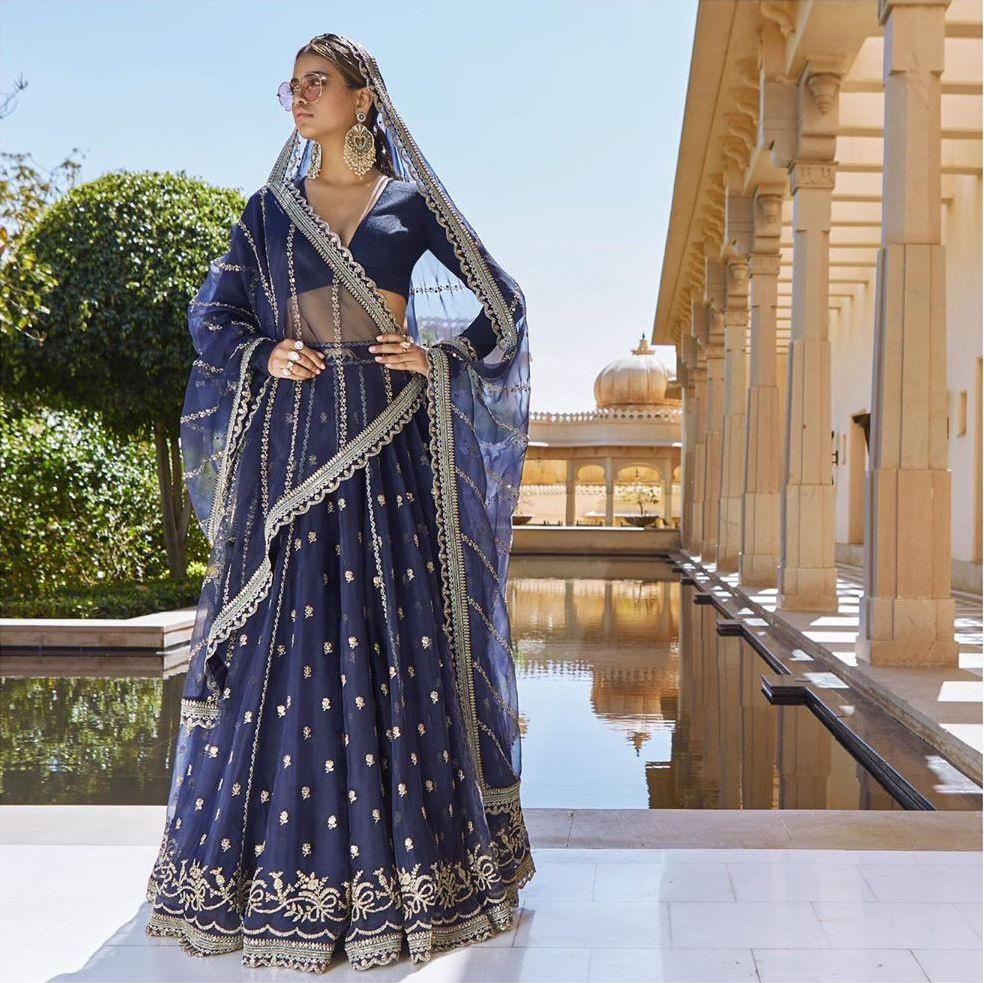 Image Courtesy: Sabyasachi's Official Instagram Page
While it is not one of the most conventional colour choices, this blue and silver lehenga is bound to make the list of hottest combinations of lehenga choli images with price. The deep V-neck blouse simple and solid in colour, which is beautifully complemented with the heavily embroidered lehenga skirt and the equally dazzling dupatta with a lace border.
The overall look is the right ingredient for the out-of-the-box wedding setup where the convention is kicked to the curb. Perfect for brides who love standing out no matter what the occasion is.
Get the price on request for this beautiful Sabyasachi outfit.
Own The Day In This Stunning Lehenga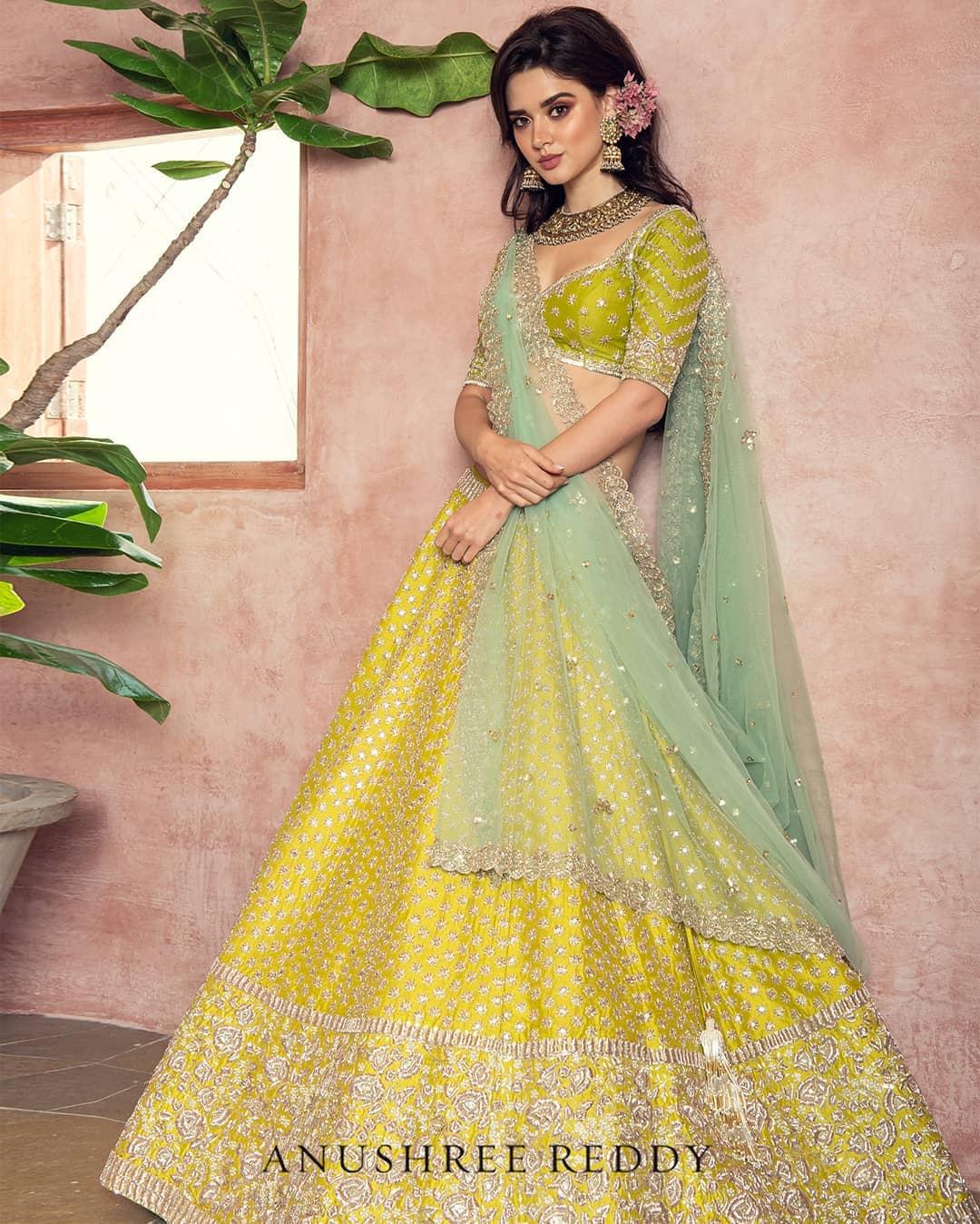 This Anushree Reddy golden lime lehenga with a mint green dupatta is a head-turner. The lehenga and the choli are completely covered with embroidery, minimal and heavy depending on the pieces. This makes the lehenga look subtle and beautiful.
An interesting contrast with the mint dupatta adds freshness to the outfit. The choice of colour rightly fits with the occasion as it symbolises harmony and energy, which are some of the important attributes for any new relationship. You can pair your favourite heavy Indian jewellery with this lehenga and own the day!
Price of this beauty from our well-curated list of lehenga choli images with price is available on request.
Show 'Em What You Got With This Floral Lehenga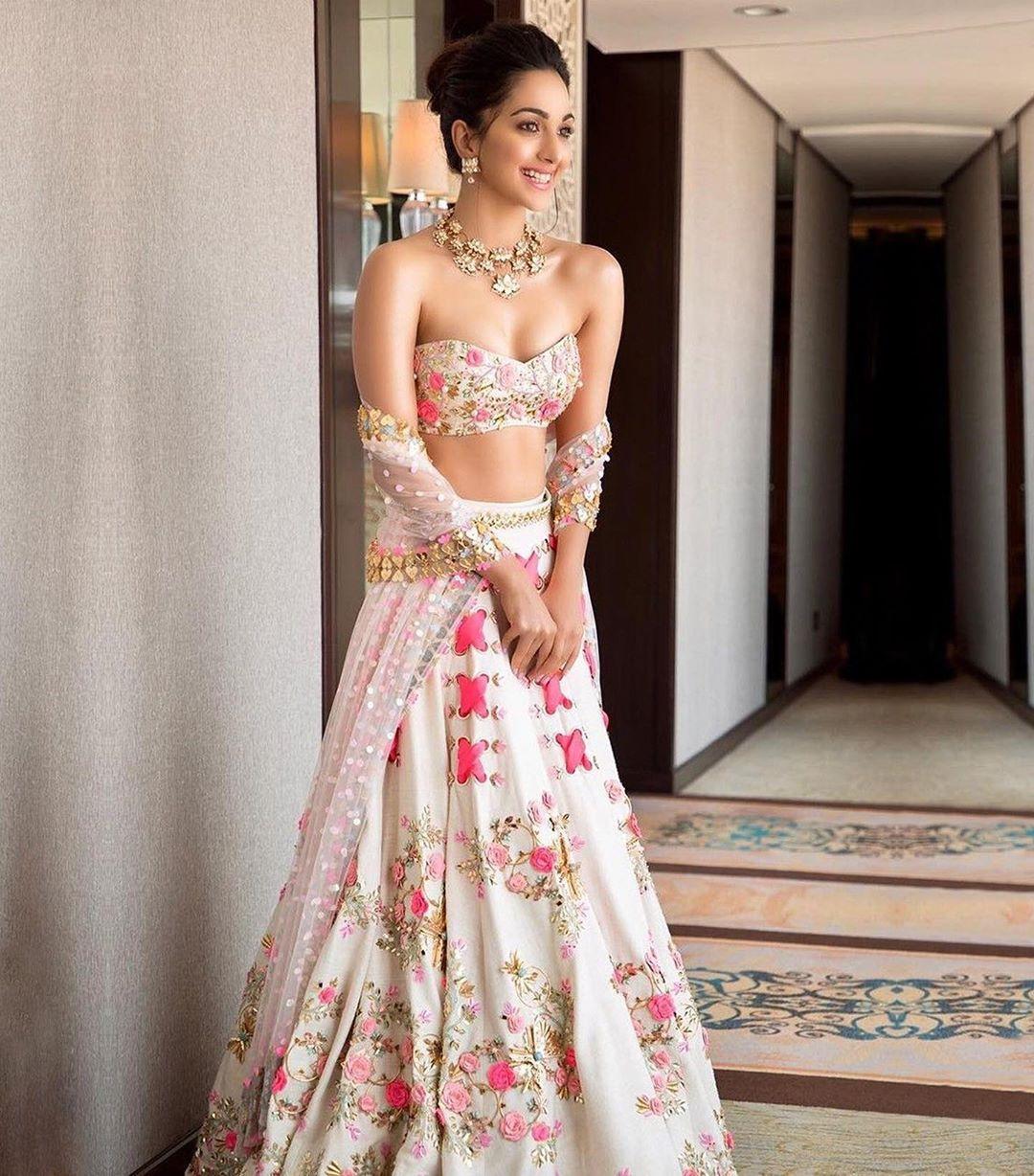 Flaunt your lithe body in this off-white lehenga with pink and golden embroidery. The tube blouse and the lehenga skirt are ornate with tiny floral motifs and vines. But what becomes the eye-catcher of this outfit is the criss-cross bright pink lacework on the top of the skirt.
It makes it form-fitting, and a perfect choice for the brides-to-be who have been working on that gorgeous body for the big day. Oh, and don't miss the heavily embroidered dupatta.
Love the outfit just as much as we do from a variety of lehenga choli images with price? Then get this gorgeous lehenga from Papa Don't Preach By Shubhika for ₹2,80,000.
Feel And Look Pretty In This Beautiful Lehenga For Your Big Day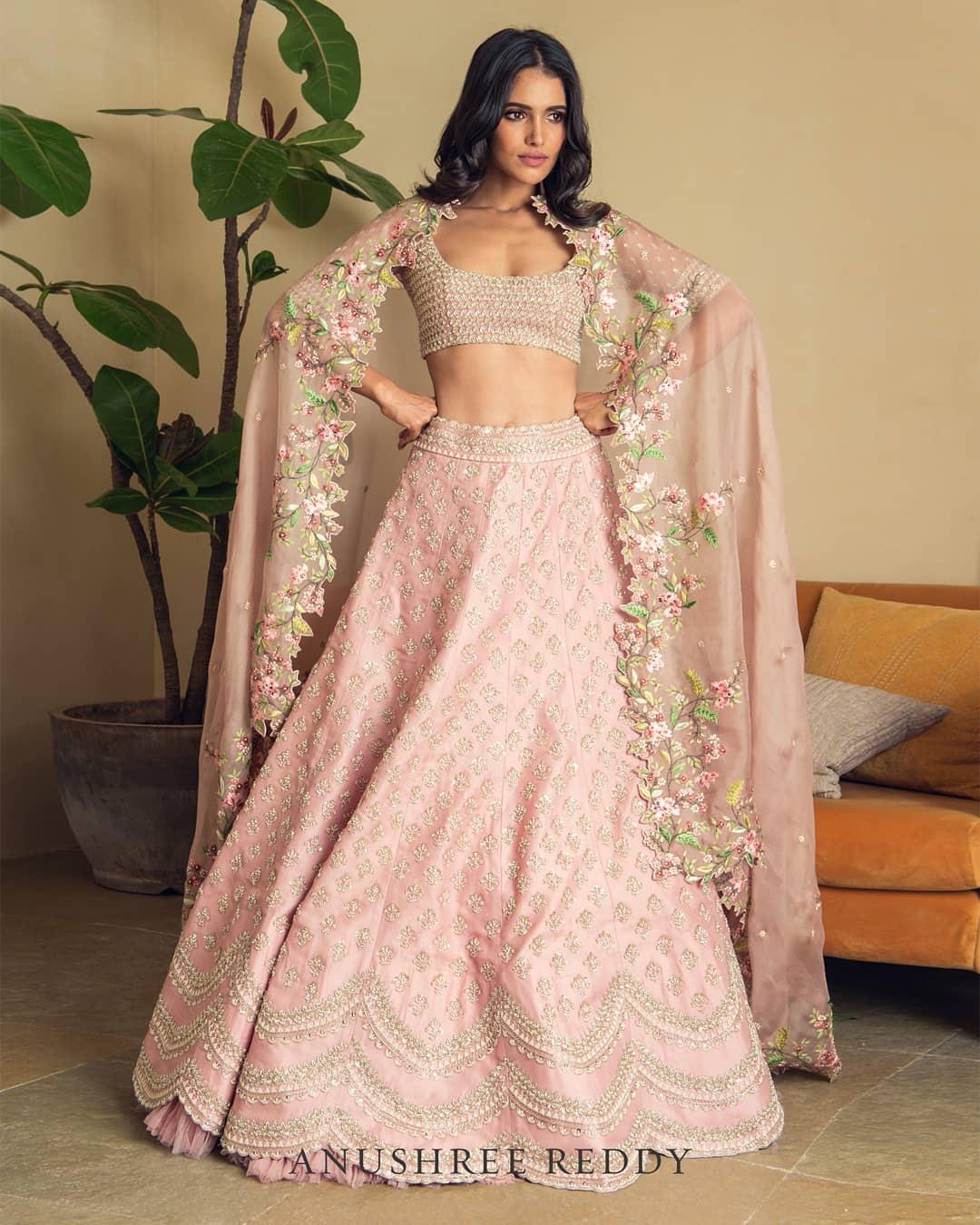 No, pink is still not out of style, and it will never be. The blush on the bride's cheeks is best complemented by powder pink lehenga and outfits like this one. The choli is completely covered in light golden threadwork, and well, so is the lehenga skirt. But the dupatta is what steals the show with its unconventional cut and heavy floral and vine embroidery.
You can get your hands on this pretty Anushree Reddy lehenga for ₹2,85,000.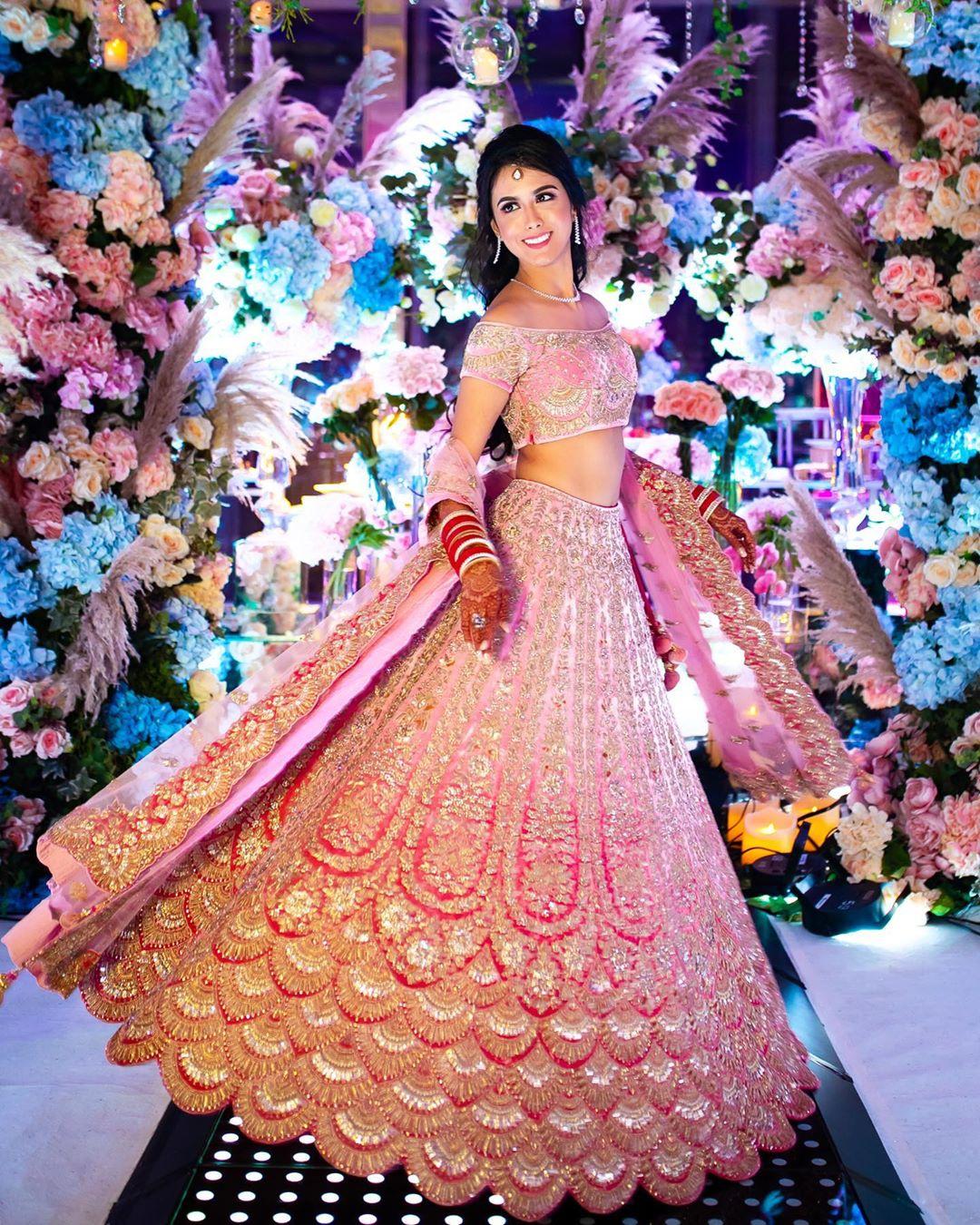 Image Courtesy: JD Arts
Every bride-to-be has her own set of preferences when it comes to choosing the D-day outfit. While some want to go with the conventional colours, others want to try out the new and trending shades from the colour palette. And a few have their hearts set on heavy bridal jewellery, this is where the minimal lehengas come to rescue.
Our list of lehenga choli images with price caters to all kinds of preferences that a bride-to-be might have. Instead of going with only the popular options, we have tried to make a list of lehenga choli images with price that delight all kinds of brides.
Share this list of lehenga choli images with price with your BFFs and see which bridal lehenga designs do they like the best.