The Latest Punjabi Songs for the Groom Squad to Dance to on
Is your best bud getting married? It's time to make a playlist of the latest Punjabi songs that you and the groom squad can dance to at the Sangeet!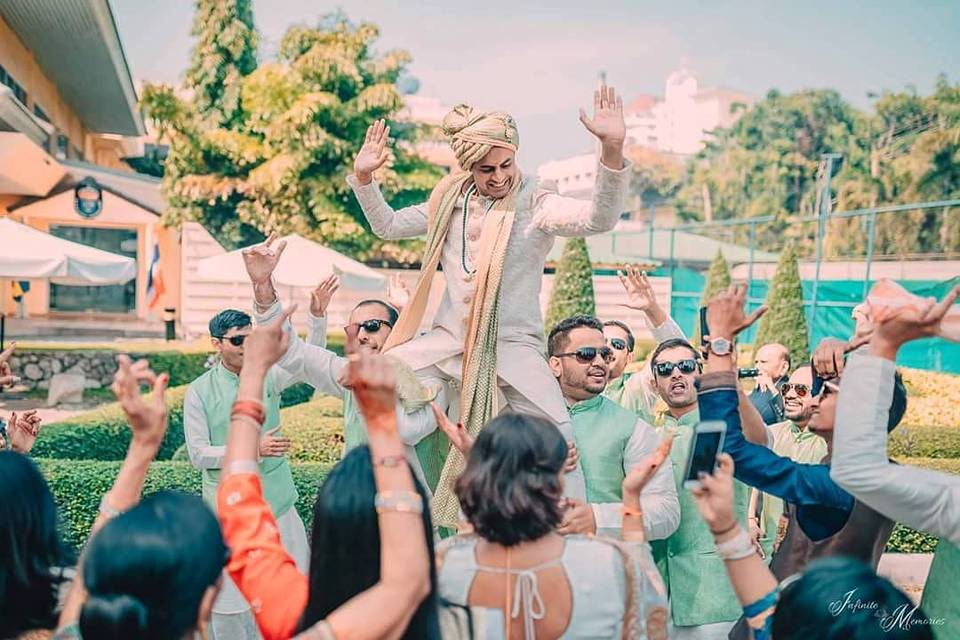 There's no way you're going to let your boy down on his Sangeet by not bringing your A-game for the Groom Squad dance! While you definitely need to choreograph and practice your steps religiously, there's one major thing that can help set your performance apart from the others'! That is your music! Pick the latest Punjabi songs for a great playlist that you can use for a stellar performance!
Not sure which songs you should pick? Listen to these amazing tunes listed down by a true blue West Delhi Punjabi Munda:
1. Diamond - Gurnam Bhullar
If you want hardcore latest Punjabi songs that are fun to listen to and are a great option to begin the dance performance, this is a great one. If you're planning to have an MC talk about the couple and tell a story with your performances, this is can be a great song to choose when you're depicting the groom getting ready to pop the question. You don't have to use the full song, of course! A great Sangeet performance is all about the transitions from one song to another to tell a story.
2. Thug Life – Diljit Dosanjh
Can you have a list of the latest Punjabi songs without including something by Diljit Dosanjh? Of course not! Thug life is a fun song that can depict the courtship of the couple in a funny way. Make sure that the steps you use are less 'dancy' and more comedic in nature so that the audience can really enjoy themselves!
3. Yaar Bolda / Mukhda Dekh ke – T series Mix Tape
T-series Mixtape has a great repository of songs that are often medleys. Something like this is great for a Sangeet night where you want to keep the audience engaged not only with your dance steps but also the dance steps. This is one of the latest Punjabi songs that are really peppy and you guys can really go nuts while dancing. It's a great song to pull the groom's leg about how he fell in love with his girl!
4. Label Black – Gupz Sehra
If you're looking for the latest Punjabi songs, you're probably attending a Punjabi wedding, which means that the Daru will be in full flow at every event. So, how can you not pay homage to that? Label black is a fun song, and it will definitely make everyone tap their feet in time to the music!
5. Yaar Jatt De – Jassi Gill
The groom squad always has the groom's back, no matter what! These are the friends he knows he can count on, and that's a great thing to celebrate! This song is about how a Jatt's friends will do whatever it takes for their friend! It's a great song to play on the Sangeet to remind the groom you're there for him!
6. Gulabi Pagg – Diljit Dosanjh
Here's another one of the latest Punjabi songs that talk about how the groom's friends love him and will do anything for him. If you're wondering what song can help you express your love for your friend without getting too sappy, this is a great one to pick!
7. Coka – Sukh-E Muzical Doctorz
Enough about the Yaari Dosti! Now it's time for some songs that will get the audience groovin'! This is one of the latest Punjabi songs that can totally help you achieve that. This one is ideal for the groomsmen who aren't too comfortable dancing because you can get away with minimal steps thanks to the tempo of this song!
8. Boliyan – Gippy Grewal
If you want to team up with the Bride Squad for a fun song, then this is a great one. A take on the traditional folk song played on most Dholki nights (wari warsi khatn khyasi), this is one of the latest Punjabi songs that offer a chance to team with the enemy and show the audience which team has the better dancers! We promise that all the old school aunties and uncles will appreciate this number being included!
9. 3 Peg – Sharry Mann
Looking for latest Punjabi songs that bring that classic party vibe? 3 Peg is a great song if you want to get into the celebratory zone during your Gabru's wedding! Make sure your steps are on point!
10. Mundiyan toh Bachke – Punjabi MC
This doesn't strictly qualify as one of the latest Punjabi songs, but you've got to dance to this because it never, ever goes out of style! How can you not dance to this at your friend's wedding? If you plan to tease him about being wary of his wife's power, then this is a great song!
All you need is great choreography and perhaps matching groomsmen outfits to really represent the Groom Squad well! If you're all wearing different outfits, do consider wearing matching wedding pagris to look like a team!
Get in touch with our fantastic choreographers and show the Bride Squad what you're made of!