6 Latest Designer Indo-Western Dresses That Are Serious Bridal Goals For Every Bride-To-Be
So, you couldn't keep up with the fashion week and missed out on the new trends unleashed by designers in the world of latest Indo-western dresses? Fret not, we have curated a list of our favourites from the latest seasons of fashion weeks.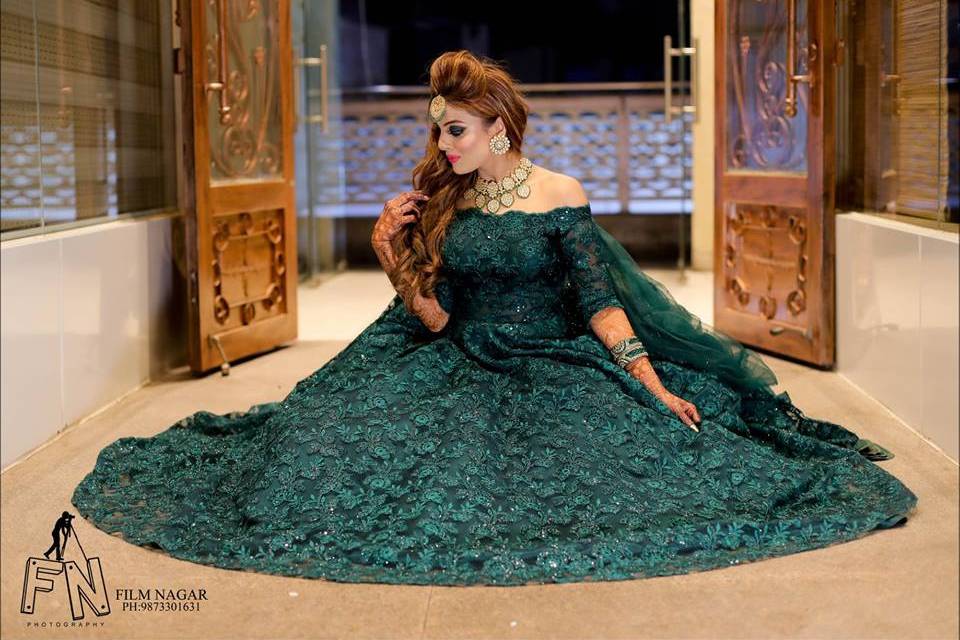 Until a few years ago, the only outfits a bride was concerned about were traditional sets of lehengas, sarees, suits and even sets but now with a few trend storming fashion weeks and some modern brides seeking to go beyond the usual, we have landed with a new tradition – that of wearing latest designer Indo-western dresses at one of the functions.
This new trend has allowed each bride the chance to feature in her own fairy tale debuting in the flowy, majestic Indian evening gowns with a touch of tradition.
Indo-western gowns feature different necklines, colours and even hemlines creating a western dress with Indian customisation. These latest designer Indo-western dresses make for the perfect outfit for engagement, cocktail or even reception functions. We have even seen some brides rocking this trendy dress for their wedding, ditching the lehenga! The sky is the limit with these outfits, we hope the new season of latest designer Indo-western dresses appeal to your taste!
1. Stealing the night in teal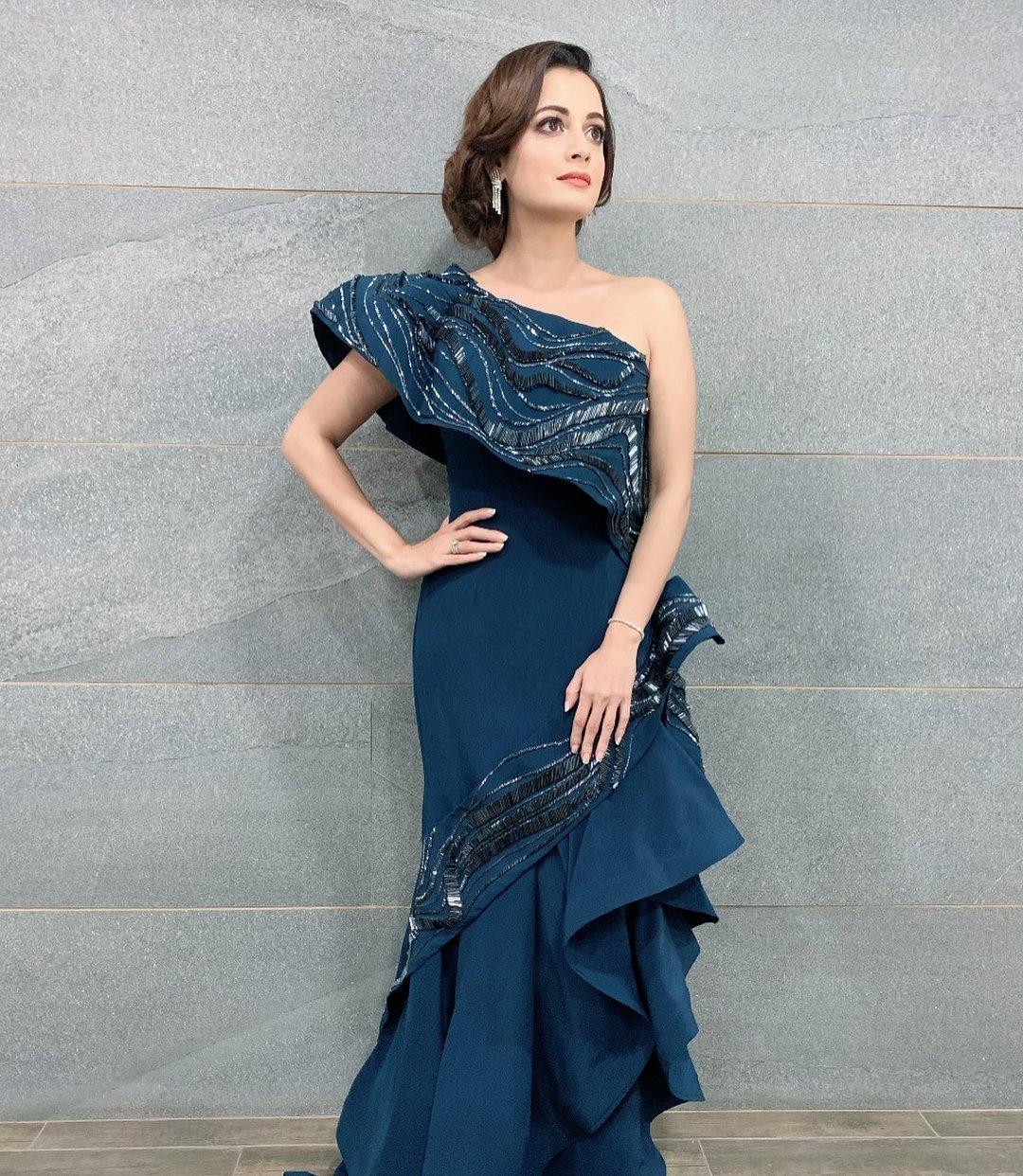 Actress Dia Mirza looks stunningly gorgeous in this night teal asymmetric cascades dress from the latest collection of Gaurav Gupta Couture at the finals of Miss India 2019. Gaurav Gupta is the pioneer of latest designer Indo-western dresses in Indian fashion and it is not surprising that we find the best of this outfit from his fashion house.
The king of silhouettes and textures, Gupta's gown has an effortless flow which accentuates the actresses features. The dash of silver and black embellishments give it the extra oomph factor, not too much and yet just enough. We also love how Dia styled this look with dainty diamond danglers, a neat updo and minimal natural makeup.
2. The Cinderella gown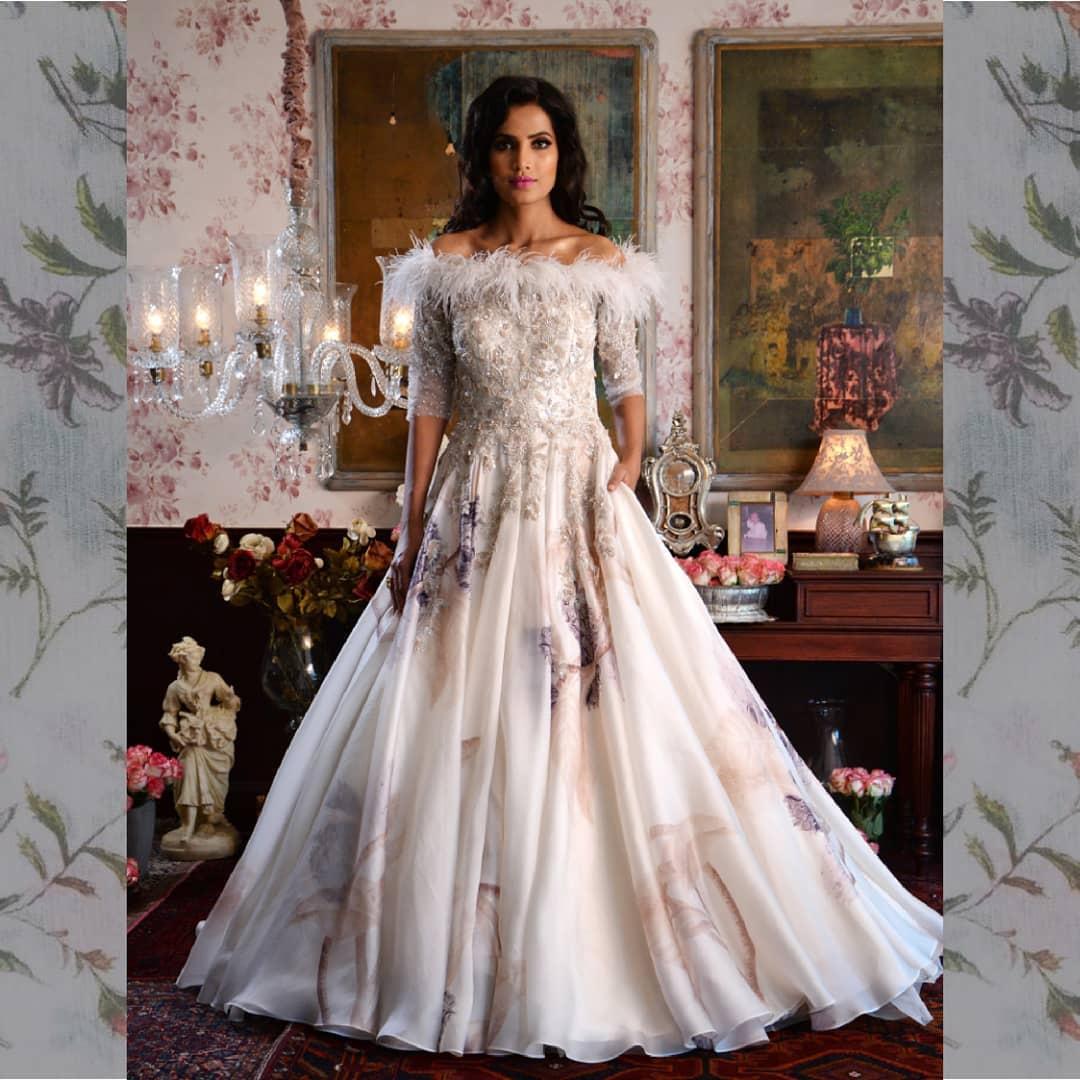 Often when we think of the latest designer Indo-western dresses, the first thought that pops into our head is the picture of a voluminous gown the one we see Disney characters wearing at the ball. So,
when we saw this elegant dress from Dolly J's spring-summer 2019 collection 'MYRA', we couldn't help but be mesmerised by it. This voluminous gown features intricate crystal work all over, a feathered off-shoulder all set in a tranquil pastel.
This luxurious organza dress is perfect for a night of dancing and can already imagine the perfect pictures a bride can get in this dreamy gown! Also bonus points for the pockets, we all love it when our outfits have pockets so well what better than a gown with a pocket!
4. Intricately embroidery for the win!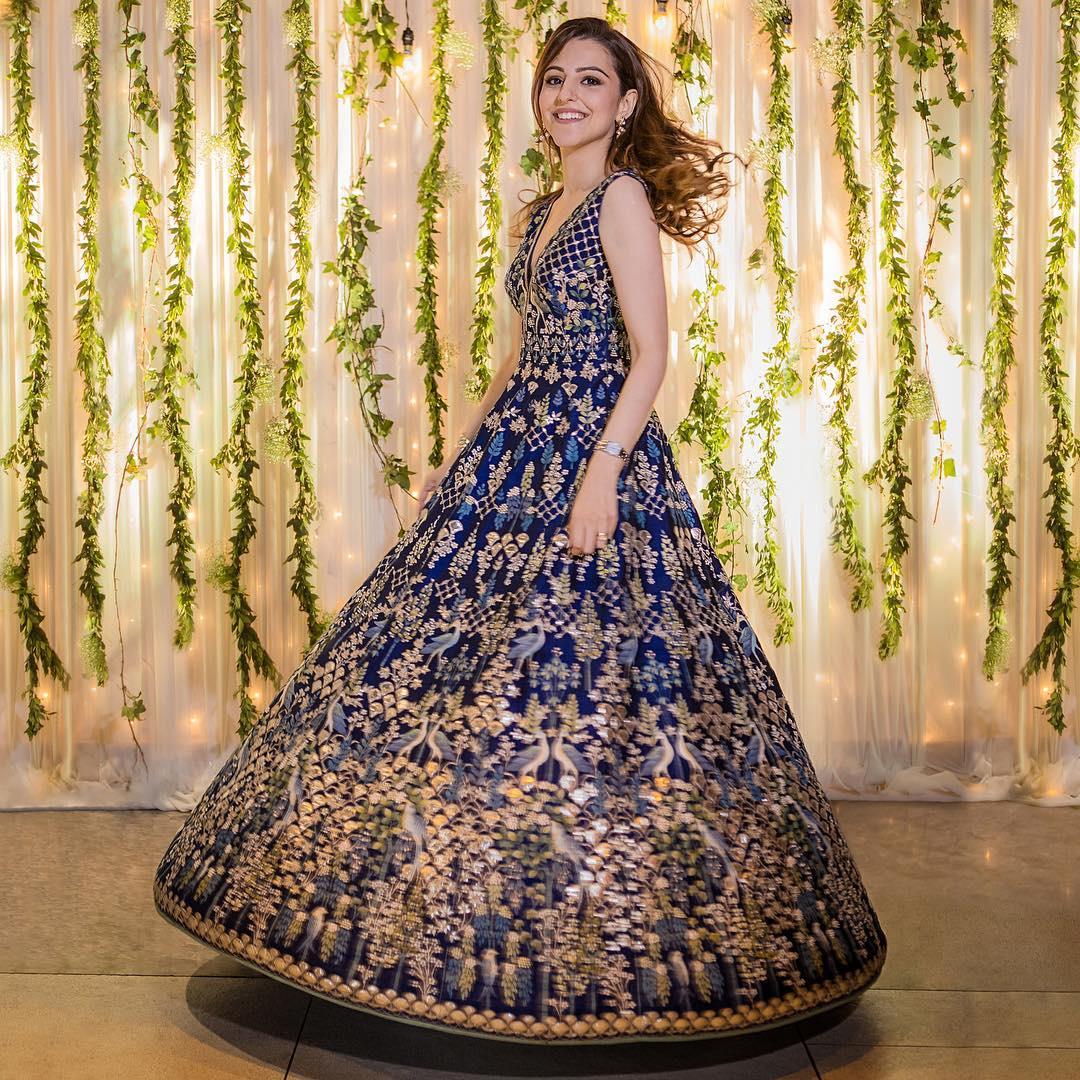 Anita Dongre recently released a set of pictures from the intimate wedding of her son Yash with Benaisha in Mussoorie. The level of detail in both the bride and groom's outfit is unparalleled, making it so special and unique.
The bride, Benaisha an ink blue gown featuring a plunging neckline with intricate pichhwai work at the cocktail. The traditional craft work on her dress well complimented the Western silhouette giving it a special top spot in the latest designer Indo-western dresses.
Anita Dongre known for intricate gota patti and embroidery work has taken her design to the next level with this outfit which Benaisha coordinated with a Polki dangler and nude makeup.
5. Best of modernity!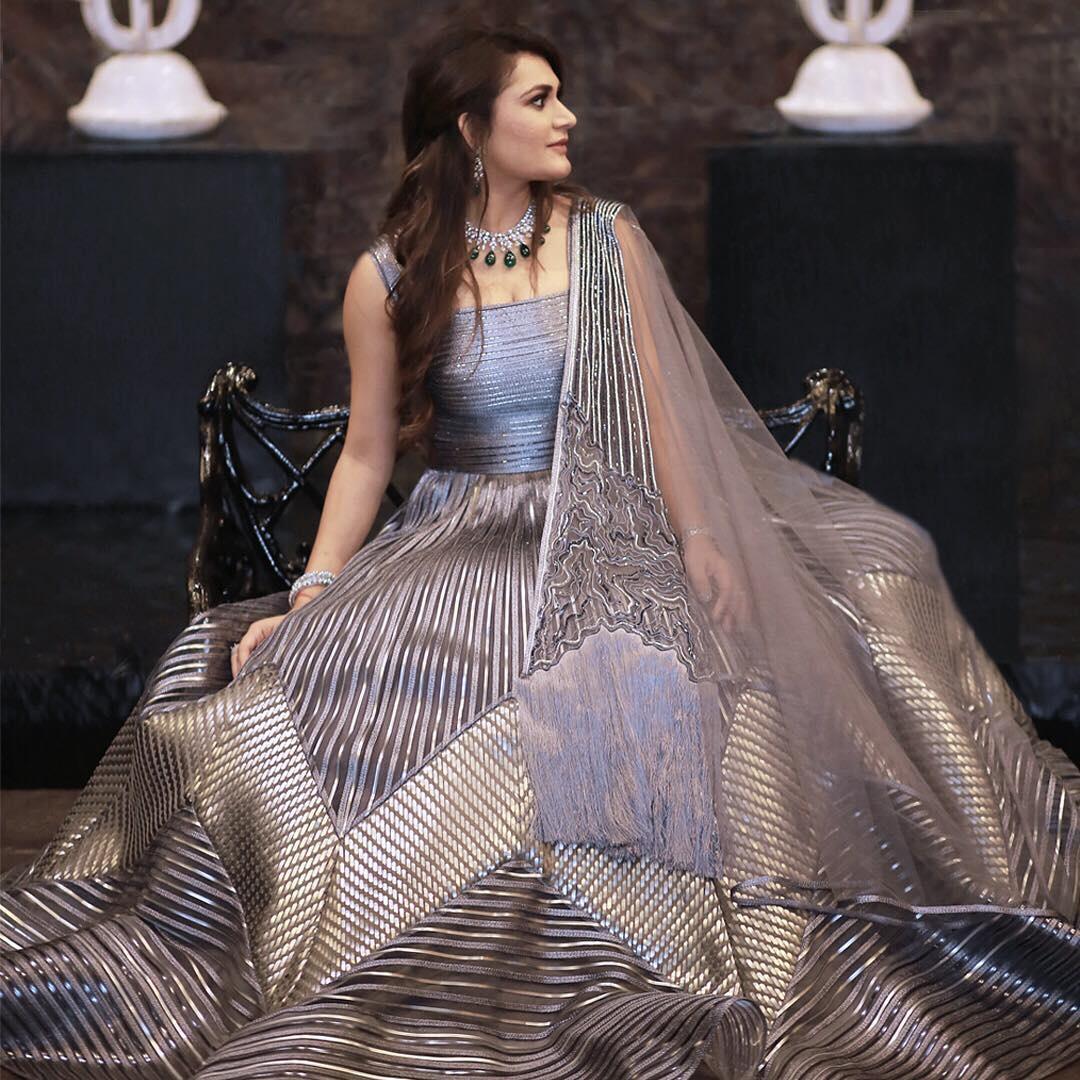 Image courtesy: Amit Aggarwal
While browsing through the latest designer Indo-western dress designs, we landed on another pioneer designers page on Instagram only to be amazed by the futuristic and yet traditional look.
There is nothing we have seen like this bride's latest Indo-western gown, this Amit Aggarwal couture dress made with a moulder bodice and their signature recycled polymer detail in linear patterns. The unconventional design complements tradition with modernity with its brazen silhouettes.
The bride said the dresses' light weight allowed her to dance all night. We love the diamond set the bride chose with a contrasting colour to add a pop to her outfit!
6. The royal look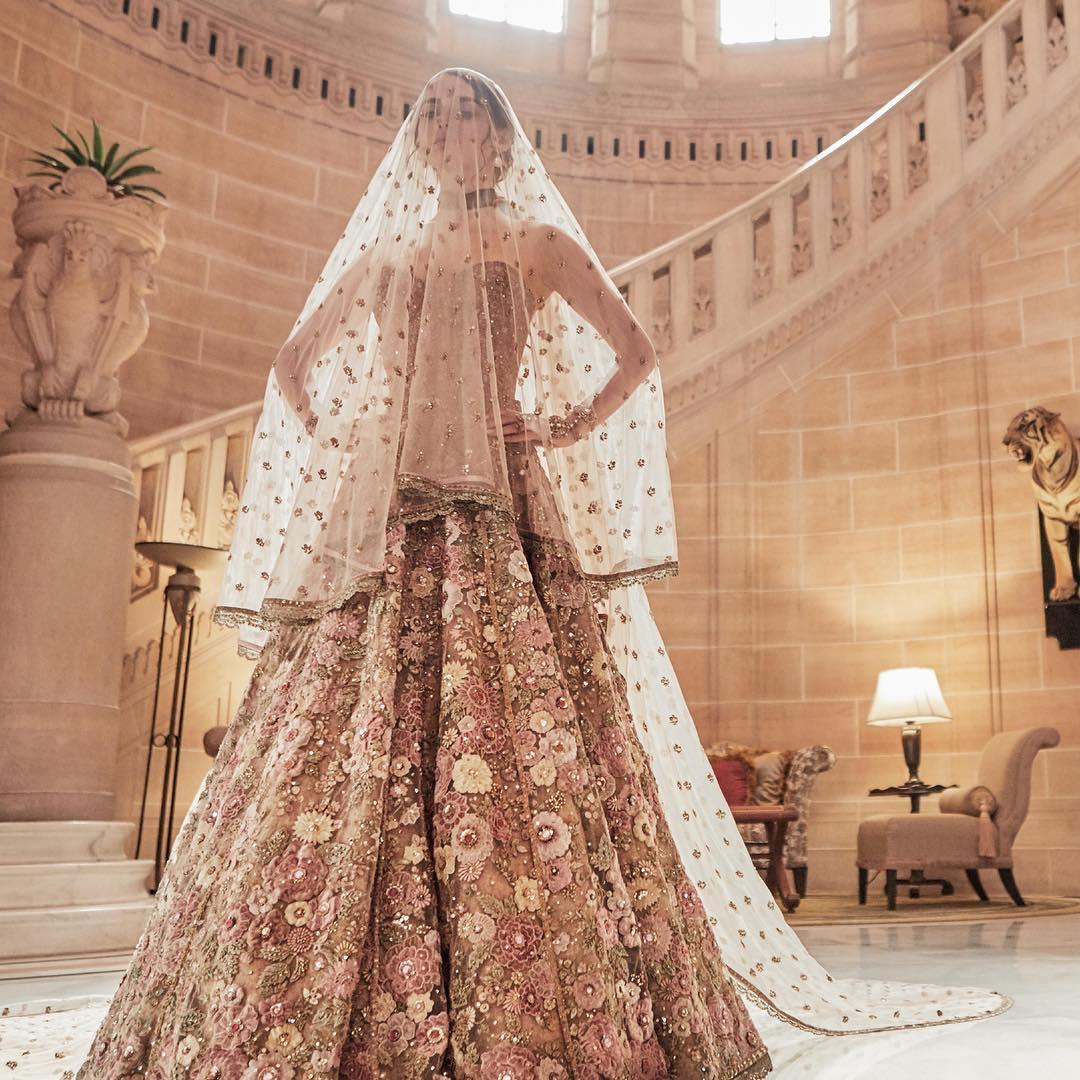 Image courtesy: Sabyasachi
While Sabyasachi lehengas were on every bride's wish list for the regal and luxurious look, the elite designer's latest spring summer 2019 collection Fiza made it possible for the bride to choose latest designer Indo-western dresses from his opulent collection.
With summer around the corner, the designer played with Khadi fabric, bright colours and sorbet hues. For the brides who swooned on Priyanka Chopra's western-style veil, we bear good news this season you can have your fairy tale wedding!
Moving a step away from the rectangular dupatta, he also has a western-style veil on offer. This strapless bodice embroidered gown emanates a regal, modern and summer vibe with the floral motifs running all along it.
With a few designers yet to release their latest collection, our eyes are constantly drawn to Instagram just looking to find the perfect latest designer Indo-western dresses. The colour palate, the intricate detailing, the modern silhouettes and the perfect amalgamation of two distinct fashion styles has got us lusting for more and we love what we have witnessed so far in terms of the designs.
We hope this list of latest designer Indo-western dresses got you too in the mood to sway with elegance and style at your function. Do let us know in the comments which collection you liked the most.