10 Ladies Juti Designs to Add to Your Perfect Pre-wedding Look
Are you looking out for some stylish ladies juti designs to up your style statement this wedding season? Check out this classy designs that will steal your heart away!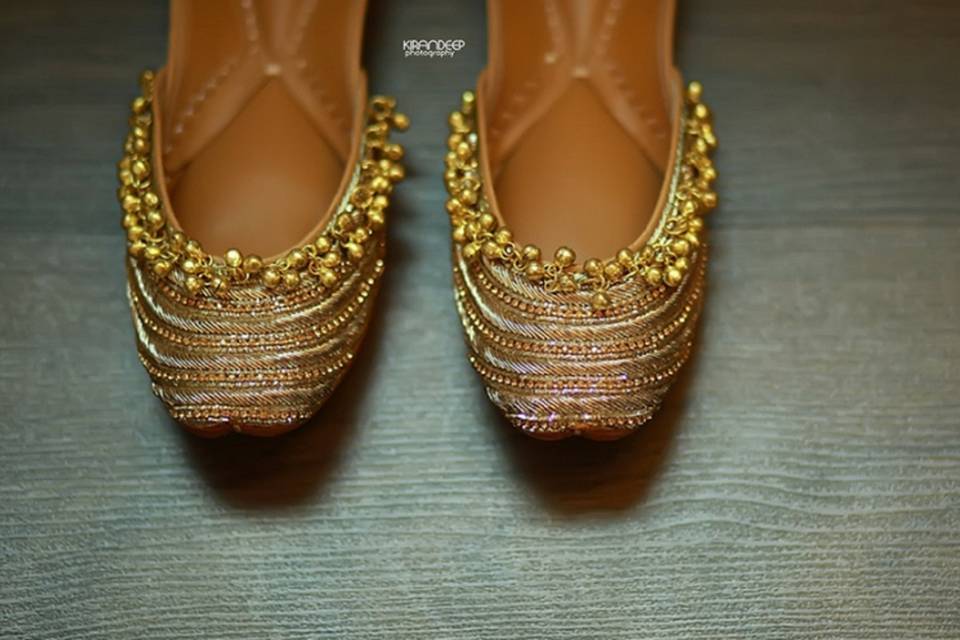 With the festive and wedding season coming up soon, going in for a traditional look is always a great idea. Along with your attire, you also need the right type of traditional jewellery, shoes and also those fabulous Potlis to go with it. Though heels look absolutely stunning with any traditional wear, we have to say the traditional styled jutis are not far behind either.
So, if you're planning for something comfortable and classy at the same thing then a pair of fashionable ladies jutis would definitely up your style statement. Right from embroidered pairs to stylish little tassels and embellishments, there are different varieties of jutis available in the market.
If you're looking out for some stylish juti designs to pair with your outfits, then here are some ladies juti designs just for you!
The blush pink vintage touch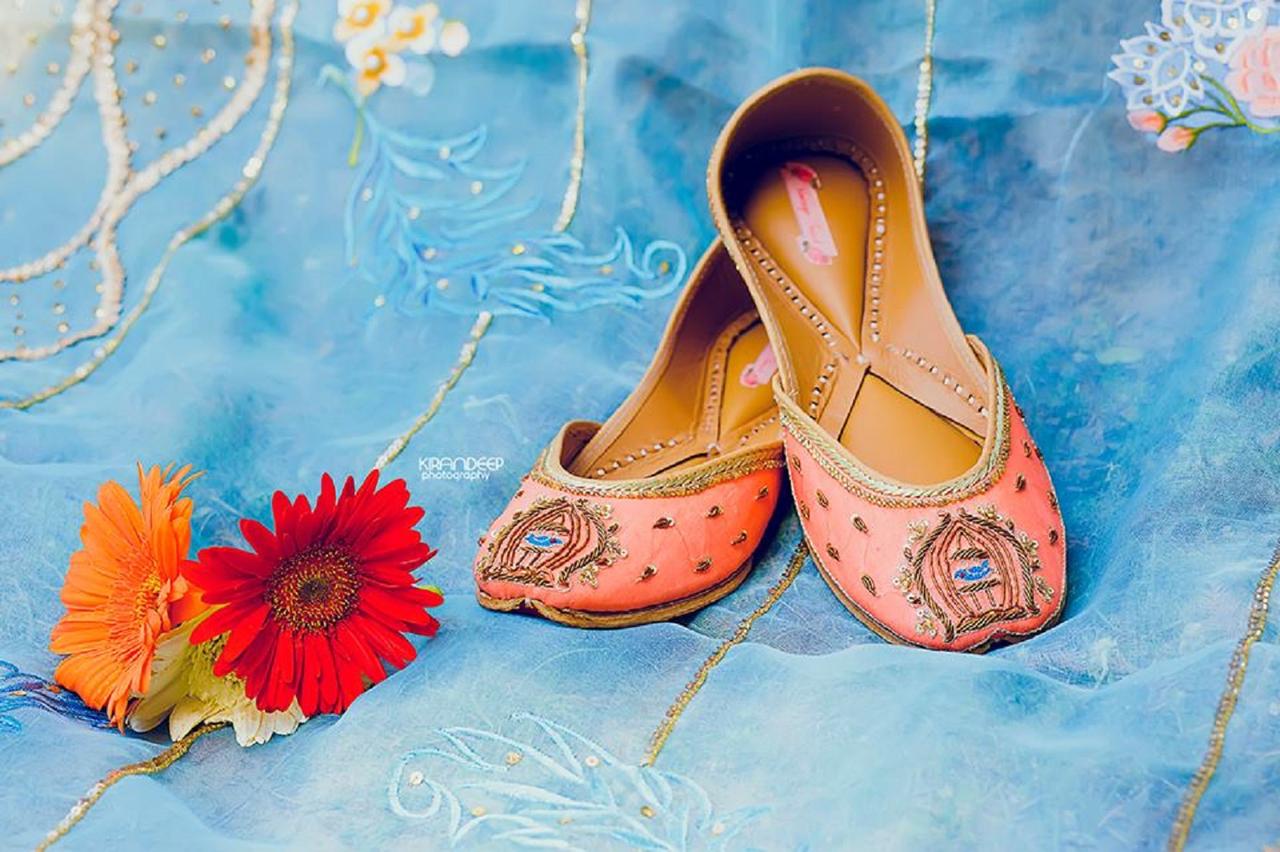 Nothing can beat that all-traditional look this wedding season, so go ahead and flaunt the best pair of ladies juti for an upcoming occasion. This blush pink pair of jutis comes with that vintage touch that's perfect to pair with your traditional attire like Punjabi suits and even those lehengas as well. Pink is a fantastic colour and when you have embroidered designs like this on your juti, you can simply take your outfit to the next level. Pair this with a beautiful dark pink traditional outfit and watch the whole look come alive!
Deep blue ladies Juti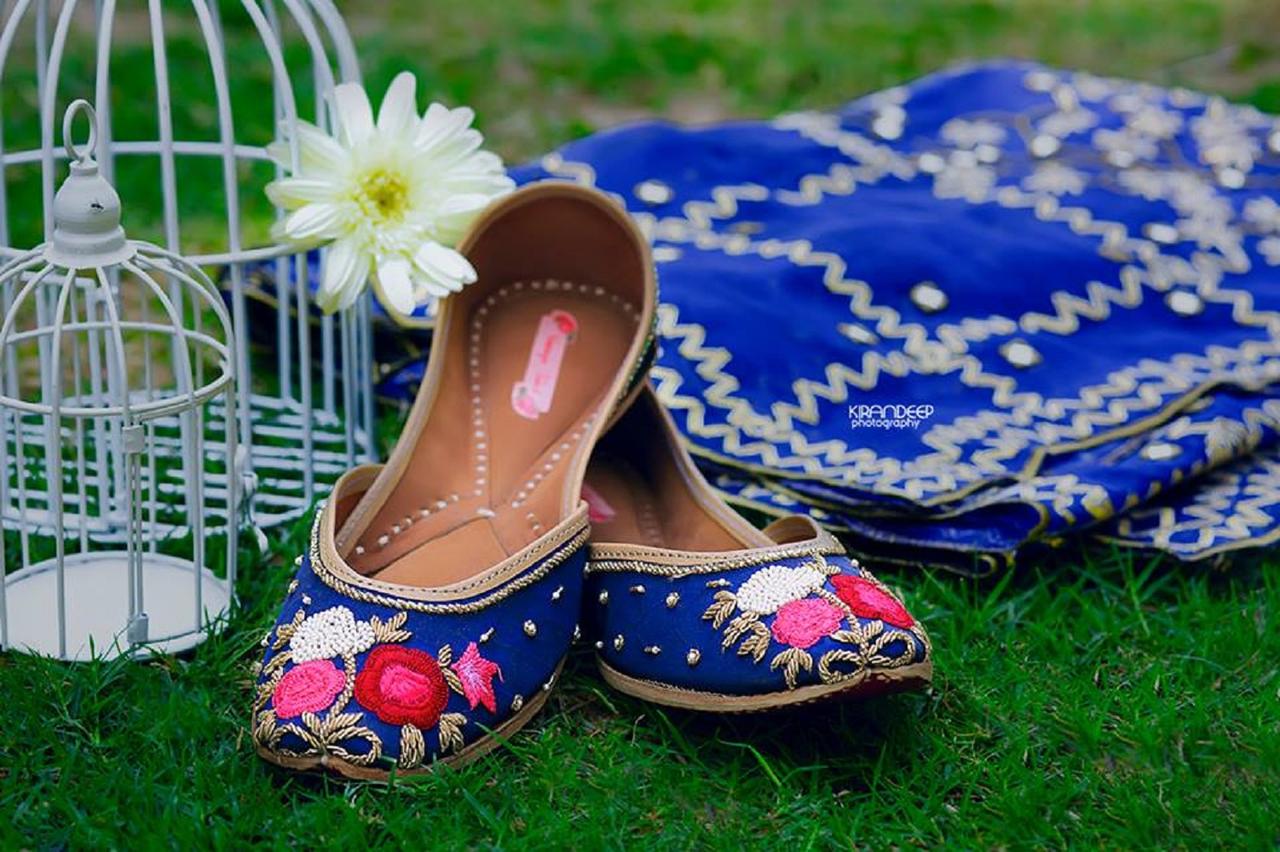 Do you have a lovely traditional outfit that you want to match up with a pair of beautiful jutis? Well, check out this awesome deep blue ladies juti design that you could get for yourself. This one comes in a superb dark blue colour and comes with a pretty design right in the front.
The design consists of beautiful floral embroidery work that's elegant and stunning. There are also little white beads placed beautifully all around the juti. The colours of gold, pink, red and white matches perfectly with the dark blue shade.
You could wear a pair like this with a pink, blue or even a yellow suit if you want your whole look to fall in place perfectly.
The pink Juti with pearls and gold embellishments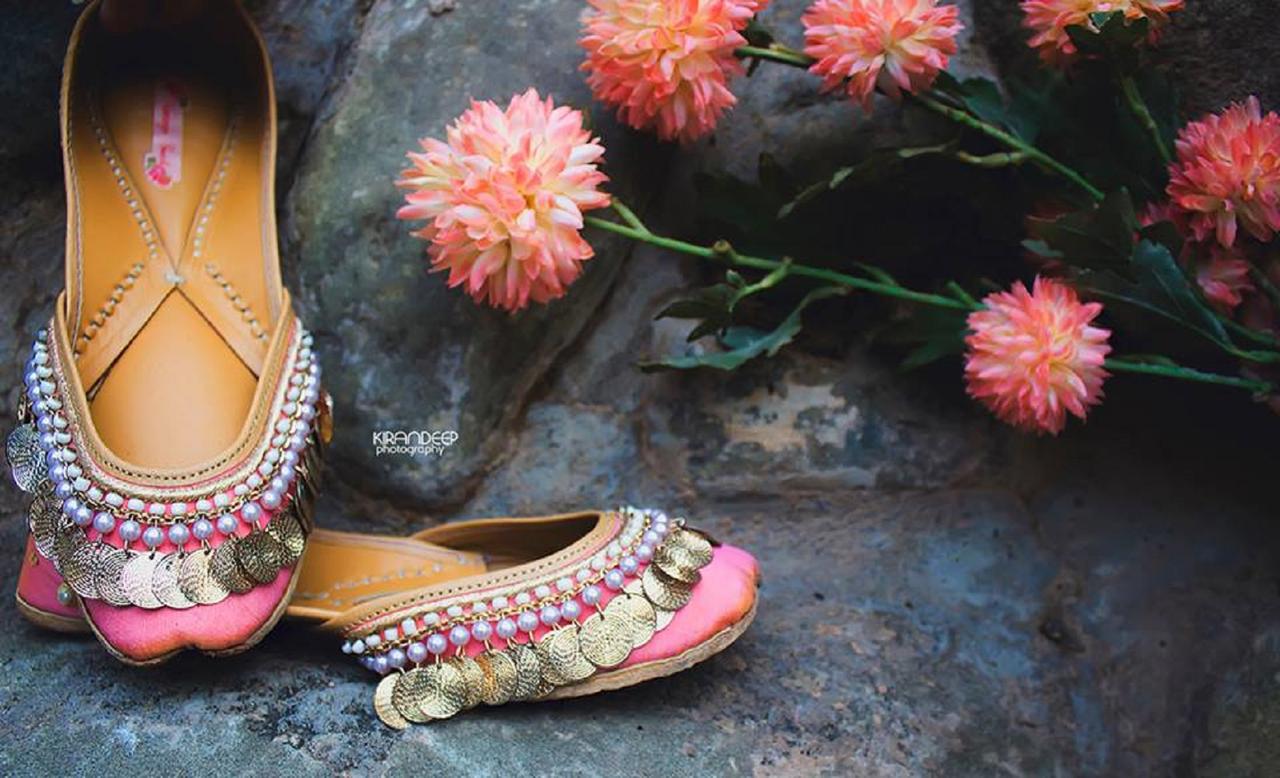 Do you love that beautiful sound of Payals? Well, you can get that same sound when you wear a pair of juti just like this. This is a pretty light pink ladies juti that's so stylish and trendy. It comes with little white beads placed all around the juti and little gold trinkets hanging beautifully from the beads. Elegant, unique and stylish is how we describe this fabulous pair of jutis. Wear it with your traditional attire for any occasion and make heads turn every time you walk around!
The beautiful pink Juti with beads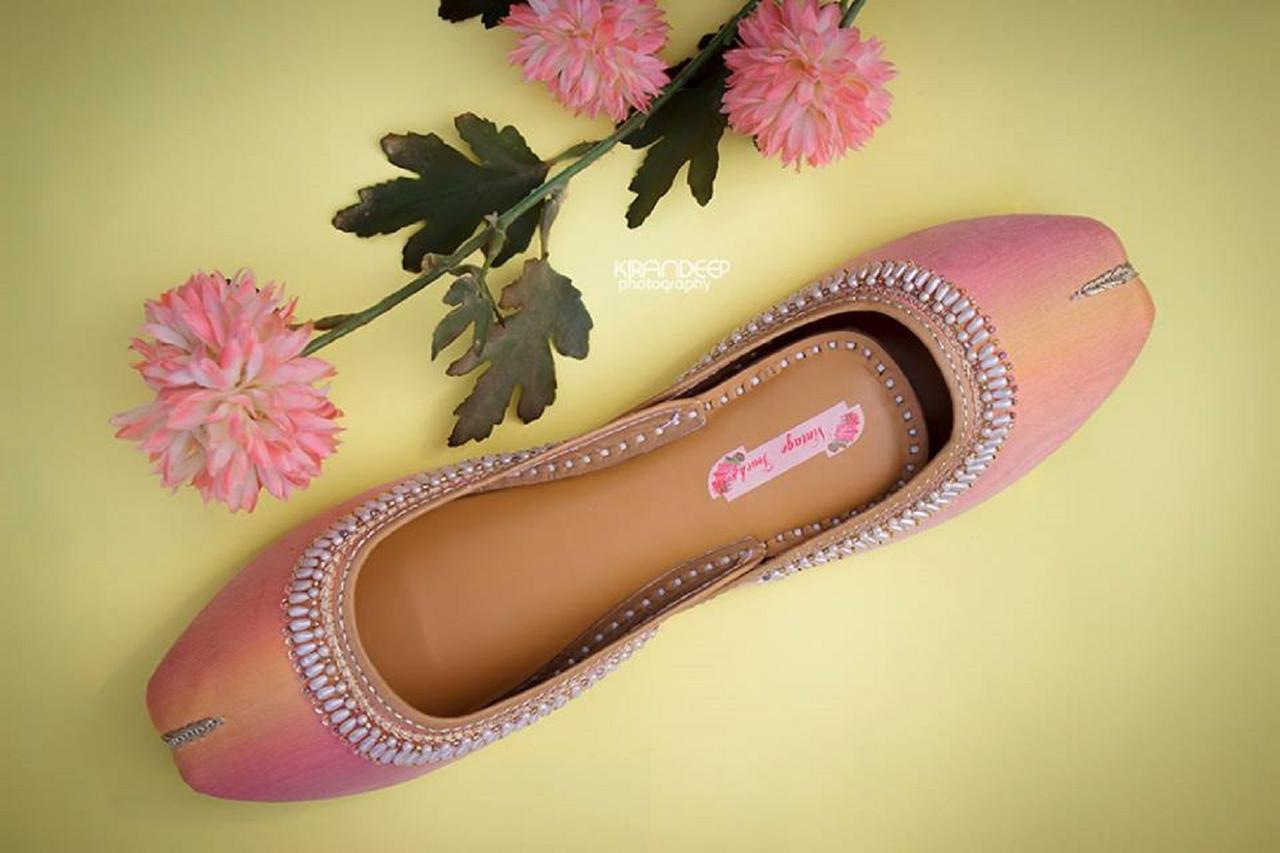 If you want the simple look when it comes to a pair of jutis, then check out this stylish ladies juti that's perfect. Again, a beautiful pink pair that doesn't come loaded with a lot of designs and embellishments. It's a simple pattern with little beads running through. You could wear a pair like this with all your Punjabi suits. With a pair like this, you get comfort and class at the same time.
The gorgeous embroidered Juti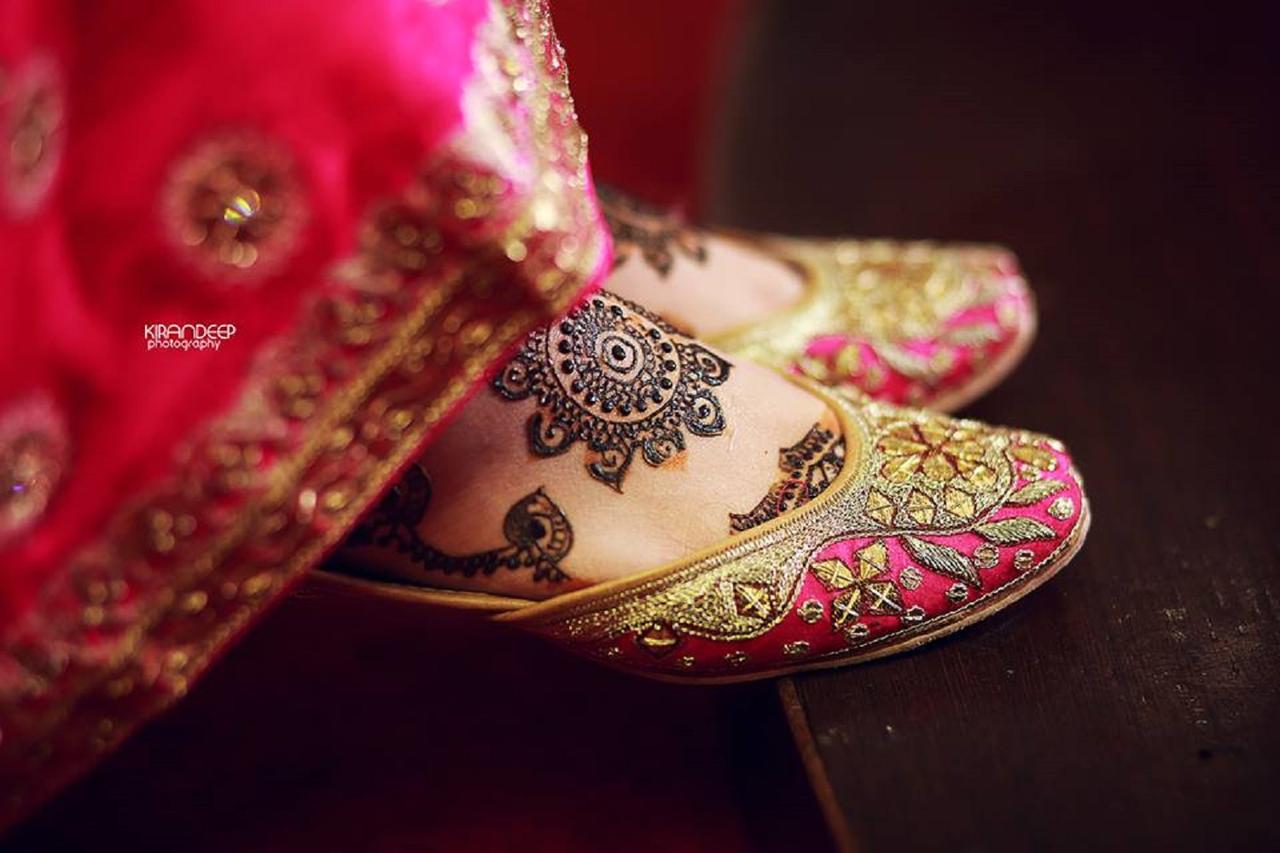 When it comes to ladies juti, the first thing that comes to mind is beautiful embroidery work all around. And this juti design proves just that. There are many different embroidered designs available in the market that you could choose from. Right from coloured threads to the beautiful gold threads that steal the show. Take a look at this rich embroidered juti that's perfect for any grand occasion. The gold threads used on the pink fabric just blends so well today, making the juti pop out beautifully.
The lovely sky blue Juti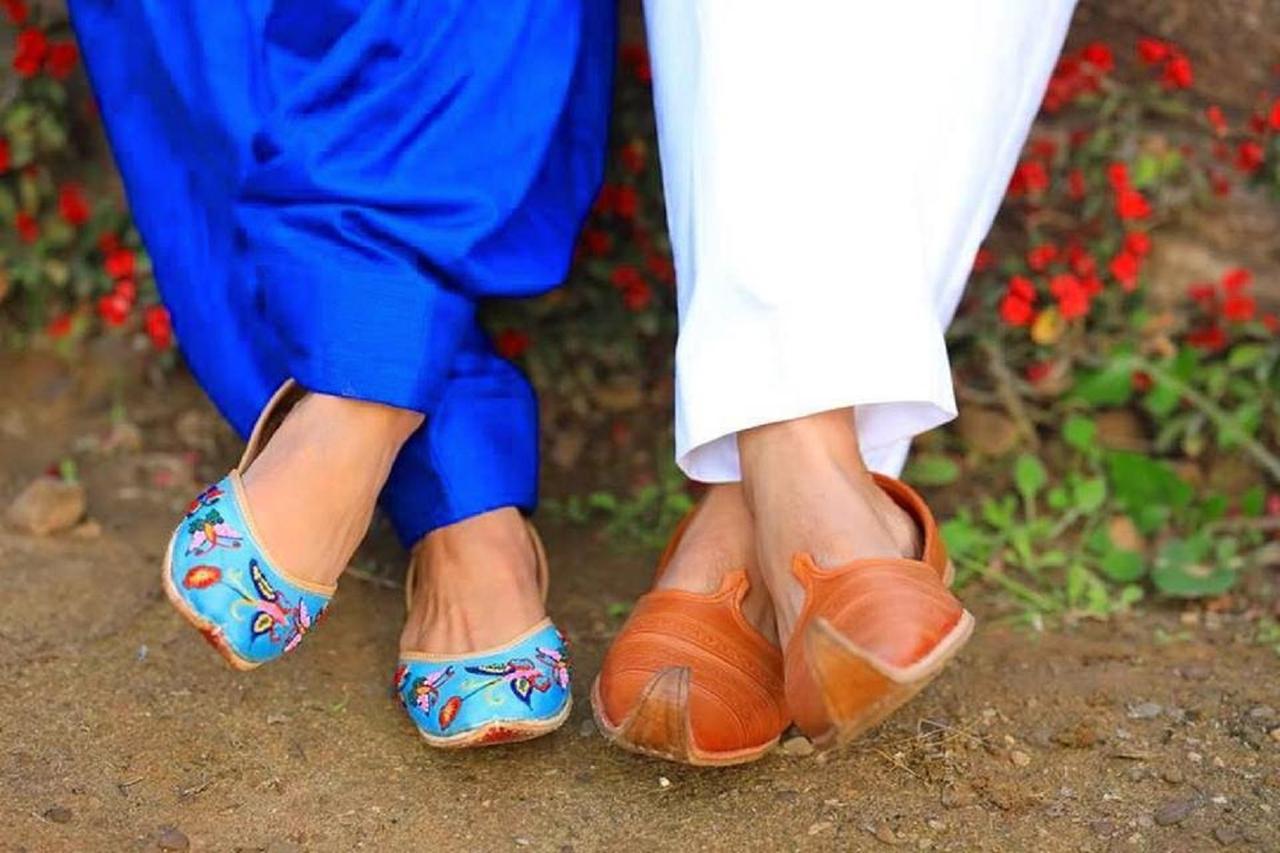 If you have a pretty dark blue Punjabi suit or even a yellow one, go in for a pair of light blue juti just like this. This pair comes with lovely embroidery work of flowers and butterflies in different colours. Elegant and stylish, you could never go wrong with a juti pattern like this. Add on some traditional jewellery along with your Punjabi suits and your whole look will fall in place within minutes!
The perfect orange Juti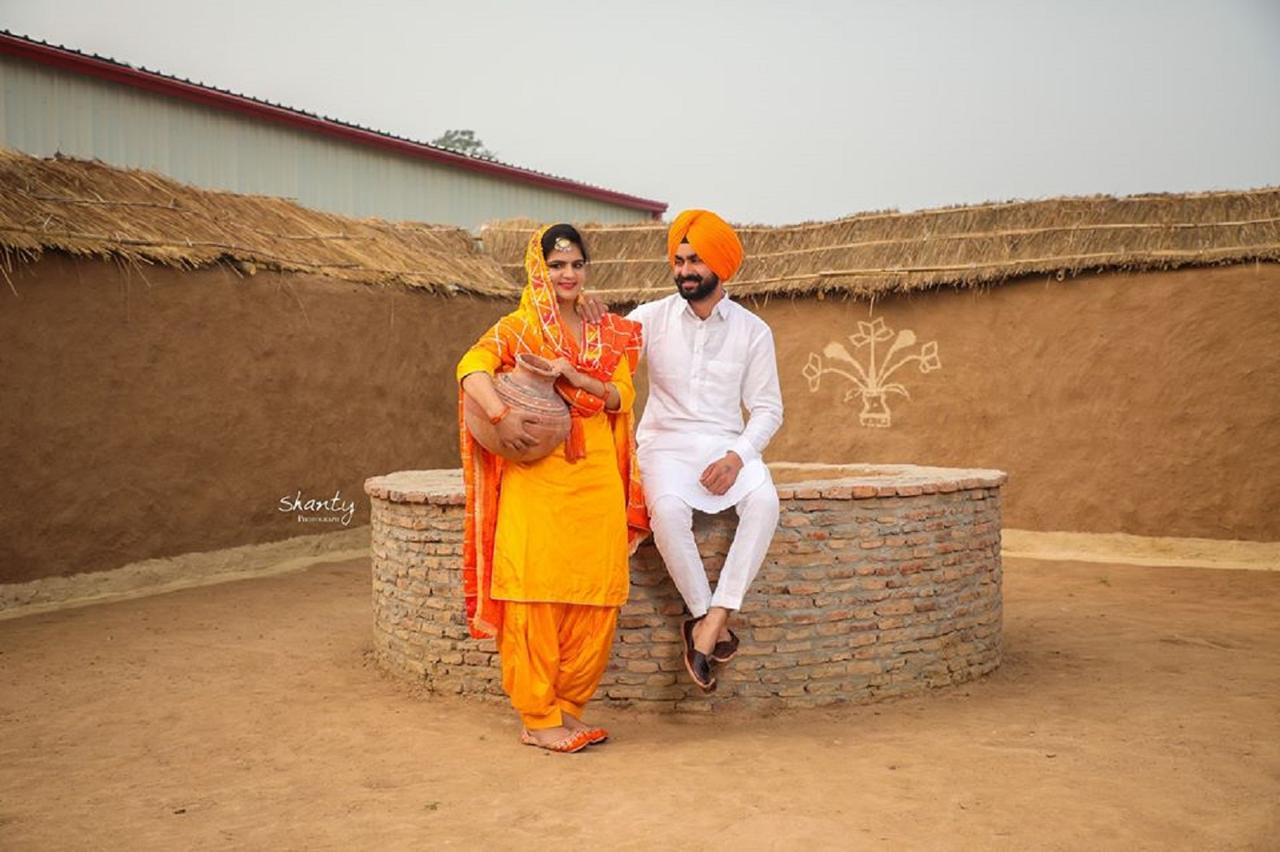 Yellow and orange is a perfect colour, especially if you're having a pre-wedding shoot that requires bright colours. You could wear a yellow Punjabi suit just like this and match it up with a pair of orange embroidered ladies juti and a perfect orange dupatta. Going in for a pair of lovely juti is always a good idea when you wear traditional attire.
Stunning pink Juti with pretty gold tassel design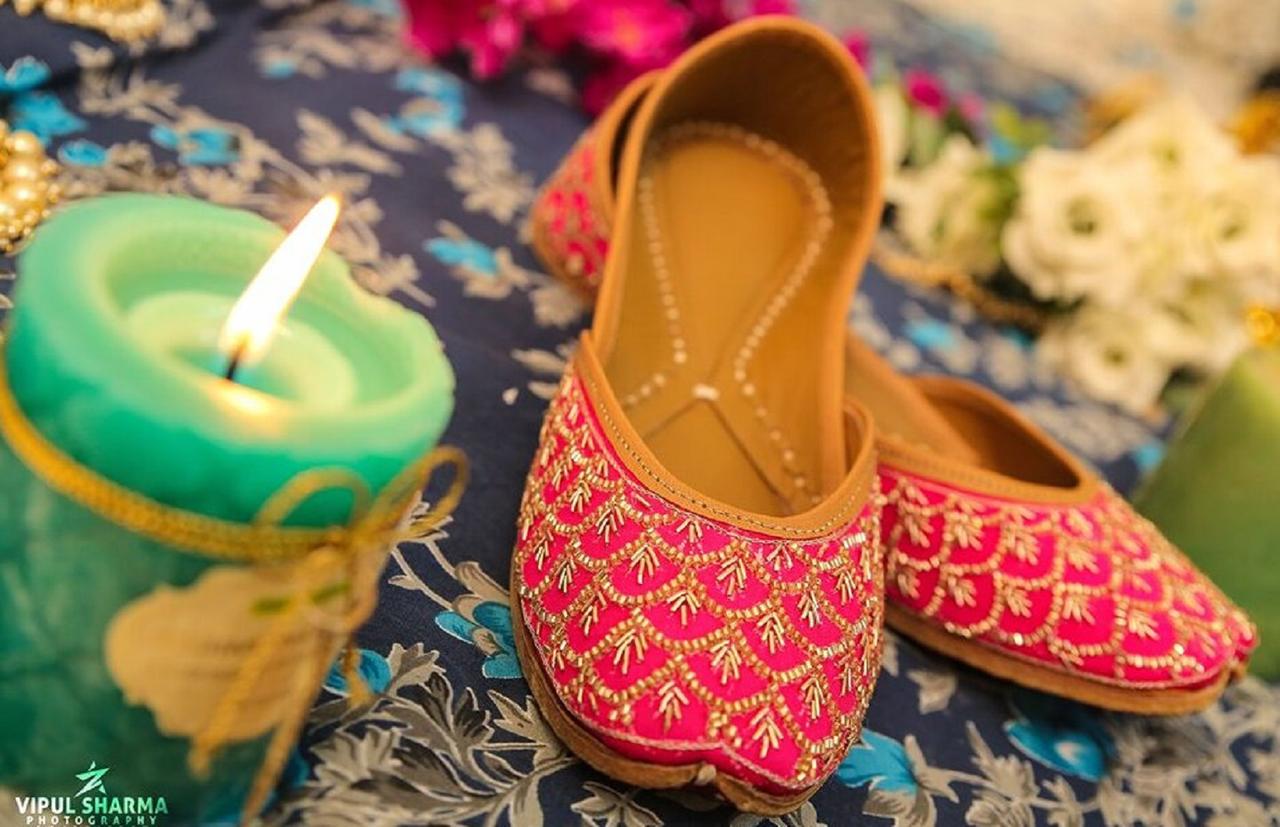 This is a pretty pink design that looks extremely stunning. It comes with a beautiful gold pattern that brings out the best in this ladies juti. The pattern consists of a curved and tassel design that's done to perfection. Wear this with all your traditional outfits to look super stylish and gorgeous.
Classy yellow Juti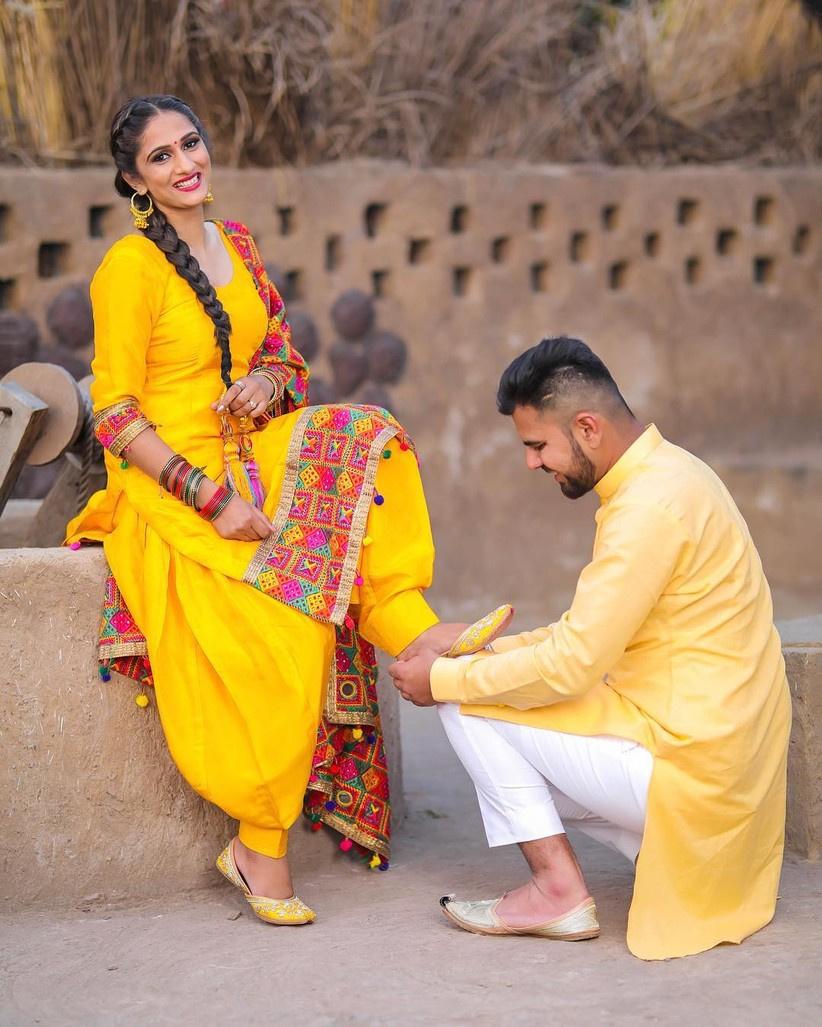 A classy yellow juti is all you need to look super stylish for a grand occasion. If you're planning to go with bright colours, then yellow is the perfect colour. Check out this awesome shade of bright yellow juti that's perfectly matched with the yellow Punjabi suit.
If you wish, you can get your ladies juti customized as well. This to-be bride has gone the personalized route and customized her juti to match up with her Punjabi suit. The design of the suit and the juti is exactly the same, and wearing something like this for your pre-wedding shoot is a fabulous idea!
To complete the look, she has worn a lovely set of yellow and red bangles, along with a big Maang Tikka, nose ring and earrings, while her feet are adorned with a beautiful pair of Payals. Waste no more time and get your ladies juti customized too!
The stunning pink floral Juti design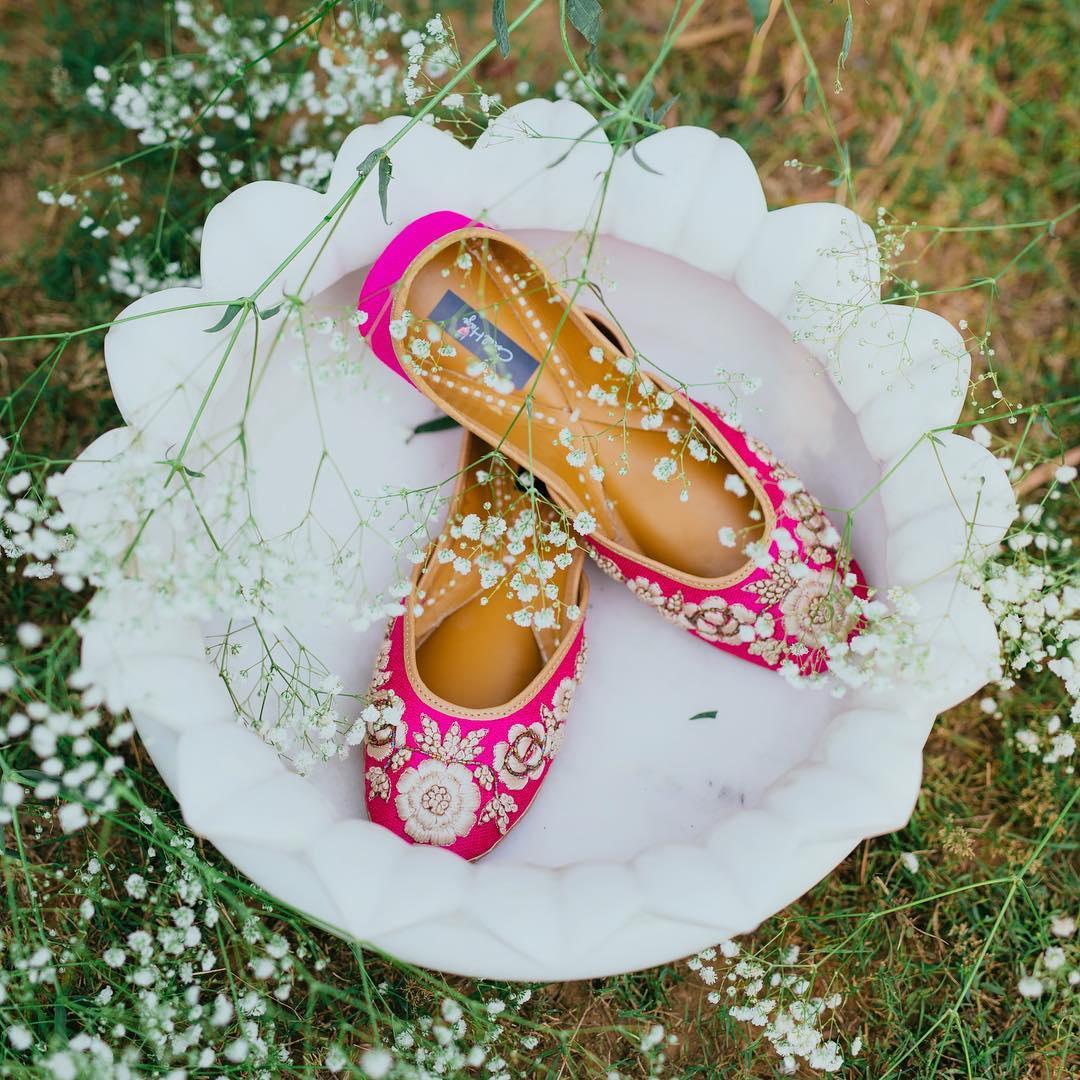 Image Courtesy: Beginnings for You
This is another fabulous pink ladies juti design that has everything to make it a perfect buy for all your traditional occasions. This pair comes with a really rich look that would look good on all your traditional outfits. It comes with a classy floral design that sits perfectly on the pink fabric of this juti. The floral pattern used here is intricately done to perfection. What brings out the best in this design is the pop of the white floral design that is simply unique and traditional at the same time.
These were some of the best ladies juti designs we found just for you that will help you get the best look for all your occasions. So, go ahead and choose the perfect pair of juti to suit all your traditional outfits.
Make sure you get the best look for your big day functions. Get in touch with our vendors for all your wedding day planning needs.