How to Make Invitation Cards Using Diy Ways for an Indian Wedding
Planning to make your own DIY wedding invites or probably looking for ways to add that wow factor to your wedding cards? Here, we show you how to make invitation cards for the wedding real easy.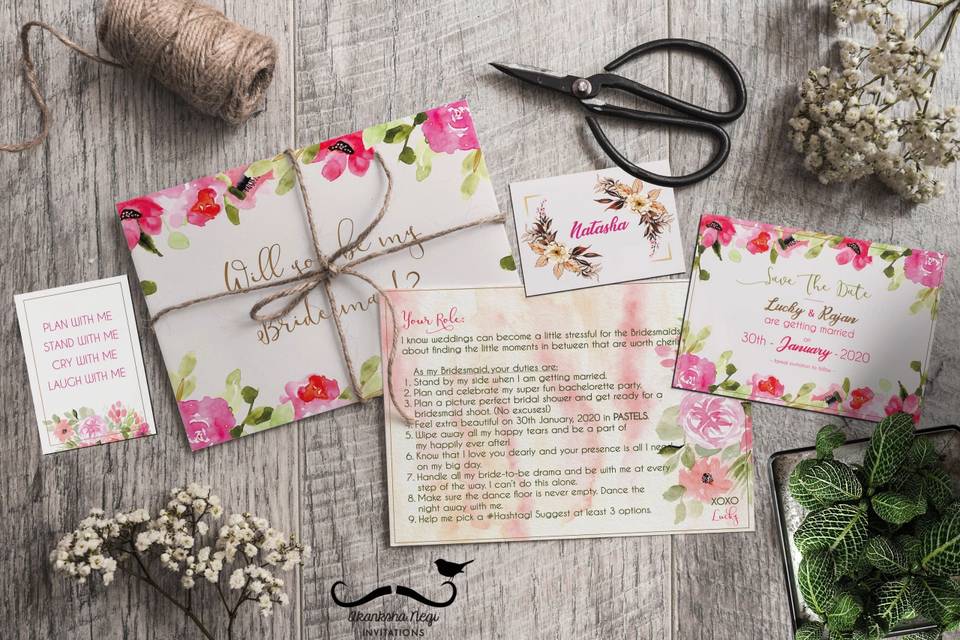 If you are a fan of DIY projects and love doing things on your own, then you're at the right place. Planning a wedding can be a very expensive affair. Right from booking up the venue to decorations, catering and designing your wedding attire, a wedding can easily go way above your budget. So why not lookout for ways where you could cut down on your wedding expenditure?
Some of the ways you could save some money would be settling for artificial jewellery or designing your own wedding invites. Talking about wedding invites, there are plenty of ways to do it on your own. You could use an easy budget, DIY options and card maker tools to help you design your own wedding invites easily at home. Yes! You heard that right. No visits to a card designer or spending way too much money. So without wasting too much time, we'll show you how it's done.
Put a pretty ribbon on it
The first step on how to make an invitation card for a wedding would be using colourful ribbons. We cannot stress enough about the wonders of pretty ribbons when used to decorate just about anything. Use colourful ribbons when making your own wedding invites. It's the perfect way to add that extra touch to your invites. It's also a great way to hold together RSVP cards, Mehndi and Sangeet invites and even travel information. Check out this video to learn how to add a bow to your wedding invites.
Make creative edges
Another way how to make invitation cards for the wedding is to use creative edges on your wedding invites to make it look all fancy and pretty. For this, you could use a stamp cutter or even a special punch with different designs for that extra touch. These are easily available in different designs and sizes online or get one from your local craft store.
Use calligraphy
If you really want to make an impact on your wedding invites writing is important. Hence, using calligraphy for your cards could be one of the best things you could ever do when it comes to your wedding invites. You could register for calligraphy classes or even use the DIY tutorials available online to learn calligraphy a few months before you start on your wedding invites.
Add that splash of colour
This is another easy way on how to make an invitation card. Recreate your wedding invites using beautiful watercolours. Give your cards that awesome watercolour wash for a very expensive and arty look!
Add a touch of gold
Gold and wedding cards definitely go hand-in-hand, especially if your theme is going to be gold and white. Adding a gold touch to your wedding invites can create that much-needed glam look to your invites. Use the gold foil idea to create beautiful edges on your cards, and envelopes.
Tags & twine
Do you love that classy rustic look? If you do, then you could add the look to your wedding cards as well to make it look fantastic. The rustic look has become very popular today, even when it comes to home décor with beautiful baskets and other items becoming quite popular. Take a look at how to make an invitation card using the rustic look ideas.
Go for envelope liners
Go ahead and make your cards look prettier by using beautiful, creative envelope liners to make your cards really stand out. You could simply print out different designs and stick them right on.
Embossing is the way to go!
Get yourself personalised embossers in order to make your envelopes look really expensive. It gives your invite a very elegant touch that will definitely impress your guests. You can even purchase custom ones online as well.
These were some of the ways on how to make an invitation card using these simple DIY videos and ideas. There are plenty of different ways to make your own wedding invites. Simply search for easy DIY tutorials to learn the many ways to create the best wedding invites using your own imagination and creativity.
Hope you found these helpful, if you're running out of time and would like to order your cards instead, then you could do so by getting in touch with our wedding invitation vendors for the best designs.