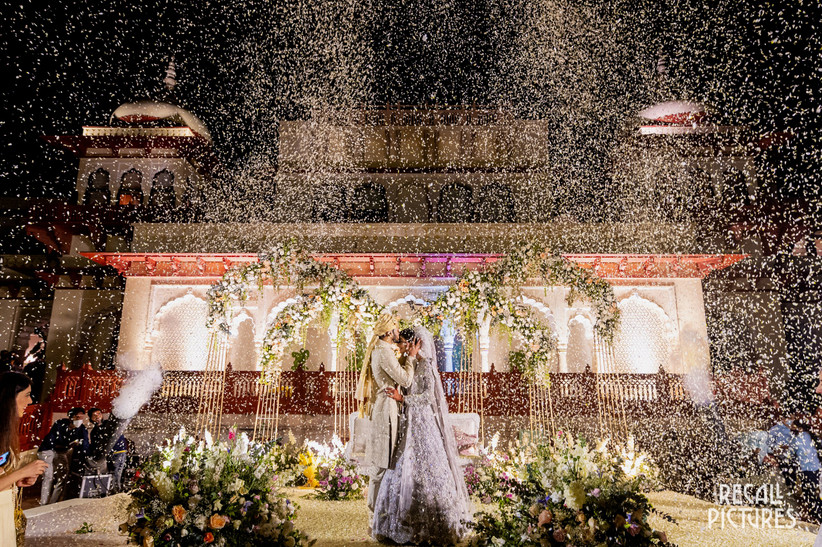 Fashion and luxury blogger Hanna S Khan married her longtime beau Shahrukh Merchant on the 3rd of March, 2021. The Pink City, Jaipur's historic and palatial wedding venues Jai Mahal Palace and Rambagh Palace played host to their dreamy wedding. Her wedding quickly became talk of the town after the mesmerising photos of her Nikah ceremony and reception, set princess wedding goals for millennial couples.
Let us delve deeper to know the essential deets of their love narrative. A narrative full of love, fondness, moments made special with the presence of dear ones and a wedding story which was celebrated in regal splendour.
Their Meet-Cute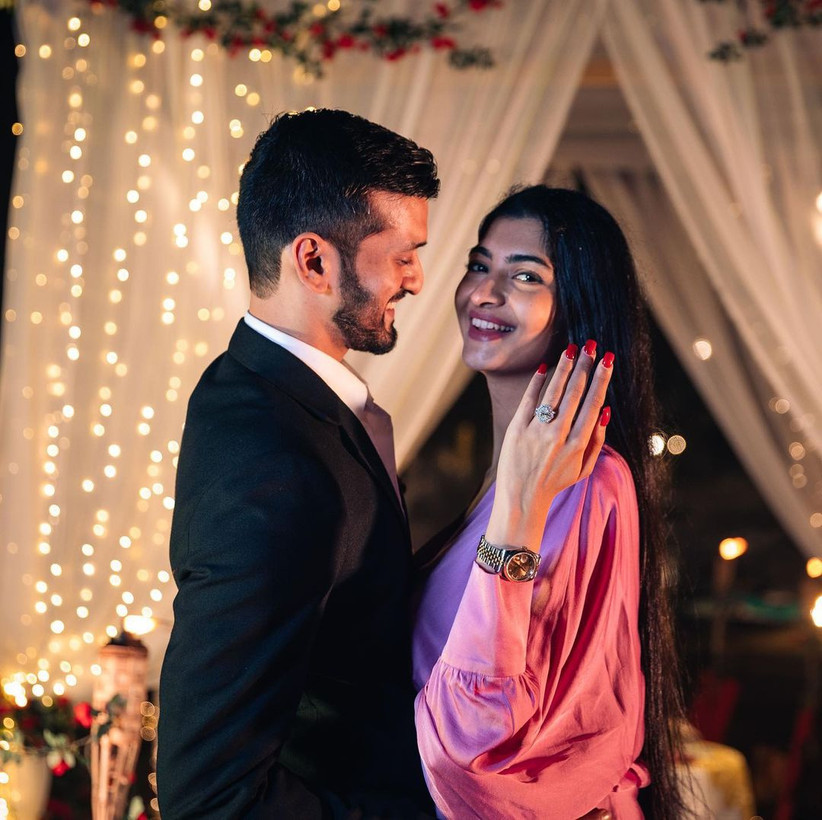 Image Credits - Hanna S Khan
In an exclusive interview we asked Hanna Khan about their cupid struck moment. Hanna Khan shared, "We spoke on Facebook 4 years ago and I stopped replying to him as he asked me out on a date suddenly. I stopped speaking to him and we then went on in our lives and were finally reconnected again through a mutual friend and I feel it was just destiny. What happened next? It's just history."
Their Destination Wedding Venues
The duo chose Rambagh Palace and Jai Mahal, Jaipur as their wedding destinations. Choosing the perfect venue is an essential step to unravel a couple's wedding dream. Hanna shared, "Initially, we intended on planning the wedding in Bahrain. It had to be postponed due to the ongoing pandemic and Jaipur just happened to us. I'm so glad cause it was just magical. Fun fact, my parents also had been to Rambagh Palace for their honeymoon so that's just an added special vibe. We're also of Rajput lineage so it felt closer to our roots. Having the wedding functions divided between Rambagh palace and Jai Mahal was quite a frenzy, but the wedding team and Mpire Events along with the palace allowed us two fold the grandeur we couldn't have even imagined. The entire team at Rambagh palace and Jai Mahal palace were extremely hospitable as Taj properties are known for the same."

Pre Wedding Ceremonies
Haldi Ceremony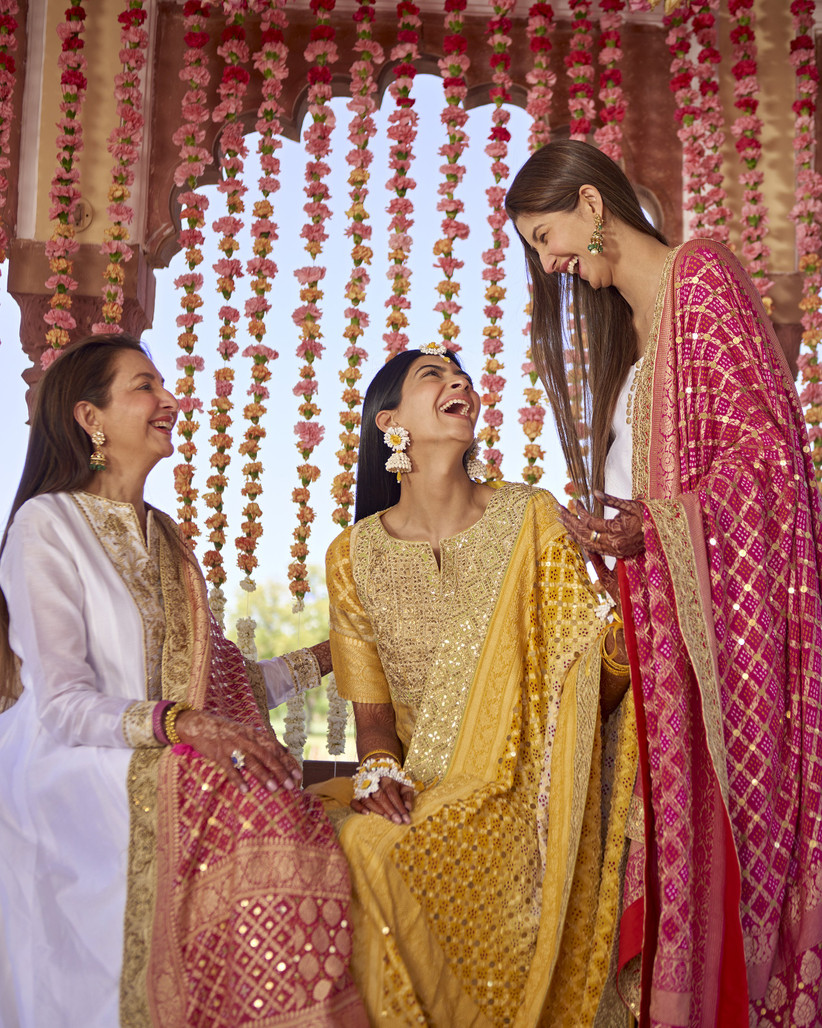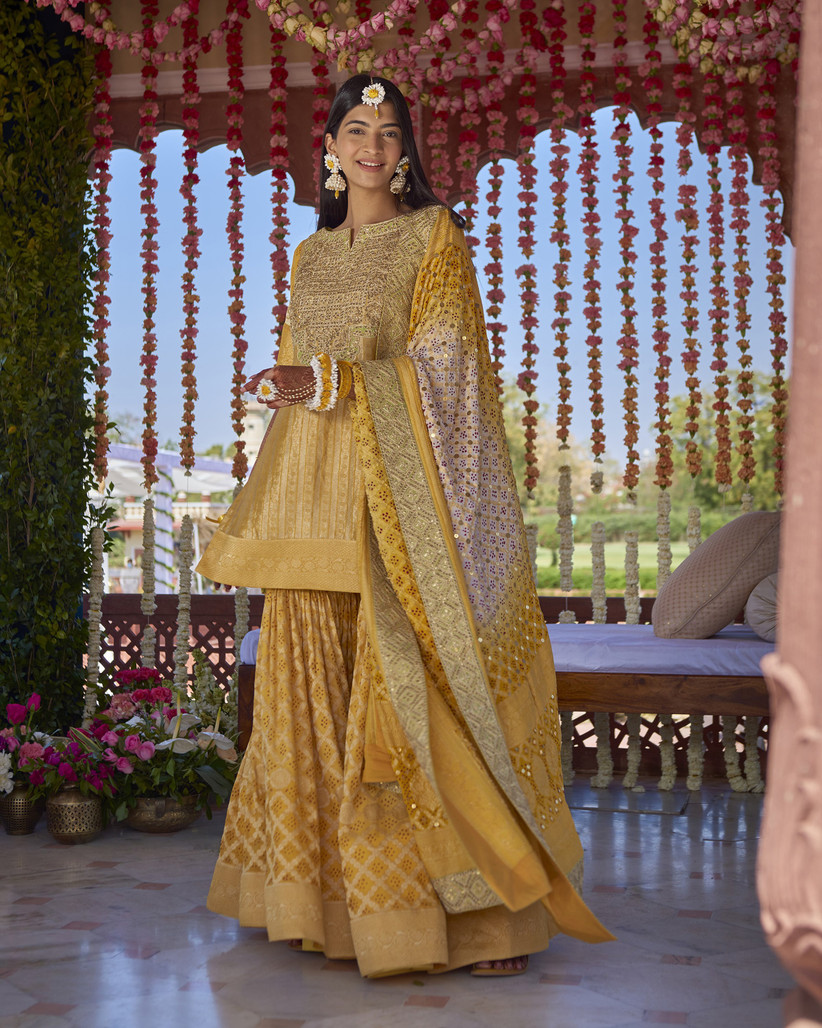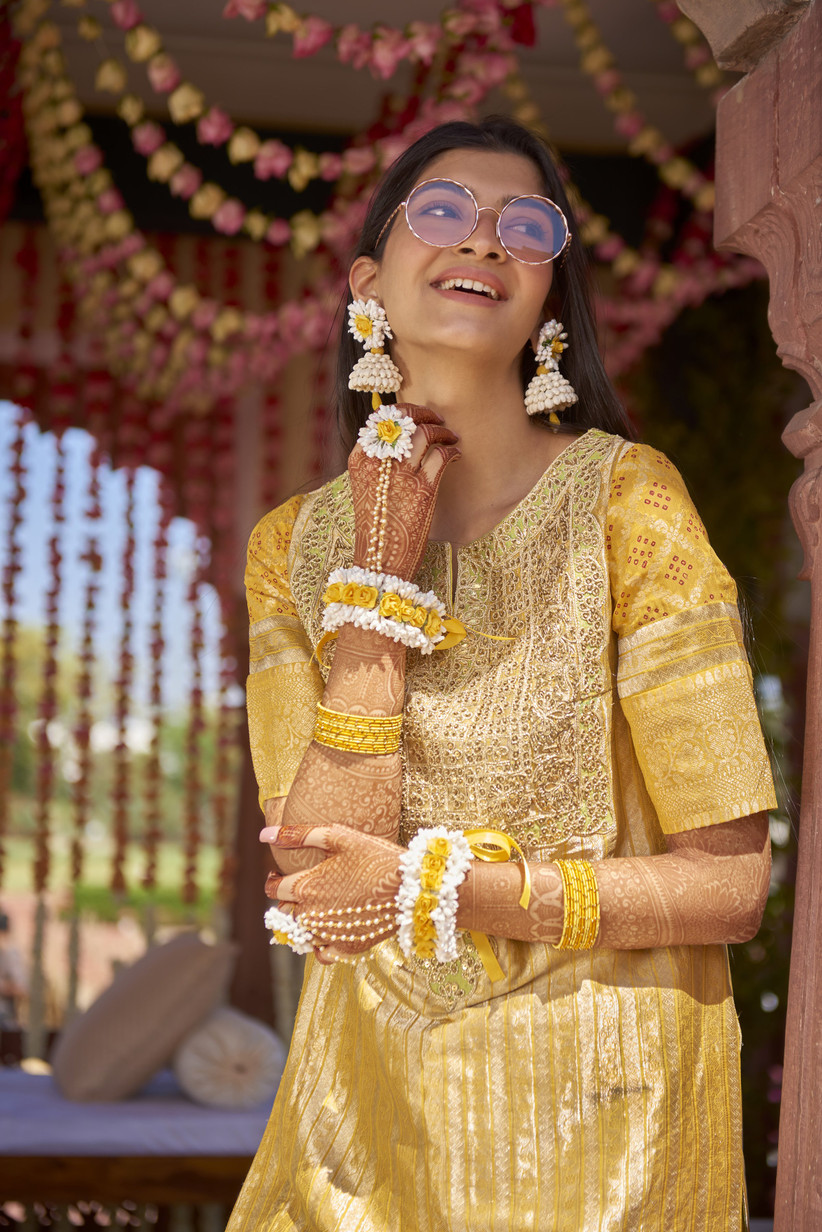 Hanna was cladded in serene simplicity whilst wearing her yellow traditional attire. She wore Ohaila Khan's outfit and carried it flawlessly throughout the ceremony and the shoot. Hanna stuck to the traditional theme of wearing yellow for her Haldi and an offbeat red lehenga for the mehndi ceremony. Ohaila designed the outfits carefully keeping in mind Hanna's preferences and taste ditching the similar looks and going for an unconventional bridal look that is closer to Hanna's liking. In the above pictures, she looks happy and content with her better-half and family. The floral jewellery by Floral Art by Shristi further elevated her beautiful persona.
Mehndi Ceremony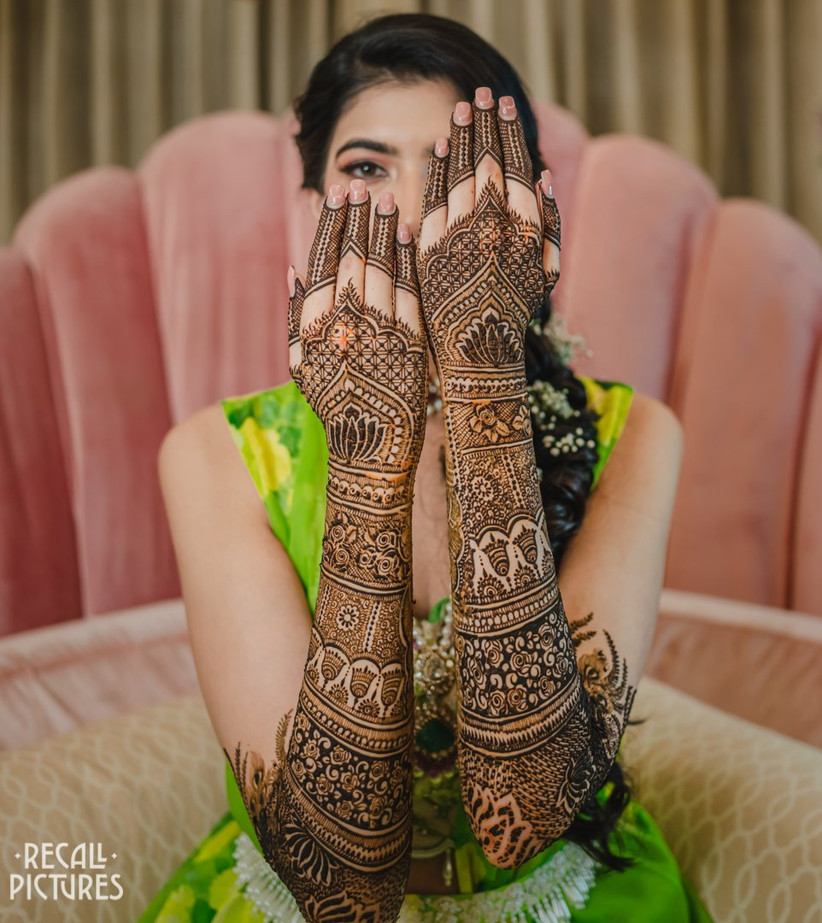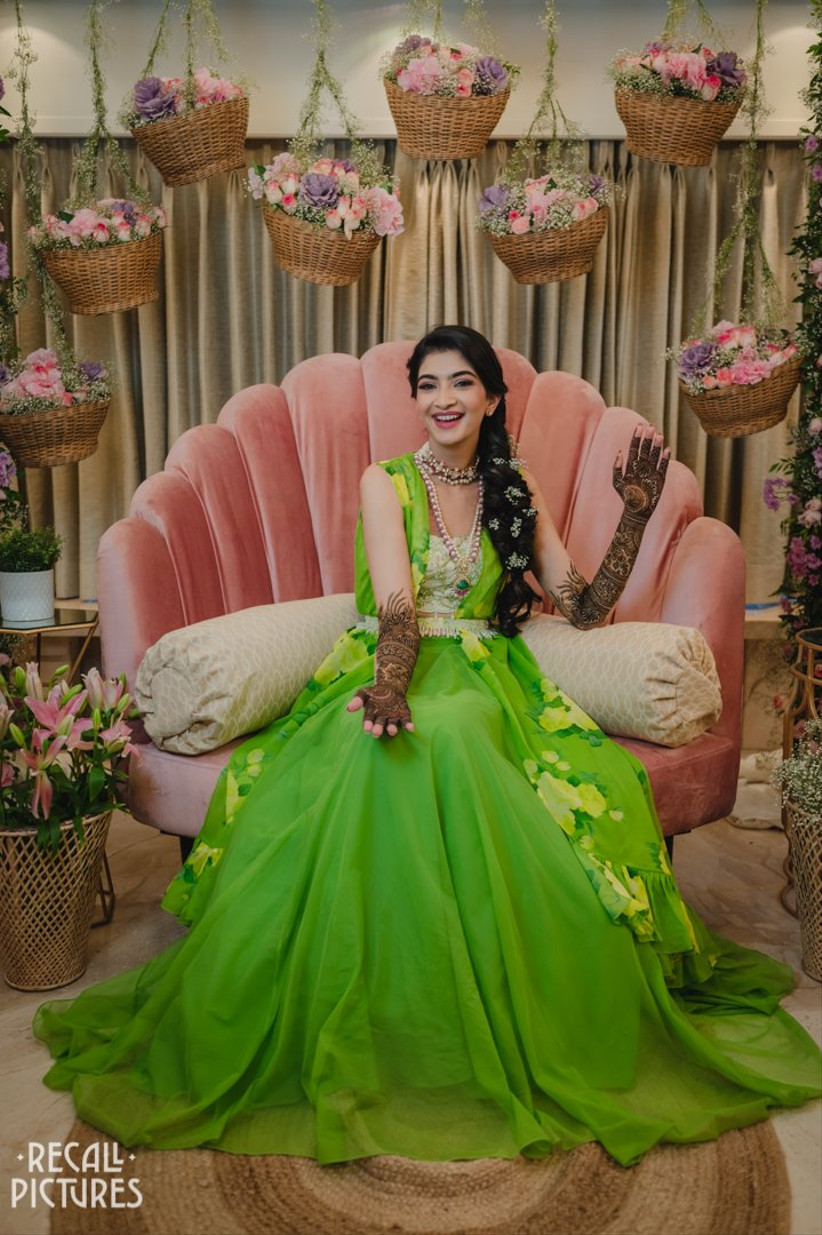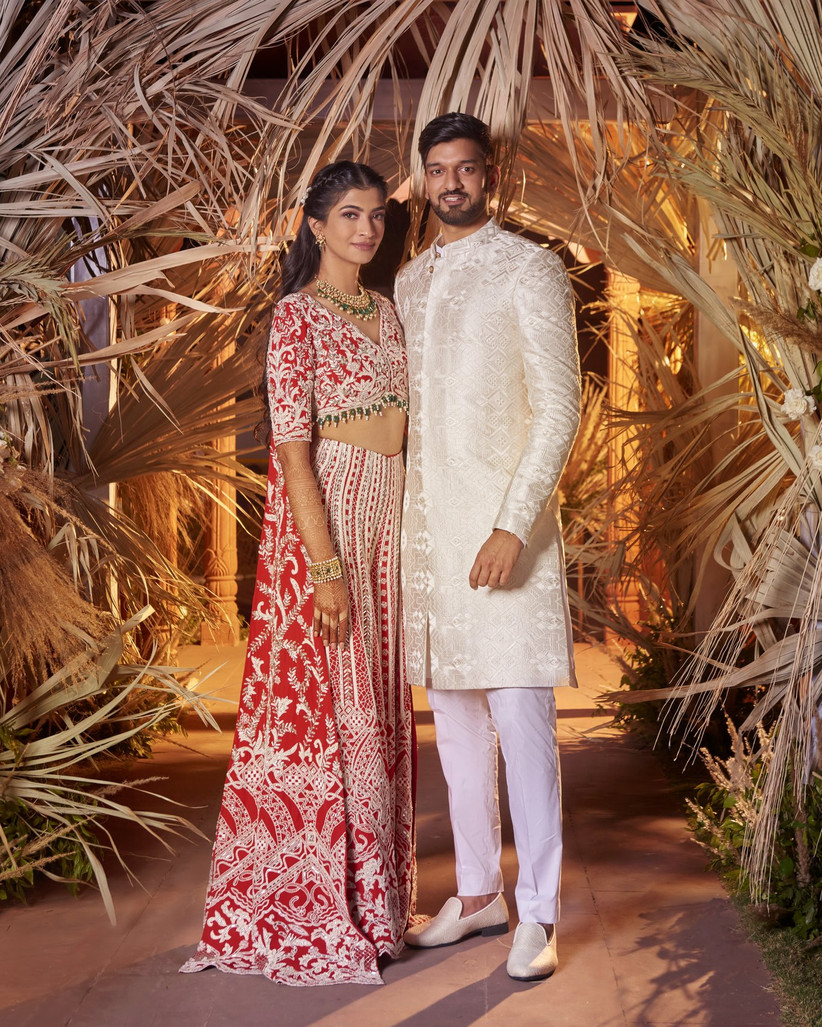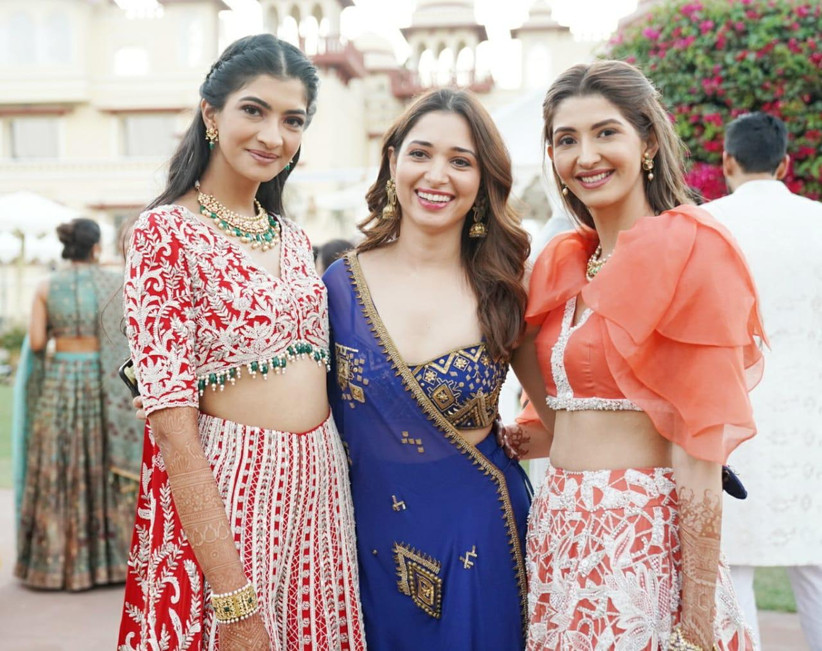 Tamannaah Bhatia & Ohaila Khan at Hanna S Khan's wedding
Here Mehndi Ceremony was an extraordinary affair. In the pictures, we saw Hanna posing gleefully with her elongated long dulhan mehndi design. She wore a breathtaking green gown which was designed by Neha Chopra. Later on, she was dressed in a regal red lehenga by Ohaila Khan. Her husband looked dapper in his white traditional attire. The duo were in sync with the royal theme of the venue. Ohaila Khan, Tamannaah Bhatia, Hanna S Khan were also seen posing cheerfully in the mehndi pictures.
Nikah Ceremony & Reception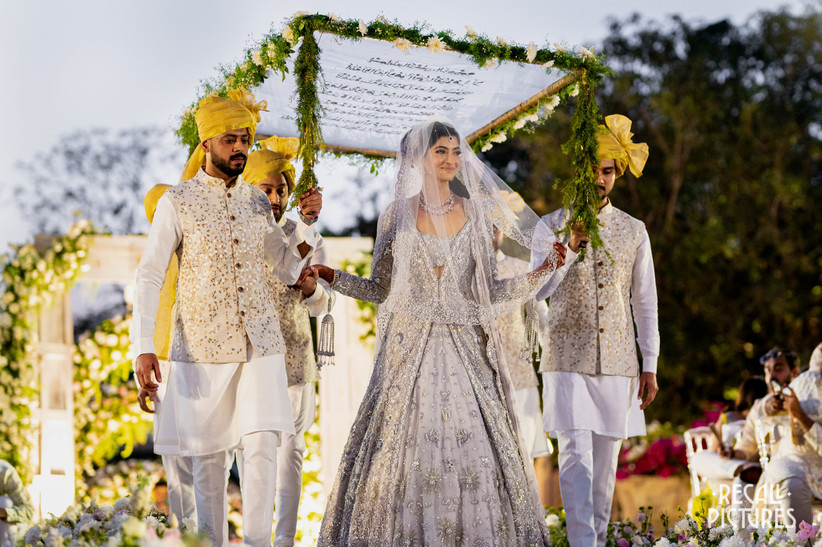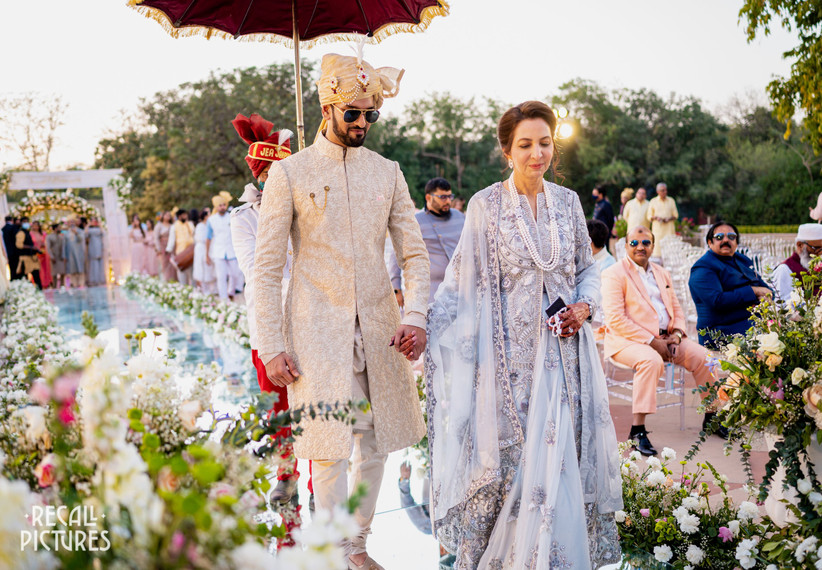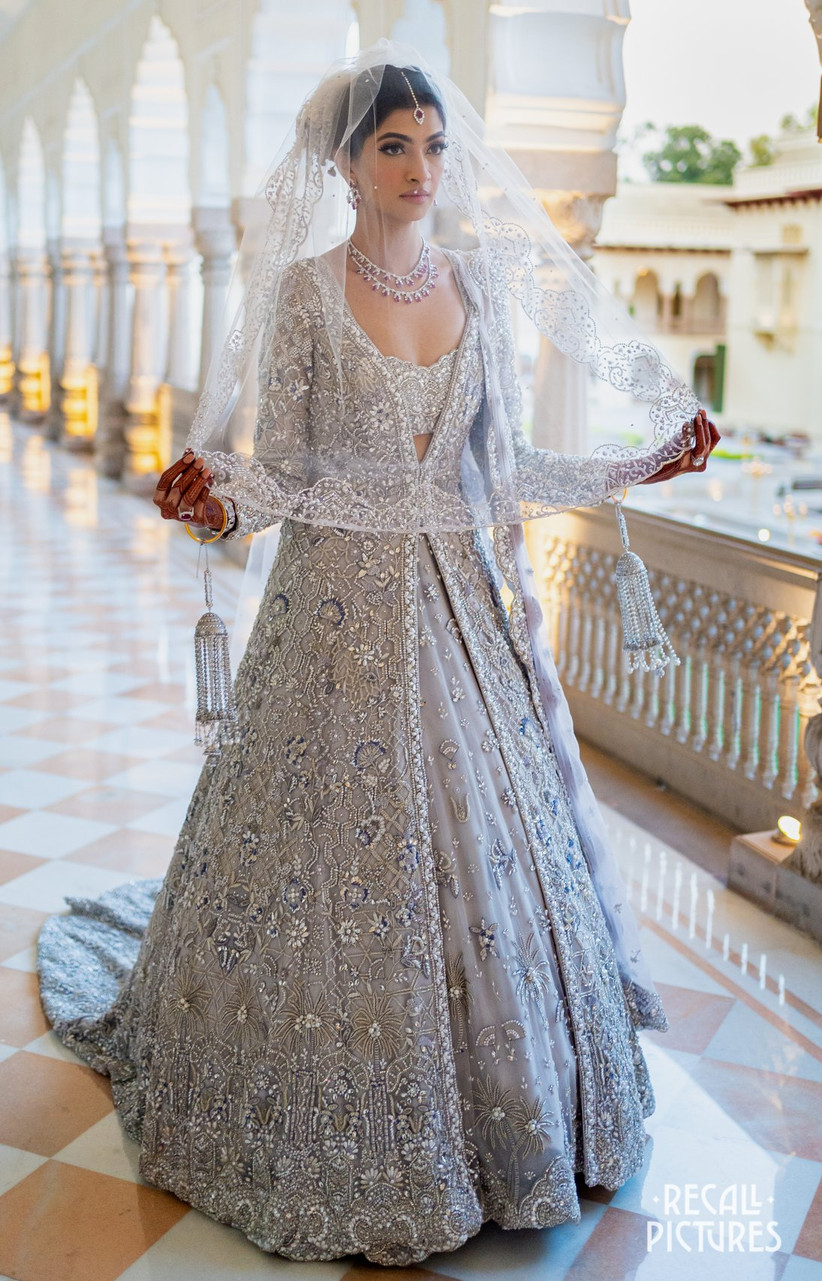 The entry of the bride and groom was a treat for everyone's eyes. Hanna sauntered towards the aisle in a scintillating way while the groom's spectacular entry signified the blessed bond he shares with his mother. Hanna sauntered with an unusual phoolo ki chaadar, lifted by her brothers on her head with some hymns on it. The bridal ensemble was again a masterpiece by Ohaila Khan. The nikah ceremony was a pastel themed event that had Hanna adorn an ivory ensemble that was heavily embroidered with a veil to follow a traditional essence.
Hanna & Shahrukh's Reception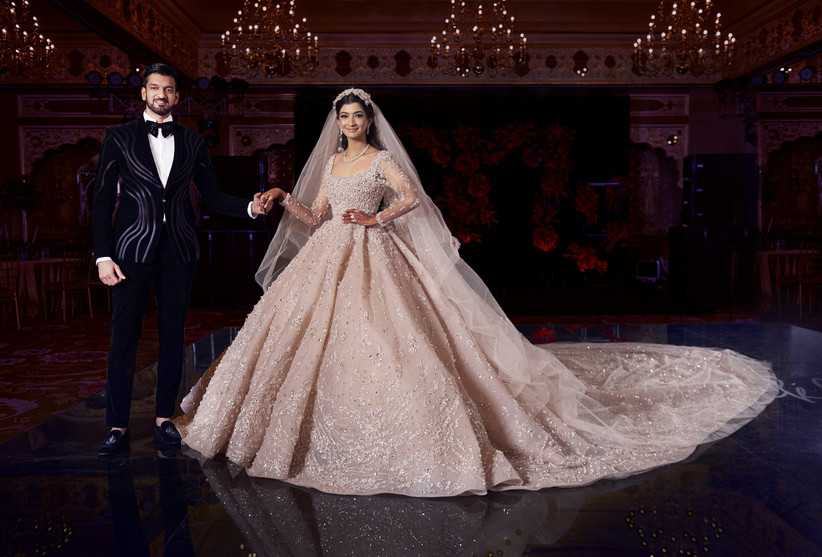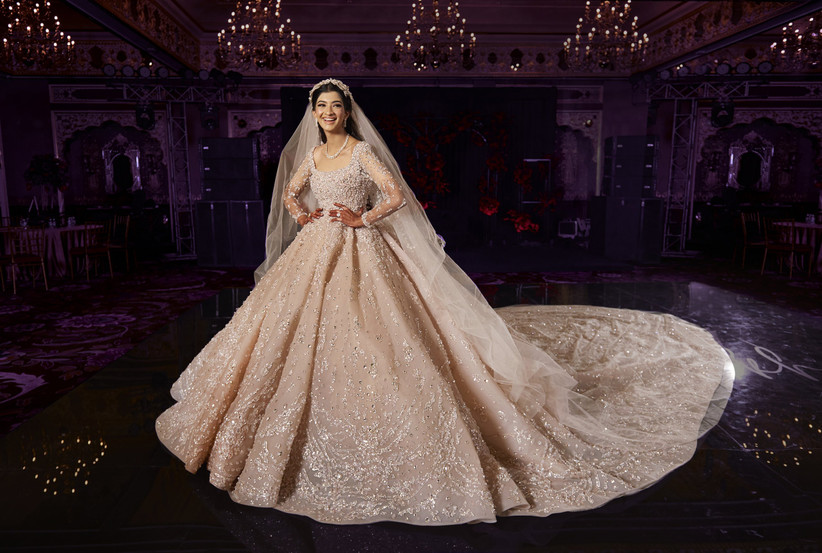 Hanna looked like an ethereal princess on her reception day and Shahrukh looked dapper in his black outfit. Her attire looked like a chapter straight from the fairy tale book. The bride's reception gown - a one of a kind Elie Saab was curated specially for Hanna with love and devotion by Mr Elie Saab. The process was extremely personalised and took thousands of hours of embroidery work which led to a stunning outfit weighing approximately 30kgs making Hanna the first Indian bride dressed by the famed designer.
Her Favourite Wedding Memory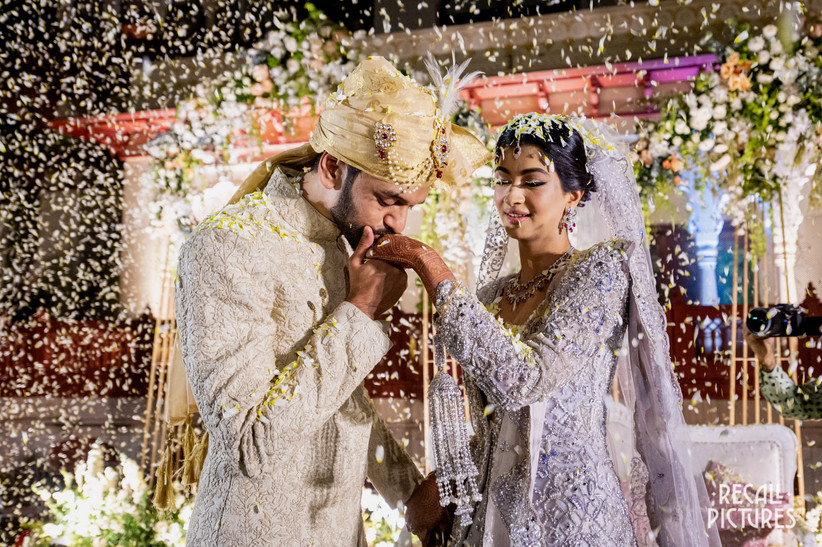 We asked her about her favourite memory from the pre-wedding and wedding ceremonies and Hanna said, "Pre-wedding days are simply days filled with overwhelming feelings. You have so many emotions, so much planning to do, and Mpire surely helped with that, besides, so much chaos but it's something you miss once everything is done. My family made sure each day before my wedding was made extra special for me filled with surprises and so much love from all of them. They were by my side throughout. My friends and family were by my side for my big day and celebrated me and Shahrukh. I can't express in words how lucky and special that made us feel. My mother was ready before me at all the functions and she was there by my side as I got ready for the wedding events. My sister Ohaila, who also designed my outfits made sure I looked my best and nothing less!"
Dream Wedding Planning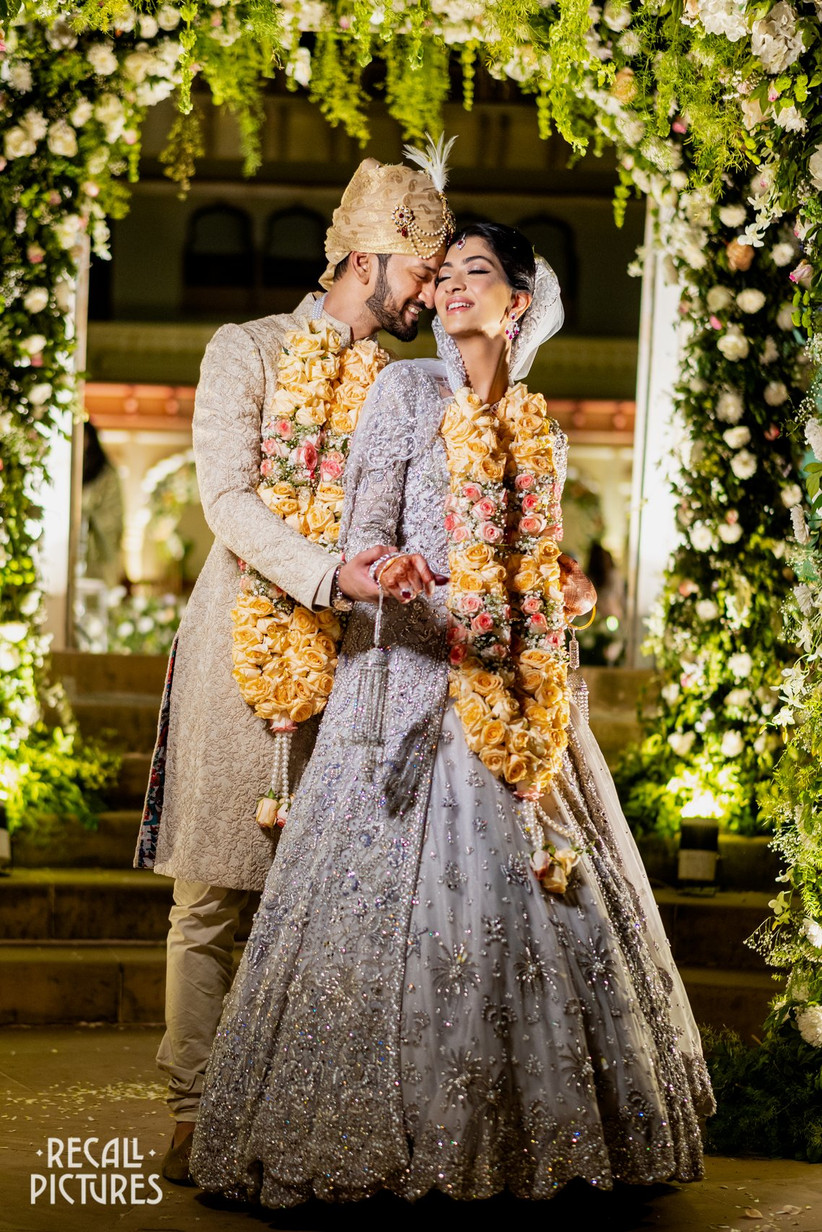 "Every girl has her dream wedding planned out. There's so much you want to do and have perfectly planned out for your big day. Even though it was planned in Bahrain and had to be pushed, I'm beyond grateful for the way it turned out cause I couldn't have asked for anything more special. My wedding planner Vikram Mehta from Mpire weddings is a genie that every bride needs in her life. I could not be more in awe of the seamless execution by him and his team for giving me my dream wedding and bringing every vision to life. I could blindly trust them with every aspect and be rest assured the results would be beyond spectacular. Every vendor that worked on this wedding has a special place in my heart as they each contributed to bringing me one step closer to my dream wedding. Be it Recall Pictures for capturing each moment so beautifully, Ritika Kadam for weaving the most elegant hairstyles, Meera Sakhrani the best In the make up game and Saba from Atisuto Events for crafting the dreamiest set up at each event," Hanna shares.
From attire to venue, from the makeup to the backdrop, everything in this wedding took our breath away! Do let us know your views in the comment box below.
Dream Team
Wedding Planner and Decorator - Atisuto Events, Mpire Weddings
Hairstylist - Ritika Kadam
Makeup - Meera Sakhrani
Outfits - Elie Saab, Ohaila Khan, Neha Chopra
Venue - Jaimahal Palace and Rambagh Palace, Jaipur
Photography - Recall Pictures, Hanna S Khan Instagram Pictures
- With additional words by Rumela S