10 Irresistibly Beautiful Frock Design For Wedding Inspirations To Don For Your Pre-Wedding Photoshoot
With many a millennial bride opting to go with stylish frock design for wedding photoshoot wear, here's our rounded list of 10 gorgeous frock designs that she must try for the occasion.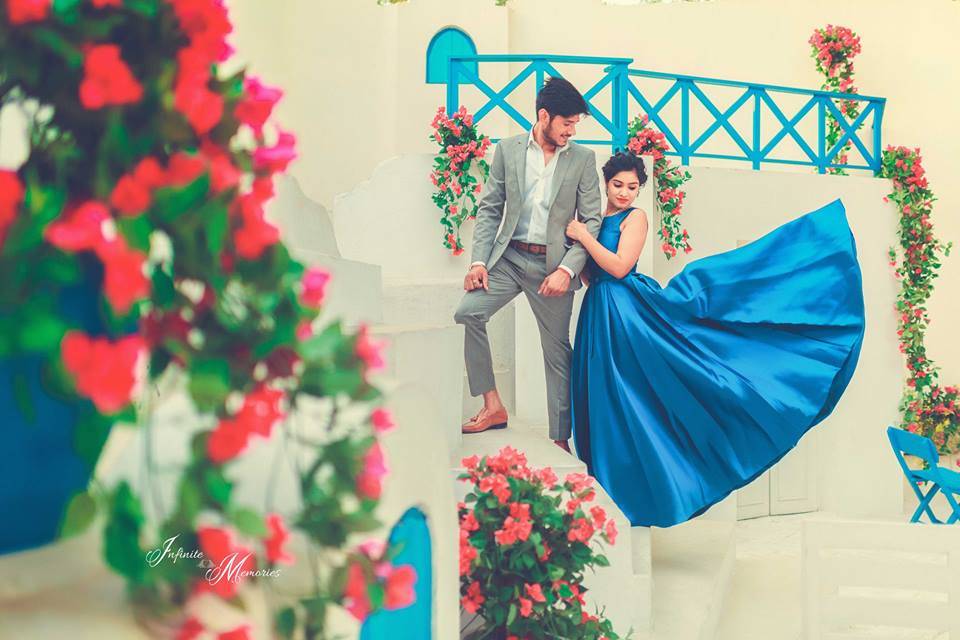 Brides-to-be often find it difficult to decide what to wear for their picture-perfect pre-wedding shoots. Not to forget that the right outfits can really set the tone for a stylish, fun and comfortable shoot that will make your life look right out of some Bollywood film scene. So, ditch everything that's ordinary and notch up your style game with a gorgeous frock design for wedding shoot that you and your partner will remember in the years to come.
But before you invest your energy, time and money on that perfect dress, make sure you are clear about the location of your pre-wedding shoot. Besides, discuss with your photographer about the concept or the kind of look he intends to capture keeping two of you in mind. And, once you are sure, splurge on that perfect dreamy frock design you always had in mind.
Get Inspired: 10 Beautiful Frock Design For Wedding Photo Shoot Ideas
Here's our curated list of 10 gorgeous frock design for wedding ideas to choose from. We bet you'll look like a sultry goddess!
1. Blue Halter-Neck Frock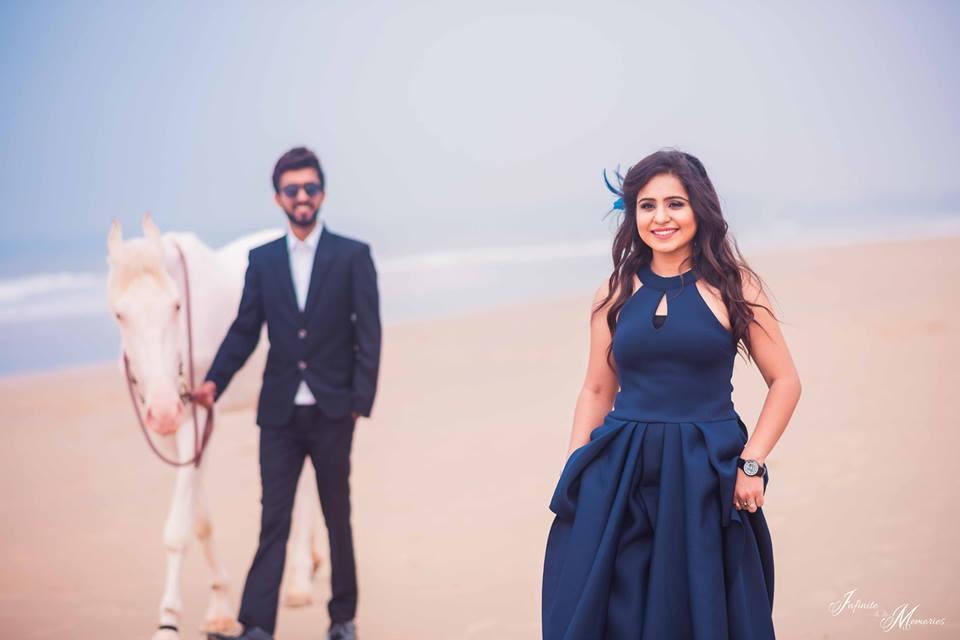 This navy blue frock design for wedding shoot is perfect for girls who prefer comfort over fashion. The halter-necked dress defines casual elegance, pair it with a sleek belt around the waist to define your figure. Team it with smart pumps to complete the look.
2. Red Ruffle Frock Design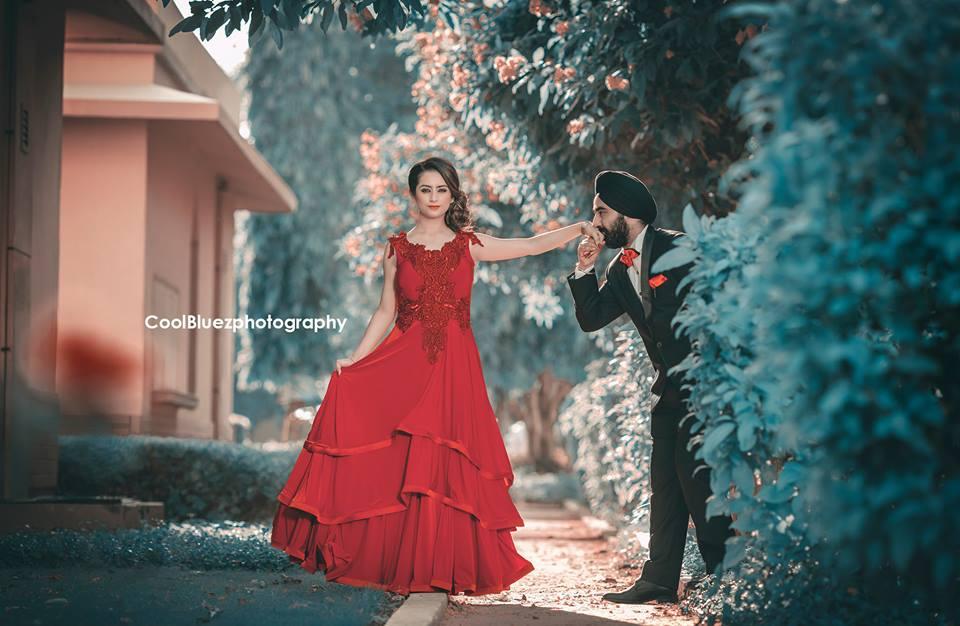 This super gorgeous long frock design is an ideal choice for your pre-wedding shoot. The delicate lacework and ruffles on the flowy gown will make you look hot yet feminine. Wear it with designer jewellery and heels to look chic.
3. Printed Frock For Beach Side Location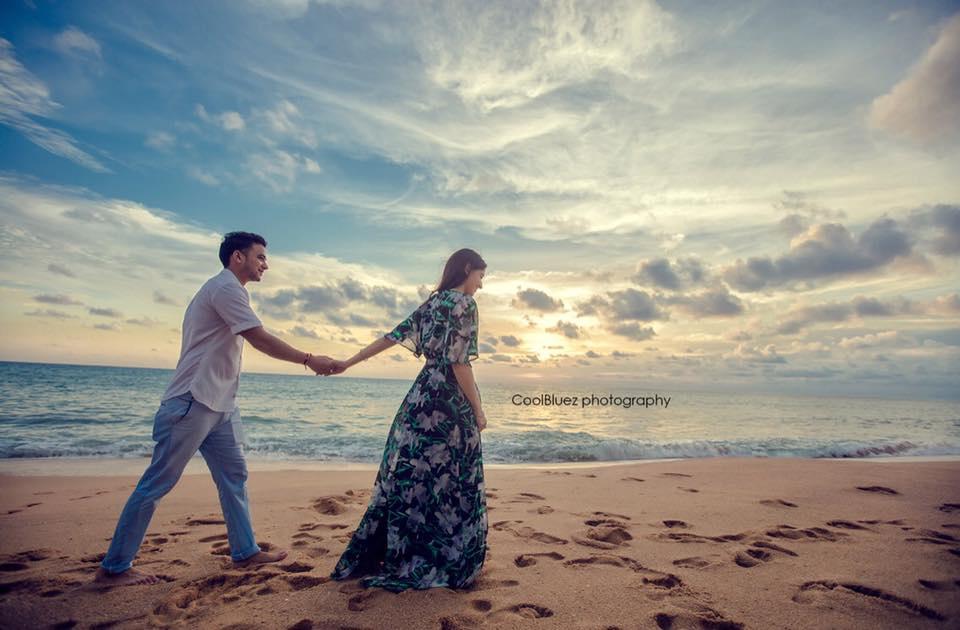 This printed frock with flowy sleeves is apt for brides-to-be who plan to have their pre-wedding shoot at some beachy location. It's not glamorous but the tropical print all over the outfit will make you look fab in pictures. Pair it with thong chappals and some light weight jewellery to complete the look.
4. Soft Ice Blue Frock For Minimalism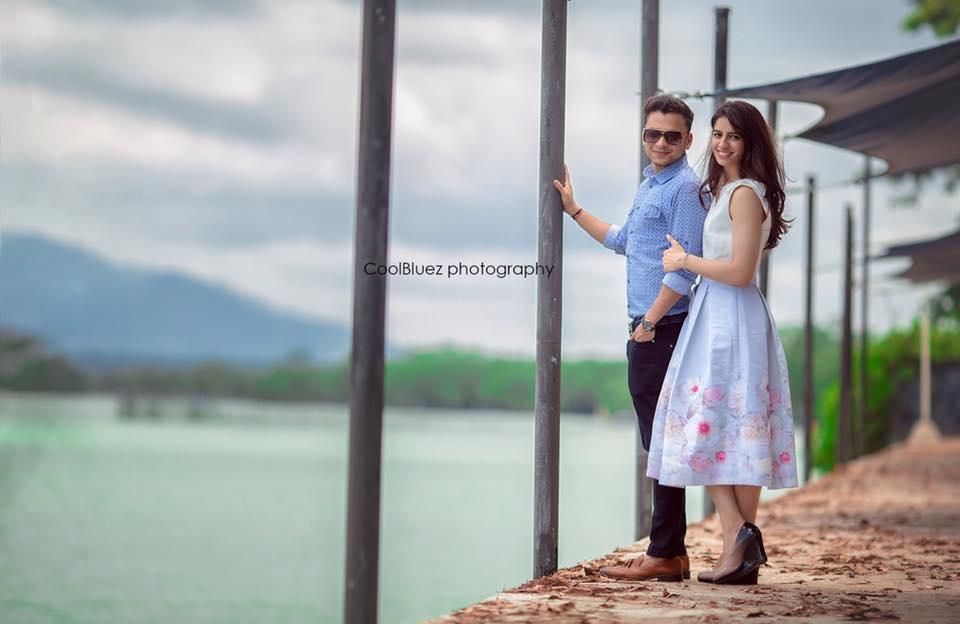 This sleeveless ice-blue frock design for wedding shoot is perfect if you are looking for something subtle yet elegant. It would make you look great especially during the day shoot. Chic and fitting are the two points which define this dress. Pair it with studded earrings, wedge heels and minimal bridal accessories to complete the look.
5. Crimson One-Shoulder Frock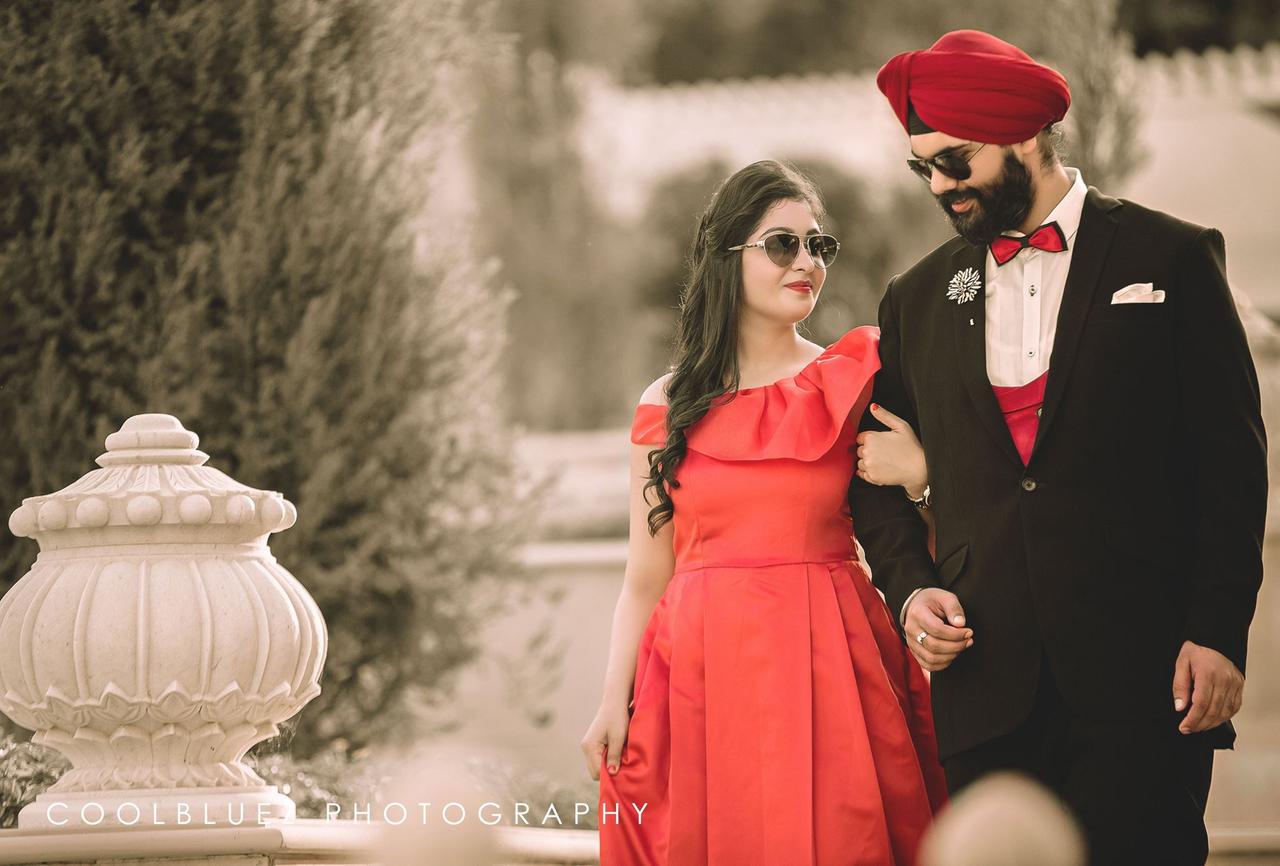 If you want your frock should be impressive enough to catch the attention of your loved one, this crimson one-shoulder dress is a perfect choice. With vibrant colour, impressive neckline with a ruffle, and A-line silhouette, this outfit meets almost every demand of the perfect frock design for a wedding shoot. Pair it with heels and keep your hair open to complete the wedding look.
6. Stunning Yellow Mullet Frock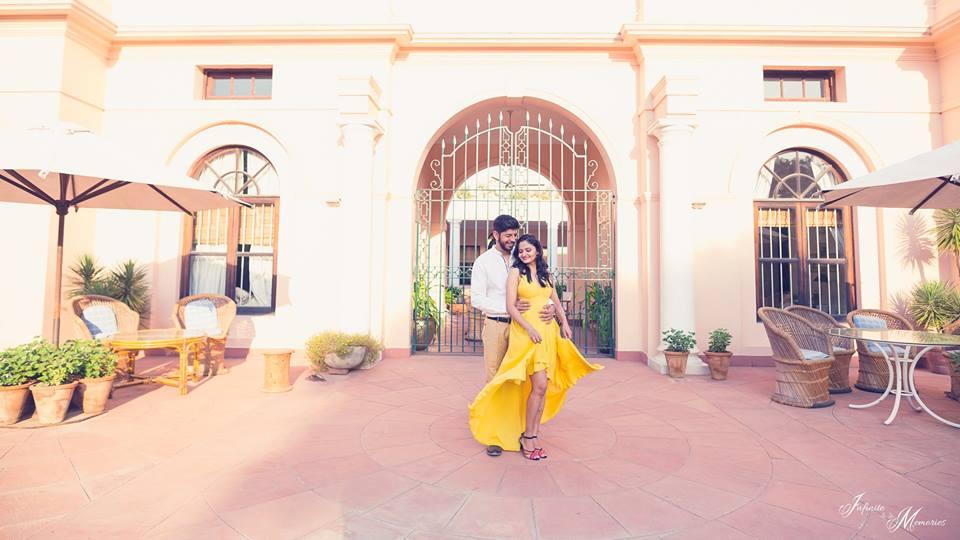 If you can't decide between short, mid or full-length frocks, we suggest you go with the mullet style. This asymmetrical frock with circular hem is short in front and long in back. And nothing could be better than this summer dress with a pop of colour that will look fab in pictures.
Pair it with an ankle strap heel to compliment the dress.
7. Electric Blue Sleeveless Frock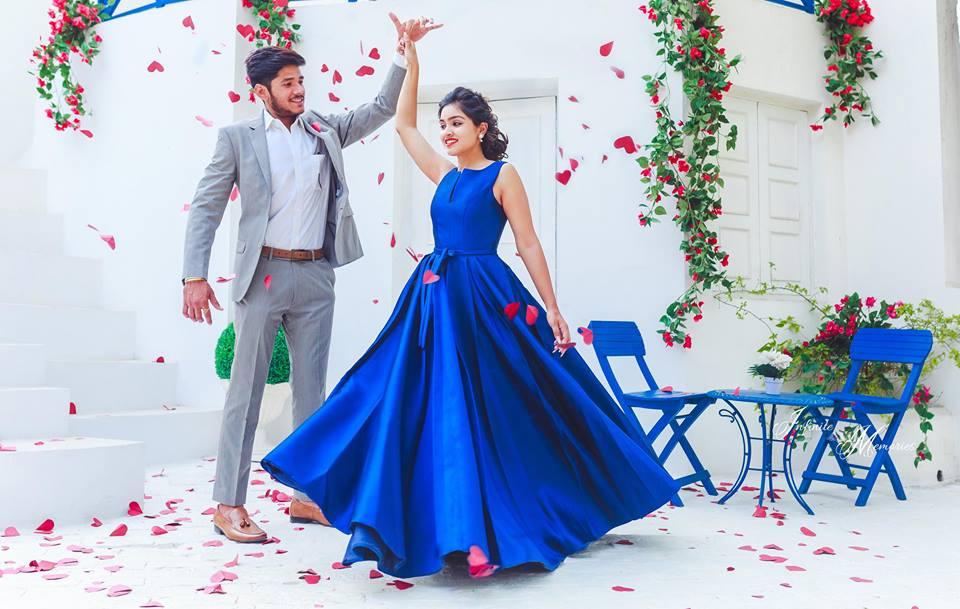 Opting for a frock like the above one is a bold choice and any bride-to-be can pull it off. This dress is simple, elegant and very comfortable, thus allowing you to pose with ease and confidence. Pair it with silver or red stilettos to complete the gorgeous look.
8. Black Tiered Ruffle Frock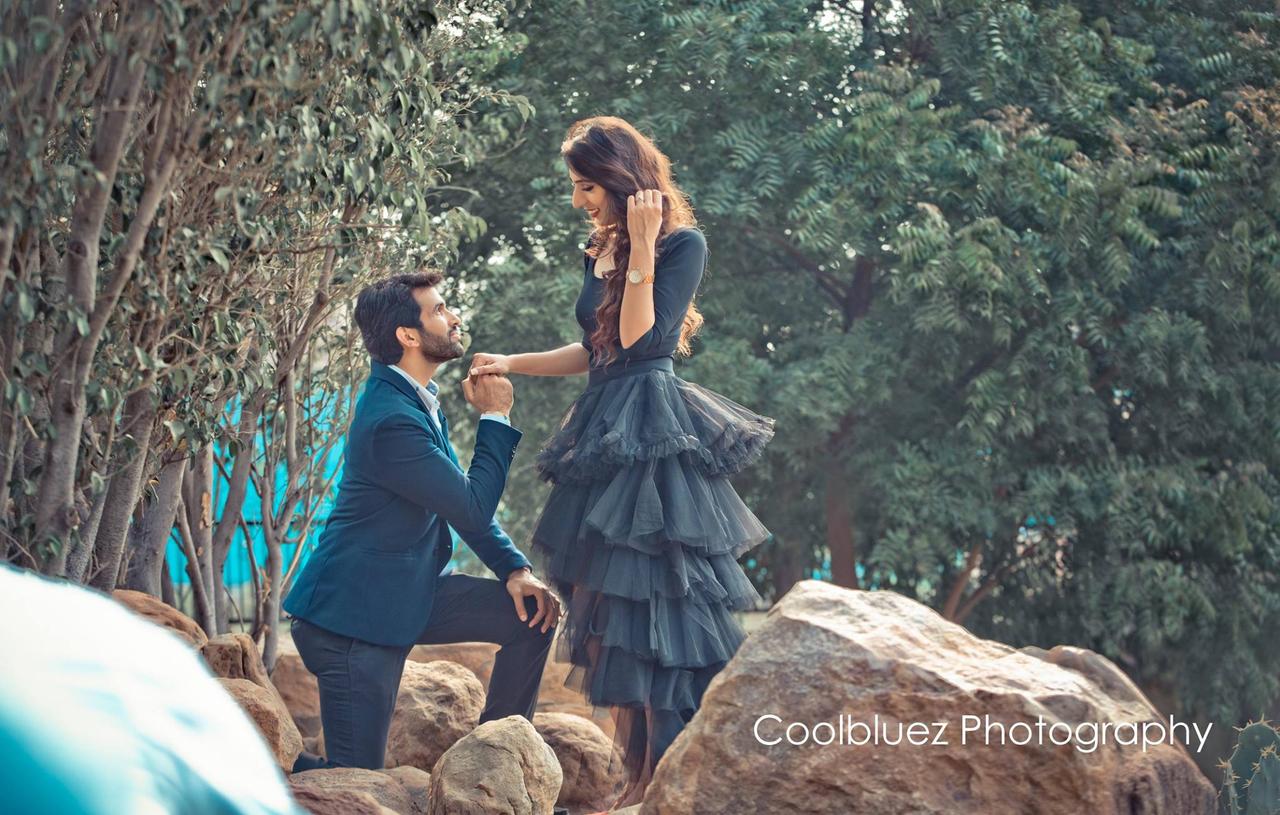 This dreamy frock in the delicate net is what every bride-to-be would love to wear for her pre-wedding shoot. The simple neckline and the close fitting of the dress is sure to enhance your beauty million times. Pair it with a diamond necklace and heels and you're set to grab the attention of your man.
9. Alluring Red Off Shoulder Frock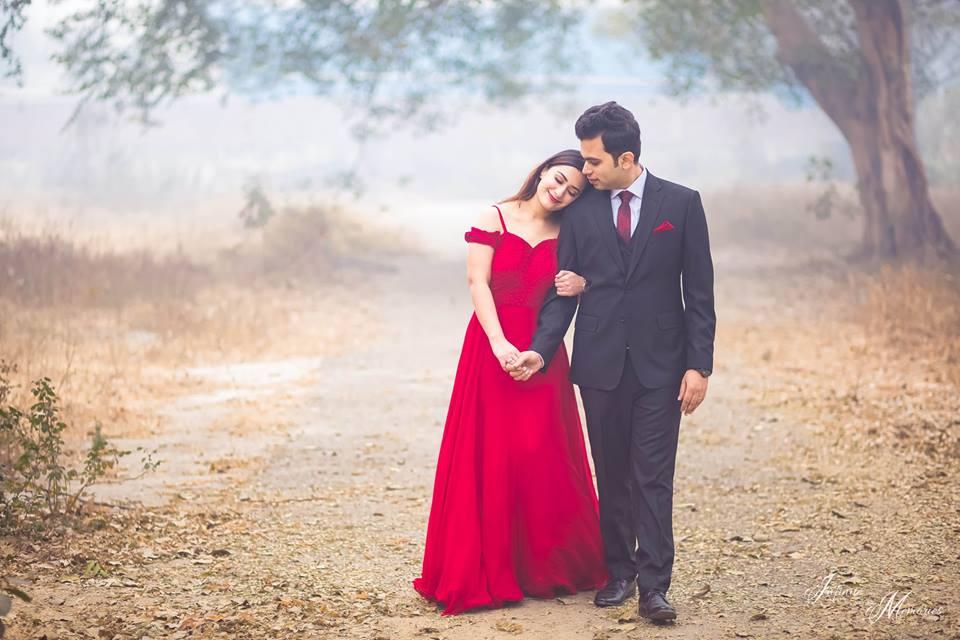 Flowy and elegant, this frock design for wedding shoot is something every bride-to-be would love to opt for. The silhouette of the outfit is alluring and will make you look stunning. Pair it with matching stilettos and accessories to complete the look.
10. Emerald Frock For Fashionista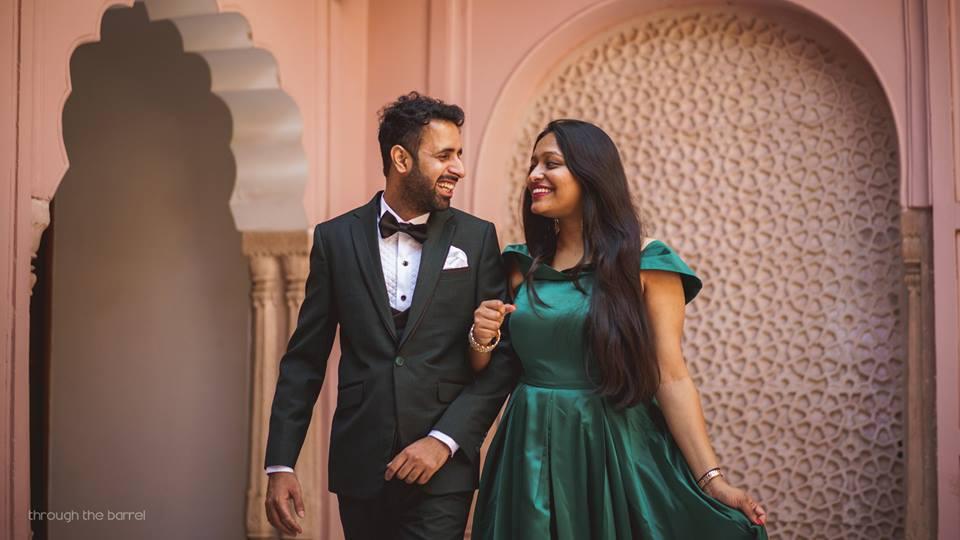 This emerald frock looks out of this world. Its perfect choice for the outdoor shoot and will look strikingly beautiful if you plan to create a coordinated look with your partner. Pair it with drop earrings in emerald or diamond to complete the look.
With the above compilation of stunning frock design for wedding shoot, we hope you are able to find what you've been looking for. Get your favourite frock that besides looking gorgeous also defines your style and personality.
So, which frock designs are you excited to try out for your pre-bridal shoot? Share your views in the comments section below.